When we talk about one of the seven wonders of the world, Machu Picchu, we have to talk about its support town, Aguas Calientes. Because there is a terminal train station for everyone who wants to visit the Incas citadel. Remember that train is the main transportation to get to Machu Picchu. Even, the adventures who dare to do the famous Inca trail will finish the trekking in this cozy town. In consequence, the small town is a must for those who want to visit Machu Picchu. Therefore, with the experts of Machu Travel Peru, we want to make your vacations much easier through the Inca citadel and its local town. We invite you to learn more about this important town in the following lines.
Everything you need to know about Machu Picchu Town
Aguas Calientes or Machu Picchu Town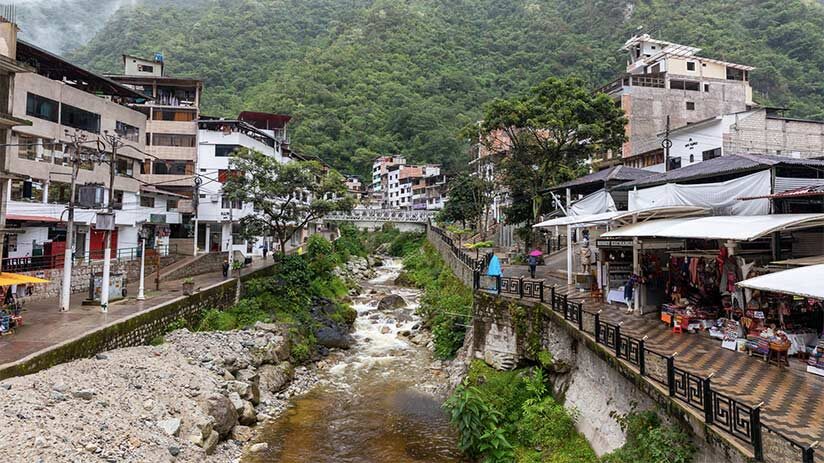 We know that this is one of the most Machu Picchu facts asked, and the confusion usually occurs more than it should, but both names represent the same town.
Aguas Calientes (Hot Springs in English) is a name given by the locals, based on hot springs located in the north of the town, next to the banks of the Vilcanota River, 800 meters from the main square, where many tourists and visitors, who while waiting for their turns to visit Machu Picchu, take advantage of their time and take a dip in its waters.
On the other hand, Machu Picchu Town is a name given by the municipality in recent years to avoid tourist confusion and to take the name of the Incas wonder, for future promotions of the town.
Location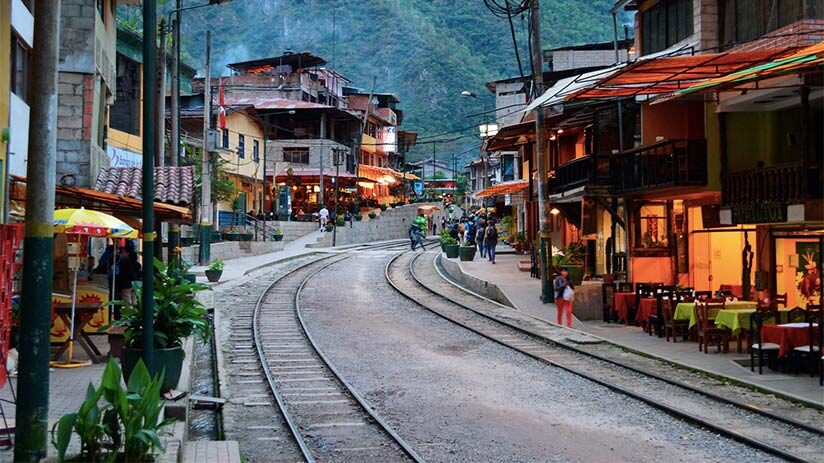 This charming small town is located in the south of Peru, it lasts around Yunga – Fluvial region, the low jungle or jungle eyebrow of the Sacred Valley, in La Convención district, Urubamba province, 74 kilometers northwest of Cusco, and has an altitude of 2040 meters above sea level (6693 feet) This means that it is lower than Machu Picchu citadel (7973 feet) and Cusco city (11152 feet) The town is over the Urubamba riverbanks, at the mouth of the Aguas Calientes river to the Alcamayo river, surrounded by granite mountains covered by vegetation.
The town has a population of 3,600 inhabitants. Also, it is an obligatory stop for anyone who wants to get to Machu Picchu, since there is located at the closest train station to the Inca citadel (There are no other types of transportation like car, bus, or air transport, except walking)
| | |
| --- | --- |
| From | Distance |
| Machu Picchu Citadel | 9 Kilometers north |
| Ollantaytambo (Sacred Valley) | 31 kilometers northwest |
| Cusco city | 74 kilometers northwest |
Weather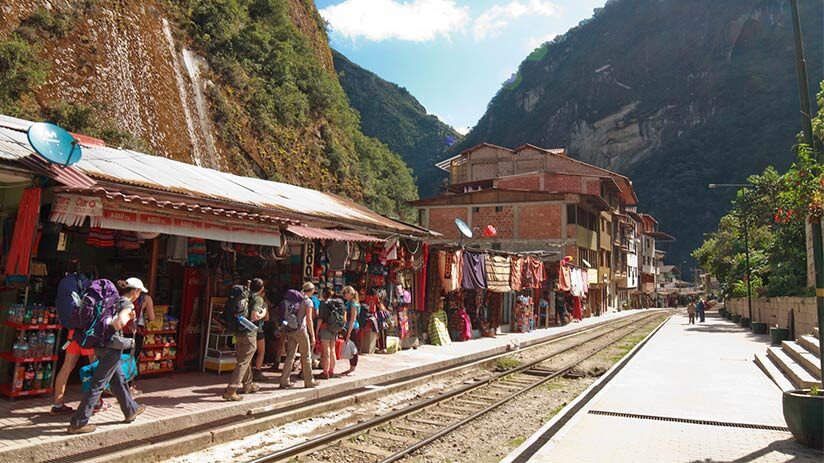 Machu Picchu Town has a warm and temperate climate, around 16 ºC (60.5 ºF) during most part of the year, it is due to its location in the jungle area of Cusco. Cloudy skies with hard rains are present from November to March, the rainy season. Instead, clear skies and sunshine are the characteristics of months between April to October, best known as the dry season and it's the best time to visit Machu Picchu, undoubtedly. The minimum annual temperature is between 46 ºF to 51 ºF. Also, the temperature can down up to 0º in the months of June, July, and August. On the other hand, the maximum annual temperature is between 70ºF to 80ºF.
A. The best time to visit it
As this town is the closest to the Inca citadel, the best time to visit Machu Picchu is similar for visiting its support town, in the dry season (April – October). But, why? Because the weather between these months is dry, and hot, with a clear sky and rays of sunshine, perfect to take photos and postcards of Machu Picchu (of course, with many people around you)
On the other hand, November to March is the rainy season, which means hard rains sky cloudy, muddy roads, and the possibility of overflowing the Vilcanota River (This river borders the town). Therefore, if you prefer to walk in the rain and enjoy the humidity, with fewer people around you, the rainy season is your time.
History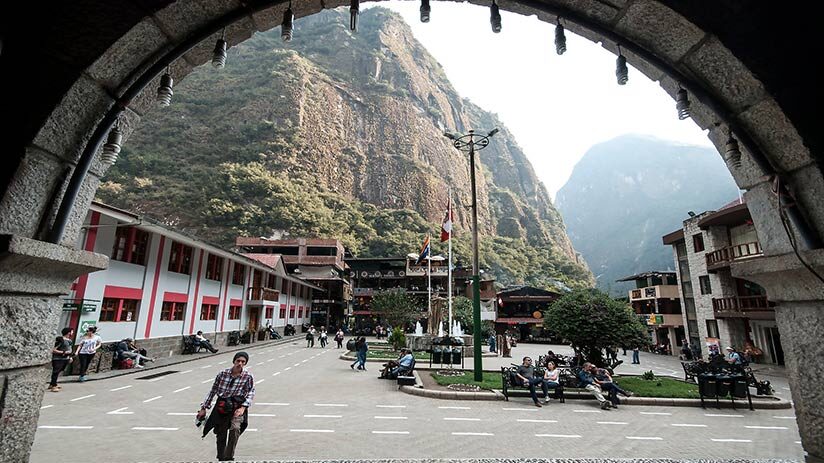 Another surprising piece of information is the town was created before Machu Picchu's discovery. It all began when ENAFER (Peruvian State Railway Company) decided to build a railway to connect the town of Santa Ana (A commercial point located very close to Quillabamba, maybe the biggest Cusquenean Jungle city) to Cusco city. Santa Ana is situated 208 kilometers (683 feet) northwest of Cusco, in a jungle area. That's why the progress was slow when the railway began to be built in 1901, the workers had to open trails, cut weeds, and clear the road for months.
Until, very close to Machu Picchu (at that time its existence was unknown), the workers decided to form a camp to rest. They were in this situation for a long time until they received the order to install a small railway station there. In this form, the train station was the first building installed in Aguas Calientes. Of course, with time, the train station was attracting commerce, food, and the transit of people to the zone. Until 1911 when the famous explorer Hiram Bingham made known Machu Picchu to the world (The Peruvian agriculture Agustin Lizarraga was the real discoverer of Machu Picchu 9 years before)
So, in 1911, the zone was invaded by archaeologists, historians, studies, and researchers fascinated by Machu Picchu. Therefore, the town was always considered only as a provisional point, before getting to the recently discovered wonder. Even, with the terrorism age from the 70s to 80s, the population density of the town was under dramatically. Just in the 90s, with terrorism dead, with the growth of the Peruvian economy and tourist flow, the town began to fill with commerce, shops, restaurants, and hotels, among others until these days.
For this reason, according to urban architects and civil engineers who worked on a Machu Picchu map at that time, this support town always was a provisional point that was exceeded by population and infrastructure, not advising to spend more than one night there for tourists and general visitors. Even, these days, it is a very disorderly town.
Aguas Calientes best activities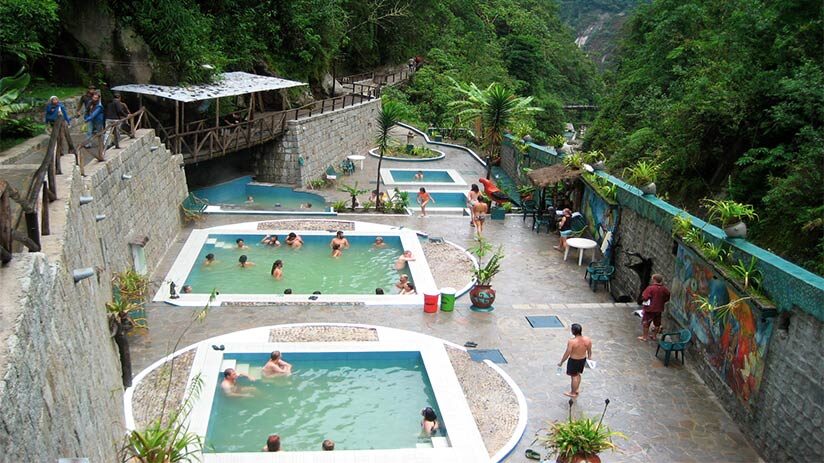 Until a few years ago, this town was a passing town for everyone who want to visit Machu Picchu. However, over the years, seeing the number of tourists who want to spend, at least, a night in the town, it was filled with hotels, restaurants, and interesting experiences to do. In this sense, nowadays, you will find several attractions and things to do in Machu Picchu town.
1. Hot springs
This is the principal attraction of the zone, and it is the origin of the town's name. These pools of yellow hot water with sulfur (water temperature around 38 – 46 degrees Celsius) are good for relieving the pain of rheumatism, osteoarthritis, and poor circulation of the body, among others. The hottest water pool is located at the end of the complex (North part), at the foot of a rock cliff. By the way, these pools are located northeast of the town, 700 meters from the main square. And the entrance has a cost of $6 per person and includes a storage cabin for your luggage. Inside, you can hire swimwear, sandals, and towels, not to mention, that you can buy a drink while you rest in its waters.
2. Handicraft market
Around the Machu Picchu train station, a handicraft market is located. Even, when you go out of the train station (once arrive there) its exit door is the entrance to this market. Generally, handicrafts there are more expensive than in other traditional markets like Ollantaytambo, Pisac, and Cusco. This is due to the location of the town and the difficulty of transporting supplies there. Also, most crafts found there are copies of original ones located in the handicraft market in Cusco and surrounding areas.
3. Butterfly farm in Machu Picchu
This butterfly interpretation, conservation, and breeding center are located just before getting to the municipality camp zone and Vilcanota river bridge. 20 minutes of walking and following down the railway from the town. The center is a private project of local resident Leonardo Serrano Gutierrez, who wants to conserve and protect 9 species of native butterflies in the zone, with other collaborators. The experience includes a brief view-guidance through the metamorphosis process of the butterfly (from larva to an adult butterfly), an explanation of the butterflies wings' color, and finally, the liberation of a butterfly to its natural state by asking for a wish. Amazing for everyone who has a honeymoon in Machu Picchu! The cost of entrance per person is $6.
4. Inkaterra Spectacled Bear conservation center
The Peruvian luxury hotel chain Inkaterra has a Spectacled Bear conservation center in its  "Inkaterra Machu Picchu Pueblo" hotel land (2980 square meters) located in the same town. There, 4 Spectacled bears, who were affected by humans' influence in their habitat, are protected, fed, and reincorporated into their habitat. Of course, this project is standing by SERNAMP (National Service of Natural Areas Protected by the State). The entrance cost and schedules of visits with and hotel biologist or zoologist depend on the reservation. The experience is not cheap, but worth each cent!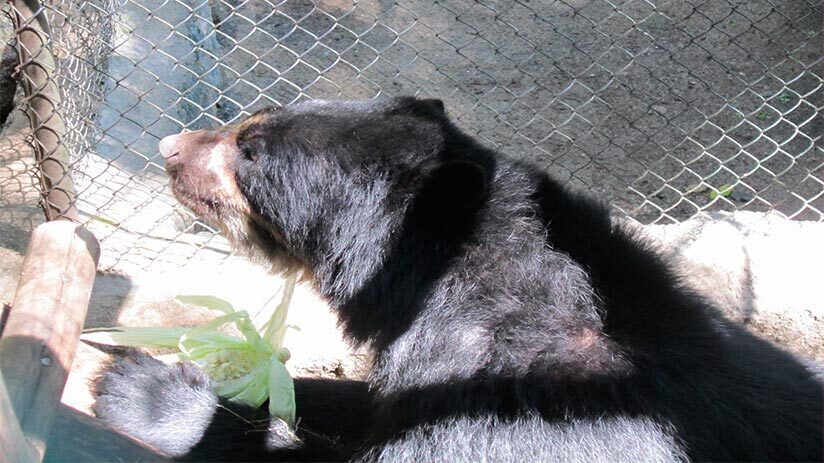 5. Mandor Waterfall and garden
Mandor is a family private botanical conservation center, located 4 kilometers from the town. If you want to get there, you have to follow the train tracks, in direction of the Hydroelectric Zone, by 50 minutes. Once arrive at a sign: "Mandorpampa", turn left and follow the signed path until the botanic gardens ticket office. $6 per foreign adult and $3 per Peruvian adult. There, you will find a route that passes through beautiful gardens with well-signed plants, herbs, and trees until getting to the waterfall, where you can take a dip and cool off from the hot and humid climate of the area. The complex offers camp zones and some bungalows to spend nights, too.
6. Putucusi trekking
Putucusi or Happy Mountain (translating from Quechua) is a mountain located west of this local town and northeast of Machu Picchu citadel. To get to the start point of the trek, you will have to follow the train tracks in the direction of the Hydroelectric zone (¿Again? Yes, again) for 2 kilometers or 1 hour. You will get to some stairs located on the right side of the railways, continue walking by these stairs up to reach a giant stone wall with a metal rope attached to this wall, you will begin to climb by this rope until getting to the other incline stairs. Finally, climb these. The top of the mountain has an altitude of 2560 meters above sea level and there you will have spectacular views and photos of Machu Picchu town, the north part of the citadel, and the Vilcanota river that flows through and surrounds the town. Of course, this trekking is recommended for done in the dry season (from May to October) and for persons with good physical and health conditions.
7. Machu Picchu site museum
If you finally decide to answer the question, What is Machu Picchu? you have to visit the Machu Picchu site museum, called Manuel Chavez Ballón (This name due to the founder of the museum ) This is formed by five permanent exhibition halls, whose contents show didactically the cultural process and historical moments that occurred in the current area of the National Archaeological Park of Machupicchu, through eight sequences complemented with infographics, panels, maps, videos, and especially with the samples of the collection found in the Inca citadel such as ceramics, lithics, metals, and others. To get there, you have to follow, again, the railway from Aguas Calientes, in the direction of the Hydroelectric zone. Walking around 30 minutes or 2 kilometers, after passing the Puente Ruinas bridge, turn right and continue walking for 3 minutes more to get to the Museum. The entrance cost is $7 per person, and the visit can last up to 02 hours.
8. Allcamayo waterfalls
The Allcamayo waterfalls are another great option in Machu Picchu town. Even, some who already visited the Allcamayos affirm that these are best than the Mandor waterfall. You will take a walk among exotic trees, butterflies, orchids, and beautiful plants to reach some amazing waterfalls, among which a large one of more than 30 meters, called Allcamayo, stands out. If you want to visit them, you will have to go heading to the back of the local train station and follow a footpath for 1 hour approx. After, you will have to climb some wooden steps up to reach a cabin with the sign "Casaca de Allcamayo". To enter, you will have to pay an entrance fee of S/. 10 Soles per person.
Bring bathing clothes and towels, they will always be necessary since it causes you to enter the waterfall to cool off.
How to get there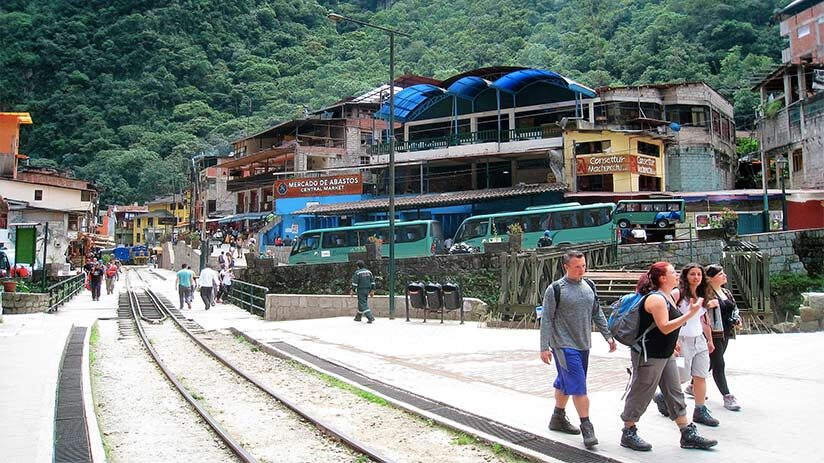 As the town is located close to Machu Picchu Citadel, the ways to get to the Inca's citadel are similar to get it. In this sense, we have three different options, from the most popular to the recent way.
A. By train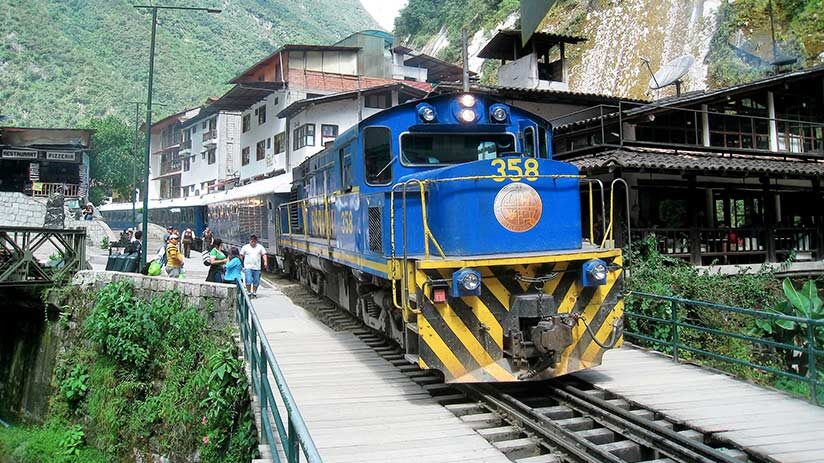 The town is famous for its train station, so, it is not surprising when the majority of Machu `Picchu visitants arrive there by train, forgive the redundancy. Today, two train private companies offer tourist services of transportation, one of them is Peru Rail and the other one is called Inca Rail. Following, you will have a table with the stations where the trains depart to Machu Picchu town and the duration of the trip.
| | | | |
| --- | --- | --- | --- |
| From | Location of departure | Approx Cost of Train (One Way) | Travel time to Aguas Calientes |
| Wanchaq Train Station | Cusco | $ 80.00 – $ 90.00 | 4 hours approx |
| San Pedro Train Station | Cusco | $ 80.00 – $ 90.00 | 4 hours approx |
| Poroy Train Train Station | Surrounding Cusco | $ 70.00 – $ 80.00 | 3 hours approx |
| Ollantaytambo Train Station | Sacred Valley | $ 50.00 – $ 70.00 | 2 hours approx |
Regarding Wanchaq and San Pedro train stations, these are located in the same Cusco city. Whereby, a taxi service will be enough to go there and take your train. The taxi cost is around $3.
In the case of Poroy, this train station is located surrounding Cusco and you will have to take a taxi or private transportation to get there (the trip lasts 1 hour and has a taxi cost of $7)
In the case of Ollantaytambo train station, you will have to take private transportation to get to Sacred Valley, where it is located (02 hours of the trip from Cusco and a taxi price can go from $20)
Happily, both companies have varying schedules for the train to Machu Picchu services, departing from these points.
B. By walking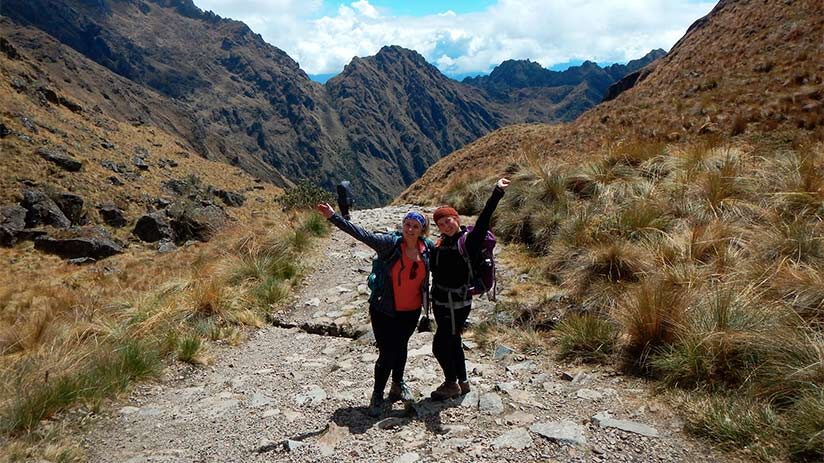 If you are those adventurers who want to experience the same feelings and sensations that the Incas felt, centuries ago, to get to Machu Picchu, why not use the same footpath that the Incas utilized? So, the Inca Trail is for you, and it is the most common way to reach, first to Machu Picchu citadel and after, the support town. Also, there are other trekking routes like the Salkantay trek, Choquequirao, and Lares trek. Of course, realize that all these trekking routes, including Inca Trail, have a part of their routes in buses or trains.
But, What is meant? In short, no route is done entirely on foot. All of them have a part of their journey by bus or train from Cusco. Until getting to some point, where the trekking will begin, really.
| | | |
| --- | --- | --- |
| Trekking | Point where the trek begins | Trek time to Aguas Calientes |
| Inca Trail | 82 Km (To get there: train) | 4 days |
| Salkantay | Soraypampa Camp – 122 km from Cusco (To get there: bus) | 4 days |
| Choquequirao | Cachora Camp – 165 km from Cusco (To get there: bus) | 7 days |
| Lares | Lares Town- 109 km from Cusco (To get there: bus) | 3 days until Ollantaytambo (From there, taking a train) |
C. By car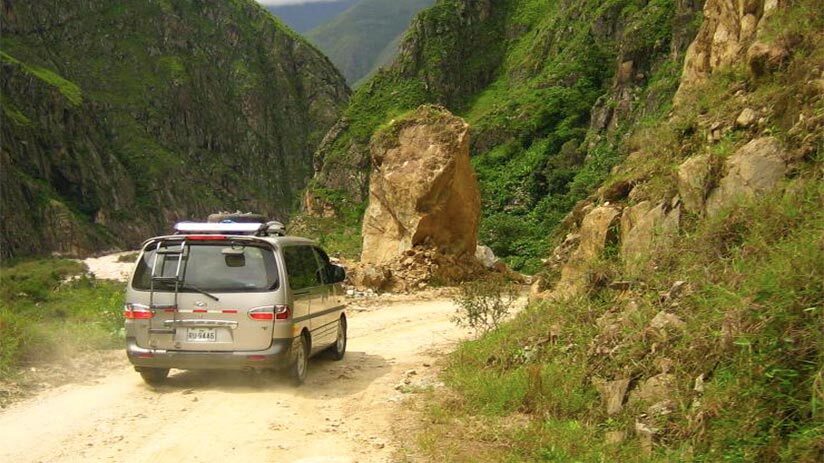 This is an alternative option to get to this town and to Machu Picchu, too. It does not mean that the complete route will be developed by car, quite the opposite, you will travel by car in the first part until the Hydroelectric zone. From there, the following part will be by train or walking. Of course, taking this option will depend on the season (rainy or dry) and the Machu Picchu Tours types that you have previously chosen. In the rainy season (November to April) the road is usually muddy, and it isn't recommendable to travel by it. On the other hand, the dry season (May to October) is the best time to take it.
| | | | |
| --- | --- | --- | --- |
| | From Cusco | Transshipment Area (Hydroelectric Zone) | Get to Aguas Calientes |
| Car + Train | Bus trip lasts 4 hours approx | Train to Aguas Calientes | 45 minutes of train trip |
| | | OR | |
| Car + Walking | Bus trip lasts 4 hours approx | Trekking to Aguas Calientes | 03 hours of trekking |
The zone where the power plant that provides electricity to Machu Picchu town and a great part of Cusco city is located receives the name "Hydroelectric" and is situated southwest of Machu Picchu town (2 kilometers of distance) The car that you took from Cusco will stop there. From this point, a train carriage departs for Aguas Calientes, every day, and returns there, too. In the same train station, you can opt to buy train tickets (S/15 per person, one way) on this train or begin to walk, following the rails, up to the town.
| | | | | | |
| --- | --- | --- | --- | --- | --- |
| Train | From Hydroelectric | To Aguas Calientes | Train | From Aguas Calientes | To Hydroelectric |
| 22 | 16:35 | 17:22 | 21 | 12:35 | 13:30 |
| 72 | 07:54 | 08:34 | 71 | 06:45 | 07:29 |
From Aguas Calientes to Machu Picchu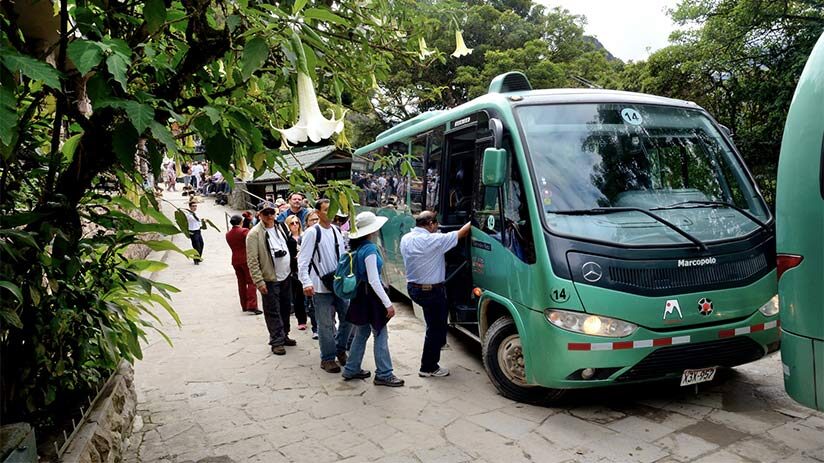 9 kilometers is the distance from Aguas Calientes Town to Machu Picchu. As we said before, all passengers who want to visit the world wonder have to pass by the support town first. Happily, the town is well-connected with the Citadel and today there are two ways to get to Machu Picchu from this charming town.
A. CONSETTUR Buses
The population of the town (at least people who were born there), through a cooperative, are shareholders of a municipal transport company called CONSETTUR. This company of buses is the only one authorized to offer tourist transportation services from the town to Machu Picchu citadel, round trip. The buses are modern, with air conditioning systems and padded seats. The trip lasts 40 minutes, departs every 5 minutes, and you can take them a few meters from the local train station and, on the return, from the same entrance of Machu Picchu archaeological park. The buses will drop you up at the same entrance of the citadel, and from this point. The bus price per person is $ 24.00, round trip.
B. Walking
If you consider that Machu Picchu is a great goal to be reached with effort, this option is for you. There is a climbing path, in a zigzag, that connects the town with Machu Picchu archaeological park. If you want to take it, you will have to walk, departing from the town and following down the railway (southwest direction) and passing the first bridge that crosses the Vilcanota River, you will have to turn right and begin the footpath. Fortunately, this one is well signed, so you will don't have any problem climbing up it and getting to Machu Picchu citadel. The trek lasts 01-hour climbing up and another hour going down. Take note that taking this option in the rainy season (from November to April) is not recommendable, because usually, the path is muddy, and there may be mud sliding.
Hotels and restaurants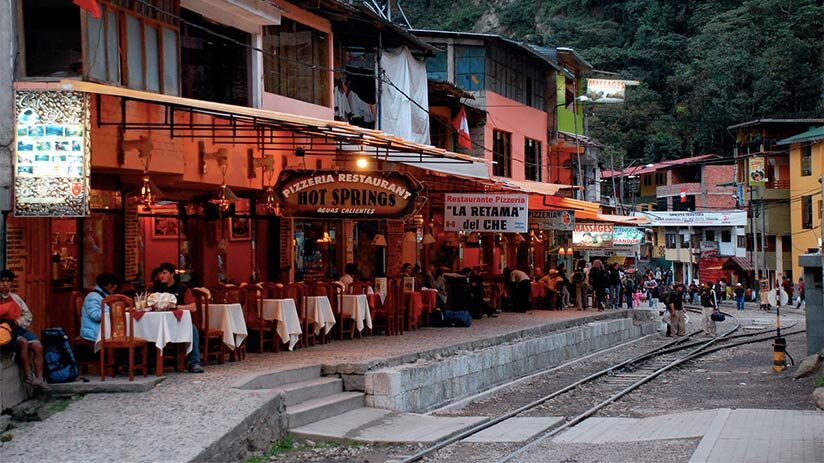 As we mentioned before, nowadays Aguas Calientes has become a port of high tourist flow. In this sense, tourist infrastructure like hotels, restaurants, travel agencies, handicraft markets, inter alia abounds in the area. With many offers, the tourist could be overwhelmed and confused. Therefore, we will give you our recommendation of the best restaurants and hotels that you can find in the zone.
A. Hotels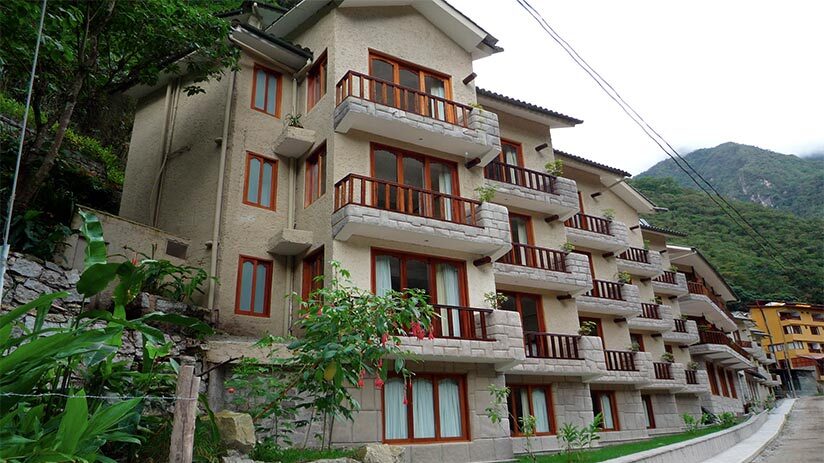 1. Luxury
Belmond Sanctuary Lodge: A five-star hotel located on the same top of the mountain (Where is located Machu Picchu citadel) Even its main door is opposite the entrance to Machu Picchu. This is the main factor because its rooms and reservations are so expensive. The hotel has bungalows, suites, double rooms, single rooms, a pool, a spa center, inter alia, and a first look at Machu Picchu citadel.
Sumaq Hotel Machu Picchu: This five-star hotel is located in the same town (South of it). The hotel has a spa, a restaurant, and a bar. Free Wi-Fi in common areas and free train station pickup are also provided. In addition, the property features a snack bar, a sauna, and a conference center. All 62 soundproofed rooms feature free Wi-Fi and iPod docks. Entertainment options include LCD televisions with cable television channels, and guests will also have a pillow and bedspread menu at their disposal.
El Mapi by Inkaterra: This is the jewel of the Inkaterra hotel chain in Machu Picchu. It is located northeast of the main square of Machu Picchu, just before getting to the hot springs of the town. The five-star hotel has Wi-Fi free in public areas, breakfast included in all its services, 161 comfortable rooms, with minibars, high connection internet, and TV HD cable, a spa salon, a restaurant, bar-lounge, bathrooms are implemented with shower, robes, free bathroom amenities, and hairdryer.
Inkaterra Machu Picchu Pueblo hotel: The second most important hotel of the Inkaterra hotel chain is located south of the town. This hotel has a big extension where is located its infrastructure and Spectacled Bear Conservation Center. The hotel has 83 accommodation options with a DVD player and is safe. These lodging options have an independent rest area. The beds are equipped with Egyptian cotton sheets and high-quality bedding. The host can choose its pillow type. TV with satellite signs and the bathrooms are well-equipped.
2. Medium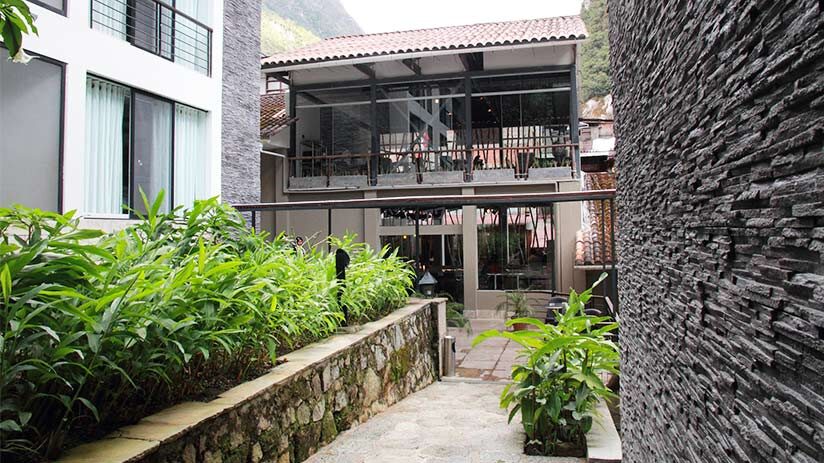 La Cabaña Machu Picchu: This hotel is located near Hot Springs, north of the town Main Square. It is the most known among medium-level hotels in Machu Picchu town, the hotel has 20 rooms well-equipped with air conditioning, a minibar, and a safe box, besides 24 services rooms, breakfast, a business center, Wi-Fi, a TV of 42 inches with cable HD, inter alia.
Casa Andina Standard Machu Picchu: Casa Andina is a Peruvian hotel chain destined for urban and business tourists. The hotel in this town is its first lodging located in a rural zone (Outside a capital city) The hotel has 53 rooms with free Wi-Fi, flat-screen TVs, and ceiling fans. Other services available to guests include a hairdryer, in-room safe, and shower. Besides of business center, snack bar, inter alia.
Taypikala Hotel Machu Picchu: This hotel is located north of the town. This hotel has 22 rooms with a minibar and a safe box. The beds are equipped with high-quality bedding. LCD television with cable channels is available. The bathrooms are equipped with free toiletries and a hairdryer. This hotel in Machu Picchu offers free Wi-Fi access. A cleaning service is provided daily.
Tierra Viva Machu Picchu: It is located northwest of the town, just before getting to Sumaq Hotel. Tierra Viva Machu Picchu has 42 lodging options with air conditioning, a safe deposit box, and complimentary bottled water. There is a 32-inch LCD television with cable channels. The bathrooms are equipped with a shower and hairdryer. This hotel in Machu Picchu offers free Wi-Fi access. Business traveler amenities include desks and phones. Turn-down service is provided at night and housekeeping is provided daily. Hypoallergenic bedding can be requested.
3. Budget
Presidente Hotel Machu Picchu: This hotel is located two blocks west of the main square. Usually, the hotel is used to host tour guides or tour conductors of tourist groups. Hotel Presidente is a small family-friendly hotel offering a flat-screen TV in the rooms, and it is easy to stay connected during your stay as free internet is offered to guests. Plus, guests can enjoy free breakfast, which has made this a popular choice among travelers visiting the town.
Amaru Hostal: Hostal Amaru Backpackers is situated in Machu Picchu, 400 meters from Machu Picchu Hot Spring and 2.8 km from Huayna Picchu. The rooms are equipped with cable TV and a private bathroom. Hostal Amaru Backpackers provides free Wi-Fi. The reception is open 24 hours. Hostal Amaru Backpackers is a few steps from Wiñaywayna park and 200 meters from the stadium.
Continental Hostal: Hotel Continental was renovated to improve the quality of care for guests, where it is part of the mini-chain of Machu Picchu hostels. It is located along the main street, five minutes from the plaza of the town. It has 16 rooms decorated practically for the comfort of our guests, it was decorated to improve the quality of care our rooms have private bathrooms and heating.
Waman Hotel: This three-star hotel is located in the downtown area of the town, just a few minutes from the train station and the hot springs; very close you will find the Manuel Chávez Ballón site museum, the craft market, and many more attractions. Its infrastructure has an elegant, functional, and very comfortable design; In addition, it is surrounded by a beautiful mountainous landscape, allowing you to connect with nature.
B. Restaurants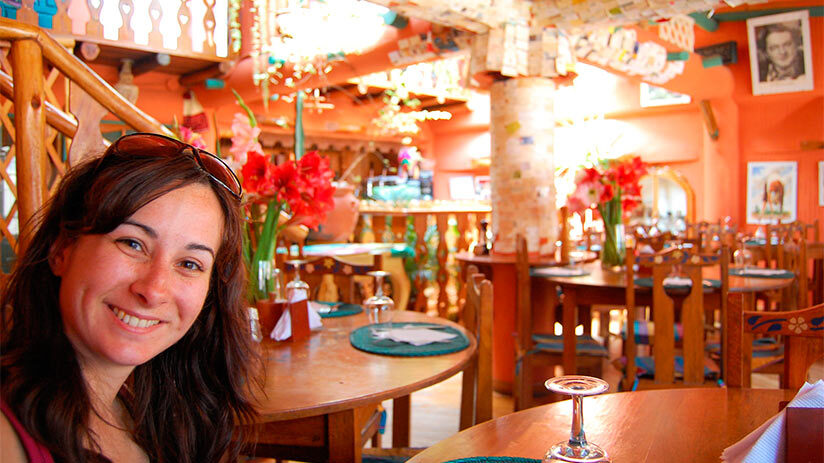 Aguas Calientes town is a place full of restaurants and options for food. Usually, the best place to eat something is the same restaurant as most known hotels (mentioned before) However, there are three restaurants that work on their own and are renowned by tourists and locals, too.
Indio Feliz: This is a Franco-Peruvian cuisine restaurant located east of the main square Manco Capac. The restaurant offers a great variety of dishes and beverages, like Pisco Sour, beers, and tasty dishes that combine French and Peruvian ingredients, with a comfortable atmosphere. Without a doubt, a perfect place to spend lunch or dinner close to Machu Picchu. (Lloque Yunpanqui Street, 103)
Sanctuary Lodge Restaurant: This is the buffet restaurant of Belmond Sanctuary Lodge Hotel, located just in front of the Machu Picchu entrance, on the same top of the mountain. There you will find buffet options of lunch, Peruvian, international, and vegetable cuisine. This is perfect for those who want to taste delicious dishes for a short time before entering Machu Picchu.
Totto's House: This restaurant has three advantages (Besides tasty dishes, of course) in comparison to other restaurants. The first one is the decoration of the place, comfortable, cozy, and charming. The second is the location, which is very close to the train station, and the last one is the spectacular views the eater has of the Vilcanota River (on the second-floor balcony). Imperio de los Incas, Avenue 600.
Tips to enjoy
Finally, we want to bring you some tips before your travel to Machu Picchu and, your consequent visit to its support town:
It is expensive: As we mentioned before, there are only three ways to get to the town (train, walking and car + train). In this sense, getting to Machu Picchu or bringing something there is difficult and expensive. These are the principal reasons why handicrafts, groceries, fruits, foodstuff even bottles of water are more expensive there than in other parts of the Cusco region. We recommend buying things of first necessity in Cusco or Sacred Valley, but not in the same Machu Picchu town.
Money: Carry always dollars, most markets, and little businesses accept this kind of coin. Regarding credit cards, don't worry, 95 % of establishments there accept them (Visa, Mastercard, Diners Club, inter alia)
It is worth spending a night there. If you want to visit Machu Picchu at sunrise and see the beautiful sunup (during the dry season), spending a previous night in any hotel in the town is recommended. No train leaves Cusco at midnight to reach Machu Picchu at sunrise. Please, take note of that.
ATMs: In the Manco Capac main square and surrounding streets you will find ATMs machines. But, before, take note if your bank charges some commission for withdrawing cash abroad.
Personal documents: Always, carry with you your passport and your tickets to Machu Picchu. Why? Because both documents will be useful for the entrance to the citadel (The security control always requires these two ones) and to get information when a bill of sale of any establishment will be registered for you.
Allowed luggage weight on the train: 5 kilos or 11 pounds is the maximum weight of luggage allowed on the train (Peru Rail and Inca Rail)
Luggage Store in hotels: The majority of hotels have free luggage storage for their hosts. You can leave your luggage while taking a walk in the town, visiting Machu Picchu or any other attractions. After that, you can get your luggage to take a train back or do late check-in.
Take care about Mosquitos: Aguas Calientes is located in the Jungle eyebrow of Peru, and its altitude is lower than Cusco. Also, the weather there is hot and humid (increasing these characteristics in the rainy season). Therefore, the presence of mosquitos is annoying for many visitors. Buy a repellent before going to Machu Picchu and use it when you stay in the same town, where mosquitos' presence is greater.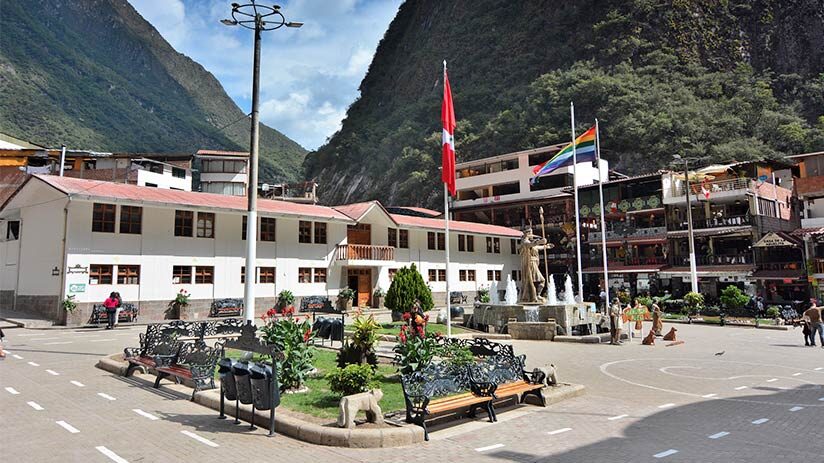 The rains can occur at any moment: So, Where is Machu Picchu located? Well, the citadel and its local town are located in a Jungle area, and not is necessary to be in the rainy season to get some good showers in the mornings. Therefore, bring with you raincoats, trekking pants, light jackets, and shoes with chunky soles among others.
The traditional market: If you want to know more about the idiosyncrasy of the Peruvian or, simply, want to cheapen some purchases, you can go to the traditional market ofthe town (Antisuyo Street 102). There you will find local groceries, artisanal products like coffee, chocolate, bread, and a food court with bathrooms on the second floor.
Spanish is not so important: As a tourist zone, it can say that the population of Machu Picchu town has English as its second language. So, communicating there will not be a problem. Of course, Spanish words courtesy as "Buenos dias", "Buenas tardes", "Por favor", will never hurt to learn.
"SEE THE WORLD. IT'S MORE FANTASTIC THAN ANY DREAM"
We hope to give you all the necessary information to have a good time in Aguas Calientes. A town with a great variety of restaurants, hotels, handicraft stores, and markets among others. Even, this cosmopolitan town is a perfect meeting point for many people with only one objective, visiting Machu Picchu citadel. Therefore, with the experts of Machu Travel Peru, we hope we have given you all the tips and information to visit the support town of Machu Picchu and enjoy its charms. And remember that we are here for any questions or vacation planning that you will have regarding Machu Picchu and its support town. Until another opportunity!
---