Arequipa is the second most inhabited city in Peru, after Lima. And being such a popular tourist destination (Misti volcano, Colca and Cotahuasi canyons, traditional Picanterias among others), it's no surprise that it has a wide variety of tourist infrastructure to enjoy. From large chain hotel companies, passing by private and quaint establishments up to cheap charming lodging. Accommodation options abound within "The White City" and that is why we have prepared a small list of the best hotels in Arequipa with our colleagues at Machu Travel Peru, from the most luxurious to the cheapest. In this way during your next visit, you can enjoy this incredible place with all the lodge options at your disposal.
The 10 best examples of hotels in Arequipa to enjoy with your family
Cirqa Relais & Chateaux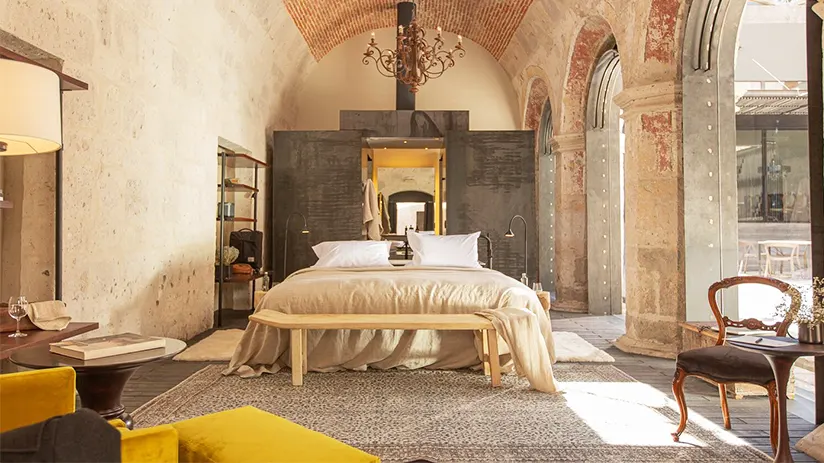 The CIRQA Hotel is located near the Umacollo stadium, in the best Arequipa neighborhood to stay, its historic center, at only 1 block from the main square. It is the most luxurious and exclusive hotel in Arequipa with its 11 rooms with salons well-decorated that combine classic Peruvian colonial architecture (high vaulted ceilings made of volcanic white stone called Sillar) with modern touches in their decorations, minimalist furniture, and large windows. Which makes it perfect for a honeymoon in Peru. Recalling the old chambers of the Augustinian monastery, which worked there until not recently. These rooms are situated around two areas, the main yard, and the terrace. But, Cirqa is not only a form but also a service. Each room has 24-hour butler service, besides TV with Netflix and Direct TV, conditional air, a wireless speaker, organic amenities, and a basket of complimentary snacks and drinks.
Also, among its many facilities, you can enjoy a recognized restaurant, city excursions organized by the hotel, a garden with a terrace, clean service to rooms three times a day, and much more. The hotel building was built in 1540, the same year as the Arequipa foundation, and had a function of pension for travelers, managed by the Augustinians religious order. In this form, the hotel recovered this primitive function of the building. If you plan to visit most of the tourist attractions in Arequipa, staying inside the Cirqa can complement your experience.
Wyndham Costa del Sol Arequipa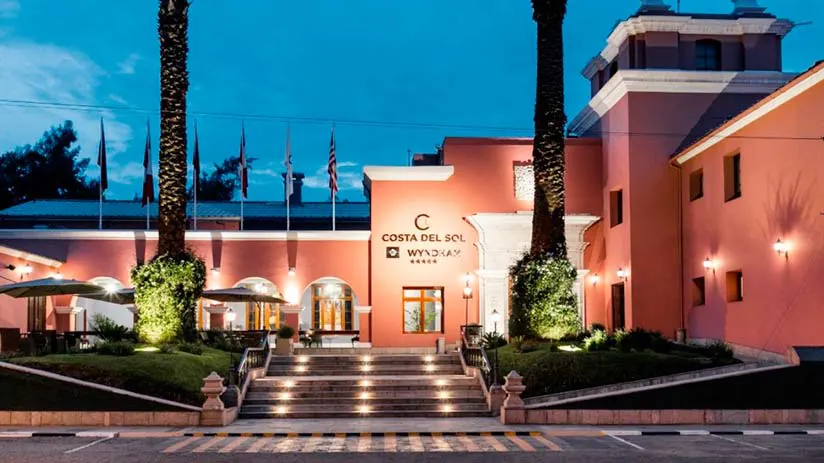 Another wonderful example of an excellent 5-star hotel. The Wyndham Costa del Sol in Arequipa is located just 15 minutes from the north zone of the historic center of the city, in the second most tourist neighborhood of the city, Alto Selva Alegre (High Jungle Cheerful). The hotel chain bought the installations and the land of the ancient Libertador 5-star hotel in 2018 and remodeled it to its current state.
The Wyndham Costa del Sol has zones of a spa, jacuzzi, and gym. Also, its spacious and luxurious 88 rooms with contemporary and elegant decorations have hand-carved headboards over the beds, room service 24 hours, a day, TV cable, and private bathrooms, among other facilities. Moreover, the hotel has a wonderful outdoor pool surrounded by well-cared and large gardens. Without mentioning its own playground for the little ones. In addition, its Paprika Restaurant & Bar will be able you to enjoy some traditional Peruvian dishes and the famous Pisco Sour (Peru's national drink) among other drinks. Without a doubt, it is one of the best options within the White City. If you plan to enjoy the nearby Colca Canyon tour, the Wyndham Hotel is a great option.
Casa Andina Premium Arequipa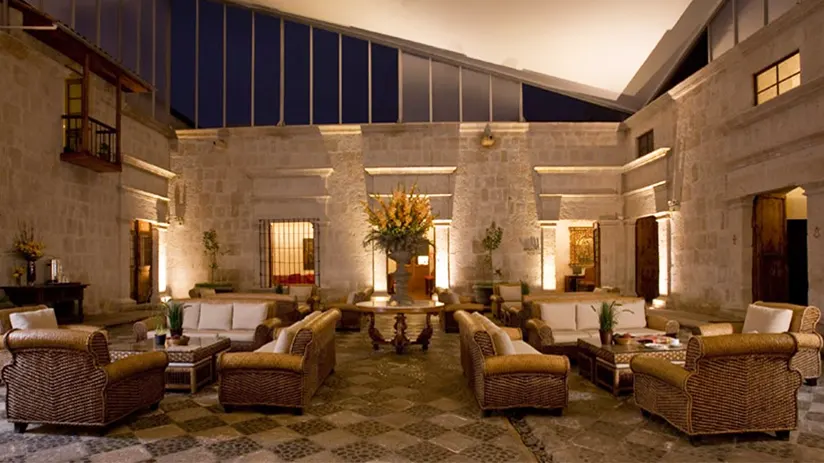 The hotel is located inside the old Mint, which was built in 1794, and it was declared UNESCO Cultural Heritage in 2019. The facade of the hotel is ancient and unique and is only an example of the characteristic construction in ashlar (Volcanic White Stone) Also, the building has high ceilings and very elegant decoration that rescues the colonial and artistic style of the time. The 44 rooms are modern, and decorated with polished wood and white furniture. Furthermore, these have all the facilities of a 5-star hotel, like OLED TVs, a Tea set, coffee, comfortable double beds, wooden furniture with a rustic touch, and much more.
All this without counting the 5 suites located within the original infrastructure of the building. While the other half of the hotel contains the rest of the rooms charmingly decorated with a collection of paintings and murals dating from the Republican era, framed in gold leaf. In addition, the Casa Andina Premium offers free Wi-Fi in its public areas, transfer from the airport to its installations for its guests, and a solarium on its fourth floor with beautiful views of the "White City". For all these reasons, this hotel is a great option to spend wonderful moments in Arequipa.
Sonesta Hotel Arequipa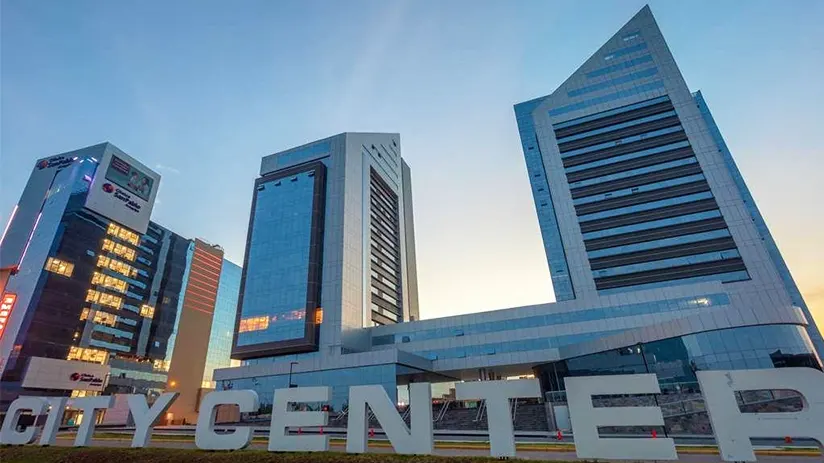 The Sonesta Hotel Arequipa is a wonderful 5-star hotel located about 2 kilometers northwest of Main Plaza and 6 kilometers south of Arequipa airport. In other words, in a strategic zone called Cerro Colorado. In reality, the house is a complex of two buildings, each one with more than 10 floors, called the "City Center". The view of the city and its volcanos from its large windows on level 10 will fascinate you.
The establishment has a bar, and a gym, and its exclusive restaurant offers traditional Arequipa cuisine with a great view of the city. All of its rooms have modern facilities and services such as private bathrooms, free Wi-Fi, a large dresser, a seating area, a small workstation close to a flat-screen TV, cabinets, and much more. Also, the hotel has a reception service 24 hours a day, with free Wi-Fi in its public areas. This luxury executive hotel is practically new, but it has already established itself in the Arequipa city scene in a very firm way. And it is also an excellent option to experiment with the whole family, with a partner, or alone with the best hotel service that the White City can offer.
Casa Andina Select Arequipa Plaza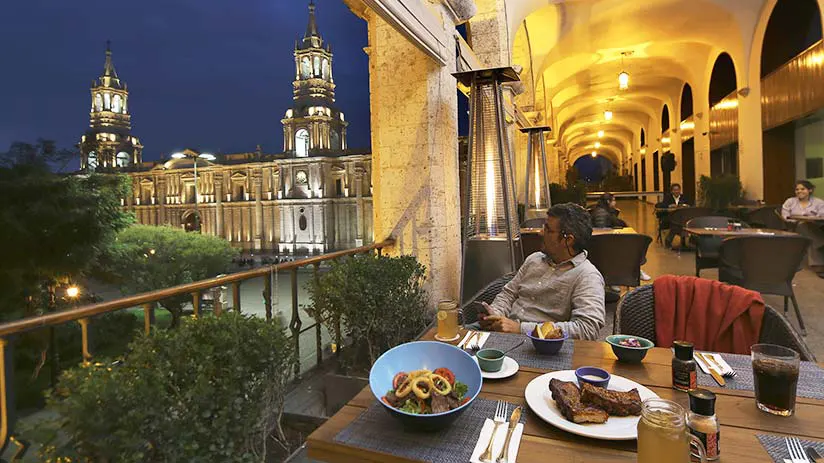 We chose this hotel for its matchless location, in the same main square of Arequipa. The Spectacular Casa Andina Select Arequipa Plaza is one of the best hotels there and has great views of Arequipa's cathedral and main square. Also, its ideal location makes it a great option to get walking to the most interesting Arequipa attractions in the shortest possible time. You will have the freedom to explore the city at your own pace. Its more than 50 rooms on 5 differentiated and remodeled floors have well-decorated furniture, king-size beds, private bathrooms with toiletries, flat-screen cable TV, a minibar, and a strongbox, among other facilities.
In addition, the building has a gym, spa, parking, free Wi-Fi, buffet breakfast, room service, an event hall, an internet center, 24-hour reception service, a tourist information counter, a sauna, and an outdoor pool, among other amenities. Even its La Plaza Bar & Grill restaurant will surprise you with the best of regional Arequipa dishes and international dishes, without mentioning its delicious drinks. Also, the hotel has a small shop called "Sama", where the guests can buy groceries, drinks, and basic items for their excursions. Therefore, before enjoying the many things to do in Arequipa, make sure to stay inside this wonderful place.
Palla boutique hotel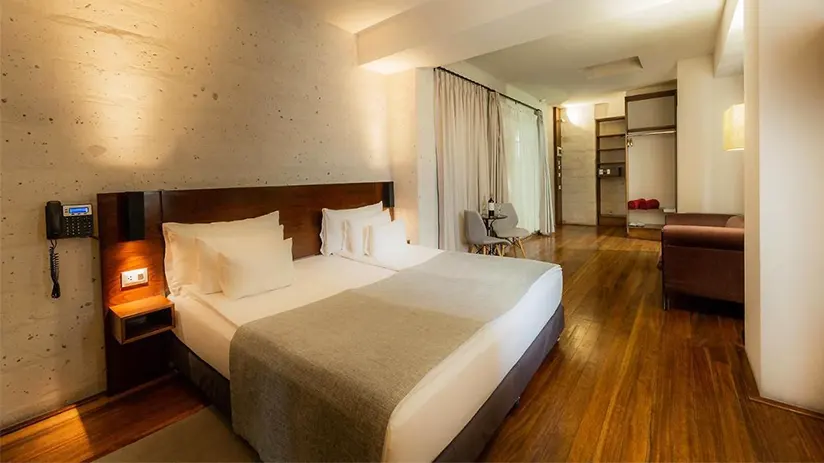 If you are looking for hotels in Arequipa with a classic style but at the same time modern, the Palla Boutique Hotel is your option. In the first place, the location of Palla is only 3 minutes from the main square, in the Bolognesi Bridge street, in the same historic center, it is the quietest place despite being located in a tourist zone. The rooms combine the artistic atmosphere of the city with modernity. Each room had white ashlar walls, wood floors, doors, window frames from colonial times, and charming wood furniture.
Also, this incredible establishment offers excellent quality services in its rooms like private bathrooms with toiletries, a hair dryer, flat-screen TV, and a strong box among other services. In addition to the abundant natural lighting that all its rooms have. Furthermore, guests can enjoy the hotel bar, 24-hour reception service, free Wi-Fi in all areas, and a cozy yard located on the terrace. The hotel has private parking and some of its rooms have living rooms where you can relax. A private establishment where you can enjoy alone or with your partner after the many tours in Peru.
Hotel Katari Arequipa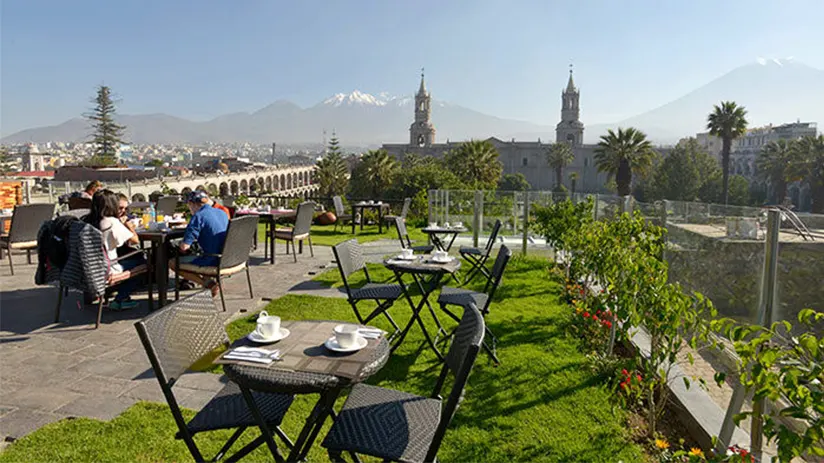 The Katari Hotel is another hotel located in the famous Plaza de Armas, right in front of the city's historic cathedral. The building has a large terrace that offers panoramic views of the city and its volcanoes. You will be able to appreciate a clear colonial style in its rooms, brick floors, and different alpaca fabrics decorating them, besides their great city views. Also, the hotel conserves the known historic style of its houses in the center, from its facade to its rooms. With ashlar walls, pillars, and arches, as well as lacquered wood furniture and artistic details that impregnate the entire hotel with vintage color. Being strategically located in the main square, you can experience and take advantage of some of the walking tours in Arequipa.
Mint Hotel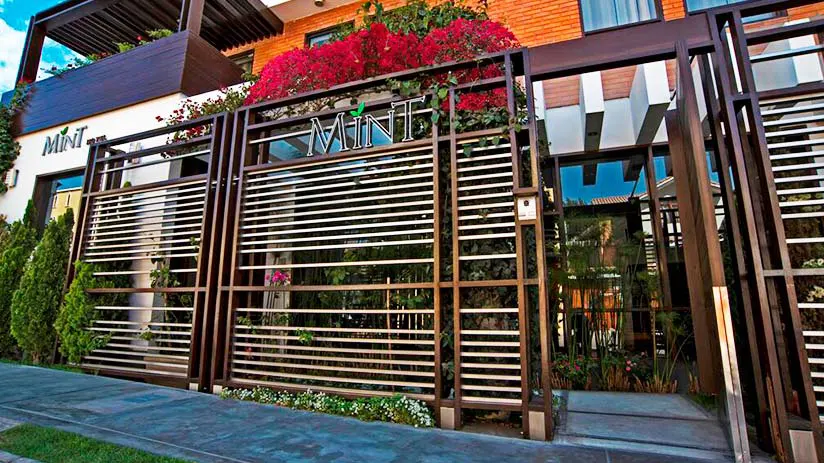 A few minutes from the main square is the Mint Hotel. This family-owned hotel is 4 stars but has competitive prices and offers comfortable double, single, and junior suites, besides rooms with incredible decoration and completely equipped with TV cable, a minibar, private bathrooms, toiletries, towels, a desk, and a strong box. The room service includes food to the room and a massage session. Some of its rooms have the availability of terraces. The reception of the hotel is available 24 hours, so you will not have difficulty finding a room. The other hotel services include laundry service, gym, transfers from the airport, business center, Wi-Fi, an internet network of high speed, and free parking. Mint also has its own bar and restaurant, which offers everyday breakfast à la carte. Mint is one of the few hotels implemented for people with disabilities, with special elevators.
Acolpacha Tambo Boutique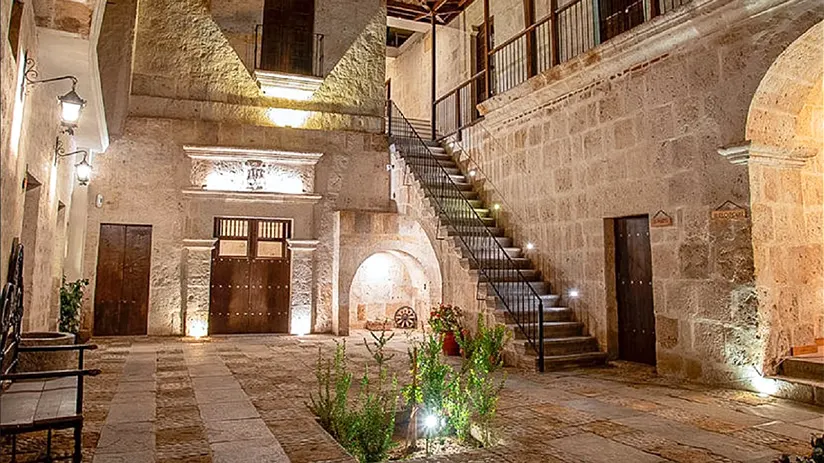 If you are planning a trip to Peru, specifically to Arequipa and stay some days to explore the best of it, like its cathedral, the Santa Catalina Monastery, the Colca, and Cotahuasi canyons, among others, two or three days will be more than enough and the Acolpacha Tambo Boutique can be your cheap but elegant hotel in Arequipa. It is located in the same historic center of the "White City", 1.2 km from Yanahuara church, and close to everything (convent of Santa Catalina de Siena, Casa Moral, and others) The hotel is situated in a colonial mansion of the XVIII century, refurbished especially for tourists, conserving the masonry and balconies in Ashlar. Also, these colonial characteristics are combined with modern solar panels, turning it into a hotel that respects history and offers modern services.
Their hypoallergenic rooms have air conditioning, TV Cable, terraces, closets, private bathrooms, bed linen, towels, a minibar, and great views of the city and its volcanos. Also, the hotel infrastructure has a concierge, free Wi-Fi in all its areas, a bar, and a restaurant that offers a buffet breakfast every day.
Casa de Avila Hotel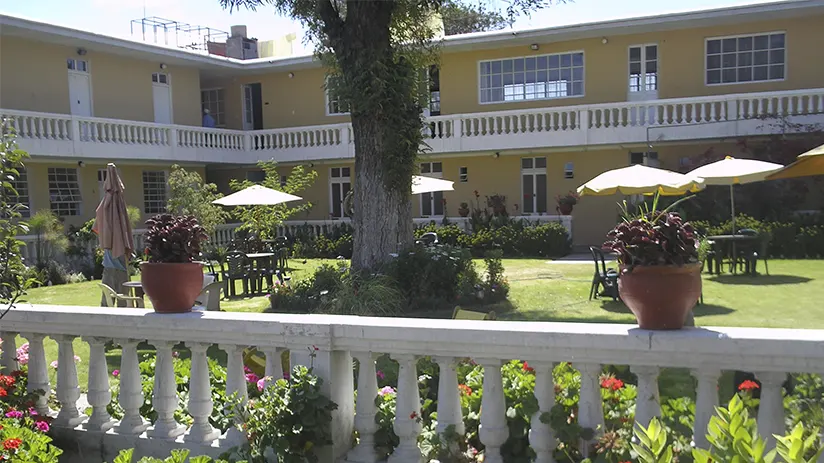 As you may have noticed, Arequipa is a city worth visiting, not only for its attractions such as the Arequipa Cathedral, the Santa Catalina Monastery, the Misti volcano, and the Colca and Cotahuasi canyons, among others. But also for its tourist infrastructure and Casa Avila Hotel is our last stop. This property of 1923 is located only 400 meters from the Arequipa main square, with cozy environments and family management. The Casa Avila is characterized by a large and charming garden where you can enjoy a buffet breakfast prepared every day by its restaurant based on salads and natural fruit juices, local bread, cheese, butter, Andean cereals, olives, yogurt, and much more. Also, the restaurant offers cooking lessons to prepare traditional local dishes like Arequipenos stews, or stuffed Rocotos (peppers)
The rooms are distributed on 2 levels and have hot water permanently, flat-screen TV with cable, private bathrooms, closets, a desk, and a great view of the garden. On the other hand, some rooms have terraces with outdoor furniture, besides linens, towels, a hair dryer, and an ironing kit. In addition, the hotel offers free coffee and Wi-Fi in all its areas, a game room for children, a tourist information desk, including Spanish classes, and a guided walk through the center of Arequipa for those guests who have more than two nights' of reservation at the hotel. Amazing!
"WHEREVER YOU GO, GO WITH ALL YOUR HEART"
As you can see, Arequipa is the complete pack as far as tourism in Peru is concerned. The White City is not only charming, exciting, and adventurous activities but also tourist infrastructure at the highest level, like the hotels (only comparable with Cusco) Therefore, together with our colleagues from Machu Travel Peru, we hope to have helped you a little in your search for accommodation in this beautiful city. Remember that these are just some of the most popular examples, but in Arequipa, there are many other hotels and lodgings waiting for you. If you want to know about other options, you can consult with our advisors. They will be glad to assist you.
Peru has so much to offer, it can be hard to know where to start. With many years of experience in the tourism sector, Machu Travel Peru is happy to help with anything regarding your trip to Machu Picchu and any tours around it. Make your Machu Picchu experience an unforgettable one!
---