Lima has become a landmark in South America for the worldwide gastronomic revolution. With three restaurants among the 50 best in the world and its place among the most consumed worldwide cuisines, next to Italian, French, Japanese, and Mexican, Peruvian cuisine won't be disappointed you. And with the mixture of diverse cultural descent in the Peruvian population, the variety of food offered in the Andean country will please the most demanding palates. Therefore, it is not difficult to enjoy great food and find the best restaurants in Lima, the capital of Peru.
If you have planned to make interesting things to do in Lima, make sure to taste its excellent cuisine and its most recognized restaurants. Together with Machu Travel Peru, we will give you some suggestions on the best places to dine in Lima. From the most expensive and luxurious to the cheapest. A variety of options with the objective to make you taste the best South American cuisine.
The best 15 restaurants in Lima to try
1. Central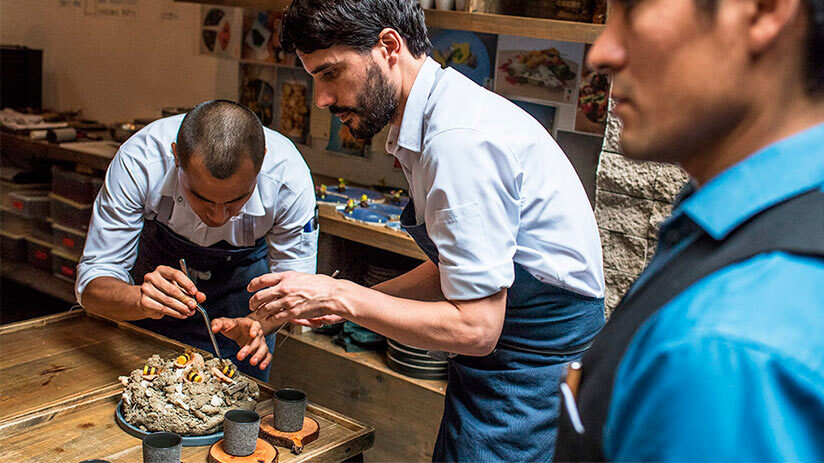 Address: Pedro de Osma 301 Avenue, Barranco, Lima, Peru.
Schedule working: 12:30 pm – 00:00 am from Monday to Saturday / Sunday closed.
Reservation: Call +51 1 242 8515 or send an email to reservas@centralrestaurante.com.pe
The second-best Peruvian chef (After Gaston Acurio) was joined by his sister and the best Peruvian female chef (currently his wife) to create Central restaurant, cataloged as one of the best restaurants in Lima, the best worldwide and always situated in one of the first places in the rankings (always ranks in the top 4) elaborated by the prestigious worldwide magazine "World's 50 Best Restaurants". We refer to Virgilio Martinez, his sister Malena Martinez and his wife Pia Leon.
Central is a place quite known for its bold use of high-quality ingredients in different tasting menus. These menus from 11 to 17 times show the different Peruvian ingredients developed at 20 meters below sea level to those grown at 4100 meters above sea level in unique artistic presentations. Also, each halftime is accompanied by typical Peruvian drinks, as well as glasses of wine and Pisco. This imaginary culinary journey through all areas of Peru is accompanied by a modern atmosphere, with dim lights and comfortable armchairs in the best place in Barranco, the artistic neighborhood of Lima.
The renowned menus have at your disposal many things to delight you. Among them, are meat dishes, seafood, Andean grains, vegetables, and many other avant-garde dishes. It is its distinguished flavors from different Peru zones that make Central an unparalleled gastronomic experience, of high-cuisine and unique experience. In this restaurant, you may have to book three months in advance. Being one of the best restaurants in the world, it is an experience that many seek to enjoy.
2. Astrid & Gaston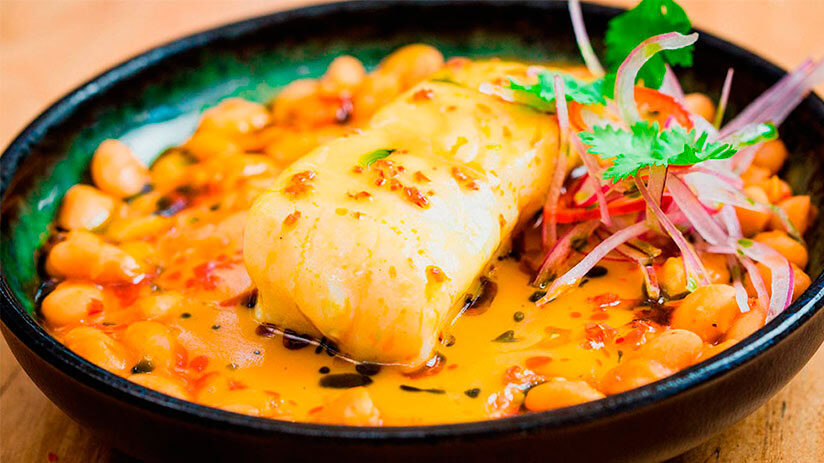 Address: Paz Soldán 290 Avenue, San Isidro, Lima, Peru.
Schedule working: Lunch 01:00 pm – 03:30 pm / Dinner 07:00 pm – 11:00 pm from Tuesday to Saturday. Sundays from 12:00 pm – 04:00 pm.
Reservation: +51 1 442 2777 or send an email to restaurante@astridygaston.com
Each important feat in the history of a nation had a leader as its standard-bearer: Abraham Lincoln in the abolition of slavery in the United States, William Wallace in the independence of Scotland from England, and Gastón Acurio, owner of the Astrid & Gaston restaurant, in the revolution of Peruvian gastronomy in the world. Gaston Acurio is the main responsible for why Peruvian cuisine is located among the Italian, French, Chinese, and Japanese ones worldwide nowadays. And all began with his first restaurant inaugurated in 1994 in Lima, the "Astrid & Gaston". But, Who is Astrid? Astrid Gutsche is a German patissier who met Gaston Acurio when both were students in the exclusive cuisine school Le Gordon Blue in Paris, they got married and the rest is history.
The first dishes of this restaurant were from international cuisine (French and Italian) but were substituting the cream and butter with local ingredients like Aguaymanto cream (goldenberry) and salsa de Aji Amarillo (yellow pepper sauce) as examples. Now, Its renowned menu includes the most popular Peruvian dishes and its own creations with ingredients from all over Peru. All of them, combined with cooking techniques of international cuisine.
Therefore, the food you will find consists of iconic dishes from the coast, the mountains, and the jungle. You can find the most emblematic dishes of each of the regions of the Andean country. And it is worth mentioning that all meals are cooked over a wood fire, a notable feature of the establishment.
The restaurant is located in an old and beautiful mansion built in the middle of the 17th century by the Catalan architect Pedro de Noriega in the San Isidro district of Lima. We highly recommend that you try this distinguished restaurant. But be sure to book in advance, as it is often difficult to get a table without one. A good Lima travel guide will know how to recommend this incredible restaurant. Definitely, Astrid & Gaston is one of the best restaurants in Lima that you cannot miss.
3. Maido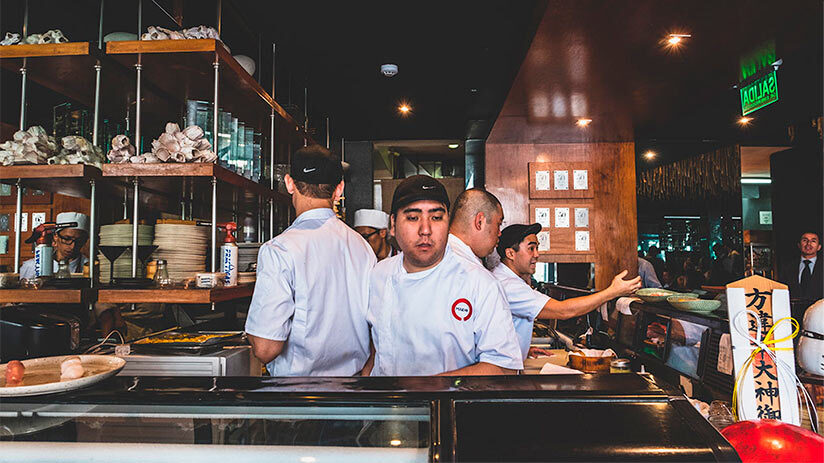 Address: San Martín 399 street, corner with Colón street, Miraflores, Lima, Peru.
Schedule working: 01:00 pm – 09:30 pm from Monday to Saturday / Sunday closed.
Reservation: Call +51 01 313 5100 or send an email to informes@maido.pe
The first Japanese settlers arrived in Peru in the late 19th century, bringing costumes, traditions, and unmistakable gastronomy. Over the years, the cooking techniques of Asian cuisine were combined with the wonderful flavors and ingredients of the Andean country, giving rise to Peruvian-Japanese fusion cuisine, also called Nikkei cuisine. And in Peru, the Nikkei cuisine has a temple called "Maido", Maido restaurant.
Maido means "welcome" in the Japanese language, and the restaurant offers a unique experience since the arrival. When the diner arrives at the restaurant, the personnel yells in unison "Maido", bowing themselves and inviting him to take a seat at his reserved table. Its distinguished high Nikkei cuisine menu includes specialties such as sushi, marinated fish, and shellfish, besides creole dishes with a touch of Asian preparation. The Tiradito de Pescado (thin slices of fish marinated in citric sauces made from local fruits) is another of the house specialties. You should not stop tasting it!
Also, Maido's tasting menus are themed. A clear example is a menu called "200 miles", which refers to a stretch of the Peruvian Pacific coast. This menu includes 13 innovative dishes with Peruvian marine ingredients that you cannot miss for anything. The head chef and owner is Mitsuharu Tsumura, and he is the one who leads the restaurant with great capacity and imagination for his dishes. We recommend that you do the tasting and wine pairing to experience the magic of Nikkei cuisine. Not in vain these experiences of flavors, colors, and tribute to two ancient cuisines such as Peruvian and Japanese have earned Maido a place in the top places of the prestigious "50 restaurants in the world" magazine (first South American restaurant in 2017, 2018 and 2019) After experiencing the tours in Peru, you have to relax at Maido.
4. La Mar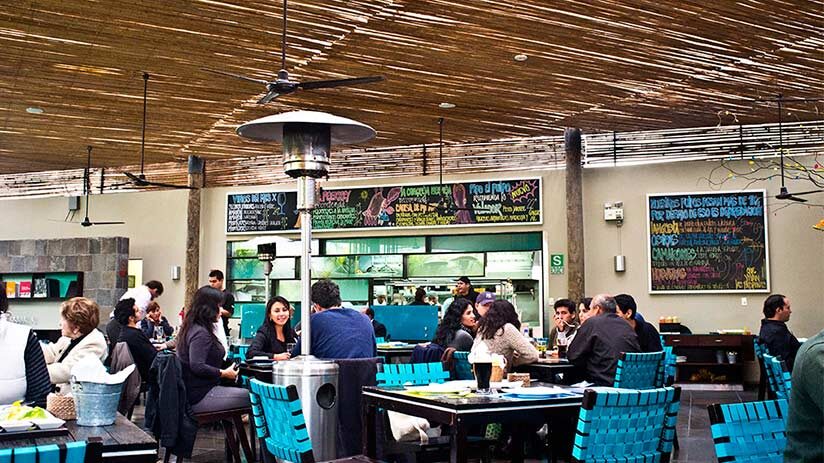 Address: La Mar 770 Avenue, Miraflores, Lima, Peru.
Schedule working: 12 noon. to 05:00 p.m. from Monday to Thursday / 12 noon. to 05:30 p.m. Friday, Saturday, and Sunday.
Reservation: Call +51 937 220 734 and +51 1 422-6708 or send an email to lamar@lamarcebicheria.com.pe
If Peruvian Gastronomy conquered the world by the hand of recognized Peruvian chef Gaston Acurio, he did it accompanied by a Peruvian flag dish, the ceviche. This dish consists of marinated fish in the citric juice of lemon and lime, with hot peppers and celery chopped, accompanied by boiled corn grains, lettuce, fresh onion slices, and sweet Peruvian potatoes. And Gaston Acurio understood that he had to have a restaurant that paid tribute not only to Ceviche but to the history behind it, to the Peruvians who make it possible, from the artisanal fisherman who gets up very early for the catch of the day to the farmer on the Peruvian Andes who stays up late taking care of his harvest. In this way, he created La Mar, or "The Sea" restaurant.
Seafood and fish are the true strength of this incredible restaurant. Variety of ceviches, tiraditos (sliced fish marinated in citrus juices from local fruit), and even sushi and creole dishes having the fish as base meat. Also, one of the most notable features is its menu, which changes daily depending on the fresh fish available.
The restaurant has open spaces full of plants with a touch of elegance and modernity. It has an angular concrete facade, concrete floors, and a bamboo roof. The fish here is always fresh and carefully prepared for you to taste at its finest. Therefore, the restaurant is only open from 12:00 pm to 17:30 pm every day. Also, the establishment even has an incredible fresh cocktail bar with excellent Pisco-based drinks.
5. Isolina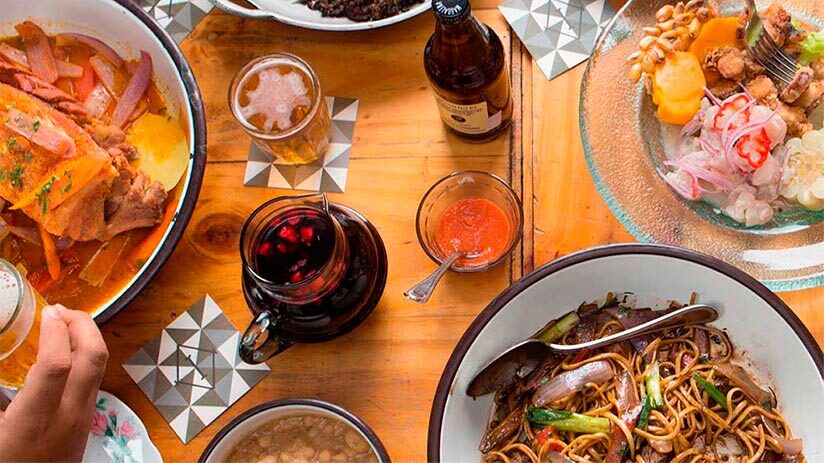 Address: Prolongación San Martín 101 Avenue, Barranco, Lima, Peru.
Schedule working: 12:00 p.m. to 10:00 p.m. from Monday to Wednesday / 12:00 p.m. to 11:00 p.m. from Thursday to Saturday / 12:00 p.m. to 5:00 p.m. only Sundays.
Reservation: Call +51 01 247 5075 or +51 943 833 031
Isolina is the name for those Peruvian women who go out to work hard every day to support their children, the one who looks for new ways to bring stability and food to their home, and the one who fights every day for the welfare of their children. Isolina is a tribute from a son to his mother, a tribute of chef José del Castillo to his mother Isolina Vargas, owner of the La Red restaurant chain from 1981 to 2009. He grew up supporting his mother in managing the restaurants and learning to prepare ancient and forgotten recipes, those that were jealously guarded by the Lima mothers of yesteryear, to be tasted only by their relatives, without sharing them with anyone.
No wonder, this restaurant is the busiest for national diners, remembering and tributing those flavors and dishes that consumed when they were children in their houses. For this reason, Isolina is a family restaurant where you can find original and ancient Lima creole dishes that were stopped being prepared in Peruvian restaurants and some houses, like chicken gizzard stew, potato with black pudding, and tripe stew. Each dish served is abundant, to be shared by up to three persons, as a typical dish served in a common Lima house on a random day.
Isolina is located in the Bohemian district of Barranco, one of the best places to get to know the nightlife of Lima. Exactly, in an ancient Lima house 114 years old. The restaurant offers many traditional creole dishes. The owner's mother and the same José del Castillo make all the dishes with home and family recipes. We highly recommend trying the delicacies this place has to offer. If you want to taste the Lima nostalgia of yesteryear, you shouldn't stop going to Isolina.
6. Rafael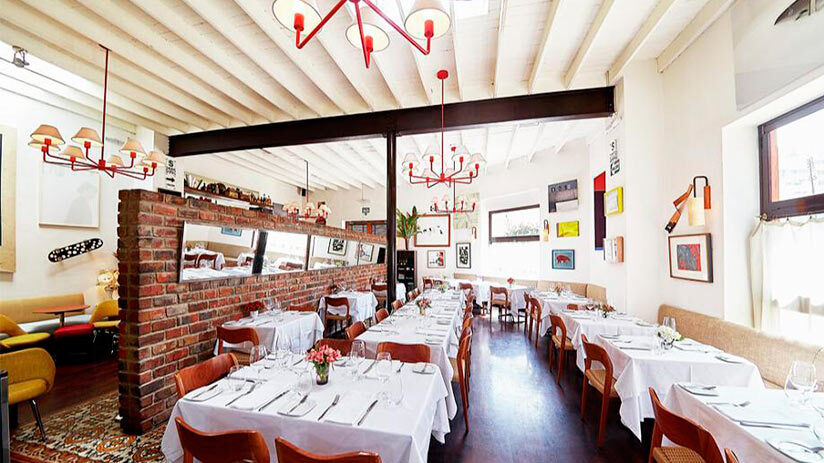 Address: San Martin Street 300, Miraflores, Lima, Peru.
Schedule working: 07:00 pm – 11:00 pm Mondays / 01:00 pm – 03:30 pm and 07:00 pm – 11:00 pm from Tuesday to Saturday.
Rafael Osterling had a promising future as a lawyer until knew the cooking world and abandoned his letter career to learn cooking and study in the prestigious Le Gordon Blue. His passion carried him to work in the most prestigious restaurants in London and Paris, before opening his first restaurant in the exclusive Lima neighborhood, Miraflores, 20 years ago.
Rafael restaurant (Which carries the same name as the owner) enchants its diners every day with a varied menu influenced by Peruvian, Italian, and Asian cuisines. Since Ceviches, Tiraditos, and Sashimis, passing by pizzas, pasta and tagliatelle, arriving to catch the day grilled.
The restaurant is located in an impressive art deco Miraflores mansion, decorated with Contemporanea art pieces and a bar table that has its own presence. No wonder, it's in the top 20 restaurants on the Top 50 Restaurants list, besides being one of the most ancient and recognized restaurants in Lima. Without a doubt, eating at Rafael's restaurant is quite an experience!
7. Osso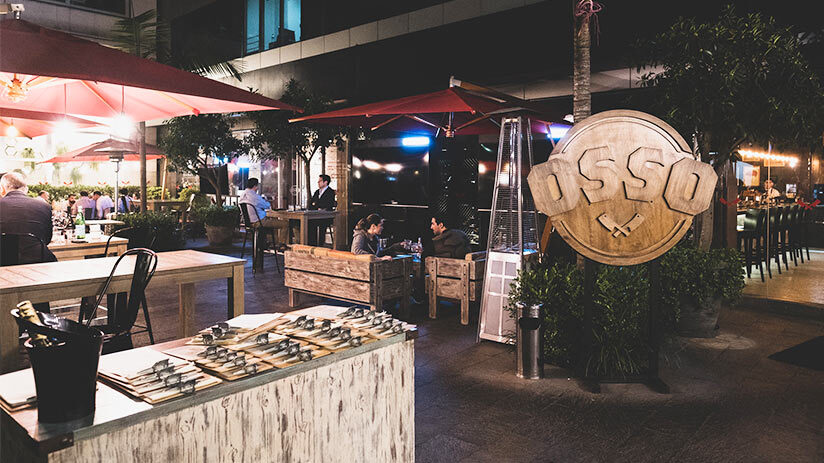 Address: Santo Toribio Avenue 173 and Central Avenue 172, Torre Real 6, San Isidro, Lima, Peru.
Schedule working: 09:00 am – 07:00 pm from Monday to Saturday / 09:00 am – 04:00 pm only Sundays.
If we have to refer to a grill & meats per excellence in the Peruvian capital, we have to mention Osso restaurant. Renzo Garibaldi is the owner, and he is committed to meat and the sustainability of those who provide it. For this reason, Renzo moved to San Francisco and Paris in 2013 to receive lectures and training in sustainable butchery. Of course, after this journey, returned to Peru to open his first butcher shop called Osso in the district of La Molina (A Lima high-class neighborhood, like Miraflores or San Isidro, but far away from the sea and closest to the sandbanks)
Yes, before the restaurant, Osso was a butcher shop where Renzo shared grills some weekends with her friends with the meat that had in the pantry. In those moments, Renzo experimented with different cuts and styles of meat. Little by little the fame of those grills with friends grew, and more people asked to be a part of it. In this way, Osso restaurant was born, grew with surprising success, and after a few years opened its second location in the San Isidro district. (closer to the airport, ports, hotels, and foreign visitors)
Besides a menu based on roasted and grilled meat of different cuts, Osso offers tasting menus that consist of homemade sausages, followed by tartare, hot dogs, sliders, and grilled cuts in various stages of drying. A real delight. Therefore, we recommend you visit it in any of its two locals, La Molina or San Isidro, you'll not regret it.
8. El Mercado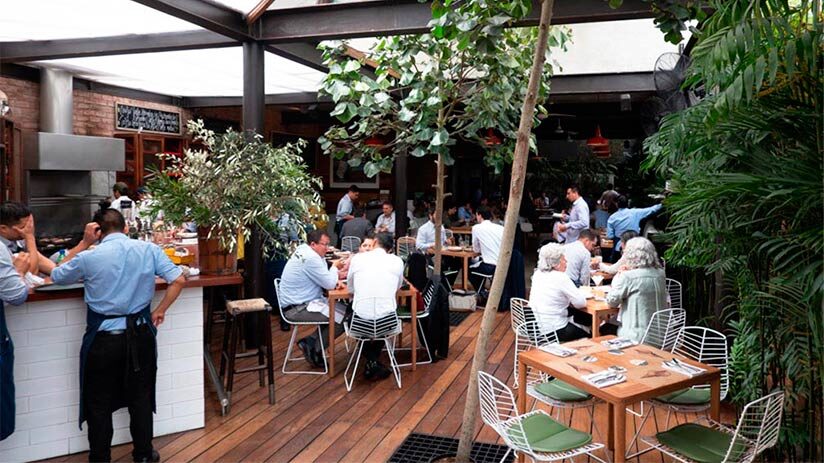 Address: Hipólito Unanue 203 Avenue, Miraflores, Lima, Peru.
Schedule working: 12:30 pm – 05:00 pm from Tuesday to Sunday.
A semi-open space where tables and chairs are distributed carefully, all of them bordered by a large bar where the diners can see the preparation of dishes and more delights prepared by local experts, simulating the food court of a typical Peruvian market. For this reason, the restaurant takes the name of many markets in Lima, the Market restaurant (El Mercado)
But, Who is the mastermind behind this original restaurant idea? Nothing more and nothing less than Rafael Osterling, the same creator of Rafael restaurant. His restaurant is a modern cevichería that specializes in seafood dishes, and it is very popular with Lima's culinary scene, so this restaurant will not disappoint.
El Mercado is distinguished by the fresh fish of the day, its variety of ceviches, its Pulpo a La Parrilla (grilled octopus served with mushrooms, native Peruvian potatoes, and parsley sauce), or its Osterling sushi cause. Justly, on its lighted terrace, you can enjoy a delicious lunch with the family and the best fish dishes of Lima. Plus, it has some unique cocktails to enjoy. There is no best time to visit Lima, but it would be good that when you visit it, you enjoy yourself in this establishment.
9. Osaka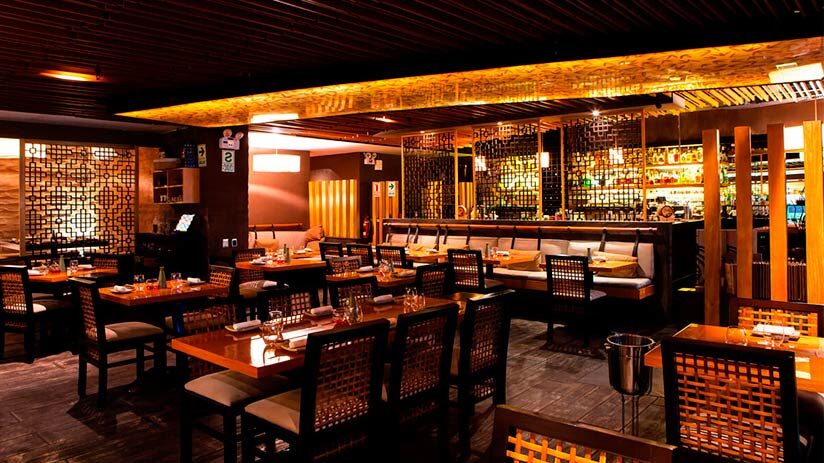 Address: Pardo y Aliaga 660 Avenue, San Isidro, Lima, Peru.
Schedule working: 12:30 pm – 00:00 from Mondays to Saturdays / 12:30 pm to 22:00 pm only Sundays.
Osaka and Maido, maybe be the best representative of Nikkei restaurants in Lima (Peruvian – Japanese cuisine fusion) food in Peru. Osaka was founded by a Peruvian Entrepreneur and Enthusiast, Diego de la Puente. Unlike Maido, Diego is not in the kitchen, quite the opposite, he has moved away from it to see more about the administrative and marketing issues of the restaurant. Leaving the preparation of the dishes to true experts.
Grilled prawns with leeks and red curry, fresh sushi, the classic tiradito (thinly sliced raw fish marinated in a tangy and spicy sauce), perfectly sliced sashimi, and Peruvian Izakaya are some of its specialties this restaurant that has the influence of Peruvian and Japanese, with Chinese and Thai accents. All they served in a cozy atmosphere of walls covered with carved wooden slabs (Japanese style), soft lighting, and a kitchen with an open bar.
For all these characteristics, not surprisingly, Osaka has achieved rapid growth domestically, but also internationally. Currently, the restaurant has subsidiaries in Buenos Aires, Santiago de Chile, São Paulo, Quito, Bogotá, Miami, and London. Many diners say that Osaka is the best Japanese restaurant. Without imagining that it is managed by Peruvian hands. Osaka is another Nikkei restaurant that you can not leave to visit!
10. Kjolle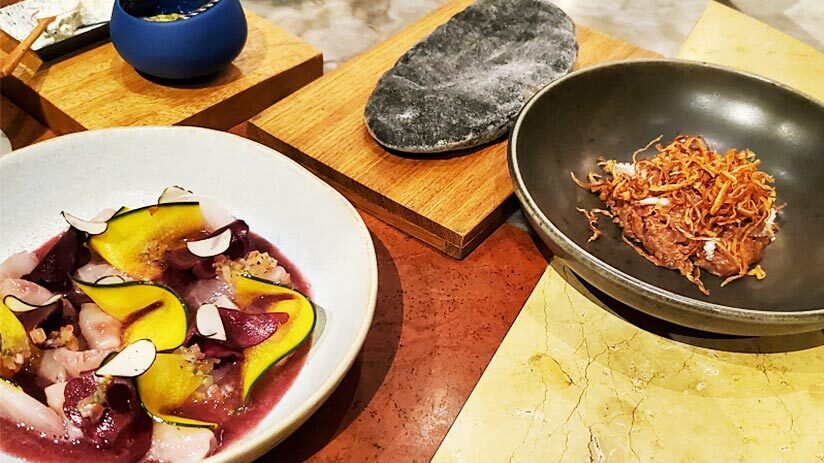 Address: Pedro de Osma 301 Avenue, Barranco, Lima, Peru.
Schedule working: 12:45 pm – 14:45 pm and 19:00 pm – 21:00 pm from Wednesday to Saturday.
Reservation: Call +51 1 242-8575 or send an email to reservas@kjolle.com
Kjolle is the name of a shrub with orange flowers that grow at the Peruvian heights and, also, is the name of the restaurant of the Peruvian Pia Leon, considered the best woman chef in the world (according to "the 50 best" magazine in 2018). In Kjolle the diner can find a tasting menu, similar to Central (the restaurant of her husband Vigilio Martinez), but with a horizontal concept, which shows dishes based on Peruvian ingredients grown from east to west (While Central shows a vertical concept, with dishes and ingredients cultivated from 20 meters below sea level, up to 4100 meters above sea level)
Talking about the best woman chef around the world is talk about a story of success and struggle. She studied at the prestigious Le Gordon Blue school in Lima, worked for a long time at Astrid & Gaston and at the restaurant at the Ritz-Carlton hotel in New York, and later being head chef at the recently created Central restaurant in 2008. Finally, in 2018 founded Kjolle with all the experience, technique, and talent.
Kjolle is located over the Central restaurant, on the second floor of Casa Tupac. Its decoration is more relaxed but just as sophisticated as Central and offers, in addition to the tasting menu, an à la carte menu with delicacies such as an Amazonian fish with Yucca, Cocona (a fruit from the Amazon), and Amazonian spices known as Mishkina, Tumbo, Kiwicha, among others.
11. Mayta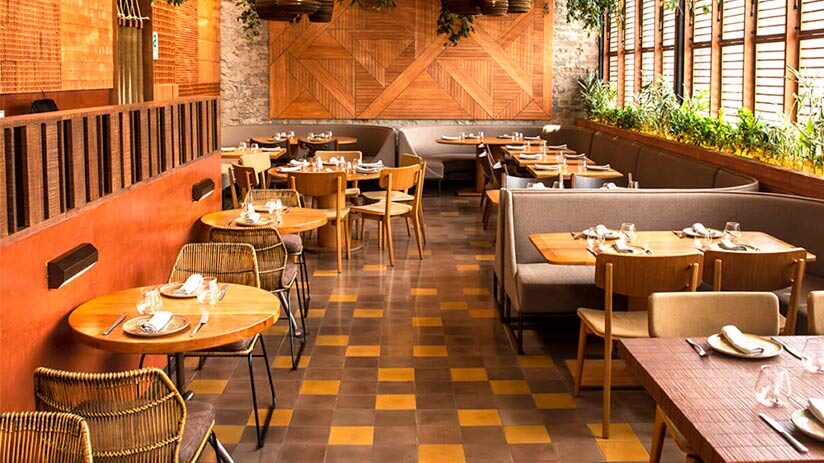 Address: La Mar 1285 Avenue, Miraflores, Lima, Peru.
Schedule working: Lunch 12:00 p.m. – 4:00 p.m. from Monday to Sunday / Dinners 18:30 pm to 10:00 pm Monday to Sunday.
Mayta is the new Peruvian proposal restaurant that combines cooking techniques of Peruvian and International gastronomy, taking advantage of the great variety of ingredients of the Andean country. As proof of its commitment to Peru, the owner, the Peruvian chef Jaime Pesaque named the restaurant with an appellative very representative of Aymara, the ancestral language of the Peruvian plateau, Mayta. It means "Noble land", that land that offers an unbelievable variety of products to the local diner, and it is generous and very noble.
Jaime studied cooking in Italy and made practiced at the two-time first-place restaurant winner (in "the best 50 restaurants") El Celler de Can Roca. Subsequently, he was there working for a long time before returning to Peru and opening Mayta. 14 years later, Mayta is situated on the same list as El Celler de Can Roca, as one of the best restaurants in Lima and worldwide.
Mayta represents the great biodiversity in Peru with dishes like Arroz con Pato (rice with duck) with smoked magret, fried duck egg, and foie gras, a classic of north Peruvian cuisine. Or a risotto con Chupe with a spicy shrimp stew, a traditional dish of the Peruvian south. Or an Amazonian ceviche with ginger, coriander, Charapita chile, and sweet plantains, the best representation of Amazonian cuisine. Without mentioning the large bar with more than 120 examples of Pisco, the national beverage of Peru, even some of them are macerated with endemic fruits of the country. If you're there, you can not leave to try the famous Chilcano, a Peruvian cocktail made with Pisco, ginger ale, and lime. Also, it offers a tasting menu of 12 dishes called Yachay, and shows the best of Peruvian products. Even, some say, comparable to Central de Virgilio Martinez.
12. Cosme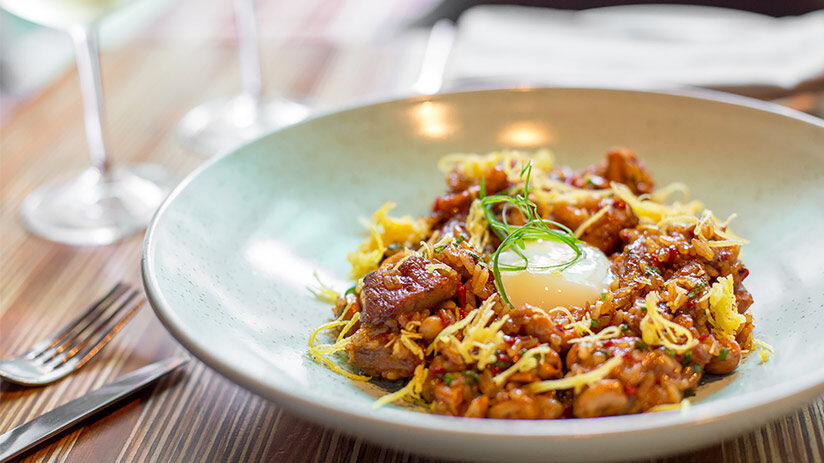 Address: Tudela and Varela 160 and 162 Street, San Isidro, Lima, Peru.
Schedule working: 12: 30 pm – 10:45 pm from Monday to Saturday / 12:00 pm – 04:00 pm only Sundays.
One fine day 5 friends got together with the same dream, open a restaurant that reflects those homemade flavors of traditional Peruvian cuisines with a touch of modernity, in a sustainable and cozy place where spend a nice time with friends and family. This is how Cosmo came to be and the 5 friends were Alvaro Raffo, Juan Lengua, Guillermo Lohmann, and James Berckemeyer, the last main chef of the restaurant.
Like the majority of recognized Peruvian chefs, James worked for many years at Astrid & Gaston, before opening Cosme. The restaurant takes the name of San Cosme hill (Cerro San Cosme), one of the first popular neighborhoods that were formed in Lima. And sustainability is its flag, the diner at enters Cosmo will see many plastic bottles hanging from the restaurant ceiling, besides decorations and utensils made with recycled material.
But the dishes and the proposal that carries are the true stars of the firmament, Thai style grilled fish, an Angus burger, tangerine flavored salmon, pulled pork bao, sea bass curry, or pork bun are some of the delights that Cosme brings. The drinks are other characteristics of Cosme, fresh homemade soft drinks like orange and chamomile, lemongrass and tangerine, and cardamom lemonade (that help reduce plastic use in restaurants) are the best examples. Without mentioning pineapple ginger beer, lemongrass, and tangerine. Undobtley, Cosme is a place to visit and enjoy.
13. Punto Azul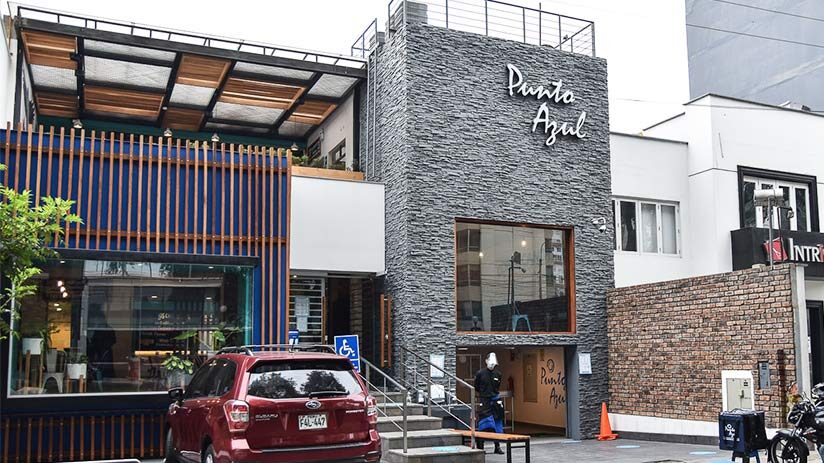 Address: Benavides 2370 Avenue, Miraflores, Lima, Peru.
Schedule working: 11:00 am – 04:00 pm from Tuesday to Sunday.
Reservation: +51 01 480 1165 or + 51 764 2145 / It doesn't accept reservations.
Punto Azul (Blue point) is one of these restaurants in Lima open for everybody (not only for tourists but for national diners, too). It is a classic Cevicheria (a place where fresh fish, seafood, and marine food are expended) with delicacies that leave everyone enchanted like its Chaufa de Mariscos (Seafood Chaufa), rice cooked to Chifa style (Peruvian – Chinese fusion) with stir-fried seafood. Or, its Jalea, a platter of fried fish and seafood. Or its Arroz con Mariscos, grained rice with yellow hot pepper, toothpick, and sautéed seafood. Besides Ceviches of fresh fish and much more.
The restaurant was founded in 1992 and from this date, Punto Azul has been growing in popularity and fans all over Peru. The restaurant is in such high demand that it does not accept reservations and diners have to line up to wait for a table to become free, so they can enter. But the wait is well worth it. The personnel takes a walk among the tables with a Peruvian desserts-carry, offering chocolate cakes, Suspiros a la Limeña, and Tres Leches, among others to everyone who finished eating and wants a sweet end to their experience at Punto Azul.
14. Cala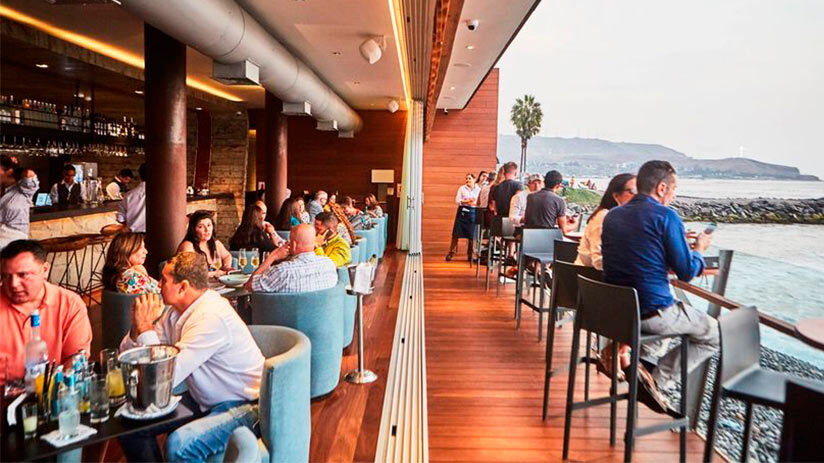 Address: Barranquito beach, Breakwater B-2, Costa Verde Road Circuit, Barranco, Lima, Peru.
Schedule working: 12:00 pm -01:00 am from Sundays to Wednesdays / 12:00 pm – 03:00 pm from Thursday to Saturday.
Reservation: Call +51 01 477 2020
Cala is located in one of the most visited tourist attractions in Lima, just over the coast border of the Pacific Ocean, always looking at the sea, with that melancholy look to ancient Peruvian marine flavors with a slight contemporary touch. Therefore, Cala tries to reflect love, relaxation, and passion for the past, present, and future of Peruvian cuisine in its dishes. Of course, all these dishes are hosted in three well-defined areas. Spend beautiful sunsets at the sea's shore in the lounge area, have nice talks with friends on the terrace area, or experiment with special and private moments in the main living room. Cala is prepared for everything.
The gastronomical purpose of Cala alludes to innovative seafood dishes, with Peruvian ingredients and a slight touch of oriental cooking techniques. Therefore, on its menu, you'll find spicy crab with shrimp, accompanied by green limp beans and country bread. A Carpaccio Gijon, accompanied by grilled tenderloin, capers, and rocket. Another house specialty is the Sobredosis (the overdose) is a Ceviche of a fish mix with three types of hot chili peppers and black shells. Chita Crispy (Thai-style crusted snapper) prepared in coconut milk and basil reduction and served with prawns and a side of coconut rice is another delight of this restaurant. Go ahead and eat at this luxury restaurant, you will not only get exquisite flavors but also a magnificent view of the sea.
15. Maras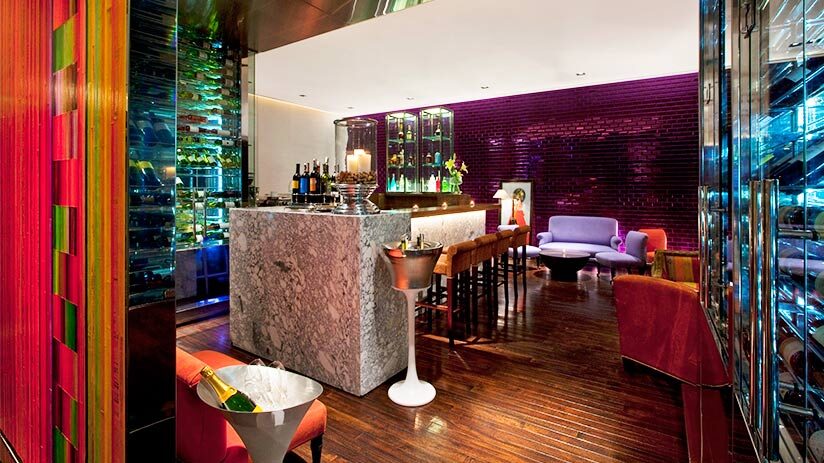 Address: Las Begonias 450 Street, San Isidro, Lima, Peru.
Schedule working: 12:00 pm – 08:00 pm from Tuesday to Sunday.
Reservation: Call +51 962 382 609
Maras is a locality of the Urubamba district, in Cusco. It is more known for its salt mines that have been used since Inca times. More than 3000 salt pools adorn the slope of Qori Pujio mountain. Some connoisseurs say that one of the best salts in the world is extracted from its pools. An ancient legend says that the 4 Ayar brothers were born in Tamputocco mountain and were ordered to find the beautiful Cusco valley, to founding the Incas empire. At the top of Huequey Willca, the brothers realized that Ayar Manco would be the only one who could carry out the order. So, Ayar Cachi began to cry sad, and his tears fell to the ground, becoming the current salt pools of Maras.
Many years later, the recognized head chef of 5-star hotel Westin restaurant, Rafael Piqueras, was inspired by this legend and the flavors of the great biodiversity of Peru to found Maras restaurant. The Maras of Piqueras is located on the first floor of the luxury hotel Westing and has a large bar area, an open terrace and private chef's table area, and a principal dining hall. Elegantly decorated with contemporary touches, the restaurant offers a varied menu that goes from Loin carpaccio which is beef tenderloin, red foam, traditional Harry's bar sauce, pesto, truffle pearls, and baguette bread toasts, to a sweet potato Agnolotti which is Ravioli stuffed with roasted sweet potato with goat cream cheese, porcón sauce, chestnuts, and old cheese. An inevitable option on your gastronomic tour of Lima.
"FOOD IS NOT RATIONAL. FOOD IS CULTURE, HABIT, CRAVING, AND IDENTITY"
On any luxury trip to Machu Picchu, you must first arrive in Lima. Try spending time in Lima and enjoying how much you have to give the Peruvian capital. From the food, as well as the historic sites and contemporary experiences. We highly recommend enjoying restaurants in Lima and trying our traditional flavors. Machu Travel Peru is the perfect agency for all your luxury travel needs. Contact us today for a free quote for your next trip to Peru. We hope you enjoyed the idea of a culinary trip to Lima. Although we have listed a few, it is just a glimpse of what you can enjoy. Since there are too many great places to name.
---