Planning a trip to Peru? Nowadays, the Andean country is a synonym for good cuisine and delightful dishes and, despite being Lima the best city to eat in Peru (It is considered the gastronomy capital of South America), the restaurants in Peru of other regions are not lagging behind. Therefore, the Machu Travel Peru team is aware that the best introduction to the Andean country is a gastronomic experience that embodies pleasure and identity not only of one city (Lima) but also other Peruvian regions.
Four Peruvian restaurants are of the 50 best in the world. It's due to fusion food that these present. Andes's ingredients cooked with modern techniques result in Novo Andean cuisine. Coast dishes originate Creole restaurants. Its marine influence derives from Cevicherias or Jungle restaurants that come from the Amazon. For this reason, the Andean country prides itself on being one of the most exciting culinary travel destinations in the world, and we're not exaggerating.
Peru has an ever-evolving food scene that, since the beginning of time, has bypassed the "culinary norms" in many ways. It managed to merge the traditional with the contemporary. Peru is undoubtedly the center of a gastronomic revolution where you will find Creole traditions with unique Asian touches, among other regional cuisines.
Due to its great geographic biodiversity that offers ingredients from the coast, the Andes, and Amazon, eaten in any Peruvian restaurant is cheap, because they are always stocked with a great variety of products. Without mentioning the Peruvian main food, the Ceviche, and the restaurants which offer it, Cevicherías, which you'll find around all Peru territory. Therefore, dare to try a world-class cuisine and enjoy the unique flavors of Peru.
Some of the best restaurants in Peru to experience
1. Astrid & Gaston – Lima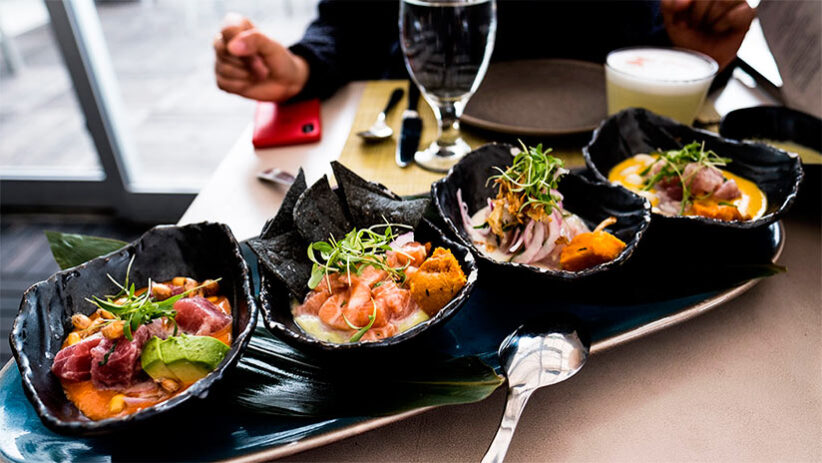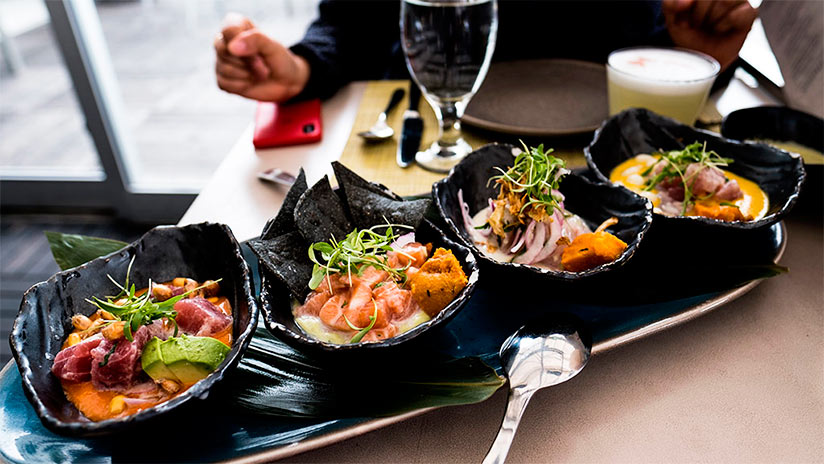 | | |
| --- | --- |
| Address | Paz Soldan 290 Avenue, San Isidro, Lima 27 – Peru |
| Hours of attention | Tuesday to Saturday from 13:00 – 15:30 pm / 19:00 – 23:00 pm. Sundays from 11:00 am – 16:00 pm |
Astrid & Gaston is one of the best restaurants in Lima. Probably the best way to understand this restaurant is to learn more about its creators. These famous Peruvian chefs are Astrid Gutsche and Gaston Acurio. Acurio dropped out of law school in third grade and continued with his true passion: food. While studying at Le Cordon Bleu in Paris, he met Astrid, and they moved to Peru to open a French restaurant. However, they couldn't deny the unique spices, products, and techniques that Peru offered.
In this form, they replaced the cream and butter (of french cuisine) with Aguaymanto (golden berries), Ají Amarillo (hot yellow peppers), Peruvian quinoa, etc. Today, Acurio has become synonymous with Peruvian culture, gastronomy, and biodiversity. Currently, he owns 11 restaurants and chain stores in cities around the world, including Miami, Paris, and Doha, Qatar.
Astrid & Gaston's dining experience can enrich your soul because it is filled with sublime and daring flavors perfect to whet your appetite. The menu provided by Astrid & Gaston changes every six months, with innovative contrast effects and add-ons for color, flavor, and texture. Try the delicious Cuy Pekines (Beijing guinea pig) and the Punch A&G, which is one of the best traditional Peruvian drinks in Lima.
2. La Mar Cevicheria – Lima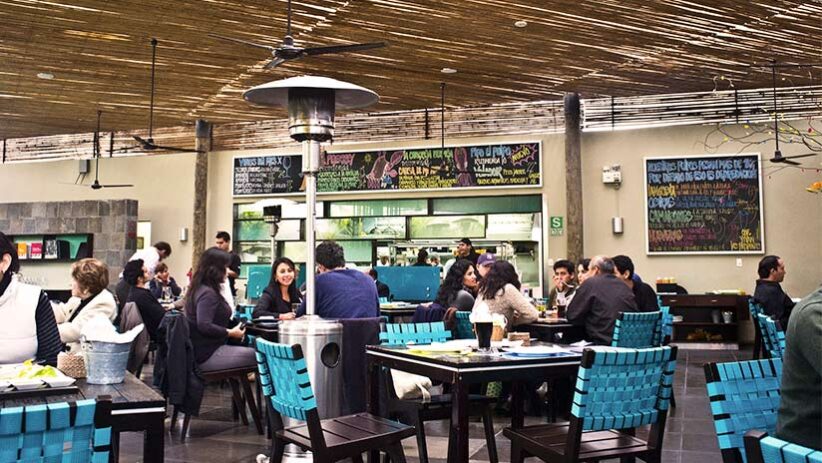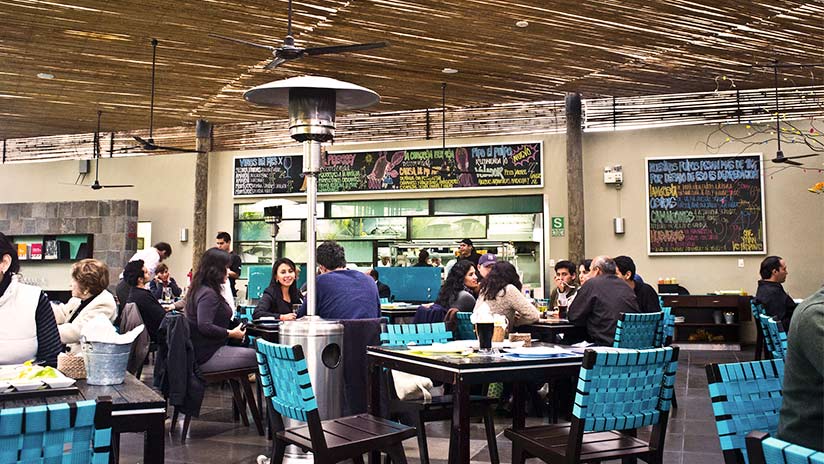 | | |
| --- | --- |
| Address | La Mar 770 Avenue, Miraflores, Lima, Peru |
| Hours of attention | Monday to Thursday from 12:00 pm -17:00 pm. Friday, Saturday, and Sunday from 12:00 pm – 17:30 pm |
As proof of the prestige of the recognized Peruvian Chef Gaston Acurio, we present its second most famous eatery inside restaurants in Peru, with subsidiaries in Buenos Aires, Bogota, San Francisco, Miami, and San Francisco. We talk about "La Mar" or "The sea" in English and yes, it is a Cevicheria (Peruvian restaurant where are expended marine food and the national dish Ceviche)
This Cevicheria with a modern and elegant decoration combined with bamboo ceilings and dividers offers not only a culinary experience but also a visual. Its tables and chairs are painted in turquoise base, all over a polished cement floor. But, besides its ventilated environment and comfortable decoration, the restaurant offers a modern bar where the commensal can delight in the national drink Pisco Sour or the bar's specialty, "Cholopolitan"
The restaurant is located over an avenue of the same name, close to the sea, inside of most tourist Lima district, Miraflores. The house's specialty is the Ceviche (pieces of fresh fish marinated in lemon juice and served with sliced onion, lettuce, toasted corn, and sweet potato) Besides the Muchame of Fortune, which has capers, tomatoes, olive oil, avocados, olive oil, among other Peruvian marine dishes. But, hurry up! Because the restaurant tends to fill up quickly, it's due that it is only open during noon to guarantee the freshest fish and marine products that will be served in its dishes.
3. Central – Lima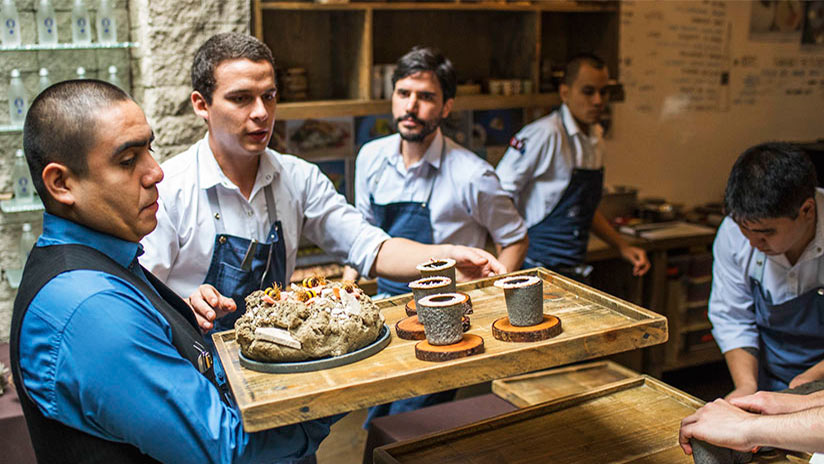 | | |
| --- | --- |
| Address | Pedro de Osma 301 Avenue, Barranco, Lima, Peru |
| Hours of attention | Monday to Saturday from 12:45 – 13:45 pm / 19:00 – 20:30 pm |
Many of the best restaurants in the world are in Lima. So our list wouldn't be complete without Central. In fact, it is considered by many to be the best restaurant worldwide, and we don't exaggerate. It is inspired by the great biodiversity of Peru, which is why Central's menu is made up of ingredients found at different altitudes and ecosystems throughout the country. From the Pacific coast to the high Andes and the Amazon.
Central offers not only a unique and incomparable culinary experience but also a comprehensive educational experience. You can learn about the culture, geography, and of course the tasty food of Peru. A peculiar feature is that each dish is named after the elevation where the ingredients were found. To be clear, if you see a dish named after a negative number: it may be a Peruvian superfood dish. A plate with thousands of meters: it comes from the Andes. The presentation of each dish is as unique and whimsical as the ingredients that combine it.
We recommend trying all the dishes, but our favorites are Red Rocks (-10 meters), a dish drawn from the Pacific Ocean. High Altitude Farmlands (3750 meters), this dish brought together two varieties of tubers of what is called "mashwa" along with duck confit. And High Jungle (890 meters), light and pillowy fritters from Sachatomate and Copoazú, tropical trees related to tomato and cocoa respectively.
In addition, Central has a cozy, minimalist, and elegant atmosphere. It will make your culinary tour more unique and special. Without a doubt, an experience you will not want to miss! Please note that reservations are required at least 6 months in advance.
4. Maido – Lima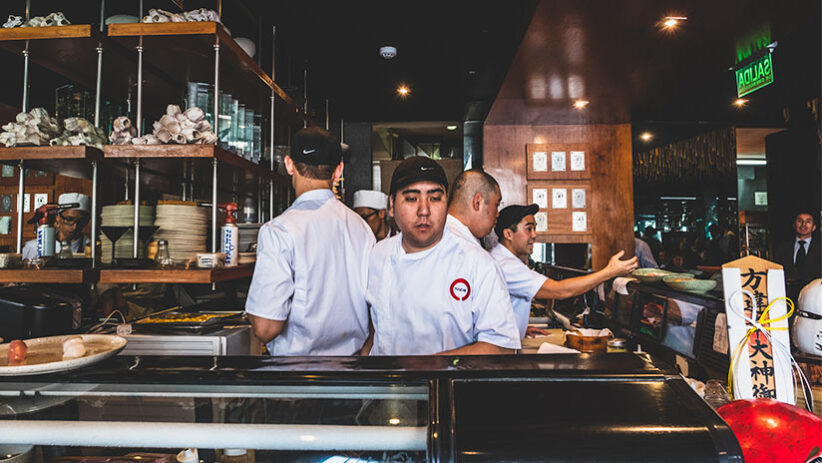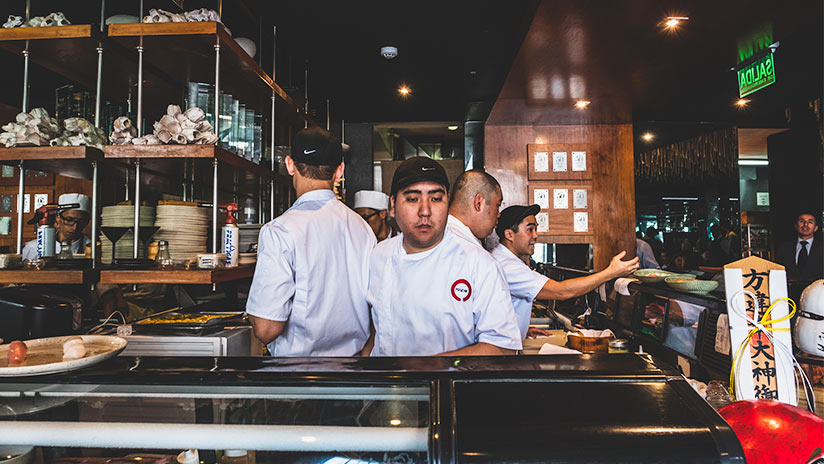 | | |
| --- | --- |
| Address | San Martin 399 Street, Miraflores – Lima, Peru |
| Hours of attention | Monday to Saturday from 13:00 – 21:30 pm. Sunday: Closed |
Maido of the prestigious chef Mitsuharu Tsumura is one of the best Nikkei cuisine in Peru. Tsumaru was born in Peru but his origins come from Osaka, Japan. His love for fusion cuisine Peruvian-Japanese took him to study Culinary Arts and Food and Beverage Administration at Johnson & Wales University, United States. After that, he traveled to Osaka, Japan, to specialize in Japanese cuisine, working in prestigious Japanese restaurants like "Seto Sushi" and "Imo to Daikon". Next, he returned to Peru to work as chef de parte, sous chef, and then manager of Food and Beverage at the Sheraton hotel in Lima. in this form, he becomes independent and founded "Maido" in 2009.
Undoubtedly, nowadays, Maido, which means "Welcome" in Japanese, is a Peruvian flag restaurant, with amazing dishes of Nikkei Cuisine. This type of cuisine reflects the influence of Japan on Peruvian gastronomy Sushi is its main dish, made with fresh ingredients from the sea, and uses Peruvian flavors and Japanese techniques to achieve its distinguished flavor.
Tiradito is the second most popular dish in Maido and the favorite of the people of Lima. Although the main ingredients are simple, the sauce makes this dish exquisite. Tiradito sauce mixed with light spices and a spicy flavor can go perfectly with fish. Adventurous diners can also try a variety of Peruvian and Japanese flavors on the menu. Food on the tasting menu may include Nigiris, Seafood Stew, Cuy, and Leche de Tigre.
5. Chicha – Cusco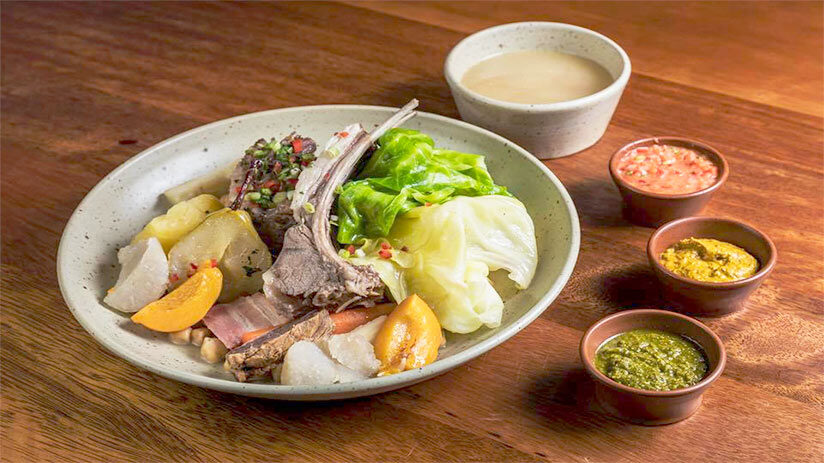 | | |
| --- | --- |
| Address | Plaza Regocijo 261, Cusco 05184, Peru |
| Hours of attention | Monday to Sunday from 12:00 pm – 21:30 pm |
Chicha is the first restaurant of the famous Peruvian chef Gaston Acurio in the ancient Inca capital, Cusco. Later, he opened another restaurant specializing in fast food, called Papachos but that is another history. Returning to Chicha, the restaurant takes the name of a Cusco traditional drink made since Incas times, this beverage consists of macerated corn, and its flavor is similar to barley beer, with a unique bitterness that combines with the sweetness of the corn.
Its name shows the purpose of the restaurant, rescue native ingredients from the Andes like Peruvian superfoods, quinoa, kiwicha, corn, potatoes, and all of them combined with contemporary ingredients and cooking techniques from international cuisines. In this form, Chicha restaurant offers tasty and unforgettable dishes belonging to Novo Andean cuisine. Dishes like soups cooked with native ingredients, Grilled prawns, green papaya, onion, carrot, peppers, fansi noodles, garlic, onion, toasted coconut, herbs, peanuts, coconut milk vinaigrette, and homemade curry of rocoto.
The bottom plates are another universe, dishes like Lamb in Cusco Curry, Orange Guinea Pig, or the Grand Pachamanca a la Olla are only some examples of the great variety of Chicha. On another hand, the restaurant offers pasta, pizzas, sandwiches, and desserts. Definitely, Chicha is our first recommendation for a restaurant in Cusco.
6. Pachapapa – Cusco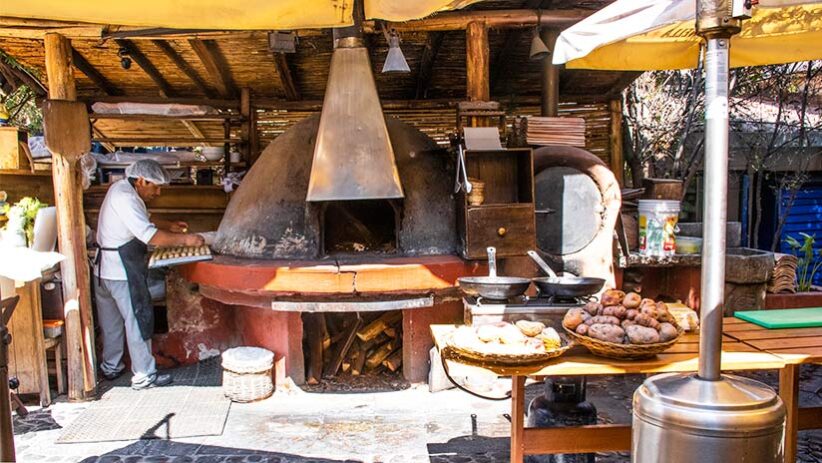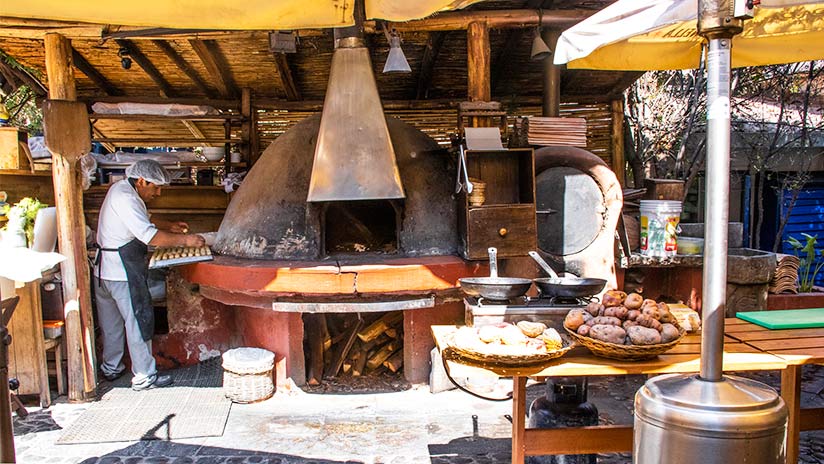 | | |
| --- | --- |
| Address | Carmen Bajo 120, San Blas, Cusco 08003, Peru |
| Hours of attention | Monday to Sunday from 12:00 – 22:00 pm |
The famous Pachapapa is specialized in high-quality traditional Cusquenean cuisine. It offers a Zen and cozy atmosphere in a whitewashed courtyard, warmed by outdoor heaters and a huge clay oven, it feels like you have stepped into a Cusquenean`s house. Also, its colorfully decorated indoor areas make Pachapapa the perfect place for a perfect lunch or dinner. And if you visit the restaurant at the weekend, the presence of a harpist adds to the restaurant's atmosphere. As if you were in a traditional Cusco restaurant (These were called Picanterias and were the most traditional among Peruvian restaurants) Completely beautiful.
While the Pachapapa menu offers truly Peru's native cuisine, the restaurant is known for its oven-roasted guinea pig served with local herbs and spices. Another popular dish is Anticucho de alpaca, skewers of tender alpaca meat macerated in local spices. At Pachapapa, you will love the authentic taste of Peruvian-Andean cuisine. An excellent place to try Peruvian gastronomy.
The restaurant is located in the most cosmopolitan Cusco neighborhood, San Blas, specifically, it is situated in its main square. Therefore, you can take advantage during your visit to this quaint neighborhood, to taste the local delights of Pachapapa.
7. Cicciolina – Cusco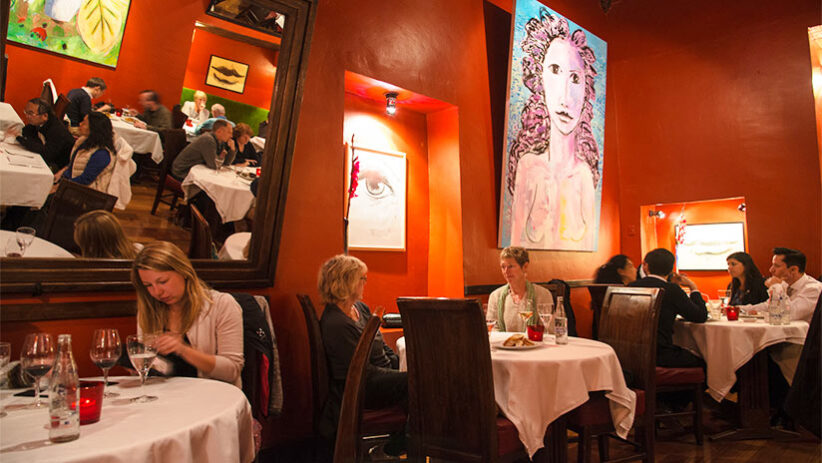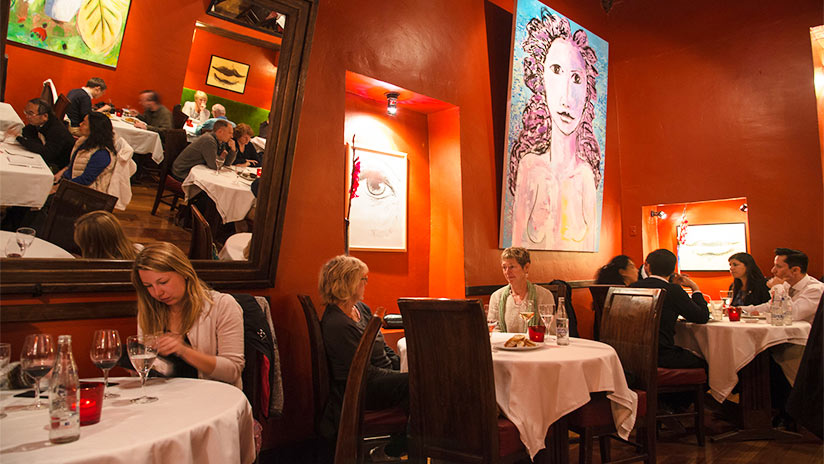 | | |
| --- | --- |
| Address | Palacio Street 110, Cusco 08002, Peru |
| Hours of attention | Monday to Sunday 12:00 – 21:30 pm |
The most famous cuisine in the world, Italian, may be present in the ancient capital of the Inca Empire, Cusco, with the Cicciolina Restaurant. This cuisine was found with the rising star: the Peruvian, and both were combined in the menu of Cicciolina. The most delightful Peruvian food accompanies Italian cuisine. And the most representative examples are shrimp with coconut, some tender pumpkin ravioli, osso buco with pumpkin ravioli covered with local cheese, and a touch of Andean mint or prawns with quinoa among others. Without mentioning the chicken, duck, beef, alpaca, seafood, and handmade pasta.
The restaurant is a remembrance of an Italian Tuscan house, with handmade pasta and dry spices hanging from the rustic lacquered wooden beams of the ceilings, wooden shelves, and painted adobe walls that support blackboards, contemporary paintings, and old cabinets. All these by candlelight. Of course, Cicciolina is located on the second floor of an ancient Cusquenean mansion, just one block distance from the main square. Definitely, there, you will feel like you are in an Italian house in the middle of Cusco!
Upon entering, you will find a tapas bar at your left, with a great variety of delights to prove. Already inside, little tables with chairs will be waiting for you. The menu options are one of the best in all of Cusco, and the personal attention is insurmountable. The wine list and Italian desserts will crown your lunch or dinner. For all these things, the reservation is obligatory before going, because, the restaurant is usually full out.
8. Zig Zag – Arequipa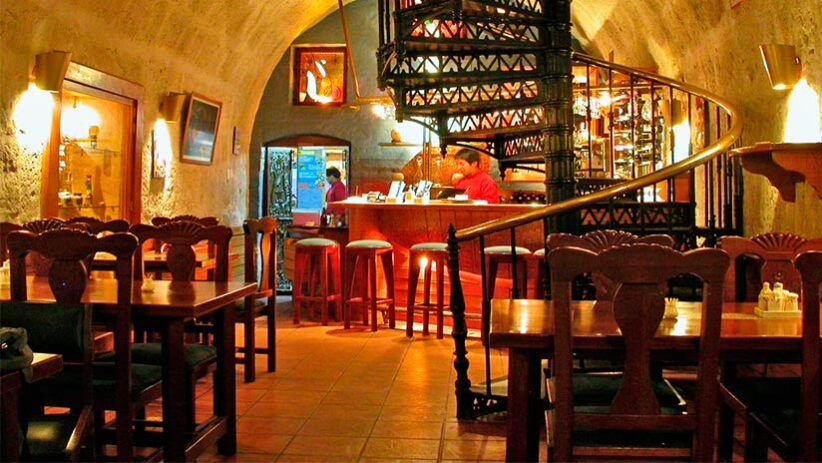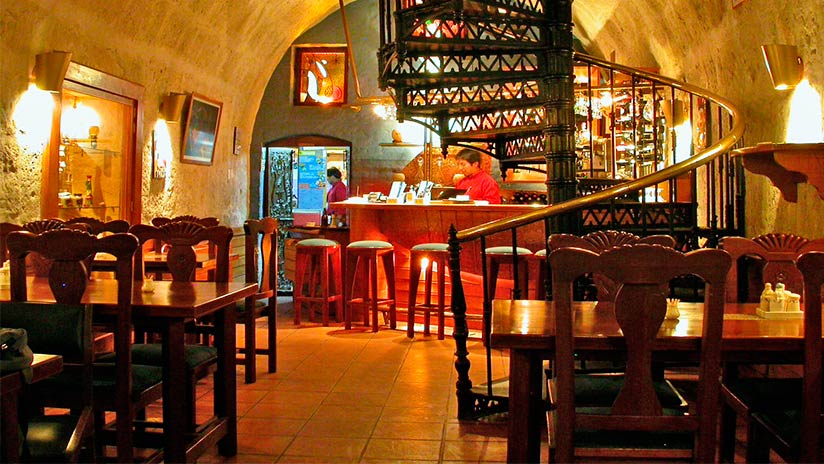 | | |
| --- | --- |
| Address | C. Zela 210, Arequipa's fence 04001, Peru |
| Hours of attention | Monday to Sunday from 12:00 – 22:00 pm |
Alpandina cuisine. What do the Peruvian Andes and the Swiss Alps have in common? The answer is easy, both are Mountain ranges that influence their surrounding town and countries. One of the first people who noticed this fact was a Swiss, the owner of the Zig Zag restaurant, the chef Michel Hediger. In this form, a strong fact that shared Peru and Switzerland, could not be forgotten, and a form to remember this communion was the Alpandina cuisine developed in the Zig Zag restaurant.
Justly, this restaurant is located over the slope of Misti Andean volcano, at Arequipa, Peruvian city. It occupies an ancient Arequipean mansion of two floors, made of Sillar, a characteristic local white stone, with tables and chairs of lacquered wood, black metal railings, wooden floors, and posters of Parisian cabarets from the Belle Époque. Without mentioning the black metal circular staircase that connects both floors and was designed by the same Gustave Eiffel!
The dishes served there are delicious local products, even some of them are Peruvian street foods, all combined and cooked with advanced techniques of the Alps and Andean cuisine. The most representative dish is a selection of meats served on a unique volcanic stone grill with various sauces, besides Fondues and a great variety of dishes without meat. Undoubtedly, it is a restaurant that you should visit on your trip to Arequipa.
9. La Santitos – Piura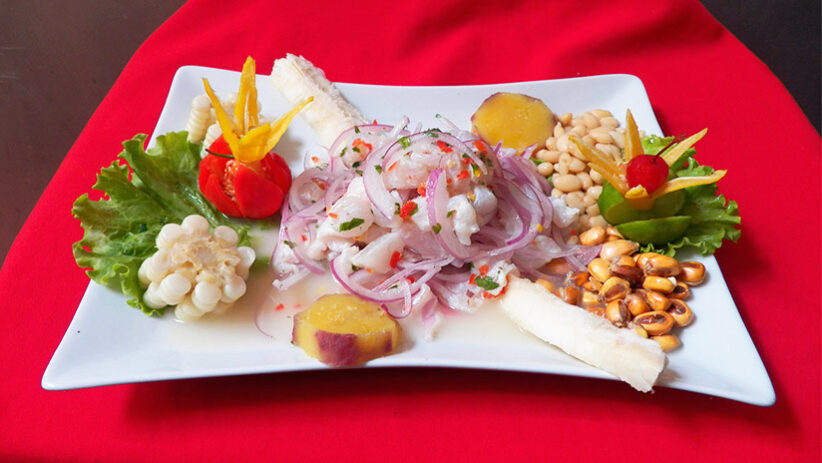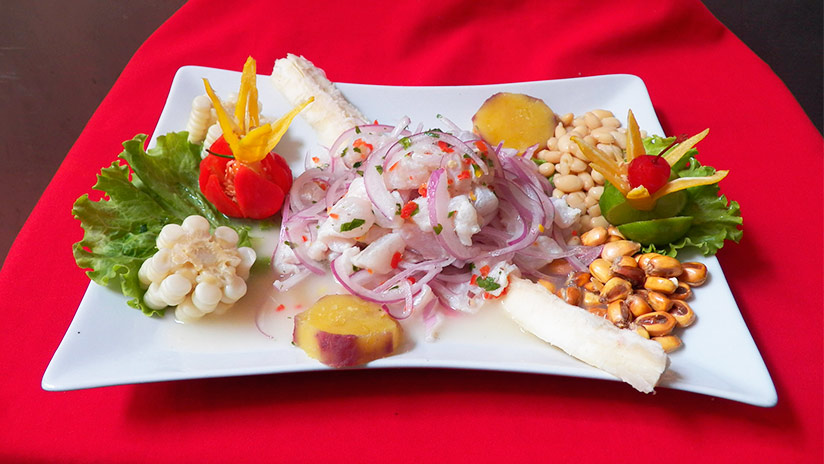 | | |
| --- | --- |
| Address | Libertad Street 1001, Piura 20001, Peru |
| Hours of attention | Wednesday to Saturday from 11:00 am – 23:00 pm. Monday and Tuesday from 11:00 am – 22:00 pm. Sunday from 11:00 am – 21:00 pm |
If you are in your relaxing time, enjoying the most beautiful Peruvian beaches located in the north of Peru, don't forget to pass through Piura, the most important city north of Peru. There is located the traditional restaurant La Santitos, 1 block distance from the main square. The restaurant atmosphere is reminiscent of ancient lodges of the city (Picanteria local name) where workers and fishermen could pay for a plate of food in the local, at noon, and share a unique table to eat.
Nowadays, you will find tables and chairs of wood, white plaster walls covered by wood paneling to half height as its main characteristics. Over the walls, paintings depicting scenes of typical city life are hanging, with lacquered wood decorations. The menu is varied and shows the best of traditional Peruvian cuisine that gave rise to the Lima Creole cuisine. Peruvian ceviche, dry cabrito, pork rinds, Tacu Tacus are the house specialties. In addition to its lemonade, desserts, and its homemade chicha. Definitely, one of the best restaurants in Peru.
Please don't expect 5-fork level service here. As we said before, this is a restaurant for the consumption of the local population. This does not mean the lack of warmth and friendliness of its staff, quite the opposite. Therefore, we encourage you to taste the delights of this restaurant located in the heart of Piura, which you will not regret.
10. Al Frio y al Fuego – Iquitos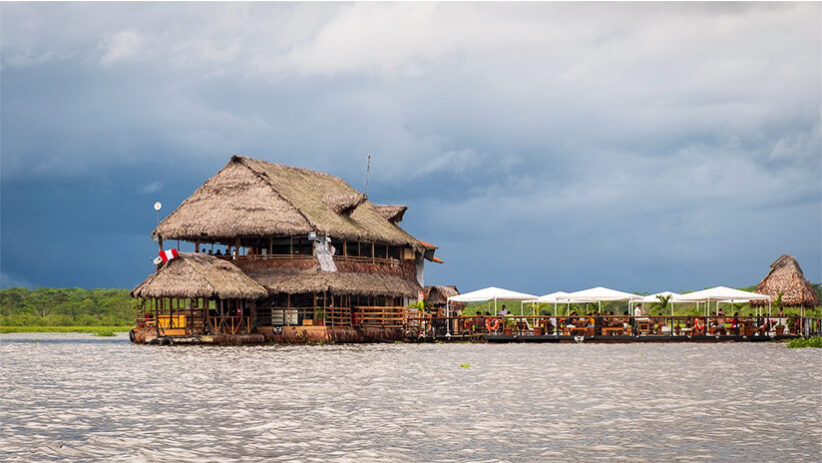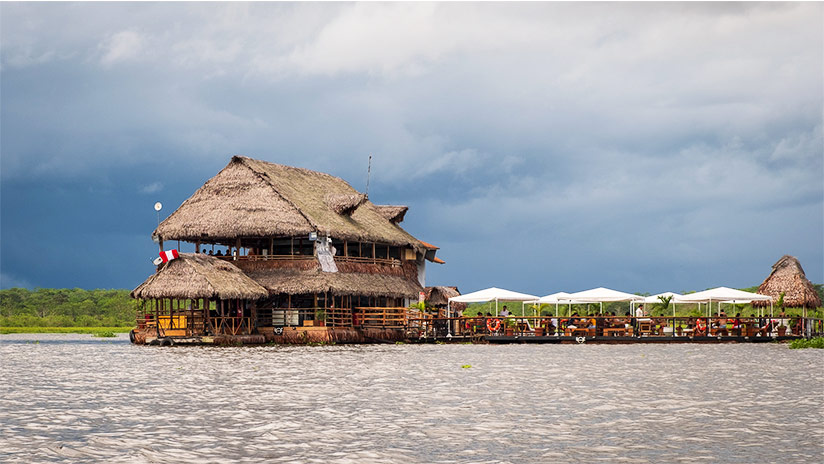 | | |
| --- | --- |
| Address | La Marina Nº134 Avenue, Iquitos, Loreto, Peru |
| Hours of attention | Monday to Sunday from 12:00 – 18:00 pm |
That an Amazonian restaurant has been awarded 7 times by the prestigious magazine, Summon, is not a coincidence. Al Frio y al Fuego (to cold and fire) restaurant is the best in the largest Amazon city in Peru, Iquitos. Its name is due to the variety of dishes that it offers, from cold foods like a fresh and delicious ceviche of Doncella ("Maid" in English, a delicious fish from the Amazon River) to a tasty grilled Paiche (hot). As you can see, its menu is made up of fresh from the river Amazonian ingredients. In this sense, you can enjoy barbecue, seafood, cocktails, and dessert among other delights on board.
Yes, you read very well, "On Board". Al Frio y al Fuego restaurant is floating in the middle of the Amazon River, which boat adrift. An island of wood, even with a pool, included! Therefore, making eating in the restaurant, a totally exclusive experience inside the Peruvian Amazon. But, how a restaurant was born as a small floating island? The restaurant was born being a port for the passengers of Delfin Amazon Cruises, a prestigious Amazon cruise company that operates in Peru. The high flow of passengers and their long hours of waiting in the floating port led to the creation of a restaurant there.
But, will be better if you prove the dishes staying in the same restaurant. Come on! Dare to enjoy a delightful dinner or lunch floating over the Amazon River.
"ONE CAN NOT THINK WELL, LOVE WELL, SLEEP WELL IF ONE HAS NOT DINED WELL"
It is definitely Peruvian geography that makes it one of the emerging gastronomic places in the world. Therefore, you must buy your air ticket right now and come here to discover the breadth of Peruvian cuisine in all its rich and colorful glory. Dare to know the best restaurants in Peru during your next stay. Together with the experts from Machu Travel Peru, we hope we have been of help. If you want to know more about our gastronomic tours, do not hesitate to ask our team of advisers.
---