The Inca citadel is one of the highlights of any adventure in Peru. This is one of the most desired places for those who travel to the Andean country. And it is not surprising, since, in addition to being one of the wonders of the modern world, it is also a UNESCO World Heritage Site. This wonderful archaeological complex is located at a surprising height of 2430 meters. The place has a particular climate and is divided into two well-marked seasons. Depending on your availability, you will know when to go. But with so many years of experience in the area, we can help you decide. That is why Machu Travel Peru has prepared a small article so that you know what is the best time to visit Machu Picchu.
All about the best time to visit Machu Picchu
WEATHER IN MACHU PICCHU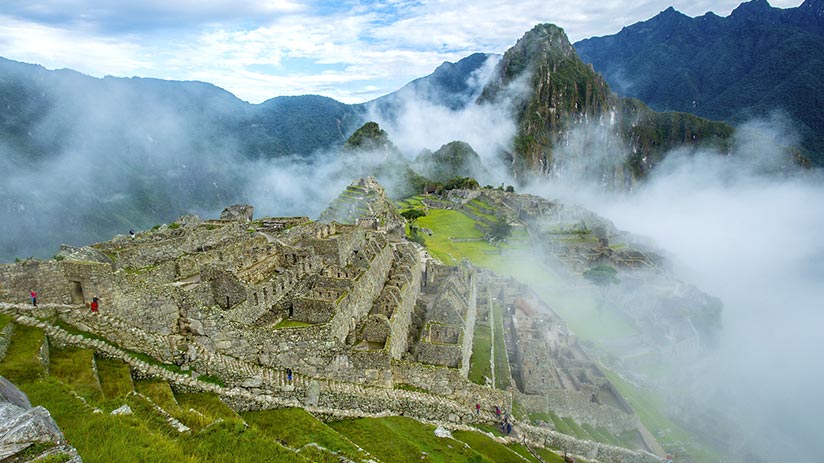 To know the best time to visit Machu Picchu, it is important to know the climate of the place. The weather is one of the most important aspects of your visit to the resort and could affect your decision. Therefore we want to give you the best information possible about the best time to visit Machu Picchu. First, we shall begin seeing a Machu Picchu map; the citadel is located in Vilcabamba Mountain Range, on jungle's eyebrow, in a subtropical area, seated between the Machu Picchu and Huayna Picchu mountain and protected by Salkantay by the south and Veronica by the north, belonging to Cusco Region. This geography gives the Inca citadel a very particular, fresh, and warm climate. On sunny or rainy days, depending on the time you decide to travel.
This same variation makes Machu Picchu a magical place to be. The truth is that there is no best time to visit Machu Picchu, this beautiful attraction is appreciable at any time of the year. Besides, the rains here can be present at any moment of the year, separate from any season on shift. Always, without mind the season, carrying a rains jacket, trekkings pants and shoes with you will be our first recommendation¡
Another point will be the sensation of environment in Machu Picchu. Humid and warm you will find there during the year and staying protected with a good repellent would be fantastic, remember that the citadel is located in Jungle's eyebrow and the mosquitos used to be annoying in early mornings and nights.
All these Machu Picchu facts form the introduction of more detailed information below.
THREE DIFFERENT SEASONS IN MACHU PICCHU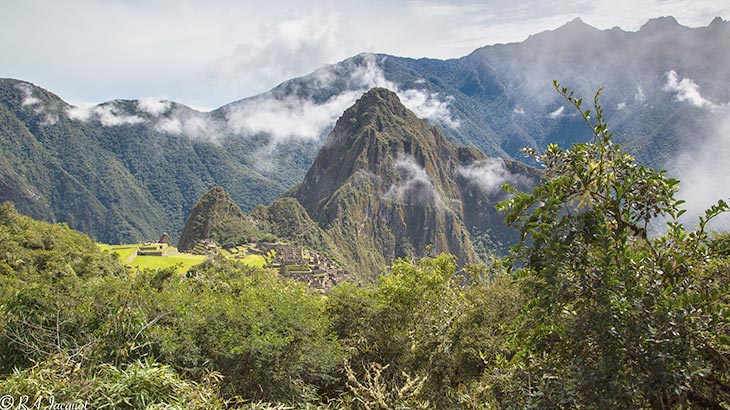 The climate is divided into three seasons.
Rainy Season: It coincides with the Summer, from late December until late March. In this season, you will find rains, most of them in the early mornings and late afternoons, cloudy skies all day and warm temperatures. However, you can be sure to find fewer visitants this time. For this reason, if you consider has a desolate citadel to take a walk by its streets and corridors, this season can represent one of the best times to visit Machu Picchu for you!
Shoulder Season: It goes through April, May, September, October, and November. You will find occasional light showers but not more than a rainy season because it is a transition period between both. The advantage is the fewer visitants than a peak season and a temperate climate, not so cold, not so hot. If you are a person who let him be surprised by nature and wheater, you can consider the Shoulder Season as the best time to visit Machu Picchu.
Dry Season: It can coincide with the peak tourist season. May, June, July, August, and September are the months in which more visitants the citadel has. Clear skies, sunny days, and warm temperatures, at this season, will welcome you. Therefore, you can find less availability of Machu Picchu tickets in this period. Remember, as soon as you buy tickets will be much better. Do you want perfect photos? This season is for you!
WEATHER MONTH BY MONTH

Annual climate chart for Cusco
December to February It is the rainy season in the Machu Picchu area, during this same time, other places in the country have the summer. You will be welcome by heavy rains, humid breezes, cloudy skies, and mosquitos will welcome if you want to go to Machu Picchu during this season.
March to May is considered autumn or fall. It is still the rainy season, but these usually stop in April or May. It is one of the best times to visit Machu Picchu. Just after the rainy season, the mountains are green and there are many flowers to admire.
From June to August it is winter in Machu Picchu and many consider it the best time to visit Machu Picchu. Since this is the dry season with clear blue skies. The best time for hiking and sightseeing.
Keep in mind that the months of June to September coincide with the high tourist season. Crowds and queues get a bit excessive and wait times are long, but in these months, you'll get the best photos as the weather is clear and sunny. In the rainy season, from October to March, the crowds are less and your time in Machu Picchu will be less rushed and more enjoyable. One of the best moments to visit Machu Picchu with kids. So if you can cope with a little rain, this might be the best time to visit Machu Picchu for you.
September to November is also a good time to visit Machu Picchu as the weather is still dry and the rainy season has not yet started. They are excellent months to know the mysteries of Machu Picchu.
THE BEST SEASON TO VISIT MACHU PICCHU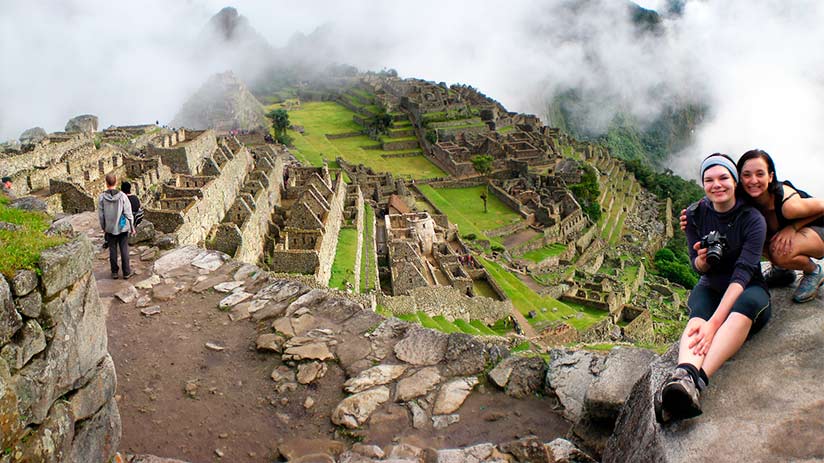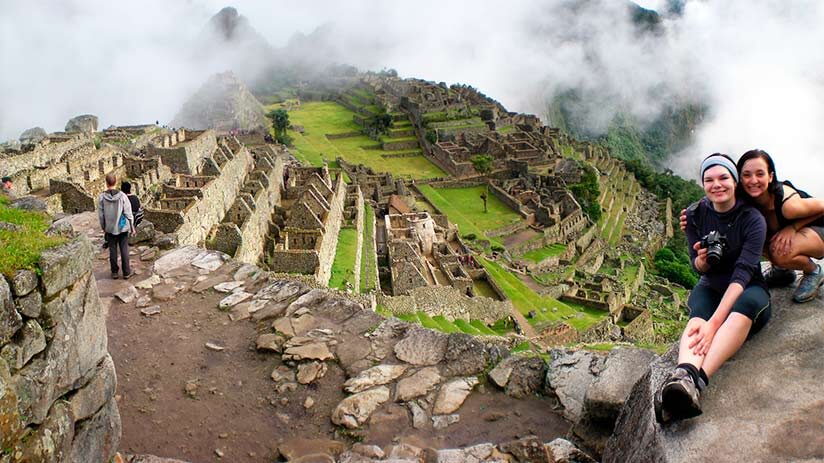 LESS CROWDED TIME
Planning a trip to Machu Picchu in which you enjoy the silence, the rains, without crowds of people no is so difficult. The period between December until February is perfect for you. Of course, do not wait for cloudless skies and the perfect Machu Picchu postcard, however, you will enjoy an Inca Citadel almost exclusively for you. Another advantage? You can buy a Machu Picchu tour and ticket on the same day of your visit because the availability is bigger than a high season.
BUSIEST TIME
It coincides with the peak season from May until September. A lot of people used to visit the citadel because the season is in the line of middle year vacation in the United States and Europe. Clear skies, glorious sunshine, warm winds will welcome you. But, bear in mind that the availability for this season is much in demand, arranging Machu Picchu tickets in advance will be your best move here.
BEST SEASON TO VISIT MACHU PICCHU
Regardless of the season to visit, there are perfect times to get to Machu Picchu and enjoy all its beauty. Early mornings can be harnessed to capture beautiful sunrises, in the dry season of course, and find few people. Besides, Aguas Calientes, a town located on the Machu Picchu mountain slope, is a port of buses that depart every 5 minutes to Machu Picchu, the first one starts at 05:30 am and the last one returns at 5:30 pm.
Another best time to visit Machu Picchu is in the afternoon. The majority of people visit the Inca citadel until 1:00 pm, after this hour they begin to go down to Aguas Calientes to take lunch. Therefore, visiting Machu Picchu from 1:00 pm until the Citadel closes at 5:30 pm is another great recommendation for you!
MACHU PICCHU AT SUNDAYS
During the typical week, many trains arrive in Aguas Calientes town at different hours, starting at 06:00 am until 07:00 pm. However, on Sundays, the inflow of visitors increases because the Peruvian government has a law that allows free entrance for local people to the citadel. Please take note of this information if you want to enjoy the experience of Machu Picchu with its native citizens. Believe us, a Machu Picchu virtual tour does not give you a total experience than life and feel the sensation of the Inca citadel experience offer.
"BETTER TO SEE SOMETHING ONCE THAN TO HEAR ABOUT IT A THOUSAND TIMES."

We hope this little article has been helpful. Take your time touring the different sacred constructions and enjoy this rich ancestral culture. Machu Travel Peru wishes you an incredible time experiencing the Wonder of the World.
---