Are you an adventurous soul as the team of Machu Travel Peru? We love adrenaline as much as you do. We are always looking for mind-blowing adventures to create fascinating, unforgettable and unique experiences. The bungee jumping is one of the best daredevil activities in Cusco and the Sacred Valley and we highly recommend it to the most intrepid ones.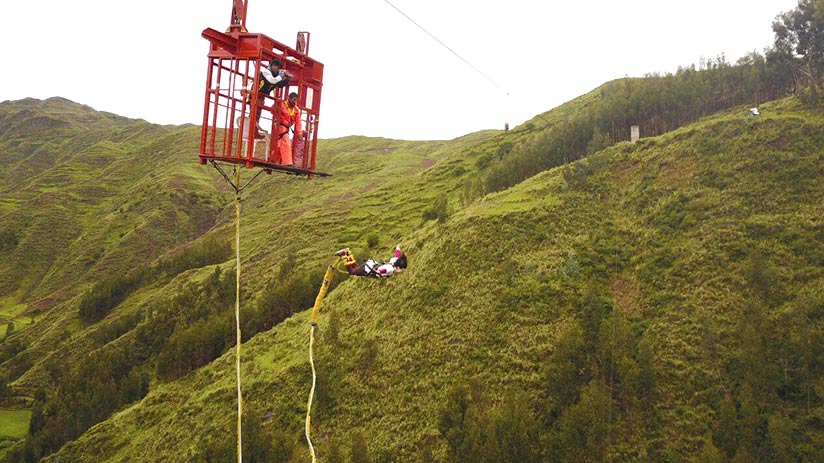 Did you know that the city of Cusco has the highest bungee jumping in Latin America? Yes, exactly as you read it! Tours in Cusco not only boast idyllic Andean mountains and ancient Incan ruins but they also offer extreme adventure sports.
Would you dare to jump and challenge gravity?
In the district of Poroy, 15 minutes from the city of Cusco, there is a 122-meter tower that has been built for the gravity-defying travelers.
As its name says, bungee jumping consists of jumping from a high platform in an extreme height while you are attached to an elastic cord. With a special and safe elastic rope securely attached to your ankles (an ankle harness which also covers a little bit of the area between the ankle and the knee), many people get seduced by the hypnotic power of freedom and dare to fly through the air. This experience gives you such a shot of adrenaline! This sport will give you the opportunity to feel like the breeze for 20 minutes.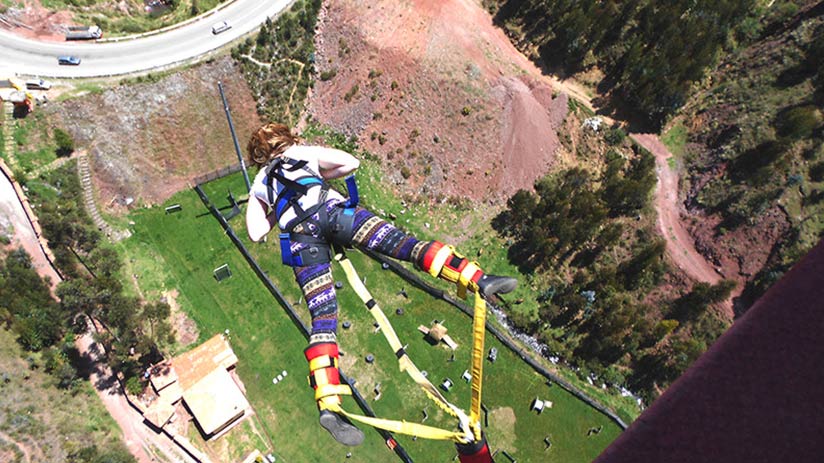 In addition to the ankle harness, there is another type of harness that is commonly used in this sport: the full-body harness. It is worn around your armpits, shoulders, and back like you were wearing a vest. Also, around your waist and crotch area like you were wearing shorts. Then, it is attached to the bungee cord.
At this point, you must be really excited about the bungee jumping, right? Well, who wouldn't? It is one of the best things to do in Cusco. It's kind of a modern-day answer to the urge to experience an intense feeling. We think that there is something about forcing your body to do what is against human nature, doing something really stimulating to feel free and invincible.
*The bungee cord has a maximum stretch length of 107 meters and a resistance capacity of heavy loads, about 2 tons.
Is it safe?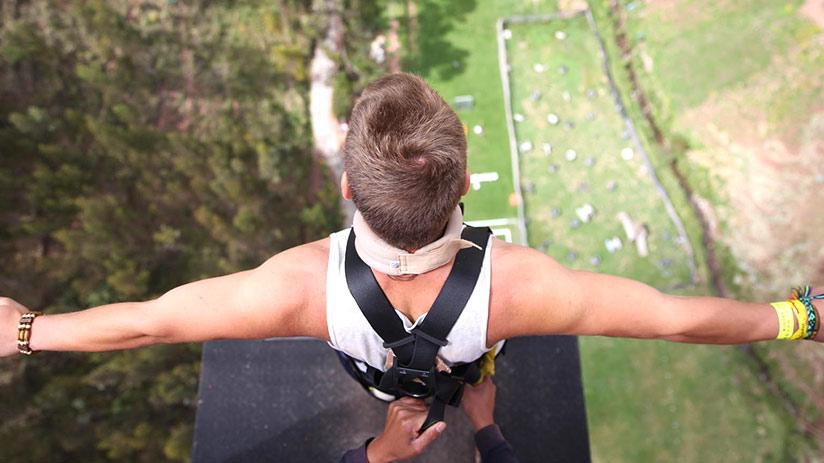 This jumping adventure complies with international quality and safety standards. Besides, the bungee jumping system has been designed and engineered by experts specialized in suspension bridges. It guarantees the most exciting and safe experience. So, would you like to enjoy daredevil activities in Cusco like this?
Before doing challenging activities, take note
Keep in mind that health and safety is an important thing. It's a priority.
Fearless activities such as skydiving, paragliding or bungee jumping are not recommended in these cases: pregnancy and heart problems. So, if you are one of those in these situations, you may consider taking a city tour in Cusco instead. 
The majestic and high-flying city of Cusco not only offers the fascinating Machu Picchu but also old churches, temples, and more interesting archaeological ruins. Thus, a city tour would be very pleasing.
*This sport is open to all people from 10-years-old.
Pure adrenaline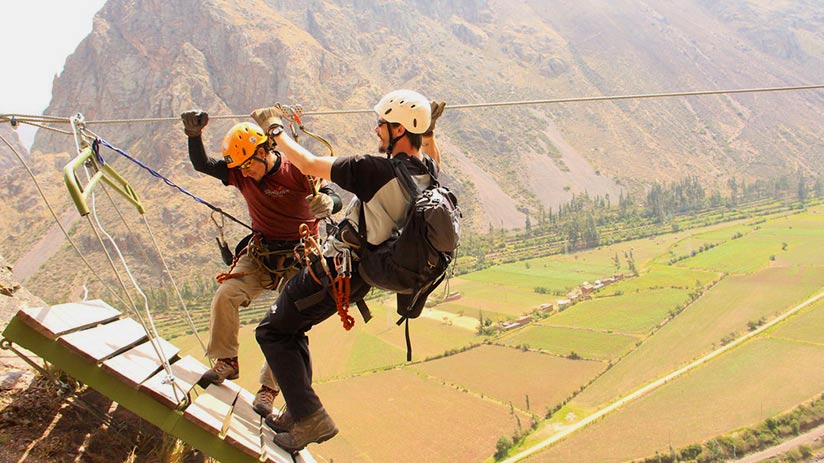 We know that your heartbeats have increased after reading all of this, but do you want more?
Have you ever thought about cross the Sacred Valley of the Incas from one side to the other at full speed? Equally breathtaking as the bungee jumping is the option of the zip line!
Doing zip line sacred valley also offers you the incredible opportunity to feel like a bird flying through the pure air. And what about the views… Unbeatable, stunning, sublime… There are no words to describe the magic of the Andean mountains.
So, beat your fears and feel the intense rush of adrenaline of this thrilling experience!
---