What can you visit in Cusco? The truth is that you will have countless options for tours of museums, historical buildings, and much more. The Imperial City is an unmissable destination within Peru, whether you are on your way to tour the Wonder of the World or simply looking to know the ancient capital of the fallen Inca Empire. But for those lovers and amateurs of chocolate, there is a place like no other where to learn about the history and manufacture of the delicious Cusco chocolate. We are talking about the Chocomuseo in Cusco, one of the best places to taste the flavor of local chocolate. For this reason, together with the travel experts of Machu Travel Peru, we have prepared a small article about the Chocomuseo in Cusco. So that you can get an idea of ​​everything you can enjoy and learn in this magical place, from tastings, workshops, a cafeteria, gift shop, and everything related to the majestic Peruvian cocoa.
EVERYTHING ABOUT THE CHOCOMUSEO IN CUSCO
WHAT IS CHOCOMUSEO?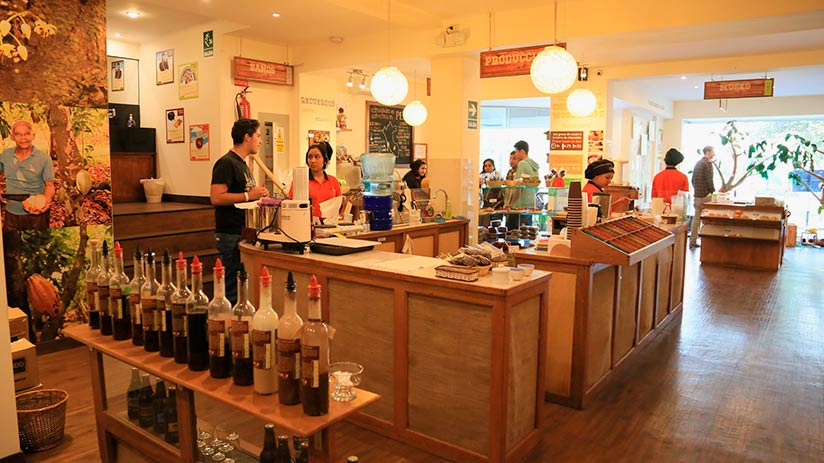 If museum tours are not your thing and you are bored with the usual exhibitions, maybe we have something special for you. The Chocomuseo in Cusco is not an ordinary museum experience, it feels more like a comfortable and adorable boutique chocolate shop. Despite this, Chocomuseo is an incredible experience to share with the family. The museum shows you various interesting things about Peruvian chocolate, from the harvesting of the cocoa beans to the drying of the cocoa pods. You can learn about the history of cocoa and chocolate, as well as make your chocolate. In general, visitors are offered free samples, flavored liquors, cocoa tea, and jams among many other things when entering. If you are not interested in any of this, it is also a great place to buy some gifts for family members waiting for you at home. Without a doubt, the Chocomuseo in Cusco is one of the best gastronomic experiences in the Imperial City.
HOW TO GET TO CHOCOMUSEO IN CUSCO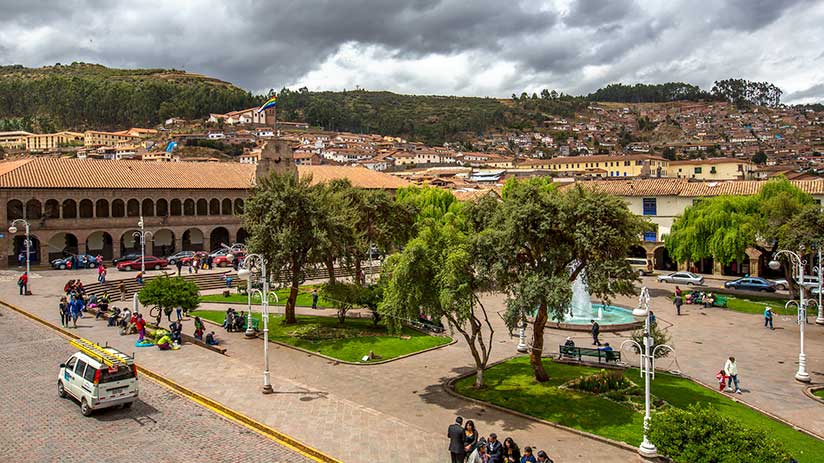 Chocomuseo has numerous branches within Peru. You can find some branches in Lima that are located in Miraflores, Surquillo, and the Center of Lima. Within the Imperial City of Cusco, there are about three branches, of which one is located in Pisac, another in Ollantaytambo, and the last in the city of Cusco. You can also find the Chocomuseo outside of Peru, in Latin American countries where cocoa has a strong role, such as Nicaragua, Guatemala, and other countries.
In the same way, in Cusco, there is not only a Chocomuseo but also one of its factories. In the Plaza Regocijo in Cusco, there is the Chocomuseo chocolate factory, where most of the chocolates that are exhibited are processed. You have several options to tour the incredible Chocomuseo, so it will depend heavily on where you are and your available times. Rest assured that you will have a good time and you can enjoy its many activities as well as its delicious Peruvian desserts.
GASTRONOMIC TOUR AT CHOCOMUSEO IN CUSCO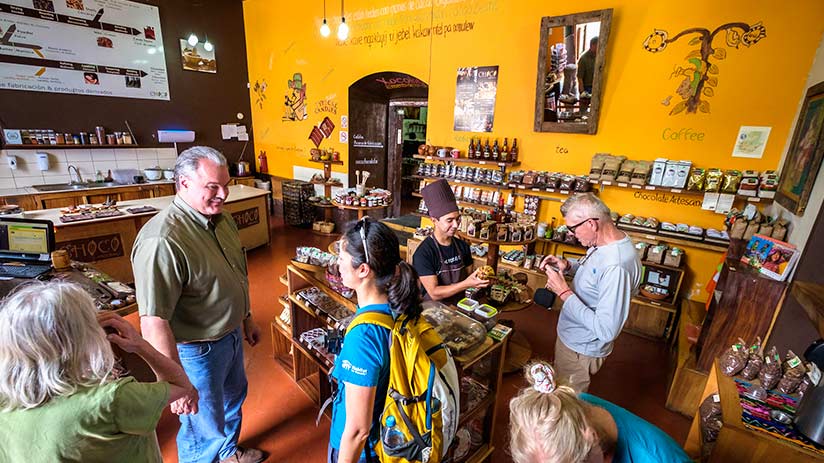 A trip to the Chocomuseo in Cusco can be available in any of our travel packages. You can go independently to the Chocomuseum or in one of our city tours in Cusco. If you organize it in advance with us, we can arrange some kind of formal program with workshops and transfer included. Thanks to its strategic location in the most important destinations in the Andean country, it can be an incredible way to complement your tour of the cities. Peruvian chocolate is one of the best in its class, get ready to savor the distinguished flavor of this superfood. Do not miss the opportunity to enjoy a gastronomic tour within Cusco at the Chocomuseo and other gastronomic points of importance.
CHOCOMUSEO EXPERIENCE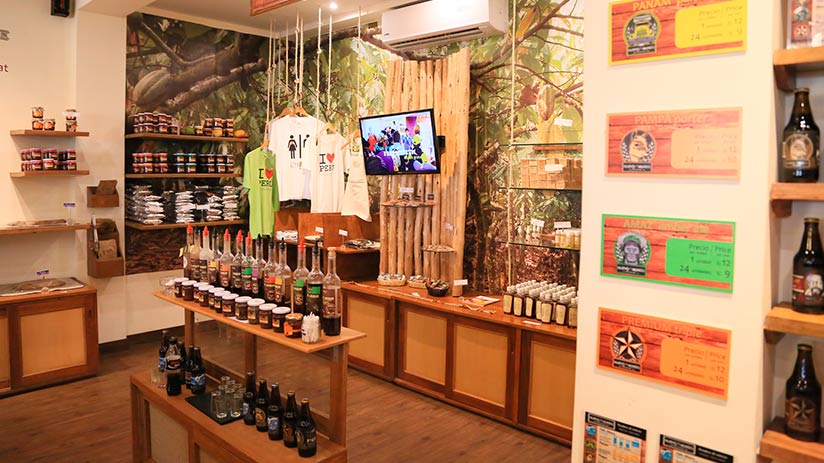 The experience inside the Chocomuseo can be personalized and designed for a particular group. But generally, you will be able to enjoy the history that surrounds Peruvian cocoa, from its beginnings in the Mayan civilizations to the periods when the conquerors arrived in the Americas. You can have a personal experience with cocoa, preparing different products, and homemade chocolates. You can even touch some machines and try the different products displayed in the showcase. We highly recommend visiting the Chocomuseo located within Cusco city. In this way, you can warm up and enjoy a hot chocolate in the heights of the Andean lands.
WORKSHOPS AT CHOCOMUSEO IN CUSCO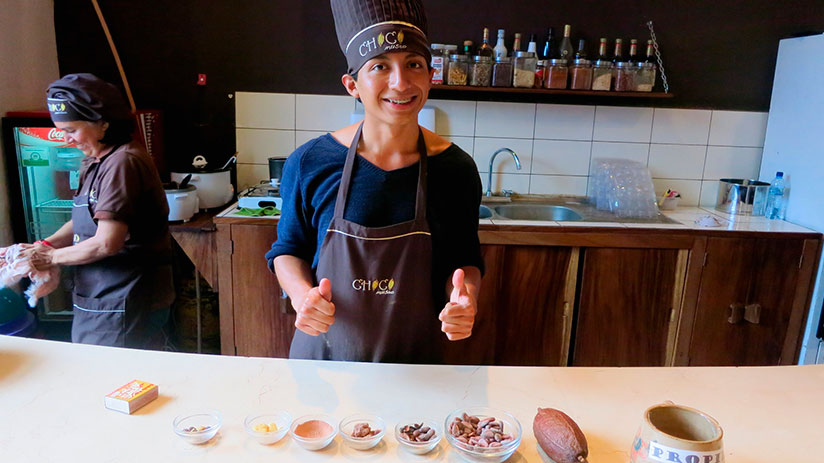 The different workshops offered at the Chocomuseo are too good to risk losing them. You can schedule one of these workshops in advance independently or together with your travel advisor. Upon arrival, you will be welcomed in a chef's hat and apron. Then you will begin to learn the journey of the cocoa bean, from when it is grown to when it is made into the delicious chocolate. After an entertaining lesson on cocoa, you will take part in the production of homemade chocolate. You will begin to roast and grind cocoa beans until you have a delicious paste. Next, you will decide between dark, milk, and white chocolate to be able to refine your chocolate bar. All this, including custom ingredients to give your chocolate a unique touch. Of course, there are also other workshops where you can learn chocolate sculpture, making cupcakes, and truffle fillings. Without a doubt, taking part in one of the Chocomuseo workshops is one of the best things to do in Cusco.
RECOMMENDATIONS BEFORE VISITING CHOCOMUSEO IN CUSCO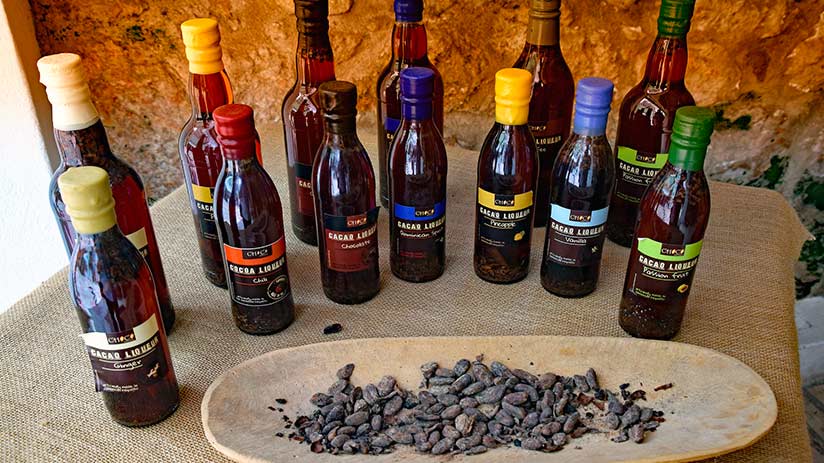 We have some recommendations before visiting Chocomuseo:
First of all, remember that you are here to enjoy yourself, so before entering the Chocomuseo, you should forget about any diet.
The store is an amazing place to do some shopping or gifts for family members, so remember to bring some extra cash on your visit.
Workshops are booked a few days in advance, so it is always best to speak with your travel advisor. But if you are lucky, you can find some spaces available in the workshops of the day.
Lastly, we recommend visiting the Chocomuseo in Cusco, since it is located a few steps from the Cusco main square and you can combine your visit with the city tour.
"LIFE IS LIKE CHOCOLATE: YOU SHOULD ENJOY IT PIECE FOR PIECE AND LET IT SLOWLY MELT ON YOUR TONGUE."
We hope together with Machu Travel Peru to have clarified the main doubts about the incredible Chocomuseo. Remember that a visit to this place will ensure you a few unforgettable memories, as well as delicious chocolates. If you want to know more about our scheduled visits, you can contact our qualified advisors.
---