Choquequirao is one of the most surprising archaeological sites after Machu Picchu, it could even be considered the younger brother of the Wonder of the World. The only way to get to this incredible site is through a classic 4-day trekking hike. The reward that this trek brings is comparable to that of the Inca Trail, full of astonishing landscapes and accompanied by one of the most amazing Inca ruins in Peru. That is why together with the experts from Machu Travel Peru we have prepared an article with everything you need to know about this magical Inca citadel. It is one of the best alternative or complementary tours to Machu Picchu. If you have enough time, we highly recommend that you undertake this route.
Choquequirao ruins, the forgotten sister of Machu Picchu
Choquequirao overview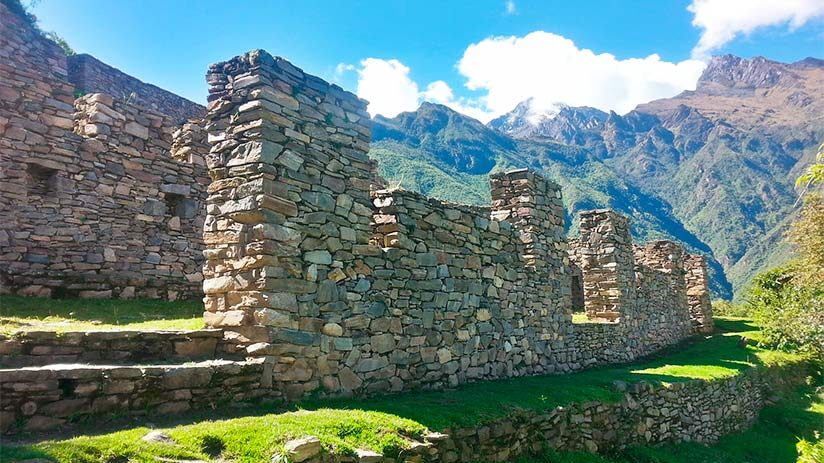 Choquequirao is one of the most remote Inca ruins located in the Peruvian Andes. This is an ancient architectural site that stands at an altitude of 3,050 m (10,000 ft) and it rises above the Apurímac river canyon and rests on a flat hill. The complex was built between the 15th and 16th centuries. Therefore, it is believed that it probably served as an Inca administrative checkpoint and place of worship. Despite so many centuries that have passed since its construction, 12 sectors of the site still stand, and each one of them has a variety of temples, houses, and baths to appreciate. Only 40% of its totality is discernible. Since most of its structures are still hidden underground.
It is recommended to take a full day to explore it, without counting the days it will take you to get there. Besides, the complex has an architecture and structure very similar to that of Machu Picchu. It is made up of agricultural terraces, massive walls, and buildings with steep roofs. It is estimated that this Inca complex was built about 200 years before the Spanish conquest. As with Machu Picchu, the reason why it was abandoned is still unknown. Its remote location doesn't make it as popular as Machu Picchu, but its views are unparalleled. Not as popular as Machu Picchu, this trekking in Peru and its tour is usually very relaxed, quiet, and without a crowd. You will probably have the ruins to yourself the day of your visit, along with a few other people.
History of Choquequirao
It is a settlement of the Inca Empire, dating from the 15th and 16th centuries. Although most of the history is theoretical and speculative, there is strong evidence to support that it was built between 1418 and 1471 under the command of Pachacuti Inca Yupanqui. During that period, Cusco was in the process of becoming a great empire, expanding throughout western South America. Some academics suggest that this citadel was built as a control point to Vilcabamba, the capital city and administrative center of the new Inca State (At the conquest of Cusco by the Spanish invaders) At this sense when Tupac Inca Yupanqui succeeded his father, the Incas remodeled and expanded it to its current size.
This Inca refuge is believed to have been built around the same time as Machu Picchu. Its building process can be divided into two different stages. The first stage was under the command of Pachacuti Inca Yupanqui. The second stage was under the control of his son Tupac Inca Yupanqui, who expanded the complex that we know today. At the same time, during the Spanish conquest, the site served as one of the last strongholds of the Incas. Both the Inca complex and the entire Vilcabamba Valley were the hideout of the ruler Manco Inca, the last Inca in exile.
The site was supposedly abandoned around 1572 when the Spanish authorities executed Tupac Amaru I (son of Manco Inca). The site was rediscovered in 1710, but it was looked down upon for not finding precious metals around it. Fortunately, it was visited again in 1909 by the well-known Hiram Bingham, where the corresponding excavations were carried out. Therefore, If you are planning a trip to Machu Picchu and want to live the complete experience of discovering sacred and ancient Incas citadels, you shouldn't lose sight of Choquequirao's visit.
How to get it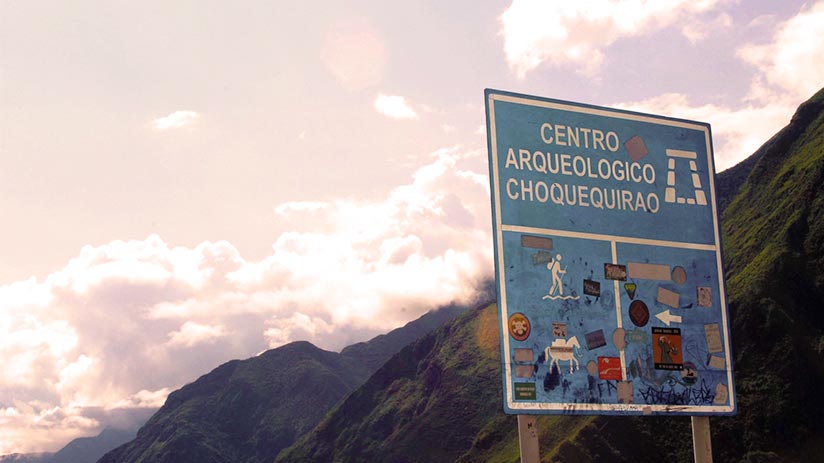 To get to the ancient ruins, it is necessary to do a hiking route of up to four days. The classic four-day trek, but we will deal with this hike later on. At the moment, there is no other way to get there, but new future government projects plan to facilitate its access with the installation of a cable car.
Focusing on ours, we will begin to say that all trekking routes to this Inca wonder depart from a quaint town called Cachora. So, in this section, we are going to detail the forms to get to this town from Cusco. Cachora is located to the west of Cusco, exactly 16 km of distance (03:30 hrs of the trip), over a paved road.
Get a taxi from your hotel to the Bus Terminal station of Cusco. (Cost 8 to 10 Soles / $2.5)
Once arrive at the bus terminal, get some one heading to Abancay. You can acquire personally your bus ticket, early that same day, at the counter of your preferred company. Or, you can buy them online days in advance. The most popular bus companies are Cruz del Sur, Civa, Oltursa, Movil Tours.
At the time of starting the bus trip, don't forget to ask the driver to make a stop at "Ramal de Cachora". Approximately, 150 km or 03 hours of the trip since the point of start. Of course, during the trip, you will have to pay attention to the signal, on one side of the road, with the inscription, "KM 148". That will be your bus stop. The price of the buses, one way, to Apurimac is between $9 to $15.
Once in KM 148, you will wait to share a minibus or "Colectivo" and head to Cachora (Cost of 5 Soles or $1.5) or take a taxi (30 Soles or $8) directly to Cachora. But, be careful, you will have to learn to bargain since the drivers can move their prices according to the sales level of the day.
If you overslept or went straight to Abancay, you can take a shared minivan back to "Ramal de Cachora", the cost is 5 Soles or $1.5.
Choquequirao trek 4D/3N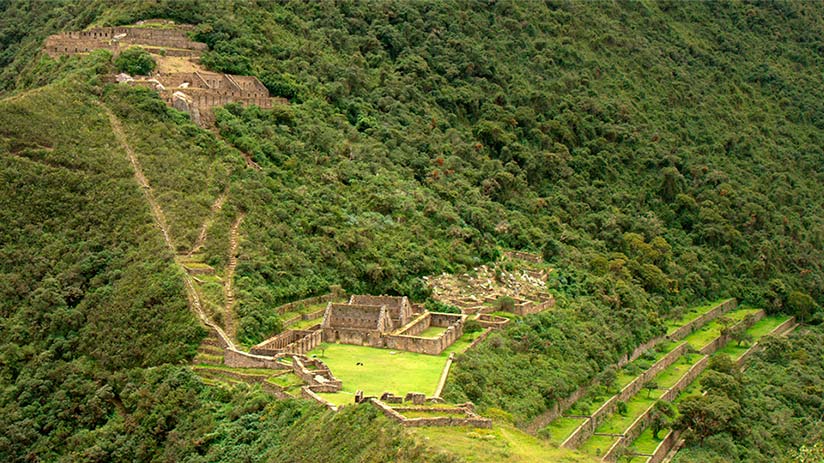 Most of the tours to this citadel start in the quaint town of Cachora. Travelers will find a great variety of options and alternatives route to get to the ancient Inca citadel. Although, the most popular option of all is the classic trek of 4 days and 3 nights.
1. The first day: Cachora – Santa Rosa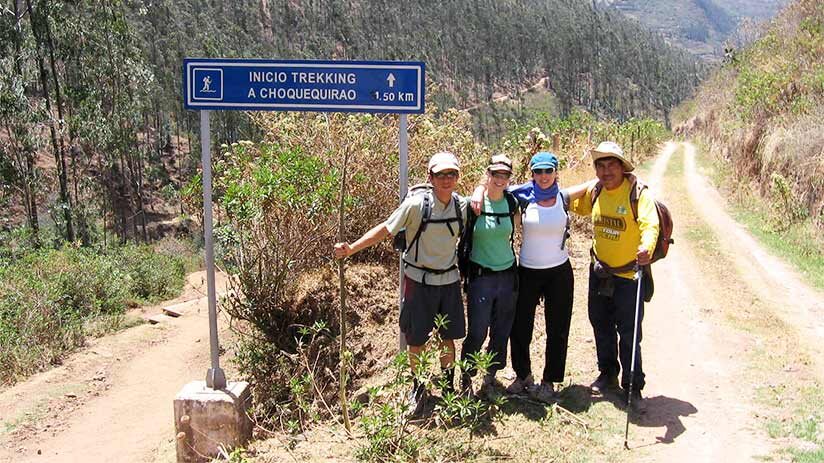 Distance of trekking: 27 km (If you take a taxi 13 km)
Trek duration: From 5 to 7 hours
Highest point: Kapuliyoq lookout 2,915 m.a.s.l.
Gradient: Moderate
After arriving at the picturesque town of Cachora, you will head towards the Capuliyoc lookout or Kapuliyoq pass (2,915 m.a.s.l). Of course, if you want to reduce time, you can take a taxi to get to the lookout, the taxi trip last 30 minutes, you will cut over 13 km, and the cost will be around $8, approx. This Capuliyoc pass is the starting point for the trekking route.
Just a few hours of downhill will take you to the camp named Playa Rosalinas. The camp is located about 1600 meters above sea level. It is here that most hikers take a little rest, have lunch, and continue the trek with an ascent to the next campsite, known as Santa Rosa. There you will rest for the night and have a delicious dinner.
2. The second day: Santa Rosa – Marampata
Distance of trekking: 7 km
Trek duration: From 4 to 6 hours
Highest point: Marampata 3,000 m.a.s.l.
Gradient: Difficult
The second day starts very early in the morning with a steep ascent, climbing up curves and false summits, crossing streams and springs to get to the town of Maranpata. In this small town at 3000 meters high is where you will have lunch and get some air. This day can be considered the most difficult of all. Therefore, starting the trek early is crucial, to walk calmly and reach the camping area even with daylight.
After your lunch in Maranpata, you can rest all afternoon. Or, if you prefer, you can continue downhill for some minutes more until you finally reach the Inca citadel. That it is only about 100 meters below Maranpata. You can make a quick visit before returning to the camp and spend a nice night.
3. The third day: Maranpata – Chiquisca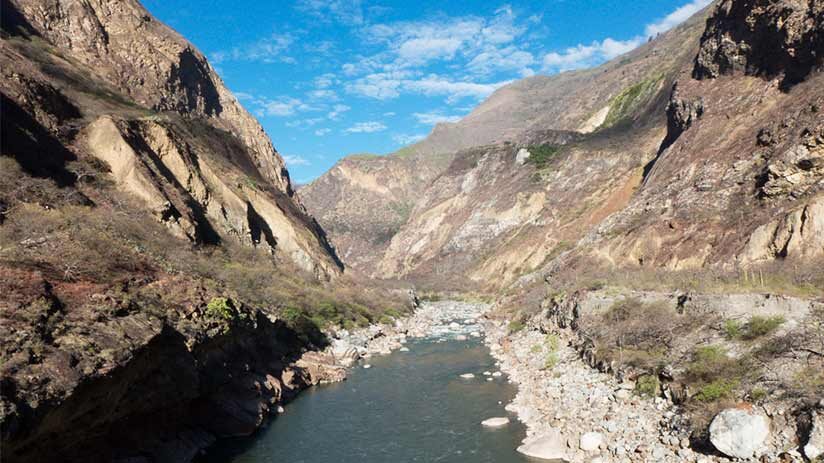 Distance of trekking: 11 km
Trek duration: From 8 to 9 hours
Highest point: Choquequirao 3,033 m.a.s.l.
Gradient: Moderate
The third day is dedicated to exploring the ruins of the complex. You will have most of the day to calmly discover every corner of this wonderful site. You can explore the ruins at your own pace or together with a certified guide. It is a good idea to first hear a little about the history of the site before visiting it on your own. You will most likely have the site to yourself, along with a few other people, since due to its difficult access, the number of tourists is not much.
After you've explored the entire site, it's time to go. At some point in the afternoon, you will start the downhill back to Playa Rosalina. Unfortunately, the return route is the same as to reach the ruins, therefore you will appreciate the same landscapes and sites. Once arrived at Playa Rosalina, you'll pass the river and head to the Chiquisca camp zone. Some tours may choose to leave this return trek for the fourth and final day. But this depends on numerous factors such as weather and the physical condition of the participants to mention a few.
4. The fourth day: Chiquisca – Cachora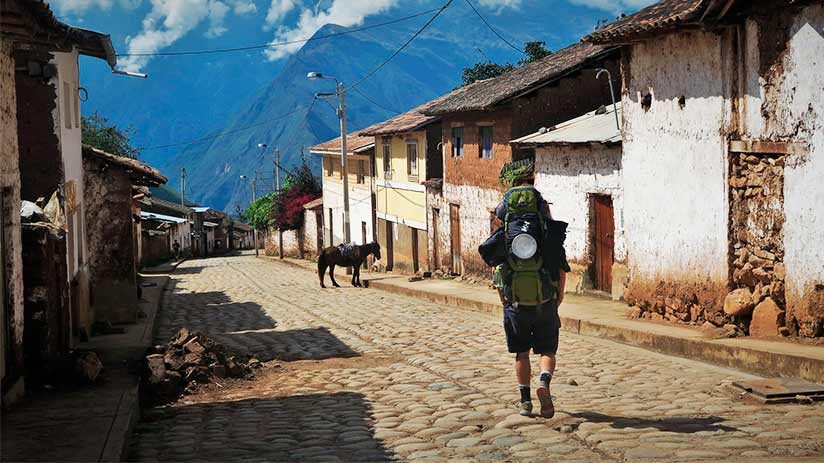 Distance of trekking: 20 km (If you take a taxi 09 km)
Trek duration: From 2 to 3 hours
Highest point: Kapuliyoq lookout 2,915 m.a.s.l.
Gradient: Moderate
The fourth day will start with a beautiful sunrise in Chuquisca. Then, you will continue the climb to Capuliyoc's lookout, where you'll appreciate the condor's flights. After, you will be transferred by car to Cachora and finally to Cusco. Or, if you prefer, you will continue the trek, once passed Capulliyoc, going down to Cachora. Keep in mind that some tour alternatives even offer the possibility of visiting both Machu Picchu and its forgotten sister on the last day, once arrive at Cachora. Either way, don't miss out on this wonderful archaeological complex in Cusco.
Touring the citadel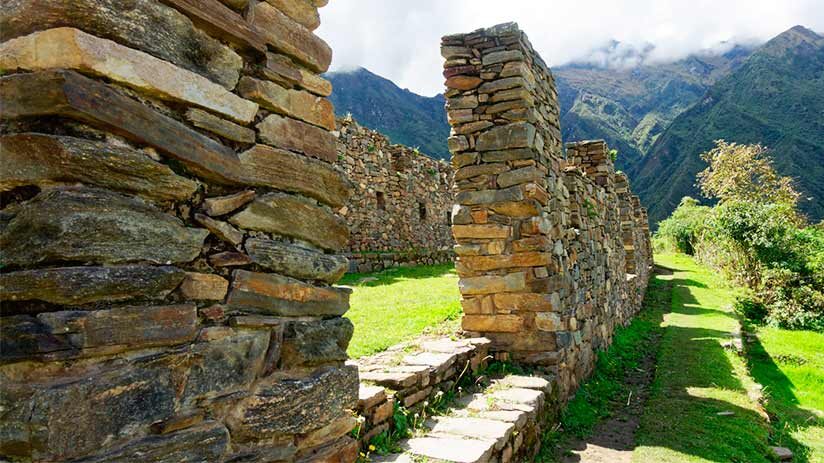 Once get there, the first thing that you'll note will be the excellent state of conservation of its buildings, except for doors and thatched roofs (for this reason it is compared to the visit Machu Picchu). The entire site has ancient irrigation systems, terraces, and temples dedicated to the cult of water.
Inside the complex, you will find a system of water sources along with channels that are linked to an aqueduct. In addition, you will also be able to appreciate a series of stone altars. These constructions are around the main esplanade, which at the same time is bordered by agricultural terraces. The main ruins are scattered along the slopes of the main mountain. The different ruins are grouped into small "districts". It is believed that this urban design was planned to designate social functions in the complex.
You can divide the Inca complex into three main sectors, the highest sector contains warehouses, the mid-altitude sector contains the main Ceremonial Plaza, and the lower sector to the south was reserved for ancestor worship.
As you may have noticed, visiting an archaeological site like Choquequirao without a guide (historian or expert in Inca culture) will be boring and a waste of time, (except for those who visit the citadel for the second time) Therefore, we always recommend you visit this wonder with a tour guide.
Two alternative routes to Choquequirao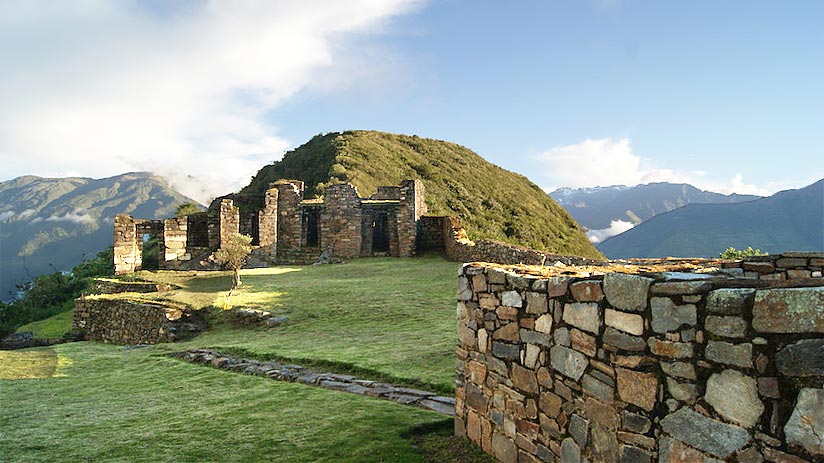 1. The route of Huaynapaca
The hiking route is similar to the classic one (The traditional route). 4 days of trekking but easier, however, you will not return through the same way out. On the last day, you will spend the night in Villa Los Loros and take transportation from there, usually a taxi, to Huainapa the next morning. It is recommended for persons with no so good physical condition.
2. The route of Yanama
The route begins in Cachora and it throughout all the highlands in Sacred Valley, like Pinchinuyoc, the ancient Inca ruins subject of this article, Llactapata, and finally Machu Picchu. The experience lasts 9 days of trekking, beautiful landscapes, and awesome fauna. At some point, the way joins up with the trekking path to Salkantay Snow. This experience is much more challenging but complete, the sister Inca citadels in a single route.
Campsites in Choquequirao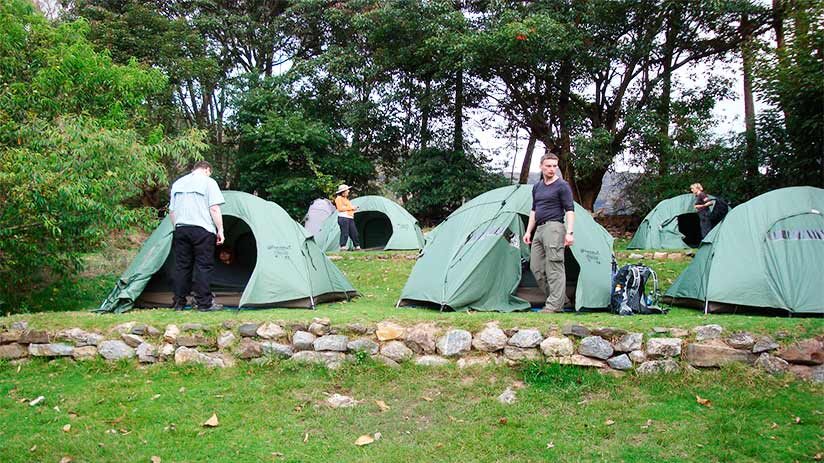 Throughout the route to get to the Inca citadel, you will find several campsites with necessary provisions, like:
1. Cachora
Which is located in Km 0, which means the star point of the route. It is surrounded by plenty of little stores, restaurants, and small hotels.
2. Cocamasana
It is on Km 16, the place offers amazing views of the valley and quiet zones to camp. Unfortunately, it is not open most of the year.
3. Chiquisca
It is a payment campsite located on Km 19 before reaching the rough descent until the river. It offers toilets with showers and some cooked food.
4. Playa de Rosalina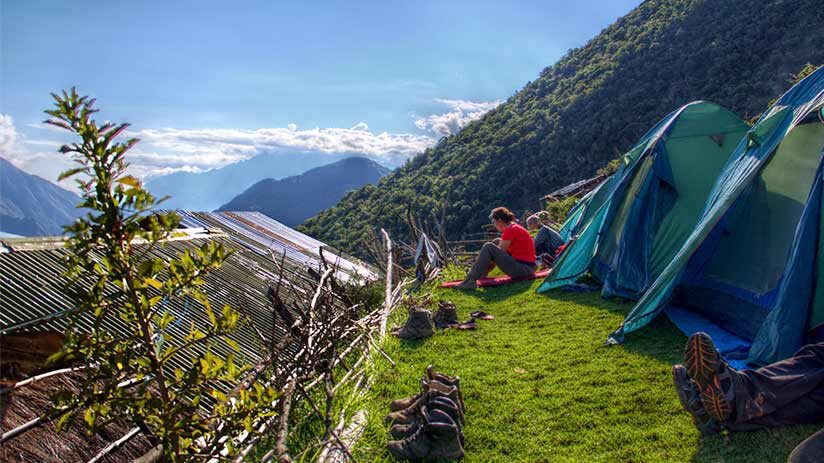 The paid campsite of Playa de Rosalina is situated 21 kilometers from the starting point of Cachora. Here, you will find a basic food store, showers, bathrooms, fire pits, and a simple kitchen where you will prepare your meals. Besides, you will obtain a great zone to camp close to the river. In additional information, many visitors report that the camp lacks drinking water.
5. Alfonso
This campsite is located on Km 22. It is a basic camp zone, there are no toilets and no kitchen place, too. The place can be flooded due to the heavy rains.
6. Santa Rosa Baja
It is a payment campsite situated on Km 24 with bathrooms and showers. It is very close to a ranch where the visitor will find a small store of food and simple meals. Next to the place, a nice family offers mules and horses to lighten the hike.
7. Santa Rosa Alta
It is a free campsite located on Km 25, just passing a moderate stop that begins in Santa Rosa Baja. A comfortable place with some facilities like bathrooms and a small meal store. Usually, the camp is closed.
8. Marampata
The tiny town of Marampata is situated on Km 28 and hosted several camp zones, a small hotel, and some stores to buy food. We recommend hiring mules here because the owner is very trustworthy.
The best time to visit it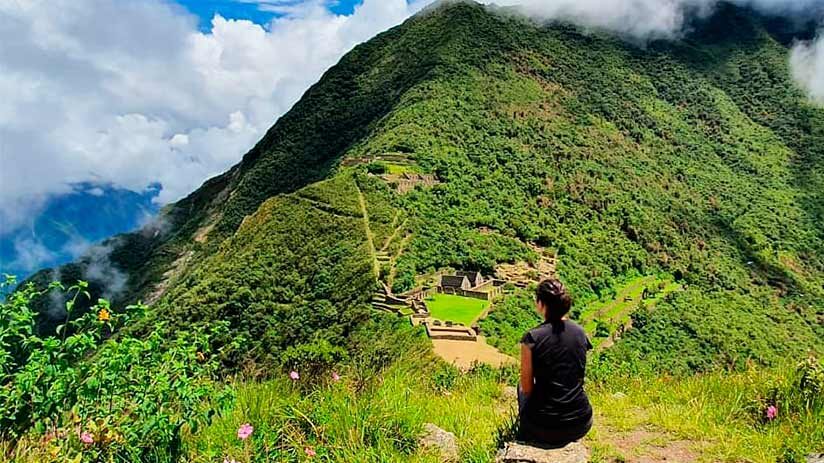 The forgotten sister of Machu Picchu is one of the most interesting unknown places in Peru. The ancient Inca citadel is situated on the Salkantay Snow foothills, in the Apurimac Valley, in La Convencion province of Cusco. Due to its location, the archeological complex has a temperate with a maximum of 25ºC and a minimum of 4ºC. The temperature is around 14ºC. However, with other attractions, this Inca complex has a determined time to visit it without suffering any mishaps.
1. Dry Season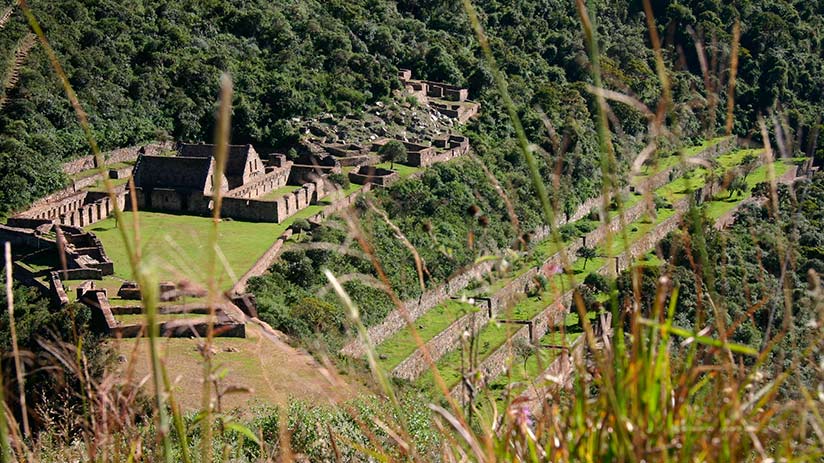 From April to October. Clouds that go very fast from one side to another, clear skies, and warm breezes will welcome you this season. Occasional weak rains can be presented at night. The temperature averages between 25ºC and 4ºC.
For all these factors, we recommend you this season to go hiking up Choquequirao.
2. Rainy Season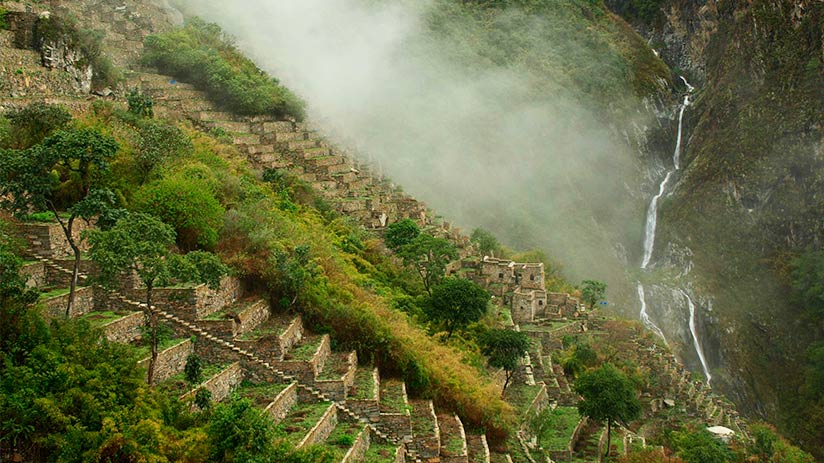 It begins in November and finished in March of the next year. Heavy rains, humid weather, and cloudy skies are the characteristics of this season. If you want not to get muddy and slide, you should avoid this season.
What to bring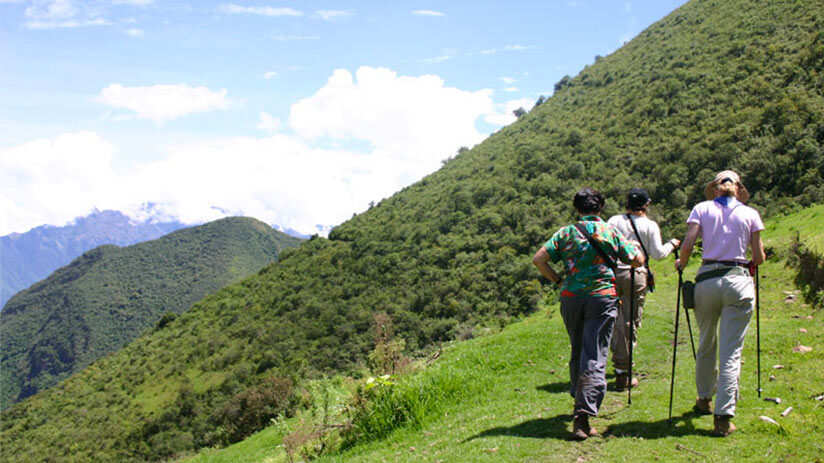 This trekking demands physical effort and suitable clothing for the challenge. Therefore, you will find some useful accessories that will facilitate the excursion to the complex or any Machu Picchu Tours that you are planning to take.
Trekking poles
Cash
Food for 3 days and 3 nights (at least)
Sleeping bag
Camping tents
Identification document
Toiletries
Backpack for the trek
Mosquito repellent
Sunscreen
Cap or hat
Sunglasses
Lantern
Raincoat
Water purifying tablets
Choquequirao on your own or within a tour?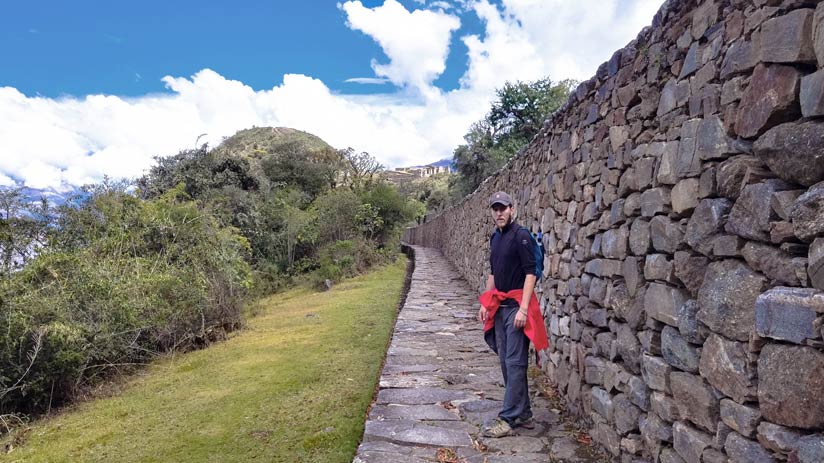 The trekking to the Inca citadel is a path well-signed, with camp zones, bathrooms, and more facilities for adventurers, like the Inca Trail route. The only difference with the famous path to Machu Picchu is the absence of rangers and a checkpoint at the beginning of the route. Therefore, many adventurers opt to do the trekking by themselves. However, this modality has advantages and disadvantages.
1. By yourself
Advantages: As we mentioned before, the path to the ancient citadel is well-signed with many tourist facilities. Camp zones, bathrooms, showers, little stores. If you take this experience by yourself, you will walk at your own pace, and spend less money than hiring a tour from a travel agency.
Disadvantages: You'll care about the logistic of the trip. That means to care about carrying your clothes, shoes, kitchen items, tend items, and food among other important things. Besides book by yourself hotels, and transportation to Cachora. Also, you'll have to contact previously with a muleteer or with a camp zone manager for any emergency.
2. Within a tour
Advantages: With the assistance of a travel agency, you'll not worry about anything logistical facts like kitchen or tend items, hotels in Cachora, or other contingencies. You will only enjoy the experience, by getting the best photos of the trip. Also, you will be supported during your trip, and you'll take advantage of your trip through the citadel with the knowledge of your tour guide (someone who knows very well the archaeological zone)
Disadvantages: The only disadvantage in this sense will be the cost. As you will see in the following lines, travel agencies usually charge a price between $500 to $1500 dollars. Another important fact will be that you'll not walk at your own pace, but you will follow the pace of the group and your tour guide.
The cost of visiting the ruins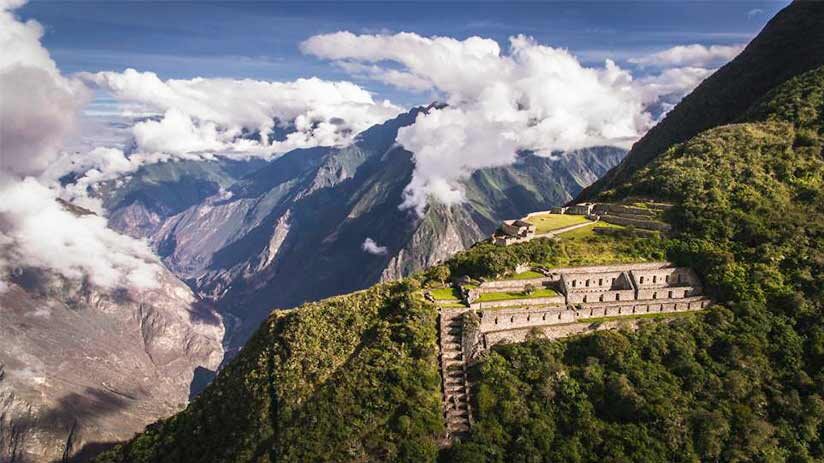 So, how much does it cost in general to be able to enjoy these ruins? This will depend a lot on the agency or operator with which you choose to start your tour. But in general, you can expect similar prices from every agency or tour operator, between $500 to $1500 (In a private or group tour). Note that the price will also change if you are looking to visit only the ruins or include it as a stop in some Machu Picchu tours. Or begin the tour from Cusco or from Cachora town. In the case of this last one, the price can drop considerably. (Around $500) Besides, rates depend a lot on the season you are traveling in and other factors. Despite this, we have prepared an approximate cost projection per person on a tour "by yourself".
Round-trip transportation from Cusco can cost between $30 to $50.
The pre-accommodation in Cachora can be between $30 to $40.
Camp fees can cost $20 or much less.
A camping equipment rental can be between $60.
Food and drinks from Cusco can cost $30 or more.
The entrance price to the Inca complex is $18.
While mule rental is optional, this can be between $120.
Please note that these costs are per person and are approximate. Although, if you do plan to travel with a group, the costs can be shared. Especially the costs of renting mules, camping equipment, and accommodation. To give you an idea, an independent hike shouldn't cost more than $200 per person.
An experience that is worth it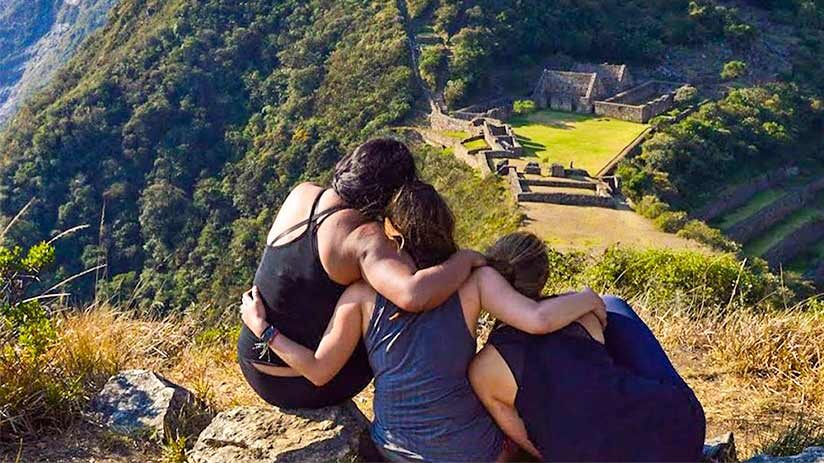 The whole experience, from the hike to the exploration of the ruins themselves, is a set of emotions that will take your breath away. The hike and the tour of the ruins are considered one of the best Machu Picchu alternatives, if not the best. One of the advantages of the route is that it is not usually populated by many other hikers, which provides a much more private experience. You will be able to appreciate the landscapes at your own pace and pass through the villages while interacting with the locals.
In general, you will not find disadvantages to visiting this wonderful archaeological complex. Being one of the less famous places in Peru, this incredible route is often overlooked by many. The truth is that It is much cheaper than Machu Picchu but equal in beauty. You will only have to submit to his demand because to access it you need a certain physical state. Still, the reward this complex brings is one without precedents.
"SOMEWHERE ON YOUR JOURNEY DON'T FORGET TO TURN AROUND AND ENJOY THE VIEW"
In conclusion, Choquequirao is a place worth visiting. If you have the time available, we believe that you will be able to appreciate these titanic ruins from a different perspective. Unlike Machu Picchu, you don't have a limit to tour the ruins, which creates a much more free and personal experience. If you want to know more about the private tours of Machu Travel Peru, you can consult with our advisors.
---