December is one of the busiest months in all of Peru, so many festivities and activities can be appreciated. And Christmas is one of these festivities that dominate the month, so it is not surprising that there is a lot to do in Cusco. For this reason, together with the experts of Machu Travel Peru, we have prepared a guide on everything that you can take advantage of at Christmas in Cusco. From where to go to what to do, all these doubts will be answered. Join us to enjoy the magic that Christmas brings to the Imperial City.
The guide to enjoying Christmas in Cusco
THE CITY AT CHRISTMAS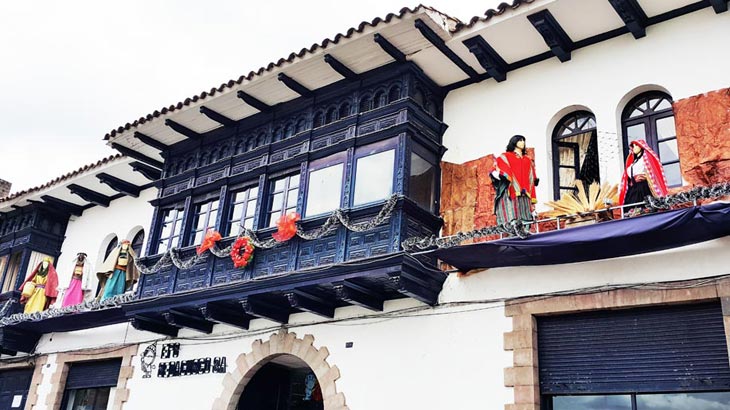 Being able to enjoy Christmas in Cusco is one of the best things you can do. On the one hand, you will have the possibility to see the festive side of the Imperial City and on the other to enjoy Christmas in the traditional way of the Andes. One of the most beautiful landscapes of Cusco is the central part of the city. Its historic center is considered a must-see, so you cannot leave Peru without visiting it. In festive seasons, its center is usually home to numerous markets in Cusco. At Christmas in Cusco, the Cusco main square has beautiful decorations everywhere, especially in the arches that are in each of the houses; lights and interesting traditional decorations are what will catch your eye. One of the most attractive things to admire is the life-size scene of the birth of Jesus. This is located in the Plaza de Armas in Cusco. This is the largest staging of the birth of Jesus that takes place in the temple of Qoricancha. If you are willing to see more of this amazing and beautiful decoration, you can visit the different old churches in Cusco. There you can see wonderful Cusco nativity scenes, made with creativity and tradition.
SHOPPING DURING FESTIVE SEASONS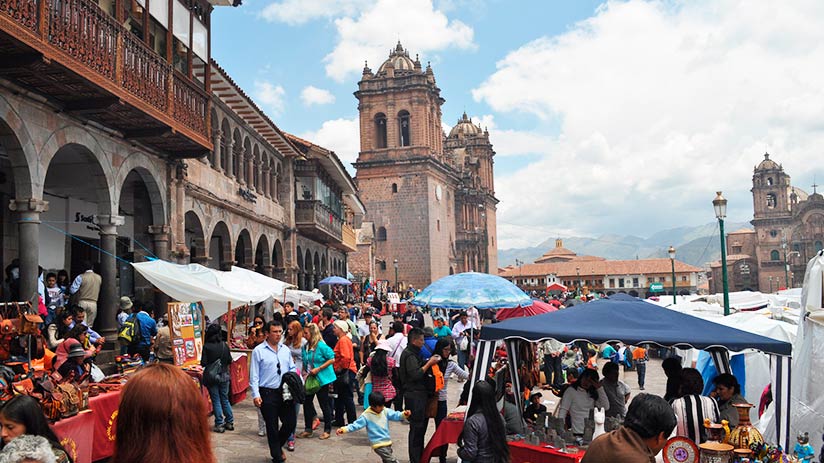 Something that you should not miss at Christmas in Cusco, are the Christmas markets. These show the magnificent ability of people to create pieces of art such as sculptures, textiles, paintings, etc. But that's not all, because the biggest Christmas market takes place on December 24 in the main square of the city, where you will see the best of Cusco related to art. The Cusco nightlife is one of the best moments to get to know the true festive spirit of the city. The "Santuranticuy" is the name of this Christmas market, and it is a Quechua word that means "sale of saints". It has been taking place since the 16th century and the character of this market is mainly religious. Often within this market people come to buy sculptures mainly of saints, angels, animals that can be included in their nativity scene or decoration of the house. This market lasts all day and is a must for those looking to get to know the Cusco festivities. After experiencing the different tours in Cusco, it would be a good idea to enjoy the markets that abound on Christmas in Cusco.
TRADITIONAL FOOD AT CHRISTMAS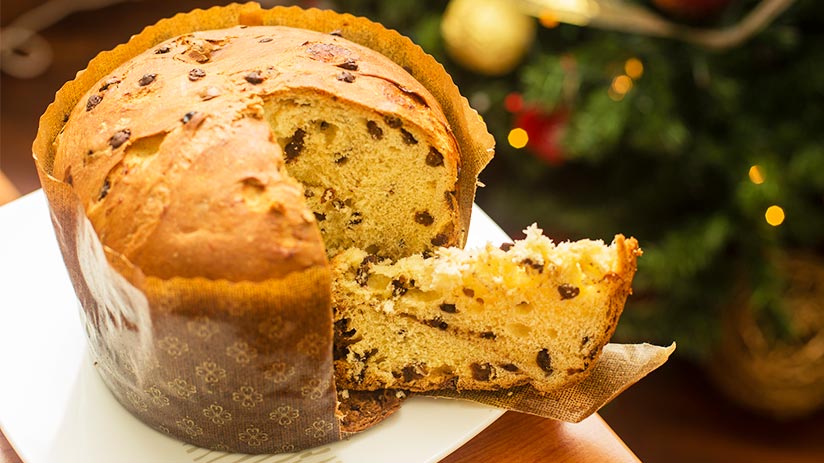 All festivities have their traditional food, so we will mention some of the delicious dishes that people eat at this time of year. It is very common to see people buying the traditional Paneton, which is a traditional fruit cake that can be eaten with a good Cusco hot chocolate. Before the main course, the traditional chicken soup is usually served. This is one of the most consumed foods on this holiday, so it is eaten on Christmas in Cusco. This delicious soup has been a part of family traditions for many years. Of course, all Christmas meals have a touch of that delicious flavor that you will only find in Peruvian cuisine. Let's not forget to try a wide variety of Peruvian dishes. If you are looking for reasons to why visit Cusco city, its delicious food is more than enough.
NATIVITY SCENES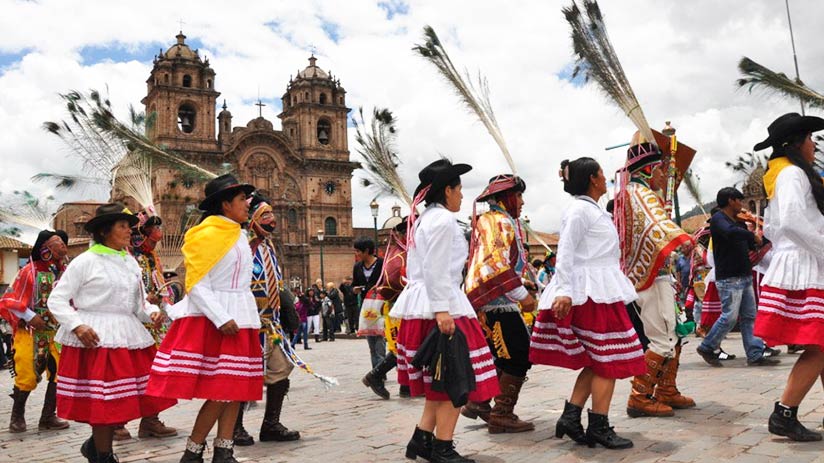 One of the greatest traditions within Christmas in Cusco is the nativity scenes. These can be appreciated throughout all of Cusco, where in places like the Plaza de Armas they are usually assembled in real size. Many like to go and visit the different scenes, in addition to taking a few photos. Churches are also open to the public, giving them the ability to participate in festive ceremonies. Churches feature their ornaments and nativity scenes. If you plan to spend Christmas in Cusco, you cannot miss these beautiful scenes.
PERUVIAN CHRISTMAS TRADITIONS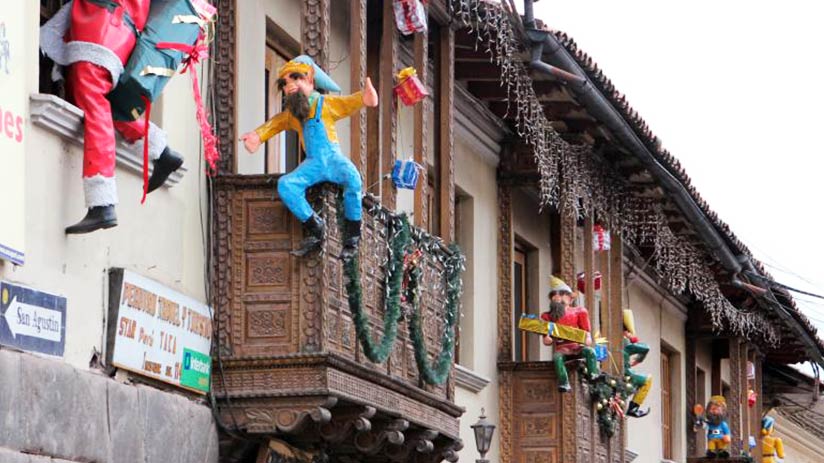 In the Peruvian tradition, families tend to enjoy Christmas in Cusco in a similar way. They usually visit the Catholic Church in their neighborhood and take part in the Christmas Eve ceremony. Then they meet again in their homes and start the famous Peruvian Christmas dinner, which usually takes part at 10 pm. After dinner, the family stays awake until midnight and celebrate Christmas. It is at midnight where gifts begin to be exchanged, in addition to listening to the different fireworks. Stuffed turkey and a variety of traditional salads are usually served at dinner. Midnight is the ideal time when families go out and enjoy the shows in the sky, in addition to greeting each other among neighbors.
"CHRISTMAS ISN'T A SEASON. IT'S A FEELING."
We hope that this small Christmas guide helps you to have a great experience if you travel to Peru, especially if you visit Cusco.
Enjoy your Peru vacations and Merry Christmas!!!
---