Just over 35 kilometers away is one of Cusco's most underrated attractions. The Moray ruins are impressive Inca ruins. These beautiful ruins are placed in the Sacred Valley, not far from the Imperial City. This impressive attraction is rarely mentioned in distinguished books and guides, so it is not crowded with visitors and tourists. But this does not mean that it is not a popular tour in the area. This beautiful attraction is often combined with the Salinas de Maras on different tours of Cusco. But it is a great alternative to explore if you have the time available. It is worth knowing its history and witnessing these beautiful concentric platforms. That is why together with Machu Travel Peru we decided to explain everything about the Moray ruins.
Everything you need to know about the Moray Ruins
WHAT IS MORAY?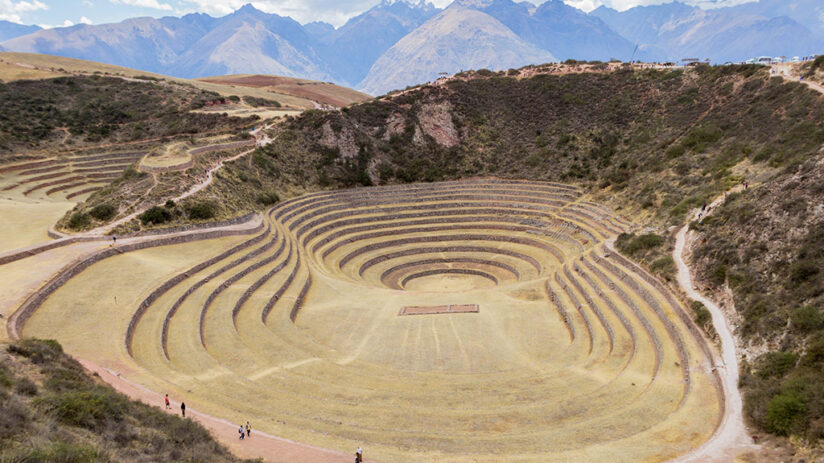 So, What is Moray in Cusco? The Moray Ruins are popular Inca vestiges to visit. They are located not far from Imperial City. These ruins are made up of three groups of different circular terraces. These are named after Muyus in the Quechua language. From the highest to the lowest terrace they descend about 150 meters, that is, 490 feet high. Each of the Muyus has about 12 levels of terraces. In addition, the largest Muyu has a diameter of about 182 meters or 600 feet. These depressions are surrounded by an impressive natural landscape full of imposing mountains of the Peruvian Andes. And if you are planning a trip to Peru, you should not let this destination be included in your list. So being able to contemplate these ruins is a wonder that you should not miss on your next visit.
HISTORY OF THE RUINS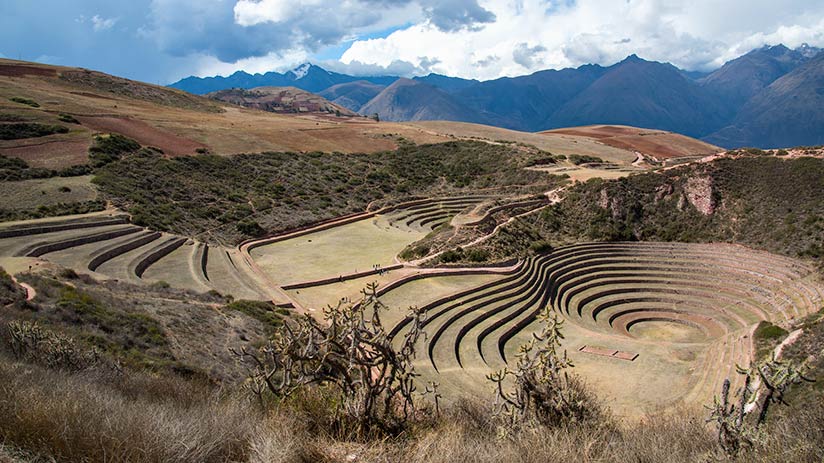 And Who built Moray Peru? With the excavations undertaken at the site, evidence was found that the lower terraces were probably built by cultures prior to the Incas. And it is assumed that it was the Wari culture, which flourished in the area during the 6th and 10th centuries.
But what we can appreciate today of the Moray ruins, was created mostly by the Inca Empire. But, When was Moray built? Scholars believe they were built between the 12th and mid-14th centuries, although there is not much certainty either.
It was discovered in 1932, on an expedition carried out by Shirppe Johnson while flying through the area. He could see from the sky a sector with platforms like concentric rings. Each circle formed is a terrace or platform that overlaps another. In this way, they form various circles that expand. You can go from one circle to another through the different projecting stones nailed to the wall.
But something surprising to keep in mind is that the ruins were used by the locals until 1970. These were used for agriculture by local families. But after 1970, new measures established by the National Institute of Culture were established. So now it only works as a tourist attraction. Today, it is a fairly attractive Inca complex and one of the things to do around Cusco that is worth it.
THE ORIGIN OF MORAY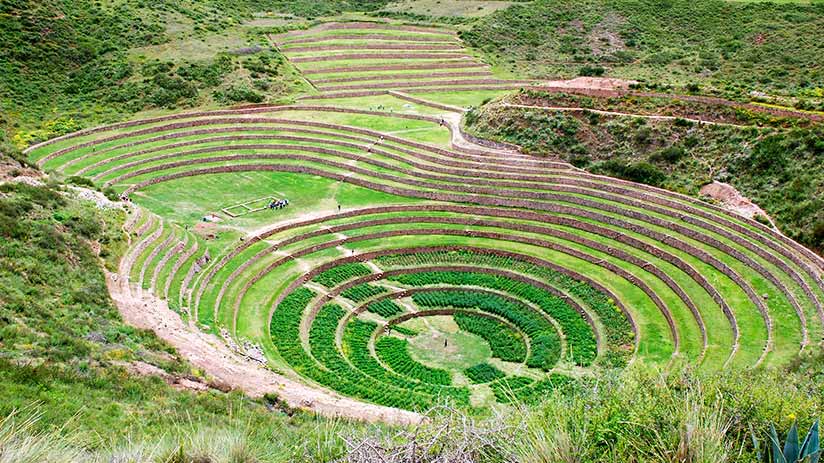 As for its origin, not much is known, but certain theories go around it and tend to color this attraction with great mysticism and magic. The best-known theory regarding the Moray ruins is that the Incas took advantage of the craters formed by the fall of a Meteorite. Who emphasizes this theory is the author of the book "Inka Astronomy", Edwin Salazar. This theory dates back to 1960 and explains how a giant asteroid divided as it entered the Earth's atmosphere. When it impacted, it left numerous craters that are located to the southwest.
The Incas are thought to have made these craters a place of worship and avoided their continued erosion with the construction of the different platforms. With the different platforms built concentrically, the Moray ruins were born. This is the theory with more sense since in other ancestral cultures the craters or impact sites of different fallen meteorites used to be worshiped. Today, it is an important place to know if you want to enjoy tourism in Peru.
OTHER THEORIES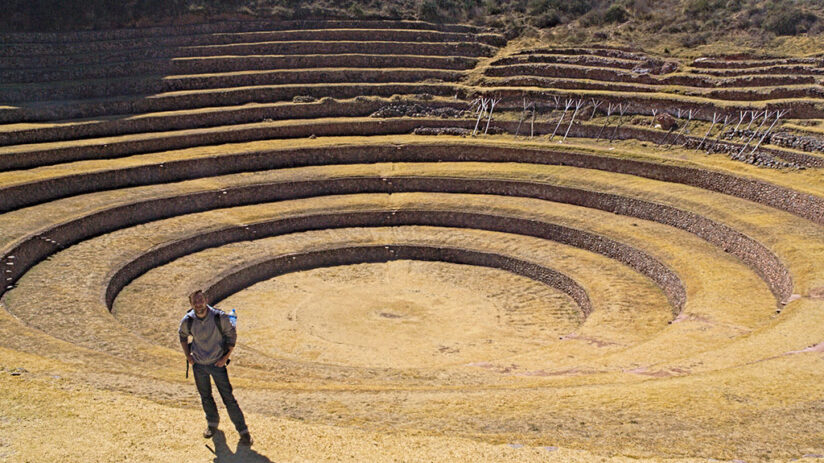 Despite this, there are also other theories about the purpose and origin of the Moray ruins. Some locals and locals from the surrounding communities tell stories that date back to Inca times. They mention that Moray was a place where different celebrations and ceremonies took place. Even today many locals still gather to celebrate Moray Raymi. So there is also the theory that Moray was a kind of amphitheater for Inca ceremonies.
Another theory assumes that Moray was a kind of open-pit mine built by Inca civilizations. And after the raw materials ran out, they built agricultural terraces to reuse the site. This theory gains strength when one takes into account the great task of excavating and building these ruins in such a symmetrical way. And finally, another theory suggests that it was an alien landing site. Where the depressions were formed by the landing of different alien ships.
Putting aside the theories, it cannot be denied that Moray is a place full of mystery and charm. So it is not surprising that it is one of the best things to do in Sacred Valley.
WHERE IS LOCATED?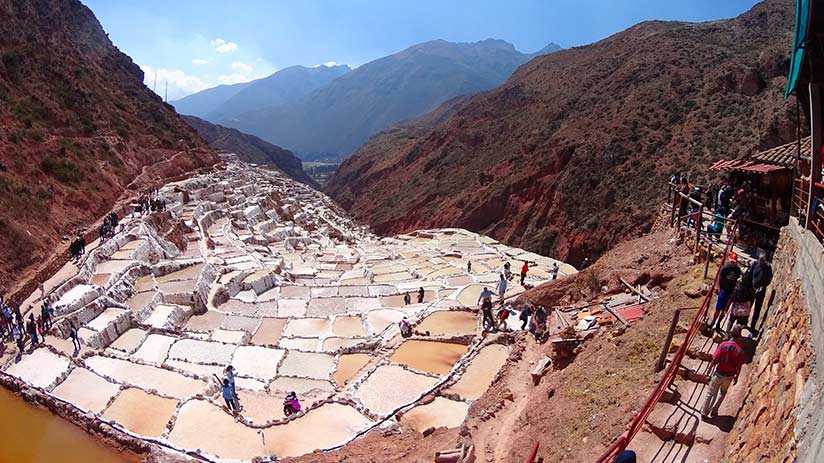 These beautiful platforms are located 7 kilometers from the Maras Salt Flats. For this reason, these two attractions are often combined in many tours in Peru. To be exact, it is approximately 38 kilometers from the Imperial City, within the Sacred Valley. To get to the ruins, it is possible to go through the road that starts from the town or a deviation from the main road.
Moray is located within the Maras district in the Sacred Valley, one of the seven districts of the Urubamba province, within the department of Cusco. All the ruins occupy approximately 36 hectares of space and are fascinating to see.
HOW TO GET THERE FROM CUSCO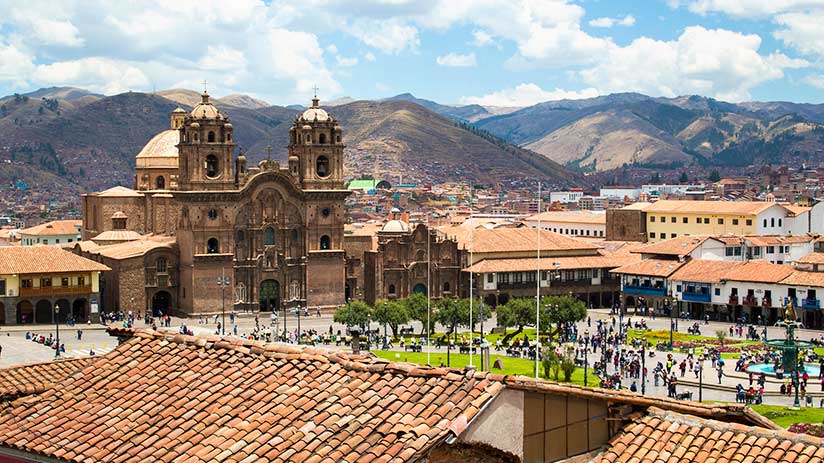 If you plan to explore the entire Cusco tourist map, you cannot miss this incredible place. To easily get there, just book a tour with a tour operator/agency. If you want you can also go by taxi from the Sacred Valley, although it would be a rather expensive option (up to 80 soles). You can even take the adventure option and go by bike from Chincheros. But if you are looking for a guide to accompany you, you will have to take the first option of booking a tour. You can always take advantage of our Cusco travel tips so you don't miss attractions like this one.
FUNCTION AND PURPOSE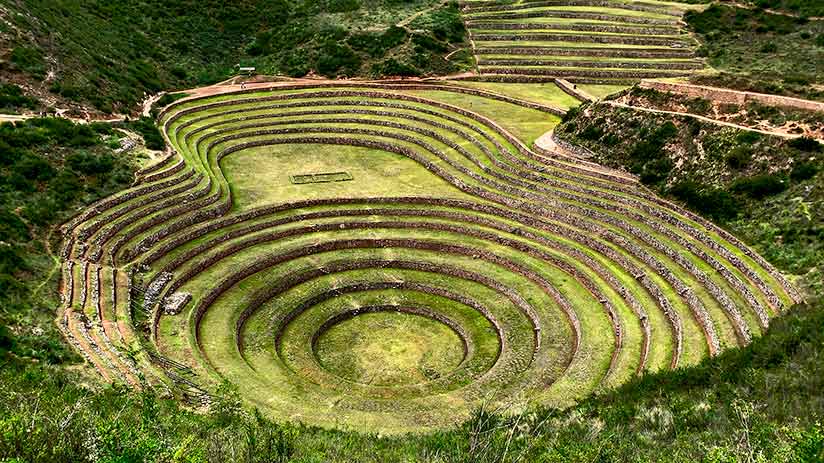 As for the functions of the Moray ruins, it is still discussed to this day… although it is often believed that it was an "agricultural research center" of the Incas. Due to the arrangement of the different platforms, a spectrum of varied microclimates is produced in each concentric circle. They range from higher to lower temperatures as you go outside. All the platforms are distributed in 12 different levels. The main four belong to Sector-I, the following four to Sector-II, and the rest to Sector-III. The entire complex would contain about 20 or more scale ecological zones. It is usually thought that this site served the Incas to calculate the annual production along the Tahuantinsuyo and the Sacred Valley map.
MORE INFORMATION
The soils of Sector I are usually much more humid and with low temperatures. Soils in sector II have an average temperature of 2º or 3º higher, while soils in sector III have temperatures that may be higher depending on sun exposure.
As you will see, Moray ruins are a scientific discovery and you cannot miss this incredible attraction. If you are looking for other things to do in the surroundings, you cannot miss the adventure sports in Sacred Valley.
"A TRAVELER WITHOUT THE ABILITY TO OBSERVE IS LIKE A BIRD WITHOUT WINGS"
As you will see, the Moray ruins are an ancient spectacle that the Incas left us. And therefore it is worth visiting them and knowing everything about them. We hope, together with Machu Travel Peru, to have inspired you to visit this wonderful and not so crowded attraction. If you want to immerse yourself in the history of the Inca Empire, you cannot miss this incredible place. You can always consult with our advisors to do a private tour combined with the best attractions around Cusco. Our team of consultants will be happy to help you plan the trip of your dreams.
---