Traveling with a large family can be just as wonderful as it is exhausting. As it poses a number of challenges. From choosing the right accommodation to keeping both young children and teenagers busy. So to help alleviate that stress, Machu Travel Peru has a few places to enjoy some family vacations.
It goes without saying that a family vacation is very important because it is a time to create beautiful memories and share them with your loved ones away from the daily routine. And Peru has a lot to offer. We can say that if you are attracted to beach life, adventures in the dazzling Andes, or the wild Amazon jungle, Peru is the perfect destination. Also, the best time to visit Peru is at any time, as Peru celebrates tradition, history, and culture every day. Can you imagine exploring these fascinating lands with your family? We know that everyone's eyes are shining right now and the excitement is building.
Peru has so many great destinations for families that it's hard to count, but we'll present our best places to enjoy family vacations. These incredible Peruvian places will combine excitement with good quality family time. So, are you ready for a fun-filled family trip? Check out our unique ideas for family vacations and remember that boredom is forbidden and fun is king!
Some great and unique spots to enjoy some family vacations.
PARAGLIDING IN MIRAFLORES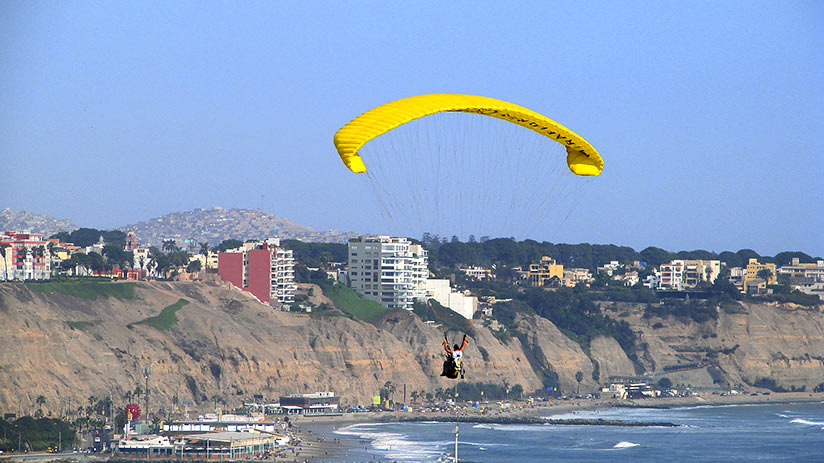 Lima, the "City of Kings", offers a great variety of adventurous and great activities like paragliding. In fact, it is one of the best tourist activities to do in Lima and for good reason. Especially if they are a family full of adventurous souls. The most popular place for paragliding in Lima is on the cliffs of the city. More specifically in the tourist district of Miraflores. Without a doubt, it is the perfect place when the sun finally dips below the horizon.
This sounds like a wonderful, poetic family vacation idea. The Pacific coast will allow you to appreciate a unique and unparalleled beauty. So if this adventure calls you, don't hesitate, root for the most breathtaking atmospheric views of the city and the Pacific Ocean, for real. It's one of the best activities on family vacations to get a panoramic view of the city's hottest neighborhoods. In addition, Lima is an excellent destination to start your honeymoon in Peru.
SURF IN LIMA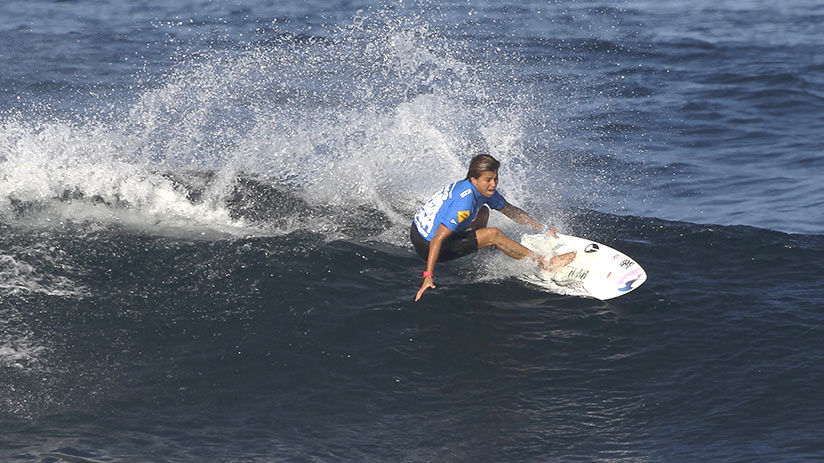 With almost 2,500 km of Pacific coastline, Peru has long been known as one of the world's premium surf destinations. Most of Lima's beaches offer unique conditions for this cool activity and have good waves. They are perfectly endowed with soft waves for those amateur surfers. Trying a surf lesson during your stay sounds like one of the best things to do on family vacations, trust us. Anyone who spends time in Lima should know that the city is a lively and fun place to practise this sport.
But if the family already has some experience in surfing matters, you can also visit the northern beaches. If you stray a bit from Lima, you will also find some interesting beach alternatives. Also, visiting Peru in December is an excellent idea as this month marks the official start of the beach season in Peru. So get ready to tan, feel the sand between your toes, and enjoy the waves!
SANDBOARDING IN HUACACHINA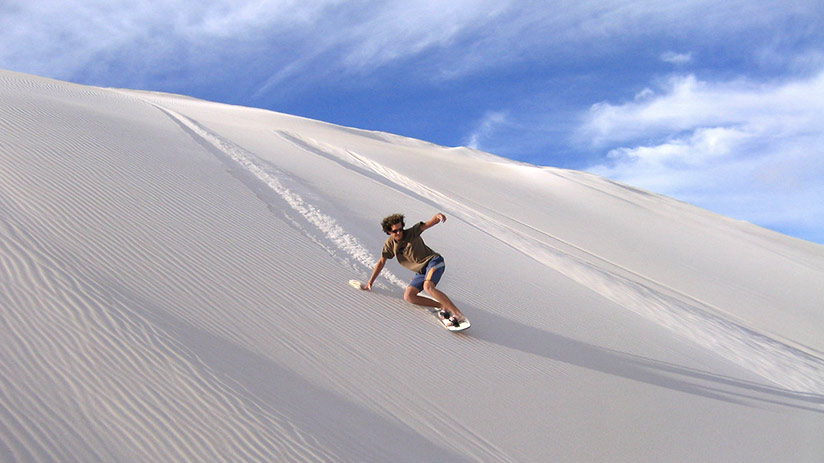 Peru has one of the most impressive deserts in the world and Huacachina is a natural paradise in the middle of it. Why is this place considered one of the best to enjoy family vacations? Well, despite its gigantic and epic dunes, these are surrounded by a natural oasis. Yes, exactly as you read it. The oasis of Huacachina is a paradise for tourists thirsty for adventure. You will not only find a great variety of adventure activities, but also a vast repertoire of tourist establishments. From luxury hotels, resorts, and numerous restaurants where you can enjoy excellent family vacations.
One of the things to do as a family in Huacachina is to rent a pedal boat or a rowboat next to the lagoon. But do you know what made the adventure even better? Sandboarding and buggy ride through the oasis. Sandboarding, contrary to the belief of many, is an activity suitable for everyone. You will find sand dunes of all sizes, making it a suitable activity for the little ones. Even sandboarding is often accompanied by buggy riding opportunities. Where you can enjoy the desert sunsets and a little speed while crossing the dunes.
TREKKING IN THE HIGHLANDS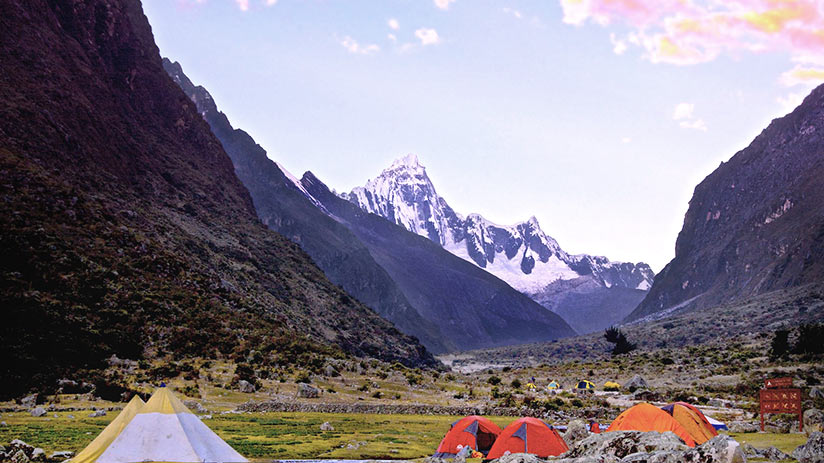 The Andes mountain range of Peru offers numerous hikes of one or several days. Many places in Peru such as Cusco and Arequipa are considered the gateway to trekking due to their unbeatable geographical characteristics. Not for nothing is Peru considered the paradise of professional hikers. Virtually any destination in Peru offers a wide variety of hiking trails. Whether you choose to do it in the heart of the Inca Empire or in the surroundings of the Colca Canyon, you will have a wonderful time.
In Cusco, you will have numerous alternatives for hiking walks. Whether you are looking to go to Machu Picchu or around the Sacred Valley. But one of the most popular options is the distinguished Inca Trail. This hiking route is so popular that if you are looking to undertake it we recommend you book months in advance. The route goes through a large number of scenarios that change as you advance to culminate in a tour of the Inca citadel. And if you plan to enjoy Arequipa, we recommend visiting the Colca Canyon. This is one of the deepest canyons in the world and offers quite an interesting hike. You will be able to visit beautiful landscapes while you get to know some traditional towns. In addition, you can relax at night with beautiful thermal baths.
Trekking in Peru is by far the most popular activity and one of the best ideas for family vacations. So if you and your family are lovers of outdoor activities, consider this amazing suggestion. You will not regret it.
WILDLIFE VIEWING ON THE BALLESTAS ISLANDS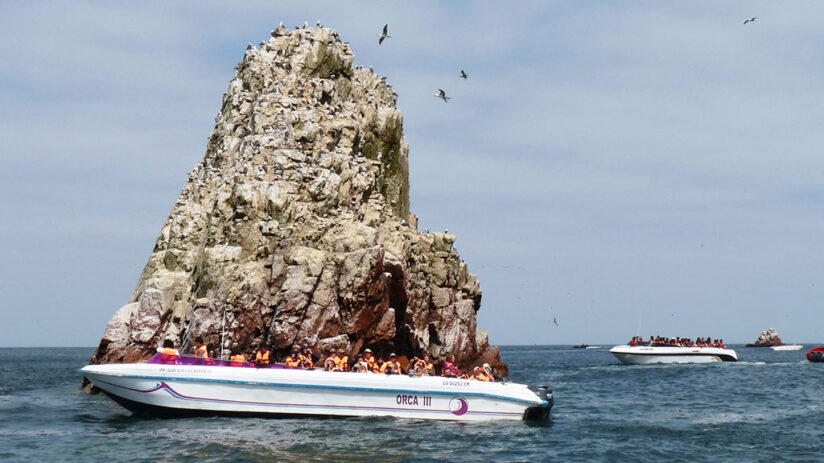 Islas Ballestas are also called "The Poor Man's Galapagos of Peru". Due to its great similarity but on a smaller scale. These impressive islands offer great aquatic wildlife viewing. They are home to the largest number of sleepy sea lion colonies, Humboldt penguins, and thousands of birds, all of which are always easily spotted by visitors. Although landing on the islands is forbidden, the boats try to get as close as possible. A tour here will offer you glimpses of the amazing marine life of the Pacific Ocean. It is definitely one of the best tours in Peru available.
To get there, you will have to go south of the city of Pisco, within the Paracas National Reserve. This nature reserve offers its visitors some spectacular views of red beaches, diverse marine life, and ancient archaeological sites to discover. Enjoy the wonderful coastline that this reserve offers and dare to embark on a trip to the Ballestas Islands. Ballestas Islands are located just an hour away by boat from the Paracas harbor. What is Paracas? A biodiverse-rich place that is part of the government-protected Paracas National Reserve.
AMAZE YOURSELF ON THE PARACAS NATIONAL RESERVE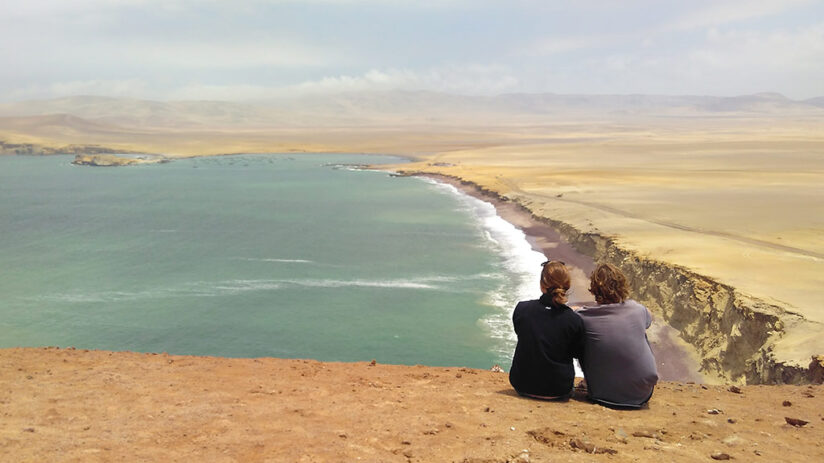 We already talked a little about Paracas and its Ballestas Islands. But the Paracas National Reserve has an ocean, islands, and a huge desert, a destination to explore. This place has been created to protect the great biodiversity of the environment. The protected desert landscape with its amazing coastline is a sight to behold. See some of the most unique wild animals in Peru. In addition, if you visit the museums, you can learn a little about the Paracas culture.
The visitor center offers many exhibits on ecosystem conservation. Its main focus is the protection of the marine environment that is already registering the impacts of climate change. Sad but true… So one of our best ideas for family vacations is to raise awareness about this situation. Your children will thank you since it is their future that will be affected. In addition, a pleasant activity that you can do on the Paracas National Reserve tour is to take a bike ride through the reserve. Once you cross all the sand, you will meet the sea where you can observe wildlife such as birds, lizards, and flamingos (June to August).
ENJOY THE IMPERIAL CITY OF CUSCO
A family trip can also be educational and fun. We consider that before starting your tours in the Inca Citadel of Machu Picchu, you can spend a couple of days in the Inca capital city of Cusco. This incredible city is not only one of the oldest cities in Peru, but also the most visited due to the incredible heritage of our Inca culture. Every aspect of Cusco offers clues to a bygone golden age filled with the remnants of the Inca Empire and Spanish colonial influences. In order to travel around Peru, it is mandatory that you know the city of Cusco.
By way of illustration, the Plaza de Armas and the surrounding streets are considered the heart of the city. There are buildings with magnificent architecture and beautiful colonial arcades. Another good example is the Sacsayhuaman Fortress, which is one of the most finely worked stone structures of the Inca civilization. In addition, its perfect location on the hill above Cusco offers extraordinary views of the city and its monuments. Without a doubt, Cusco should be included in your family vacations. It is worth spending some time exploring the city to discover and enjoy its attractions.
Cusco is so picturesque that children of all ages will be fascinated by the city. Simply being able to walk the streets will keep the whole family entertained. The interesting people, their bright outfits, and the different buildings are unlike anything you've ever seen before. Besides, if you are looking to visit Machu Picchu, Cusco is a destination that you will have to go through no matter what.
EXPLORE THE MAJESTIC MACHU PICCHU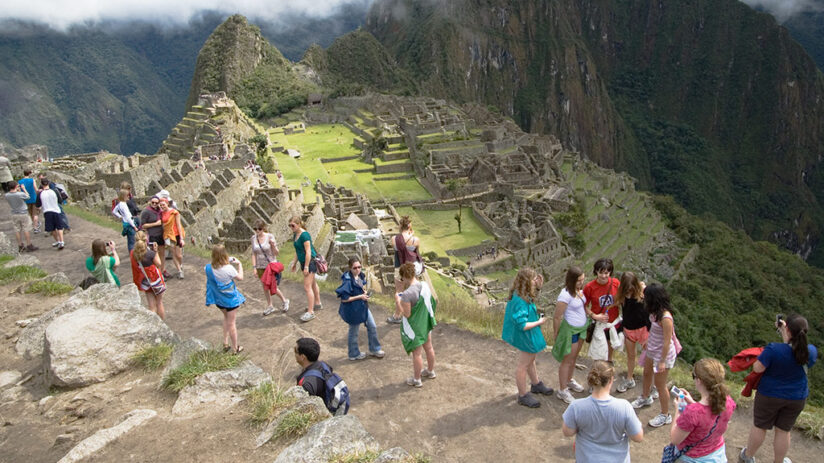 Although it sounds trite and is repeated often in our articles, no family trip to Peru is complete without enjoying the different tours to Machu Picchu. And you can do it from Cusco, one of the destinations you will have to pass through. From the Imperial City, you must take the spectacular train ride through the Sacred Valley of the Incas to reach the majestic Inca Sanctuary. The eyes of children and adults will not believe it! Although if you are a family of adventurers, you can opt for the popular Inca Trail. Where you can follow in the footsteps of the ancient Incas and how they entered the citadel. Be sure to plan ahead to get your permits.
Despite its historical and cultural richness, Machu Picchu boasts -obviously- impressive architecture. In addition, the "Lost City of the Incas" is surrounded by a magical cloud forest. Why is it magical? Because when you wait for the clouds to clear, the breathtaking view of the ruins will appear and it will really take your breath away. Contemplating the ruins of Machu Picchu with your whole family will be an unforgettable and unbeatable memory that everyone will cherish with great affection.
No matter how old you are, the unparalleled view of these ruins will blow you away. Children may not want to do the Inca Trail because of its long duration, but there are alternatives of fewer days. Although the comfortable and charming train can be one of the most luxurious ways to get there.
SAIL ON THE BEAUTIFUL LAKE TITICACA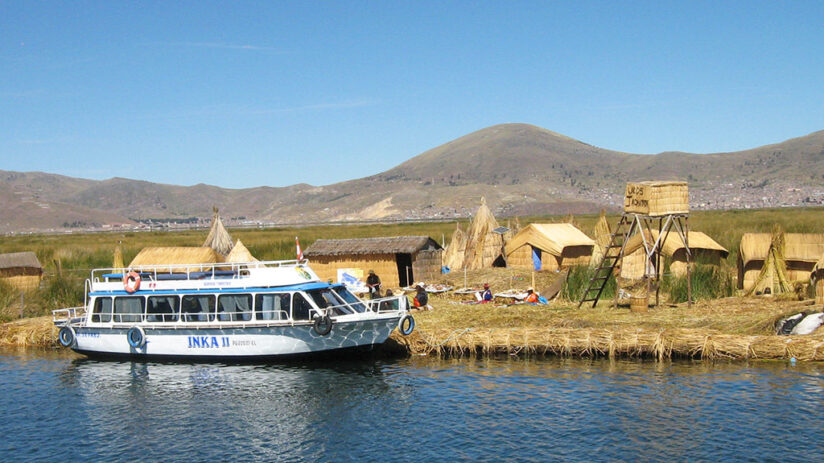 The beauty of Peru invites you and your family to experience its authenticity. So, one of the places that come to mind and draws a smile on our faces is Lake Titicaca. The lake is located in the Puno region of Peru. It is recognized as the folkloric capital of Peru. This lake that looks like a mirror of the sky is a wonder to behold. The color of its glistening waters is a fascinating deep blue, unlike any other lake you have seen before. Besides, it is one of the highest navigable bodies of water in the world. It has an elevation of 3,812 meters above sea level. It is simply awesome.
This lake is home to mysterious and enchanting floating islands that have a fascinating and unique cultural richness dating back to pre-Inca times. These islands literally float on the Lake as they are made of river reeds. Is there anything more peculiar than visiting these islands? Find it out! One of our best family vacation ideas is kayaking on the lake. In the kayak, if you wish, you can visit the floating islands of Uros and Taquile Island among others. You and your family will see beautiful sunsets, hear the pleasant sound of the waves, and enjoy the serenity and peace that this magical lake offers. One of the best places to experience within the Peru tourist map.
TOUR THE PERUVIAN AMAZON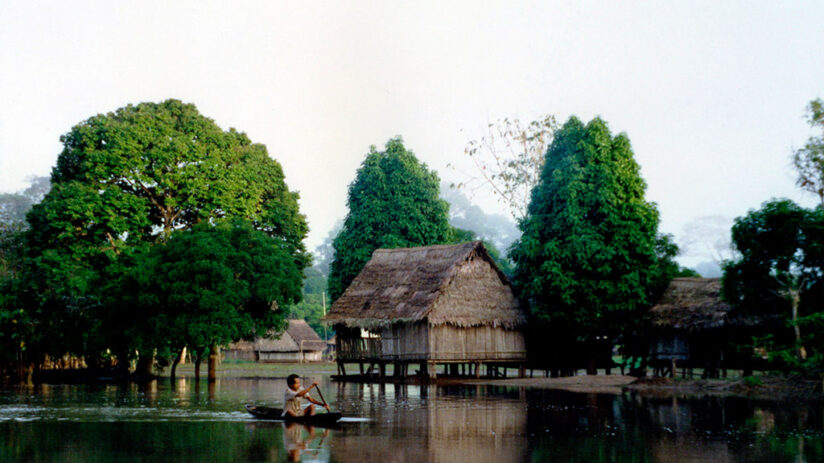 Traveling with a large family is synonymous with fun and adventure. So tropical adventures together are a must. We believe that one of the best family vacation ideas is to enjoy the jungle in Peru. Inside our incredible Amazon Rainforest, you will find everything for you and your family. By way of illustration, you can stay in an amazing jungle lodge, kayak on Amazonian rivers, and visit native communities. But this is just a glimpse of everything there is to enjoy.
Depending on your preference, there are endless exciting jungle excursions. If you and your family have adventurous souls, you can go in search of an alligator with lighthouses or take some boat rides through the jungle. But if you don't like this, you can enjoy hiking to observe the wonder of the jungle or climb a canopy tower for an incredible view. You will witness incredible landscapes where macaws, toucans, and parrots are the protagonists. Although if you are only in search of luxurious adventures, you can enjoy the different Luxury Amazon cruises. In these, you can enjoy a true 5-star experience but on a cruise!
Something important before finishing with this is that if you want to fully enjoy this adventure without problems, our advice regarding safety when traveling to Peru is to take the appropriate vaccines under the prescription of your doctor. If you were wondering if Peru is safe to travel to, then you can be sure it is. But in the same way, you have to consult your family doctor if you want to enjoy a safe trip. In this way, you will avoid any kind of inconvenience.
"THE FAMILY IS THE TEST OF FREEDOM; BECAUSE THE FAMILY IS THE ONLY THING THAT THE FREE MAN MAKES FOR HIMSELF AND BY HIMSELF."
To conclude, family vacations offer more opportunities to be together and connected. It offers memorable fun that keeps everyone interested and happy throughout the entire vacation. Therefore, never forget to spend time with your family, as it is one of the best ways to feel happiness in your life. Together with the Machu Travel Peru team, we hope we have been helpful with these family vacation ideas. All destinations in Peru can be enjoyed with the whole family. And if you like, our qualified team of advisers can help you fulfill the trip of your dreams. Enjoy a magical vacation in Peru!
---