Peru is a beautiful country for its varied landscapes and its rich culture. As we know, due to its multiple paradisiacal destinations and world heritage sites, this country is chosen by countless travelers. But travelers are not the only ones visiting this country. Due to its incredible landscapes, many of those who visit this country are hikers. Thanks to its beautiful geographical features to take advantage of, you can enjoy its varied hiking trails. That is why Machu Travel Peru wants to help you know the best destinations for hiking in Peru.
When it comes to hiking, Peru offers a few to take advantage of. They all have magical and dreamy landscapes so that all our effort is rewarded with unique views. Many of these destinations are suitable for everyone and you do not need to be a professional hiker to do them. Some of them don't even require that much physical effort. In the same way, it is always good to consult with our private doctor.
The 10 best destinations to experience hiking in Peru
AUSANGATE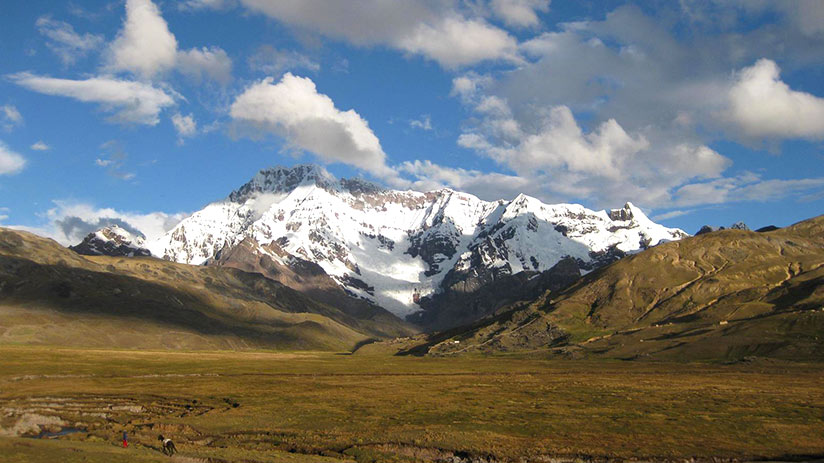 It is one of the most famous treks near Cusco by giving you the chance to see Vinicunca mountain, also known as Rainbow Mountain. In approximately 5 days, you can tour the Vilcanota mountain range and witness valleys and traditional Peruvian villages. Within this beautiful hike, you will be able to appreciate from imposing snow-capped mountains to colorful mountains. You will also have at your disposal some incredible green Andean landscapes where alpacas abound. A unique experience within the Inca country. It is one of the few treks that give you the option to do it on horseback. Special for those who do not feel physically fit.
INCA TRAIL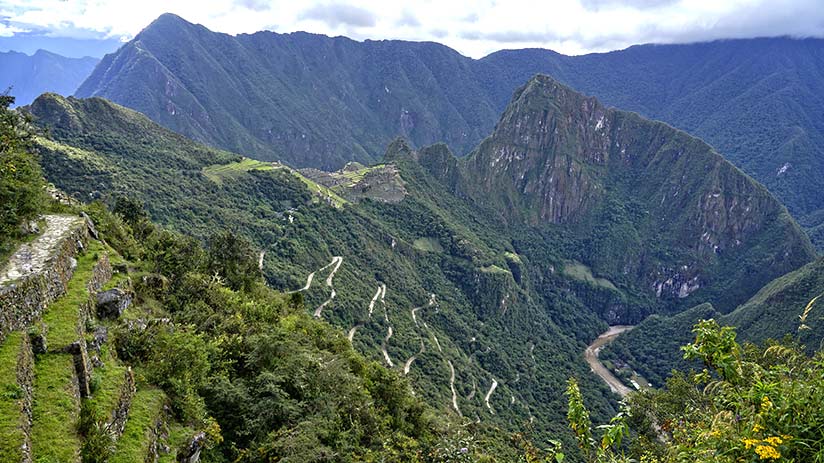 One thing is for sure, you cannot leave Peru without first knowing Machu Picchu. And the Inca Trail is one of the best ways to get to know the Inca citadel. Hiking the Inca Trail is one of the best ways to appreciate Machu Picchu. Hikers will start in the Sacred Valley by walking the same trails built by the Incas. Most of the hikes are completed within 4 days, but there are other shorter variants.
You will start the trail in the city of Cusco and then continue towards the Sacred Valley. The Inca Trail map is mostly pretty easy except for some steep parts. Keep in mind that this is one of the most popular treks, so if you want to experience it you will need to book in advance. Within the tour, you will see several archeological ruins and beautiful landscapes taken from a movie. Definitely one of the best destinations for hiking in Peru.
CHOQUEQUIRAO TREK
One of the ideal adventure holidays in Peru if you are near Cusco. The Choquequirao hike of 5 days is surrounded by natural landscapes such as valleys, snowy mountains, and wildlife to photograph. It is located more than 3030 meters in the Salkantay mountain range. Surrounded by the apus of Yamana, Ampay, Chokecarpu, Pumasiyo, and Panta. Visitors will be able to see a complex hydraulic system used for agricultural or religious reasons. Choquequirao is an ideal hike for those who feel ready for the challenge.
SANTA CRUZ TREK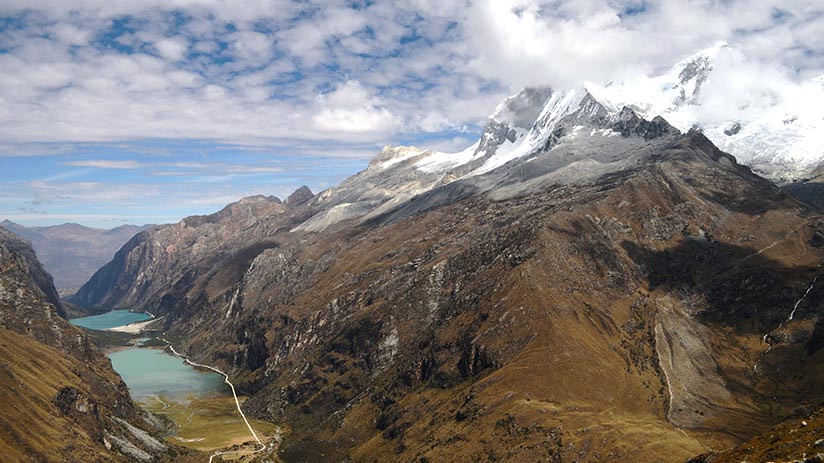 Among the different destinations for hiking in Peru, the Santa Cruz trek is a fascinating option of 4 days. The Santa Cruz trail is a 50 kilometers hike between Cashapampa and La Vaquería. The route crosses the Cordillera Blanca, a sector known for its imposing snow-capped peaks. The entire hiking trail is characterized by spectacular glaciers, towering mountains, and deep blue lakes. Keep in mind that much of the hike occurs at an altitude greater than 4,000 meters, so acclimatization is mandatory. Most hikers undertake the route in 4 days, but if you are in shape it can be less. Before taking any hike, you should consult our guide for safely trip.
THE VILCABAMBA TREK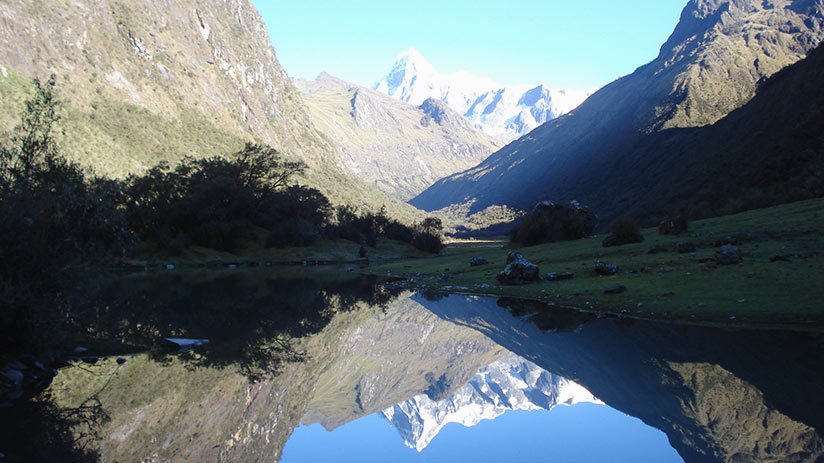 Vilcabamba is one of the top cities to visit in Peru and is also known as the lost city of the Incas. To get to Vilcabamba it is necessary to travel from Cusco by bus. This hike of 5 days allows you to explore the ruins of what was one of the last shelters of the Incas in Spanish invasions. It is not a well-known hike but it does take us away from the crowds to lead us into a mystical experience. Being a slightly underrated hiking trail, it can look quite "empty" compared to other trails. But don't let this put you off. It is a perfect opportunity to challenge yourself and get to know one of the most beautiful sectors of Peru.
SALKANTAY TREK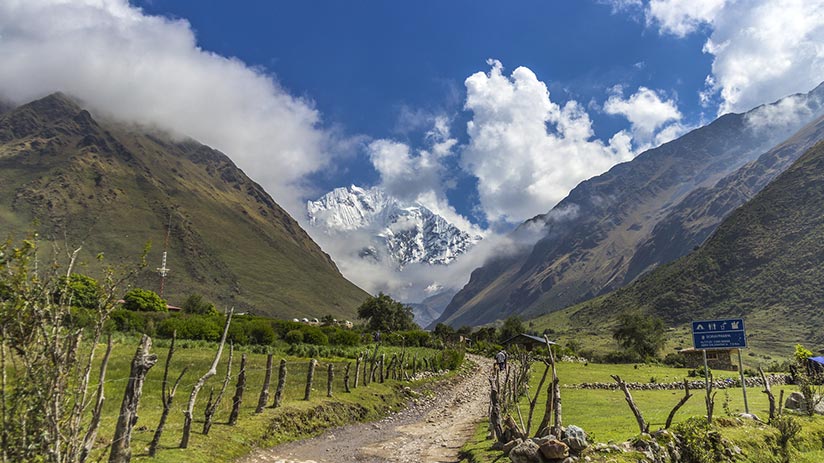 If you are not a fan of crowds, the Salkantay Trek will offer you the peace you are looking for. The route begins in Soraypampa, near the town of Mollepata. The views that you can appreciate are fantastic. It is one of the alternatives to the Inca Trail and one of the best destinations for hiking in Peru. It is a much cheaper alternative but a bit more difficult. With the difference that you will find the stunning view offered by Salkantay. The route passes through some traditional villages with certain attractions that you cannot miss. One of the most amazing hikes in Peru to experience. If you are looking for something different from the Machu Picchu tours, the Salkantay Trek of 5 days can be an excellent alternative.
LAGUNA 69 HIKE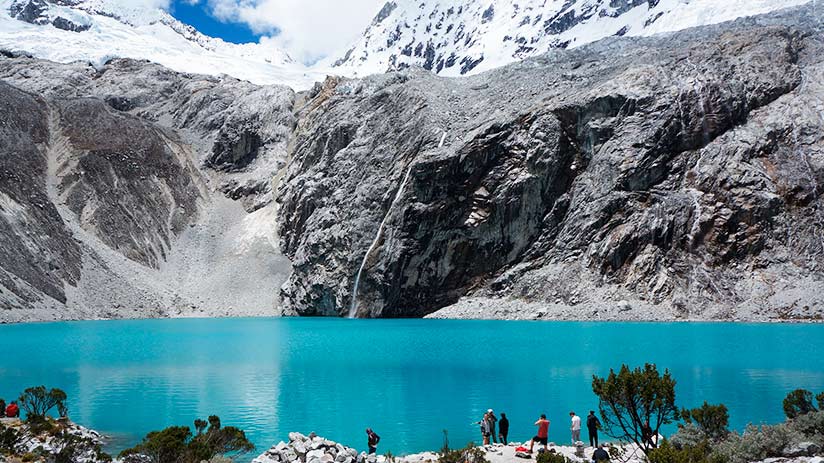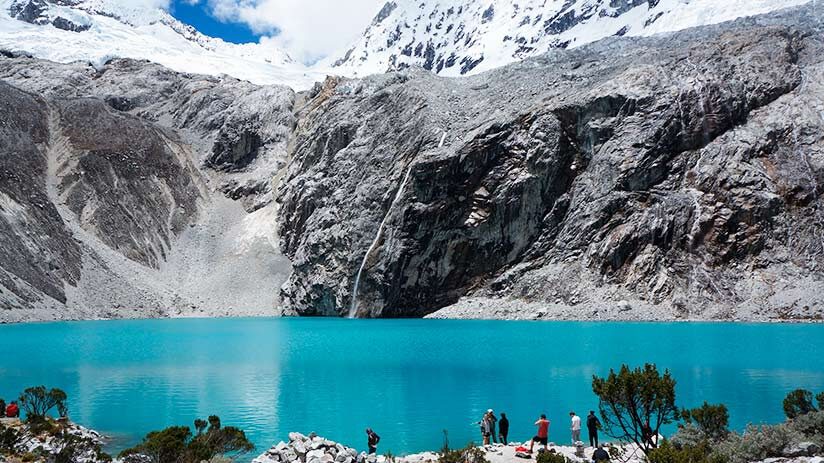 Contrary to what you might imagine from the name, this walk does not last 69 days. The route runs along the shores of Laguna 69, one of the most beautiful lakes in the Huascarán National Park. This hike lasts a full day and could be considered of moderate difficulty. It can take anywhere from eight to ten hours to complete the route depending on your physical condition. So it is highly recommended to start this wonderful route very early. One of the best destinations for hiking in Peru that you cannot miss. There is no best time to visit Peru when it comes to Laguna 69.
COTAHUASI CANYON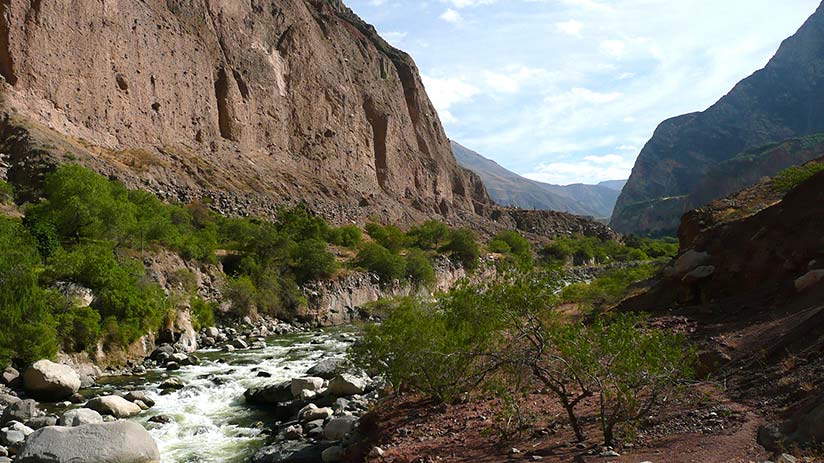 This is indisputably one of the deepest canyons in the world, surpassing even the Grand Canyon by twice the depth. This canyon is located about 400 kilometers from the city of Arequipa. To witness this landscape you will have several hiking options. Having the option of a one-day hike up to 4-days in case you are feeling adventurous. You will be able to see magnificent scenery that goes from a waterfall to suspended bridges. It is one of the best hikes in Peru by having different ways of approaching it.
KUELAP AND VIRA VIRA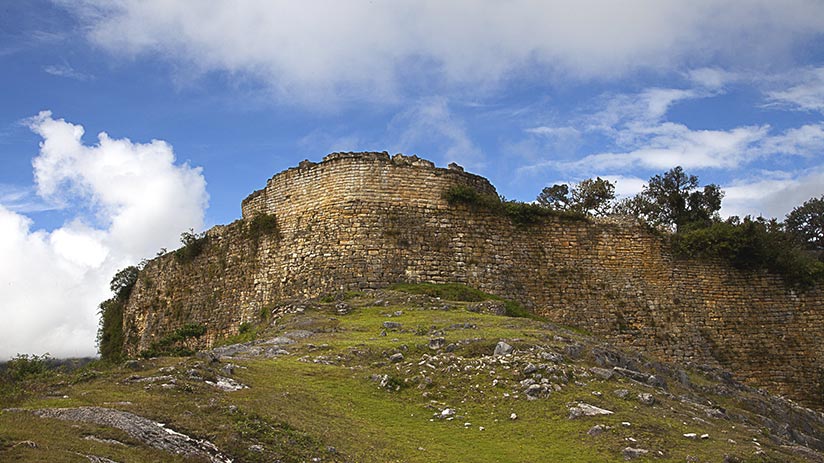 A fairly long hike, since it takes 8 to 9 days to finish. This route can be experienced in northern Peru, in the city of Chachapoyas. But it has a much more moderate pace than other walks in Peru. A perfect option for those interested in making a hike of several days and not making challenging routes. Within the long route, you will have the chance to visit the imposing fortress of Kuelap as well as the citadel of Vira Vira. You will even have the opportunity to appreciate the beautiful Gocta Waterfalls, which have a drop of 700 meters in height. This route may be a bit far from the other attractions in Peru, but it is well worth your time. If you are looking to enjoy Peru vacations different from all the others, it is ideal that you visit this region.
LAGUNA CHURUP HIKE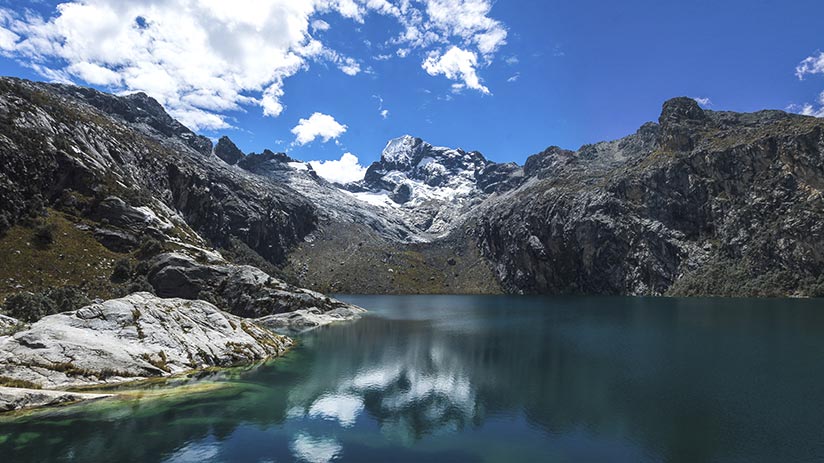 It is a popular hike within the Huascaran National Park. At a moderate pace, this trail will take us to the Laguna Churup. It takes approximately 4 to 6 hours to complete the hike. But it is better to take our time to appreciate the landscapes and see the shores of the crystal blue waters. You can also have a glimpse of Huascaran in the distance, the highest mountain in Peru. This one-day trek is a great option among the different hikes in Peru. If you have the time, be sure to take this beautiful route.
REASONS WHY YOU SHOULD GO HIKING IN PERU
First of all, we are proud to say that not many countries in the world can offer you a once-in-a-lifetime experience that combines hiking and history. Peru offers almost 11,000 years of history mixed with some epic settings. This promising and fascinating combination can only be witnessed first-hand on any of the hiking trails in Peru that you choose to explore. Peru is an avant-garde country, completely unbeatable.
SOMETHING FOR EVERYONE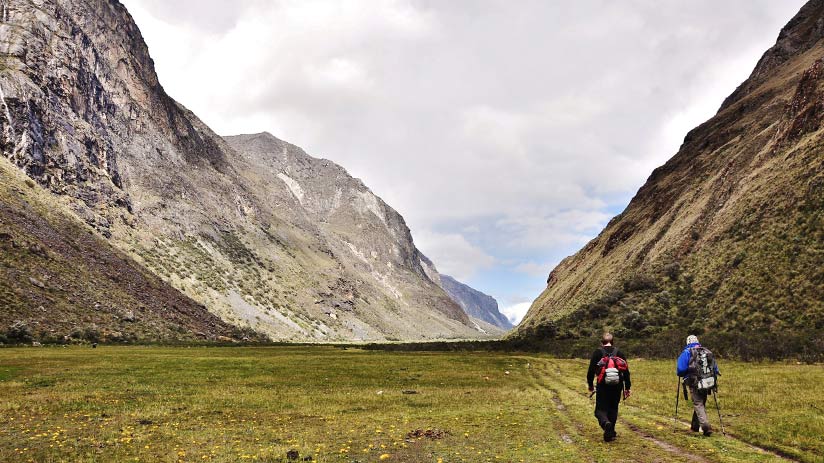 This incredibly diverse country offers something for just about every taste. From physically demanding but incredibly rewarding hikes in the Andes to awe-inspiring exotic hikes in the Amazon. Peru has a vast network of hiking trails with which you can experience the dramatic beauty of the Peruvian Andes and travel back to the time of the Incas. Besides, our tropical lowlands will allow you to be witness stunning wildlife and one-of-a-kind natural scenery.
BEAUTIFUL AND MIND-BLOWING SCENERY
Peru has some of the most spectacular and dazzling landscapes in the world that will leave you speechless. Many of the treks in Peru take place along ancient trails to fascinating Inca ruins, snow-capped peaks, or spectacular lagoons. The satisfaction of being able to explore Peru in the same way as our ancient civilizations will be incredible. This rich experience where you can access secluded landscapes and learn about everyday life in the countryside will leave a lasting impression on your soul. Without a doubt, your adventure trip to Peru is something you will never forget.
MEET A FLUFFY FRIEND
When hiking in Peru, especially in the Andes, you will be met with fluffy and furry llamas and alpacas. Lots of travelers feel a big-eyed curiosity for these animals. They actually look like living stuffed animals that anybody would like to play with. Furthermore, 75% of the worldwide alpaca population has its home in Peru. Can you believe it? Machu Travel Peru is sure you don't have any doubt that Peru is a complete mind-blowing package.
ONE DAY AND MULTI-DAY HIKING OPTIONS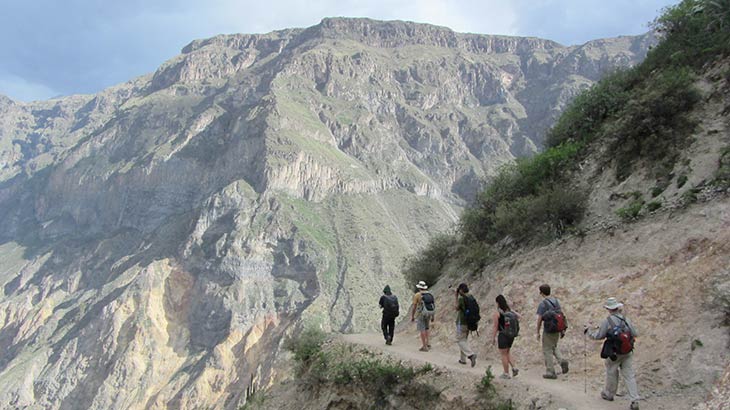 Millions of travelers come to Peru to take some tours to Machu Picchu. Among them, the famous Inca Trail, but fortunately there is an extraordinary variety of Inca Trail alternatives. They will offer you many amazing and wonderful moments during your stay in Peru. And among the main areas for hiking in Peru, you will find the Sacred Valley in Cusco. Also available are the Cordillera Blanca in Huaraz and the northern Amazon in Chachapoyas. Each has its own unique beauty and challenging hikes.
To illustrate, The Salkantay Trek in Cusco is the most popular alternative trek to Machu Picchu. It takes 4 days to complete. You will escape the crowds and pass high mountains, glaciers, lagoons, and towering snow-capped mountains. It offers an epic landscape of the Andes.
If you are short on time, you can take a hike to Rainbow Mountain. Or take a hike to Laguna 69, a stunning and picturesque blue-green lagoon in the Huascarán National Park in Huaraz. These options are some of the best tours in Peru available. Especially if you can't commit to a multi-day hike.
EXPLORING THE AMAZON
Not convinced yet? Ok. We have something interesting to offer. You can hike in the Manu Biosphere Reserve. This exotic experience will have you learning all about the diverse Amazonian ecosystems and wildlife. You can also try riding a bike, this option definitely takes a responsible role in protecting its inhabitants. Fortunately, there is a route for every skill level and experience. So, you don't need to feel overwhelmed to explore the country. Just relax and enjoy your time with nature. Your hike in Peru will be more enjoyable!
"THE MOUNTAINS ARE CALLING AND I MUST GO"
Peru is, without a doubt, a country made for hikers. Among so many hiking trails to choose from, we chose to list the most popular ones. But keep in mind that they are not the only ones to enjoy. We hope this list has been helpful when choosing a hike. Some of these are not that crowded and it can be a bit difficult to get a guide, but they are still worth it. Machu Travel Peru wishes you an incredible experience and that you enjoy all its splendor.
---