Love and food are two of the most important things we need to help us survive in this life. And we know that honeymoons and the perfect wedding are something we all dream of. Especially if you've worked hard and saved a lot for your perfect wedding. It's no surprise that your wedding took years of planning to get right. But the stressful months beforehand were worth it, as the day was perfect. The guests were happy that everyone had a great time, with many photos that will be remembered forever. Your parents were happy on the most important day of your life, then everything ends, and the honeymoon can begin. And if Peru knows anything, it is celebrating honeymoons. Therefore, together with Machu Travel Peru, we have prepared a small article about how to celebrate the perfect honeymoon in Peru.
How to celebrate your Peruvian honeymoon
Honeymoon in Peru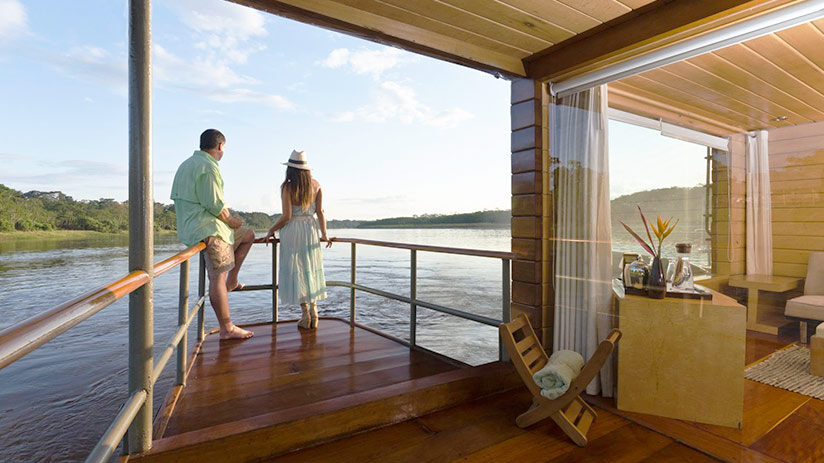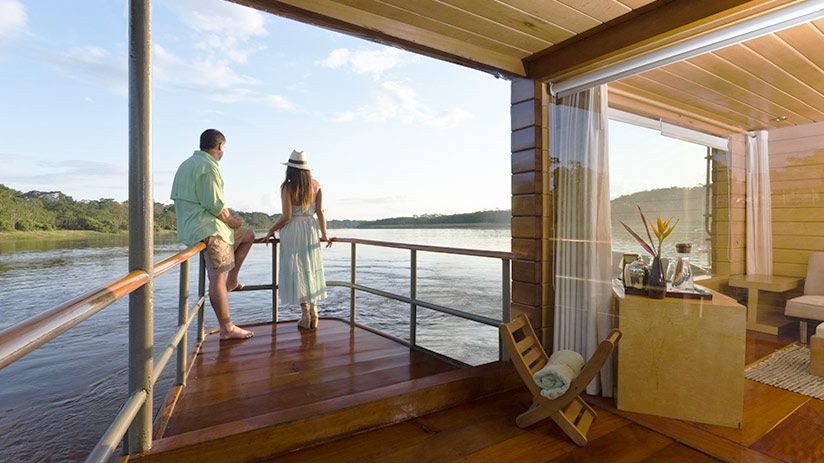 What is your dream? What would be your ideal honeymoon? Thinking of traveling? Fortunately, we can answer all these doubts. A honeymoon is a perfect occasion to celebrate consolidated love. Spending a honeymoon in Peru is a wise choice, since its nature and beauty in the Peruvian Amazon, passing by the relaxing sands of north beaches and arriving at the history and mystery of archaeological sites in the south, will make Peru the perfect place for your honeymoon in South America!
How to prepare for your honeymoon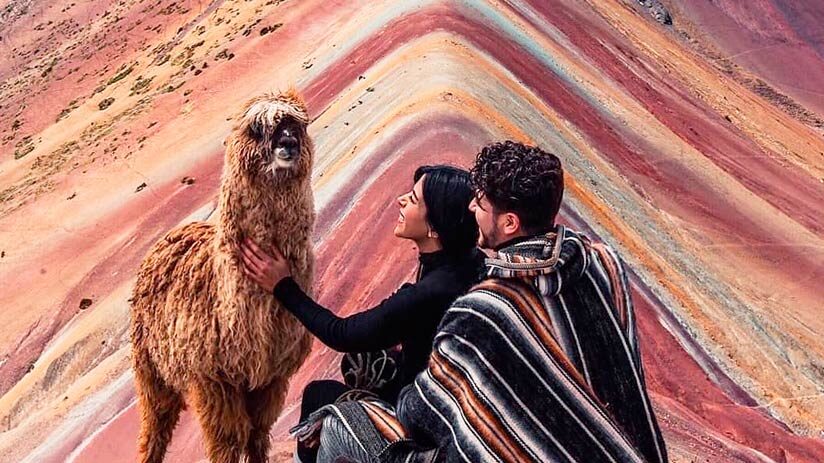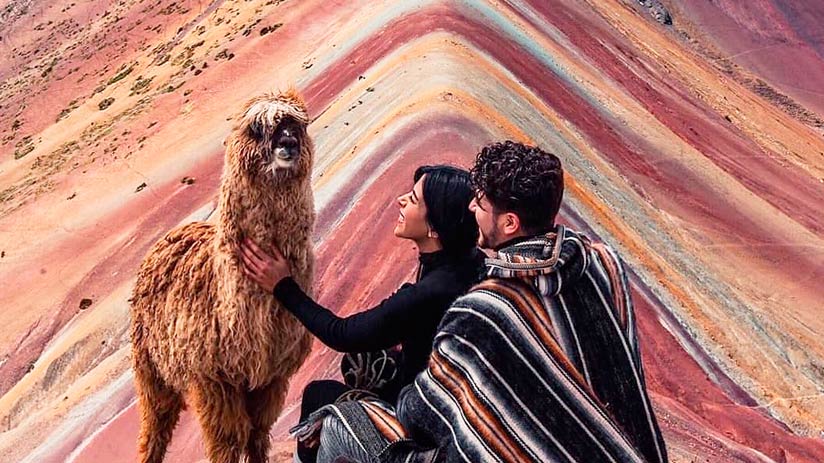 As with other trip plans, experiencing your honeymoon in another country demand three important things, anticipation, being well-informed about the place chosen for your honeymoon, and good planning. Happily, in this article, you will find all three things! Well, let's start with the anticipation. Avoiding some bad surprises during your honeymoon in the Andean country is possible with good anticipation, and knowing some facts that you should take note of.
A. Anticipate your budget
Having all your activities, hotels, and even train or entrance tickets bought and booked before your arrival in Peru is the most recommendable tip. Remember, you are on your honeymoon and you should not worry about last-minute expenses or anything like that. Therefore, making your honeymoon plans with the support of a good travel agency will be a help for you.
B. Inform well about your Peruvian honeymoon destination
Everything will depend on what kind of couple you are. Maybe, an adventure couple? In this case, the Peruvian Amazon or the Andean highlands can be perfect for you, and realize about what time is better to visit them will be crucial. On the other hand, if you prefer calm and relaxation, the coastal beaches of Peru can be your option. However, the time to visit them is not the same as visiting the Amazon or the Andean mountains. On the other hand, if you are searching for zones where expended traditional Peruvian food, in this case, you have to know in advance the perfect cities to prove it.
C. Plan and choose your activities in Peru
As we told you, all will depend on your preference, Adventure can mean Peruvian Amazon (Trekking, canopy, bird watching, sailing inter alia), or the Peruvian Andes (trekking, rafting, rappelling). Or if you prefer learning and admiration, the south and center of Peru will be the perfect selection. On the other hand, if you want to relax and be calm, the Peruvian north beaches will not disappoint you.
The best time to do it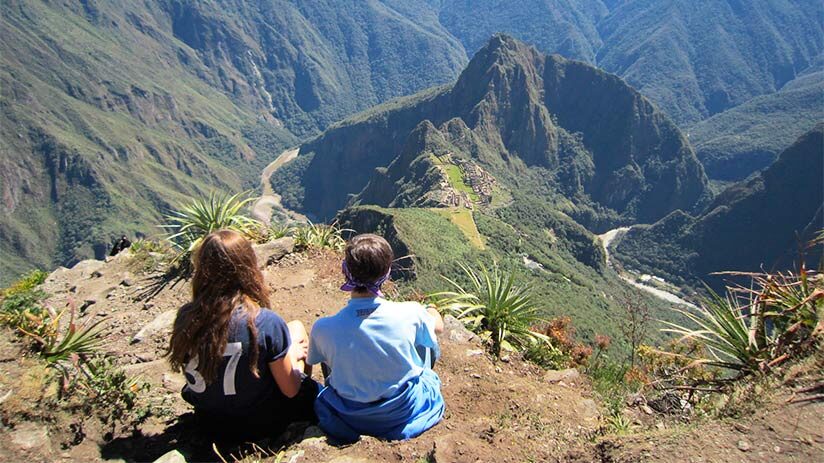 If you wonder what is the best time to visit Peru, the answer is that you can do it throughout the year. But depending on the destination you choose, it may have a different climate. Usually, the best period to visit Peru is in the dry season (April to November), especially the Peruvian Amazon, the Andean highlands, and the south of the country. There, you'll find clear skies, hard sunshine, and hot and dry breezes. The most amazing attractions are Machu Picchu, Cusco, Sacred Valley, Titicaca Lake, Colca Canyon, Manu National Park, and Tambopata National reserve among others.
On the other hand, the Peruvian coast and the north can be your option while the rainy season appears in the rest of the country (December – March). During this period, you will enjoy beaches and perfect waves, besides humid and hot weather, blue skies, and generous sun. Lima, Trujillo, Piura, and Tumbes can be your Peruvian cities.
Honeymoon destination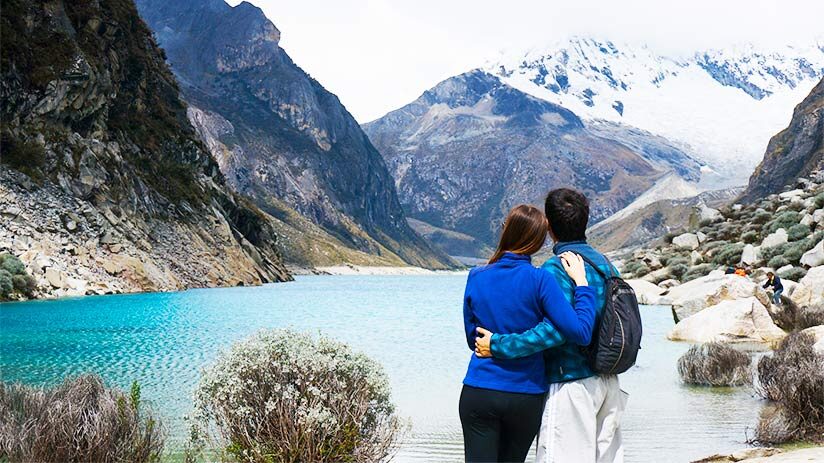 We will try to list those activities and must-see destinations during your Peruvian honeymoon. Either for the sensation they offer, for their activities, or for their gastronomy, these destinations will leave unforgettable memories for you. Therefore, make the most of your trip to the Andean country and get to know the best it has to offer.
1. The Peruvian Amazon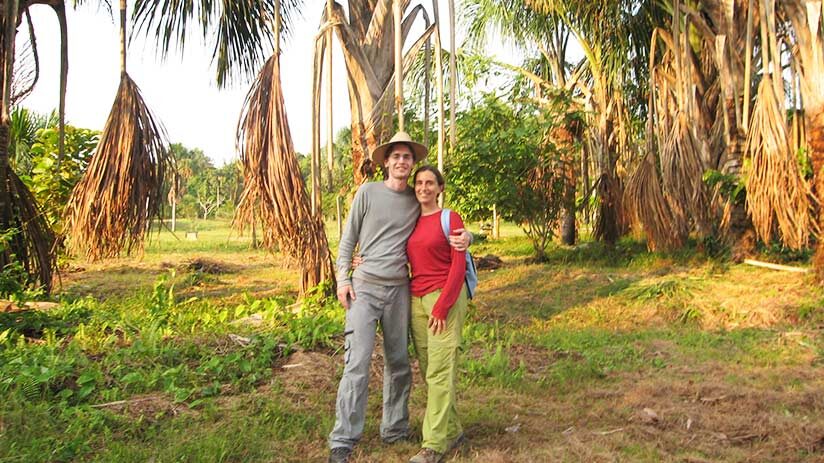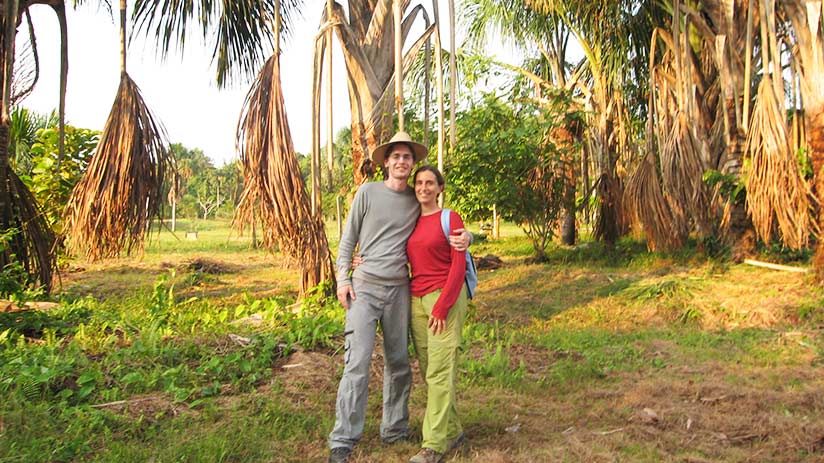 Around 60% of Peruvian territory is covered by the Amazon rainforest. As we mentioned before, visiting it in the dry season to appreciate its great biodiversity will be the most recommendable tip. Make the songs of the birds, the watching of exotic mammals, and the view of a perfect sunset in the middle of the jungle part of your honeymoon in form of pictures and remembers unforgettable. Following, you have two of the most preferred activities in the Peruvian Amazon for couples.
A. Luxury Cruise through the Amazon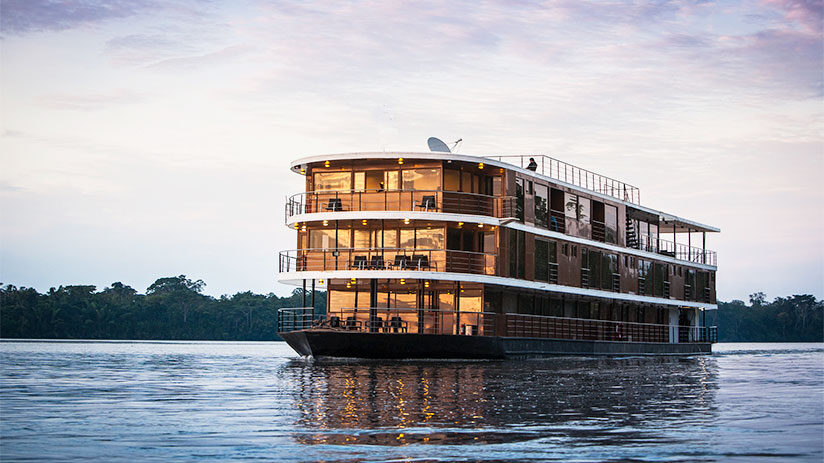 You can choose to watch the world go by, sailing the Amazon on a luxury cruise. That is, in renovated luxury ships with large windows and suites that meet all your needs among other characteristics. Not to mention, they feature award-winning chefs and seasoned river pilots who know every inch of the river. We believe that drinking some traditional Peruvian drinks while floating through the Amazon on a luxurious river cruise, while appreciating pink dolphins lapping the water, is one of the best options for a honeymoon in the Peruvian Amazon. Not to mention, summer in Peru is best appreciated on an all-inclusive luxury cruise sailing throughout the Amazon River.
B. Stay in a romantic eco-lodge in the middle of the jungle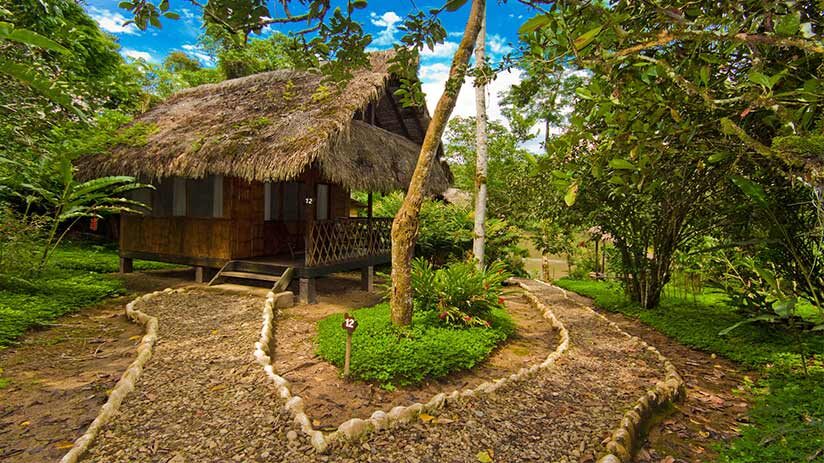 Or you can also choose the option to rest in a fabulous jungle lodge. Some of these are considered the best eco-lodges in South America. Most offer rustic and elegant accommodation, plus plenty of jungle hikes. You will even have the opportunity to enjoy car tours and boat rides as part of eco-lodge's services. Some of the more popular hikes to enjoy will include the Trail System, Rainforest Garden, Twilight River, Rainforest by Night, Wetlands, Canopy Walkway and Anaconda Walk, Lake Sandoval, and Gamitana Creek. All these offer the opportunity to spend time in the most romantic setting. Where you can hear only the sounds of birds and animals to keep you company. Therefore, the different eco-lodges at your disposal are one of the best ways to experience holidays in Peru!
2. Cusco and Machu Picchu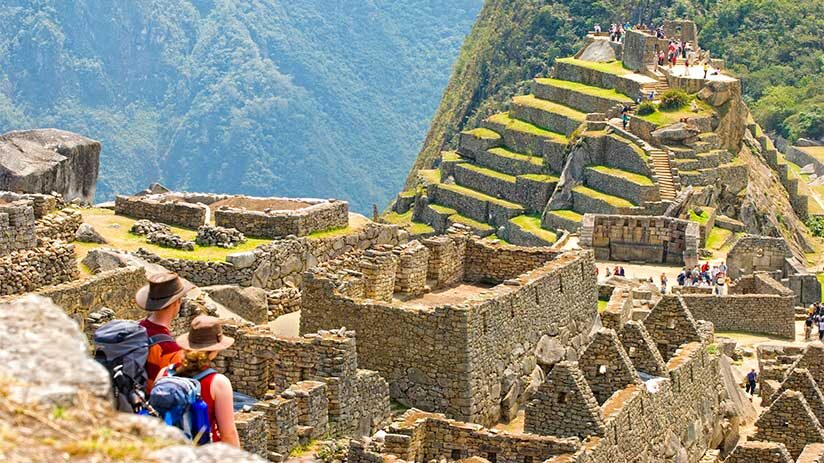 The two most representative attractions of America`s Rome, Cusco, invite couples every year to spend their honeymoons in Peru. The history and mysticism of Cusco will be the main facts, along with the relaxation and calm in its different spa centers, luxury, and comfort in its five-star hotels, history, and legends of its closest streets inter alia. Of course, spending a honeymoon in Machu Picchu is priceless. Following, you will have two ideas for your Peruvian honeymoon.
A. Shopping with your partner in Cusco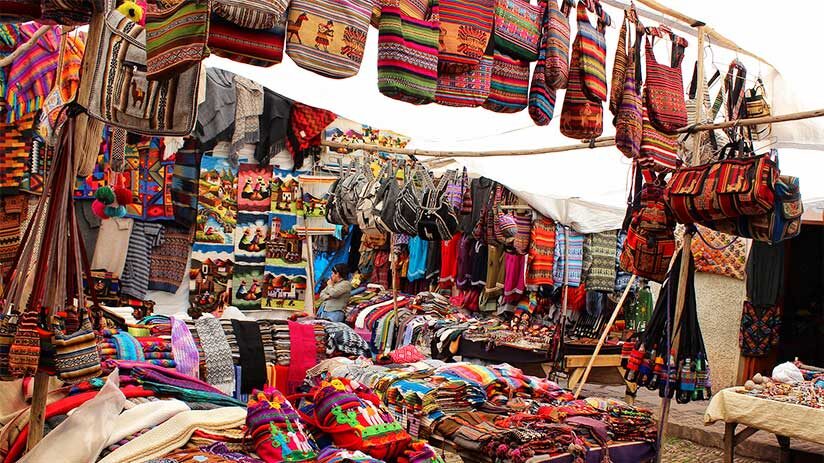 Cusco is the entrance gate to a universe of mystery, legends, customs, and history. Of course, its jewel, Machu Picchu, is included among other Incas archeological sites. Here, you will have time to browse the local craft markets to take home lasting memories. Perhaps spending some time in the imperial city of Cusco is what you are looking for. Its wide variety of bars, discos, and restaurants where you can spend the night dining or dancing can be the best form to get more involved with your partner. During the day, you can explore the beautiful cobbled streets with the many markets and side alleys. In addition to exploring the fascinating museums and churches. Like icing on the cake, you can stay in one of the many 5-star hotels with rooms decorated in the Spanish colonial style that are in themselves interesting to explore.
B. Stay in a luxurious exclusive hotel while enjoying Machu Picchu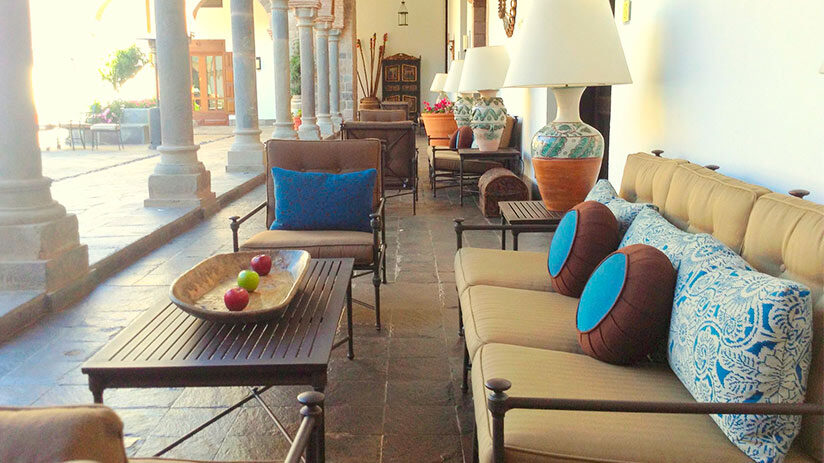 Another great option is to spend some time in one of the many luxury hotels near Machu Picchu. Maybe you can stay in the surroundings of the wonder of the world, Machu Picchu. All while being pampered with natural massages and drinking some champagne while enjoying the mountains full of flora and fauna. Another option is to rest in a magnificent hotel in the Sacred Valley of the Incas, enjoying a few days in this natural environment complete with ancient Inca ruins. The fortune of celebrating a honeymoon in Machu Picchu will give you a great opportunity to know one of the most important attractions in Peru with the love of your life. Of course, without mention, the same Machu Picchu, making a tour inside it doesn't need explication.
3. Arequipa and Colca Canyon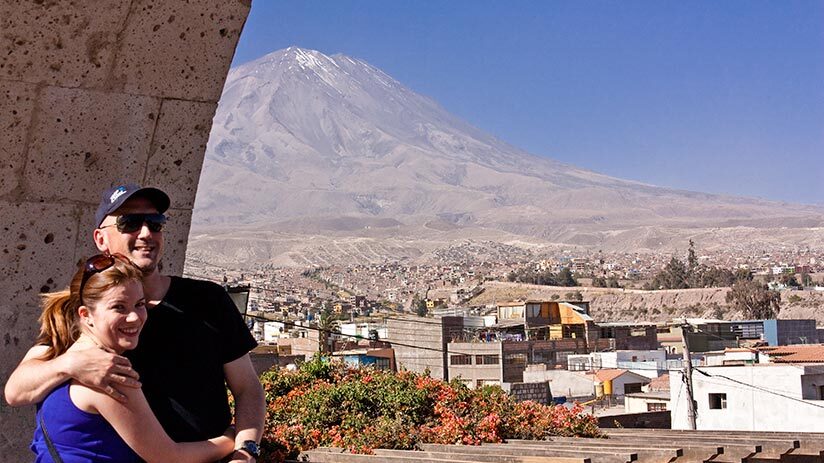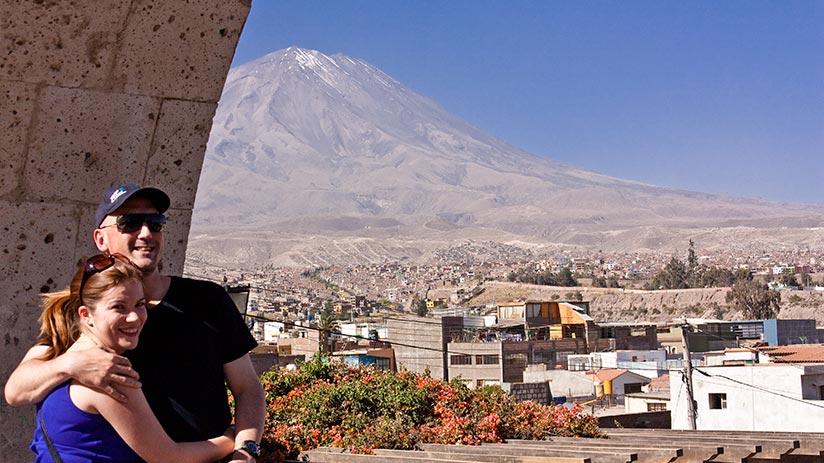 But there is much more to see yet. Let's not forget the warm city of Arequipa, located on the south coast of Peru. This beautiful city is the second largest in the Andean country and is home to beautiful convents and monasteries with a mild climate throughout the year. Arequipa is a destination worth knowing about, its architecture and different activities will leave you surprised. In the background, you will have an imposing view of the volcanoes that give the city an unparalleled charm. Also, not far from this, you will have the opportunity to tour the Colca Valley and its famous Canyon. You can take advantage of all the attractions around Arequipa in the different tours in Peru. This is just a selection of the many and varied honeymoon destination options on offer on your trip to Peru.
A. Colca canyon, an unforgettable experience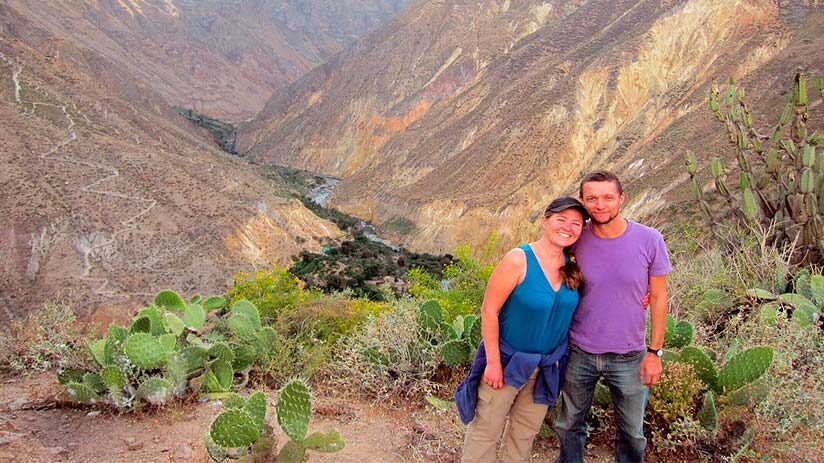 Colca Canyon has double profundity as the Great Canyon, but it is little known in front to the American one. Therefore, visiting it in the dry season, making a trek on its borders, riding horseback, or soaking yourself in the hot spring located on its slopes, represents unforgettable memories to remember the beginning of your relationship with your partner. Enchanting Andean landscapes will be the company to the recent couples.
4. Titicaca Lake and Uros floating Islands
The Titicaca lake is the highest navigable river in the world and is located on the borders of Peru and Bolivia Besides its beautiful landscapes of marine flora, endemic birds, and a crystalline mirror that always reflects the soul of an imposing sun, the inhabitants of mysteries floating islands they will make you spend an unforgettable vacation there. These floating islands are made up of totora (reeds that grow in shallow places) and every 6 months are renewed by islanders. These locals understand tourism as their main source of economic income, therefore, they treat the visitor with affection. There are little bungalows where a couple can spend an unforgettable honeymoon, with the attention of the islanders, like a hotel of five stars! For this reason, spending nights there is one of the best things to do in Puno.
5. Lima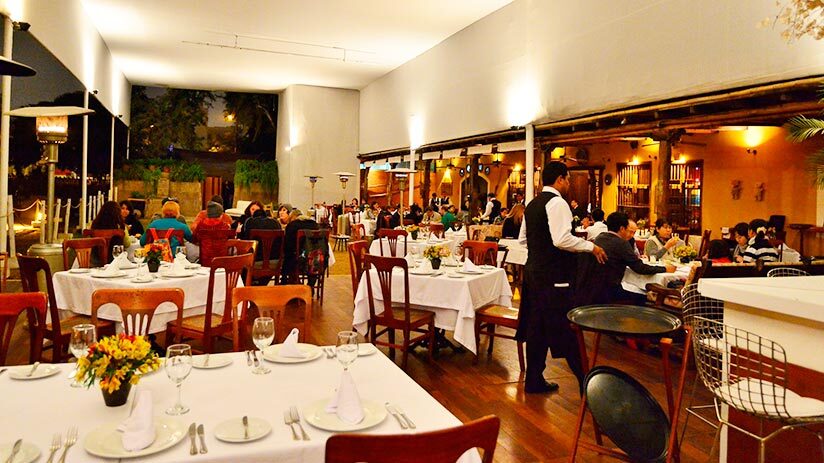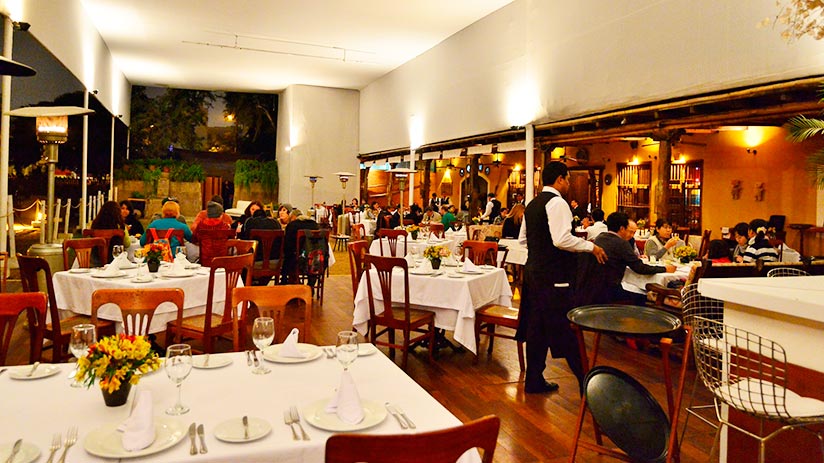 The City of Kings has an incredible amount to offer, and it would be a lovely place to spend a honeymoon in Peru. Lima is the gastronomy capital of all of America since many of its restaurants (traditional Peruvian food) are always in the top 10 of the "50 best" ranking. You could celebrate your newlywed status at either of Lima's restaurants ranked among the 10 best in the world, Central, Astrid & Gaston, La Mar, and Maido, among others. Also, there is nothing better than a delight with some classical traditional Peruvian ingredients, belonging to Novo-Andean cuisine.
For lovers of history and culture, the historic center of the capital offers both in abundance through museums, squares, bars, and churches, and visiting them is one of the best things to do in Lima. The exclusive and touristy district of Miraflores has impressive sunset views, especially from Parque del Amor. This is an equally excellent place to enjoy a Peruvian honeymoon.
6. Nazca Lines and Paracas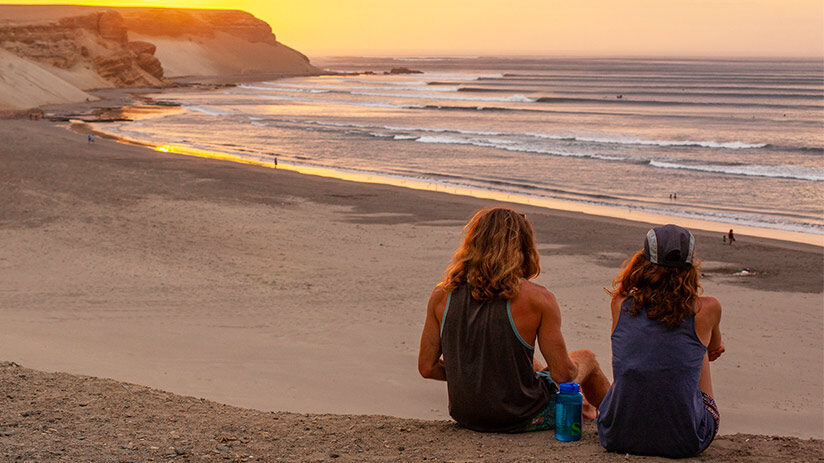 Paracas is a magic coast town located south of Lima, the capital of Peru. The zone is famous for its hotel complex situated just in front of the beaches. Maybe, these will not the good ones to take sun or tan, but these are the best to take a walk during the sunset, or as a background for your romantic night dinner on the coast by candlelight, without mention the different activities that you can do in surrounding areas, like buggy sand cars, quad biking, jet-ski, kitesurfing, sandboarding inter alia. These activities are offered by the same 5-star hotels.
But, the mystery of more than 300 giant hieroglyphs with 1500 years of antiquity, traced over 483 square kilometers, close to the Paracas cost is "The cherry on the cake". The function of these figures called Nazca lines is a total mystery for scholars nowadays, and you will see them taking a light aircraft from the local airport, close to Paracas. One of the best Peruvian tours that will be part of your memories.
Another important mention is the Ballestas Islands, a floating treasure located in front of the Paracas coast where the marine fauna like marine lions, seals, seagulls, walruses, and Humboldt penguins inter alia are protected and can be watched by the guest of the hotels. For this reason, Paracas is a complete experience.
7. North beaches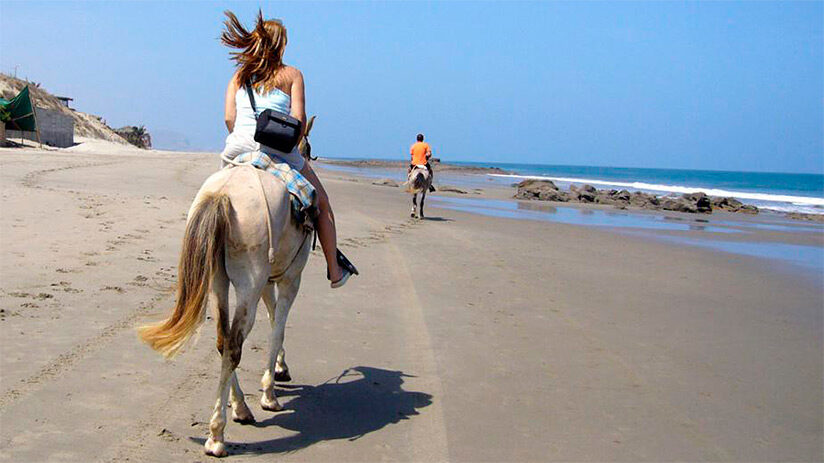 The beaches in the north of Peru are famous for their weather, almost perfect for most part of the year. Maybe these are not as good as the best world destination like the Maldives, Greece, or Fiji, but are the best inside Peru. There you will find beautiful sunsets, perfect waves to learn to surf, and delight in marine gastronomy with a Pisco Sour, the most representative among traditional Peruvian drinks. Without mentioning the 5-star hotel complex on the site. Renowned beaches are Mancora, Zorritos, and Cabo Blanco among others.
Therefore, if you want to feel relaxed and calm, having a romantic dinner at the beach, with a perfect sunset as the background, the northern beaches in Peru should be your choice. This is the main reason why Peru is known as a romantic country and destination in South America.
Itineraries for all preferences
Once arriving in Lima, (Peru's capital has the only international airport in the country), you will have to take a flight to the starting point to begin your honeymoon in Peru experience. Following, you will have some examples.
1. For adventures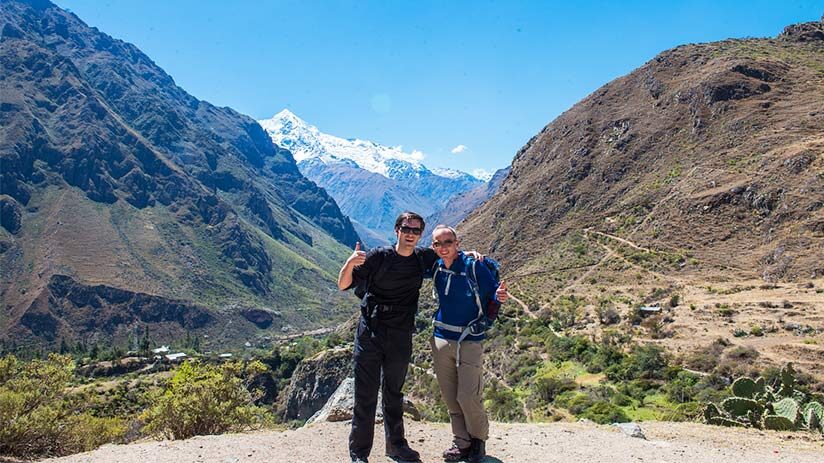 | | |
| --- | --- |
| | 4 Days / 3 Nights |
| 1 | Manu National Park |
| | Let you be surprised by the great biodiversity of the zone. Resting in bungalows (With a 5-star hotel service), taking a romantic dinner with the soft sound of miles of birds, soak in a jacuzzi with a perfect view of Guacamayos and the Amazon River with its occasional visitors like giant otters, pink dolphins, and inter alia. Doing trekking by night with a biologist to see the amazing night fauna, and sailing by the river to see crocodiles and Paiches among other activities. |
| 2 | Cusco, the capital empire of the Incas |
| | Discover why Cusco is considered the South American Rome. Take walking by its ancient streets, and know more about the descendants of the Incas by visiting a traditional market, and its style of art inside churches and monasteries. And resting in its exclusive 5-star hotels. |
| 3 | Inca Trail to Machu Picchu |
| | Walk over the ancient route that the Incas used to get to Machu Picchu. This tour of 4 days and 3 nights offers adventure, nature, archeological sites, and fauna during its route. Finally, arrive at Machu Picchu and tour it with your expert tour guide. Your perfect postcard is assured. |
| 4 | Lima, the gastronomic capital of South America |
| | Before leaving the country, you can take advantage of its capital and know why it is considered the gastronomic capital of South America. Visiting its most important restaurants like Maido (Peruvian-Japanese cuisine), Gaston & Astrid (Novo Andean cuisine) inter alia. Flavors, colors, and satisfaction will flood your last day in Peru. |
2. For romantics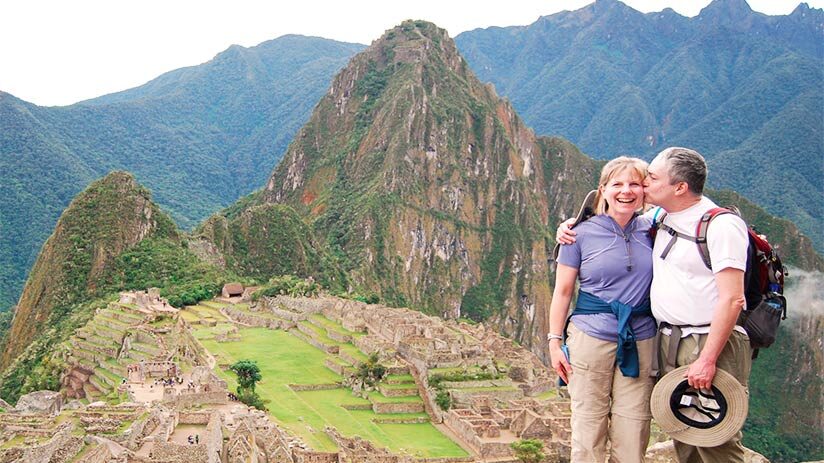 | | |
| --- | --- |
| | 5 Days / 4 Nights |
| 1 | Paracas, the Romantic National Reserve |
| | Take advantage of an unforgettable night dinner under candlelight, with a calm sea as a background. Or you can take a walk during the sunset by the coast. Enjoy the 5-star hotel services located there, like buggy sand cars, quad biking, jet-ski, kitesurfing, and sandboarding, among others. |
| 2 | Nazca Lines, the mystery big figures |
| | Overfly the Nazca lines is an activity that deserves a whole day. Be amazed by its more than 300 large geoglyphs, with many forms, elaborated over 300 square miles. Undoubtedly, photos and postcards with these giant figures as a background will be the perfect remember for your marriage. |
| 3 | Cusco, the capital empire of the Incas |
| | Cusco is the tourist capital of Peru take a night's dinner in one of its 5-star hotels (Many of them, built over ancient Spanish monasteries and Incas palaces) is an unforgettable experience. Without mentioning the spas or 5-forks restaurants that the city has. Even, you can book a night (Whit dinner included) in floating crystal capsules, hanging from a cliff, in the Sacred Valley of the Incas, Amazing! |
| 4 | Amazing Machu Picchu |
| | Machu Picchu is one of the seven wonders of the modern and its town, located on its slopes, offer a variety of option for romantic visitors. Exclusive restaurants, spas centers, 5-star hotels with jacuzzis, massages center, and even a Spectacled Bear conservation area will be the alternatives that you will have if you choose to know the world's marvel. |
| 5 | Return to Lima |
| | Your last day in Peru doesn't have to be boring. You can take advantage of the time (generally international flights depart at night) and stroll through its most beautiful districts such as Barranco and Miraflores. And delight yourself with its beautiful beaches and rich gastronomy. |
3. Looking for peace and relaxation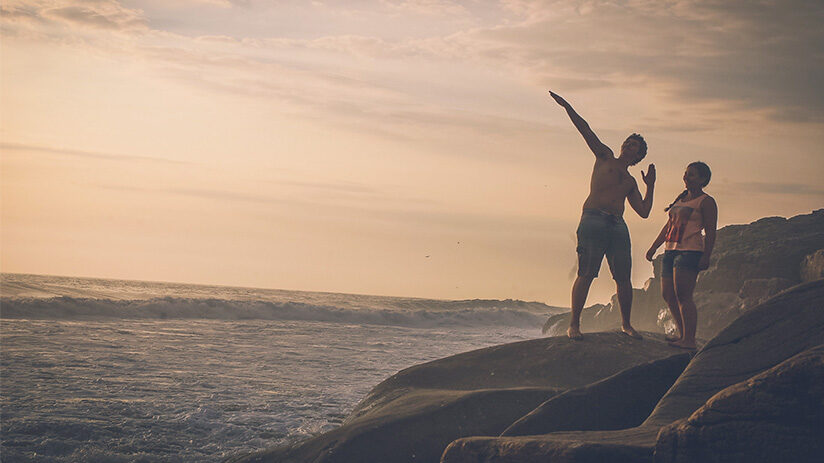 | | |
| --- | --- |
| | 4 Days / 3 Nights |
| 1 | Mancora, the perfect Peruvian Sunset |
| | Mancora is located in Piura, the biggest north Peruvian city. The beach is famous for its nice weather, perfect waves, and soft sand. There you can spend a whole afternoon to take the sun and simply rest. Without mentioning the marine restaurant that is located in front of the beach where the Ceviche, a Peruvian national dish of fresh fish marinated in lemon juice and served with sweet potato, toasted corn, and lettuce will be the delight of the day. |
| 2 | Zorritos, taking the sun and tan |
| | But if you want to know a quiet beach, just rest under an umbrella and listen to the soft roar of the waves, Zorrito is for you! White sand and fewer people than Mancora to take advantage of the sun and the waves. The hotel complex is developed there with many activities to enjoy like surfing, jet-ski, and kite-surfing among others. |
| 3 | Cabo Blanco, perfect waves for surfing |
| | Cabo Blanco is another beach located in Piura, very close to Mancora and Zorritos. There, you will find the perfect peace, nice breezes, and quiet space to rest and practice surfing. Its waves are cataloged as the best on all Peruvian beaches. Fishing is another good activity there, with the hunt of the great Black Merlin. Not surprisingly, Ernest Hemingway (Nobel Prize for Literature) spent a long time in this place looking for inspiration. The objective achieved with the novel "The Old Man and the Sea" |
| 4 | Return to Lima |
| | Another important fact in Lima is the same airport, is renowned as the best in all of South America. Its building and facilities are designed so that the passenger does not leave the terminal. Inside, you will find restaurants, spa centers, VIP salons, and even a Commercial Center. Interesting activities before you leave the capital with good memories and a big smile. |
"A JOURNEY IS LIKE MARRIAGE. THE CERTAIN WAY TO BE WRONG IS TO THINK YOU CONTROL IT"
As you will see, the options for a honeymoon in Peru are endless. From touring Machu Picchu to tasting the renowned gastronomy in Lima. We have only named a few, of which you cannot miss. If you want to start organizing your well-deserved honeymoon, we recommend that you start doing it now. Our qualified consultants can help you with anything you need. We hope together with the experts from Machu Travel Peru to have helped. You can also check our different and varied programmed packages.
---