Love and food are two of the most important things we need to help us survive in this life. And we know that honeymoons and the perfect wedding are something we all dream of. Especially if you've worked hard and saved a lot for your perfect wedding. It's no surprise that your wedding took years of planning to get right. But the stressful months beforehand were worth it as the day was perfect. The guests were happy that everyone had a great time, many photos for memories that will be remembered forever. Your parents were sad but happy on the most important day of your life, then everything ends and the honeymoon can begin. And if Peru knows anything, it is celebrating honeymoons. Therefore, together with Machu Travel Peru, we have prepared a small article about how to celebrate the perfect honeymoon in Peru.
How to celebrate your honeymoon in Peru
HOW TO PREPARE FOR YOUR HONEYMOON IN PERU
What is your dream? What would be your ideal honeymoon? Thinking of traveling? Fortunately, we can answer all these doubts. A honeymoon is a perfect occasion to celebrate consolidated love. And in Peru, you will find a wide range of options to enjoy with the love of your life. For this reason, we will try to list those activities and must-see destinations within your honeymoon in Peru. If you wonder what is the best time to visit Peru, you can do it throughout the year. But depending on the destination you choose, it may have a different climate. Make the most of your trip to the Andean country and get to know the best it has to offer.
LUXURY CRUISE THROUGH THE AMAZON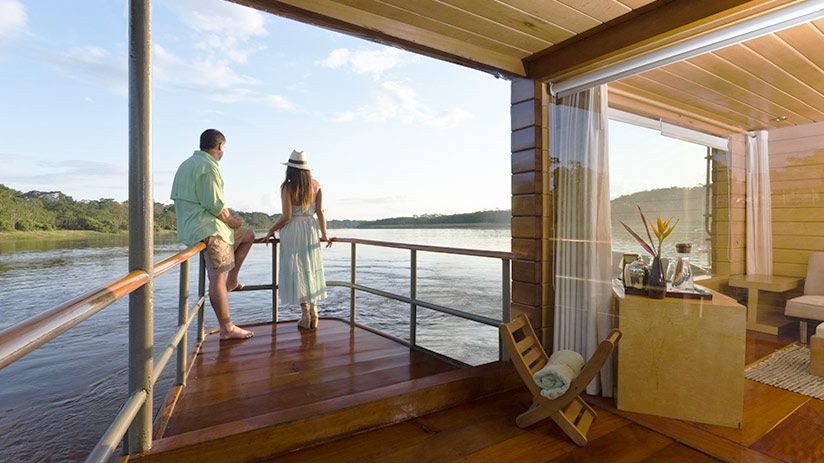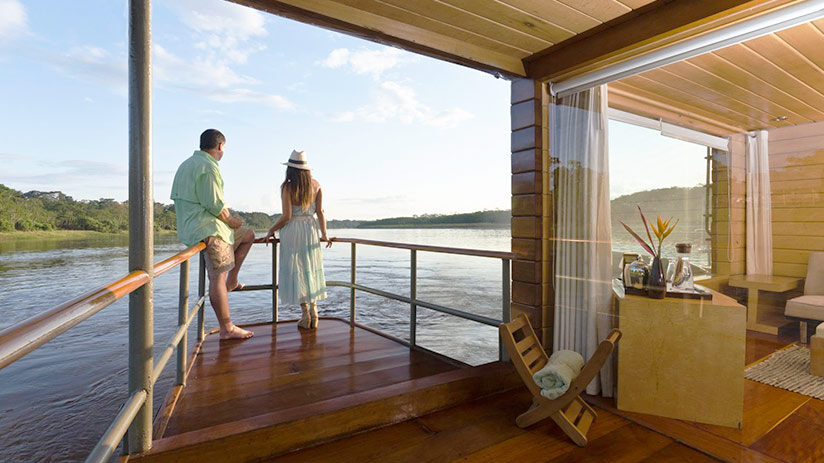 You can choose to watch the world go by sailing the Amazon on a luxury cruise. That is, in renovated luxury ships with generous windows and 12 suites that meet all your needs among other things. Not to mention, they feature award-winning chefs and seasoned river pilots who know every inch of the river. We believe that drinking some traditional Peruvian drinks while floating through the Amazon on a luxurious river cruise, while appreciating pink dolphins lapping the water, is one of the best options for a honeymoon in Peru. Not to mention, summer in Peru is best appreciated on an all-inclusive luxury cruise.
STAY ON A ROMANTIC ECO-LODGE IN THE MIDDLE OF THE JUNGLE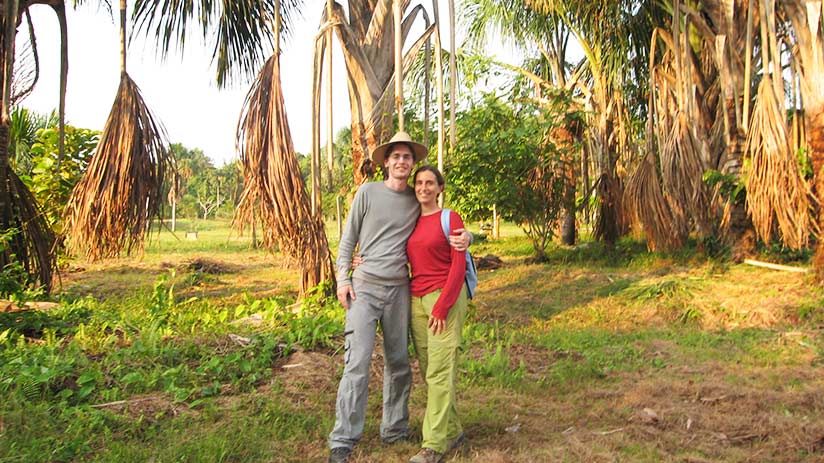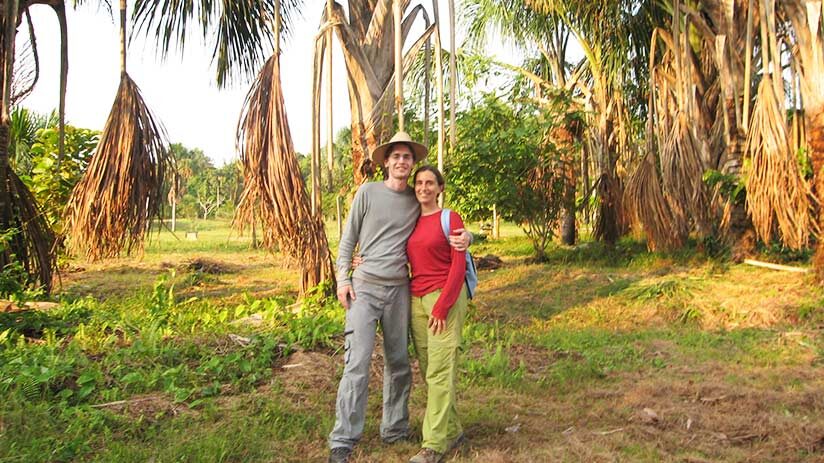 Or you can also choose the option to rest in a fabulous jungle lodge. Some of these are considered the best eco-lodges in South America. Most offer rustic and elegant accommodation, plus plenty of jungle hikes. You will even have the opportunity to enjoy car tours and boat rides. Some of the more popular hikes to enjoy will include the Trail System, Rainforest Garden, Twilight River, Rainforest by Night, Wetlands, Canopy Walkway and Anaconda Walk, Lake Sandoval, and Gamitana Creek. All offer the opportunity to spend time in the most romantic setting. Where you can hear only the sounds of birds and animals to keep you company. The different eco-lodges at your disposal are one of the best ways to experience holidays in Peru.
STAY IN A LUXURIOUS EXCLUSIVE HOTEL WHILE ENJOYING MACHU PICCHU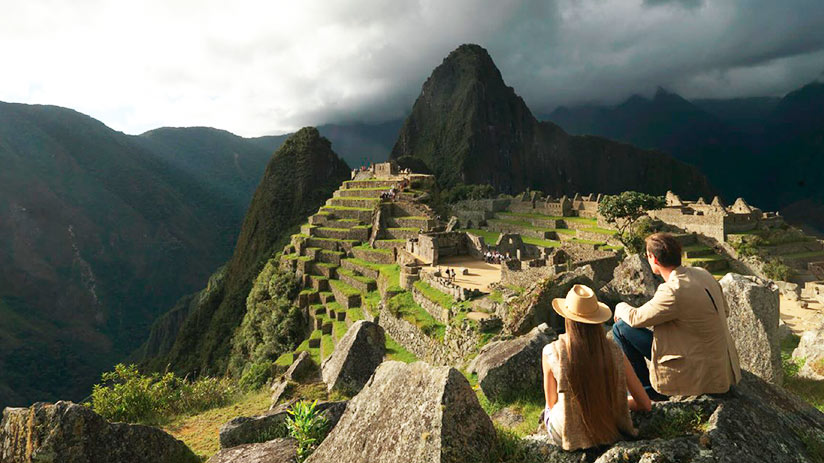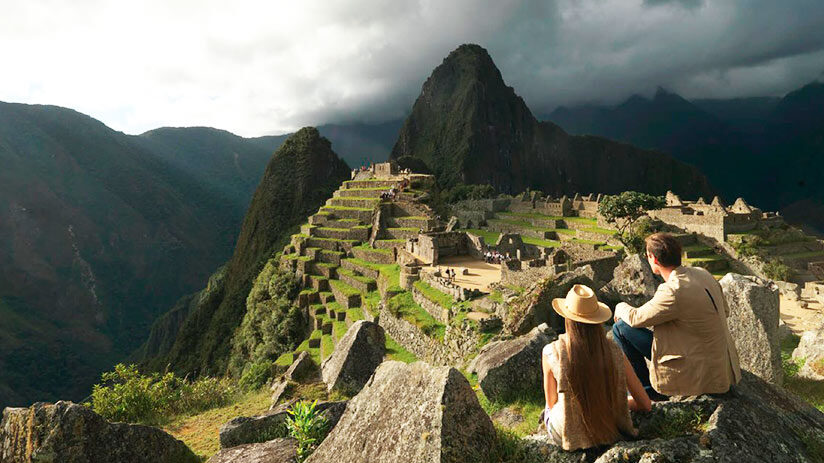 Another great option for a honeymoon in Peru is to spend some time in one of the many luxury hotels near Machu Picchu. Maybe you can stay in the surroundings of the wonder of the world Machu Picchu. All while being pampered with natural massages and drinking some champagne while enjoying the spectacular views of the Andes. Another option is to rest in a magnificent hotel in the Sacred Valley of the Incas enjoying a few days in this natural environment complete with ancient Inca ruins. The fortune of celebrating a honeymoon in Machu Picchu will give you a great opportunity to know one of the most important attractions in Peru with the love of your life.
SHOPPING WITH YOUR PARTNER IN CUSCO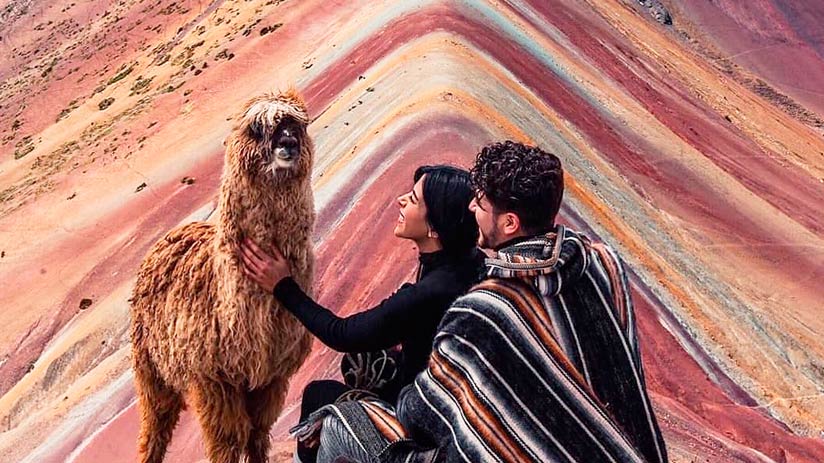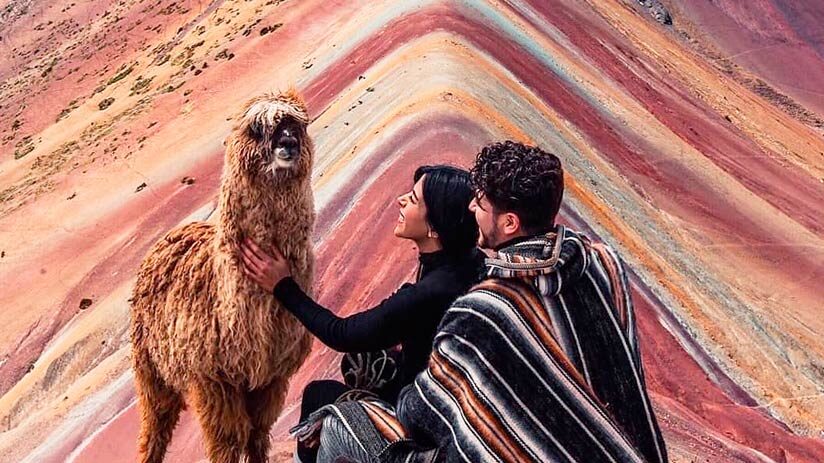 After visiting Machu Picchu, you can visit Cusco if you haven't been before. You will also have time to browse the markets with local crafts to take home lasting memories. Perhaps spending some time in the imperial city of Cusco is what you are looking for with its wide variety of bars and restaurants where you can spend the night dining or dancing in one of the many discos. During the day, you can explore the beautiful cobbled streets with the many markets and side alleys. In addition to exploring the fascinating museums and churches, you can stay in one of the many 5-star hotels with rooms decorated in the Spanish colonial style that are in themselves interesting to explore.
EXPLORING AREQUIPA AND ITS SURROUNDINGS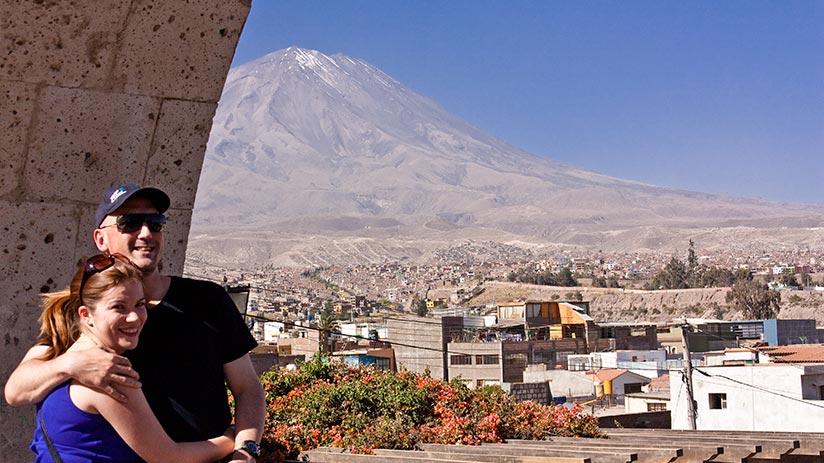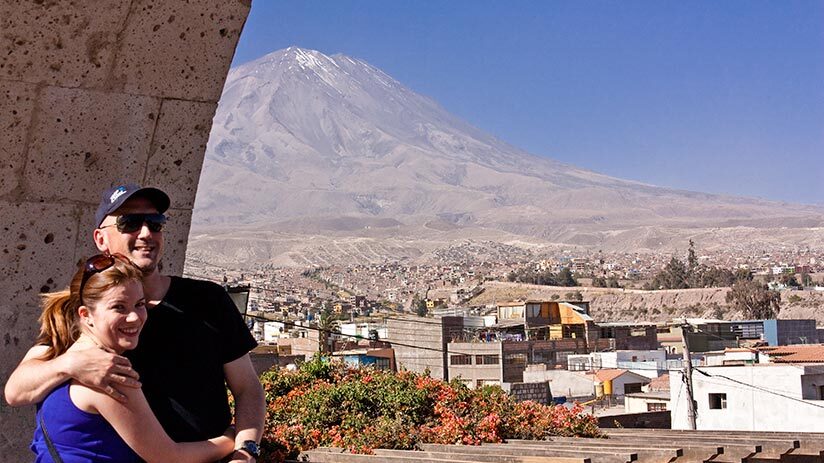 But there is much more to see yet. Let's not forget the warm city of Arequipa located in the desert. This beautiful city is the second largest in Peru and is home to beautiful convents and monasteries with a mild climate throughout the year. Arequipa is a destination worth knowing, its architecture and different activities will leave you surprised. In the background, you will have an imposing view of the volcanoes that give the city an unparalleled charm. Also, not far from this you will have the opportunity to tour the Colca Valley and its famous Canyon. You can take advantage of all the attractions around Arequipa on the different tours in Peru. This is just a selection of the many and varied honeymoon destination options on offer on your trip to Peru.
TASTING THE RENOWNED GASTRONOMY IN LIMA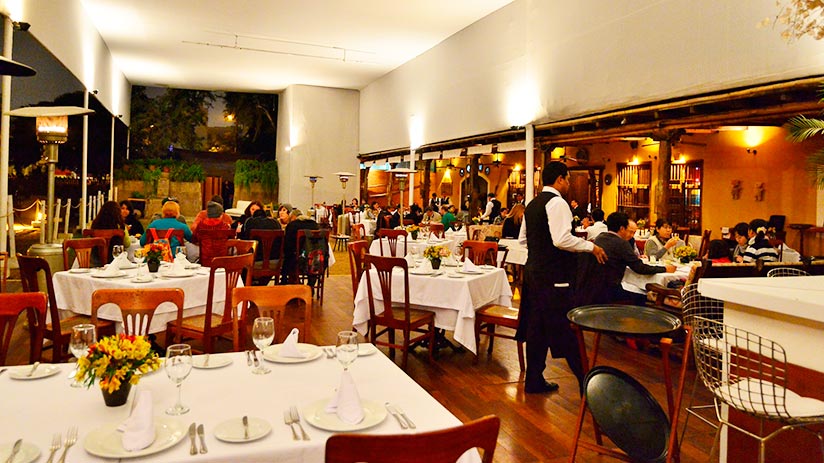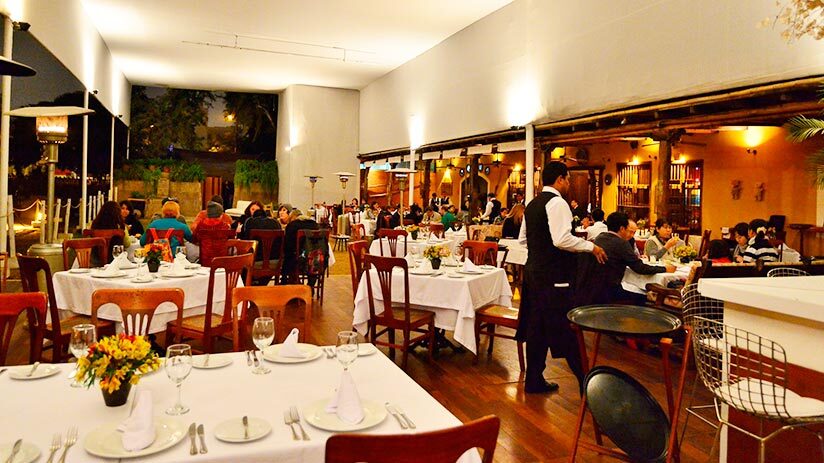 The City of Kings has an incredible amount to offer and it would be a lovely place to spend a honeymoon in Peru. Lima is one of the gastronomic capitals of the world. You could celebrate your newlywed status at either of Lima's two restaurants ranked among the 10 best in the world. There is nothing better than a meal with some classical traditional Peruvian food. For lovers of history and culture, the historic center of Lima offers both in abundance. The exclusive and touristy district of Miraflores has impressive sunset views, especially from Parque del Amor. This is an equally excellent place to enjoy a honeymoon in Peru.
"A JOURNEY IS LIKE MARRIAGE. THE CERTAIN WAY TO BE WRONG IS TO THINK YOU CONTROL IT."
As you will see, the options for a honeymoon in Peru are endless. From touring Machu Picchu to tasting the renowned gastronomy in Lima. We have only named a few of which you cannot miss. If you want to start organizing your well-deserved honeymoon, we recommend that you start doing it now. Our qualified consultants can help you with anything you need. We hope together with the experts from Machu Travel Peru to have helped. You can also check our different and varied programmed packages.
---