When it comes to hotels in Cusco, you may be surprised by what you can find. The wide variety of exclusive and luxury hotels will leave you overwhelmed. There are so many luxurious and unique options that you will undoubtedly find an ideal option for you and your family. The City of Cusco is located in the Andean Mountains in Peru. It is famous for many things, from its different Inca Ruins to its beautiful Churches. All this without mentioning that it is home to a skyline that will remind you of ancient European cities. And precisely for this reason, together with the travel experts of Machu Travel Peru, we have prepared a small article about the best hotels in Cusco. So now, let's take a look at some of the best hotels in Cusco so you get inspired to plan your next trip.
Meet some of the best hotels in Cusco
BELMOND HOTEL MONASTERIO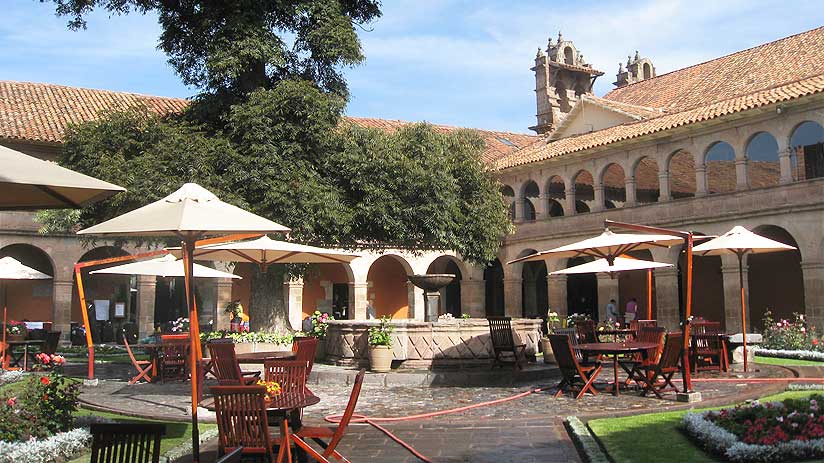 To start this list, we'll start with the best of the best. Among the different hotel options in Cusco, you can find the Belmond Hotel Monasterio. This is a luxurious five-star establishment that you cannot miss on your visit. And if you don't have the budget, at least visit the place and have afternoon tea or a cocktail inside. This hotel is the ultimate in luxury, it was built in an old Spanish colonial house. The place was completely renovated and has all the modern luxuries you will need when visiting the city. The hotel also has a small chapel that is available for weddings. If you are concerned about altitude, this hotel is for you as oxygen can be pumped into the rooms. The Monastery Hotel has 122 rooms and is full of art from the famous Cusco School. Being able to stay in this place is, without a doubt, one of the best things to do in Cusco.
BELMOND PALACIO NAZARENAS
Belmond has two hotels in Cusco that are worth knowing. One of them is Monasterio and the other great luxury option is Belmond Palacio Nazarenas. This hotel is one of the most beautifully decorated in Cusco. The property has spa facilities, beautiful gardens, and a beautiful swimming pool. This is located just one block from the Hotel Monasterio and is also located inside an old colonial house. Its rooms are elegantly decorated with antiques but have all the modern comforts you will need. Before starting your walking tour in Cusco, it is a good idea to stay at this elegant hotel. Not only will you have the main attractions close by, but you will also get to know the heart of the city.
CASA CARTAGENA HOTEL & SPA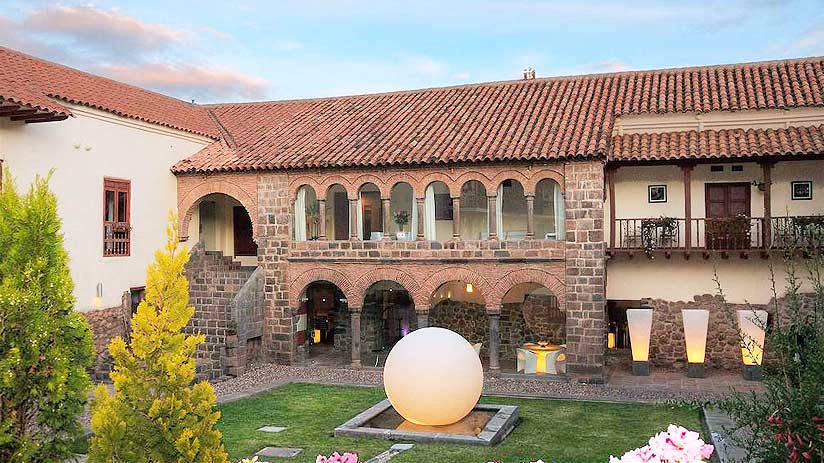 No article about hotels in Cusco would be complete without a mention of this luxury accommodation. This newly renovated house is one of the best options in luxury and exclusivity that is worth it. This beautiful hotel is the perfect place for a honeymoon or a very special occasion. It is very close to the renowned Twelve Angles Stone in the historic center of Cusco. Compared to other establishments, it is a small hotel. Despite this, it is a hotel that has all the luxury amenities you may be looking for. All its rooms and suites have private balconies where guests can enjoy the views and a delicious breakfast.
JW MARRIOTT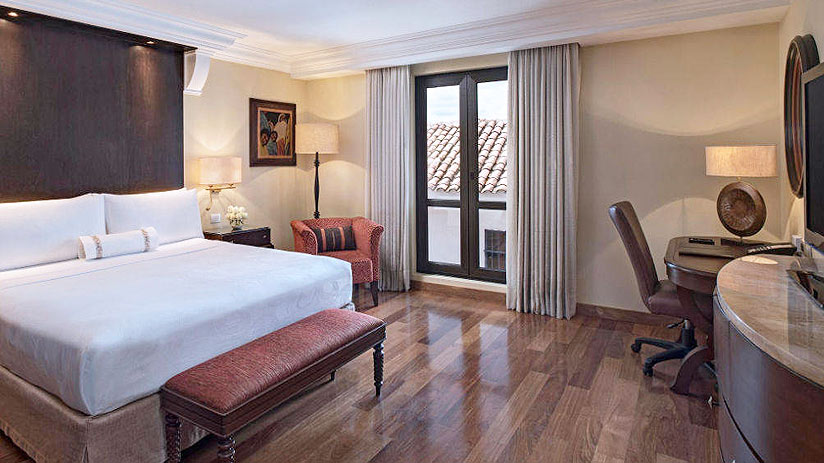 Very close to the Cusco main square is the incredible JW Marriott. This amazing hotel has some Inca walls inside its rooms. But not only are its rooms great to look at but also the reception has one of the most fabulous light fixtures you will see in Peru. All the public areas of the hotel are quite spectacular, as they were built in a restored convent. The establishment stands out for its antiques such as its beautiful central patio. There is also a daily tour to learn about the history and facilities of the building. The rooms are decorated in a modern style with Andean touches. It has a spa, jacuzzi, swimming pool and much more. If you are wondering why to visit Cusco, this establishment is a good reason.
PALACIO DEL INCA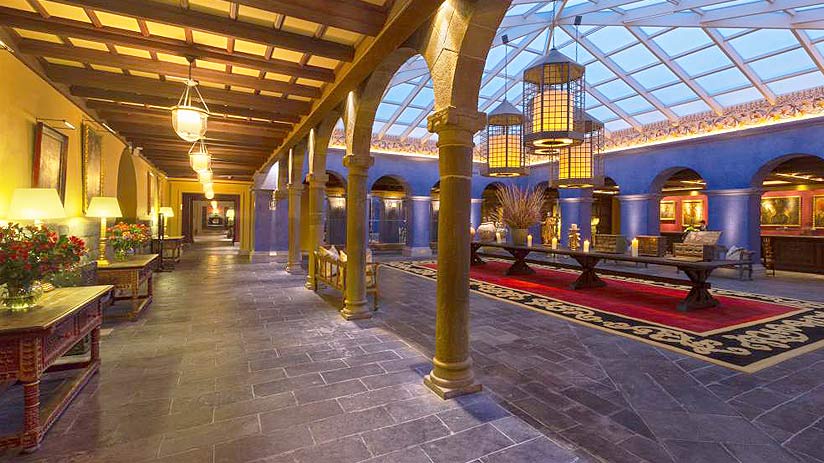 Right in front of Coricancha and the Church of Santo Domingo is the Palacio del Inka. This beautiful hotel is located in one of the best areas of the Cusco tourist map. It is formally known as the Hotel Libertador. This large hotel is decorated in a beautiful Spanish colonial style. The hotel has some of the best examples of Spanish antiques in all of Cusco. The Liberator Palacio del Inka has more than 200 rooms located in beautiful gardens. The large patio also houses the reception and waiting area. A beautiful hotel that is worth the extra money. Even if you don't have the budget, it's a good idea to visit to see the antiques.
ARANWA BOUTIQUE HOTEL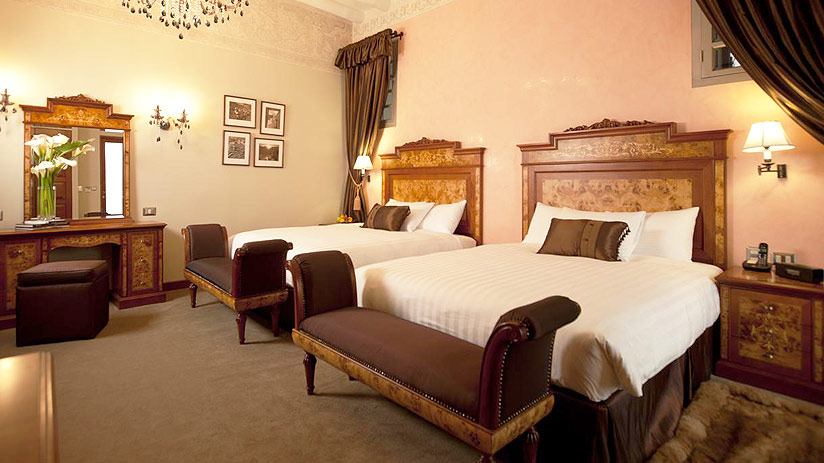 Another of the hotels in Cusco that you cannot miss is the Aranwa boutique hotel Cusco. This is located in a Spanish colonial building that includes an amazing collection of art. It is located just a few blocks from the main square and the Cusco Cathedral. Inside you can see religious works of art such as paintings, statues, and other amazing antiques. The building itself has an unparalleled colonial charm, both in its rooms and in its public areas. Even if you decide to stay in the Sacred Valley there is an Aranwa hotel to stay for you. Even if you don't plan to stay, it is a hotel worth a visit.
RAMADA BY WYNDHAM COSTA DEL SOL CUSCO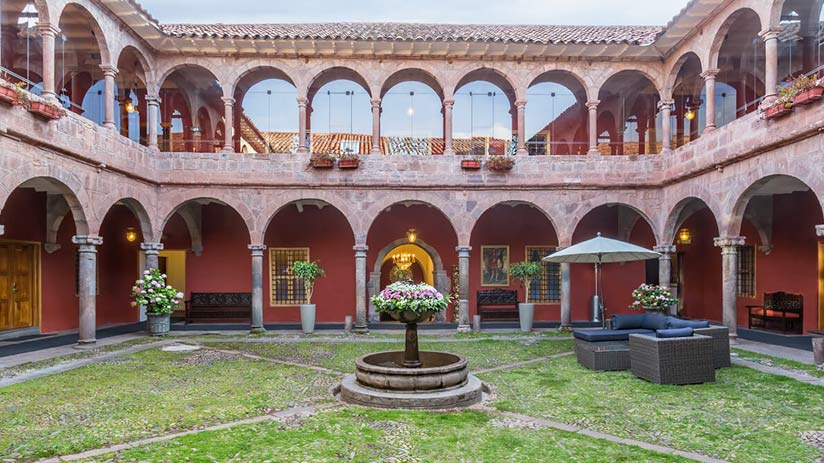 Among the different hotels in Cusco, several establishments are worth your dollar. And between them, we can mention the impressive four-star hotel Ramada by Costa del Sol. This is a great hotel located in the heart of the city of Cusco. It is located in a large house from the colonial era that is considered part of the cultural heritage of the city. Some of its rooms have surprising views of the city, as well as being comfortable and modern. The hotel provides a welcoming service that will make your experience in Cusco unique. Its 90 rooms are divided into two wings, of which one is a relatively modern construction and the other has colonial details. Before exploring and experiencing the different things to do around Cusco, make sure you get to know this beautiful place.
NOVOTEL CUSCO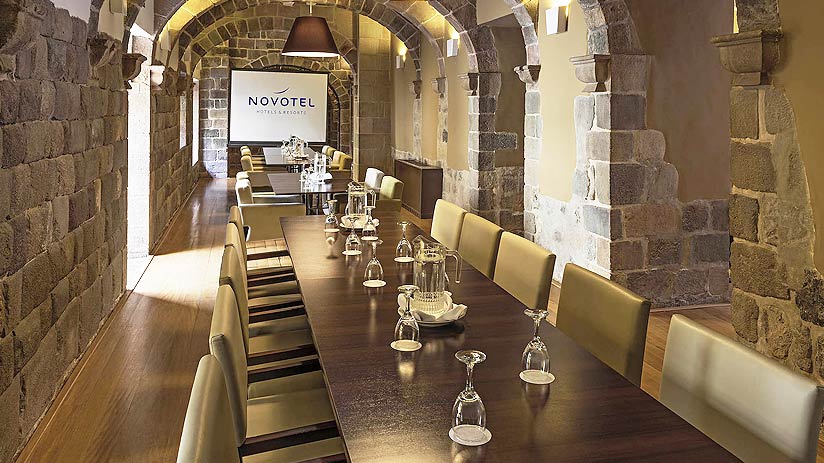 Novotel is another of the hotels in Cusco that cannot be overlooked. With an excellent infrastructure and comfortable rooms, Novotel combines colonial styles with modern ones. You can find it in an excellent location near the historic center and the different museums in Cusco around. Its rooms are spacious and large, and the decoration of the place is very cozy. The hotel also usually offers services to Machu Picchu like other archaeological sites in Cusco. One of the most comfortable and welcoming hotels in the imperial city.
LA CASONA BY INKATERRA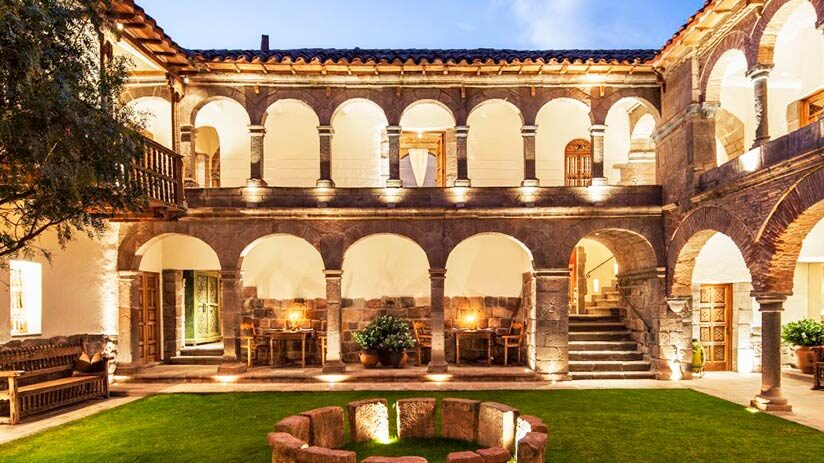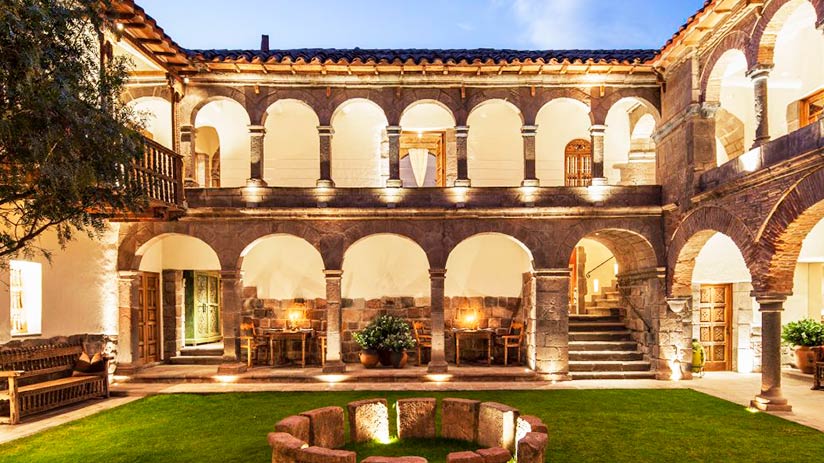 Another exclusive option to enjoy hotels in Cusco is La Casona by Inkaterra. This luxury hotel is a small boutique hotel that has 11 exclusive suites. It is located inside a converted 16th-century colonial mansion. Travelers seeking refuge will appreciate the various rooms equipped with fireplaces, marble sinks, and other necessary amenities. Both its rooms and public areas are appreciable in elegant details. It is located in the historic center of Cusco but in a more relaxed area. It also has a delicious restaurant that specializes in traditional Peruvian dishes. If you were looking for reasons why visit Cusco city, this hotel is one of them. A great option between the different hotels in Cusco.
CASA ANDINA PREMIUM CUSCO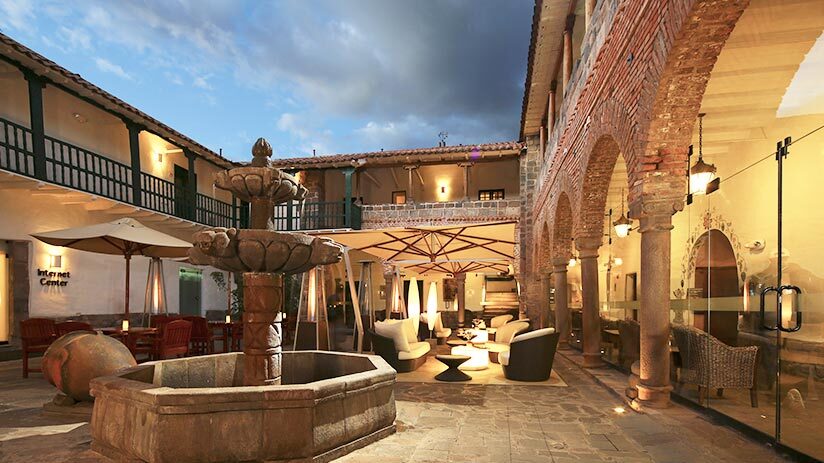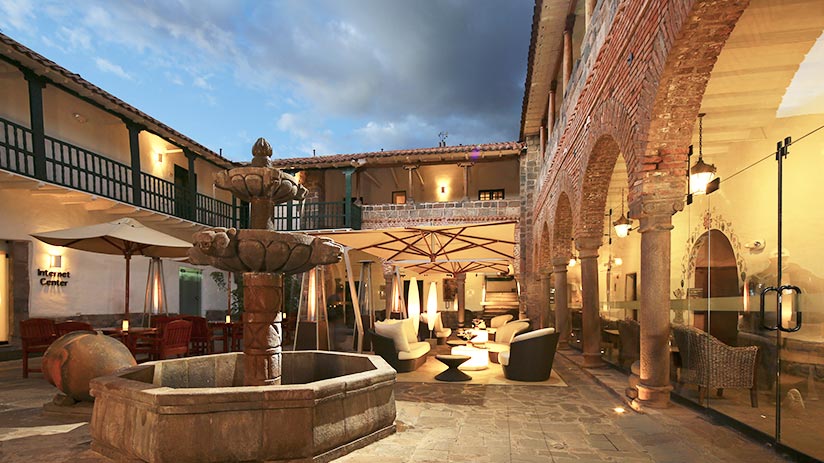 The Casa Andina Premium Hotel in Cusco is strategically located in the heart of the Imperial City. It is located only about 4 blocks from the Plaza de Armas, the starting point for many tours of the city and its different attractions. The hotel is located inside a beautiful 17th-century house that will take you on a trip back in time in the republican era of Peru. Some of its main features are its beautiful colonial patios and balconies. The Hotel has 93 elegantly equipped rooms for you to relax and live an unparalleled experience. It also has an amazing restaurant and bar that offers delicious dishes. Before enjoying the different tours in Peru, it is a good idea to stay in this place.
"WE TRAVEL NOT TO ESCAPE LIFE, BUT FOR LIFE NOT ESCAPE US."
As you can see, these are just some of the main examples of hotels in Cusco. But the truth is that being a tourist destination, these establishments abound. Whether you are looking for exclusive options or other budget options, you will find just something for you. We hope together with Machu Travel Peru that these examples have given you an idea of all that Cusco has to offer. If you want to know more about our tours as places of accommodation, you can consult with our qualified advisors.
---