When it comes to hotels in Cusco, you may be surprised by the wide variety of exclusive, luxury, and international trademark hotels that it has. Belmond, JW Marriott, Hilton, and Novotel, besides local marks like Casa Cartagena, Inkaterra hotels, and Aranwa. There are so many luxurious and unique options that you will undoubtedly find an ideal option for you and your family. The millennial Inca capital hosts quaint colonial churches, cozy cobbled alleys, imposing palace and Inca fortresses, and the fantastic Machu Picchu. All this without mentioning that it is home to a skyline that will remind you of ancient European cities. And precisely for this reason, together with the travel experts of Machu Travel Peru, we have prepared a small article about the best hotels in Cusco for you to plan a dream vacation in this magical city.
Meet the 10 best hotels in Cusco
1. Belmond Palacio Nazarenas
Stars: 5 stars
Address: Plazoleta Nazarenas 223, Cusco, Peru
Rooms: 55 suites (it doesn`t have rooms)
Main services: Spa Hypnoze, bar Bistro, restaurant Senzo, Pisco Sour sessions, outdoor heated swimming pool
Tefl: +51 084 582 222
Website: www.palacionazarenas.com
This hotel is one of the most beautifully decorated in Cusco and is located just one block from the Hotel Monasterio, in the same square that gives its name "Nazarenas", just behind the Cusco cathedral. Similar to Monasterio Hotel, the Nazarenas hotel was an ancient Carmelite cloister given in concession to the luxury hotel chain "Belmond". In the same way, the hotel chain maintained and refurbished ancient furniture, tables, and chairs of the ancient monastery, and the general structure of the colonial building, trying to maintain that atmosphere of religiosity, peace, and calm.
Nowadays, the property has spa facilities, charming colonial gardens, and a beautiful swimming pool. All of them are distributed along its 7 well-maintained courtyards. Its rooms are elegantly decorated with antiques (objects that belonged to the same monastery) besides the quaint frescoes that decorate its bathrooms. But don't be fooled, its rooms combine history with modernity, and all of them have all the modern comforts you will need; assisted oxygen system, air conditioning, heater, Wi-Fi, among others. Also, the bar Bistro, the restaurant Senzo (whose menu was elaborated by the renowned Peruvian chef Virgilio Martinez), and the spa Hypnoze offer the best quality service to the guests of the 55 suites of this hotel. (Yes, it doesn't have rooms, it has suites). Without mentioning that each suite has a butler in charge of the necessities of the guests. For this reason, before starting your walking tour in Cusco, it is a good idea to localize the hotels that are located in the Centro Historico (historic center) to have all attractions just a step away. This luxury hotel is the perfect example.
2. Belmond Hotel Monasterio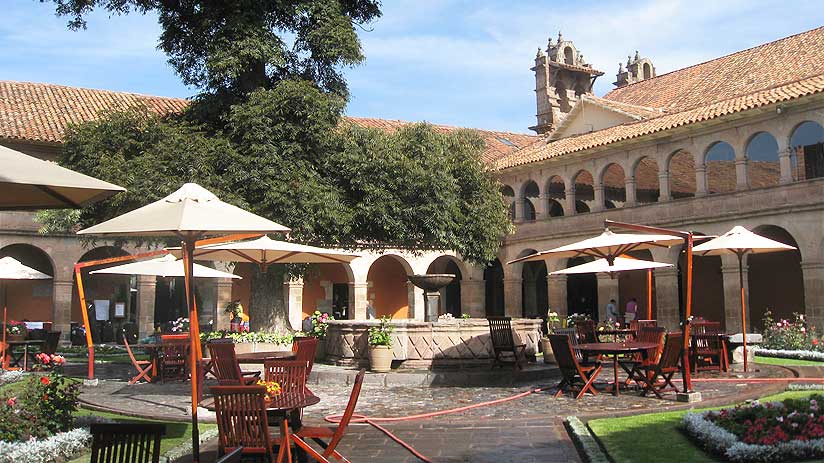 Stars: 5 stars
Address: Plazoleta Nazarenas 337, Cusco, Peru
Rooms: 122 rooms
Main services: Cooking class, Opera in restaurant Tupay, a colonial chapel to celebrate weddings, and collection of Escuela Cusqueña paintings
Telf: +51 084 604 000
Website: www.hotelmonasterio.com
The Belmond Hotel Monasterio is a luxurious five-star establishment that you cannot miss on your visit. It was the first of its kind in the city (1997) Its furniture, armchairs, and tables in Renaissance style fit perfectly with the beautiful Spanish colonial structure. The hotel was an ancient monastery dedicated to the order of San Antonio Abad. Centuries later, the place was completely renovated by a luxury European hotel chain "Belmond", trying to maintain all the furniture belonging to the ancient monastery, besides the same structure. The result is a mix of luxury, comfort, and history. Also, the hotel has the biggest particular collection of Escuelas Cusqueñas (Religious and Andean-themed paintings made with a unique artistic style in the area and recognized around the world)
Its main patio is rectangular with an ancient cedar 300 years old and situated in the center (In the style of the old Spanish colonial mansions) and its 122 rooms border it on two levels.  Each one has a system of continued oxygenation to acclimatize the body faster to the altitude. And if you don't have the budget, at least visit the place and have afternoon tea or a cocktail inside, its restaurants and guided visits are open for everybody and led by the same hotel personnel. For all these reasons, being able to stay in this place is, without a doubt, one of the best things to do in Cusco.
3. JW Marriott El Convento Cusco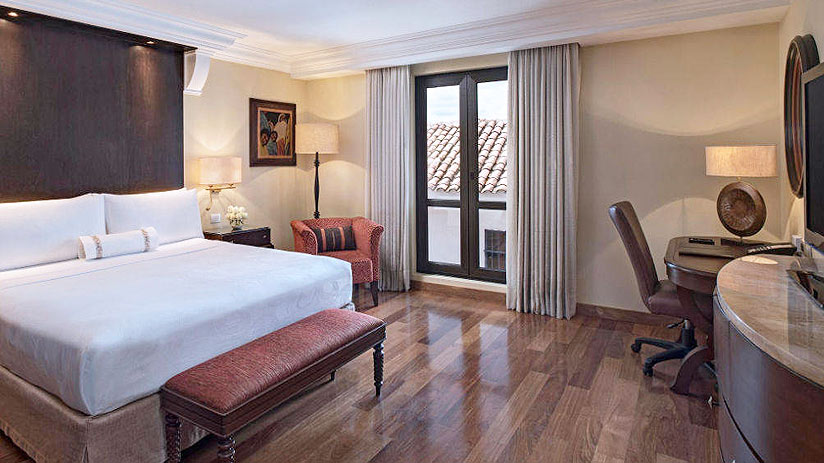 Stars: 5 stars
Address:  Calle Ruinas 432, Cusco, Peru
Rooms: 153 rooms
Main services: Spa, jacuzzi, swimming pool, cooking class, Qespi restaurant & bar, Nina Soncco Lounge, 5 luxury salons for celebrations, and much more
Telf: +51 084 582 200
Website: www.marriott.com
Very close to the Cusco main square is the incredible JW Marriott. The American trademark came to Cusco in 2013 refurbishing an ancient colonial convent of San Agustín from the 16th century, located two blocks from the main square. Like the predecessors on this list, the company respected the original structure of the convent and restored the original furniture (currently these are part of the hotel decoration). For this reason, the JW Marriott Cusco has Inca walls restored inside some rooms, besides a mini-museum of ancient Peruvian objects distributed along the hotel.
The gothic and colonial with Andean touches atmosphere is mixed with modern oxygenation systems (to acclimatize the body more quickly to the altitude), air conditioning, marble bathrooms, Wi-Fi, in other services, in each of the 153 rooms and suites that it has in the hotel. But not only are its rooms great to look at but also its public areas such as its beautiful central patio, or the reception area that has one of the most fabulous Swarovski diamond curtain you will see around the world. But don't worry, if you are not a guest you can still visit this beautiful hotel, because there is a daily tour to learn about the history and facilities of the building. Also, the JW Marriott Cusco has a spa, jacuzzi, swimming pool, the Qespi restaurant of Peruvian fusion food, the Nina Soncco Lounge where the guest will prepare the glorious Pisco Sour, and 5 luxury salons to host weddings, particular celebrations, and much more. A great option in the Imperial city to rest and enjoy Cusco!
4. Palacio del Inca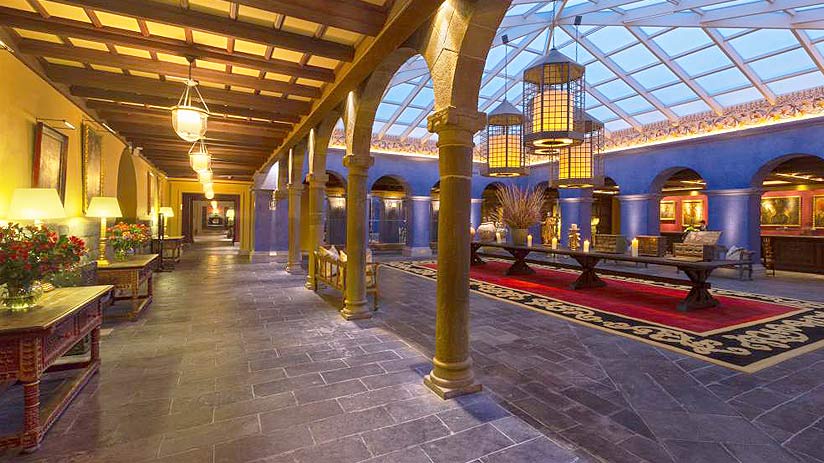 Stars: 5 stars
Address:  Calle Santo Domingo 259, Cusco, Peru
Rooms: 154 rooms (17 of them are suits)
Main services:   A large gym, the Andes Sprit Spa, a heated and covered therapy pool, and the Inti Raymi restaurant
Telf: +51 084 231 961
Website:  www.palaciodelinca.com
Right in front of Coricancha (ancient Inca sun temple) and the Church of Santo Domingo is the Palacio del Inca, on what was the old Plaza del Sol (Inca times) and the house of the four busts (colonial times) For these reasons, the infrastructure of this hotel of 5 centuries is located in one of the best areas of the Cusco tourist map. It is formerly known as the Hotel Libertador due to the first name with which it starts functions, and is decorated in a beautiful Spanish colonial style, again respecting the Inca walls, heritage of the old Plaza del Sol, and its distribution of environments, heritage of the mansion of the 4 busts.
The hotel has some of the best examples of Spanish antiques in all of Cusco, besides a beautiful collection of Escuela Cusqueña paintings distributed in its luxury large patio, reception, and waiting areas and rooms. Its more than 150 rooms are located between beautiful gardens and are decorated with ornate beds, marble bathrooms, and all necessary modern services, even some of them have balconies with amazing views of the Andes. Also, it has 17 suites in the area of the ancient 4 busts house. Its most important services are the large gym, the Andes Spirit Spa with first-line treatments, its heated and covered therapy pool, and the Inti Raymi restaurant with national and international dishes among others. A fantastic option for your luxury vacations in Peru.
5. La Casona by Inkaterra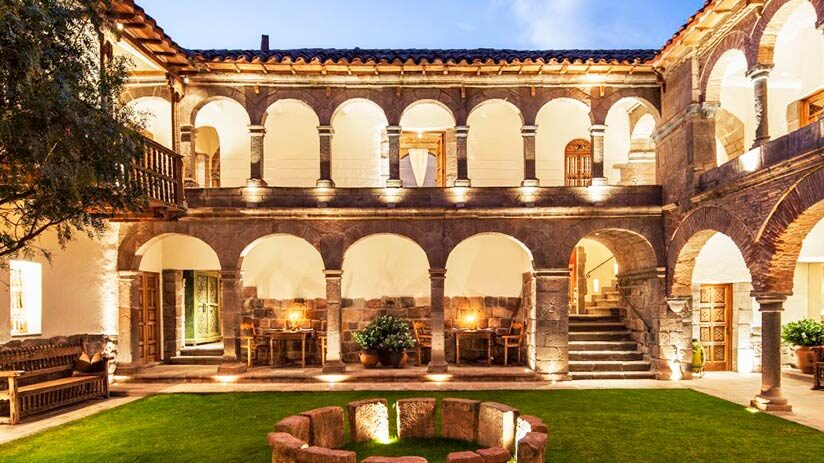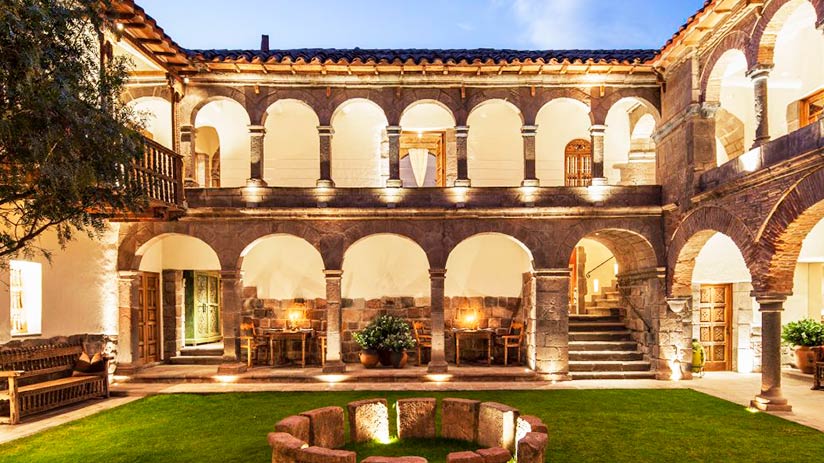 Stars: 5 stars
Address: Plazoleta Nazarenas 221, Cusco, Peru
Rooms: 11 suites
Main services:   Exclusive restaurant of Novo Andean cuisine, spa with massage sessions on demand, private tour guides on demand in Cusco and Sacred Valley
Telf: +51 084 245 314
Website:  www.inkaterra.com
Another exclusive option to enjoy hotels in Cusco is La Casona by Inkaterra, the first boutique hotel implemented by the recognized Peruvian hotel chain "Inkaterra". The hotel was refurbished on an ancient Cusco mansion of the XVI century and has 11 exclusive suites implemented with independent and large bathtubs, heated floors, fireplaces, colorful Andean textiles on the walls, as well as LED TV, Wi-Fi, among other amenities.
Travelers seeking refuge will appreciate in its public areas colorful furniture with Andean styles, pre-Columbian textiles, original murals, antique chandeliers, and baroque-style wooden columns among other charming decorations. It also has a delicious restaurant that specializes in traditional Peruvian dishes, besides offering daily buffet breakfasts and tea parties. The other main services are a Spa with massage sessions on demand and private tour guides on demand to explore Cusco and the Sacred Valley. Definitely, La Casona by Inkaterra is a great option between the different hotels in Cusco.
6. Aranwa Boutique Hotel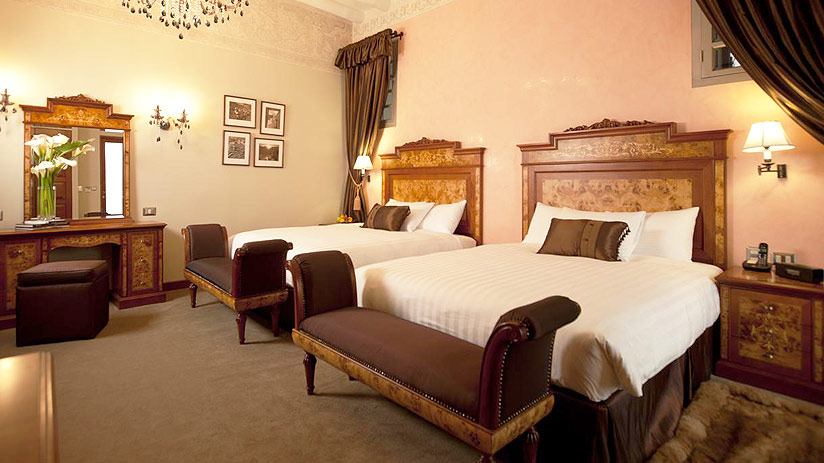 Stars: 5 stars
Address: Calle San Juan de Dios 255, Cusco, Peru
Rooms: 115 rooms (14 suites among them)
Main services: Oxygenation sessions, buffet lunch and breakfast at Mishti restaurant, listening to old records on gramophones
Telf: +51 084 604 444
Website:  https://aranwahotels.com/en
As you can see, the safest zone to stay in Cusco is in its historic center or Centro Historico, because there located the majority of the high-quality hotels, restaurants, travel agency offices, and police stations, inter alia. Precisely, another of the hotels in Cusco center that you cannot miss is the Aranwa boutique hotel. This is located in a Spanish colonial building that includes amazing religious works of art such as paintings, sculptures, and crystal chandeliers. But what stands out the most is its collection of old records from the past century that can be listened to on old gramophones.
It is located just a few blocks from the main square and the Cusco Cathedral. The building itself has an unparalleled colonial charm, both in its rooms and in its public areas. Each room has luxurious bathrooms with comfortable rectangular marble bathtubs and circular hydromassage, radiator heating systems, and intelligent oxygenation systems, among others. The public areas have furniture with luxury upholstery, beautiful frescoes on the walls, and bouquets of fresh flowers. Without mentioning the fabulous Mishti restaurant and Khasikay bar, where you can taste the best of Peruvian food and the inescapable Pisco Sour. Even if you decide to stay in the Sacred Valley, there is an Aranwa hotel to stay for you there. Even if you don't plan to stay, it is a hotel worth a visit to.
7. Casa Cartagena Hotel & Spa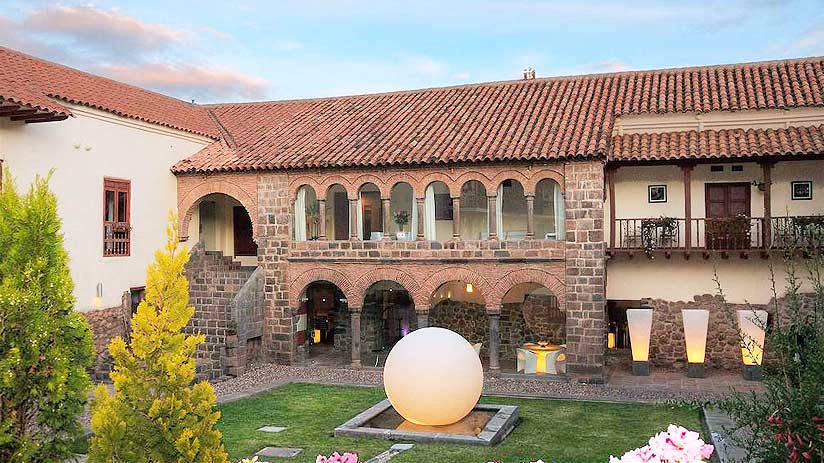 Stars: 4 stars
Address: Calle Pumacurco 336, Cusco, Peru
Rooms: 17 suites
Main services: Spa and massage services, gym, free transfer IN and OUT to the airport, outdoor pool, oxygenation system in the room, and butler service
Telf: +51 084 224 356
Website: www.casacartagena.com/en
With Machu Picchu, the attractions of Sacred Valley, the charms of the imperial city, and the natural marvels to developed adventure sports, Cusco is a worth-visiting destination. Happily, there are excellent hotels to stay in and be close to everything, the Casa Cartagena Hotel & Spa is another perfect example. It is very close to the renowned Twelve Angles Stone in the historic center of Cusco. Compared to other establishments, it is a small hotel with 17 suites with private balconies overlooking the pool, a two-way oxygen enrichment system, and butler service, besides TVs, Wi-Fi, and luxury bathrooms.
But also, this newly renovated mansion is one of the best options in luxury and exclusivity that is worth its visit, with its massage service with organic products at the Qoya Spa Cusco and its outdoor pool, relaxation, and comfort are guaranteed. In addition, listed as one of the best hotels in Cusco to spend a honeymoon, the hotel has all the luxury amenities you may be looking for; free access to the gym, free shuttle services IN and OUT to the airport, business center, and laundry services among others. All its rooms and suites have private balconies where guests can enjoy the views and a delicious breakfast. The dishes and breakfasts of its restaurant, called La Chola, are one of the unmissable things that you have to get to try!
8. Ramada by Wyndham Costa del Sol Cusco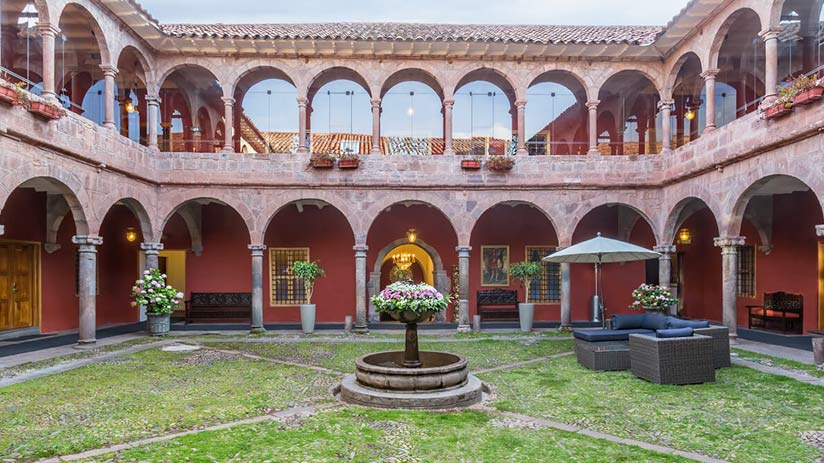 Stars: 4 stars
Address: Calle Santa Teresa 344, Cusco
Rooms: 90 rooms
Main services: Paprika restaurant with international dishes mixed with Peruvian cuisine techniques, Bar Walak with the best of Peruvian drinks like Pisco Sour, gym, heating, and 24 hrs room services
Telf: +51 084 221 269
Website: www.costadelsolperu.com
Machu Picchu is 75 kilometers from Cusco city, taking into consideration that the Sacred Valley is 53 kilometers and only three important attractions like Cathedral, the Qoricancha (the Sun temple), and Sacsayhuaman are in the same city, a visitor could need from 4 to 5 days to visit, with calm, all these fantastic attractions. And the Ramada by Wyndham Costa del Sol Cusco could be another best option to have it as your meeting point in Cusco. This is a great hotel located in the heart of the city of Cusco, implemented over a large house from the colonial era belonging to the recognized Spanish Marquez Picoaga, which is considered part of the cultural heritage of the city.
Some of its 90 rooms have surprising views of the city, as well as being long, comfortable, and modern (with heating, 24-hour room service, and well-equipped bathrooms) The mansion is divided into two wings, of which one is a relatively modern construction and the other conserve its colonial structure. The public area is formed by a charming Spanish colonial patio with a stone water font in the middle, and carved stone arcs surrounding it, showing a beautiful image of a mansion of the XVII century. Therefore, before exploring and experiencing the different things to do around Cusco, make sure you get to know this beautiful place.
9. Novotel Cusco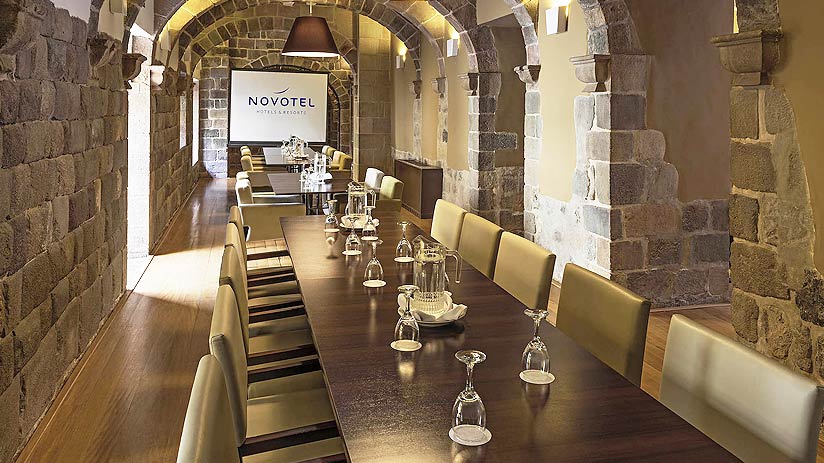 Stars: 4 stars
Address: Calle San Agustin 239, Cusco, Peru
Rooms: 99 rooms
Main services: 24 hrs open reception, heater, minibar, desk, business center, heated Spanish colonial patio, guide services to Machu Picchu like other archaeological sites in Cusco
Telf: +51 084 581 033
Website: www.novotelcusco.com
Machu Picchu is the icing on the cake in every tour in Cusco, and to get there, you have many options, the most common and traditional is by train (03 hours of trip), the other one is reserved for adventurers, the trekkings by Inca Trail, by Salkantay snow or Lares route (4 to 5 days) or combining bus (4 hours) + train (1 hour) Anyway, you will need the maximum comfort to rest and recover energies from starting point like Cusco, and the luxury Novotel Hotel, managed by the French hotel chain Accor, can help you with this purpose. And, if you are wondering, Why visit Cusco city? Finding an answer from this wonderful hotel can be a good starting point.
With an excellent infrastructure and comfortable and long 99 rooms with heating, flat cable TV, minibar, desk, private bathroom, and 24/7 room service, the Novotel structure combines colonial-style designs with modern ones in a Cusco mansion of the XVI century. You can find it in an excellent location in the historic center, 2 blocks from the main square and close to different museums in Cusco around. The cozy public area is formed by a big heated Spanish colonial patio, with a stone water font in the middle, cover with a large glass roof. There, you will find charm colonial furniture, besides public computers (macs) with free Wi-Fi, 24 hrs open reception, and a counter of Tourist free information, among others. The Cave and Le Cote Garden 360 restaurants will show the best Peruvian and International cuisine. The hotel also usually offers guide services to Machu Picchu, like other archaeological sites in Cusco. One of the most comfortable and welcoming hotels in the imperial city.
10. Hilton Garden Inn Cusco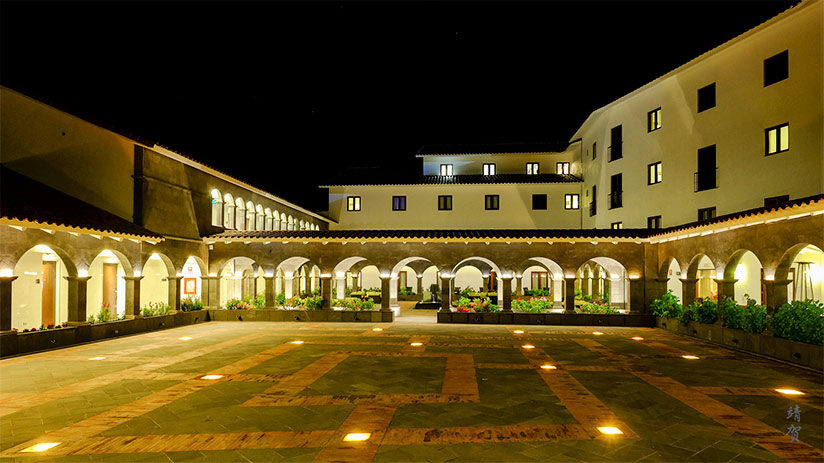 Stars: 5 stars
Address: Avenida Abancay 207, Santa Ana neighborhood, Cusco, Peru
Rooms: 137 rooms
Main services: Spa treatments, Yoga room, 2 rooms for conferences and meetings with a capacity of 140 people each, a large central patio with capacity for 450 people, Garden Grille restaurant
Telf: +51 084 580 130
Website: www.hilton.com
If a JW Marriott arrived at Cusco, a Hilton hotel representative could not lag behind. The Hilton Garden Inn Cusco is located in an ancient and traditional Cusco neighborhood of Santa Ana. Upon entering, see a welcoming lobby with abundant natural light, 2 fireplaces, and 1 large central patio. Unlike its predecessors, this hotel was built entirely from scratch, and each one of its 137 rooms shows amazing views of the Cusco mountains, the city, or to the big hotel garden yard. Its architectural style shows touches of modernity, mixed with lacquered stone slabs and Andean ornaments.
Also, the Hilton Garden Inn Cusco offers Spa treatments, a special room for Yoga, three long salons for meetings and conferences with a capacity of 140 people each, an open-door patio with a capacity of 450 people, courtesy parking (subject to availability) among others facilities. The most striking thing about the hotel is its grocery store (imitating the traditional Cusco groceries) called Pavilion Pantry, where you can buy sweets, sodas, bottled water, and other necessary products for your tours. Also, its restaurant called Garden Grille, it shows the best of Peruvian gastronomy with some dishes from the best international cuisines.
"WE TRAVEL NOT TO ESCAPE LIFE, BUT FOR LIFE NOT ESCAPE US"
As you can see, these are just some of the main examples of hotels in Cusco. But the truth is that being a tourist destination, these establishments abound. Whether you are looking for exclusive options or other budget options, you will find just something for you. We hope these examples have given you an idea of all that Cusco has to offer. If you want to know more about Cusco tours as places of accommodation, you can consult with our Machu Travel Pèru qualified advisors.
---