Although Peru is best known for its mountains, it also has coastal deserts. And one of the best places to appreciate the sand is the Huacachina Oasis. This small town has become a tourist destination par excellence in Peru and is visited by people from all over the world. Its fertile and lush lagoon is surrounded by palm trees, hotels, and exquisite restaurants. Therefore, together with the experts from Machu Travel Peru, we have prepared an article about this wonderful place. Get to know this magical corner of Peru in-depth and enjoy everything it has to offer.
All about the fascinating Huacachina Oasis
The zones of Huacachina Oasis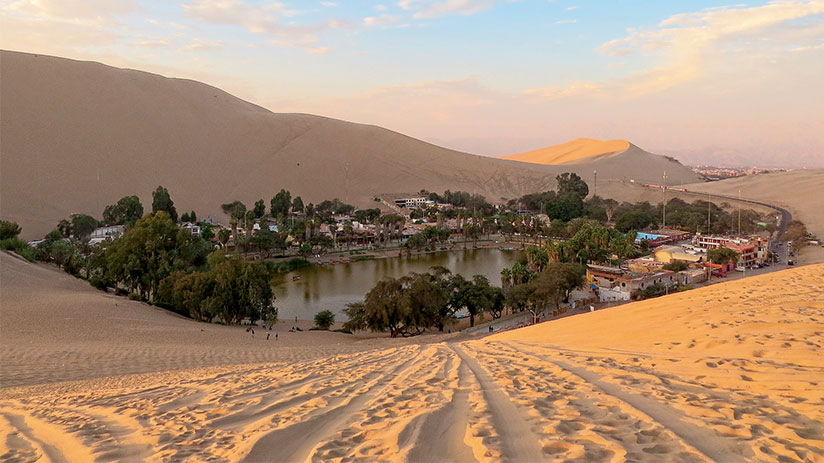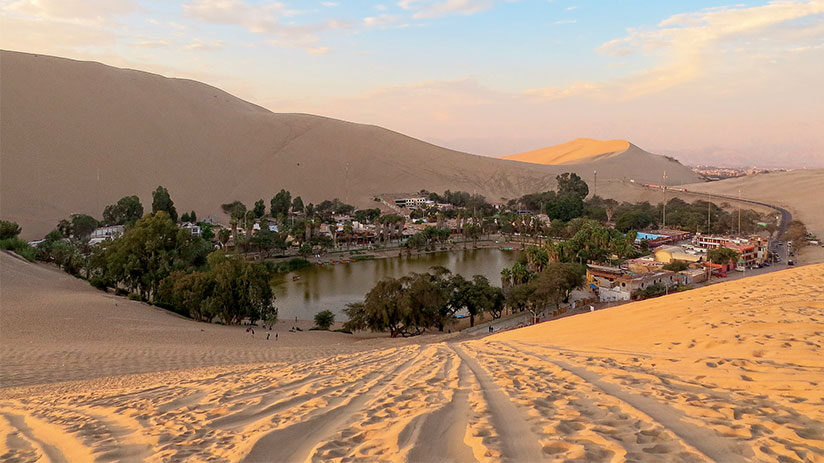 Huacachina Oasis is a little stop that is located a few hours from Lima. Exactly 5 kilometers to the west from the beautiful city of Ica in Peru. It is formed by two parts:
The town: It was built around a natural oasis in the middle of the desert as a refuge for the upper classes, but today it has become a quintessential tourist destination, with a population that does not exceed 150 residents. It is surrounded by huge dunes that are the main stage for different tourist activities. The town subsists on the tourist industry for the most part. Thanks to this, you will find a wide variety of travel agencies, restaurants, and hotels. Today it has become one of the best destinations to enjoy summer in Peru.
The oasis: It is a small lagoon fed by a natural spring, making it the only natural oasis in Latin America.
How to get there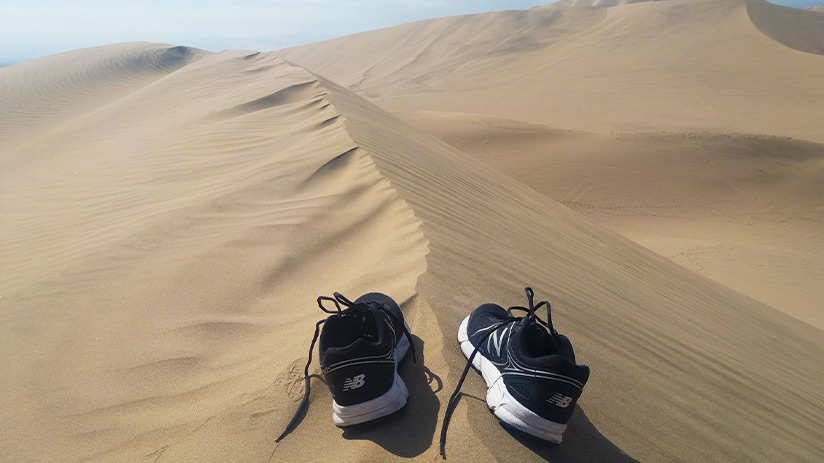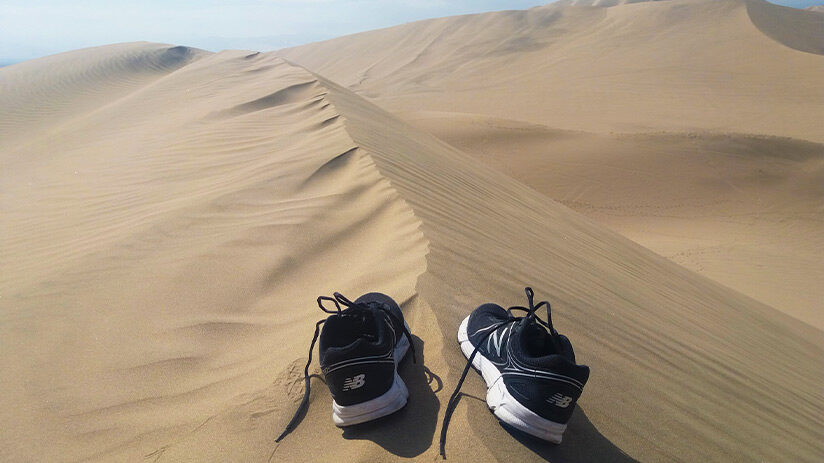 As we tell you, the Huacachina Oasis is located 10 minutes from the city of Ica and about 5 hours south of Lima. Getting to the beautiful natural oasis of Huacachina is usually pretty straightforward. Numerous companies depart from Lima to Ica, where they try to provide a direct service to Huacachina from the Peruvian capital.
Buses to Huacachina can be taken from a wide variety of destinations. You can find bus options from Cusco, Paracas, Nazca, Arequipa, and other important destinations. Bear in mind that some public services run towards Ica and from there you will have to take a taxi. In case you are traveling on your own, the best way to get there is by bus from Lima to Ica. The services from the capital to Ica are daily and varied. Once in Ica, you can take a taxi to the oasis, which is only five kilometers from the wine city. The cost of the taxi is around 5 dollars approximately. Be sure to check out this unprecedented attraction.
History of the Huacachina Oasis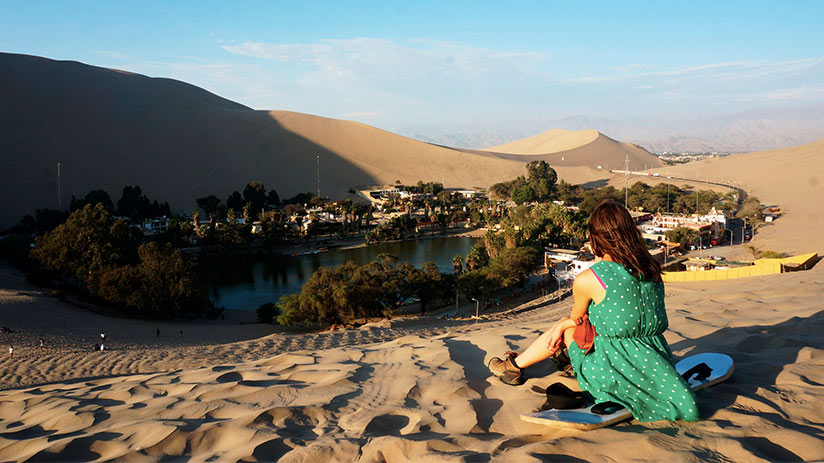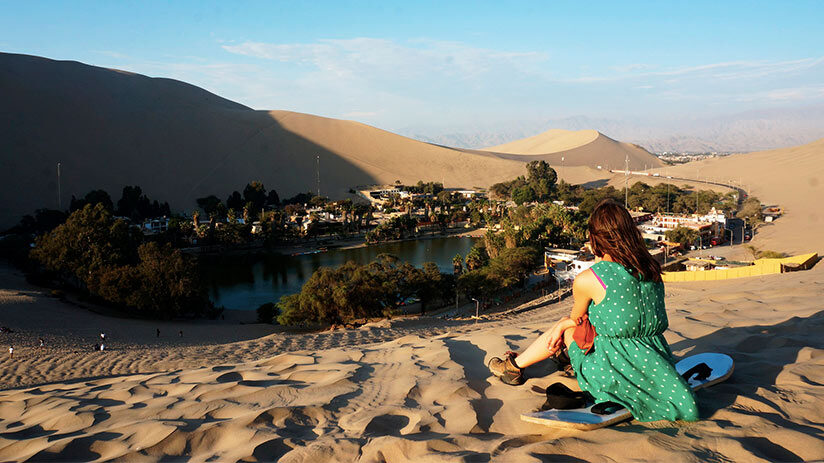 The Huacachina Oasis is and was for a long time one of the most popular destinations in the list of unforgettable vacations in Peru for national and international visitors. Before, it was fervently believed that the waters of the oasis had healing powers. And it was during the 1960s that the city became a tourist center for Peruvian upper-class people. So for a long time, Huacachina was the resting place of the country's elite. But now, with more amplified purchasing power in Peruvian society, the oasis is home to a growing tourism industry and receives more national tourists in comparison to 40 years ago. Of course, the international tourist is not far behind.
The restaurants and hotels that surround the lagoon are composed of unique architecture. Most of them tried to replicate the Spanish colonial period in numerous surrounding buildings. Today, Huacachina is much more popular with young adults looking for an escape from the routine. It is especially for adrenaline junkies and thrill-seekers. But even those who are not interested in these types of activities will find something to enjoy.
Legend of Huacachina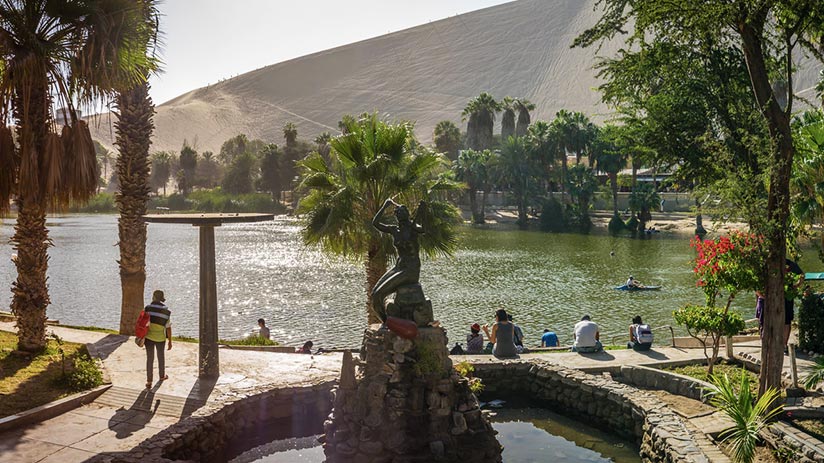 Huacachina Oasis is not only a tourist destination, but it also has a great history behind it. A particular story that is part of the Huacachina Oasis. At the main entrance to the Oasis, there is a statue of a mermaid and a wishing well. The story goes that before the oasis existed, there was a young Inca woman who was extremely beautiful.
One day, while looking in the mirror, she was able to discern a hunter, through the reflection of her mirror. So, she began to run away from the hunter, and all her dresses flew off to create the sand dunes in Huacachina we see today. Next, in despair,  the woman dropped the mirror that broke immediately. The pieces formed the current lagoon where she plunged, to hide from man's sight. She waited by a large time, surfacing to see if the hunter was gone. Giving the surprise that she no longer had feet, but a huge fin.
Legend has it that the mermaid comes out on full moon nights to make singles fall in love and take them to her lake. Even Huacachina is translated from Quechua as "the woman who cries for her lost love."  Definitely, this legend is a point more than makes Huacachina Oasis one of the most famous places in Peru.
Adventure tours to enjoy in Huacachina Oasis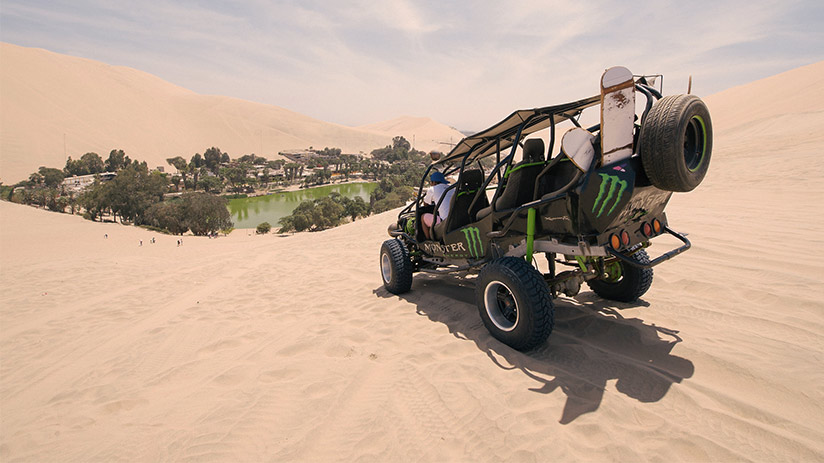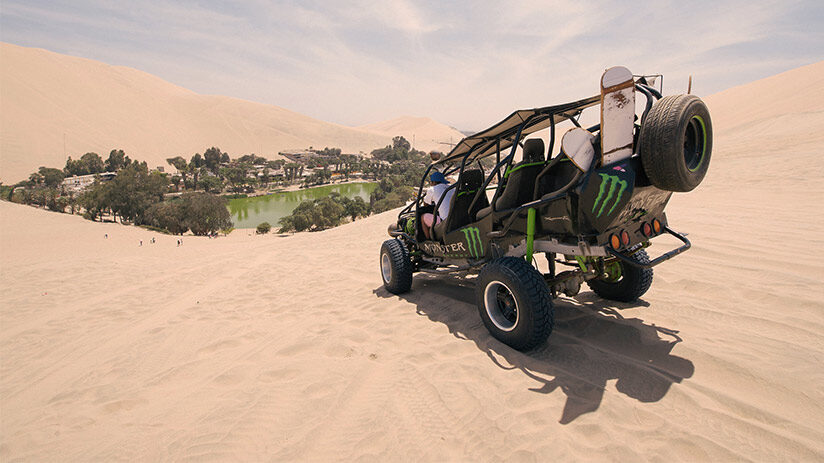 Around Huacachina Oasis, there are numerous adventure activities to take advantage of. The lagoon itself is perfect for taking a dip and cooling off from all the heat. Although, there are also rowboats to rent and navigate the lagoon. But if you have more energy and are looking for adrenaline, you can enjoy sandboarding. It is one of the most popular activities around the Huacachina Oasis.
Sandboarding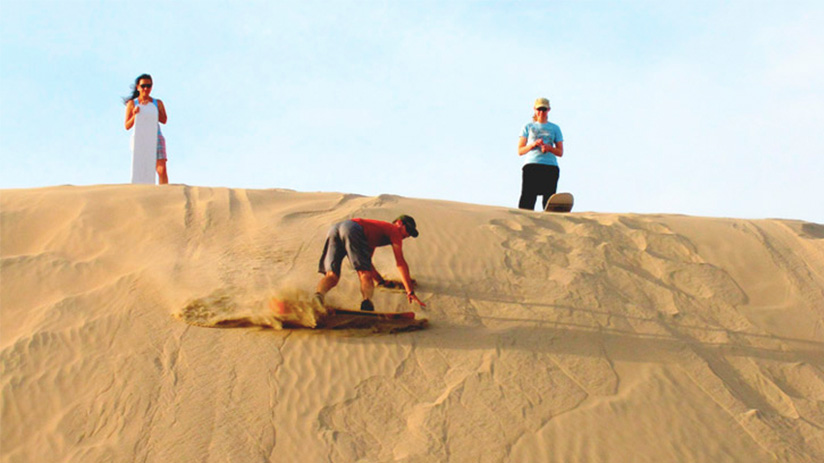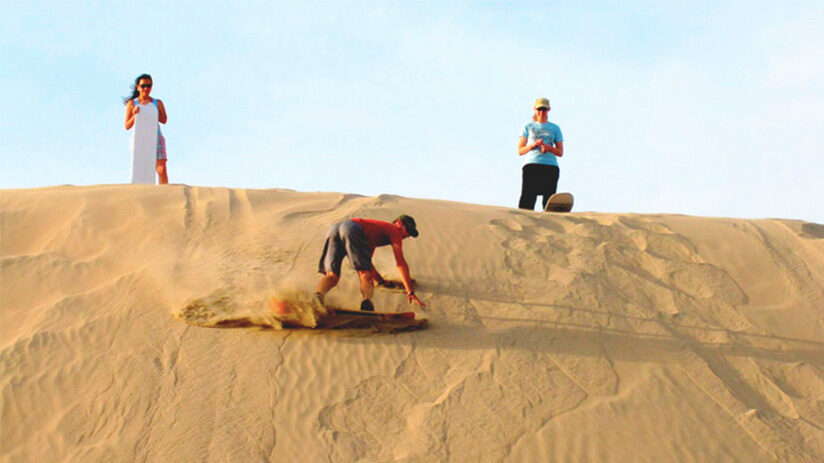 One of the activities for which Huacachina is quite known is sandboarding. Sandboarding could be considered as a variant of snowboarding. The only difference is that instead of sliding on snow, we slide down sand dunes. And the boards, that you can hire in the Travel Agencies of the town joining a group with a guide-instructor previously, are specially designed to slide on the sand.
It is an activity full of fun and suitable for all audiences. Even the little ones can ride aboard if they wish. And depending on your experience on the board, you can enjoy different levels of difficulty. Even if you've never stood on two feet on a board before, other techniques make that the visitor lies face down over the boards to slide. This sport has become a very popular sport, which already exists in other places, for example, Sandboarding in Paracas is one of them. Either way, as long as you follow the safety guidelines, you don't have to worry about getting hurt.
Dune Buggy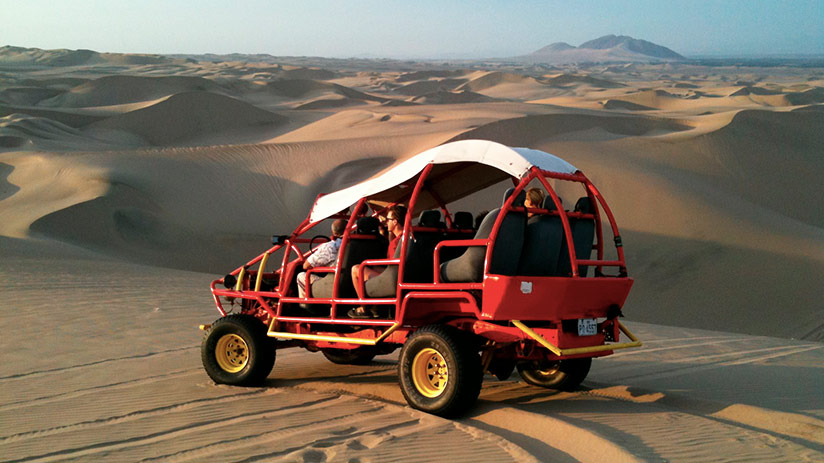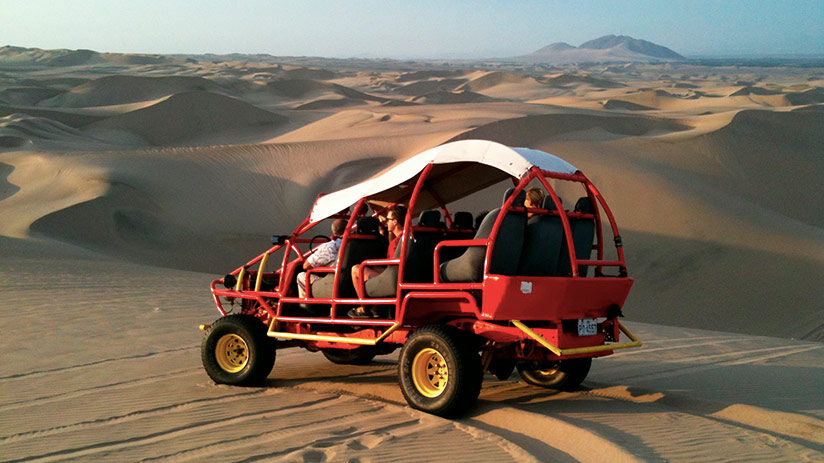 Another popular activity for adrenaline lovers is to ride on a Buggy. This tour consists of a wonderful buggy ride through the dunes. You will be able to enjoy a four-wheel-drive at full speed over a vast desert. Get ready for an adrenaline-pumping ride and buckle up. Buggy tours climb to the tops of the dunes and then speed down. Most of these tours last approximately two hours and are fairly accessible. In general, shifts starting at four in the afternoon are the best. Since the heat is not that strong and there is still enough light to see. Also, many tours within Huacachina tend to combine both buggy tours and sandboarding. You can ride the buggies to the top of the dunes and save yourself an uphill hike. Then you just throw yourself into your board at full speed.
Row-Boat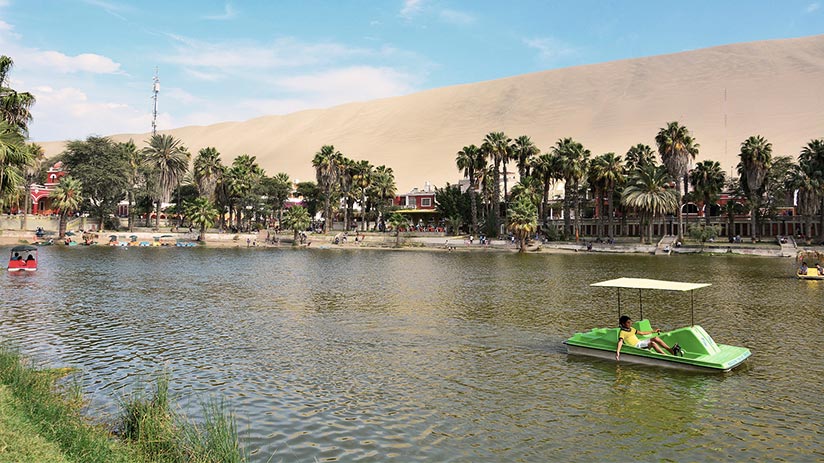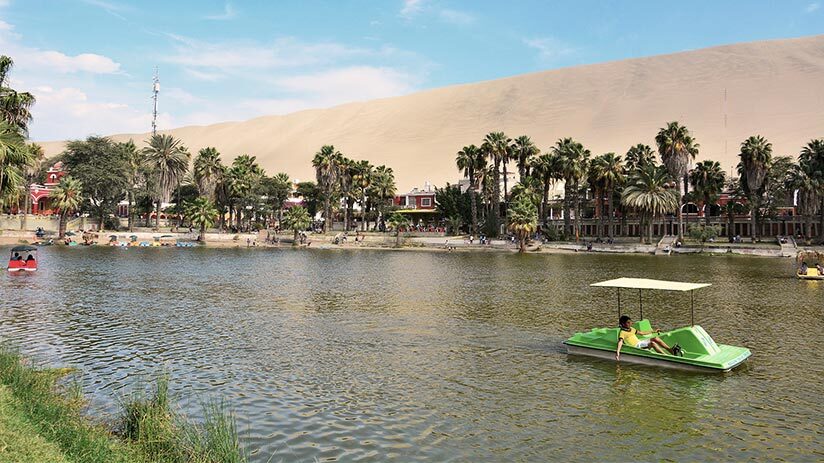 In case you are not a fan of adventure activities, there are other calmer alternatives. For a more relaxed way to spend the afternoon, you can choose to enjoy the lagoon on a rowboat. You will find that there are boat rental options on the shore of the lake. While it is also a great way to enjoy the oasis if you are traveling with children.
Climb the dunes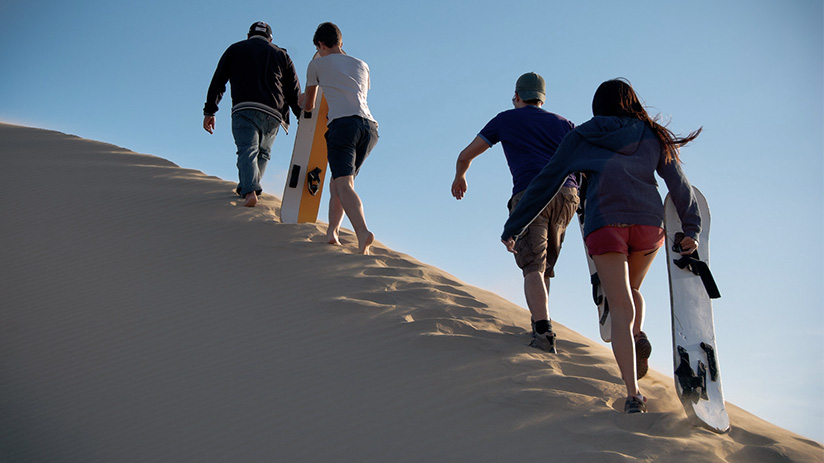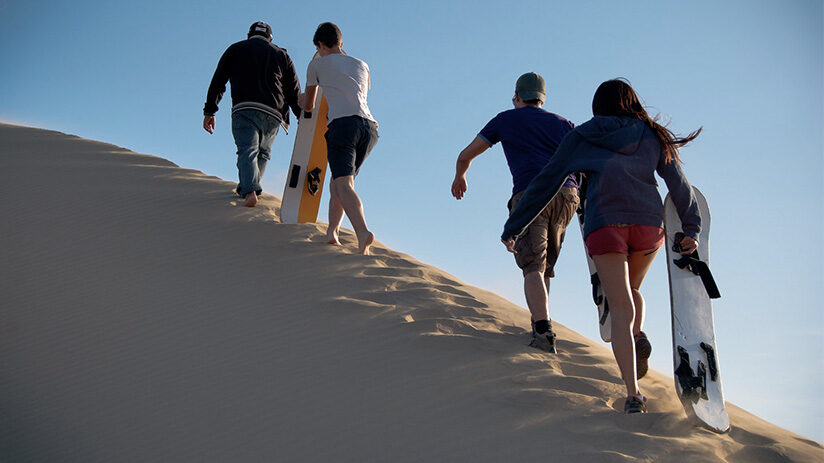 If you are on a tight budget, a hike to the top of the sand dunes can give you incredible views of the place. Enjoy the beautiful and the best sunset in Peru on top of the dunes. It is one of the best things to do. Make sure to bring your camera, hat, water, and sunscreen!
One-day trips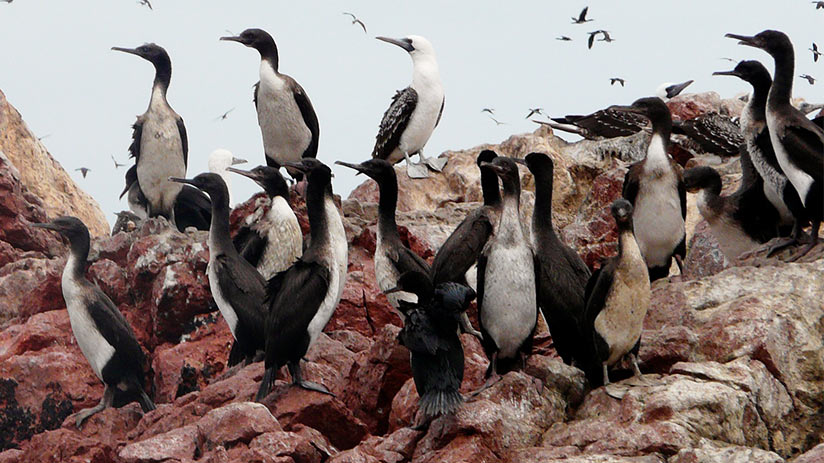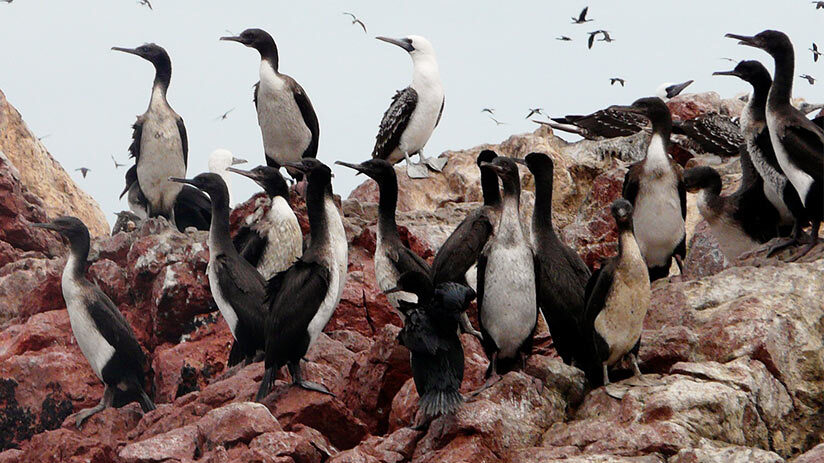 Huacachina is conveniently and strategically located near numerous tourist sites in our country. From the wonderful Paracas National Reserve to the nearby Ballestas Islands. You can even continue your journey to the mysterious Nazca lines. The Huacachina Oasis can be one of the many stops on your itinerary in Peru. So you can connect this destination with some other places of great interest.
Alternative tours around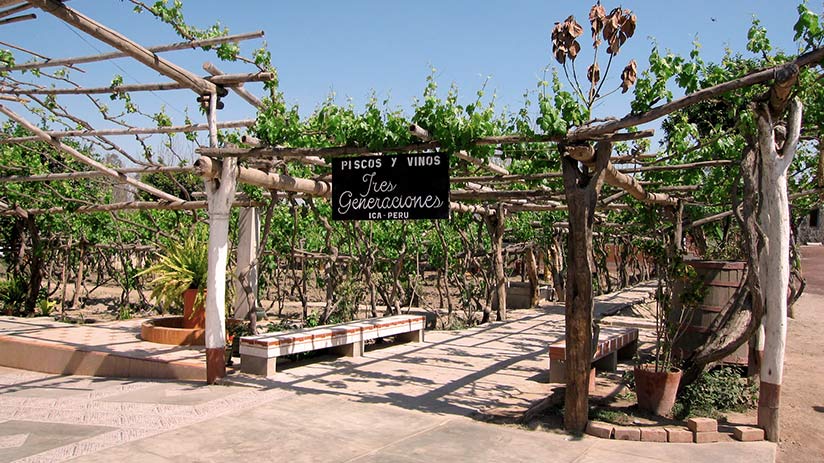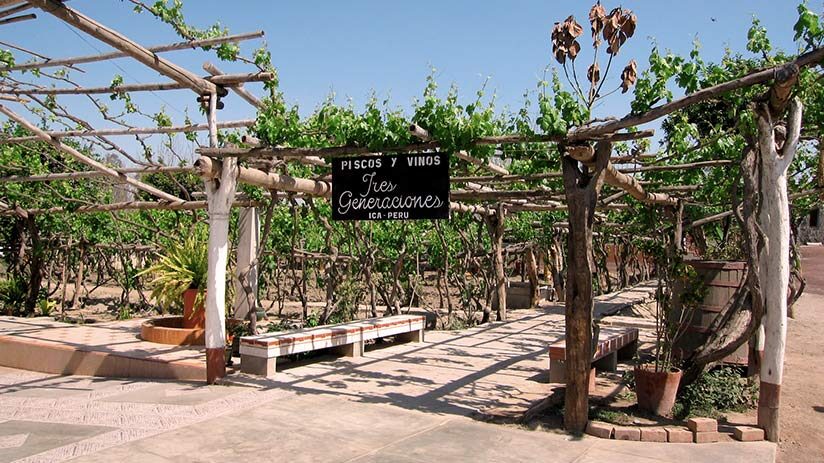 If you are not an adventure junkie, don't worry. Huacachina Oasis also offers other equally fun tours. Being 5 kilometers from Ica, you can take advantage and sign up for one of the various tours through the wineries. The Ica region is where the vast majority of Peru's wine and Pisco comes from. Pisco is a kind of liquor made with grapes and the national liquor of Peru. One of the best things you can do while visiting Huacachina is to take a tour of a nearby vineyard.
Pisco tour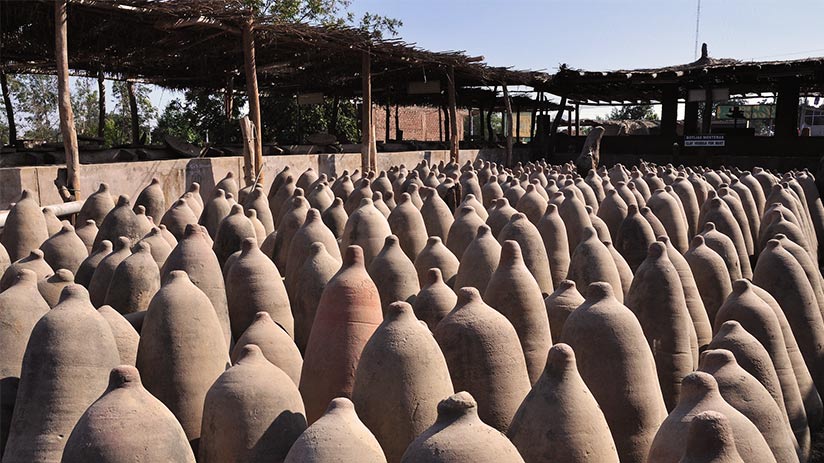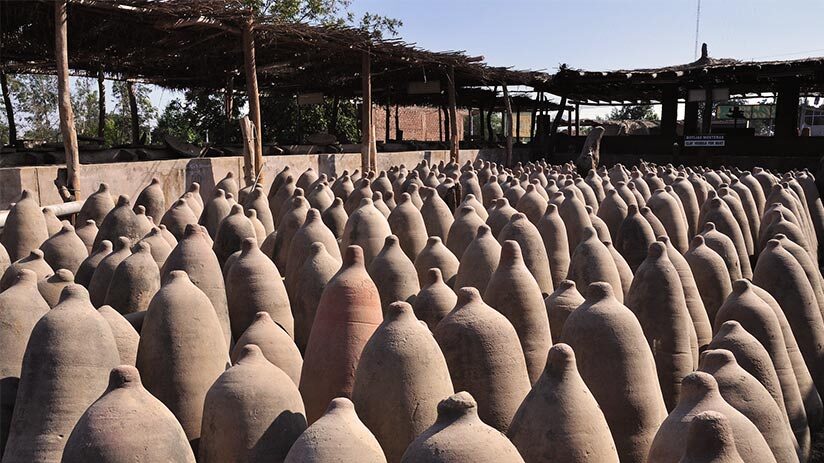 You can learn not only how the famous Pisco is made and prepared, but also see the process of Peruvian wine. You will be able to enjoy the afternoon tasting a great variety of piscos and wines. All while enjoying the wonderful landscapes that surround the wineries. Being able to enjoy an excellent drink while touring the different wineries is a great way to spend your Peru vacation. Ica also has some exceptional museums. One of the most interesting is the Regional Museum of Ica. Here you can enjoy a fascinating collection of ceramics, mummies, skulls with trepanning, and much more.
Where to eat and sleep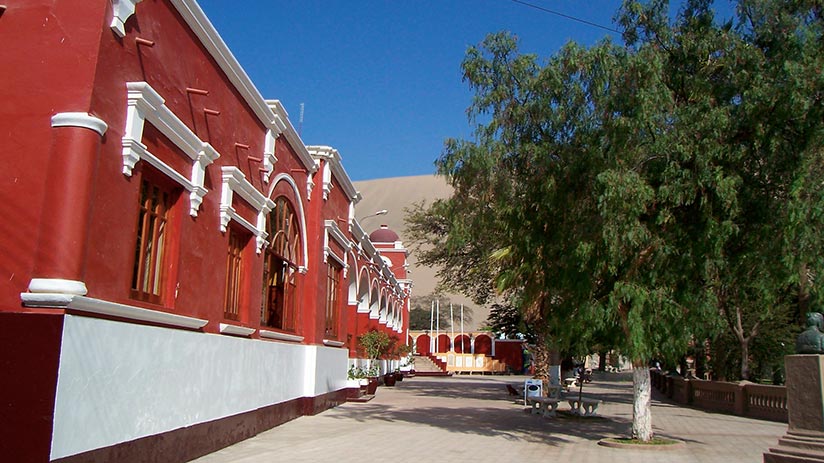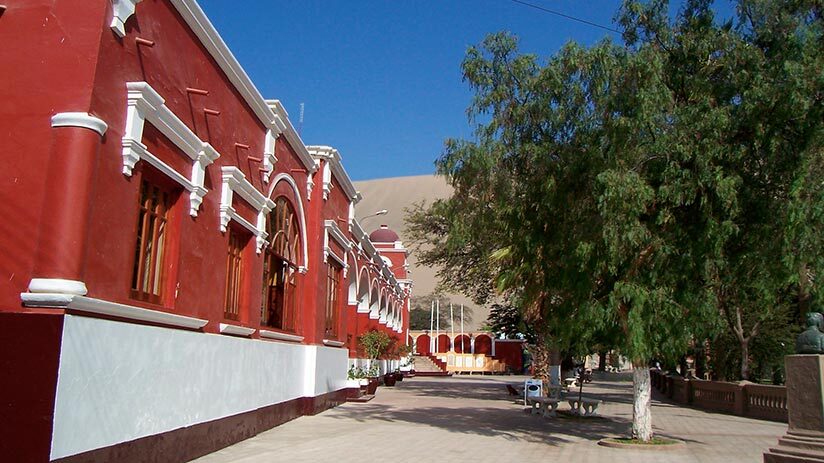 Fortunately, since Huacachina Oasis has become one of the most interesting things to do in Nazca or around it, the site has many accommodations and restaurants. Huacachina Oasis has many excellent places to enjoy Peruvian food. From luxurious options to more classic ones, everything can be found in Huacachina. As for places to enjoy delicious food, we recommend Casa del Bamboo and Wild Olive. Please note that there is only one ATM in the entire town of Huacachina. But the vast majority of accommodations and restaurants accept credit and debit cards.
Accommodations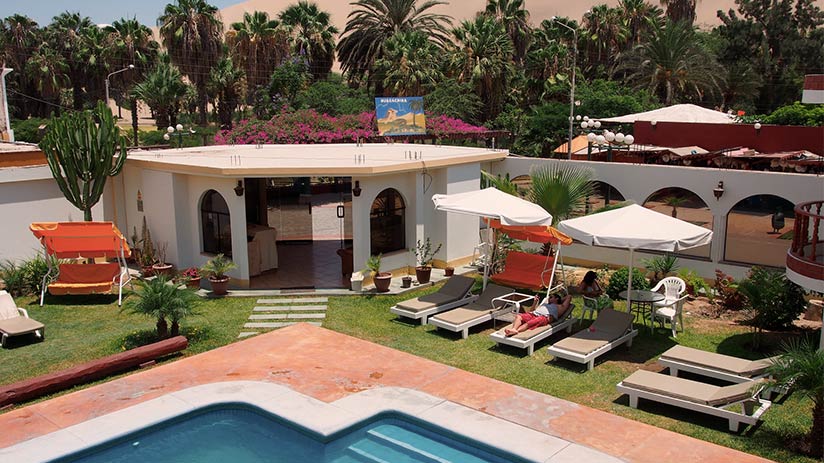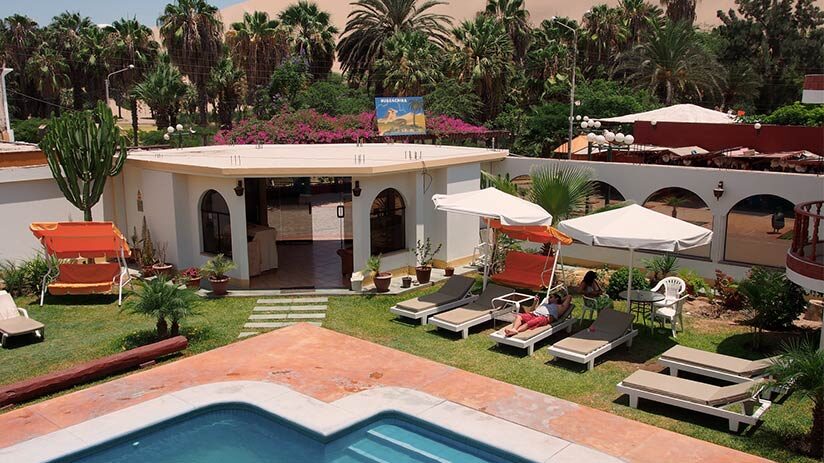 And being a destination so frequented by tourists, the accommodation options are varied. La Casa de Arena is a popular alternative for backpackers. But for more luxurious hotels, the Mossone hotel is a great option. We also recommend checking out Hotel Curasi, Hotel El Huacachinero, and Desert Nights Ecocamp. And being so close to the city of Ica, you can also choose to stay in Ica. Both sites are only a 10-minute drive away. Keep in mind that Huacachina is on a popular tourist route, so from there you can take advantage and visit other destinations. Paracas or Nazca are two towns and tourist destinations that are relatively close. With so many things to do in Nazca and Paracas, you cannot miss these two destinations on your route.
Rest assured, visiting Huacachina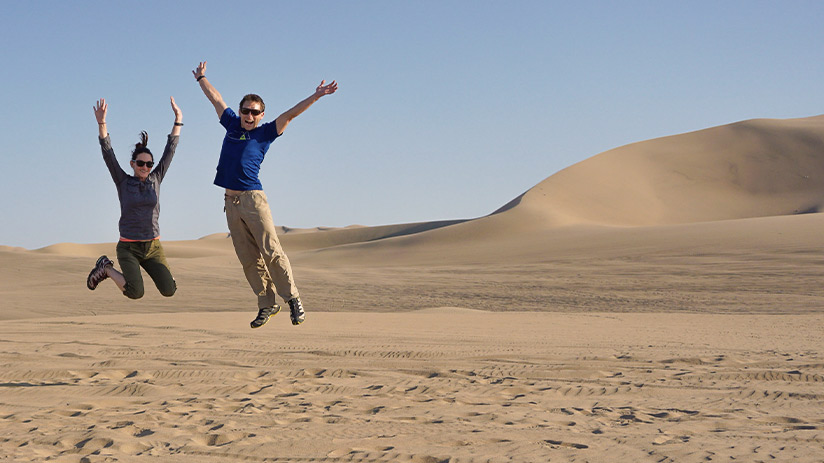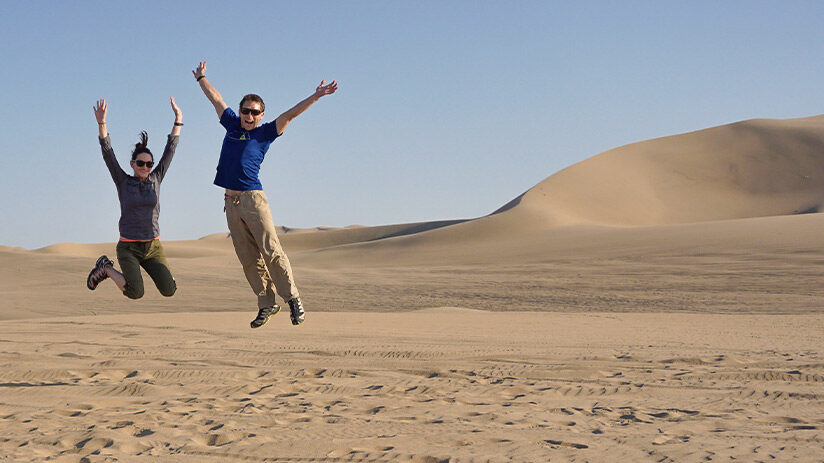 The Hucachina is a town very sure. Although there are many restaurants, discos, and bars that open until late at night (Even, some of them work until 5:00 am), its streets, bystreets, and main square are calm, well illuminated, and secure. The Huacachina Oasis has a long and active nightlife (Due to its condition of a tourist destination) for its main client, the tourist. Therefore, the local municipality always makes patrols and police available 24 hours. 
Regarding adventures tours like Sandboarding or Dune Buggy, the tour operators located in the Huacachina town that offer these kinds of services, include guides-instructors to your security. Besides, every tour includes an hour of instruction before the adventure in the same sand dunes in Huacachina. For this reason, you rest assured about the services and locals in Huacachina Oasis.
Best time to visit it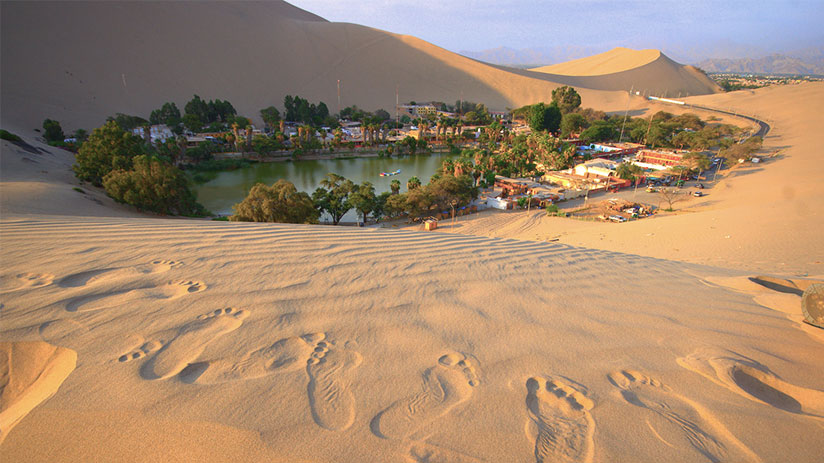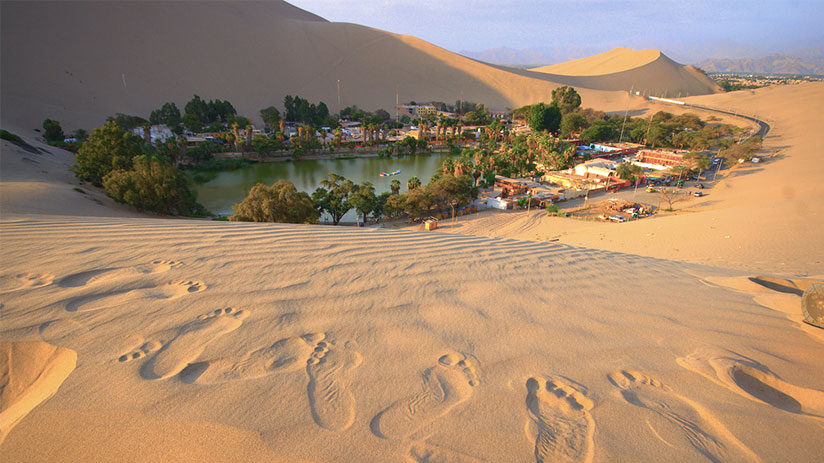 Remember that Huacachina Oasis is located in the Peruvian desert, so the weather there is dry and warm the most part of the year. However, between January to March the climate reaches its maximum level (more than 90ºF). On the other hand, between May to August the Peruvian region experiences winter (Its lowest temperature) but, don't worry, because the temperature usually never drops below 75ºF.
In general words, always is the best time to visit Huacachina Oasis.
What to bring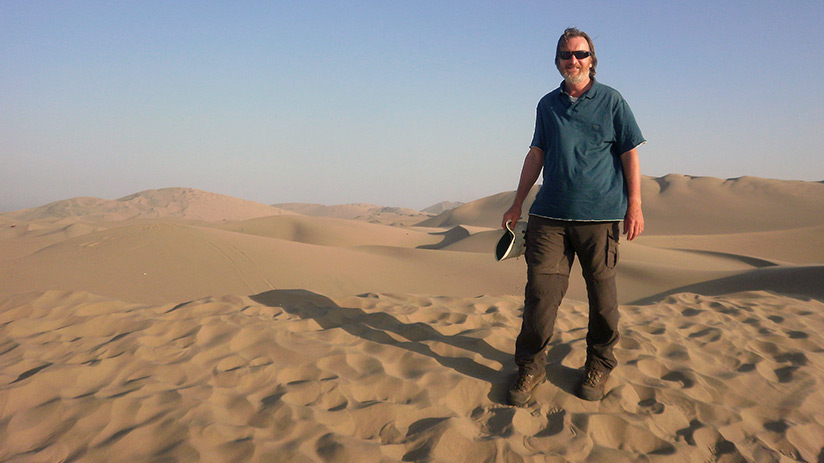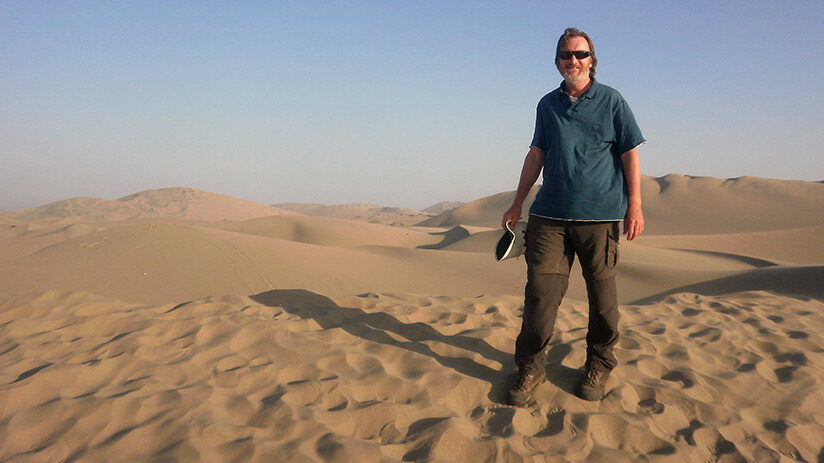 Carry with you Cash, Soles, or Dollars. (There is only one unreliable ATM in all Huacachina Oasis)
Light clothing
Cap
Sunscreen
Sneakers or tennis
Shorts
T. Shirt
windproof
Flip-flops
Sweaters for winter (Only as a precaution)
"FAITH IS AN OASIS IN THE HEART WHICH WILL NEVER BE REACHED BY THE CARAVAN OF THINKING"
As you can see, this wonderful place is one not to be overlooked. Especially if you plan to go through places like Nazca, Paracas, or Ica. We hope together with the experts from Machu Travel Peru to have explained a little about Huacachina Oasis. We believe that the best way to get to know this oasis is on your own on a personalized trip. If you want to start organizing your trip to the beautiful oasis of Huacachina, you can consult with our qualified advisors. They will be happy to help you make the trip of your dreams come true.
---