Among the most impressive hiking trails in Peru, there are a few in the vicinity of Machu Picchu that are really fantastic, like the Huayna Picchu hike. This imposing mountain can be seen behind all the famous photos and postcards of the Inca citadel. The advantage of climbing it is the impressive panoramic views of Machu Picchu that you will have from another angle. Also, this famous hiking trail is usually realized by hundreds of tourists daily. And for this reason, together with Machu Travel Peru, we have decided to prepare a complete article about this quaint mountain. In this way, you will know in depth what awaits you when you undertake this imposing route among other Machu Picchu tours.
Everything you need to know about Huayna Picchu mountain
Huayna Picchu overview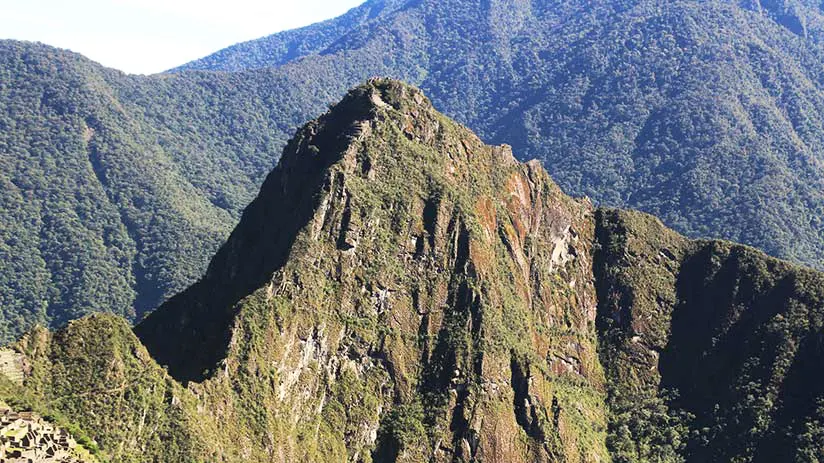 | | |
| --- | --- |
| Trip distance | 2.5 miles or 4 kilometers (Round trip) |
| Trip time | 01-hour climb up / 45 minutes descend |
| Elevation gain | 1,000 feet or 360 meters |
| Top elevation | 8,835 feet or 2,693 meters above sea level |
| Difficult | Moderate to hard |
| Not recommendable | Children under 14 years old and vertigo people |
Huayna Picchu is the pointed, cone-shaped mountain behind the citadel. It appears in any of the different classic Machu Picchu postcards, and its trek is one of the alternatives to Machu Picchu that you can't miss. Besides having new views of Machu Picchu citadel from its top, you will discover new Inca rests and beautiful landscapes during its tour. At first glance, it can seem like a very challenging mountain hike. But, technically, it is not that difficult, although the climb will be very steep, the descent will be easiest. Despite it being a hike suitable for all audiences, maybe children and people with vertigo can't take it, so it is advisable not to realize it with them.
A. Meaning of Huayna Picchu name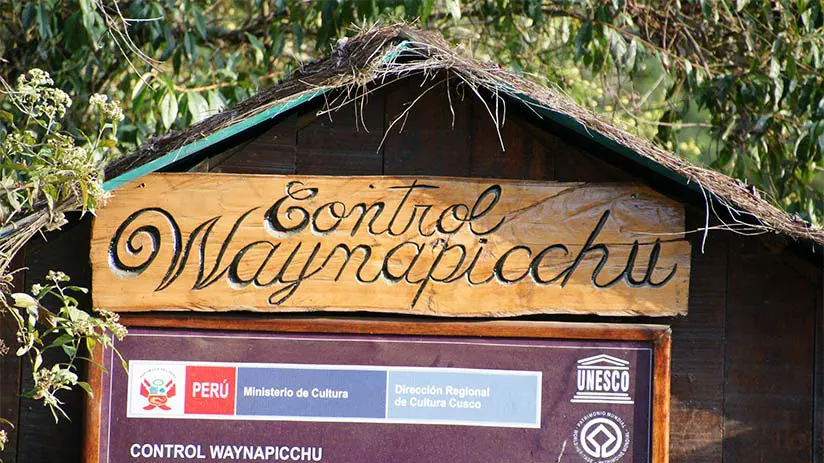 The name can be translated, literally, like Huayna equal to Young, and Picchu equal to Mountain. The young mountain would be the exact translation of its Quechua name, in contrast to the citadel in front called the lost city of the Incas or Machu Picchu (The old mountain)
Unfortunately, the Inca culture didn't leave a well-defined writing system to be able to know the names of their citadels, fortress, and temples inter alia, with precision. For this reason, there are two forms to write the mountain name: Huayna Picchu or Wayna Picchu. In this sense, this name, deduced from local historians and Spanish chroniclers, is an approximation of his real name.
Location
Huayna Picchu is an ancient mountain located behind Machu Picchu citadel, inside a tropical zone (Jungle eyebrow), with an altitude of 2693 meters above sea level, and surrounded by the Vilcanota River. It is in Urubamba province, department of Cusco, south zone of Peru. Which can be found in Inca buildings, and a famous trekking route to its top. Therefore it is not a surprise to feel hot and humid weather there.
A. Mountain elevation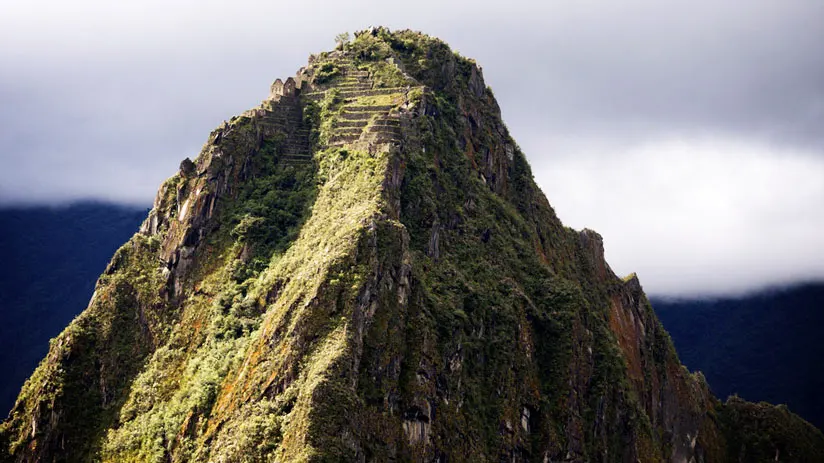 This stepped mountain stands at a height of 2693 meters above sea level. Its elevation gain from the ground is 1,000 feet (360 meters) and the total distance to trek, going up and down, is 2.5 miles or 4 kilometers.
The hike
If you are still wondering? Yes, you can still climb Huayna Picchu this 2023. The hike to the mountain takes long around 120 minutes, approx. 60 minutes to climb up and the rest to descend approx throughout 4 km round trip. Everything will depend on your physical condition and your previous acclimatization. Also, you will have to be careful and take some precautions. Since the staggered steps can be slippery when wet in the rain. That is why we will have to try to avoid the rainy season at all costs if we want to make this trek that has a moderate to challenging level.
1. Starting the hike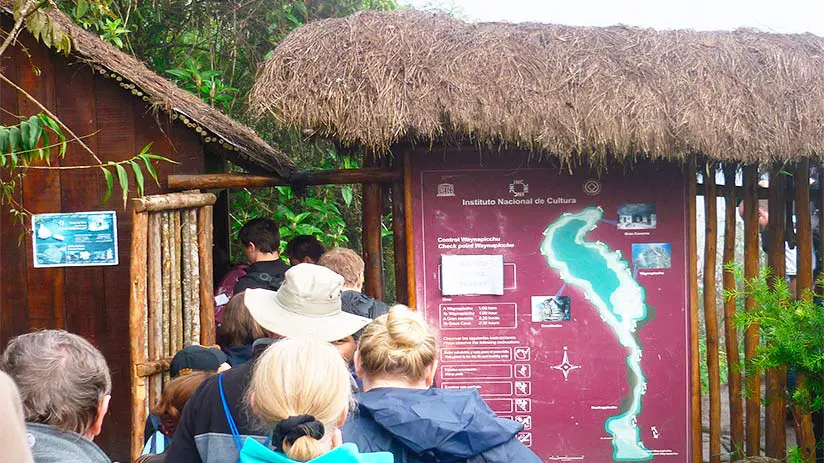 Your entrance ticket to the mountain will have to be shown at the same entrance of Machu Picchu citadel. This ticket entitles you to visit Machu Picchu, only by Circuit 4, before getting the trek to the mountain.
The trek starting point to this mountain is located on the north side of Machu Picchu, behind the Sacred Rock. The entrance is clearly marked with a large sign in the Caretaker's Hut. If you are going to make the trek, you will have to register in the Caretaker's Hut, showing your ticket and passport to the forest ranger.
The trail follows an undulating path for about 15 to 20 minutes until the route splits. Next, the route forks into two sections, one goes up, and the other goes down. The high trail stretches to the top of Huayna Picchu, while the low trail continues around the base of the mountain to reach the Great Cavern and the Temple of the Moon. Then it climbs steeply to the top of the mountain.
2. The ascend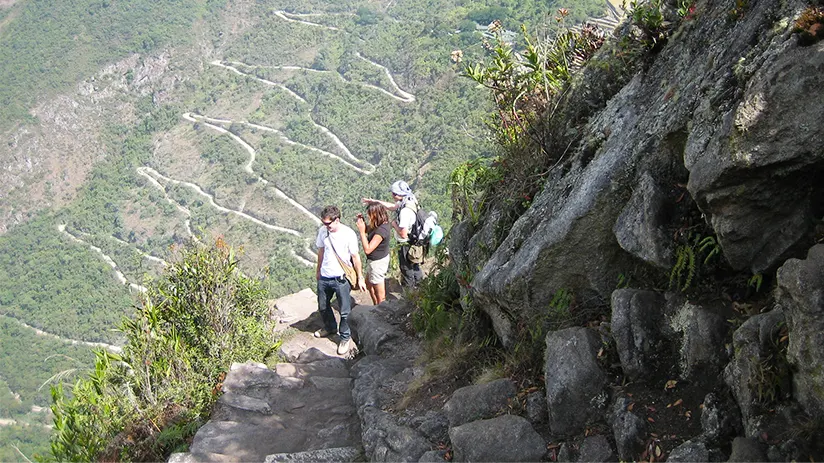 The path goes zigzagging through the sacred mountain and continues up to where there is a small complex of Inca constructions. We can take a rest there for a few minutes. Next, continue the journey up the route, and we will find a marked path that goes to the left and continues along the back of the mountain to reach the Temple of the Moon. If we decide to go straight, we will find that the path is easy to follow, but many of its zones are quite steep, the closer we are to the top, the steeper the path will be. Following, we will find steep stairs too and a cave that can be a bit tedious to pass. 35 min.
3. Reaching the top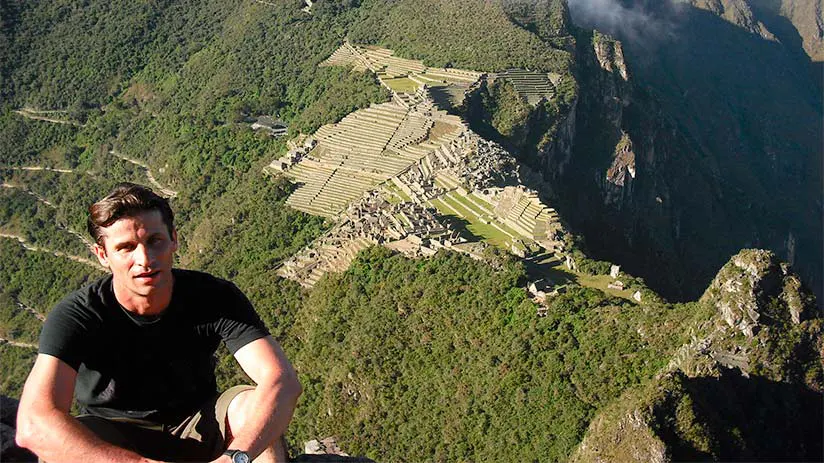 As we approach the top, we will pass some old agricultural terraces so inaccessible and so narrow that their value for agricultural purposes would have been unnoticeable. It is believed that they were probably gardens for decorative purposes or had some structural function in general. Finally, reaching the top, we will have a unique view that will accompany the already beautiful Machu Picchu itself. For this very reason, make sure to enjoy these views after knowing the different Machu Picchu facts, to get a great view of the citadel and imagine the facts that occurred there many years ago. 15 min.
4. Descending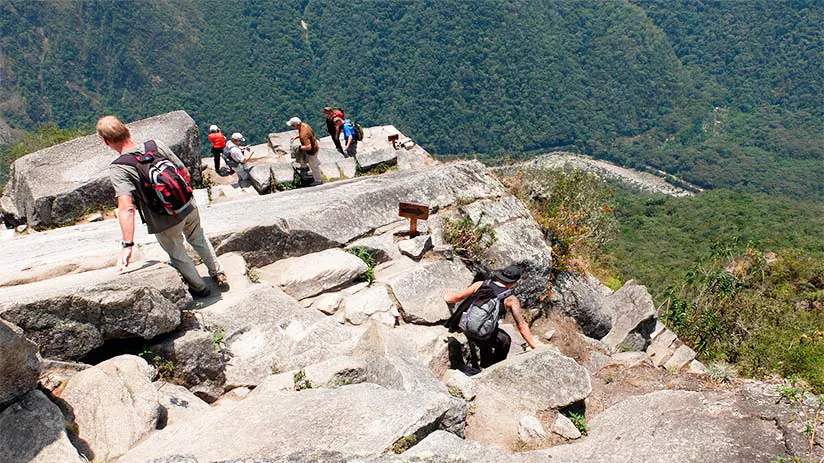 The path descends around the mountain before plunging into the cloud forest. At the initial descent, we will pass through a narrow tunnel, where we will have to crawl, practically. After, the descent is steep, and our knees will do most of the work there. If we want, we can visit the Moon temple in this part of the trek. Finally, we will then come to a cleared area where we will find some beautiful ruins to appreciate, a sign that the path is finishing. 45 min.
What to see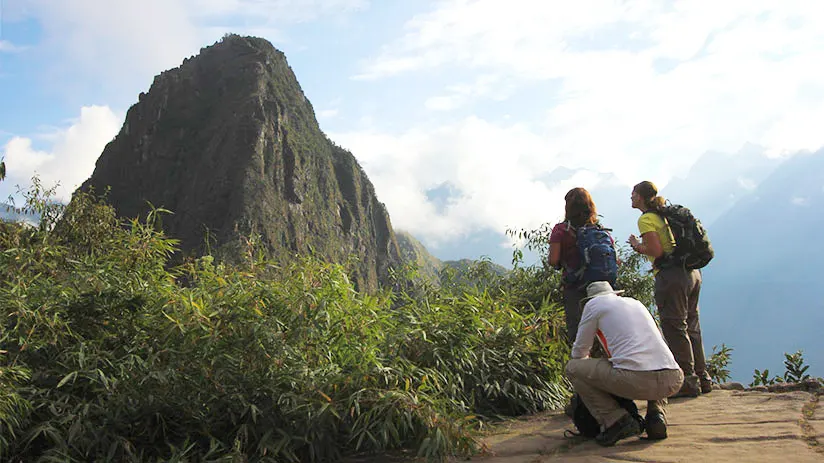 The visit to this beautiful mountain consists in a climbing trek that the Machu Picchu visitors use to do after visiting the citadel. But, Is it worth going to Huayna Picchu? Because of reaching its top, the mountain offers the possibility of a great alternative view of Machu Picchu. Great Inca citadel photos from another angle! Besides, the endemic flora, its special fauna, the stairway of death, and the famous Moon Temple, among other important amazing attractions.
1. Endemic flora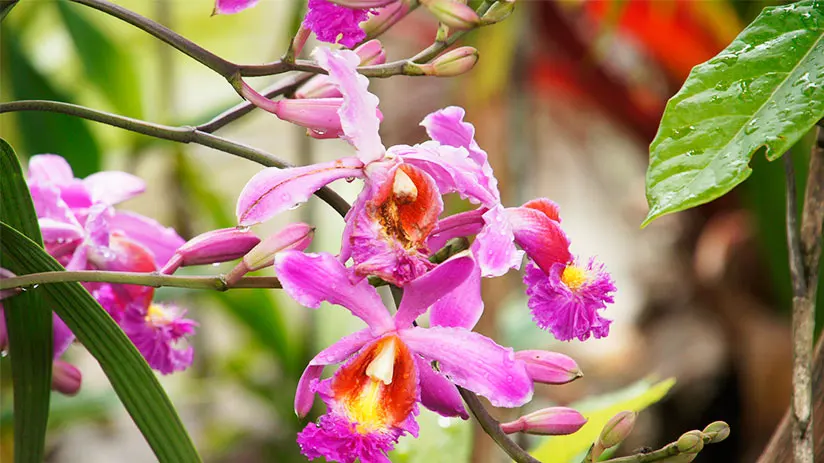 As we mentioned, this awesome mountain, like Machu Picchu, is located in a tropical rainforest with a humid and warm climate. Therefore, this condition encourages the growth of special types of plants like Orchids, with more than 200 species located along all slopes of the mountain.
Other important representatives are the Bromeliads. These lithophytes are more related to pineapples, and you find them suspended in almost all trees and bushes. Also, you'll find more than 60 types of ferns covering the ground, some stone walls, and trees.
2. Special fauna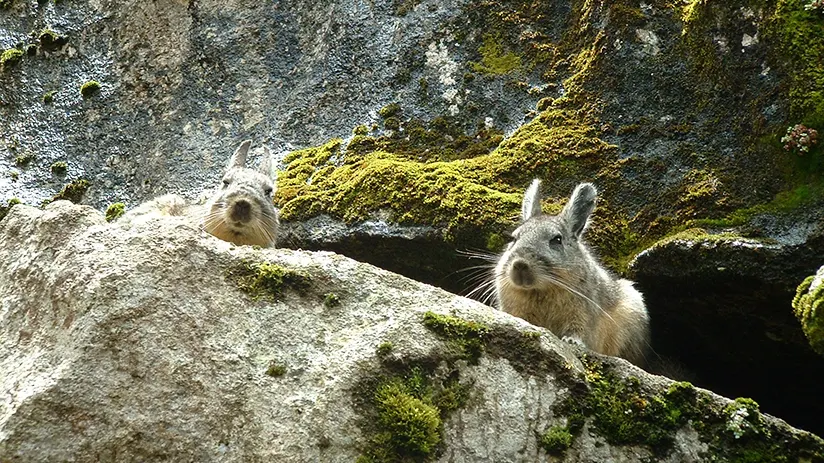 Llamas grazing the green areas, lizards slipping between the lithic walls, some vizcachas looking for food, a great variety of birds, and even the amazing spectacled bears (if you are lucky) will be found mostly during dry and sunny days.
3. Amazing views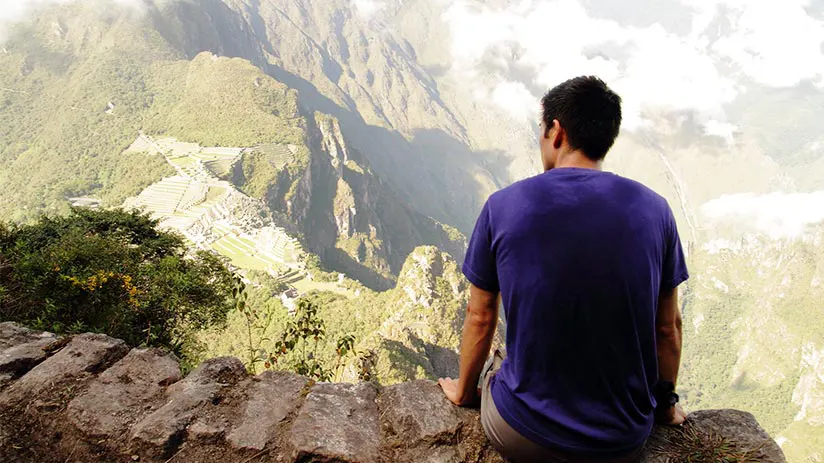 Maybe the most important advantage of climbing the mountain will be the awesome views to get of Machu Picchu and the Vilcanota Valley, from another angle.
4. The stairs of death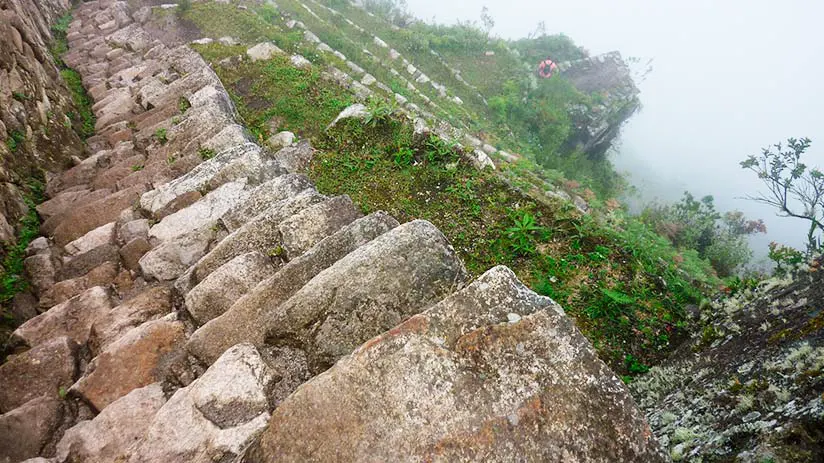 As its name indicates, these are several stepped stairways, with angles of over 60 degrees, that are located at the beginning of the route and a few meters before reaching the top. Walking over them has to be using the hands as extra support and is all an ordeal for overweight people with vertigo.
5. The Moon Temple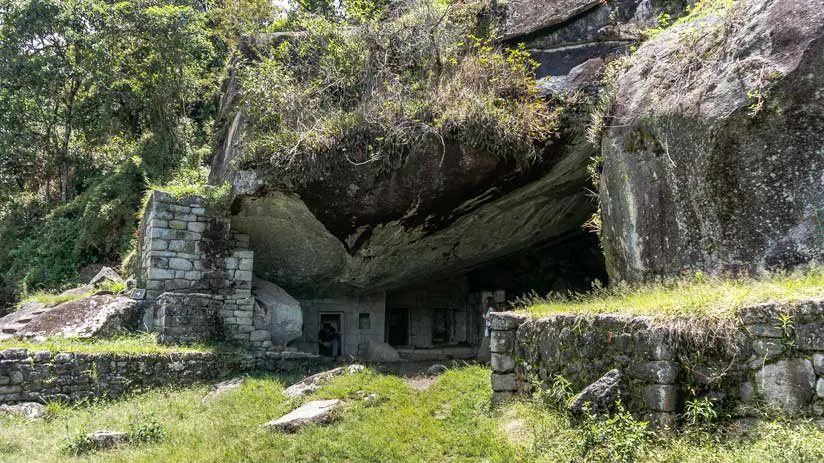 This is a nature lithic cavern well-carved to form ceremonial niches, intricate stoneworks, and elaborated angles. Many scholars believe that this temple was used as an Inca sacrificial and ceremonial center. Remember that the Incas considered caverns and inhospitable sites as communication portals (Huacas) to contact their gods, sacred spirits, and dead people.
Best time to visit it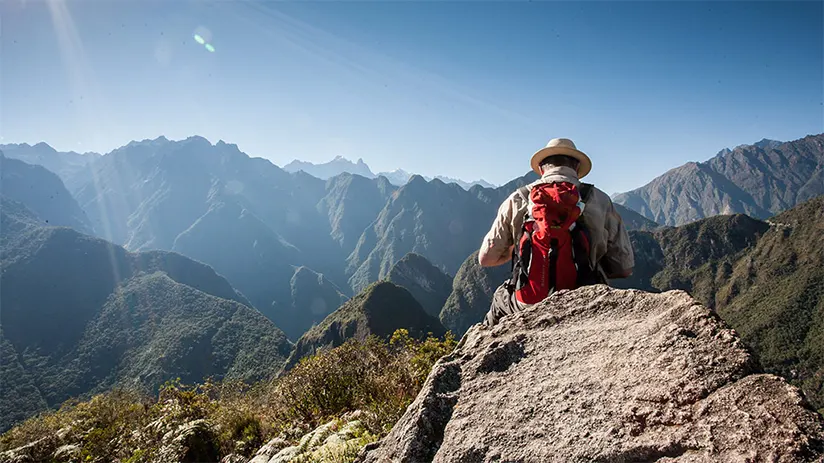 Without a doubt, the best time to make the climb is in the Dry season (April – November), because you will have clear skies, sun, humid and hot weather, colorful vegetation, and most important, solid and dry paths to walk securely. On the other hand, the rainy season (December – March) presents a muddy and slippery path, with hard rains, cloudy skies, and mosquitos. But, in the same way, it will depend on your preference. As you can see, the best time to visit Machu Picchu is similar to visiting this mountain, too.
How to get there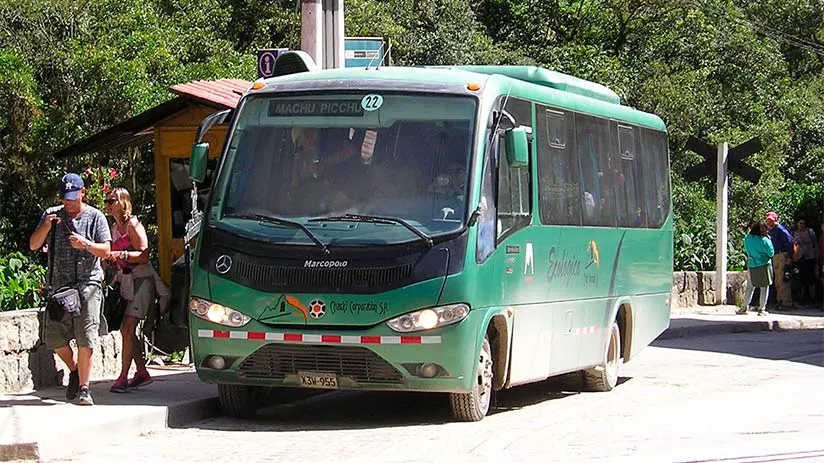 If you see a Machu Picchu map, getting to the "young mountain" is similar to traveling to the citadel (The first is located behind the second). Therefore, we can resume the trip to get there in 4 steps.
1. Cusco to Poroy or Ollantaytambo train station
There are public (Vans and cars that depart from Pavitos Street in Cusco) or private (Through a travel agency) transportation to go to Poroy train station (01 hour from Cusco) or Ollantaytambo train station (02 hours from Cusco), to take the train previously booked. (Private trans: around $30 to Poroy and $60 to Ollantaytambo / Public trans: vans $3 and cars $13 to Poroy and vans $6 and cars $22 to Ollantaytambo / one way)
2. Poroy or Ollantaytambo to Aguas Calientes town
This part of the route is developed onboard the train. In Peru, we have two important tourist trains companies like Inca Rail and Peru Rail. In the case of Peru Rail, all its trains are tourists and are divided into three services, the Expedition, the Vistadome, and the luxury Hiram Bingham. These can depart from Poroy train station (03 hours of a train trip to Aguas Calientes) or can depart from Ollantaytambo train station (02 hours of a train trip to Aguas Calientes). In the case of Inca Rail, its trains are touristic too and are divided into three services: the Voyager, the 360º and the luxury First Class. However, these only depart from Ollantaytambo train station.
Also, the cost of an Inca Rail trains tickets usually are cheapest than Peru Rail tickets. The Expedition or the Voyager cost $70 around for both companies / one way. The Vistadome or the 360º costs $85 around for both companies / one way. The Hiram Bingham, or the First Class cost $250 around for both companies / one way.
3. Aguas Calientes to Machu Picchu Citadel
Once you arrive at Aguas Calientes train station (in Machu Picchu town) and leave the station, you will have to walk a few meters in the north direction, to the Bus station of CONSSETUR (the only company of buses in the town) to take a bus and go up until the same Machu Picchu citadel. The bus trip lasts 35 minutes one way and $13 per person / one way.
4. From the Citadel to Huayna Picchu mountain
Once arrived at the Machu Picchu entrance, you will have to show your original passport and your ticket (which indicates "Machu Picchu + Huayna Picchu") at the Checkpoint control to enter. After that, you will enjoy the tour through the Machu Picchu citadel (only by following Circuit 4). This circuit allows you to visit the Inca's platforms and Colcas, the Sun temple, the Inca's house, the temple of Condor, and the Sacred Rock. Finally, you will reach the preview second Checkpoint control, to begin the hike to the mountain. (Ticket price: $50 around)
Additional note: As you can see, the Huayna Picchu tickets come with access to visit the citadel only through Circuit 4 (a short circuit). If you want to visit the citadel completely, you'll have to take Circuit 1, but for that, you'll have to buy another ticket, one special only for the citadel.
Tickets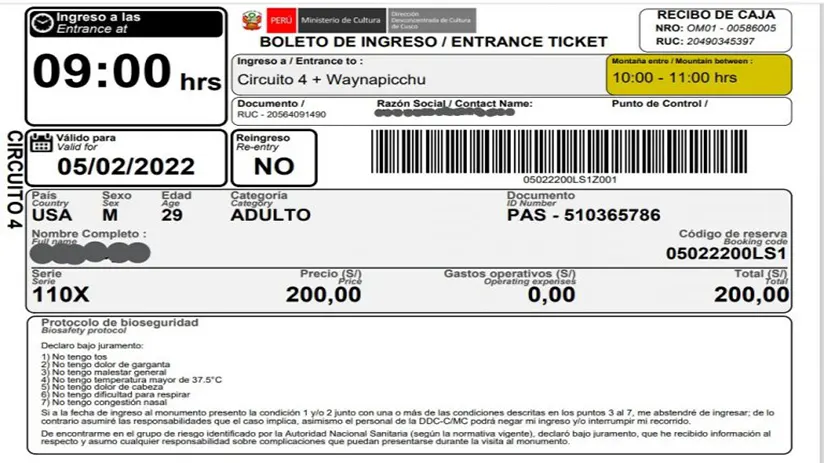 | | |
| --- | --- |
| Circuit 4 + Waynapicchu Ticket | Price |
| Foreign adult (From 18 years old and more) | $50 |
| Foreign underage (Between 03 to 17 years old) | $30 |
| International student (Under 25 years) Prev. show original univ. card | $32 |
| Andean Community of Nations (CAN) Peru, Ecuador, Bolivia, Colombia | $28 |
| CAN underage (Between 03 to 17 years old) | $20 |
| CAN student (Under 25 years) Prev. show original univ. card | $20 |
When you get your Machu Picchu tickets, be sure to also choose the tickets for the hiking route of your preference. You will notice that you can choose to climb Huayna Picchu or Machu Picchu mountain. In this way, if you choose the first one, your ticket will have to indicate: "Circuit 4 + Waynapicchu".
Another important recommendation, booking your Huayna Picchu tickets at least 6 months in advance, these usually sell out quickly the closer the date of use is.
A. What means circuit 4?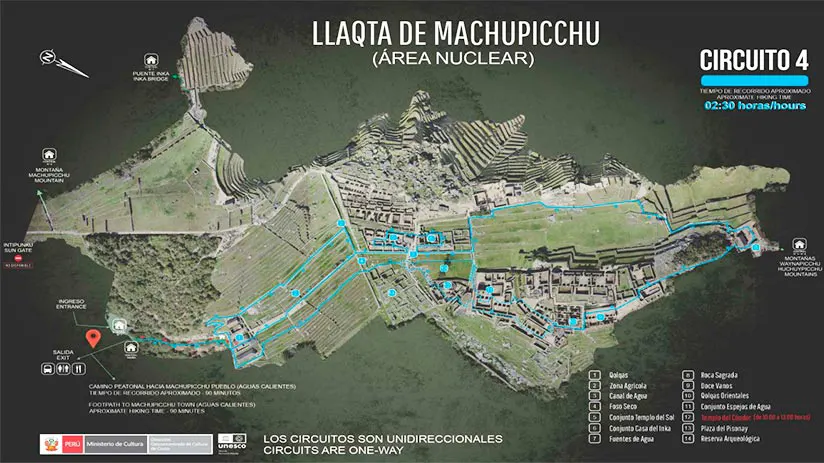 There are 5 circuits to visit Machu Picchu. Each one of them passes through unique and specific attractions, these never cross between them and were designed for a unique type of visitant. For example, Circuit 1 passes through a large part of the citadel. Instead, the second one passes only through the north zone of the citadel. Circuit 4 only passes by some attractions like Sun Temple, condor temple, and sacred rock inter alia. This short circuit is associated with Huayna Picchu's visit (Both in one ticket)
Therefore, if you want to visit Machu Picchu completely, you need to take Circuit 1 and for that, you'll have to buy another ticket with Circuit 1, besides having your Huayna Picchu + Circuit 4 ticket.
Schedule of visit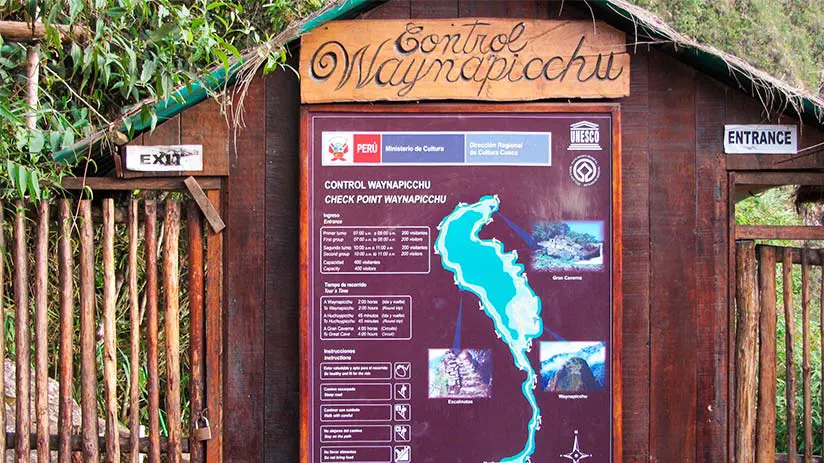 You can enjoy this mountain climbing at any time of the year. But you have to keep in mind that there are four shifts available per day. In each shift, only about 40 people are allowed to make the route, taking one hour preview to enter and visit the Machu Picchu citadel. That is to say, if you have the ticket entrance from 07 to 08 am, you can enter Machu Picchu one hour before (06 am) to visit the citadel (by circuit 4) and after, begin the mountain hike in the range of time from 07 to 08 am. Consequently, the government makes it possible to access 240 lucky people per day to this wonderful mountain.
| | | |
| --- | --- | --- |
| Range time to enter Huayna Picchu | Tickets availability | Perfect for those people who… |
| From 07:00 – 08:00 am | 40 | Spend a night before in Aguas Calientes |
| From 08:00 – 09:00 am | 40 | Spend a night before in Aguas Calientes |
| From 09:00 – 10:00 am | 40 | Just arrive of Inca Trail or Salkantay Trek |
| From 10:00 – 11:00 am | 40 | Just arrive from Cusco |
| From 11:00 – 12:00 pm | 40 | Just arrive from Cusco |
| From 12:00 – 13:00 pm | 40 | Just arrive from Cusco |
These schedules are essential when climbing the mountain. Depending on how you get to Machu Picchu, you will see what the best time is. Either way, you can't stay out of one of the best tours in Peru. Our recommendation is to take the two first schedule in the morning, with fewer crowds to climb and enjoy the views.
Advice and tips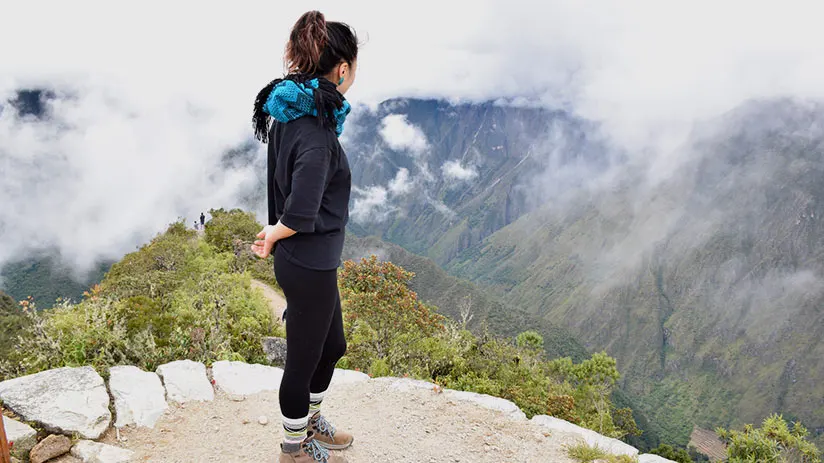 There are some tips to follow if you want to enjoy the climb of this amazing mountain without any inconvenience.
As a minimum, buy your Huayna Picchu tickets 6 months in advance. As you could see, the schedules to visit the mountain and its high demand make full out the availability of tickets quickly. Therefore, buying anticipation your tickets through the website of the Machu Picchu office administration will be recommended, or take contact a travel agency to plan a visit.
By law, a tour guide is necessary during your Machu Picchu tour, not so during your visit to "young mountain". The government understands that most tourists want to visit the citadel to answer the only question, What is Machu Picchu? Therefore, they established a person to guide visitors during the citadel tour. And, usually, these tour guides accompany their clients until the start-point of the trek. From this point, the adventure is at the tourist's expense. But don't worry, the path is well-signed.
Before buying and taking the visit to the mountain, be honest with yourself. Remember, this trek has a level from moderate to challenging. Therefore, if you are not in good physical condition, you won't make it. And the Machu Picchu mountain route can be perfect for you.
If you have children or older persons, see other options besides doing a Huayna Picchu visit. Because its trek demands high physical effort. See other things to do in Machu Picchu citadel like the Machu Picchu mountain or the short Inca Trail trek.
The dry season to do this trek is recommendable always. As we mentioned before, the rainy season can represent a true risk for visitors.
Wearing high-soled hiking shoes (to get good stability while walking on stone steps), lightweight pants, a t-shirt, and a raincoat, besides hats and hiking sticks will be the best. Other important implements can be repellent, sunblock, a bottle of water, and a fully charged cellphone for photos!
How difficult is Huayna Picchu?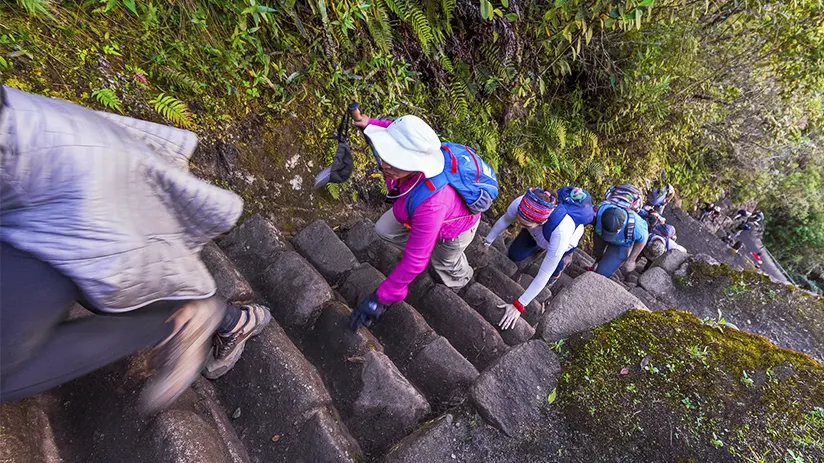 When you are planning a trip to Machu Picchu and the famous mountain, this is an important question. The hike to this famous mountain is hard and defiant. Happily, the route was implemented with steel rope handrails on the steepest parts of the stairs. Also, you will find signs and park rangers at the top of the mountain. Enough elements to be safe. Of course, if you have an old person, children, or friends with vertigo, we don't recommend this kind of route.
Difference between Huayna Picchu and Machu Picchu mountain
Machu Picchu is the famous Inca ruins of Peru postcards. But, besides it, there are two mountains surrounding it, Huayna Picchu (north) and Machu Picchu (south) mountain. The first one always appears in photos behind the ruins and the last one shares the same name as the citadel, and both can be visited.
The path to visit Huayna Picchu mountain is very steep and demands extra effort from visitors to get to the narrow top. On the contrary, the Machu Picchu mountain path is more horizontal, its walk is done in more hours, the top is wider, and you will get amazing views from there, even better than the views of the Sun Gate in Machu Picchu.
So, which is better, Huayna Picchu or Machu Picchu mountain?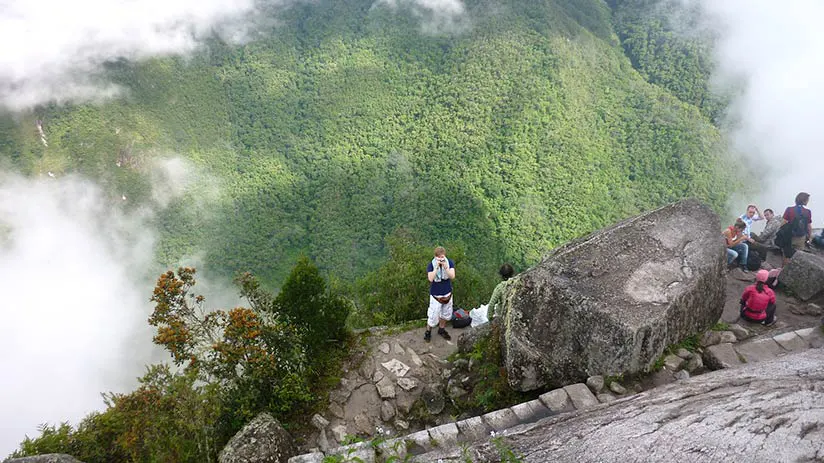 If you are traveling together with your family, it is better to opt for Machu Picchu mountain (3051 meters above sea level) which is the easiest to do. But if you are in good physical condition and are looking for a challenge for you and your couple, better choose the Huayna Picchu trek. Your effort will be rewarded with spectacular photos of the Inca citadel and the entire Vilcanota valley from another angle. You can buy entrances for both mountains, but always in advance. You can also buy them on the Peruvian government page www.machupicchu.gob.pe.
Alternatives hikes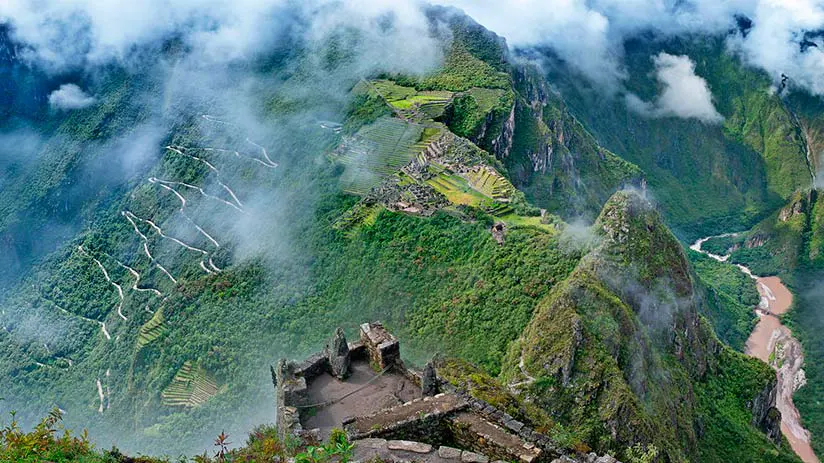 As we mentioned before, usually the entrance tickets to the famous mountain are sold out 4 or 5 months in advance, and it is due to its popularity. Happily, there are alternatives surrounding the Incas citadel, if you don't get entrance tickets to Huayna Picchu. These routes are the hike to Machu Picchu mountain, to Huchuy Picchu mountain, or to Putucusi Mountain.
1. Machu Picchu mountain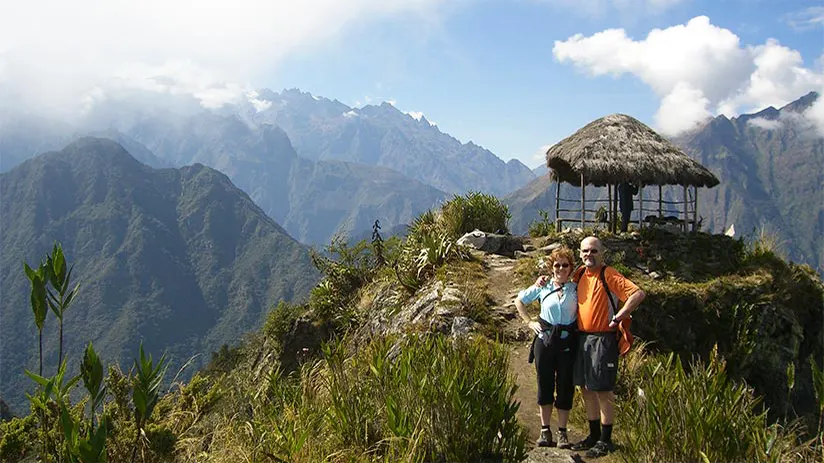 This eponymous mountain is located south of the Inca citadel. Its elevation is higher than Huayna Picchu (1,010 feet or 3,051 m.a.s.l) however its inclination is more horizontal, therefore, it is easier to climb it. Therefore, it is perfect if you are traveling with children, old people, or persons with vertigo. The climb time is around 02 hours and another couple of hours to descend.
This mountain, which shares its name with the Inca citadel, has two schedules of visits: From 07 to 08 am and from 08 to 09 am. Each one offers 50 tickets per day, making a total of 100 entrances per day. These entrances include the visit to the citadel, only by circuit 3. And these have costs similar to Wayna Picchu. The best time to do the Machu Picchu mountain is in the second schedule, in this form, you will visit the citadel, hike the mountain (around 4 hours) and go out from the citadel calmly.
2. Huchuy Picchu mountain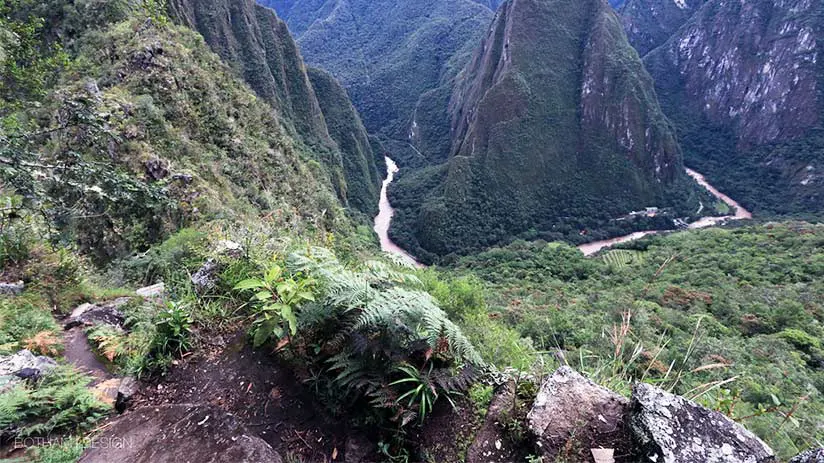 Until recent years, Huchuy Picchu was part of the walk to Wayna Picchu. Both mountains are together, at Machu Picchu north. However, the government managing office decided to create a new route for Huchuy Picchu. Its elevation is 8,193 feet or 2,497 m.a.s.l. Therefore, climbing it is easiest than even the hike to Machu Picchu mountain. Take around a 1-hour climb up and 30 minutes more to descend by the same route. The path is formed by stone stairways, mostly.
This mountain has 6 schedules of visits, from 7 am to 13 pm, distributed by hours (due to its short hike time). In the same way, it has its own entrance ticket and comes with the visit to the citadel included (only by circuit 4). The costs go from $39 per foreign adult, $20 per foreign student, and $18 per foreign underage. Definitely, this is another easy alternative to take the best photos of Machu Picchu with spectacular angles!
3. Putucusi mountain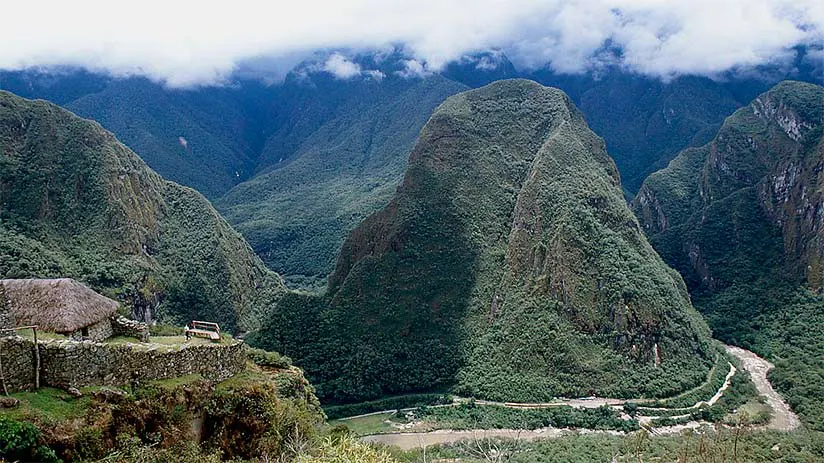 Putucusi is a mountain located on the east side of the citadel. Being further away from the world wonder, it doesn't have a checkpoint, park ranger, nor entrance ticket to visit it. Putucusi has more than 11,680 feet or 3,560 m.a.s.l. Its climbing is more vertiginous and difficult than the previous alternatives. So, it is reserved only for people with good physical conditions. The climb up takes around 02 hours and the descent has the same time.
To get there, the visitant has to follow the railways from Aguas Calientes heading Hydroelectric zone, go straight some footsteps until finds a "Putucusi mountain" sign, at the right hand. The first part of the route is a steep slope of stone stairs (around 600 meters or 1970 feet), the hiker has to be careful, a fall in the middle of this ascent would be fatal. The last part of the path is the same stone stairways in a zigzag over an even steeper slope. However, the photos obtained of Machu Picchu from its top will be fantastic! Route reserved only for adventures and people with good physical conditions.
"TRAVEL IS THE ONLY THING YOU BUY THAT MAKES YOU RICHER"
As you may have appreciated, Huayna Picchu mountain is a challenge to take. Especially if you are an adventurous soul, visiting the old citadel. Therefore, leave the Machu Picchu virtual tour that you can find on the internet and come to do the real experience. Machu Travel Peru hopes that this little article has been useful. If you decide to visit this imposing citadel, this hike should definitely be on your itinerary. To learn more about our travel programs, you can consult with our qualified team of advisers. They will be happy to help you plan your trip.
---