Here we will give you an idea of the road and the Inca Trail Map in general. The series of Inca roads known as Qhapaq Ñan was a complex system of routes. Many of these routes are no longer present due to the passage of time and the human factor. But fortunately, some sections of this route are still intact. And such is the case of the route that leads to the Inca citadel. This route is one of the best ways to visit Machu Picchu. And for that reason, it deserved an article where I could get to know the Inca Trail map in depth. Therefore, together with the experts of Machu Travel Peru, we prepared an article to explain to you, step by step, the days and challenges that represent this famous trekking in Peru.
A day by day tour through the Inca trail map
Inca Trail map overview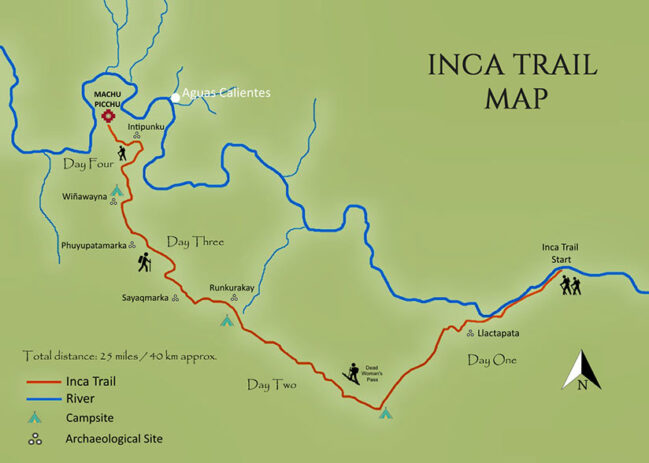 The Inca trail map shows a 50 km extension of a trekking route to get to Machu Picchu from the "82 km" point of the railway to the citadel. Also camp zones, archeological sites, distances, high points, and tourist facilities. It can be summarized in a 4-day journey. Any visitor who wants to do the Inca Trail has to get off the train there.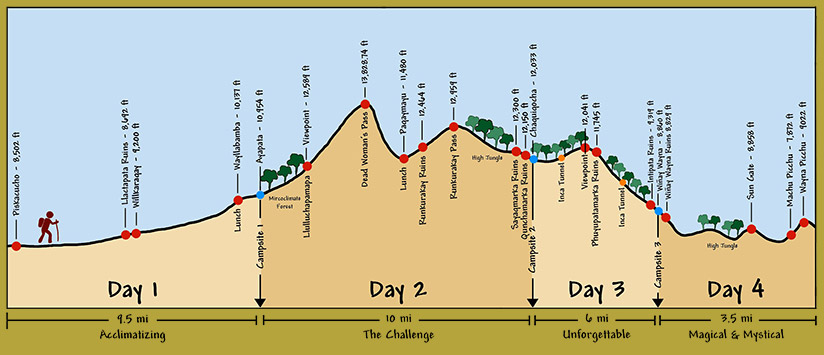 The Inca Trail begins at an 82 km point and finishes in the same Machu Picchu Citadel. Its trekking is considered moderate level. This is due to its location in the south of Peru, over slopes, beautiful valleys, ravines, and hills situated northwest of Cusco. On the other side, what you can expect from day to day on the Inca Trail is a surprising set of emotions, challenges, and landscapes. For this reason, we will offer you a detailed Inca trail map and an idea of the road and the sites that you will see each day to enjoy the experience and plan your things to do in Machu Picchu without any inconvenience.
Day 1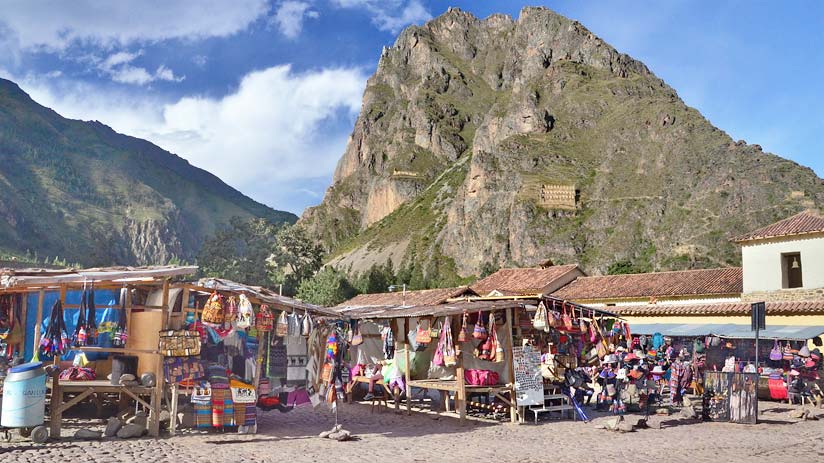 | | |
| --- | --- |
| Physical demand | Moderate |
| Maximum altitude to pass | Wayllabamba 3000 m.a.s.l (9,843 ft) |
You will be picked up early to go to Ollantaytambo Train Station (Sacred Valley zone) outside Cusco, to take any train and get off at point KM82 where the Inca Trail begins. Take note that you will need special permission from the Train company to get you down at this point (you can manage it through a travel agency) Once you have reached the beginning of the trail, prepare yourself, as you will cross the Vilcanota River and begin your ascent. Before long, the Urubamba Mountain Range will come into view, and you will see Mount Veronica, as indicated in your Inca Trail map.
Passing a small town, you will see an Inca site called Patallaqta, which was also discovered by Hiram Bingham in 1911. The ruins are believed to have been used to supply food to Machu Picchu. Continue for another 8 km to the town of Wayllampampa, which will be the first camp to spend the night. Here you will see other hikers joining from other treks like the Salkantay trek, one of the greatest Inca Trail alternatives. This is also the last place where pack animals are allowed.
Day 2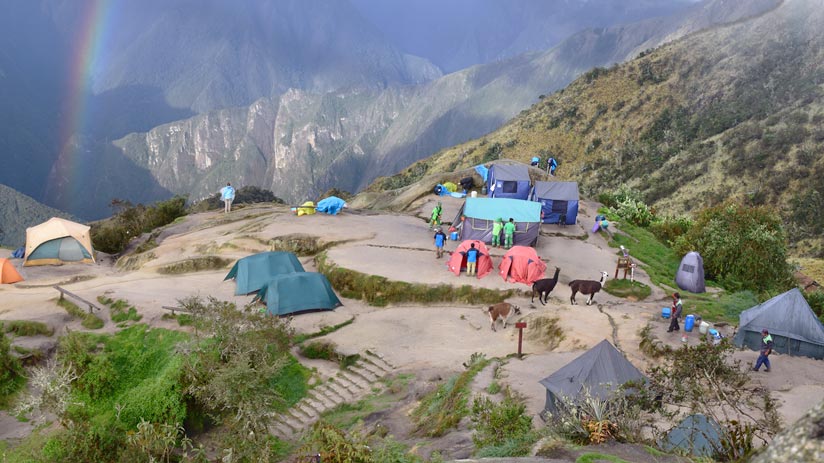 | | |
| --- | --- |
| Physical demand | Exigent |
| Maximum altitude to pass | Warmiwañusca 4205 m.a.s.l (13,795 ft) |
On the second day, you will walk around 12 km, so it is important to have a good breakfast. The distance may seem not so far, but this day is the hardest of the trekking experience. After an hour of walking you will cross a bridge over the Huayruro river, there is a little camp and different bathrooms if you need a refresh.
From the bridge, the trail starts to get steep. Following, you will pass through a cloud forest and a small town around the third hour of hiking. It is on this second day that you can understand the reason for the Inca Trails challenge.
A few meters go, you will need to climb the Warmiwañusca pass, also known as the Dead Woman's Pass. This is 4200 meters above sea level and is one of the highest points on the hike. After recovering from the ascent, a 2 km descent will be made to the camp on the second night, which is located in Pacamayo.
Enjoy a dinner prepared by the camp chef next to a warm campfire.
Day 3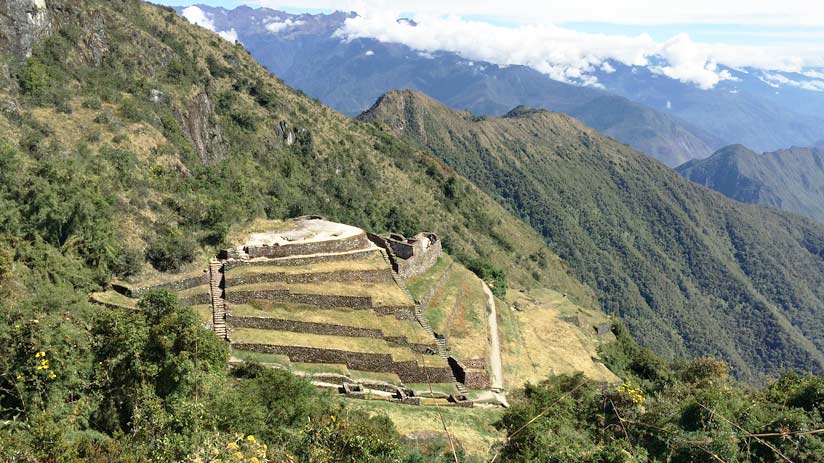 | | |
| --- | --- |
| Physical demand | Moderate |
| Maximum altitude to pass | Runkurakay 3860 m.a.s.l (12,664 ft) |
One hour after the trek began, you will arrive at the Ruins of Runkuracay. This was an ancient watchtower over the Pacamayo valley. Another one more hour and will reach the Runkurakay pass, which is about 4000 meters high. From here, you can begin to appreciate the beautifully paved paths and stairs that are visible on the Inca trail map. Then, you will reach the second pass in Sayacmarca, another ruin with more stone stairs. The purpose of Sayacmarca is still unknown.
Going up to the third pass, you will go through an original Inca tunnel. And once you reach the top, the views on a clear day will be spectacular.
One of the most impressive ruins on the Inca Trail, in addition to others that are located in different Machu Picchu tours, is Phuyupatamarca. Its name means The City on the Clouds, and it was used for spiritual and ceremonial purposes. From here, get ready for a tough descent of about 1000 steps; take your time, as this can be hard on your knees.
Then another 3 hours of hiking awaits you before reaching Wiñay Wayna, the last night's camp. Near the site are the Inca baths that were used to clean the body before reaching Machu Picchu.
Day 4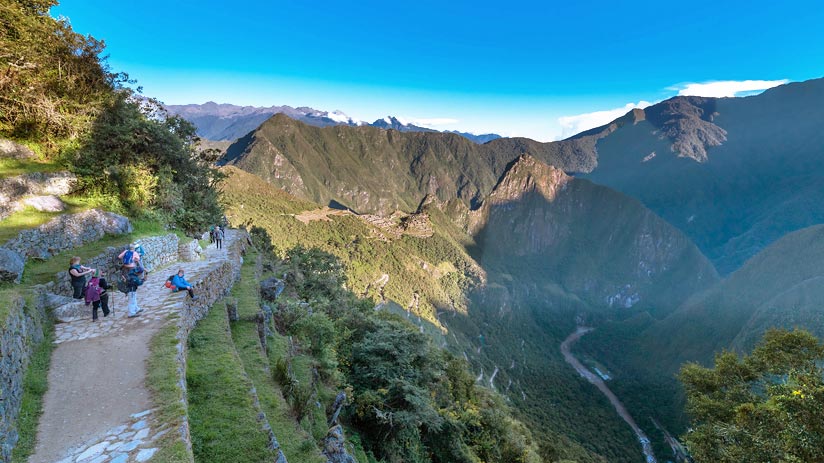 | | |
| --- | --- |
| Physical demand | Moderate |
| Maximum altitude to pass | Wiñayhuayna 2650 m.a.s.l (8,694 ft) |
The fourth day is the last day of the tour. Also, it is the day that the Inca trail map ends to start the guided tour of Machu Picchu.
Your day will start early morning to walk by 2-hour walk until Puerta del Sol. Note that it is still dark at this point, so you will need a flashlight. The trail passes through a cloud forest before reaching the stone steps, which are about 50 in total. But when you reach the top, you will get your first view of Machu Picchu. There, take your time and enjoy the view, taking lots of photos.
Then your guided tour of Machu Picchu awaits you, even, if you want, a visit to Huayna Picchu mountain, where your guide will give you a tour of Machu Picchu. It is there where you will learn about the ruins and their different sectors. After taking advantage of your guided tour, a bus will take you to the city of Aguas Calientes. It is in this small town where you can eat and buy some souvenirs before taking your train back to Cusco. We hope you have enjoyed our Inca Trail map, explained in detail for you.
Another option, the Inca Trail of 2 days and 1 night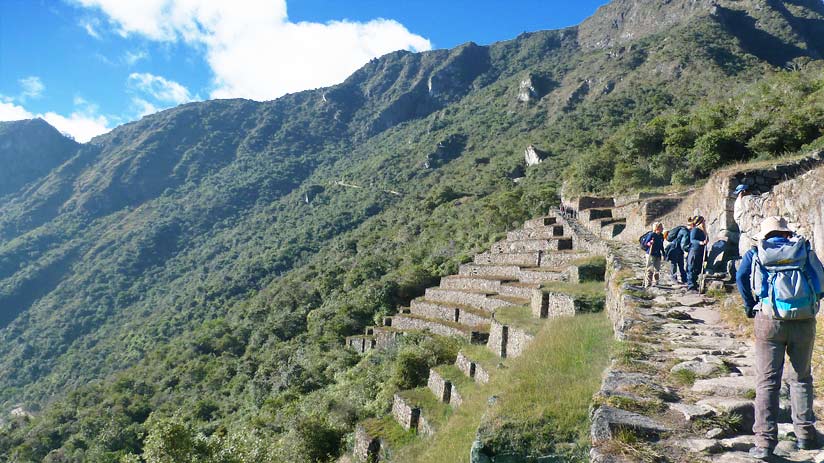 The Inca Trail of 2 days and 1 night has an extension of 11 kilometers and begins from 102 km of the railway to Machu Picchu and finishes in the same Inca citadel. During the first day, you will visit the archaeological sites of Chachabamba and Wiñay Wayna before taking the tour of Machu Picchu Finally, the tourist will spend a night in Aguas Calientes (Machu Picchu town). On the second day, the visitor only has to take the return train to Cusco. In the same way, you will need a travel agency to hire this tour. This is a special option for someone who wants a minimum level of effort to get to Machu Picchu.
Tips to enjoy the Inca Trail experience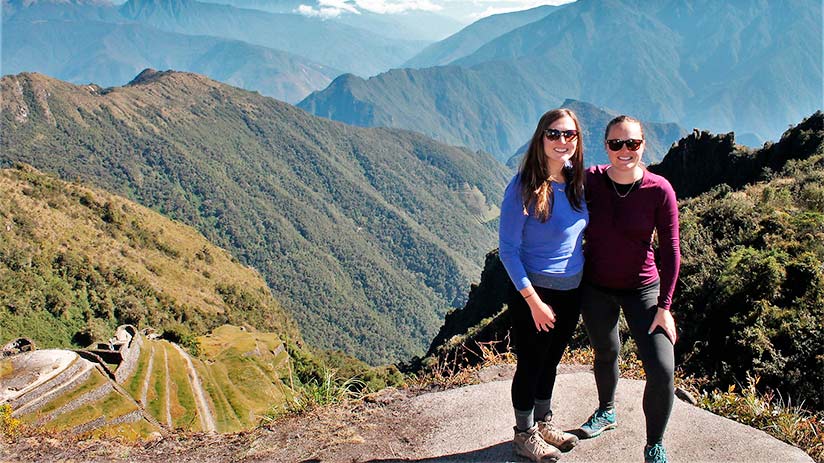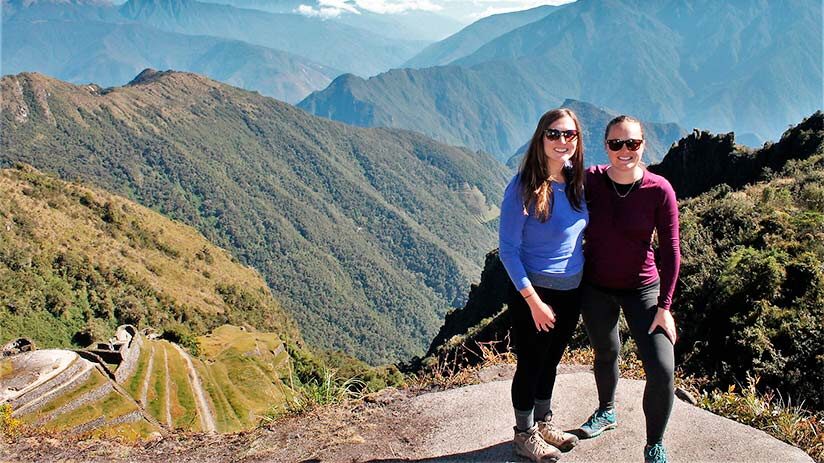 Today, if you want to know how to prepare for the Inca Trail, then you should know that it is one of the most challenging adventure tours. Being able to reach the Inca citadel, as the ancient inhabitants did, is a reward without parallel. Thousands of tourists walk the trail each year, so you will need to make the Inca Trail booking in advance. Remember that the Inca trail trek has a moderate level of effort, therefore, we want to give you the best tips to face this trek in the best way.
By government law, this trekking can't be done by yourself, you will need a specialist travel agency, always. Even, at the start-point (82 km) there is a checkpoint where security personnel will check your documents (passport) and verify your guide and your support travel agency. This is due to the slopes and cliffs that present the route and the experienced person who must accompany you during the tour.
As a minimum, book an entrance 8 months in advance. The Inca Trail availability is highly demanded by miles of tourists every year, in opposition to a few entrances that the Peruvian government makes available per day (This is due to a recommendation of a master plan of Inca Trail conservation made by international experts). Specifically, 500 entrances fee per day, not only for tourists but also for travel agency personnel. Therefore, making contact with a travel agency in advance will be the best idea.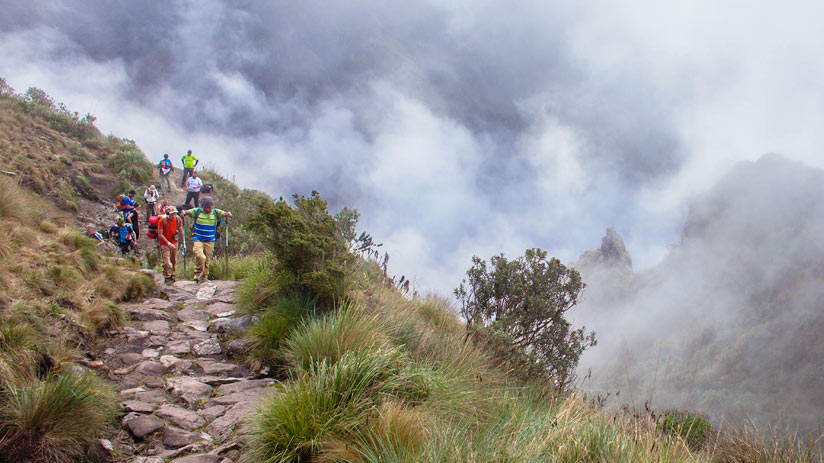 The best time to visit it is in the dry season (April – November). Think about it for just second, clear skies, mild weather, sunshine rays, and perfect views for photos. On the other hand, rainy season (December – March) you will find hard rains, cloudy skies, humid and cold weather, and muddy zones, with the possibility of glissade. Also, the maintenance of signals and other facilities located throughout all routes is done during this period.
Usually, the Inca Trail cost (Through travel agencies) is around $500 to $1000, but this will depend on facilities included like pack animals, cookers, and muleteers, among others. Besides the mode of the tour package, in a group or private.
"TRAVEL OPENS YOUR HEART, BROADENS YOUR MIND, AND FILLS YOUR LIFE WITH STORIES TO TELL"
Together with Machu Travel Peru, we hope we have summarized the most important things to know about the Inca Trail map. Keep in mind that this route is desired by much more than adventurers and tourists. So a reservation is highly recommended. In the same way, it is not the only Inca route to appreciate diverse and impressive landscapes. You can consult with our qualified advisors to give you an idea of all the treks that you can enjoy. They will be delighted to help you make the trip of your dreams come true. Besides, you don't want to miss out on one of the best things to do in Peru.
---