Are you in love with the beach vibes? Just a few hours from Lima, there is a truly out-of-the-ordinary beach town called Paracas, which is part of the government-protected Paracas National Reserve. Here, the vigorous winds blow in from the vast desert and make Paracas a world premium spot to practice extreme sports such as wind-surfing, go-kart and paragliding. But the most popular, which attracts those with intense love and passion for extraordinary and adrenaline sports, is kitesurf in Paracas.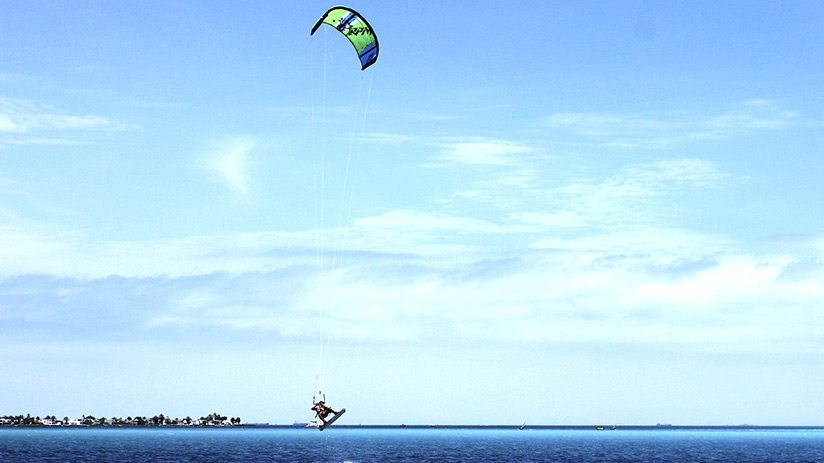 *In 2009, Paracas was declared the best destination for kitesurfing by The Kiteboarder Magazine.
However, this desertic paradise has another wide variety of interesting sports and things to do in Paracas Peru. Thus, you will never be lacking for activities to enjoy your trip around here:
Buggies and Meditation in the Oasis
Stand up Paddling
Paragliding
Explore the Paracas National Reserve
In addition to that, this charming bay, around 235 km from the historical Lima, offers you not only good spots for watersports but also a splendid combination of ancient Culture and nature. Ballestas Islands and the wildlife living amongst them, such as Humboldt penguins, sea lions and thousands of birds, make Paracas a beautiful and biodiversity-rich place. For these interesting reasons, do not hesitate and take some tours in Paracas, they are definitely impressive and educational!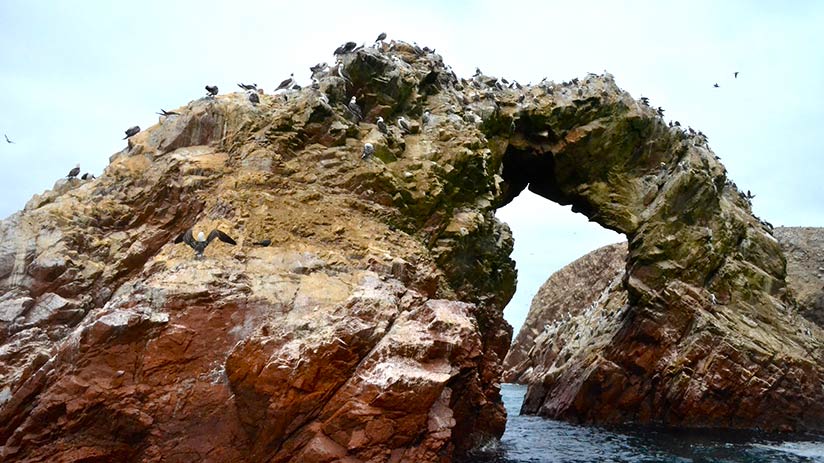 Important note: There are some protected areas in Paracas National Reserve. So please, respect and protect them. Saving the world is everyone's mission.
Best Season
There are several aspects that make Peru stand out as a perfect destination for kitesurfing. For example, the little climatic variety, due to the thermal effect produced by the combination of the hot desert and the cool Humboldt current.
Fortunately, Paracas, with its good weather conditions, flat shallow water areas and constant winds all year long, allows you an optimal navigation. Thus, this bay is one of the best and ideal spots to practice kitesurf in Paracas.
Paracas National Reserve contains too many points with different conditions for each style or variant of kitesurfing: Wave riding (surfing waves) or freestyle (manoeuvres in the air).
Take note:
Low season, from May to August: High probability of wind, about 60%
High season, from September to May: Wind most the days
Peak season, from December to March: Peruvian summer, most tourists around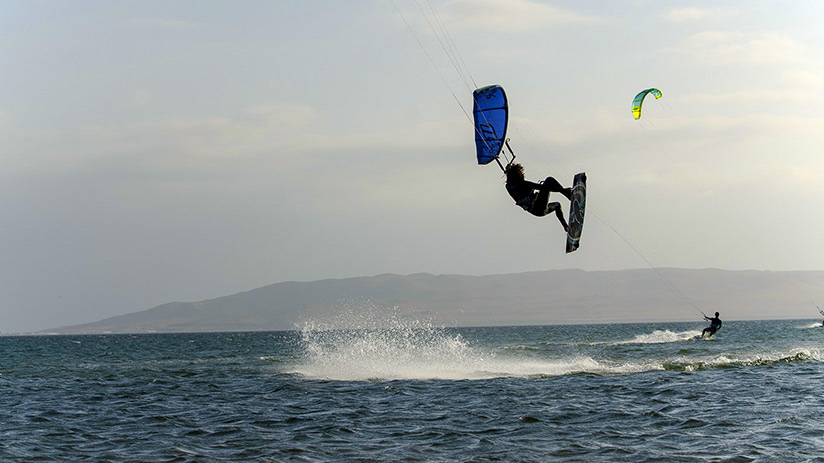 *Wind commonly starts around midday and it continues until the sun goes down.
Is Kitesurf in Paracas for everyone?
The perfect conditions of Paracas are perfect for learning and progressing. Paracas is adapted to any level of abilities and experience, since experimented "kiters" to enthusiastic beginners.
This U shape bay is a great beginner scenery because it is incredibly safe. So, if you are a beginner "kiter", you are blessed! You will find a good place to start your practice and get a rush of adrenaline with a little risk.
If you want to take some classes and know how to choose the right school, we will give you some advice to identify a good one:
It is really important to choose fully trained instructors. It's a plus if they are certified by the International Kitesurfing Organization (IKO).
*IKO: The leading and most recognized worldwide training organization.
State-of-the-art equipment
New models are designed to "fly" faster and better than old equipment. Choose smartly and do not put yourself in risk!
A rescue boat is commonly required when teaching in deep water. It is not mandatory, but keep in mind that the wind in Paracas can change at any time, you can miss your equipment and even hurt you, so a boat would be a great idea! Also, the school has to be insured.
A right location will be always an ideal teaching area. Try to search about it and decide where you would like to start practising the basic techniques!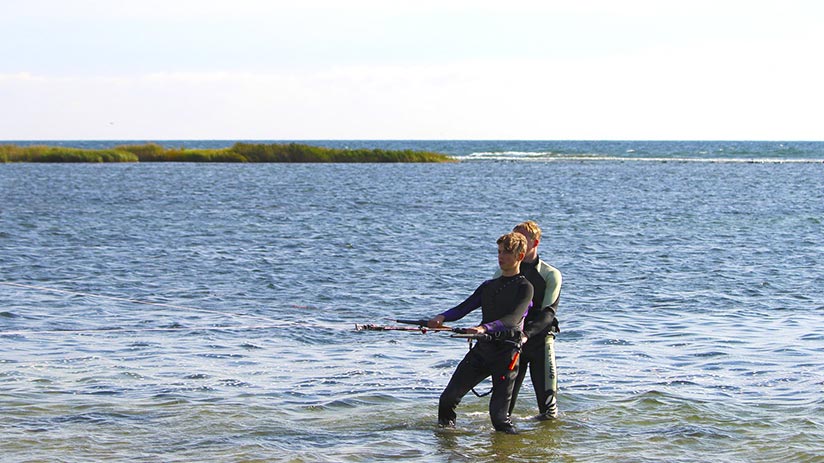 Best spots for Kitesurfing in Paracas
Paracas Bay: Cross offshore – Flatwater
This kite zone is a flat-water bay with a shallow entrance, so it is really difficult to drift out to open sea. This is a great spot for "kiters" because it uses to be uncrowded. But the busiest season is from January to April.
Zarate: Side shore – Waves – Open ocean
The best one to kitesurf in Paracas. It has long and clean waves with nice tubes formed by the side shore wind.  Sometimes, they can reach from 1 to 7 feet high. Really cool, right?!
*There are some rocks and sea urchins in the water.
Playon: Cross offshore – Beach break – Open ocean
It is located in a big open bay where you will find from small to medium size waves. This place is really interesting and fun, and your first experience in the water will be shared with sea lions.
*The wind can be blustery so be careful and take the precautions of the case.
Mendieta: Cross offshore – Flatwater – Open ocean
Despite being a small bay, the huge rock formations and cross offshore winds make Mendieta one of the advanced spots for kitesurf in Paracas.
Laguna Grande: Cross onshore – Flatwater lagoon
The last but not the less important point in Paracas. This perfect lagoon is a flat-water paradise, with its soft sand it becomes a heaven for those who want to learn to kitesurf in Paracas.
However, there are two more main kitesurfing spots in Peru:
Choopy waters with plenty of space. The kite spots are Mancora, Sechura and Lobitos.
Pacasmayo: In Trujillo, in between Lima and Mancora
It is famous for being the "World's longest wave". Some spots in the area are Puerto Chicama, Gallito Ciego, Puerto Morin and Puemape.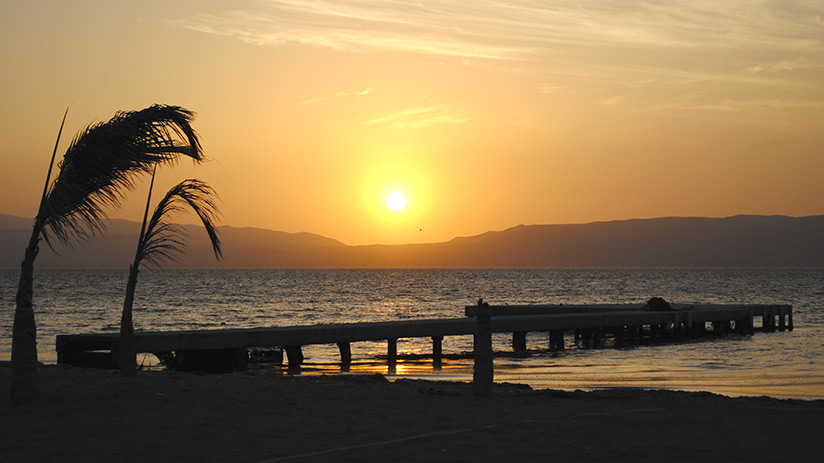 ---