Most tourists looking to visit the majestic Lake Titicaca, usually go to Puno (A modern city close to the lake) to find comfort and relax. But fortunately, nowadays, this city is not the only lodging option close to the natural attraction. Lake Titicaca hotels are many, and for all tastes. The wide variety includes luxurious lakefront hotel options to modest accommodations on islands. The reflection of a calm lake in the mornings in your room, gourmet dishes, relaxing jacuzzis among others you will find in our best Lake Titicaca hotels list. Therefore, together with our colleagues from Machu Travel Peru, we have prepared a small article with some of the best hotels in Lake Titicaca. Next, we will show you the most popular options among tourists.
Some of the best hotels in Lake Titicaca
For Luxury stays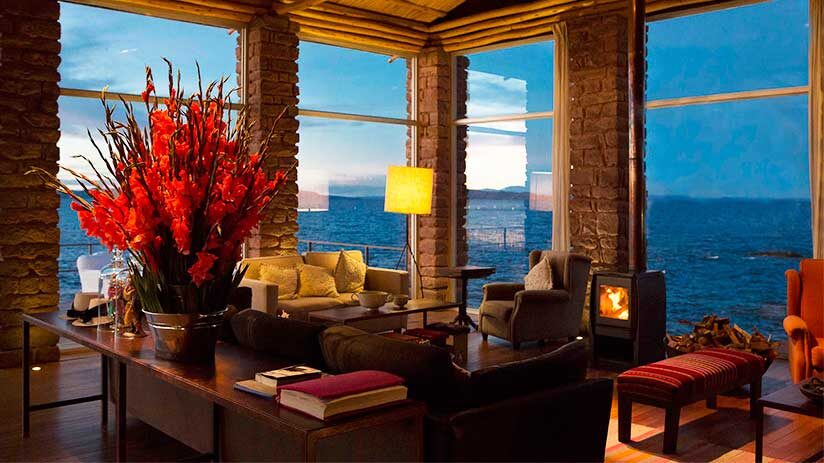 A lake located over 3,812 meters above sea level, with waters blue deep, and a reflection that remembers the perpetuity of the Sun the 365 days of the year, is the main factor that no luxury hotel around Titicaca should waste. Wake up in a comfortable room, with all services like air conditioning, lacquered wood floors, Peruvian cotton sheets and bedspreads, European first-class furniture, and a window with a view of the lake that occupies an entire wall, is the main experience that offers the following Lake Titicaca hotels. To begin your day with energy and enjoy your tours inside the lake.
Titilaka Lodge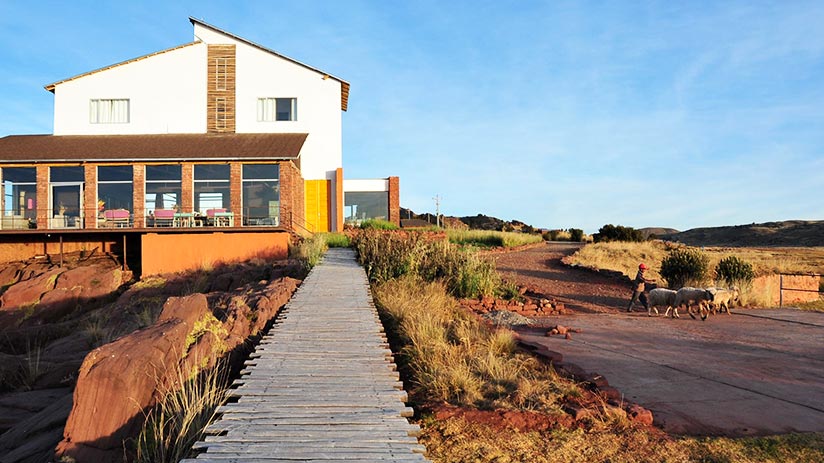 The Titilaka hotel is an all-inclusive, stylish resort located on the shores of Lake Titicaca. This hotel in Lake Titicaca offers a true escape into the mysterious and luxurious Peruvian pre-Inca culture called Tiahuanaco. The hotel property has four acres of private land within a peninsula an hour's drive from the nearby city of Puno. Its 14 rooms of contemporary decoration, which look more like suites than rooms, have complete bathrooms with a jacuzzi, individual bathtubs for a moment of relaxation, and even a mini business area. Of course, all of them have giant panoramic windows overlooking the calm waters of Lake Titicaca (These windows take up the whole one wall of the room!)
Also, the rooms are distributed in three levels, connected by central corridors. This incredible resort has exclusive access to a private beach, as well as some adventure tours in the surroundings. You can choose to enjoy delicious gourmet dishes, take different activities that have the hotel on the Lake, and much more. One of the best accommodation options around the Lake. Also, the hotel is a perfect base to enjoy the near archaeological sites, the Lake Titicaca islands, and the wonderful culture of the place.
GHL Hotel Lago Titicaca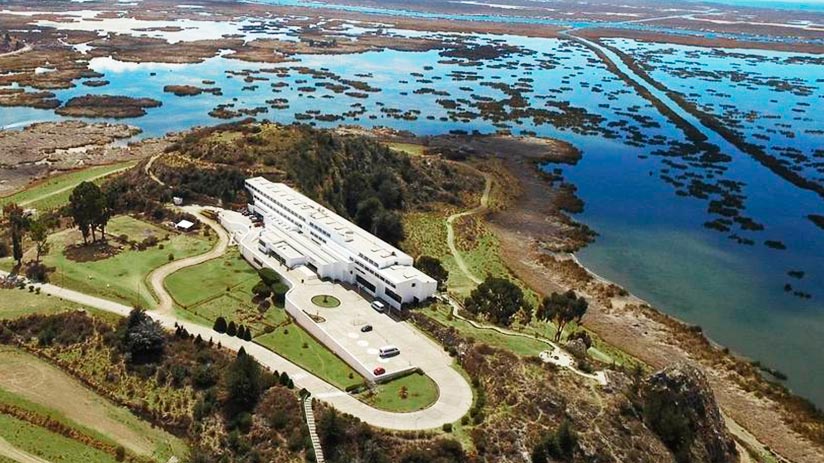 The GHL Hotel Lago Titicaca is another luxurious hotel in Lake Titicaca that stand out among all the others. It is located within an entire private island (Estevez island) and offers some of the best views of Lake Titicaca. The attention and service are spectacular, not to mention the wide range of facilities offered by the establishment. It has 123 well-adorned and equipped rooms, most of them with panoramic views of the lake, as well as being oriented to the east for sunrise.
Without mention of the services of its exclusive restaurant, a complete gym, meeting room, topical of oxygen, business corner, and even saunas. Separate not is saying that the hotel has its own private port where boats depart heading to Uros, Taquile, and Sillustani island. Therefore, after a boat tour on Lake Titicaca, returning to the comfortable rooms of the GHL Hotel is one of the best ways to relax. Definitely, among Lake Titicaca hotels, the GHL hotel is one of the most luxury hotels.
Superior class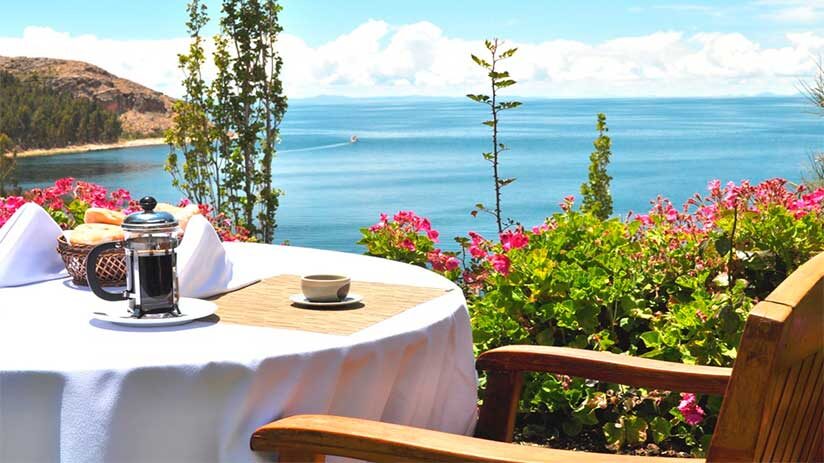 The right balance between luxury and flexibility. Exclusive rooms with service of the most high-quality, like gyms, saunas, restaurants with Novo-Andean dishes, and traditional Peruvian cuisine. But, Where does flexibility come in? Well, in the additional activities that these Lake Titicaca hotels offer around their installations, like visits to Uros, Sillustani, and Taquile islands, Bird watching, guided tours on the lake coast, and fishing of trout, among others. Different activities according to your desires can offer you the following hotels.
Casa Andina Premium Puno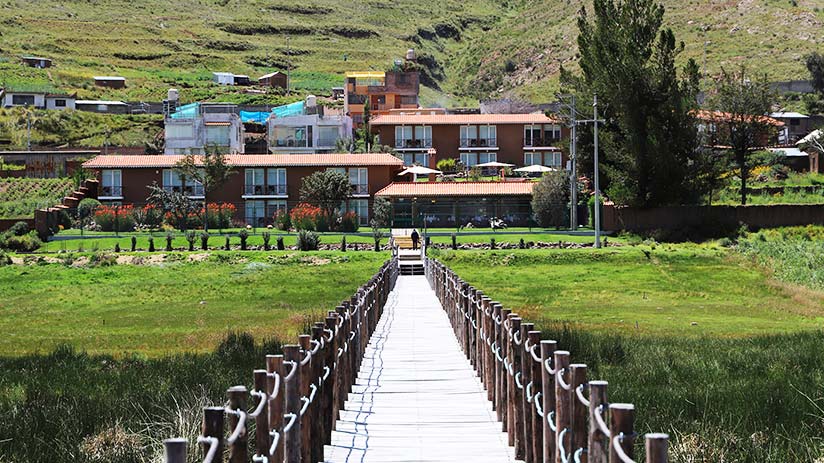 What every tourist looks for in a good hotel in Lake Titicaca, are exceptional views of the Lake. And luckily, Casa Andina Private Collection Puno offers uninterrupted views of the lake. This incredible establishment is part of the Casa Andina group, one of the most stable hotel chains in Peru. The hotel's design seeks to blend in with the highland area with its terracotta exterior, clay tiles, and stone walls. Its 45 rooms (100% non-smokers) are decorated with a modern style and well-equipped with large bathrooms and security boxes among other facilities. The hotel, in general, offers oxygen at the front desk, Sauna, and Spa, terrace, laundry service, restaurant, and even buffet breakfast in entire its services. Also, Casa Andina Premium Puno is conveniently located where is Lake Titicaca located, on the outskirts of the city of Puno.
Amantica Lodge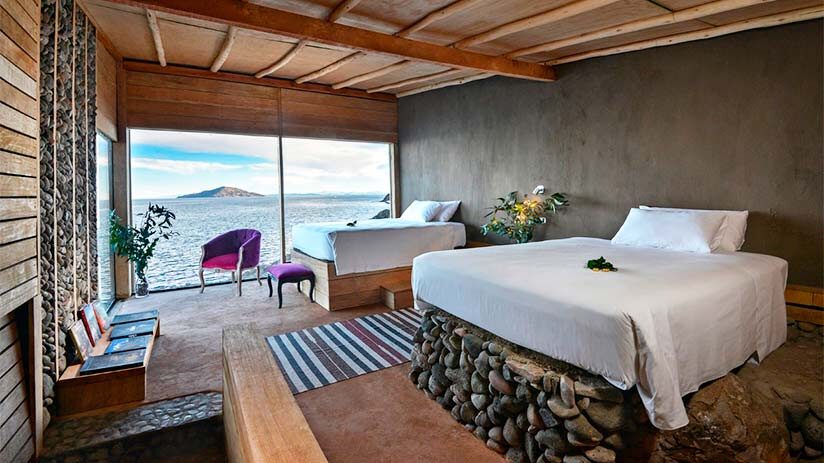 If you are looking for an exclusive lodge, completely for you, with the assistance of 24 hrs by the same owner, a la carte dishes prepared by the lodge's private chef, a well-equipped bathroom with a massage bathtub included, and exclusive activities around the lodge, all of them organized for the same owner. And, above all, knowing that your payment of lodge booking is contributing to social helping local children of surrounding communities. So, Amantica lodge is for you! This lodge is formed of only two suites with a panoramic view of the lake, one of them has a king-size bed (for couples), and the other one has two king-size beds (for a family)
Both rooms share a complete bathroom with a great view of the lake, only separated by a giant window near the bathtub. Also, both suites share a comfortable fireplace. The guest (who must rent the entire lodge or the two suites) will have the carte specialized of the private chef of the lodge, butler service, and fascinating tours guided by the same owner around the lodge. So, what are you waiting for?
Isla Suasi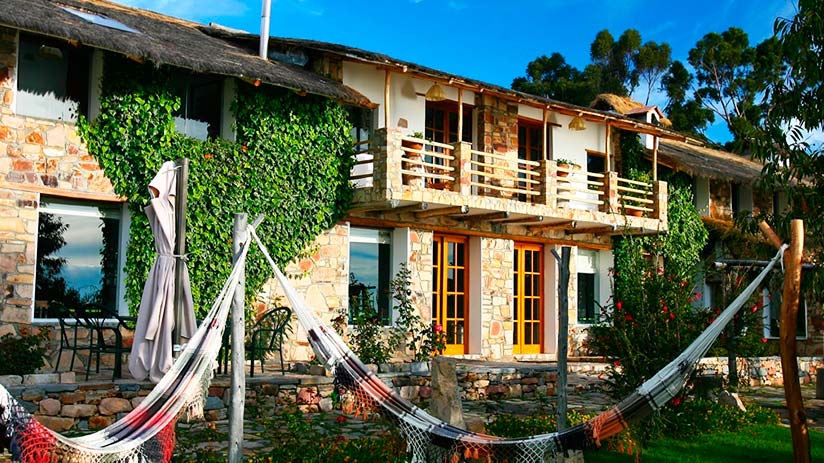 Suasi is the only entire private Lake Titicaca island bought by the Peruvian government. This secluded island from the Uros floating islands is located in the northeast section of the Lake. Within its 43 private hectares, you can find one of the most amazing ecological hotels in Peru, with 23 large rooms, most of them with terraces and little gardens. And Andean Cottage, an exclusive villa located on a small sandy beach. This lodge is much more than a large country house, built by indigenous workers using local materials.
Suasi brings a relaxing and peaceful feeling to its guests. The lodging creates a reserved and intimate environment where you can enjoy privacy after a large day developing the different activities that the hotel offers in its surrounding areas, like swimming in the Titicaca lake, take brunch, lunch, or dinner on a natural lookout, near the fireplace or in the backyard, trek in surrounding places to see the charm Vicuña (From the family of South American camelids but more stylized), canoeing at sunset, birdwatching, kayak, massage sessions inter alia. On Suasi island, you will never get boring.
Jose Antonio Puno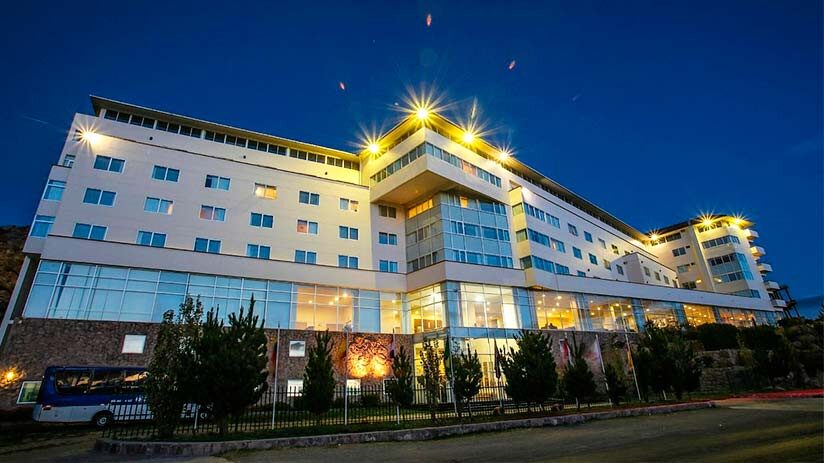 Jose Antonio is the superior hotel closest to the modern city of Puno. Modern decorating, large windows, sheets, and mattresses with Peruvian cotton, walls painted with terracotta colors. All of them are embodied in 131 rooms distributed in a giant building, close to the coast of Titicaca Lake. Each one is equipped with Wi-Fi, a minibar, cable TV, private bathroom with a shower and bathtub. The hotel has a service of transportation to the Taquile, Sillustani, and Lampa islands. Also, you will find a private dock to the lake, a parking area, oxygen at the front desk, laundry services, a meeting room, Wi-Fi center, among others. Definitely, Jose Antonio Puno is the superior hotel closest to Puno city. This can be the best option to enjoy Lake Titicaca hotels and Puno city equally.
Comfort and relaxation
As we mentioned before, the offer of Lake Titicaca hotels is varied and for all tastes. The meaning of Lake Titicaca is gray cougar, because, according to the legend, the first Inca descended from the skies mounted on a rock in the shape of a cougar in the current Isla del Sol (located in the part of the lake administered by Bolivia). Like this, the lake has many interesting legends to be discovered and offers an infinitive of experiences and activities over its waters. And for those who want to spend more time sailing and visiting magnificent islands and using the hotel installations just to relax and rest peacefully, these options can fit perfectly. Lodgings with the necessary facilities to relax, maybe taking a massage session, or rest in your private bathtub. For these kinds of people, we prepare the following list of Lake Titicaca hotels.
Sonesta Posada del Inca Lake Titicaca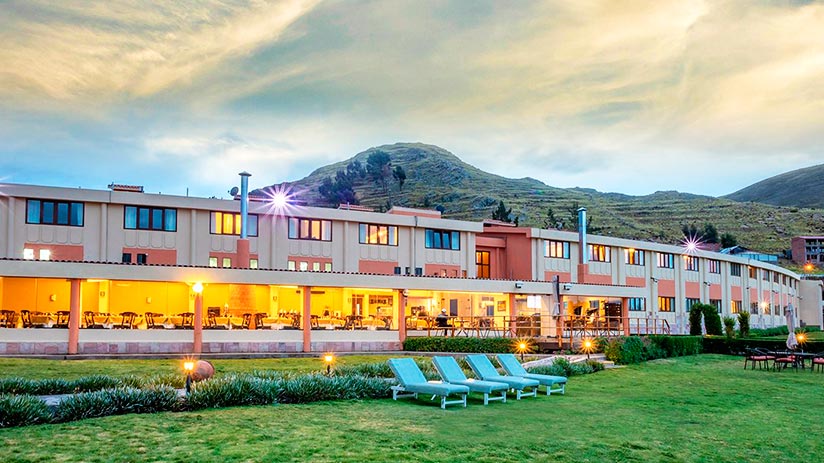 Another great option for luxurious and stylish hotels is the Sonesta. This good-quality hotel on Lake Titicaca is ideal for those looking to spend a short time (a night or two) in the surroundings of Puno and the Lake. Precisely, it is located, on Puno's outskirts, on the coast of Lake Titicaca, and has its own private port for excursions inside the Lake. The hotel has 70 guest rooms well-equipped with soundproof windows, a single air conditioner, and Wi-Fi, among others. This property is modern, opulent, and boasts beautiful panoramic views of Lake Titicaca.
Besides a modern business center, meeting room, oxygen service at the front desk, parking zone, and much more. The most important fact of Sonesta Puno is that it offers a quaint and extravagant stay, where the glass-fronted restaurant (of national and international cuisine) is one of its best attributes. But besides all this, the hotel is known by offer excursions around and inside Lake Titicaca, like Uros, Taquile, and Sillustani visits, birdwatching tours, and campfires close to the lake inter alia. This place is a recommended base where to enjoy all things to do in Puno.
Taypikala Lake Hotel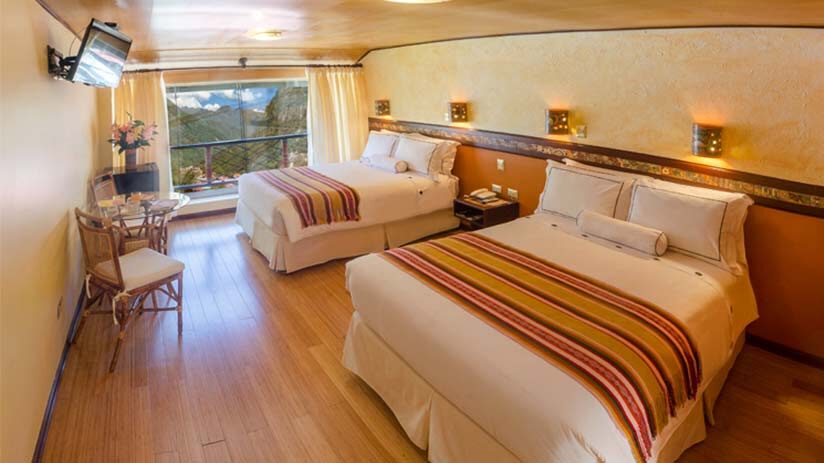 Taypikala Puno is one of the hotels that was first established in Puno. It could be said that its name "Taypikala" is already a registered trademark in Puno, the city that contains Lake Titicaca. The hotel is ideal for those visitors of 3 members or more (groups) because its 77 guest rooms are varied, double, triple rooms, and suites, among others. Each one has air conditioning, a phone, showers, tubs, a safe, Wi-Fi, and 24-hour butler service. Without mentioning, the amazing Lake Titicaca views from their windows. The hotel is located 25 minutes south of Puno. In a place where you will find tranquility and peace.
Its awesome infrastructure with plaster arches and covered terraces resembles a typical Peruvian colonial hacienda. The extra services of the hotel include a sauna with a jacuzzi, a covered pool, a conference room, a meditation and yoga room, Temascal ritual therapy, handicraft store among others. Its restaurant offers modern Peruvian cuisine, besides the surrounding experiences that the hotel offers, like a visit to the Lake Titicaca islands, hiking, aquatic sports, and more. Definitely, Taypikala is your best option for spending wonderful days in Puno and Titicaca with friends or family.
Tierra Viva Puno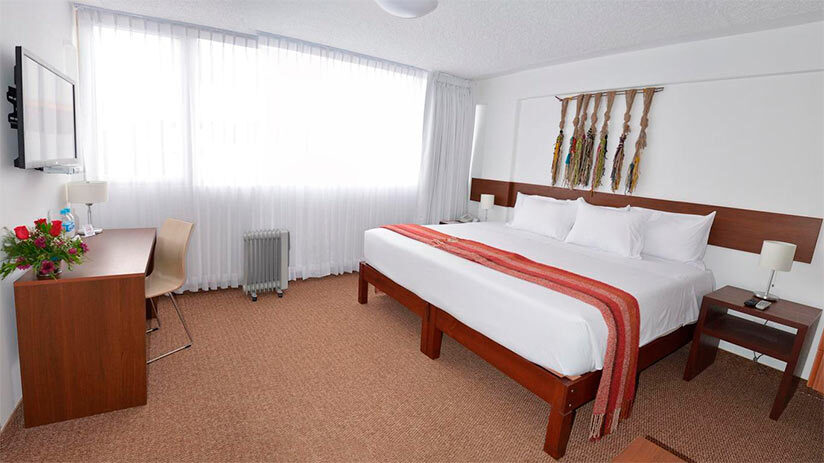 If you are one of those people who want to enjoy nature, but without getting too far from civilization, this hotel is just what you are looking for. If you have a Lake Titicaca map, you will realize that Tierra Viva Puno is located in the same Puno city, exactly in "Lima" street, the most commercial one in all the city, in the historic center, close to tourist restaurants, bars, and the main city's port (to depart heading to tourist islands like Uros, Sillustani or Taquile).
Its 30 guest rooms have soundproof windows, large windows, perfect lighting, HD TV cable, Wi-Fi, a safe deposit box, king or queen-size beds, and large private bathrooms. All the building is decorated with local art, and you will have the possibility of getting walking to the Cathedral, the main square, the Dreyer museum, and handicraft markets inter alia. Tierra Viva hotel is a good option that you should not overlook.
"NOT EVERY LAKE DREAMS TO BE AN OCEAN"
As you can see, these are just some examples of amazing accommodations around Lake Titicaca. But many other varied options are, ranging from luxurious to classic and modest. You cannot miss out on touring the grounds of these incredible places. We will be waiting together with our colleagues from Machu Travel Peru for your early arrival. Don't hesitate to contact us and see the great variety of lodging and accommodation around Titicaca Lake!
Peru has so much to offer, it can be hard to know where to start. With many years of experience in the tourism sector, Machu Travel Peru is happy to help with anything regarding your trip to Machu Picchu and any tours around it. Make your Machu Picchu experience an unforgettable one!
---