If you are planning a trip to Peru, you will most likely do it with Machu Picchu on your mind. But if you do a little research, you will discover that Peru is much more than just this wonderful destination. And as your travel date approaches, you'll discover how excitement mixes with healthful anxiety. And being able to go through the Lima airport can be something truly intimidating, especially if you don't know the official language. Therefore, together with the Machu Travel Peru team, we want to help you gather the information you need to know about Lima Airport. Lima's Jorge Chávez International Airport is a rather large place. So you need to know how to navigate within it. Find out everything you need to know about Lima Airport.
Lima Airport is the main airport in Peru. And therefore it is usually the landing destination of numerous international flights. So if you plan to travel to another destination in Peru, you will most likely make a stop here. This airport is a single terminal, and compared to other renowned airports, it can be a bit small. However, this ranks as one of the busiest airports in South America. It has a traffic of approximately 16,500,000 international and national passengers in a single year. And if you are looking to go from Lima to Machu Picchu, you will surely know this wonderful airport.
Everything you need to know about the Lima Airport
A LITTLE INFORMATION ABOUT THE AIRPORT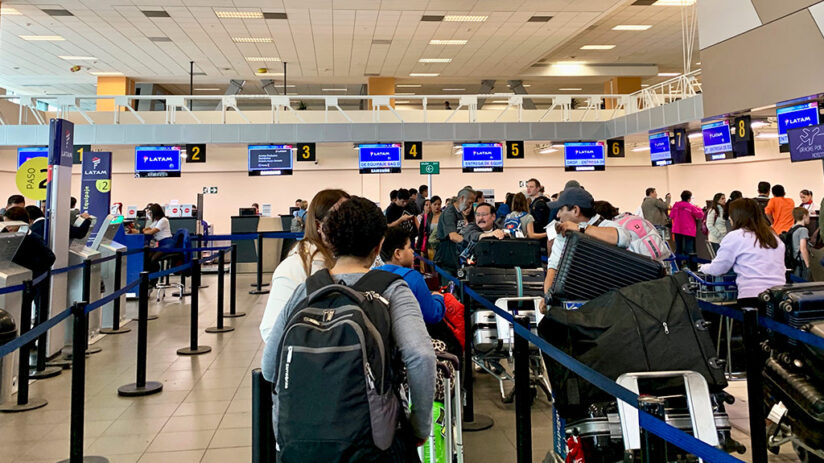 If you want to know about Lima Airport, you should know that it was inaugurated in December 1965. And it was intended to replace the old Lima airport in San Isidro, called Limatambo. This was privatized during 2001 when the Peruvian government granted LAP (Lima Airports Partners) the 30-year concession for the expansion, operation, improvement, and construction of the airport to different companies and investment funds.
Therefore, with their continuous improvements, modernizations, and expansions, they made the Lima airport one of the most modern of all. Besides, it is considered one of the best organized and easy to navigate in Latin America. So you can somehow avoid international comparison. Now, the hard work of management and staff is often regulated with rewards. And the Lima Airport was awarded as the "Best Airport in South America" or "Leading Airport in South America".
And today the Lima airport is the main international gateway to Peru. It operates an area of approximately 2.51 million square meters. In addition, it has a track of about 3.5 kilometers in length. And along with the runway, it has a platform of about 402,600 square meters and about 60 aircraft parking spaces. This is not to mention the area of more than 90,150 m2 along with 44 departure lounges and some 19 loading bridges. In addition to 142 passenger check-in counters. Lima airport serves as a hub for some 24 airlines. And also about 50 international destinations along with another 18 national destinations. As of 2019, it was formed as a logistics center for cargo in South America. Local flights will allow you to visit the many tourist attractions in Lima.
And if you want to know more, today a true expansion project is being carried out that triples the size of the current airport. This includes a second runway, a second terminal, and a new control tower. Finally, the airport and the new airport city are planned to be properly connected. Through an improved road network system and mass transportation.
THE DESIGN OF THE LIMA AIRPORT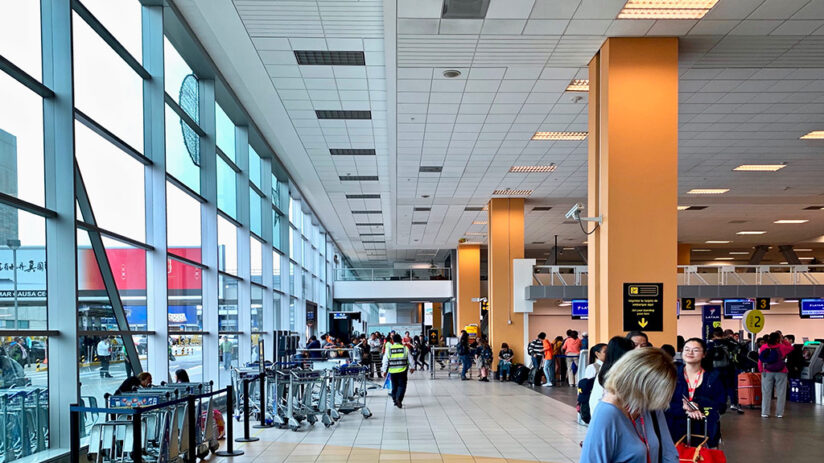 Jorge Chávez International Airport is located in the Callao district. And how far is Lima Airport from the city center? About 7.5 miles (12 kilometers) west of downtown Lima. That is, approximately 10.5 miles (17 kilometers) north of Miraflores. And the entrance to the Lima airport is on Avenida Elmer Faucett. Also, compared to some confusing and large airports within North America and Europe. Besides, Lima Airport has a single terminal that serves both international and domestic flights.
But despite this, it could be considered a small but very well organized airport. Its design is designed for the comfort of passengers. So all the posters are in English and Spanish, while a large part of the staff is bilingual. So you will not have great trouble locating yourself. If you were wondering about the best time to visit Lima, you have to know that any moment is good. And in case you are wondering how to get to Lima airport, you should know that it is known to everyone. So with a taxi from any of the main districts, you will arrive without any problem.
While in the center, on the ground floor, there are the counters where the billing is done. And on the right are the national arrivals while on the left are the international ones. And on the second floor are the airline offices with large stores and a food court. In addition to finding the security control that checks each of the passengers.
Once you have passed through the control, you will be able to see both the international and domestic departure gates. And there you will also find food and beverage stores such as duty-free shops. Now, if you are looking to travel within Peruvian destinations, you will find the national exits on the right. Please note that many of the doors are on the same ground floor. So you may have to use the elevators or stairs to get back down.
You will find that Lima Airport itself has maps to locate you. These will make your journey through the site much easier and you will be able to find the different locations quickly. In addition, the airport is a fairly organized and well-structured place, so you will not have major difficulties.
OBSERVATIONS REGARDING THE PANDEMIC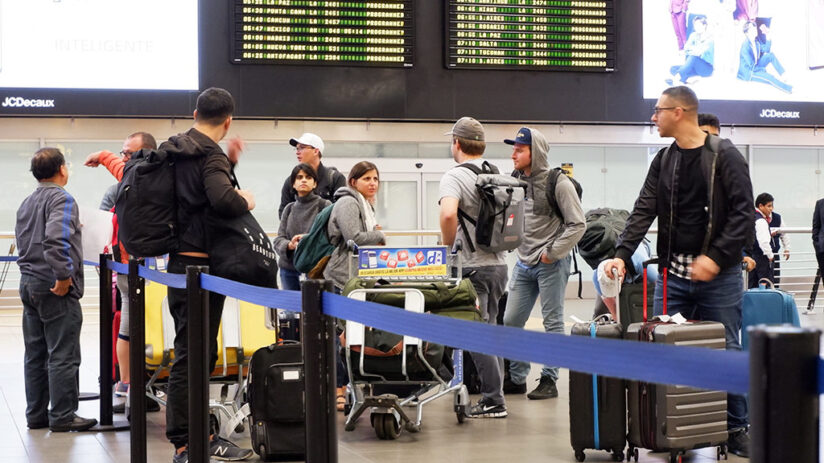 It was from March 22, 2020, when Lima airport closed its doors to commercial flights. It was only on July 15, 2020, that domestic flights within Peru returned to operating. While limited international flights began to be handled from October 5, 2020. It was as of April 18, 2021, when 36 destinations were authorized in 17 different countries. These had international air routes from Lima which included Mexico, Canada, and other popular destinations in America. While flights from Brazil, South Africa, and the United Kingdom continued suspended until April 30, 2021. But today the situation is more relaxed and many other approved destinations can be seen.
WHAT IS NECESSARY TO ENTER PERU?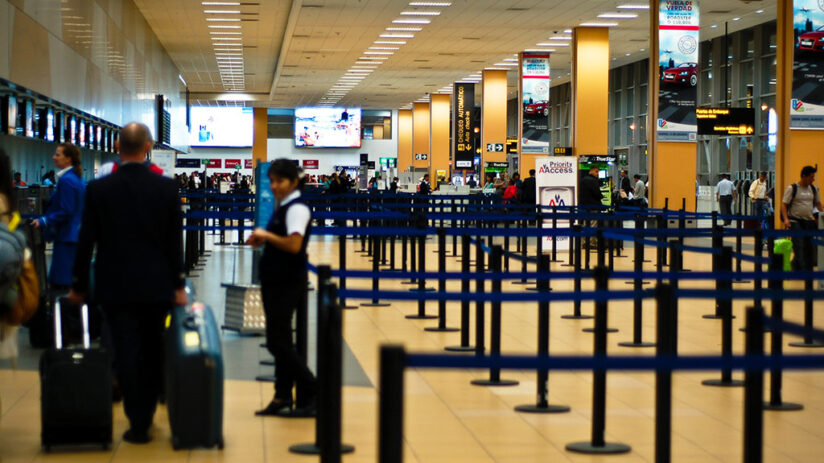 Today international travelers must wear a disposable surgical mask along with a face shield. Besides, they will need other requirements, such as a pre-registration border control form, a Health Affidavit, and a Geolocation Authorization before departure. But for international travel to Peru, you must provide a negative COVID-19 molecular type test or proof of vaccination. Please note that the negative test must be issued no more than 72 hours before the flight. And do you need a Covid test to fly domestically in Peru? Yes, you do. Today these are the regulations to enjoy family holidays in Peru. And do you need a Covid test to fly domestically in Peru? Yes, you do. Today these are the regulations to enjoy family holidays in Peru.
ARRIVAL PROCEDURES
Usually, it takes around 1 hour to get out of Lima airport. So from when the plane lands until you find your transfer, it may take a while. Despite this, if many flights land at the same time, delays can occur. In addition to the lack of immigration personnel and certain delays in the baggage area, it may take up to 2 hours to move through all the checkpoints. So from the plane to your transfer, it may take a little more than an hour depending on the flight. And what to do near Lima airport? On the outskirts of the airport, you will find numerous quality hotels, high-quality restaurants, and much more. Just try to stay in the busiest areas.
PASSPORT CONTROL AND IMMIGRATION
The first checkpoint to pass is the passport and immigration checkpoint. Peru does not require a Visa for a vast majority of countries, but there are exceptions. It is best to check with a local consulate in case you have further questions. And also remember to have a passport valid for at least 6 months before leaving on the date of entry.
Another thing to keep in mind is that tourists from a vast majority of countries are only admitted for 90 days in Peru. The period can be extended up to a maximum of 180 days. But then after the period, you will have to pay a corresponding fee at the Immigration and Naturalization Office. It may happen that they also give you an Andean Migration Card or TAM. Although this document will be issued digitally.
LUGGAGE PICK-UP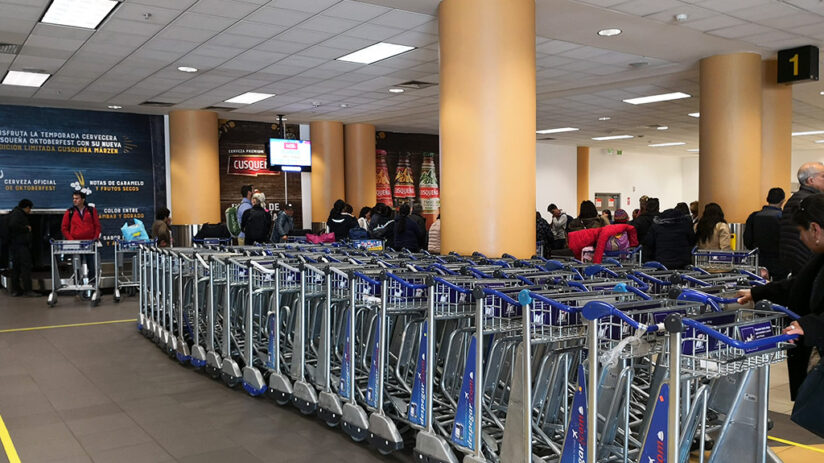 Please note that to claim your luggage you will have to go through passport control. So the marks are numbered so that the screen indicates on the fly that they are useful. Besides, after collecting your luggage, you must go to the exit and customs.
IMPORTANT DATA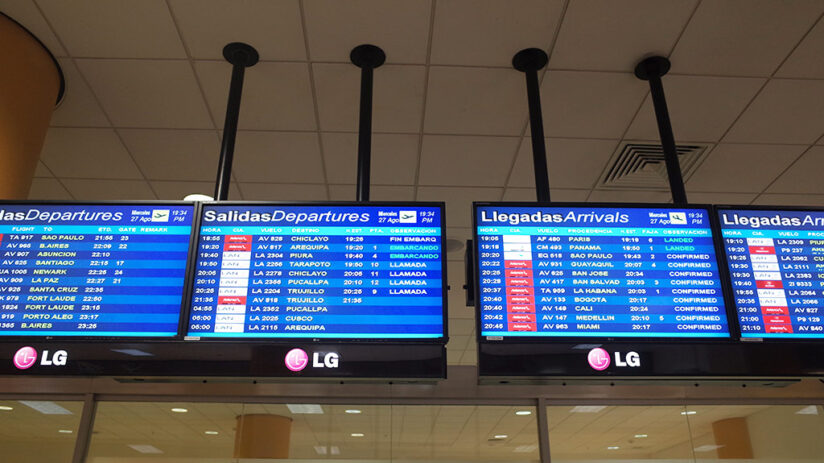 Most frequent airport hours: Generally the busiest times you will see people at the airport in the morning between 8 and 10 AM. While in the afternoon it is from 7 PM to 12 AM. A large majority of international flights to Lima depart and arrive late at night. So this is usually the busiest time at passport controls. And can you sleep at Lima airport? You can't, but there are a lot of luxury hotels to take advantage of.
Security: Another thing to keep in mind is security. Peru is safe to travel to, as is its main airport. But, is Lima airport safe at night? Yes, it is. But in the same way, it is highly recommended to avoid the surrounding areas. And if you take a taxi, be sure to do so with a registered company.
ATMs: You will find numerous ATMs within the Lima Airport. From BCP, BBVA Continental, Scotiabank and Globalnet. These are available 24 hours a day.
Currency and change: Fortunately you can also exchange your dollars or currency of choice for the official currency of the country. Interbank or Word Xchange stores are available the vast majority of the day. Compared to other places in the city, the exchange rates can be somewhat high.
Luggage storage: There is a luggage storage service that is available 24 hours a day and 7 days a week.
Transportation: And can you leave the airport in Lima? Sure you can, just be careful around the surroundings. In case you do not have a pre-arranged transfer, you can get buses, taxis, or even rent a car. We recommend using official taxis, despite being somewhat expensive, they guarantee safety. Since the taxis outside the airport may not be the safest and charge practically the same as the official ones.
"AIRPORTS WILL ALWAYS REMIND ME OF WHAT IT MEANS TO LOVE."
As you will see, the importance of knowing the Lima Airport is essential when organizing your trip. From making your check-outs to knowing the luggage storage. We hope together with the Machu Travel Peru team to have been helpful. If you want to know more about everything the airport has to offer, you can consult with our advisors. They will be able to guide you on how to guide you through this site. As well as how to help you book your tickets in advance. Our team will be waiting for your soon visit our magical country. What are you waiting for to organize your trip right now?
---