If you are planning a trip to Peru, you will most likely do it with Machu Picchu on your mind. But if you do a little research, you will discover that Peru is much more than the world wonder. And as your travel date approaches, you'll discover how excitement mixes with healthful anxiety. And being able to go through the Lima airport can be something truly intimidating, especially if you don't know the official language of the country, the Spanish. Therefore, together with the Machu Travel Peru team, we want to help you gather the information you need to know about Lima's Jorge Chávez International Airport and how to have an arrival in Peru without complications.
Everything you need to know about the Lima Airport
Jorge Chavez Lima airport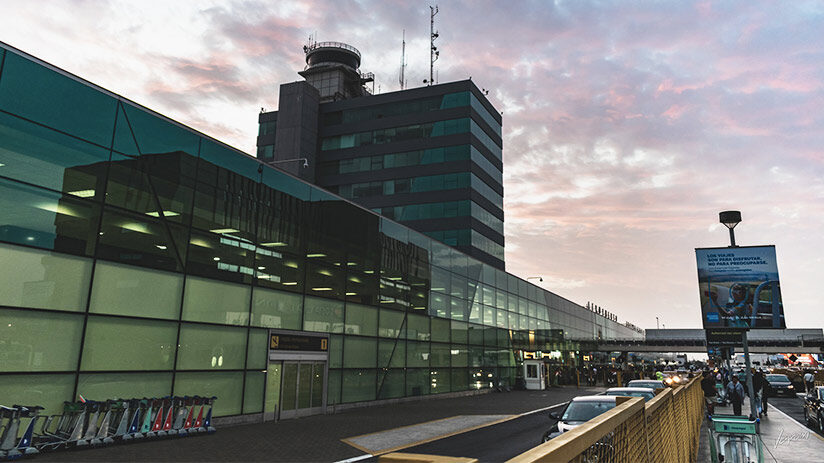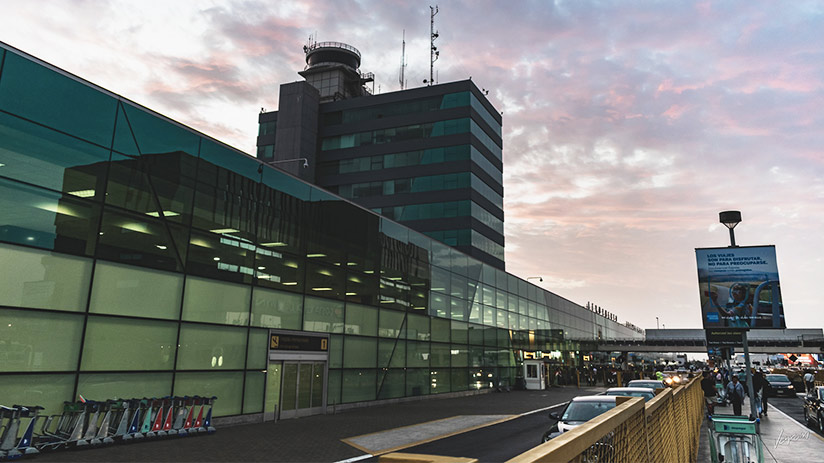 | | |
| --- | --- |
| Lima airport CODE | LIM |
| Hours of attention | 24 hours a day |
| Address | Elmer Faucett Avenue, s/n, Callao 07031 |
| Elevation | 34 meters or 111 feet. |
| Operating Domestic airlines | LATAM, Jet Smart, Sky Airlines, Viva Peru, and Star Peru are the most important. |
| Operating International airlines | Air Europa, Air France, Aero Mexico, Copa, Avianca, and Aerolineas Argentinas, among others. |
The airport of Lima is the most important in Peru since its inauguration in 1960, receiving around 22 million international and national passengers per year. With LIM airport code, the "Jorge Chavez", (another airport`s name in honor of the world's first aviator and Peruvian to cross the alps in 1910) is 12 km from Lima's center and is usually the landing destination of numerous international flights. So if you plan to travel to another destination in Peru, you will most likely make a stop here. This airport has a single terminal and compared to other renowned airports, it can be a bit small. However, this ranks as one of the busiest airports in South America. And if you are looking to go from Lima to Machu Picchu, you will surely make a scale in this beautiful airport.
1. Brief history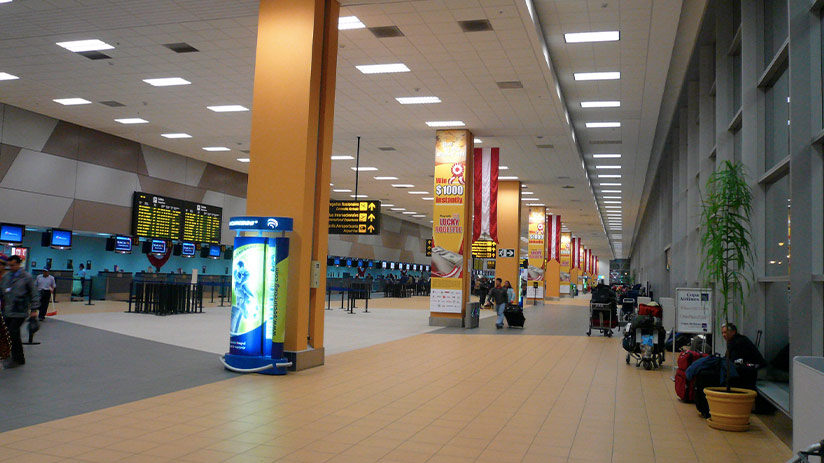 The Peruvian capital airport was inaugurated in 1960 to replace the ancient airport called Limatambo that was getting trapped by the buildings and houses of the recent San Isidro district (Lima Center). Therefore, the new airport had to be outside of Lima, and the constitutional province of Callao, 12 km from the city west was the perfect place.
Nowadays, with more than 90,300 square meters in its unique terminal and 729,600 square meters of the platform including the runway, the Jorge Chavez airport is being prepared to face the new decade with new challenges.
Also, the airport has 60 aircraft parking spaces. This is not to mention the area with 44 departure lounges and some 19 loading bridges. In addition to 142 passenger check-in counters. In this form, the airport serves as a hub for some 24 airlines. And also about 50 international destinations along with another 18 national destinations. Even, as of 2019, it was formed as a logistics center for cargo in South America.
2. The best South American airport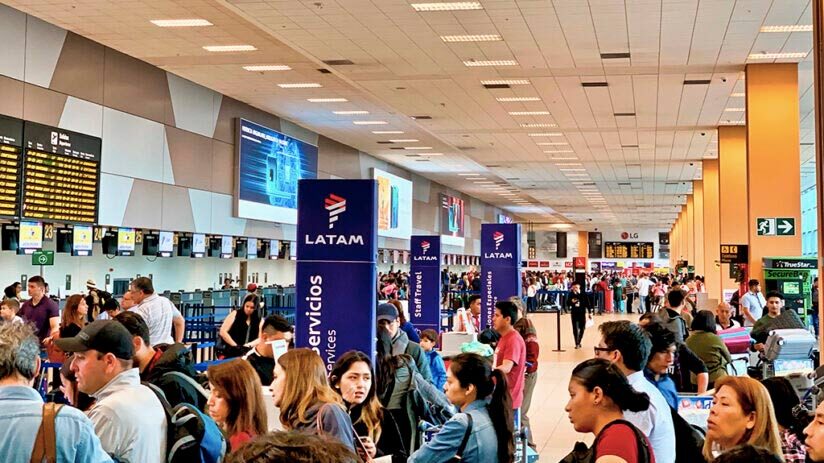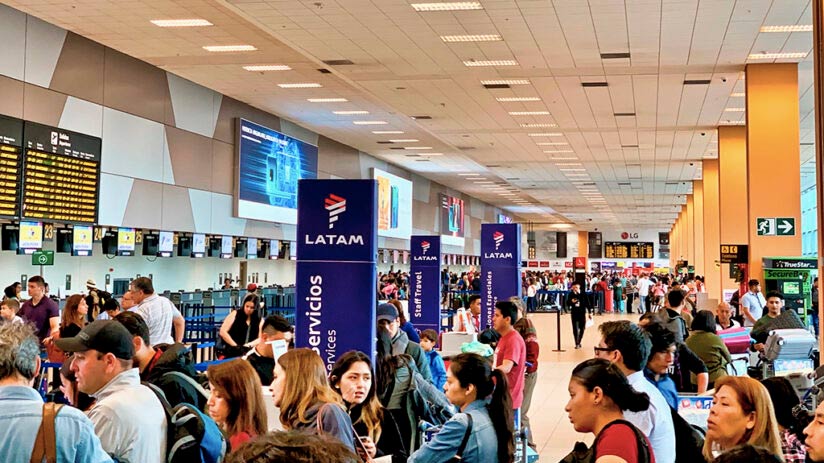 This was privatized in 2001 when the Peruvian government granted LAP (Lima Airports Partners, a German company that operates other airports around the world such as Frankfurt) the 30-year concession of the airport for its expansion, operation, improvement, and construction. Therefore, the continuous improvements, modernization, and expansions, LAP made the Jorge Chavez airport one of the most modern in South America.
Also, the Jorge Chavez was awarded the "Best Airport in South America" by Skytrax Research (A research company specializing in airport traffic around the world based in London) and "Leading Airport in South America" by the World Travel Award organization. Besides, it is considered one of the best organized and easy to navigate. Also, the landing track recently categorized 4E to receive large fuselage aircraft like Boeing's 777, 747, and Airbus A340. Even the airport was equipped with a category III instrument landing system to receive flights when there is low or no visibility, making it one of the safest in the world.
3. Future expansion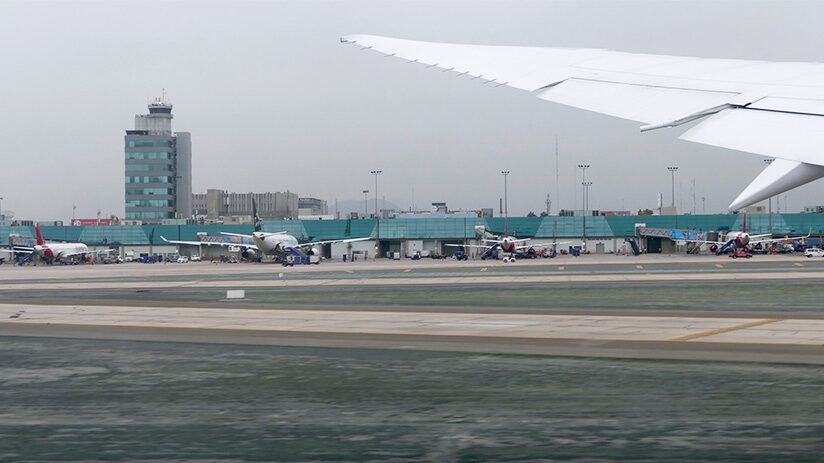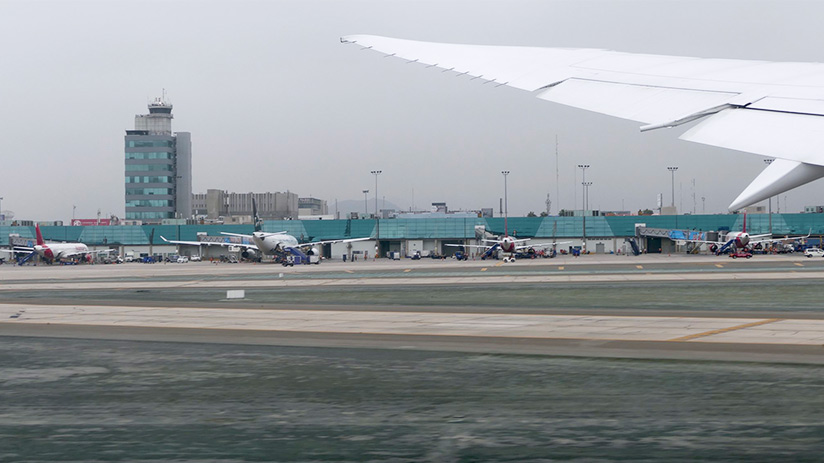 And if you want to know more, a true expansion and improvements project is about to be completed. This project is tripling the size of the current airport. This includes a second runway, a second terminal, and a new control tower. Finally, the airport and the new airport city are planned to be properly connected through an improved road network system and mass transportation. The culmination of these works will be given at the beginning of 2023.
Lima airport location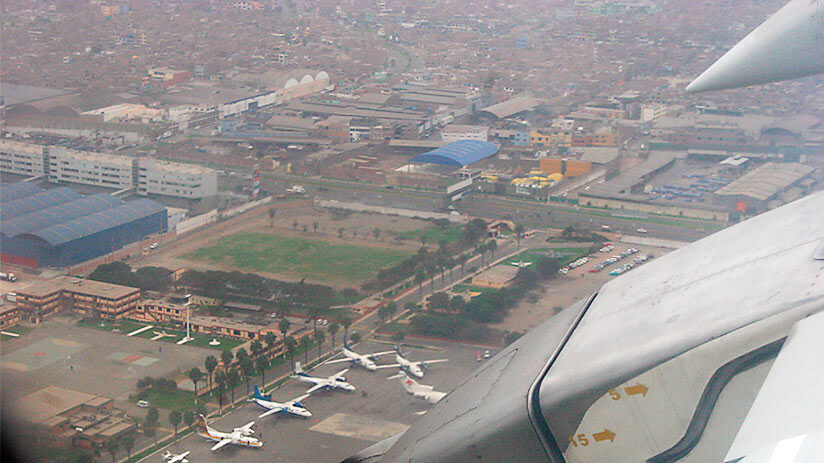 Contrary to popular belief, this airport is not located in Lima, but on the outskirts of the city, in the constitutional province of Callao. And how far is the terminal from the city center? About 7.5 miles (12 kilometers) west of downtown Lima. That is, approximately 10.5 miles (17 kilometers) north of Miraflores (Where most hotels are located). Elmer Faucett Avenue is the main highway to enter and usually, this has traffic between 11 am and 08 pm every day, so, take precautions. Our recommendation is to add 1 hour more of the usual time to show up at the airport.
How to get IN and OUT of Lima airport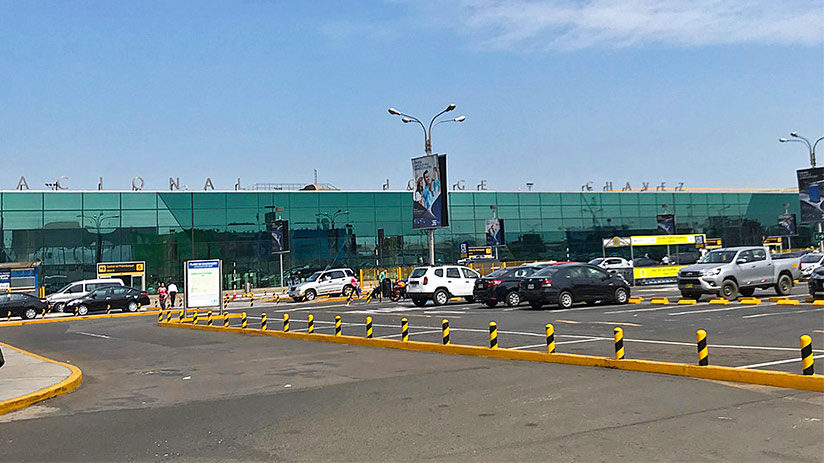 As you can see, the Peruvian capital airport is located on the outskirts of the city, (In the constitutional province of Callao), and it takes a good time to get there from the majority of hotels situated in Lima's middle-class neighborhoods like La Molina, San Isidro, Surco, even Miraflores (Where is located the majority of hotels). Therefore, getting a Lima travel guide or knowing the principal transportation ways to get in and out there will be necessary.
A. From the airport to Lima city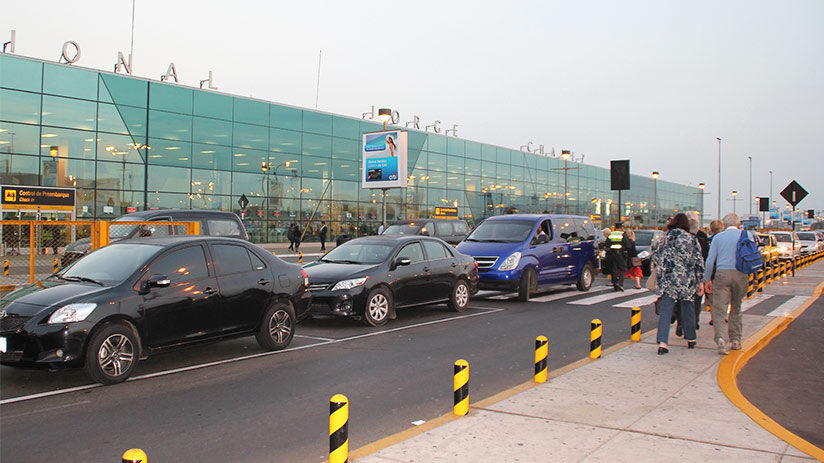 Happily, on your arrival, you can find a variety of transportation to get to Lima center and main middle-class neighborhoods, where are located the majority of hotels. In the same form, when you want to go from Lima to the airport to take your flight return.
1. Airport Express Lima Bus
It is the official bus company of the airport and offers a variety of scheduled transfers (more than 50 per day) from airport of Lima to the most known tourist attractions in Lima, located in Miraflores and San Isidro. The company has 12 bus-stop points and the cost of the ticket is $8 one way to Miraflores and $6 to San Isidro. Its terminal is located in the same parking area, in front of the passenger terminal. The buses are modern, with large windows, comfortable seats, air conditioning, Wi-Fi, and unlimited luggage storage. One of its counters is located at the International arrival zone. The other one is situated in the baggage claim of domestic flights. Or, you can buy the bus tickets directly online at Airport Express Lima.
2. Taxi
Authorized taxi: Today, there are counters of three formal taxi companies located in the baggage claim area, Taxi Green, Taxi 365, and Taxi Directo. Once you have picked up your suitcase, you can approach them and hire a taxi service. These companies are serious and give clear information about the driver of the taxi, the cost (Soles or Dollars, usually beginning at $20 or more), and the approximate time of arrival at your destination. The good thing is that the payment is in advance, and they always deliver a bill of sale. The drivers and the taxis are well-signposted.
Registered taxis: When you go out from the airport terminal, in the parking zone are authorized taxis by Callao and Lima municipalities (Usually these have a checkerboard of yellow and black colors on the sides of the vehicle) to take you to the main Lima districts, Miraflores, Surco, San Isidro, and La Molina. The only important tip, remember to quote and bargain the travel price, and the currency type of the payment (Dollars or Soles) before taking them because in Peru doesn't exist the taximeter. Usually, the price is cheaper than taxi apps, it is around S/60 to Miraflores, San Isidro, La Molina, or Surco district. But be careful, there have been cases in which once you arrive at the destination and pay the driver, he can tell you that the price was in dollars and not in soles. Or that you have to addition to the cost of the parking at the Airport, that is, 10 soles more.
Non-registered taxi: The taxi profession is free in Peru. And, these kinds of taxis stay outside the airport (on Elmer Faucett avenue). No government institution or company regulates them, and they usually resemble private cars, without any taxi signs. Similar to registered taxis, you'll have to agree on a price, the currency coin (Dollar or Soles), and the responsibility of paying the airport parking tax (you or the driver) before taking one of these taxis. Additional information, there is news of assaults and robberies aboard these units. Therefore, we don't recommend taking these taxis for any reason.
Taxi App: Besides taking an Authorized taxi, this is our recommended form to move to Lima. Fortunately, there are many taxi app companies to use, Beat, Cabify, Didi. These are the most popular, and remember that UBER is forbidden to work in Peru. Therefore, the option previously mentioned are the most reliable.
3. Public Transportation
Lima is known for its chaotic traffic and precarious transport system. There are kinds of minivans and vans that Peruvian call "Combis". These transportations have small and tiny seats, without luggage space, dirty, most of them are old and are always full of people. Usually, the passage cost 2 or 3 Soles (Peruvian local coin) from Lima airport to different districts of the Capital. Depending on where your hotel is, you will have to make several transfers to get to the hotel. Lima is a big city and a single Combi is not enough to reach your destination. If you don't want to spend time waiting for a "Combi", making a transfer by hours to another Combi, or carrying your luggage or bags on your back among other discomforts, we don't recommend this kind of transportation.
5. Private Shuttle Service
If you hire your visit and tours through a travel agency, they usually include in their services private transportation from/to the airport. In other words a complete private car for you. On the other hand, if you come without any tour package, you can hire a private shuttle service from the counter located on one side of the taxi counters at the baggage claim area, the company name is Peruvian Shuttle and Lima Transfer Co. The costs can go from $20 and up. And the units go from sedan cars to Mercedez Benz sprinters or minibusses. If you are coming with many people, a taxi is not convenient for you, instead private shuttle transportation like a minibus or van, yes. All will depend on you.
B. From Lima city to the airport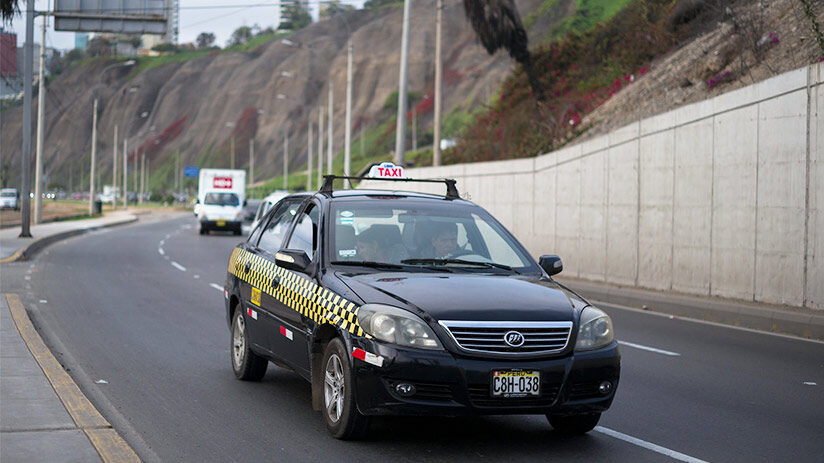 Despite the traffic in Lima and the distance of 12 km from the Lima center to the Lima terminal. There are very trustworthy transportation services to get to the airport. Of course, you will have to take note of your flight. If this is an international flight, you will have to stay at Jorge Chavez airport 3 hours before the departure, in this case, you will have to take your transportation 1 hour more early of these 3 hours. In the case of domestic flights, staying 2 hours before the departure is recommendable, in this case, taking your transportation 1 hour more early, will be recommendable to avoid drawbacks.
1. Taxi
Taxi App: This is the most recommendable option. Happily in Lima, there are many taxi app services like Didi, InDriver, Cabify, and Beat. All the drivers are registered in a large database for the security of the passenger. Besides, you have the possibility of knowing the cost of service before taking the taxi. Remember that Peruvian taxis don't have a taximeter. Please take note that UBER is forbidden to work in Peru for a series of complex requirements. The taxi services can cost from $20 and up. The trip time to the airport can take 30 – 40 minutes.
Registered taxi: As we mentioned before, these are taxis registered in the municipality of Lima and have a yellow and black checkerboard on both sides of the car. You can take them from the same street, but we will always recommend using the taxi app. The cost can go from S/60 and up. But remember that these don't have a taximeter, so you will have to bargain and negotiate the price, the coin of payment, and the cost of airport parking service before taking their services, remember that. The trip time to the airport can take 30 – 40 minutes.
2. Airport Express Lima
If your hotel or lodge is located in San Isidro or Miraflores (which is most likely), you can go to one of the 12 bus-stop of Airport Express Lima buses to take one and go direct to the Airport, you can check the location and the route schedule of these buses station here. Air conditioning, comfortable seats, Wi-Fi, and unlimited luggage storage will accompany you to the same airport. The route cost one way to the airport is $15. After the taxi app service, we highly recommend this type of transportation. The trip time to the airport can take 60 minutes.
3. Public transportation
Lima offers one of the worst public transportation systems in the world. Many routes of "Combis", traffic, and chaotic streets. Without mention the state of cars, dirty, with old seats, no space for suitcases and overcrowded. Besides, you will have to take more than one Combi to make connections to the other and arrive finally at the airport. The cost per person in one route goes from 2 to 3 Soles. Definitely, we don't recommend this type of transportation in any case.
Additional note, the traffic in a city (Lima) that doesn't have a metro is unbearable, this usually increases in time ranges from 07:30 to 10:30 am and from 16:30 to 21:30 pm every day. Therefore, arriving at Lima airport can take more than 02 hours! Also, keep in mind that the combis will leave you outside the airport, and you will have to cross Elmer Faucett Avenue, with the traffic of the Peruvian capital, this can be quite an odyssey.
4. Private Shuttle Service
Cars from sedans to Minibusses or large sprinters Mercedez Benz can be hired from Hotel reception or from your travel agency, all will depend on what kind of service you have in Peru. Of course, it is the most expensive type of transportation. Usually, the cost goes from $80 and up. If you have many people on board, a group of friends, family, and cousins, this type of service can be for you.
Lima rent a car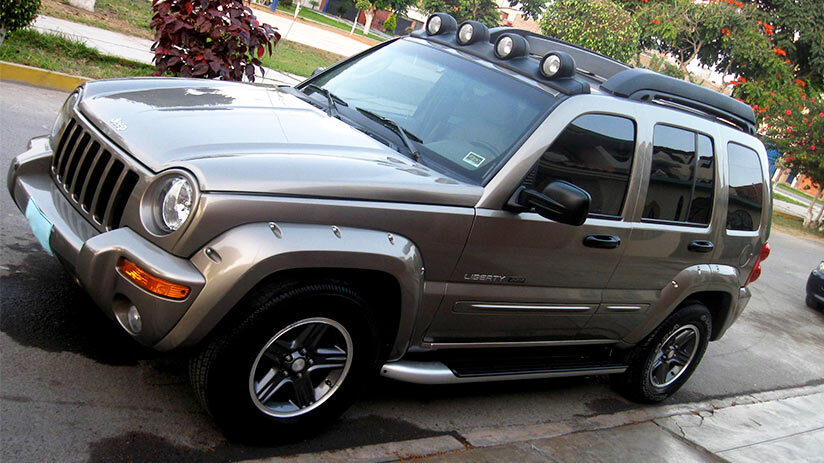 Companies like Hertz, Budget Car Rent Peru, Avis, Dollar Rent a Car, Alamo, and the local ANC groups have counters located on the first floor (north side) of the airport terminal, just one side of the Authorized taxi counters. They are open 24 hours, and you can hire a car directly there. Usually, the base rate starts at $100 per week for a little car. Over this amount, you'll have to increase the warranty cost and advance payment for damages (The two last payments will be refunded according to the state of the car)
Take note that Lima does not have an underground or integrated transportation system. The city only has one electric train that passes through only a few districts, and bus lines that barely work. For this reason, almost the vast majority have a car in Lima, generating infernal traffic in the capital. If you want to rent a car and be part of this traffic, think twice. Without mentioning the poor condition of Peruvian tracks and railways.
Airport design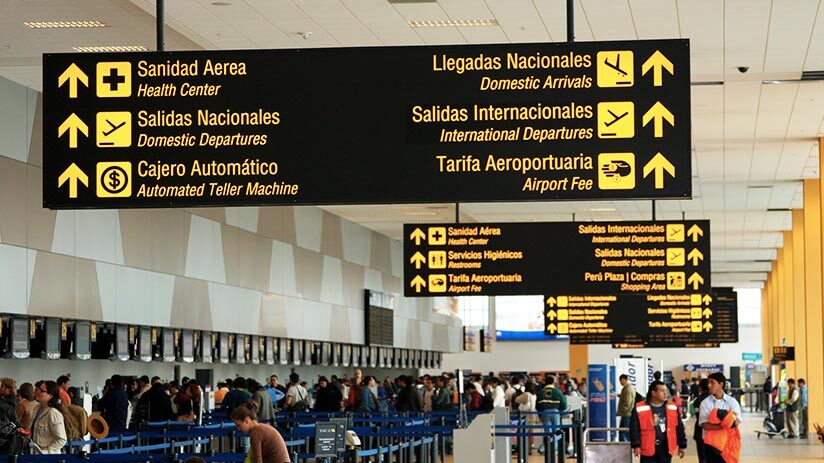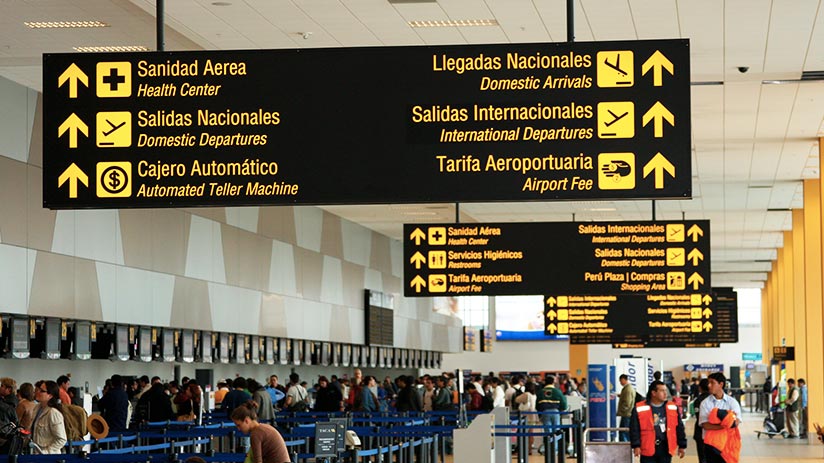 Also, Jorge Chavez Airport has a single terminal that serves both international and domestic flights. But despite this, it could be considered a small but very well-organized airport. Its structure is designed for the comfort of passengers. So all the posters are in English and Spanish, while a large part of the staff is bilingual. So you will not have great trouble locating yourself. Also, you will find that Jorge Chavez Airport itself has maps to locate you. These will make your journey through the site much easier, and you will be able to find the different locations quickly. Also, If you were wondering about the best time to visit Lima, you have to know that any moment is good.
1. The first floor of Terminal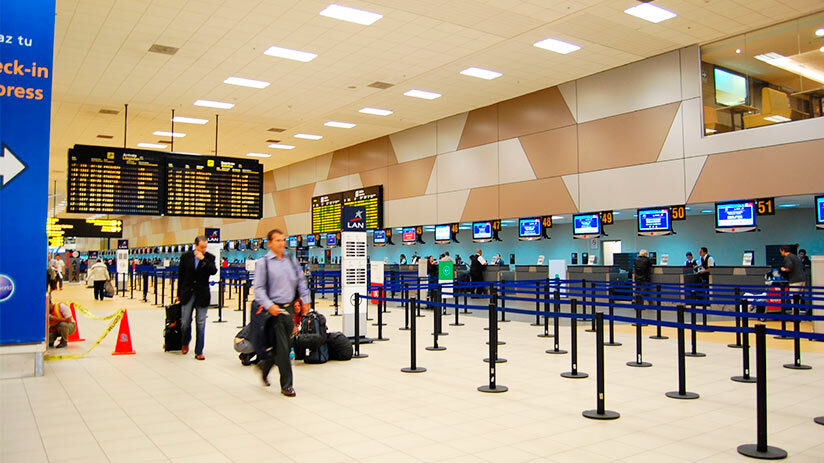 Airlines counters: On the first floor, there are the counters of many air companies, where the billing is done.
National and International arrivals: On the right are the national arrivals, while on the left are the international ones. The gate arrivals are divided from 1 to 7 and from 30 to 39.
Tourist information: On one side of the international arrival zone is located a counter of tourist information. Where you will find information about your flight, boarding area, and more. The personnel are very friendly and speak English.
Storage lockers: These are closed cabins of 18 x 24 x 75 inches. You can hire one and guard your luggage there. The cost is $4 per hour and $17 the day. Of course, the longer you leave your suitcase, the cheaper the cost.
Luggage storage: Compared to the Storage locker, the luggage storage is managed by airport personnel who guard your luggage in large storage. This service is offered by the airport and the cost usually is cheaper, $2 the hour and $13 the day. In the same way, the longer you leave your suitcase, the cheaper the cost. It is located next to Storage lockers.
Shoe-shine: There are two shoe-shine counters. Both are located next to international and national arrival areas.
Health center: Outside the national arrival zone is located a health center.
Luggage wrapping service: This is located just in front of the airline's counter area and the cost of luggage wrapping is $9 per luggage.
Police station: This is located on the far left of the first level of the terminal. The police carry out routine inspections on suitcases and clothing with their dogs and hounds.
2. The second Floor of Terminal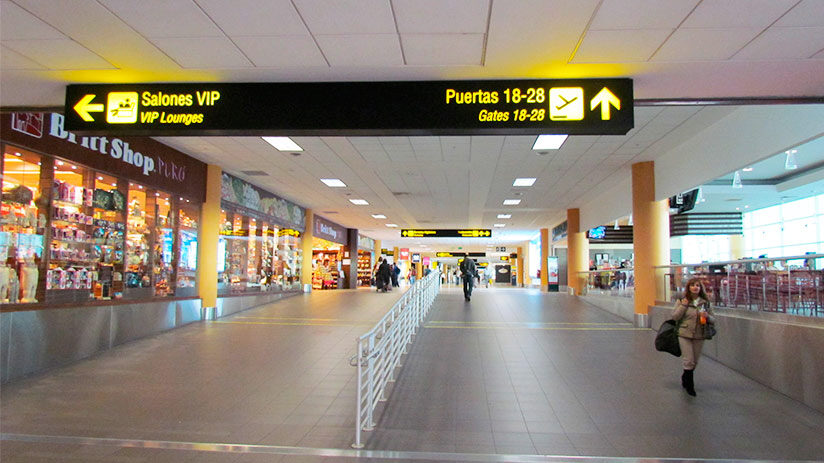 Food court: This zone is located on the far right of the terminal. MacDonald's, Burger Kings, Pizza Hut, Papa John's, Starbucks, Subway, Dunkin' Donuts, and Peruvian franchises like Bembos, and China Wok inter alia are located there. The food court is open every day, 24 hours a week.
Coolbox: This is an electronic store where the passenger can buy rechargeable batteries, headphones, cell phone cases, cell phone batteries, and much more.
Spa center: This is located on one side of the commercial zone. Besides of offer massage, hair removal, nail and skin care, and comfortable seats for rest, you can take shower there. The cost of renting this shower is $10.
Choco Shop: The Cacao republic Chocolate shop has a large store in Lima Airport where the passenger can buy the original and general types of chocolates like rose petals, or local supplies like Maras salt among others.
Book Store: There is a book store (just one side of the commercial area) where you can buy fiction and non-fiction books, novels, magazines, CDs, DVDs music.
Souvenirs shops: You will find the Britt Shop, where a variety of souvenirs like local t-shirts, Inca souvenirs, travel books, and gourmet products are sold. Britt Shop has two stands, one just in the commercial zone and the other passing the security and control post. Besides this store, the passenger can find Alpaca and Vicuña clothes souvenirs like Kuna and Sol Alpaca, these are luxury stores and their products are so expensive. If you have the possibility of acquiring Vicuna and Alpaca fabrics during your trip to Peru will be better than buying them in these stores.
Telephone lines posts: Almost two Peruvian telephone lines are located close to the security and control post to offer mobile chips with internet data and rent cell phones to make national and international calls.
Interbank Money Exchange counter: This money exchange counter of a recognized Peruvian bank is located on the left side of the security and control post. Usually, the exchange rate is very expensive there.
Boarding gates: In addition to finding the security control that checks each of the passengers. Once you have passed through the control, you will be able to see both the international (Left) and domestic (Right) departure gates. These gates are divided from 6-9 and 12-26.
Starbucks: The most famous coffee chain in the United States is also present at the Jorg Chavez airport. It has free Wi-Fi for consumers.
Airlines administrative offices: On the second floor are the airlines' offices with large stores.
Post Office: A stand of SERPOST (government postal service) is located between the Airlines' administrative offices and Airport administrative offices. The service work at the national and international level and letters, postcards, and little package can be sent.
Pharmacy: A drugstore is located next to the Post office and just over the health center. This is so complete and is open 24 hours a day, every week.
Chapel: For Catholic people, the airport terminal has a little chapel to meditate and pray.
A. Airside international departure lounge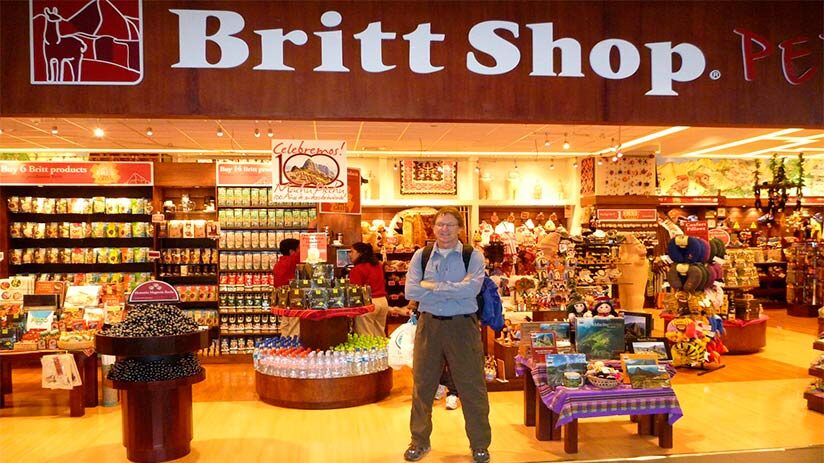 Once passing the security and control post, there is no turning back. But, don't worry, inside you will find:
Spacious seats: In each departure lounge you will find comfortable seats without armrests. So, you can stretch out and have a good time on them. You can find them in both areas, national and international departure lounges.
Dutty Free: The duty-free shops are located only in the international departure lounge and offer high-end products free of tax and duty like souvenirs, chocolates, perfumes, clothing, liquors, cosmetics, and cigarettes, among others. Even electronic items such as batteries and chargers for cell phones, laptops, wireless speakers, headphones, and much more.
Food stands: Between the control post and departure lounges are located many foods stands. These offer food, coffee, and hamburgers, among others. However, you will find more variety in the food court and the cheapest prices, too.
High-end souvenir stores: Stores like Kuna (manufacturer of high-quality clothing with baby alpaca, alpaca, and vicuña fabrics) and Illaria (manufacturer of jewelry made from Peruvian gold and silver) are the most known among other luxury stores located close to international departure lounges.
VIP club lounge and Sumaq VIP lounge: Both are VIP salons located in the international departure lounges. There you can rest in comfortable and overstuffed armchairs, a buffet of national dishes, a business center, Wi-Fi, a bar, a TV, and showers. The right of admission has a cost of $60 to $70, and you can stay there for up to 4 hours.
B. Airside national departure lounge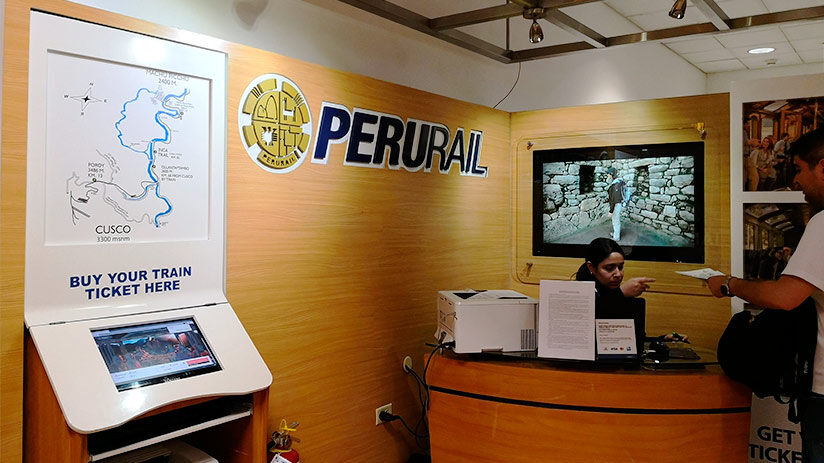 Instead of international, in the national case, once you pass the control and checkpoint post, you'll find fewer options for services and stands.
Peru Rail stand: Peru Rail is the oldest railway company in Peru and offers first-class tourist class trains to go to Machu Picchu such as the Expedition, El Vistadome, and the luxurious Hiram Bingham and Andean Explorer. Here you can find one of their stands with staff willing to help you with your requirements.
Caral VIP salon: This is the only VIP salon destined for National passengers. This is located in the national departure lounges and offers a bar, TV, Wi-Fi, a buffet of national dishes, overstuffed armchairs, a business center, and showers. The right-of-admission price goes from $60 and up.
3. Parking zone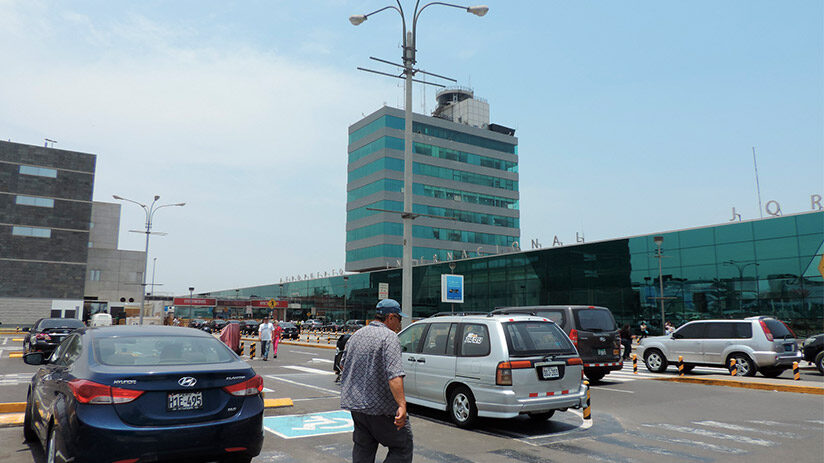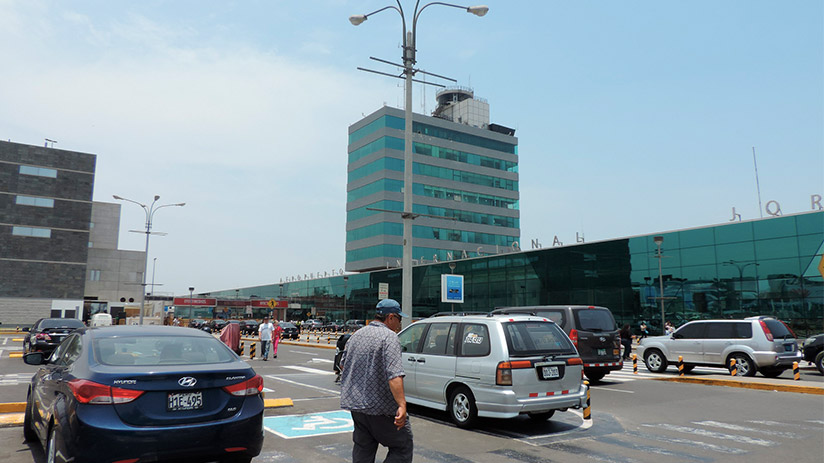 The airport of Lima offers a spacious parking zone just in front of the terminal. The rates depend on the size car and the time. The parking for a short time is exclusive for cars (2.20 meters large)
45 minutes: 5.20 S/. Soles
46 – 60 minutes: 7.00 S/. Soles
More 61 minutes: 7.00 S/. Soles per hour
Parking for every 24 hours: 45 S/. Soles
The payment can be made in special machines located between the parking zone and the terminal. These accept cash (Dollars or local coins) and VISA, MasterCard, American Express, and Diners Club credit cards.
Lima airport facilities
A. Wi-Fi and charge zones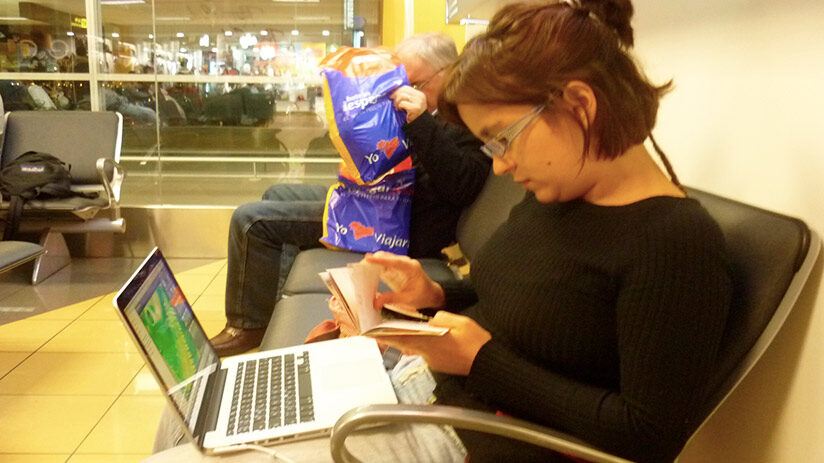 Nowadays, the Jorge Chavez International airport has free Wi-Fi in most of its areas. However, take note that the signal is not strong, (Just enough to browse the web, social networks, and WhatsApp), so if you want to make a video call or watch a movie, you will have to occupy your time with something else. For the first connection, you will have 1 hour of free Wi-Fi (Name of signal: FreeAirportLima). After that, you will wait approx 15 minutes to get another hour of free Wi-Fi. Finally, you will have to pay the Premium Services (PremiunAirportLima) to get a stronger signal (but still a disappointment)
$5 Dollars for 2 hours
$10 Dollars for 10 hours
$12 Dollars for 30 days
The pop-up accepts all credit cards
B. Lounge areas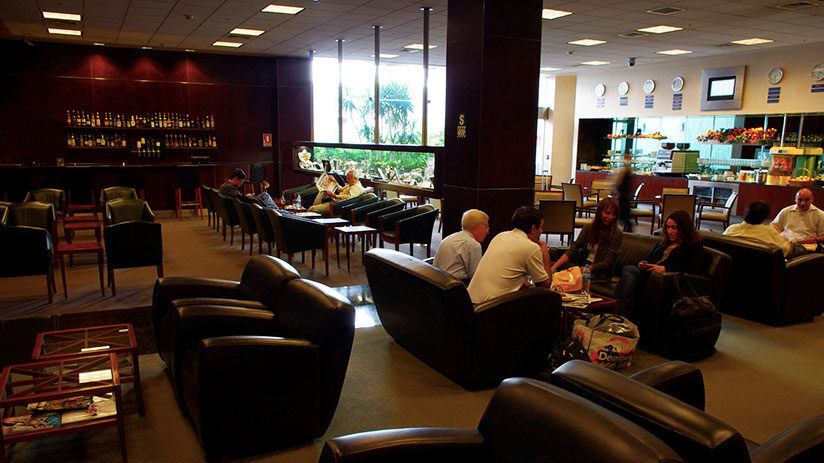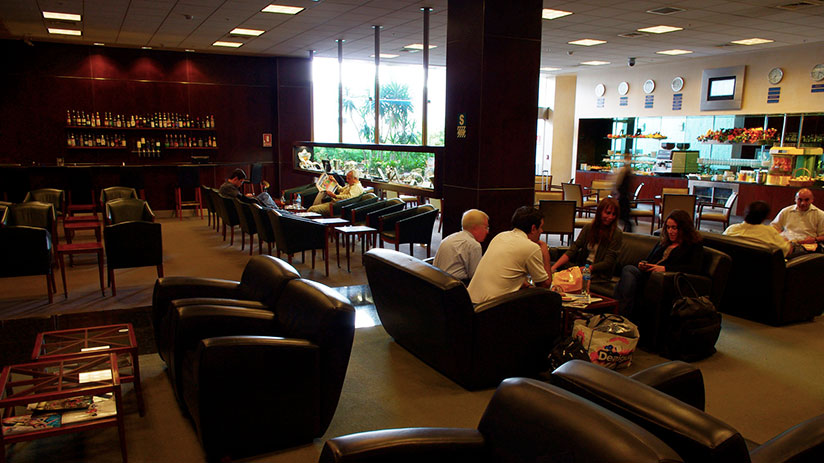 Due to the great tourist flow, the airport of Lima has three lounge bars where passengers can rest, take a cup of coffee or, in other sense, kill the time while their flight finishes being conditioned. Of course, it is unnecessary to say that only the access of premium clients of many credit cards is allowed in these establishments.
Hanaq VIP Lounge: Lounge bar where the passenger can have Wi-Fi, buffet, non-alcoholic drinks, coffee, business center, amenities, TV, children's area, restrooms, and even showers. They are open all days of the week. The lounge is located in the International flight down area, just in front of gate 17, in a corridor.
Sumaq VIP Lounge: It is located before the Hanaq VIP lounge (to one side of it) The lounge has similar benefits to the Hanaq VIP lounge and a similar schedule of attention.
El Salon by New Rest VIP Lounge: In the same way, has similar benefits as the previous two with the difference that it is located in the National flight down area, just in front of gate 13. It is open from 01:30 am until 11:00 pm.
Club VIP Lounge: Domestic hall, second level. Services: Showers, newspapers, magazines, printers, photocopiers. Hours: 24/7. Please, note that it is closed for renovations.
C. Luggage Zone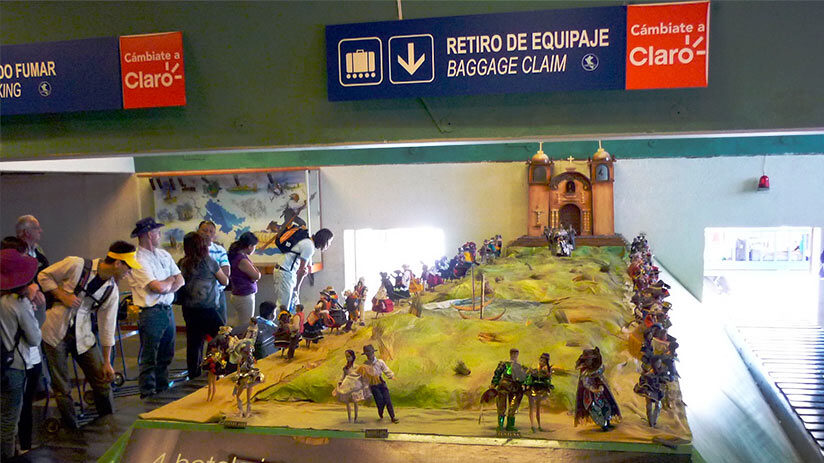 The Jorge Chavez airport has a special service of luggage storage located in the public area, abroad of the International flight arrival zone. The prices of the service per each luggage are:
Per hour: $2 or S/ 3.80 Soles
Per day: $13 or S/ 50 Soles
Prices can go down if you use the service for a longer number of days or have many items to guard.
Take note that they only accept cash (American dollars or Local coin Soles)
D. ATM Machines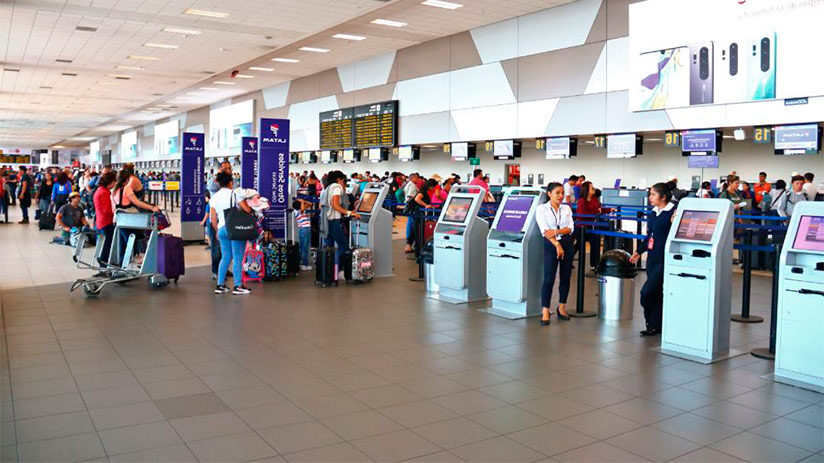 ATMs are distributed throughout the airport. Getting cash from here is more expensive than doing it from an ATM outside the airport terminal or in the city itself. So we suggest you do it only when necessary.
E. Money exchange counters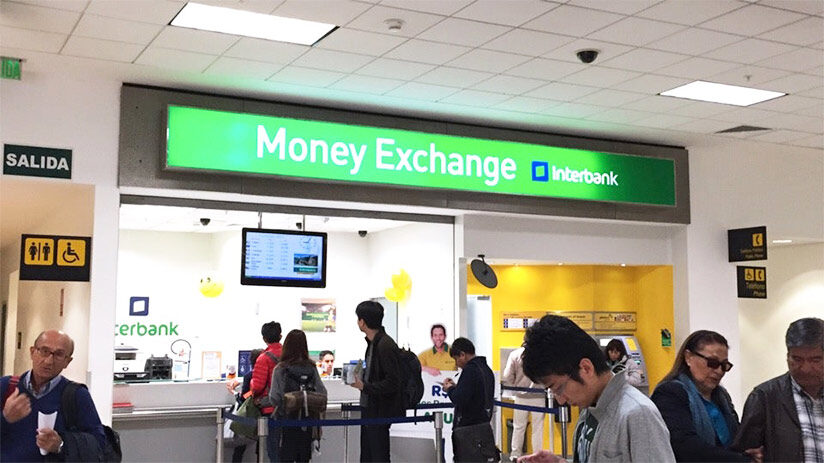 Fortunately, you can also exchange your dollars or currency of choice for the official currency of the country. Interbank or Word Xchange stores are available the vast majority of the day. Although the exchange rates can be somewhat high compared to other places in the city.
Can you sleep at Lima Airport?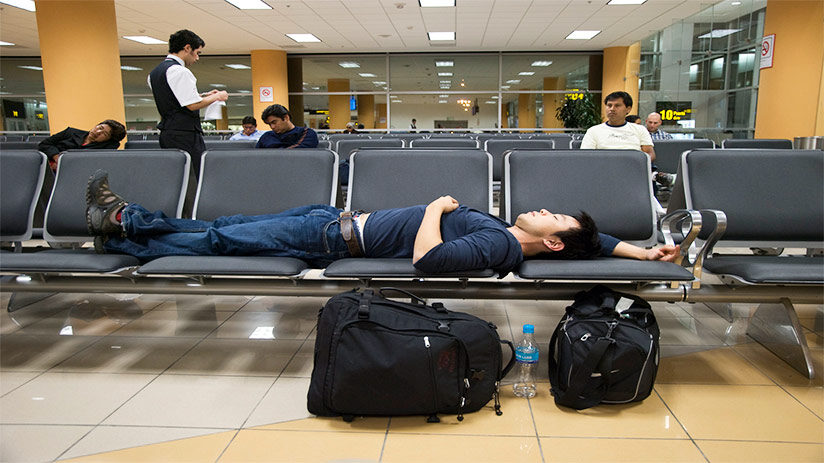 The airport has a hotel (Costa del Sol Wyndham Lima airport) located in the parking area. This hotel is usually full because many passengers with scale in Lima make reservations with months of anticipation, but anyway, this can be a good option to spend a night in the airport with commodity and comfort. But take care, if you are in transit and go out of the airport to this hotel, the custom house can charge you a tax for re-entering to the terminal, $ 31.
However, whether the hotel is full or your budget isn't enough for a night in a hotel room, you can spend the night or time in the food court located on the second floor of the terminal, or in the Starbucks located on one side of the food court, where you can take advantage of the Wi-Fi. Or, in the national and international flight departures rooms, where the seats have no armrests and one can stretch out on three or four of them.
Surrounding hotels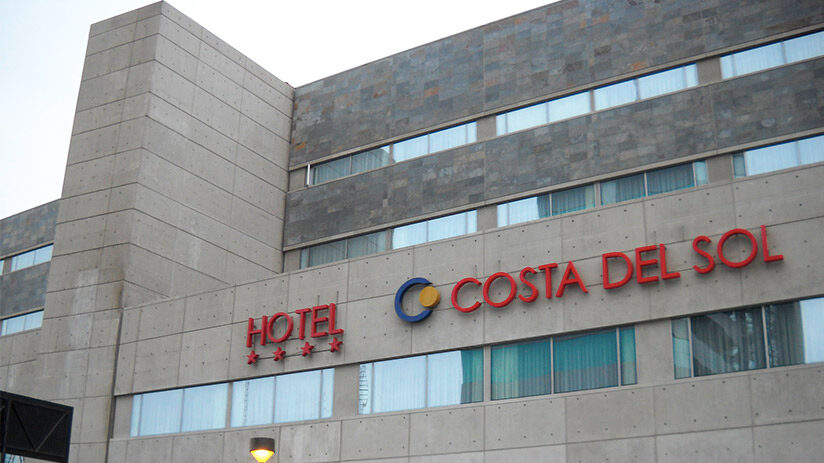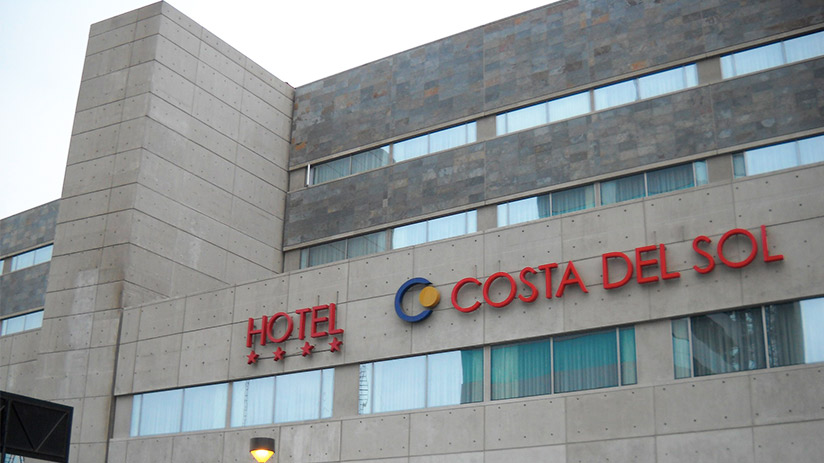 1. Costa del Sol Wyndham Lima airport
Four-star hotel located in front of the terminal (inside the airport complex). The hotel offers rooms from $140 to $160, even though it has diurnal rooms from 10 am to 6 pm. Spa, restaurant, breakfast service, and business center are services offered, and it is connected with the airport terminal by a corridor located on the second floor of the hotel.
2. Holiday Inn
A three-star hotel located in front of the airport complex (Only divided by a busy oval). It offers transportation in and out of the airport as a courtesy, a restaurant, gym, covered pool, large rooms, inter alia. This hotel is destined for family holidays in Peru, for example.
3. Las Fresas hostel
For economy budgets, there is Las Fresas hostel. It is a hostel located 5 minutes from the airport, with private and shared rooms, without breakfast service and transport to the airport, please take note.
Peru doesn't require a VISA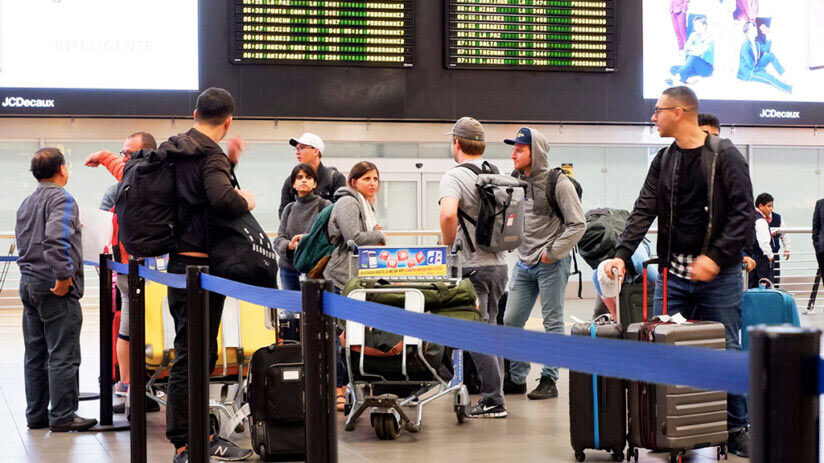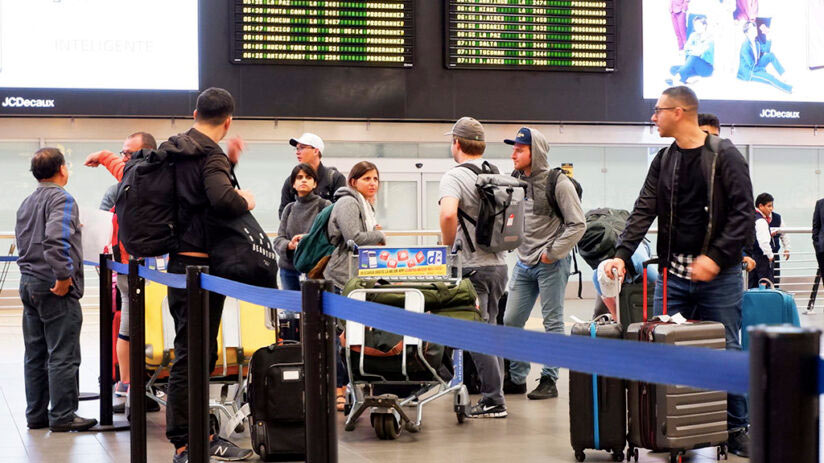 Peru does not require a Visa for a vast majority of countries, but there are exceptions. It is best to check with a local consulate in case you have further questions. And also remember to have a passport valid for at least 6 months before leaving on the date of entry.
Another thing to keep in mind is that tourists from a vast majority of countries are only admitted for 90 days in Peru. The period can be extended up to a maximum of 180 days. But then after the period, if
you want to stay more time in the Andean country, you will have to pay the corresponding fee at the Immigration and Naturalization Office. It may happen that they also give you an Andean Migration Card or TAM, which you will have to keep with you at all moment this moment, even, during your international flight return. However, sometimes, this document can be issued digitally.
Travel with pets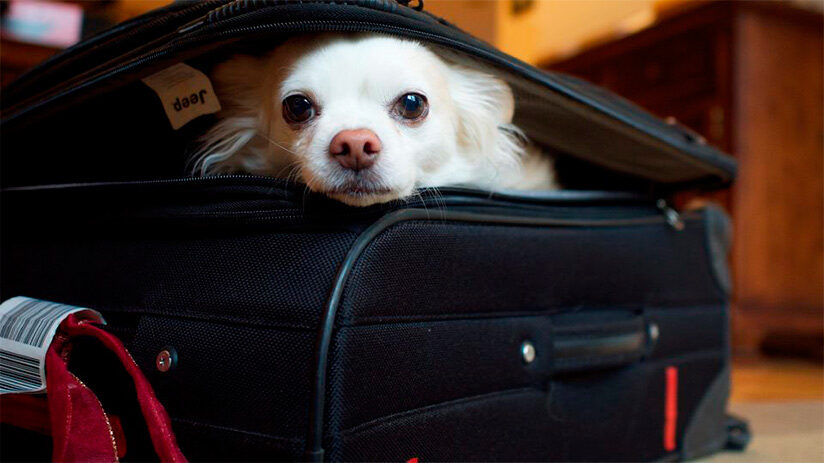 In Peru, only dogs and cats are considered pets, other animals like birds, rodents, rabbits, fish, and reptiles need an export health certificate from the country of origin and a special import permit from SENASA.
Also the country don't require microchips for pets or proof of rabies title, or a special import permit for dogs and cats (except for kittens of 12 weeks of age and without vaccination), in addition the country has no prohibited breeds, according to SENASA, (National Agrarian Health Service), the government institution responsible of allow the entry of foreign pets.
Today, there are two forms of traveling with pets, the first one is to accompany yourself in the same flight cabin (occupying a seat) or as accompanied luggage (close to your feet) The other form is like air cargo, in this situation, the pet will be sedated.
Also, in the case of travel with pets in the flight cabin or accompanied luggage, the process to get it out of the airport is very easy, but not so when you take your pets as air cargo. In this sense, there are three important documents that you will have to show to the authorities of SENASA upon your arrival at Jorge Chavez airport.
A. Documents
Certificate of good health issued by an official veterinarian of the country of origin 14 days before arriving in Peru.
Vaccination certificate for dogs against Parvovirus, Distemper, Hepatitis, and Leptospirosis. In the case of cats, the vaccination certificates must be for Calicivirus, Rhinotracheitis, Feline Viral, and Panleukopenia (FVRCP)
Recent proof of veterinary treatment against external and internal parasites.
B. Process of arrival
Whether your pet travels in a flight cabin or as accompanied luggage, (you will have to get off the plane with them and then pick up your bags), or as air cargo, (you can pick them up from baggage reclaim lane) Immediately after, you will have to head to SENASA area to check your pet.
The SENASA official vet review your documents and checks the pet. You will have to pay a tax for the pet examination (around $27) and another tax for the pet's permit to enter the country (around $9)
At final, the official vet can accept the entering of animal to Peru or reject it. In the latter case, the veterinarian can do new tests, impose a treatment, quarantine or return the animal to its country of origin.
C. Leave Peru with pets
In the case of departing from Peru with pets, you will have to inform yourself about the requirements of pets entering the destination country months in advance. Since the requirements can demand microchips for pets, vaccination and health certificates, or negative rabies titer test results issued by an official serology laboratory (in Peru, there is not, therefore, you will send these rabies titer tests to Chile, and the results may take time to return) But, the best way to inform yourself about the requirements of pet entering is through the same airline company. In any way, SENASA requires the payment of tax for the right of revision (around $36) and the following documents to allow the departure of any pet from Peruvian soil:
Certificate of Good Health issued by a veterinarian affiliated with the Veterinary College of Peru.
Current Rabies Vaccination Certificate issued by a veterinarian affiliated with the Peruvian Veterinary College.
Recent proof of veterinary treatment against internal and external parasites.
If you are traveling with a Peruvian Hairless Dog, an export permit is issued by the National Committee for the Protection of the Peruvian Hairless Dog.
You will have to get to the airport 4 hours before your flight departure to go, first, to the SENASA area, show your documents, and make checks of your pet by a SENASA vet.
Arrival procedures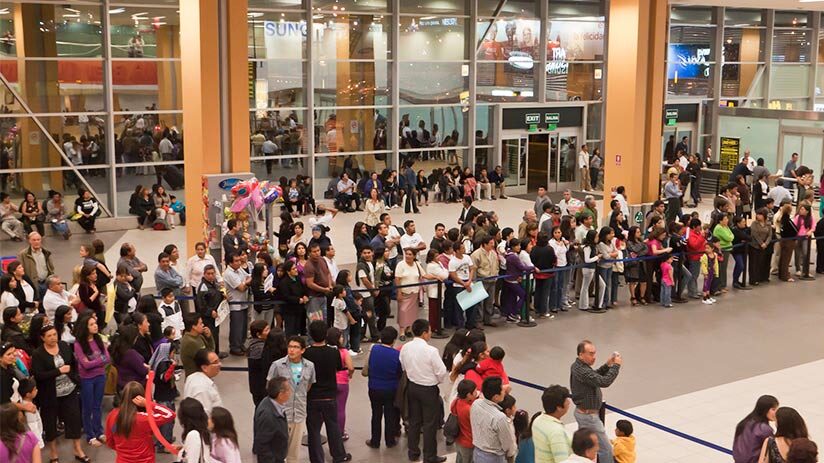 Usually, it takes around 1 hour to get out of Jorge Chavez airport. So, from when the plane lands until you find your transfer, it may take a while. Despite this, if many flights land at the same time, delays can occur. In addition to the lack of immigration personnel and certain delays in the baggage area, it may take up to 2 hours to move through all the checkpoints. So from the plane to your transfer, it may take a little more than an hour depending on the flight. And what happens during this time?
1. Aduana and electronic TAM
About fifteen minutes before your flight lands at the Peruvian capital airport, the flight attendants will give you a customs declaration formulation to declarative the articles and quantity of cash that you are carrying. Take note that certain items are prohibited like fresh vegetables, fruits or meats, certain medications, weapons, animals, and large amounts of cash, among other prohibitions. Please be honest when declaring, as you may be subject to a bag check at the checkpoint. The TAM or Andean Migration Card is a kind of free Visa to enter Peru, you'll register your date of the enter and departure from Cusco, besides your personal data.
2. Migration control
There you will have to show your passport and flight ticket. Remember to have an updated passport and check if your country of precedent requires a visa to Peru. What is the reason for your visit to Peru? For how many days will she stay in the country? When is your return date? What places will you visit? These are questions that can be asked by the immigration official. If you are from countries belonging to the Andean Community (Ecuador, Peru, Bolivia, and Venezuela) you will have a special counter of migration control. The maximum period to stay in Peru is 183 days.
3. Luggage pick-up
Passing migration control, there are luggage carrier sleeves. Please, pay attention to your flight number and your destination to search them in the monitors located upside of these carrier slaves and wait for your luggage.
4. Customs control
Once you have your luggage, meters in front, a Customs personnel will be handing out declaration cards to be completed if you carry fresh vegetables, fruits or meats, weapons, drugs, medicines (whether for yourself, for others, or for commercial use), animals, pesticides, weapons, commercial merchandise, inter alia (Restricted things) or if you have $10,000 or more. On the other hand, if you don't have any of these things, you can pass freely. However, pay attention that Aduana control officers can open your luggage to verify your declaration card with the truth, indistinctly.
5. Transfer service
Finally, you will get to the first floor of the Jorge Chavez airport, outside the terminal you will find different kinds of transportation to get to your hotel, Airbnb, or hostel. You can check our section on transportation in this same article to know what transportation types are located there.
Departure procedures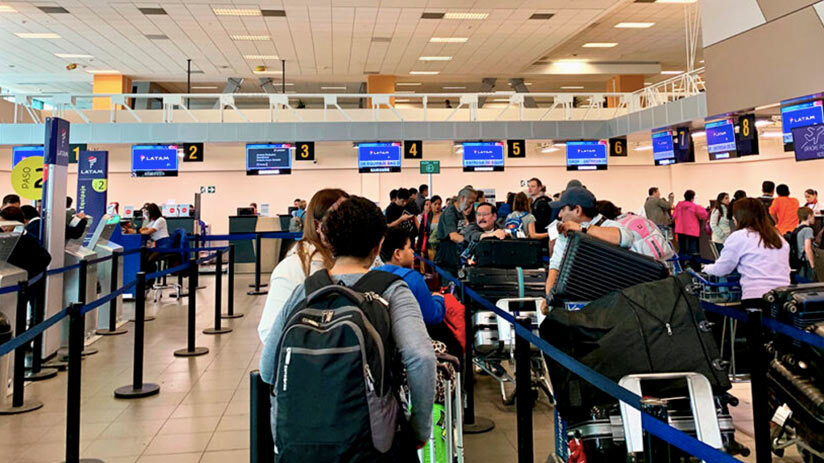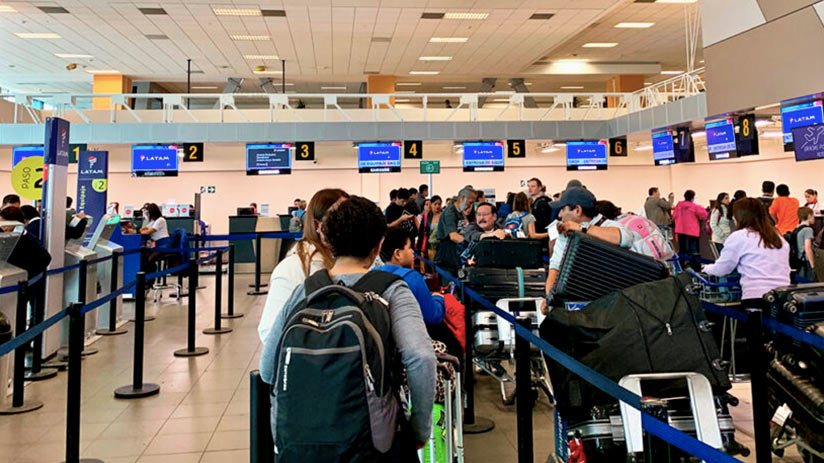 Whether your flight departs to a national destination (Inside Peru) or an international country, you will have to leave the hotel, Airbnb, inter alia with many hours in advance. Being 3 hours before international flight departure at the airport and 2 hours, in case of a domestic flight, is recommended. However, you will have to add 2 hours more to these times but, Why? The traffic all day that Lima city has is the answer. It's not a surprise if you get stuck in the middle of Lima center or in Elmer Faucett Avenue (the main highway to get to the airport) for 30 or even 1 hour. Therefore, take precautions and get to Lima airport.
1. Luggage register counter
At the entrance to Jorge Chavez airport, is the first point to stay. You will have to register your luggage at the airline's counter located on the first floor of the terminal. Each airline company has its own luggage and weight policies.
2. Security point control
After registering your luggage, you will have to go to the second floor, to enter, through the main departure flight gate, to security control, where you will have to take off your metal objects, jackets, belts, keychains, cell phones, hand luggage and go through the metal detector. After, you can go directly to the Customs control point.
3. Customs control
Passenger who has a domestic flight can go by the left directly to their departure lounges. Instead, the passengers who have international flights will have them go, by the right side, to Customs control, with their passports updated and flight tickets at hand. The customs official will review the documents. In general, they will ask a simple question before stamping a seal of visit registration in your passport and giving them back the documents. If the tourist exceeds the allowed limit of day permanence (183 days), they will have to pay, in cash, $1.30 per extra day in Peru.
4. Departure Lounge
The mini journey will be over. There you will find Duty Free market, some restaurants, and lounge VIP bars, inter alia.
International connection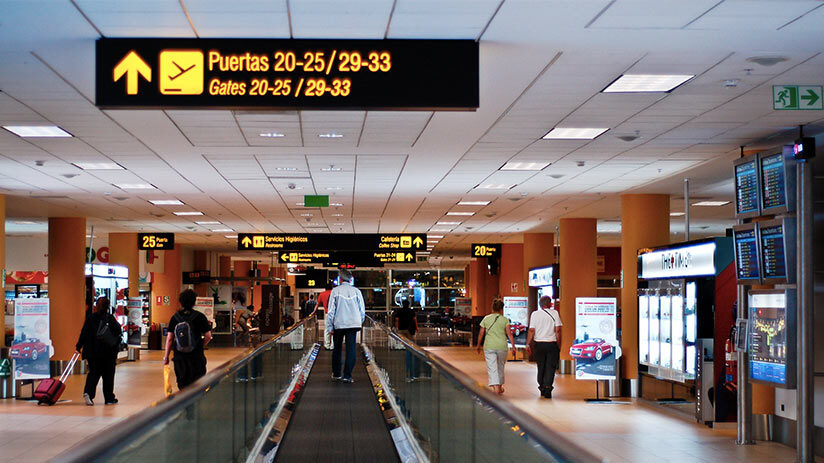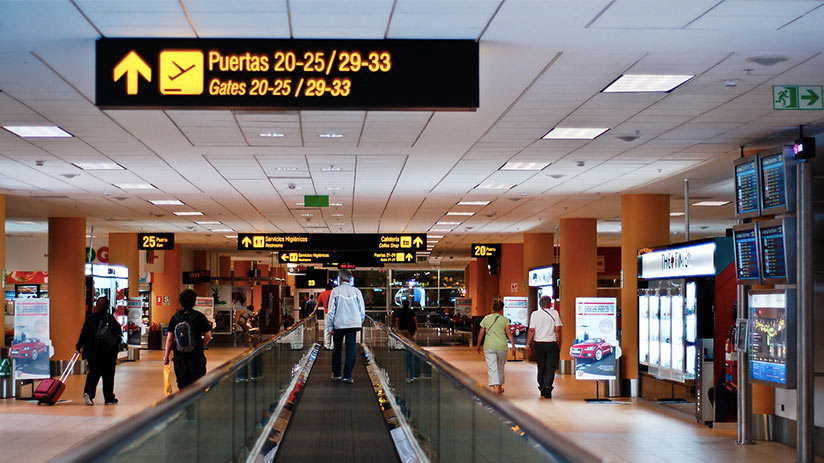 If you have an international connection, once arrived at the Peruvian capital airport, go directly to the next departure lounge without passing customs control. From this point, the procedure is similar to taking an international flight. On the other hand, If you decide to go outside the Jorge Chavez airport terminal to visit the Peruvian capital, assure yourself to have enough time to realize the trip to Lima, the traffic is really chaotic, and you can lose valuable time getting your next flight. Besides, you'll have to pay a right of re-entry to the Customs of the country, the cost is $31.
National connection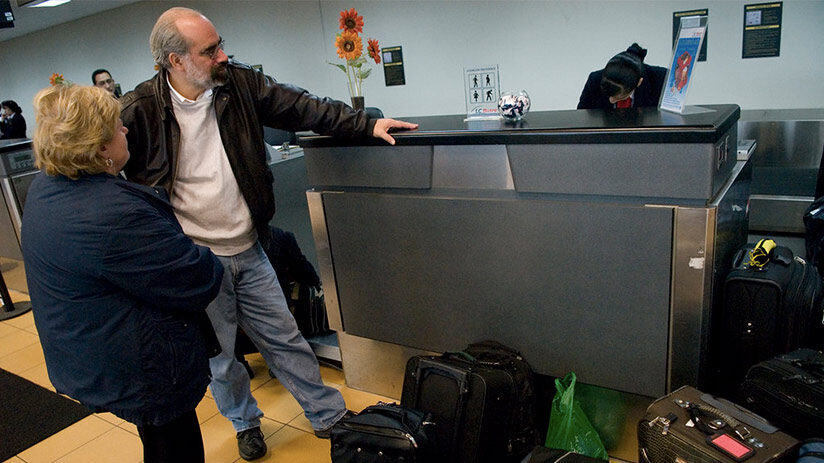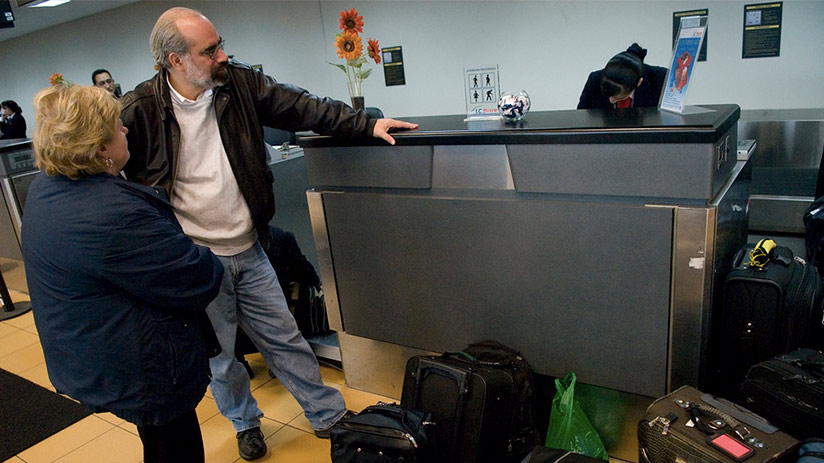 If you have a domestic connection, assure yourself to pick up your luggage. After going to the airline counter, pick up your boarding pass and check your luggage back into your new flight. Don't think that the airline is responsible for moving your bags from one flight to another.
Important data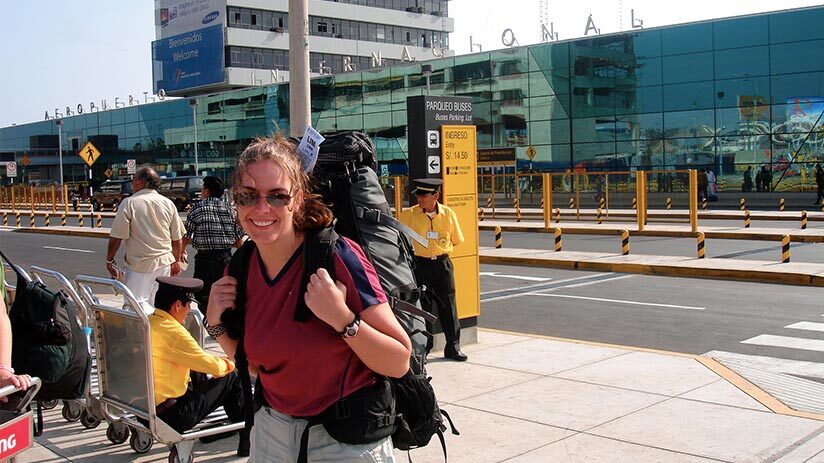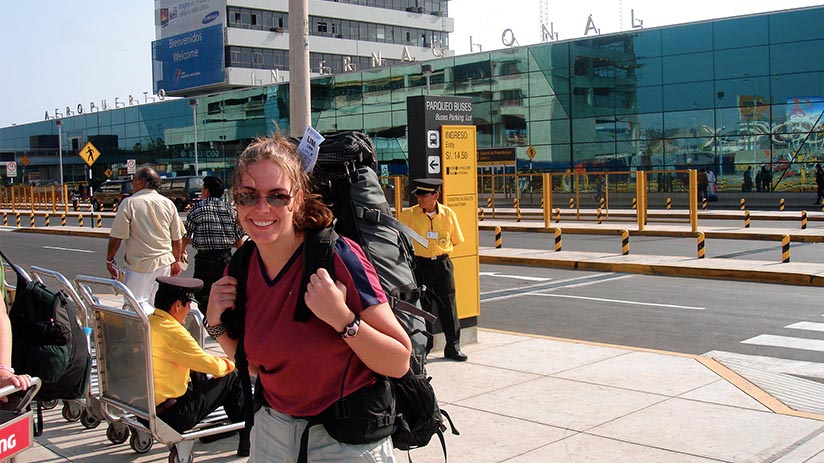 Most frequent airport hours: Generally the busiest times you will see people at the airport in the morning are between 8 and 10 AM. While in the afternoon it is from 7 PM to 12 AM. A large majority of international flights to Lima depart and arrive late at night. So this is usually the busiest time at passport control. And can you sleep at the airport? You can't, but there are a lot of luxury hotels to take advantage of.
Security: Another thing to keep in mind is security. Peru is safe to travel to, as is its main airport. But, is airport of Lima safe at night? Yes, it is. But in the same way, it is highly recommended to avoid the surrounding areas and the hotel facilities. And if you take a taxi, be sure to do so with a registered company.
"AIRPORTS WILL ALWAYS REMIND ME OF WHAT IT MEANS TO LOVE"
As you will see, the importance of knowing the Lima Airport is essential when organizing your trip. From making your check-outs to knowing the luggage storage. We hope together with the Machu Travel Peru team to have been helpful. If you want to know more about everything the airport has to offer, you can consult with our advisors. They will be able to guide you on how to guide you through this site. As well as how to help you book your tickets in advance. Our team will be waiting for your soon visit our magical country. What are you waiting for to organize your trip right now?
---