For most travelers, being able to visit Machu Picchu is one of the most outstanding experiences out there. In itself visiting the Andean country without being able to visit Machu Picchu is an incomplete trip, but to visit the Wonder of the World there are many options available. From multi-day tours to some one-day tours. And it is that together with Machu Travel Peru we will focus on those full-day tours. Many times one does not have the time available and we know how difficult it can be, but thanks to our many years of private trips and personalized tours, we want to tell you all about doing a Machu Picchu full-day tour. Among our services, you will find this marvelous option. Check everything you need to know about this wonderful site.
We all know that a visit to Peru would be incomplete without first going through the majestic Machu Picchu. That is why if you do not have too much time to enjoy, you can visit the citadel in one day. Many travelers and guides recommend that before going up to the archaeological complex, you should acclimatize for a day or two in the Sacred Valley or Aguas Calientes. Keep in mind that altitude sickness is not the same in all people and this can be solved with a coca tea or medication.
Everything you need to know about the Machu Picchu full-day tour
ABOUT THE FULL DAY TOUR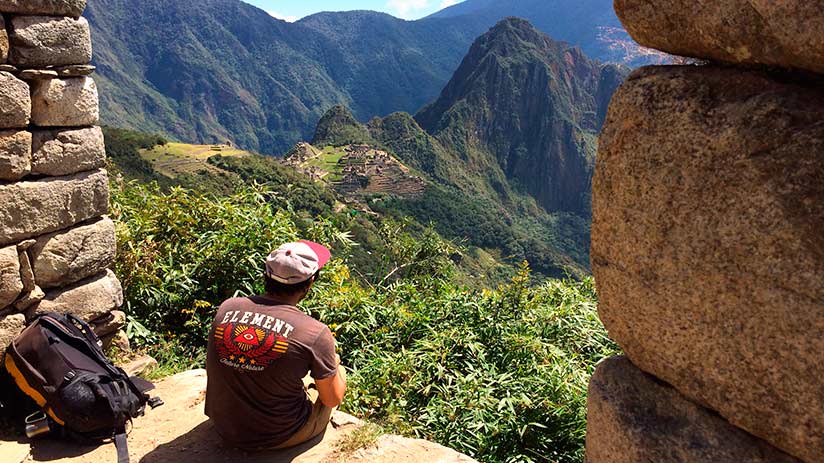 Those who wish to enjoy a Machu Picchu full-day tour can do so with a prior reservation. Normally, those travelers who want to explore the Machu Picchu map, are seen with a range of options and tours to enjoy and choose from. Among them, you will find different routes that can include 2 to 3 days in Cusco and then another 2 days enjoying Machu Picchu. Within those days you can enjoy a very complete itinerary. But this does not mean that a full-day tour is a less chosen option. A full-day tour is one of the most popular options among travelers. You will see activities such as a guided tour inside the Imperial City, a beautiful trip to the Sacred Valley, and a mystical train trip to the magical town of Aguas Calientes.
For example, there is the option for those nature lovers to travel a beautiful route between the cloud forest and the cold Andean heights. The Inca Trail is a challenging and adventure-filled experience. It is excellent for all kinds of audiences who are ready for an unforgettable feeling. And those who discard the hike option will find that the train to Machu Picchu also has luxurious and classic features. Precisely, for those who wish to experience a Machu Picchu full-day tour. The train will be the main transportation option to the entrance to the citadel.
WHY CHOOSE THE MACHU PICCHU FULL-DAY TOUR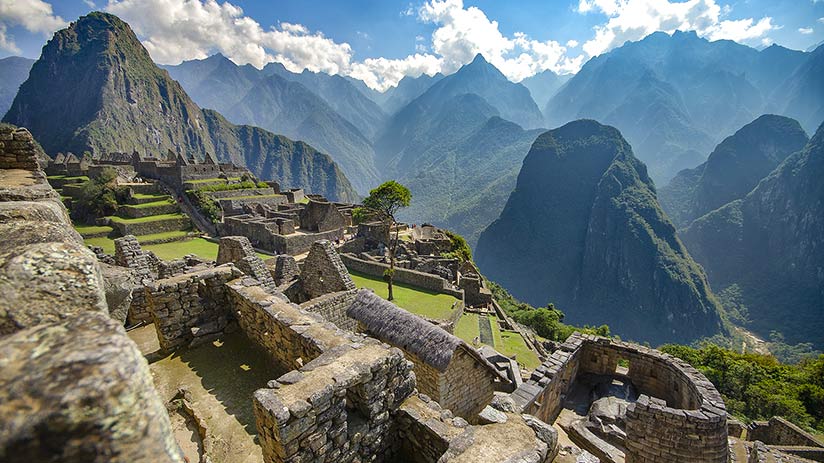 There are many factors to enjoy a Machu Picchu full-day tour. You may have a tight budget or not have enough time available to visit other destinations within your itinerary. Fortunately, the Inca citadel is a site that can be enjoyed in a full day. You can spend the whole morning or the whole afternoon exploring Machu Picchu. But usually, a guided tour lasts around 2 1/2 hours. The rest of the time you can visit the Ancient Citadel at your own pace. Although you also have to think about whether you will arrive early to Aguas Calientes or will you stay there the night before. There are many alternatives to enjoy the Inca citadel for a whole day.
Unless you want to spend more time in Machu Picchu, spending the night in Aguas Calientes is not recommended. This beautiful town is made up of luxurious and exclusive hotels where you can rest. But if you are on a tight budget, there are always other options to consider. Still, within Aguas Calientes, there is little to do other than appreciate the beautiful landscape that surrounds it and visit the Wonder of the World. For this reason, within the Machu Picchu tours, the one-day option is usually the best idea to take.
WHAT TO EXPECT ON A MACHU PICCHU FULL-DAY TOUR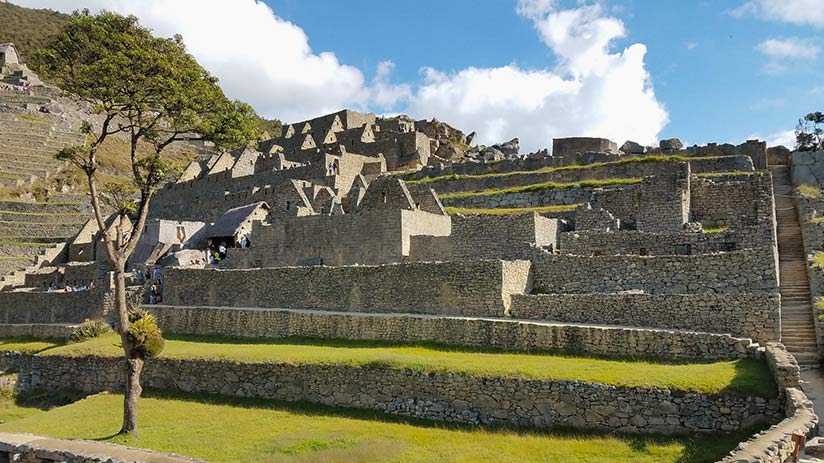 PICKING YOU UP FROM YOUR HOTEL
Your day will start very early since there is no time to waste. This is where your expected Machu Picchu full-day tour begins. Your driver will arrive at your hotel early in the morning to pick you up and take you to the Ollantaytambo train station. The trip takes about an hour. Until the station, you can enjoy beautiful and dreamy landscapes. When arriving at the station, make sure to bring some essential things before boarding the train. It never hurts to carry things like bug spray, sunscreen, and a rain poncho in case you're traveling during the rainy season.
TRAIN TO MACHU PICCHU PUEBLO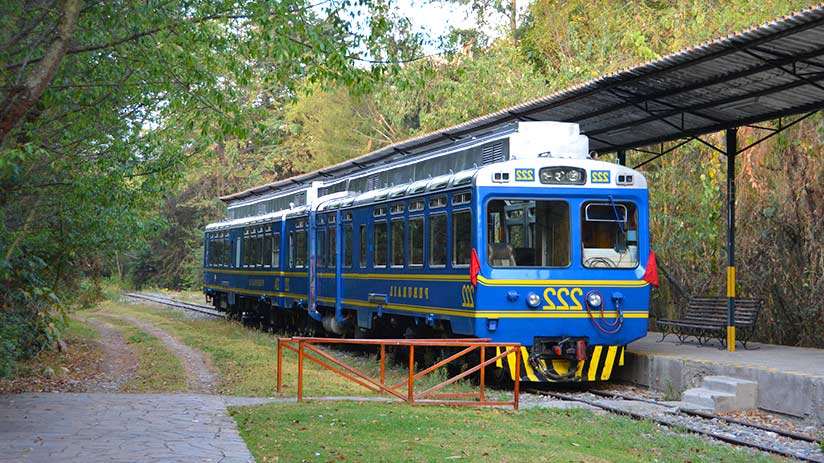 Here the magical adventure will begin with a wonderful and unique train journey. This is one of the best things to do in Machu Picchu. Depending on your chosen service, you can enjoy other amenities or wagons with different characteristics. The two main companies that offer this service are Inca Rail and PeruRail. PeruRail is quite famous for tourists and locals. Among its most complete services, we can find the Expedition, Vistadome, or Hiram Bingham. These offer various amenities ranging from windows with panoramic views, entertainment services, and traditional snacks or drinks.
The train journey lasts from 1 hour and a half to 2 hours depending on where you board it. It runs through the amazing Urubamba Valley with its incredible epic landscapes. You will be able to witness the change of foliage on the scenery as you get closer to Machu Picchu. This incredible trip is highly appreciated by tourists who experience it. Do not miss this incredible opportunity. But all of them go where Machu Picchu is located.
ARRIVAL TO AGUAS CALIENTES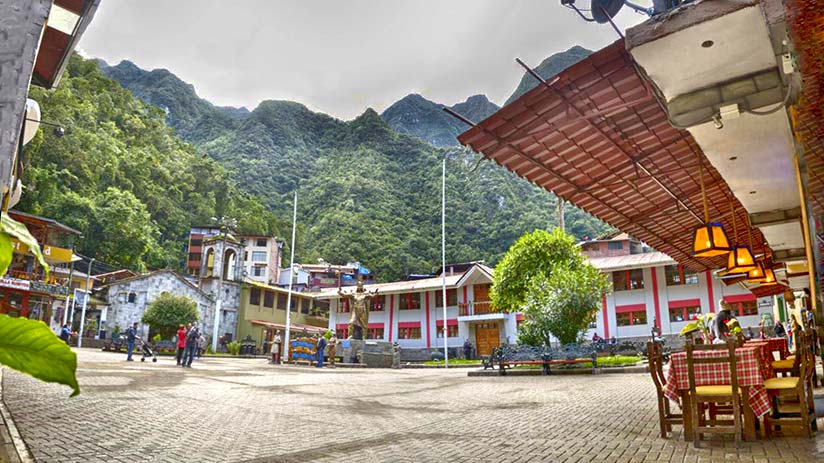 Once you arrive in Aguas Calientes, you will notice a radical difference compared to the city of Cusco. There, you will be able to appreciate much greener surroundings. The reason for this is that Aguas Calientes is in the border region of the cloud forest and the rainforest. Those who felt a little bad in Cusco will notice immediate relief upon arrival in town since it is at a much lower altitude.
When you get there, you will have to go to the bus station that will take you to the Inca Citadel of Machu Picchu. Along the way, you will find some restaurants and shops. If you haven't had breakfast before or bought some snacks along the way, this is your chance. A great place to enjoy a meal before starting your Machu Picchu full-day tour.
BUS TO MACHU PICCHU
Upon arrival at the bus station, wait to be boarded in the vehicle. The journey is short and takes about 20 minutes. At this point, you will enjoy other stunning and beautiful landscapes of the valley. Upon arrival at the entrance, have your Machu Picchu tickets at hand, as you will be presented with your official guide. The guide will be responsible for explaining the different Machu Picchu facts. You will go through the ticket check and your long-awaited visit will come true.
MACHU PICCHU GUIDED TOUR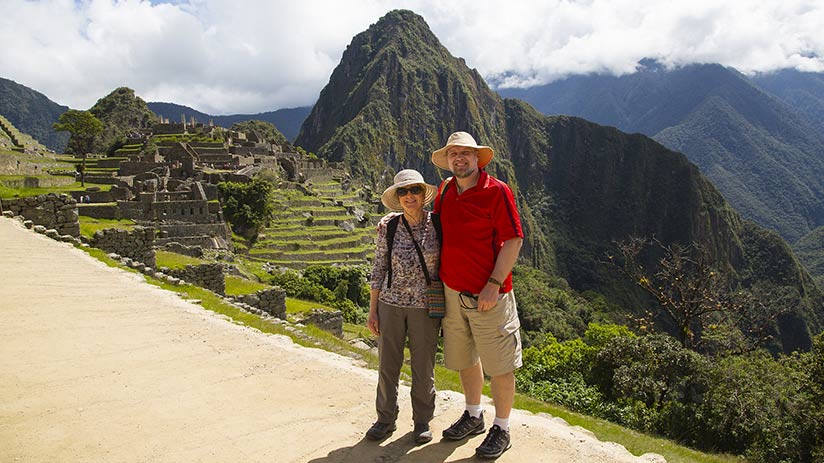 Finally, you reached the most anticipated destination. This Machu Picchu full-day tour ends with a visit to the expected citadel. We have no words to explain all the magic, so you better experience it with your own eyes. The tour lasts about 2 to 3 hours depending on your guide and then you can do an individual tour if you wish.
LEAVING MACHU PICCHU
After all the Machu Picchu tours, it will be time to return and end this mystical experience. The meeting point will be the entrance to Machu Picchu. Here you can return by bus to Aguas Calientes. In Aguas Calientes, you can have lunch in its delicious traditional restaurants before taking the train back. Then you will return to the starting point, Cusco, where you can return to your hotel or take some advantage of the rest of the day.
USEFUL TIPS FOR A FULL DAY TOUR
TRAVEL LIGHT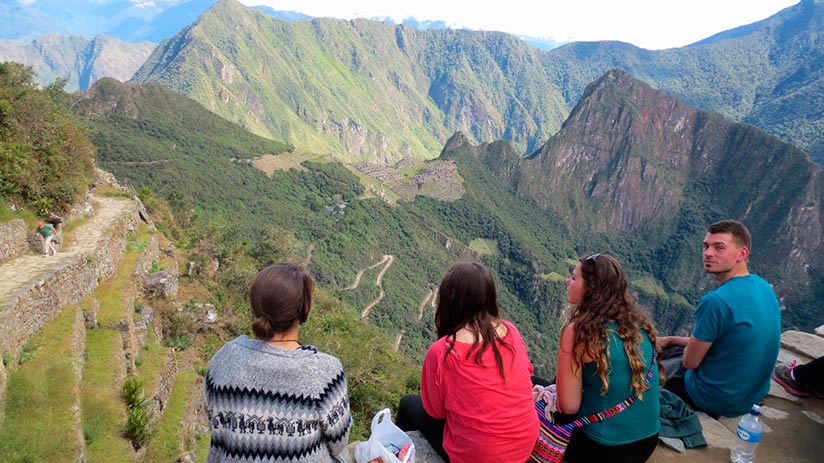 If you choose the option of trekking to Machu Picchu, a good tip would be to travel without too many things. Whether you have taken the bus or made a hike towards the entrance, you will have to think about traveling light. Especially when inside the archaeological complex, you will not be able to enter with too many things. They will also make your tour very uncomfortable. At the entrance you will notice that there are bathrooms, so we highly recommend using them before entering the complex; it is not common to leave the tour to use them, and you will not want to miss a single second of this incredible place.
GET A GUIDE
One of the most crucial things is that when you get to the entrance you have to be with a local guide, as they are obligatory to enter inside the Wonder of the World. Having a guide is the best way to know what you are seeing and where you are standing within the complex. Keep in mind that some operators or tourist agencies usually include the guides along with your Machu Picchu reservations. It is the guide who will make the difference on your tour, from explaining the different buildings to showing you the most important places within the citadel. If you decide to opt for a Machu Picchu full-day tour, your guide will be with you all the time accompanying you. Whether on the Inca Trail or an alternative route.
TAKE A DEEP BREATH AND MOVE ON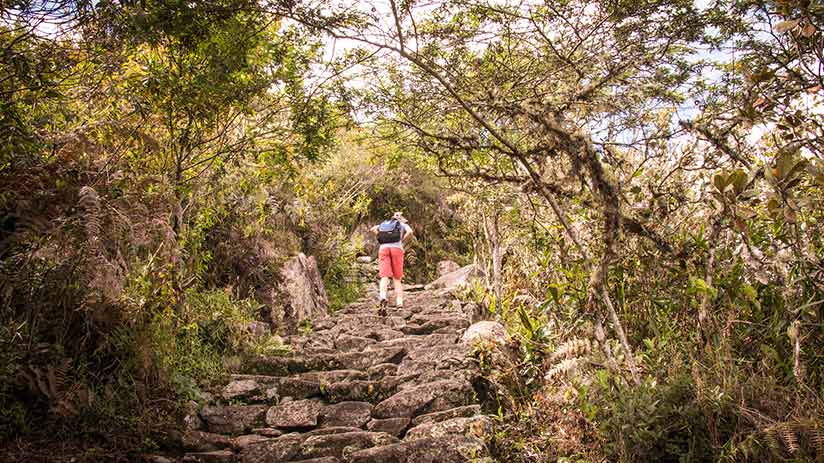 Since you will be on a Machu Picchu full-day tour, most likely you will not be able to leave the complex due to the state regulations corresponding to Machu Picchu. With your entrance, it is no longer possible to leave and enter the complex. So if you feel tired or the altitude sickness affects you, take your time and breathe. Rest a bit and take the tour again, the guides are very understanding and will help you with everything you need.
TAKE AN ALTERNATIVE HIKE
If you are planning a trip to Machu Picchu, you should know there are a lot of ways to go there. You can organize your Machu Picchu tour in several ways, whether you are for a single day or more. One of the best things to do is to take a complementary route to vary a little. The best views of the citadel will be obtained from hikes such as the Huayna Picchu mountain or Machu Picchu mountain. Walking to and from The Sun Gate in Machu Picchu is one of the most popular options within the complex.
TAKE A LOT OF PICTURES
One of the last things to do is take lots of photos. Remember that you will be a single day inside the complex, so take the opportunity to take the best postcards of the place. The guides highly recommend which points are the best to take pro photos. But still, try to take advantage of the views with your own eyes and enjoy the moment. In case you are looking for a romantic getaway you can enjoy an excellent honeymoon in Machu Picchu. This way you can add some more postcards to your photo album.
"ALWAYS TAKE THE SCENIC ROAD"
In conclusion, being able to enjoy the Inca citadel is an experience that you should not miss. We hope, together with Machu Travel Peru, to have been of help with everything you need to know about a Machu Picchu full-day tour. You will be able to discover with our advisors the many available options that exist to tour the complex. If you want to know more about our different routes, you can consult with our qualified advisors. They will be happy to help you with everything you need to know.
---