Despite the worldwide prices of services and products have increased a bit in recent years (due to the covid pandemic), in the case of Peru, prices are still quite affordable compared to Chile and Brazil (main South American references), even more, when we compare it with European countries, where tourism is very popular. So if you come from countries with strong currencies, tourism in Peru will seem quite cheap! Consequently, Peruvian money is not a big problem in general. However, if you take our advice about currency in Peru into account, it will be very helpful to enjoy your travel without any inconvenience. For this reason, together with the experts of Machu Travel Peru, we have prepared a small article summarizing the main topics about money in Peru.
Most important things to know about money in Peru
About Peruvian currency – Nuevo Sol (S/)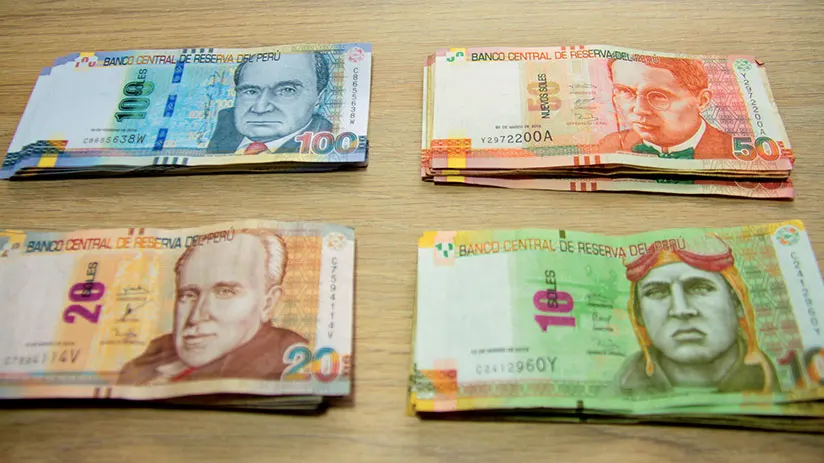 In Peru, the official currency is called Nuevo Sol (S/), the monetary unit is 1 Sol, and it's divided into 100 cents. Below it, there are coins of 10, 20, and 50 centimos (cents). And over it, you can find bills of 10, 20, 50, 100, and 200 Nuevos Soles. The currency code is PEN.
| | | |
| --- | --- | --- |
| Coins | Monetary Unit | Bills |
| 5 Cents | | 10 Soles |
| 10 Cents | | 20 Soles |
| 20 Cents | S/ 1 Sol (coin) | 50 Soles |
| 50 Cents | | 100 Soles |
| | | 200 Soles |
Something important to keep in mind within Peru is that some things are cheaper than others. For example, you can get a delicious and hearty three-course menu for less than $ 4. While a taxi ride to any part of Lima does not usually exceed $ 15. But at the same time, other products are significantly more expensive. Among the things you may notice more expensive are beauty and bath products. So it's a good idea to bring your lotions, sunscreen, and bug repellents.
American Dollars in Peru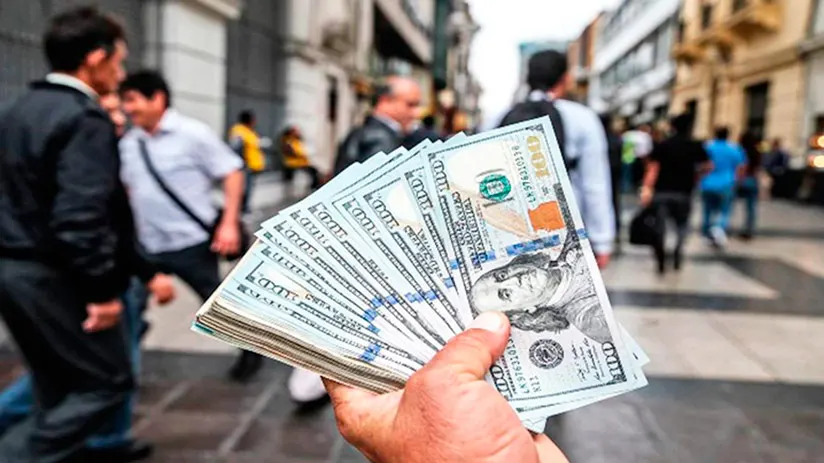 Without a doubt, the American dollar is the best currency to bring in your Peru tours. Because the US dollar is a legally accepted currency that can be used in any of the Peruvian destinations. Of course, we talk about American bills and not coins because cents of dollars are not accepted in Peru. Also, the American bill is usually the second currency of choice within the Andean country and the strongest currency security in Peru (In addition, to the same Sol). Therefore, you will even see how many hotels publish their rates in dollars. As well, many stores, taxi drivers, and restaurants accept dollars as a form of payment. However, not many businesses accept one (1) hundred US dollar bills, except for exchange houses.
Money in Peru is not very different from other places in the world, and despite the great technological advances, Peru continues to be a cash society. In many towns and small towns, it is difficult to cash travelers' checks or use credit cards. So it is always good to make sure you have some cash with you.
Exchange rate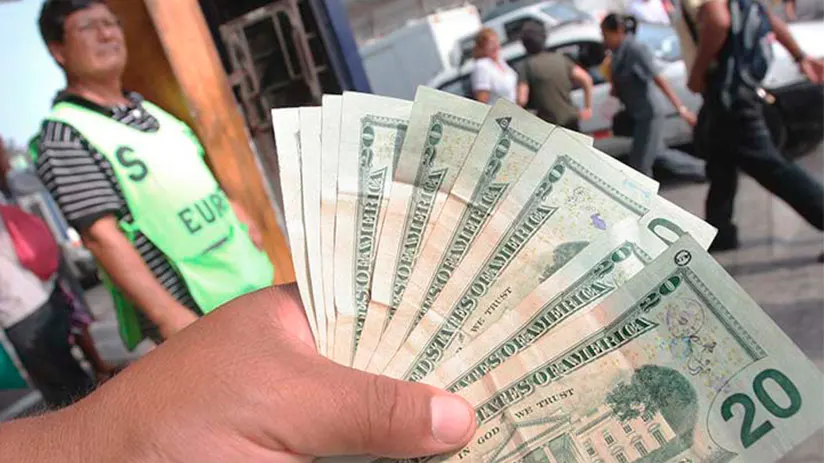 Peru money is one of the strongest coins in all of South America. It is due to responsible economic policies that the Peruvian government began to apply in the '90s. Low levels of external debt, large international reserves, and a constantly growing GDP make Nuevo Sol a strong and valuable currency inside the region.
Usually, the one-dollar ($ 1) is worth around three Nuevos Soles with fifty cents (S/ 3.50) until four Nuevos Soles (S/ 4.00). On the other hand, $ 100 is worth around S/. 350 until S/. 400 Nuevos Soles. The exchange rate fluctuates between these margins for more than 10 years!
This is the principal reason why Peru is considered a solid economy in the South American region. Also, it has still been a dog-cheap destination for Americans and European people who want to spend great moments without worrying about costs and excessive prices.
Only an example, $ 20 is worth around S/ 74.00. This quantity equals a luxury dinner by one person in the most exclusive restaurant in Cusco or a good Pisco bottle or a relaxing spa session by one person in hotels of 5 stars.
Where to exchange money in Peru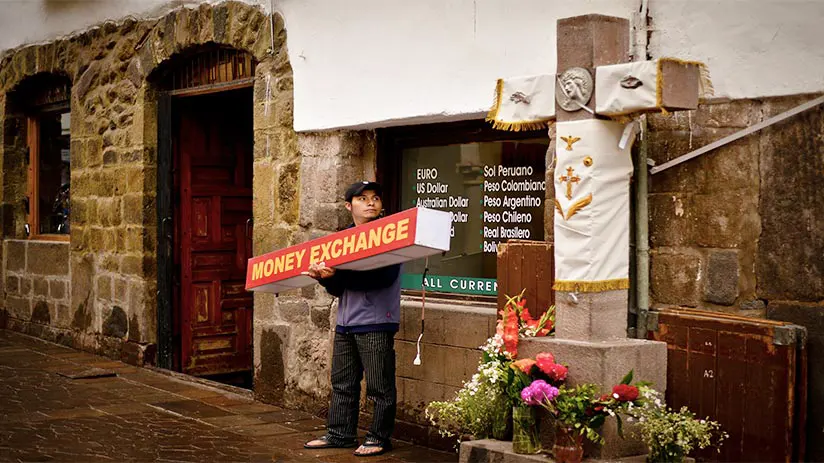 If you wonder whether it is safe to travel alone, then don't worry. Many alone travelers choose to travel safely and make their trips to Peru for the variety of exchange houses that they can find. The main ones are distributed in the main tourist areas, so they are not difficult to find. These accept all kinds of currencies around the world, being the most demanded the Dollar and Euro. However, British pounds are more difficult to change, and many households do not want to deal with them.
Within a tour, you will notice how there are people exchanging money in the middle of the street. They are known as the itinerant money changers (cambistas), who usually wear colored vests along with "$" badges. They offer the exchange service at current rates, but it is advisable to always count your money carefully. It is not recommended for anything to change money on the street, as there will be many people watching, and it is not safe. It is best to do it in the safety of an exchange house, called "casas de cambio". Don't forget to always check the exchange rate before exchanging your money in Peru.
The banks are no longer the only option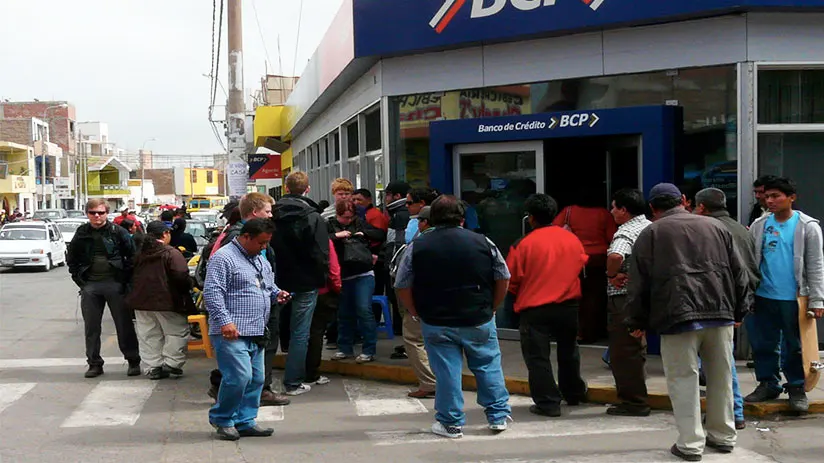 Banks are no longer the place of choice when it comes to exchanging money in Peru. When you like and want to change your currency, you can do so at the reception of the hotel where you are staying or at the local bank. The lines can be too long, and the task can take too much time. Not to mention that rates are often lower inside exchange houses. But in case you can't avoid banks, you will find one in every city. While in the small towns, you may find the main branches of the different local banks.
Paying with credit cards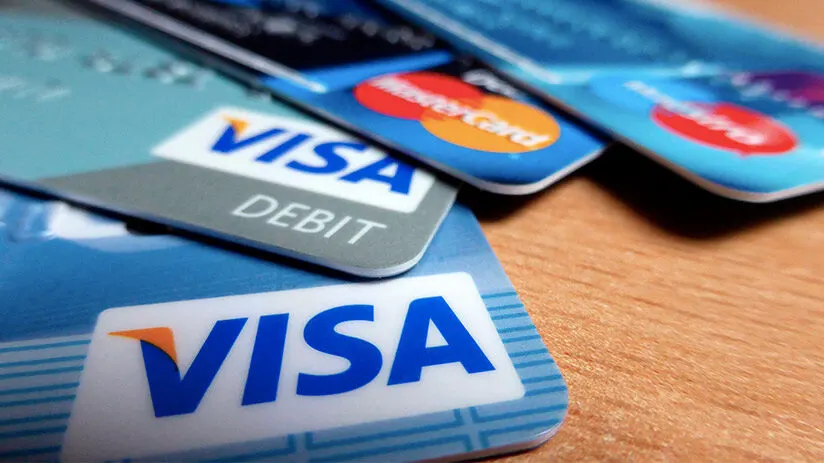 Another of the safest ways to travel around Peru is with credit cards. These are easy to use and quite effective when traveling abroad. You will avoid problems such as counterfeit money and other types of scams. Although, credit cards also have their main disadvantages. Most places, hotels, restaurants, shops, and supermarkets (tourism-oriented businesses) accept these credit cards. On the other hand, small businesses and shops only accept cash and local coins. For example, it is better to opt for cash when choosing souvenirs to buy in Peru. It is also advisable to carry a copy of your card in case of emergencies.
Despite this, Visa and Mastercard are the most widely accepted cards in general, although American Express is also used in several places. Most establishments that accept credit cards will have a sign showing what type of cards they accept. But it is always a good idea to ask before you buy.
Make sure you have your ID with you at the time of the transaction. In addition to remembering your PIN or security code. Even now, you just have to bring your card near the payment machine and that's it (contactless payment). If a business or store takes your card for payment, be sure don't look up from your cards and see what happens to them. Although credit cards are still one of the best ways to pay during your travels, cash still has its advantages in Peru.
The ATMs in Peru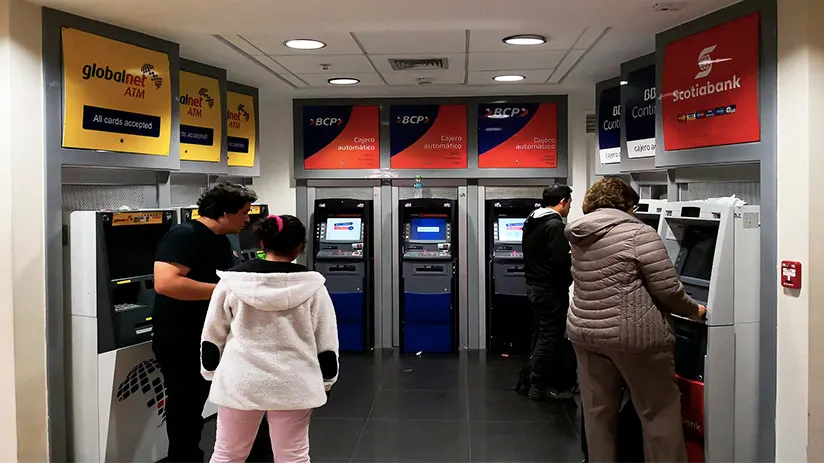 One of the most common ways to obtain money in Peru is through ATMs. And fortunately, there are numerous ATMs in Peru. In Spanish, "Cajeros Automáticos" is the name of the ATMs. And in these, you can get money quickly and safely. There are four popular banking companies in Peru: BCP, Scotiabank, BBVA Continental, and Interbank. You will usually find ATMs for each of these companies. You can find them in their main branches, supermarkets, shopping centers, and even gas stations. ATMs dispense both Peruvian Soles and US dollars. But always keep in mind that ATMs frequently have transaction fees every time you use them. A good idea is to check the charges of each bank before your trip departure. As well as finding out about the specific instructions to be able to use your debit card in Peru.
As a tip, it is recommended that you use ATMs inside banks, stores, or malls. Street ATMs are a common point of theft and are not very safe. As we mentioned, credit cards are accepted in most businesses in Peru, and it is advisable to always carry a little cash. In local and smaller markets, the use of a credit card is not always seen. If you plan to buy traditional clothing in Peru, cash may be a good alternative.
Peru on a budget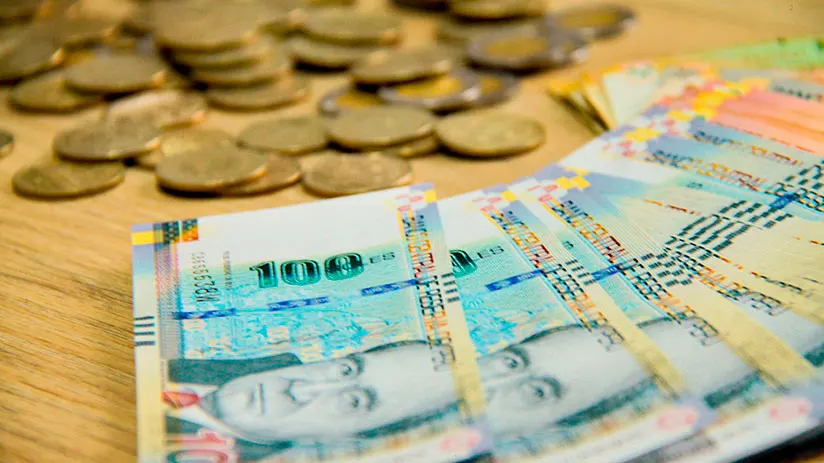 Fortunately, Peru fits most travelers' budgets. Making it one of the best destinations for all travelers in the world. From thrifty backpackers to luxury-loving homeless. No matter what your vacation budget is, there is something for everyone in Peru. Whether you are looking for a certain level of comfort that includes good food and hotels with hot water, you can expect to spend between $ 70 and $ 100 a day.
But if you are interested in staying in high-end hotels and eating in quality restaurants, the budget can exceed $ 500 a day. Therefore, if you are planning a trip to Machu Picchu, there are numerous luxurious hotel options to choose from as well. On the other hand, if you don't have the budget for these hotels, it is worth it to visit them anyway. The different patios are wonderful, and the architecture is worthy of photographs. Now, there are also budgets for thrifty travelers that do not exceed $ 50 charges a day. There are several ways to save money while getting to know Peru. You can select to share rooms or enjoy family restaurants. And many times cash in Peru can save you surcharges from your bank, as well as give you options for haggling in different places. No matter your budget, Peru vacations are worth it.
Tipping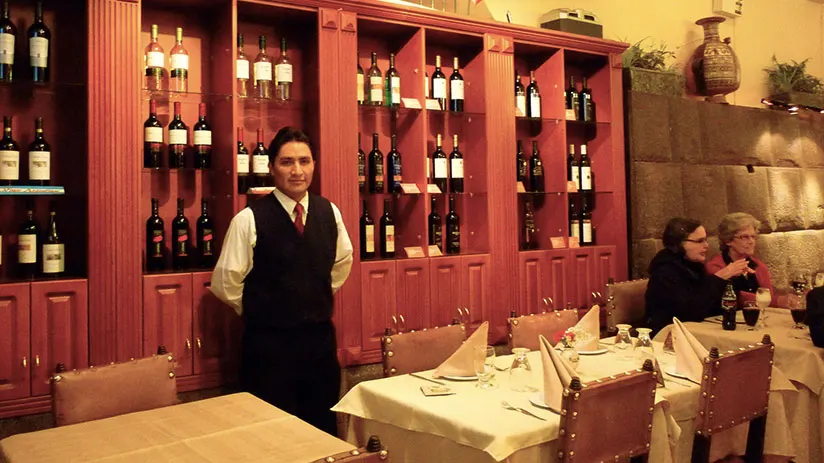 Despite credit cards being the recommendable option to do transactions in Peru, It is also advisable to have a little cash. Especially for Tippings. This custom of paying extra money directly to service personnel is not common in Peru. Therefore, carrying with you some local coins and bills will be perfect at the moment to give a tip to the waiter because the tip cannot always be added to the bill. Usually in Peru, the tipping is considered around 10% over the cost of the service or product, please, keep in mind this.
The cost of Peru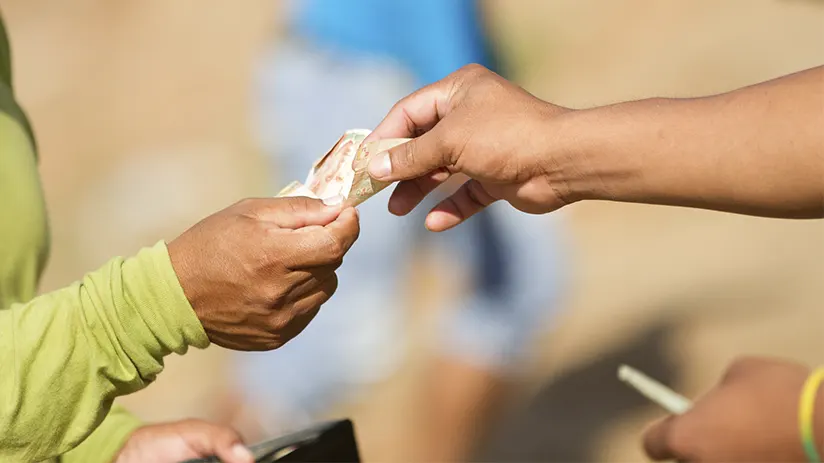 Over the years, the cost of tourism has increased. What makes Peru not as cheap and economical a destination as it was known in previous years. But the Andean country continues to be relatively inexpensive by North American and European standards. It is becoming an excellent luxury destination, where you can enjoy high-end international hotel chains and other incredible attractions. Despite this, the Machu Picchu trip cost is still quite accessible, especially if you know the prices and rates of international attractions. In the same way, the US dollar, the euro, and the pound are strong currencies that can be used on your trips to Peru. Experience one of the most fascinating cultures on the planet.
Bargain a price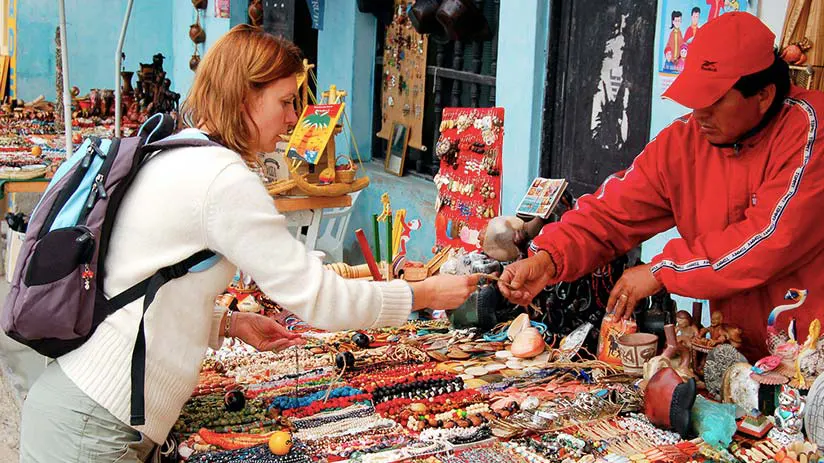 It usually bargains a price, previous seconds to get a product. Don't worry, it is a daily custom practiced by local people who wants to buy a service or product. With you, there will be no difference, therefore, don't hesitate to bargain a price before getting a service or product, of course, all with politeness and respect. You will reach a little discount over the original price, always! Encourage you to practice this custom on your trip to Peru!
Money in bad condition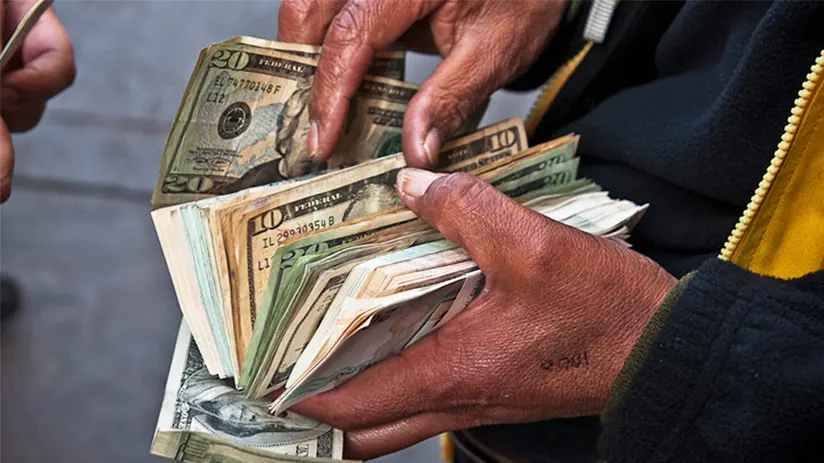 Besides planning a trip to Peru, bear in mind that many people do not accept banknotes that are not in good condition. And you as a visitor have to have the same parameters when accepting cash. Do not accept bills with tears, bills that have been written, or those that are badly worn. This will avoid problems with future payments. Taped tickets are another thing to avoid.
Those US dollars that are in poor condition are also not accepted in Peru. Any foreign banknote that is dirty or broken will be frowned upon by merchants. So it is important not to have old bills, both in Soles and Dollars. If you happen to have any of these bills, don't worry. These can be exchanged at the National Bank of Peru for free. Of course, you will make a large line to get your turn and change your money bills at the counter of the National Bank of Peru in any city.
Counterfeit money in Peru
Counterfeit Peru currency is a recurring problem. Both with the Nuevo Sol and with the US Dollar. And it is not always easy to spot a counterfeit bill or coin. Counterfeit bills and coins are common. So much so that it is not surprising to see merchants and consumers vigorously verifying the authenticity of money before accepting payment or change. And being a foreigner, you may not be able to notice the subtle differences. So don't be ashamed to take the time to review all your money when you receive it. The lines and borders o the images have to be well-defined. But the majority of the time, use your debit or credit cards.
One of the easiest ways to verify money in Peru is by holding the bill up to the light to see the watermark. If you feel that something is wrong, ask for the bill or coin to be exchanged. New banknotes or notes were introduced in 2011, combining international security measures. They are also designed with figures from the rich cultural history of Peru. But in general, you have nothing to worry about.
Tips and interesting Information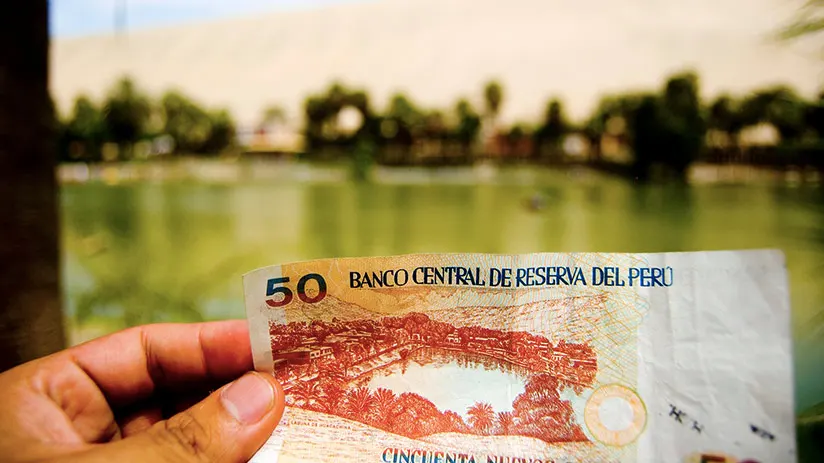 Watermarks are used to prevent counterfeiting and are located in the upper left corner of the face of the banknotes.
There is no best time to visit Peru, but the high tourist season (From April to October) can be more expensive than the low season (From November to March)
It is common to see people verifying the money they receive, so do not think that it is strange to take your time.
Don't be afraid to ask someone to replace a suspicious-looking bill.
Do not carry large amounts of cash. A little change will do.
Haggling is common in Peru, especially in those products where there is no clear price tag. This includes taxi fares.
Always carry a copy of your credit card as well as your main documents.
A good idea is to check the current exchange rate. For this, you can go to this link.
"NOT HE WHO HAS MUCH IS RICH, BUT HE WHO GIVES MUCH"
As you will see, money in Peru is a topic to continue exploring. But in general, if you keep these tips in mind, you will not have future problems. If you have any other questions about the currency of Peru, you can consult with the Machu Travel Peru team. You can also contact our team of qualified consultants so they can help you get organized. Our consultants will be happy to help you plan the trip of your dreams. Since Peru is the place where the biggest dreams come true. Don't miss it and start booking your future vacations!
---