The coastal city of Paracas is located near numerous natural attractions, such as the incredible Paracas National Reserve. And in recent years, this small town has seen a considerable increase in tourism. This increase in tourism has led to a series of infrastructure projects that have made Paracas one of the most coveted destinations in Peru. Whether for romantic getaways or tours of immaculate landscapes, Paracas has become a desirable place for families and young tourists. And with such a variety of hotels, hostels, resorts, and luxury accommodations, it's no wonder it's hard to choose from so many options. For this reason, together with the colleagues of Machu Travel Peru, we have proposed an article where we have listed the most popular hotels in Paracas.
Some of the best hotels in Paracas to enjoy with the whole family
LIBERTADOR HOTEL PARACAS
The Libertador Hotel Paracas is one of the best hotels in Paracas and a perfect place to start a luxurious vacation. Whether you plan to appreciate the abundant marine life or tour the Paracas National Reserve, this hotel will greatly complement your experience. This establishment is located in the bay just in front of the Paracas Natural Reserve. The entire establishment offers a calm and relaxed atmosphere with more than 120 spacious rooms and suites. It also has two private pools, a luxury spa, a lounge bar, and two high-quality gourmet restaurants. Besides, guests will have different conferences and dance rooms to use. Enjoy the glorious sunsets in Peru while staying in one of the best hotels in Paracas.
DOUBLE TREE BY HILTON PARACAS HOTEL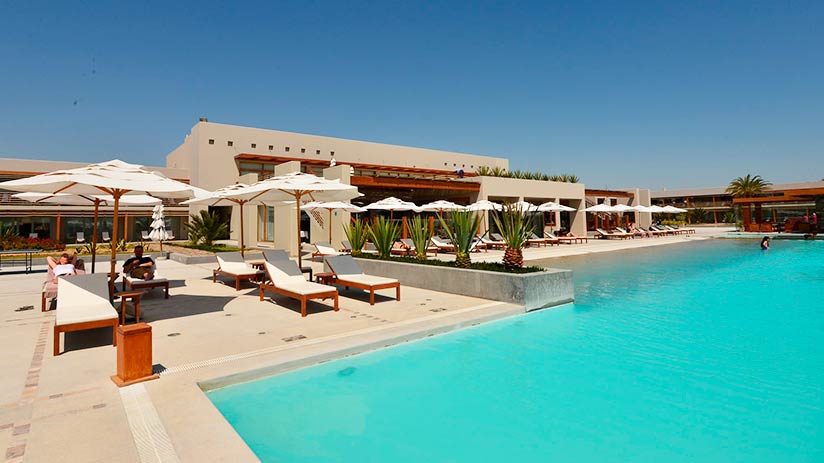 As with its other locations throughout Peru, the Hilton hotel chain does not disappoint. This hotel in Paracas is located on the beach of Santo Domingo. The establishment has 124 suites that usually include terraces or balconies overlooking the bay or the palm tree gardens. One of the best advantages of the hotel is its private beach, where you can enjoy peacefully with the whole family. The hotel has facilities such as a spa, sauna, and numerous other amenities for its guests. This hotel is one of the best places to start enjoying the marine life tours and the different activities around such as kitesurfing in Paracas.
LA HACIENDA BAHIA PARACAS HOTEL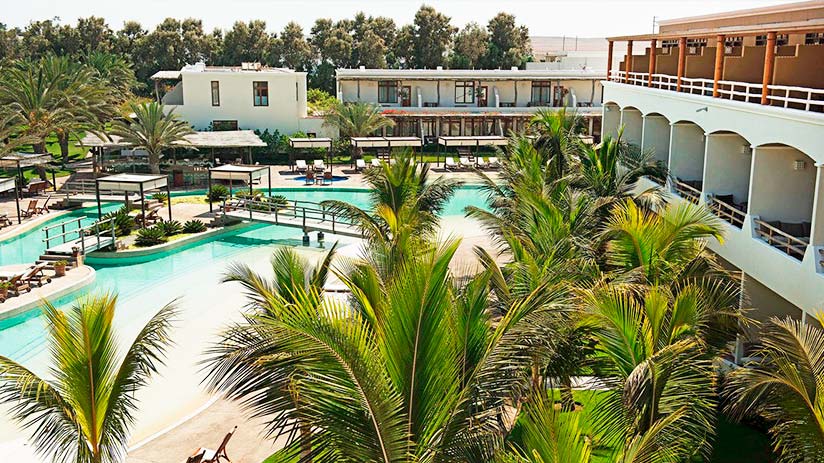 If you are on vacation with your partner and are looking for a more private and romantic hotel in Paracas, this is your option. Hacienda Bahía Paracas is one of the best luxurious alternatives for couples in search of a private retreat. The hotel has a large pool to relax and a large terrace where you can appreciate incredible views of the beach. Its guests will enjoy beautiful gardens, a tennis court, a soccer field, and a volleyball court. All this without mentioning a safe area where children can play. It is advisable to take advantage of some incredible activities such as sandboarding in Paracas.
HOTEL SAN AGUSTIN PARACAS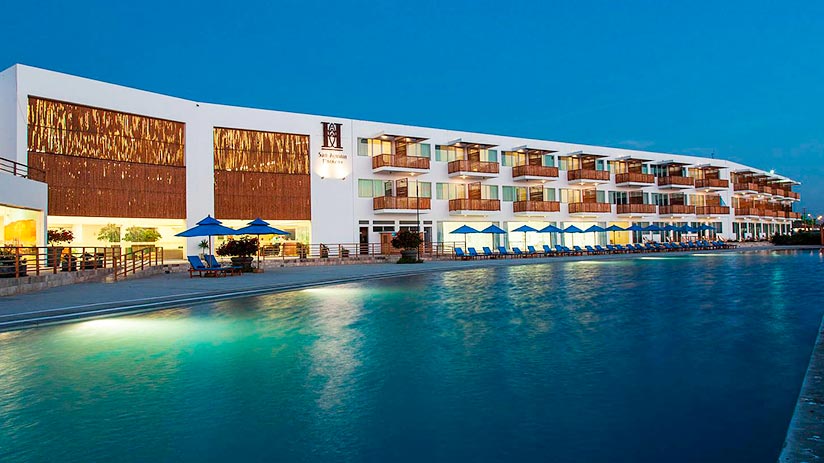 If you are looking for options that are a bit more accessible than the rest, the Hotel San Agustín Paracas is a great alternative for luxury hotels. The establishment boasts of being one of the only hotels where all its rooms have ocean views. So no matter which room you choose, you are guaranteed a view. The establishment also has an excellent restaurant that serves classic traditional Peruvian seafood. Also, those who choose to stay inside can enjoy a bar, a huge pool, ocean views, and incredible prices. This hotel in Paracas is an option that you cannot miss.
ARANWA PARACAS RESORT & SPA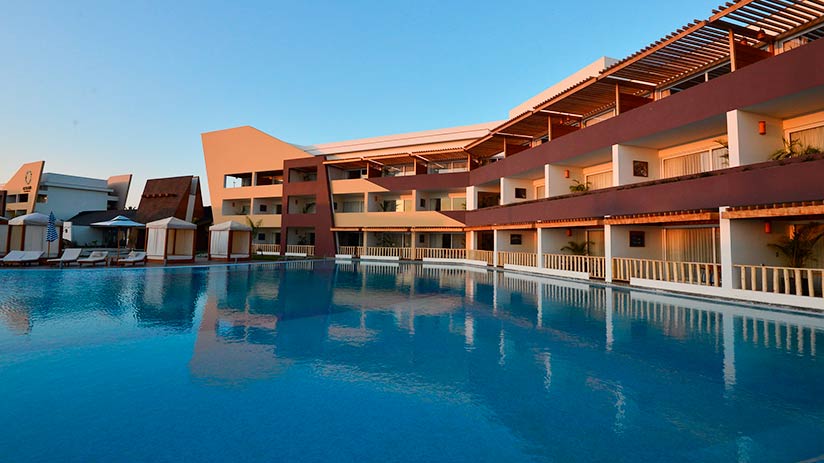 The Aranwa Paracas Resort & Spa is located 3 hours by car from the capital city of Lima. This hotel in Paracas is one of the best examples of luxury accommodations. It has 115 well-decorated rooms, 2 swimming pools, a well-equipped spa, a great restaurant serving delicious dishes, a private pier with a lounge bar, and much more. The hotel offers its guests the opportunity to relax in one of the best Peruvian destinations. All of its rooms have views of the resort's pool, as well as small balconies and other luxurious amenities. Fortunately, it is close to numerous main attractions, allowing you to fully enjoy the many things to do in Paracas.
RADISSON RESORT PARACAS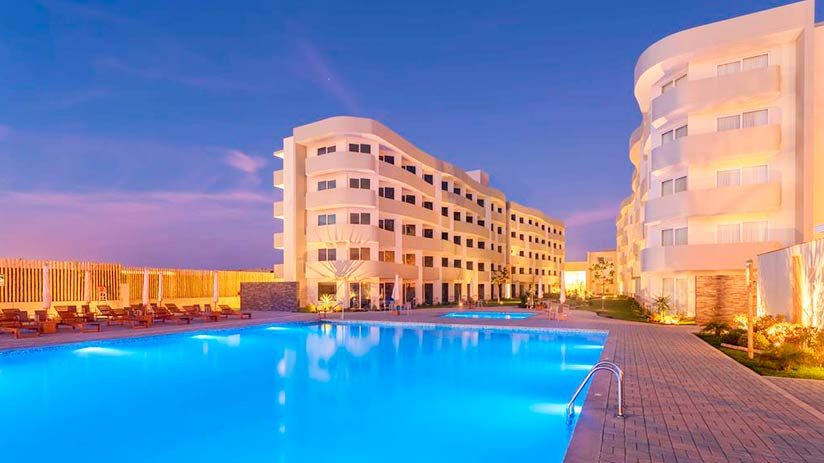 The Radisson Resort is located just a few miles from the coastal city of El Chaco. This has great first-class amenities to guarantee guests a relaxing and comfortable stay. Those who choose to stay inside will have the advantage of enjoying a pool with ocean views, a traditional treatment spa, and much more. The hotel has 150 rooms, some of which have views of Paracas Bay. Its rooms are also elegantly decorated and include all expected amenities. Being able to stay inside the Radisson is one of the best things to do in Peru on your vacation.
"LIFE IS SHORT AND THE WORLD IS WIDE"
Together with our colleagues from Machu Travel Peru, we hope to have been helpful for your next visit to the Paracas Reserve. Remember that these are just some examples of accommodations, but there is much more to enjoy within this incredible destination. If you have any questions about our tours, you can ask our qualified advisors.
---