Peruvians are truly proud of their ancient culture, the Inca ruins, and the impressive Amazon rainforest. But our beautiful South American country offers many other things and places to visit as well. Have you ever heard that the sea breeze calms you down? Yes, I know you are smiling right now. A beach vacation is good for the body and soul, which is why the beaches in Peru are the best! Can you imagine how the ocean breeze, the warm sunsets, or the taste of heavenly seafood feels? In Peru, you can not only imagine it, if not experience it.
Peru has miles and miles of the Pacific coast, the incredible and beautiful home of the best beaches in Peru. The sky above, the sand below, and the peace within… The options seem to be limitless, don't they? The Peruvian coast is a wonder by itself and together with Machu Travel Peru, we want to prepare a small article about the best beaches in Peru. Let's take a look at some of the beaches in Peru that will make you dream of your next adventure. Don't hesitate and start planning a trip to Peru. You deserve it!
The 10 best beaches in Peru to enjoy on your vacation
MANCORA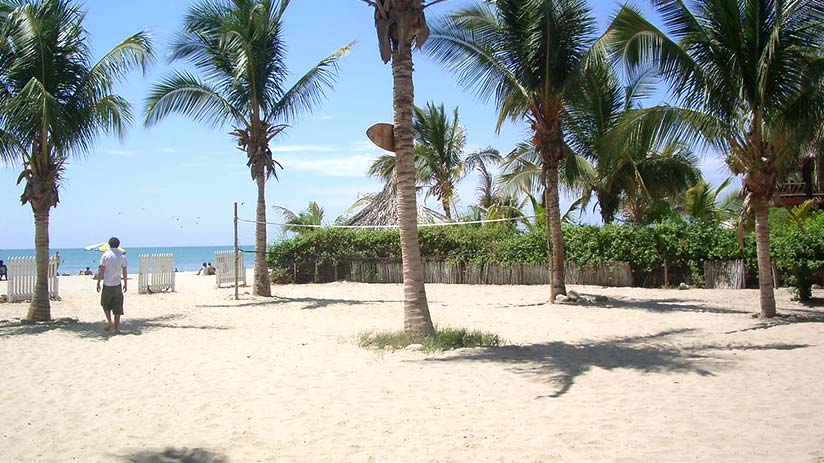 Are you ready for 365 days of sunshine, relaxing waves, and fresh seafood? I know, I know, you're already excited to get to Peru. Among the best beaches in Peru, Mancora is undoubtedly in the top positions. Located in the warmest region of Peru, this year-round sunny destination, with its laid-back atmosphere, pure and dusty sand, warm waters, and cloudless blue skies, attracts many locals and travelers from around the world. If you were looking for summer vacation ideas, look no further! Mancora is your option to choose.
It is also known for being a great place for surfing as well as partying. Despite its small population, Mancora is full of hotels, restaurants, and resorts dedicated to the tourist market. It is a relatively easily accessible beach and one of the favorite destinations for young travelers. Besides, Máncora has a unique marine life, so if you are interested in fishing or diving, this is the place!
PUNTA SAL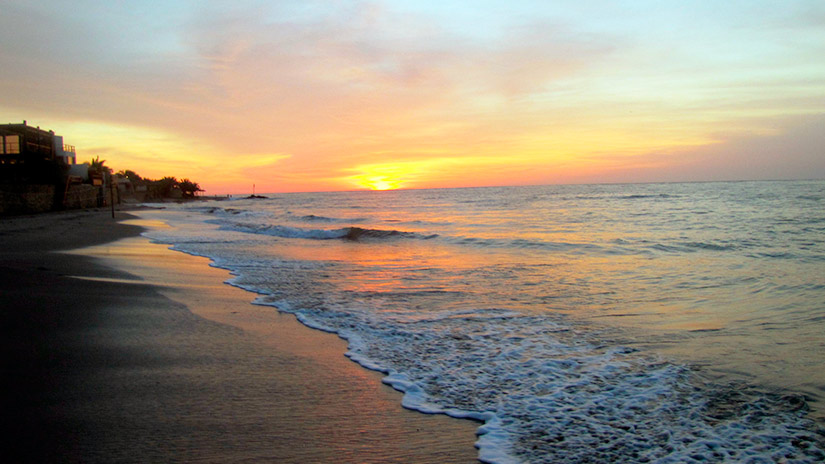 Located along the north coast, Punta Sal is considered one of the most beautiful and charming first-class beaches in Peru. Also, due to its location close to the equator, the temperature of seawater is around 24 ° C throughout the year. Thanks to its soft sand beaches, blue water, and spectacular views, Punta Sal is considered by many to be one of the best beaches in Peru.
It has 6.5 kilometers of coastline, being one of the longest beaches. With so much space, you will have no problem enjoying it away from the crowds. Completely amazing, huh? The pleasant temperature, accompanied by calm waters -perfect for sport fishing- and golden sand, make Punta Sal a must-see beach on the different tours in Peru.
LA MINA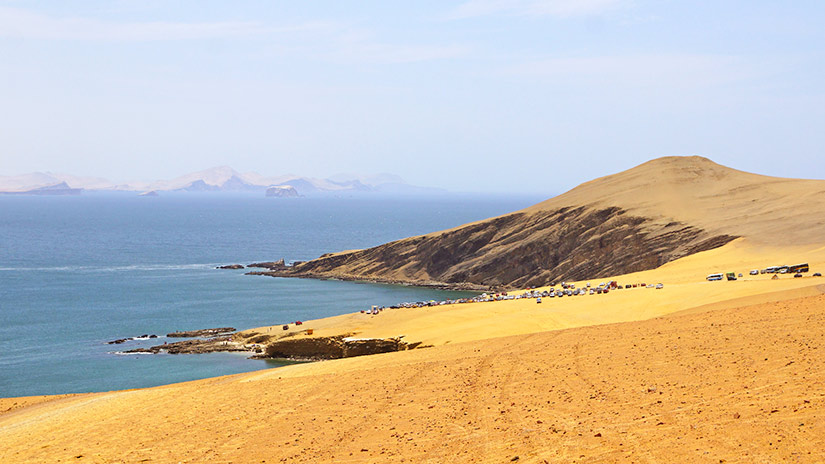 La Mina is one of the beaches in Peru with great popularity among tourists. So much so that you can find it totally full and crowded at certain times of the year. It is located and surrounded by the natural beauty of the Paracas National Reserve, which has some of the most spectacular desert landscapes in Peru.
Stunning sandstone rock formations meet the sparkling turquoise-green waters of the Pacific. If you are lucky, you can spot some local sea lions. A dream beach, but La Mina becomes even more blindingly beautiful as the night sky turns into a festival for star lovers. The best time to visit Peru, is without a doubt, at any time. But if you are looking to enjoy the eternal sun, summer can be a good option. .Without a doubt a highlight within the Andean country.
PUNTA HERMOSA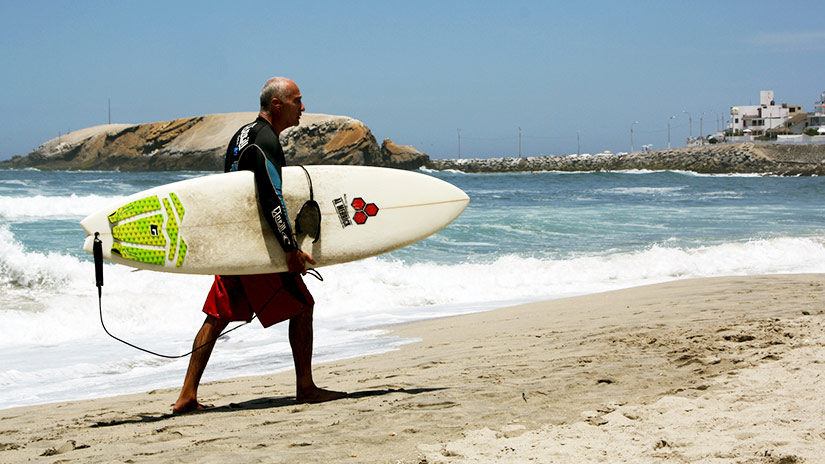 Just an hour's drive from Lima, is Punta Hermosa, one of the most popular beaches in Peru among locals and Lima residents. Due to its proximity to the Peruvian capital, it has become one of the best options for weekend getaways. Punta Hermosa is on its way to becoming a new version of Asia, a popular hotspot among Lima's elite. The beaches of Punta Hermosa have seen a growing number of hotel projects, restaurants, and nightclubs. Despite not being as luxurious as Asia, it is a much more affordable exclusive option. One of the best tourist sites in Peru.
HUANCHACO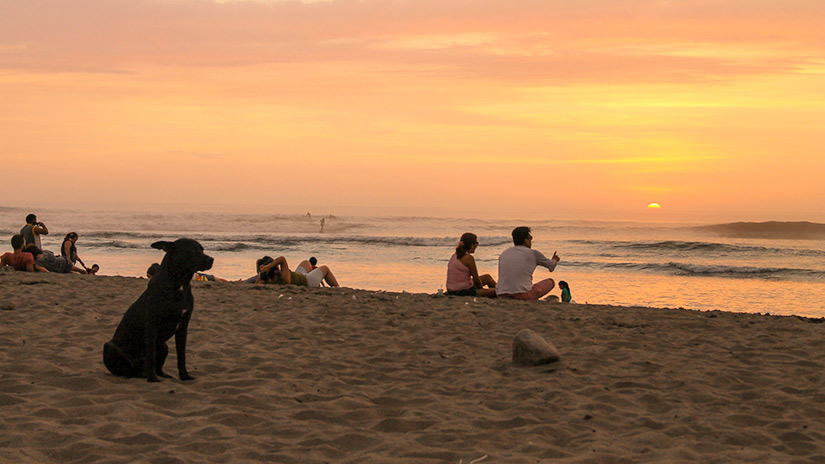 Huanchaco is not only home to one of the best beaches in Peru, but it is also known as the birthplace of Ceviche. One of the most popular beaches in Trujillo, it is located about 560 kilometers north of Lima. This quiet beach is known for its water sports and the unusual style of fishing practiced by local fishermen. They ride on the waves with a traditional fishing rod called "Caballito de Totora". This woven boat has been used for thousands of years and is an ancient tradition among fishermen. Also, there are many historical ruins not far from the beach, including Chan Chan. Huanchaco is undoubtedly one of the famous landmarks in Peru to visit.
CABO BLANCO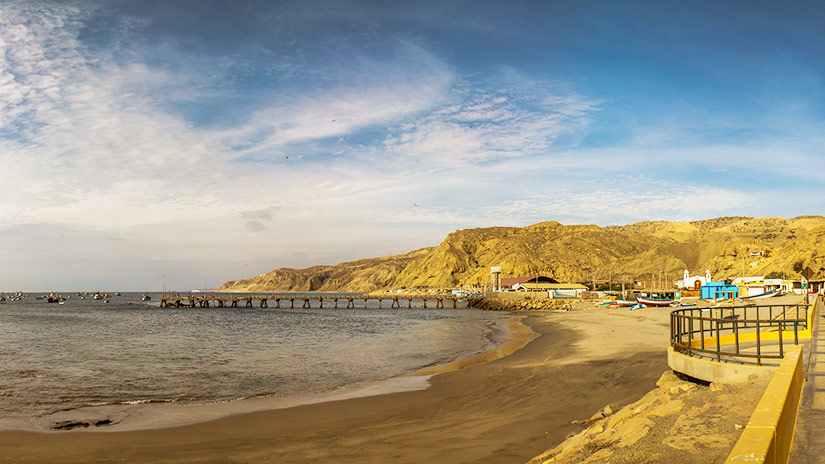 Cabo Blanco is, without a doubt, one of the best beaches in Peru. Even if books aren't your thing, you've probably heard of author Ernest Hemingway. If so, you have to know that his famous book, "The Old Man and the Sea" was inspired by the waters of this beach. But this beach is not only popular for this novel, but also for being home to the perfect wave for experienced surfers. From November to January you can enjoy some great quality waves. So during these times, you will see many surfers, blue skies, and rocky cliffs to appreciate.
CHICAMA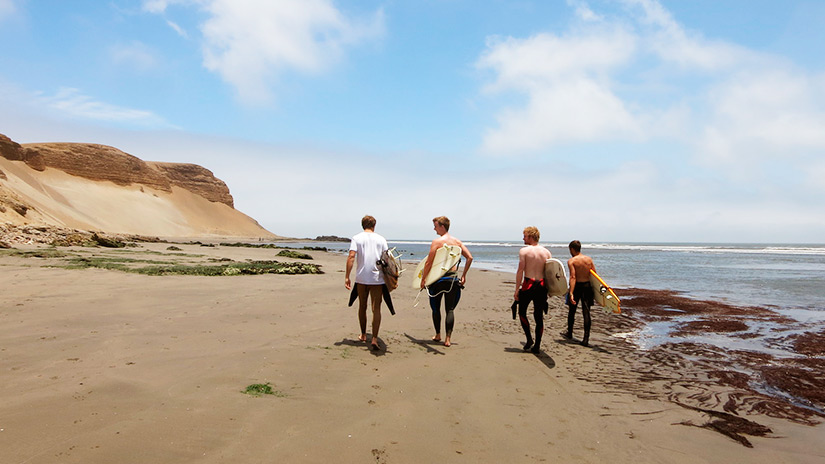 The humble city of Chicama is not only home to one of the most beautiful beaches in Peru, but also home to the longest left-wing waves in the world. It is said that a surfer was able to appreciate the waves from a plane flight and then wrote to some Peruvian friends to help locate this beach. On a good day, you can see waves of over 6 feet. If you are an experienced surfer, Chicama beach will be a paradise. Despite the growing popularity of the beach, the city remains a humble place. You will find no more than a few simple lodgings and good seafood.
RED BEACH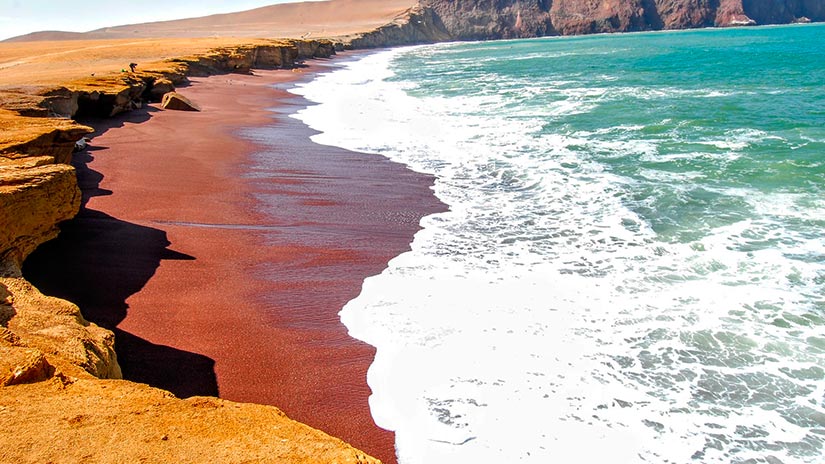 La Playa Roja, or "Red Beach", gets its name thanks to the reddish sands that can be seen. These were created due to the erosion of ancient lava solidified in the area. The red sands contrast in a great way with the blue sea, giving birth to spectacular scenery worth seeing. Also, in certain areas, the beach is surrounded by high cliffs that give the place a unique appeal. This beautiful beach in Peru is a paradise for lovers of sunsets and natural landscapes. It is located just 4 hours from Lima in the Paracas National Reserve. Along with other popular places in Peru, the Red Beach is quite a landscape to behold.
LAS POCITAS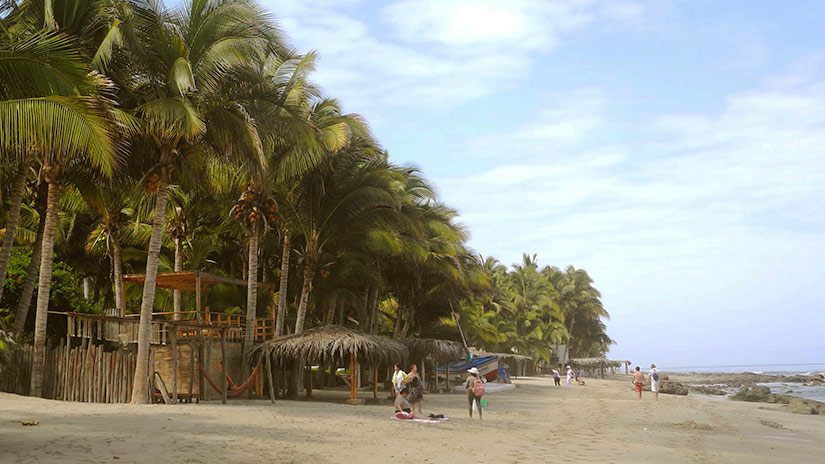 Not far from Mancora, you can find Las Pocitas beach. Also known as Máncora Chico or Little Mancora. It is located just at the end of the road and is a much calmer and more relaxed alternative than its older sister. As in Mancora beach, you can find a wide selection of hotels facing the sea. Some of these have pools and amazing views. This beach is an excellent escape option for lovers looking to get away from endless parties.
THE CITY BEACH IN MIRAFLORES
A list of beaches in Peru could not be complete without mentioning this iconic beach. While it is true that it is not one of the most beautiful beaches, it is one of the best known. With a cosmopolitan city as a backdrop and one of the best neighborhoods in Lima at your fingertips, this beach is a must-see. The Miraflores coast is known as the "Costa Verde" and it is a beautiful area where you can stroll and enjoy numerous activities. You will find opportunities for lessons in surfing, paragliding, and much more. You can also rent bikes or skate on the Malecón. After a historical tour and knowing certain facts about Peru, a walk along this beach is a great option.
"KEEP CALM AND ENJOY THE BEACH."
Together with Machu Travel Peru, we hope we have made you happy with these suggestions. Certainly, Peru does not lack beach territory. The north coast has truly off-the-beaten-path beaches in Peru, full of cool places where the potential for adventure is limitless! Peru stands out as a world premium place to practice extreme and adventure sports. If you have been fascinated by the beach environment of Peru, you have to start planning your trip. For this our qualified team of advisers can help you. Check with them to start organizing the trip of your dreams!
---