Peruvians are truly proud of their ancient culture, the Inca ruins, and the impressive Amazon rainforest. But our beautiful South American country offers many other things and places to visit as well. Have you ever heard that the sea breeze calms you down? Yes, I know you are smiling right now. A beach vacation is good for the body and soul, which is why the beaches in Peru are the best! Can you imagine how the ocean breeze, the warm sunsets, or the taste of heavenly seafood feels? In Peru, you can not only imagine it, if not experience it.
Peru has miles and miles of the Pacific coast, the incredible and beautiful home of the best beaches in Peru. The sky above, the sand below, and the peace within… The options seem to be limitless, don't they? The Peruvian coast is a wonder by itself and together with Machu Travel Peru, we want to prepare a small article about the best beaches in Peru. Let's take a look at some of the beaches in Peru that will make you dream of your next adventure. Don't hesitate and start planning a trip to Peru. You deserve it!
The 15 best beaches in Peru to enjoy on your vacation
MANCORA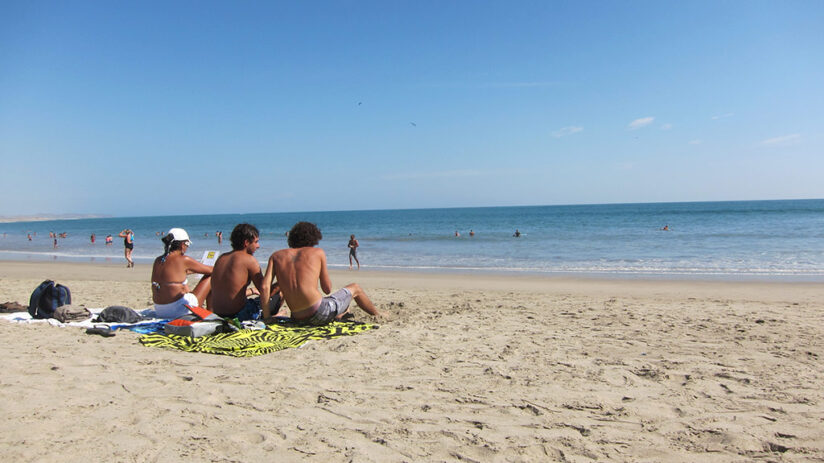 Are you ready for 365 days of sunshine, relaxing waves, and fresh seafood? I know, I know, you're already excited to get to Peru. Among the best beaches in Peru, Mancora is undoubtedly up in the top positions. Located in the warmest region of Peru, this year-round sunny destination, with its laid-back atmosphere, pure and dusty sand, warm waters, and cloudless blue skies, attracts many locals and travelers from around the world. If you were looking for summer vacation ideas, look no further! Mancora is your option to choose.
It is also known for being a great place for surfing as well as partying. Despite its small population, Mancora is full of hotels, restaurants, and resorts dedicated to the tourist market. It is a relatively easily accessible beach and one of the favorite destinations for young travelers. Besides, Máncora has a unique marine life, so if you are interested in fishing or diving, this is the place!
WHY THIS BEACH IS RECOMMENDED
All tourists flock to enjoy the idyllic landscapes of Máncora. All the beaches of Máncora are considered the most popular beaches in Peru. The fine sands, the big waves for surfing, and an always sunny and pleasant climate make this region one of the best destinations. Even the small town of Máncora has endless tourist complexes. From seafood restaurants, hostels, and large crowds of young people.
SUGGESTIONS
The exciting and diverse activities that you will find in Máncora are one of the many reasons to visit the region. From surfing, diving, kitesurfing and much more will wait for you in the magical Máncora. And your city has to offer much more than its different plants in Peru. You will find options for walks, waterfalls, and other endless attractions. Along with its lifelong youth scene, you'll understand why it's such a popular destination.
PUNTA SAL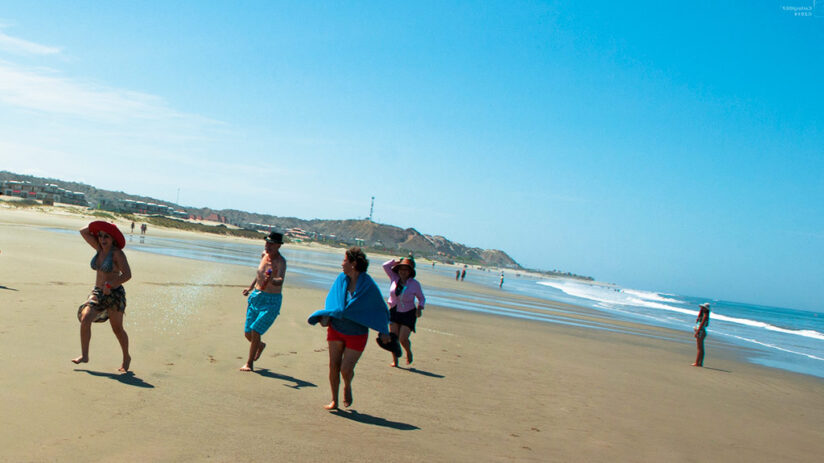 Located along the north coast, Punta Sal is considered one of the most beautiful and charming first-class beaches in Peru. Also, due to its location close to the equator, the temperature of seawater is around 24 ° C throughout the year. Thanks to its soft sand beaches, blue water, and spectacular views, Punta Sal is considered by many to be one of the best beaches in Peru.
It has 6.5 kilometers of coastline, being one of the longest beaches. With so much space, you will have no problem enjoying it away from the crowds. Completely amazing, huh? The pleasant temperature, accompanied by calm waters -perfect for sport fishing- and golden sand, make Punta Sal a must-see beach on the different tours in Peru.
WHY THIS BEACH IS RECOMMENDED
With greyish sand that can be both shiny and brown, and a long coastline, Punta Sal is one of those recommendations that you can't ignore. This coastal town has some of the best beach spots in Peru. Its extensive beach and unparalleled beauty attract both investors and tourists. So you can find a great selection of rustic resorts and restaurants just a few minutes from the beach.
SUGGESTIONS
Despite the fact that the waters of Punta Sal are characterized by being warm and calm, it has its rocky regions. Also, you will have to walk a bit before you can swim. But this beach is incredible if you are looking to enjoy fishing, diving, surfing, windsurfing, or kitesurfing.
LA MINA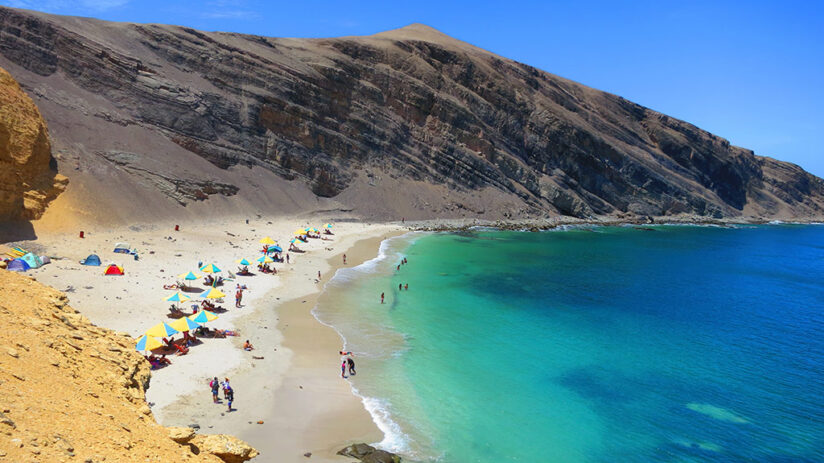 La Mina is one of the beaches in Peru with great popularity among tourists. So much so that you can find it totally full and crowded at certain times of the year. It is located and surrounded by the natural beauty of the Paracas National Reserve, which has some of the most spectacular desert landscapes in Peru.
Stunning sandstone rock formations meet the sparkling turquoise-green waters of the Pacific. If you are lucky, you can spot some local sea lions. A dream beach, but La Mina becomes even more blindingly beautiful as the night sky turns into a festival for star lovers. The best time to visit Peru, is without a doubt, at any time. But if you are looking to enjoy the eternal sun, summer can be a good option. Without a doubt a highlight within the Andean country.
WHY THIS BEACH IS RECOMMENDED
You will find different rocky headlands that hug the small beach. La Mina is located within the Paracas Natural Reserve. This beach protects the coast from the many wild waves that the Pacific brings. Note that this beach is one of the best for swimming. So during the summer, it is very likely that you will find this beach full of people.
SUGGESTIONS
The waters of La Mina can get quite cold depending on the season. For this reason, it is more advisable to visit it during the summer, which runs from January to March. But if you want to be away from the crowds, El Raspón is a good alternative.
PUNTA HERMOSA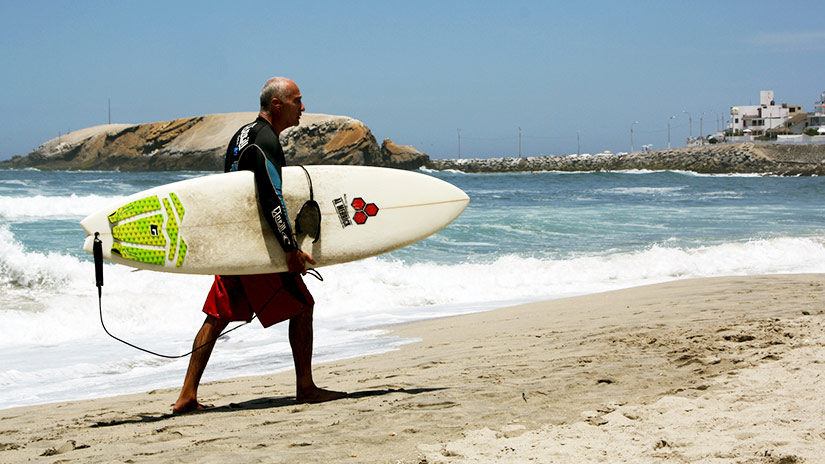 Just an hour's drive from Lima, is Punta Hermosa, one of the most popular beaches in Peru among locals and Lima residents. Due to its proximity to the Peruvian capital, it has become one of the best options for weekend getaways. Punta Hermosa is on its way to becoming a new version of Asia, a popular hotspot among Lima's elite. The beaches of Punta Hermosa have seen a growing number of hotel projects, restaurants, and nightclubs. Despite not being as luxurious as Asia, it is a much more affordable exclusive option. One of the best tourist sites in Peru.
WHY THIS BEACH IS RECOMMENDED
The Punta Hermosa area is made up of the best beaches in Peru for those looking to surf. From there to prestigious events and surf contests in the area. The waves that this beach receives goes so high that it usually reaches up to 40 feet. On the other hand, during the summer the winds and waves tend to calm down, attracting thousands of bathers to its beaches. You will be able to enjoy incredible resorts, hotels, and coasts.
SUGGESTIONS
If you are one of those experienced and brave surfers looking to conquer the giant waves, we recommend going to the Pico Alto de Punta Hermosa. The downside is that you will have to add boulders and sea urchins to the challenge. If you are not that experienced, you can still have fun during the sunny months.
HUANCHACO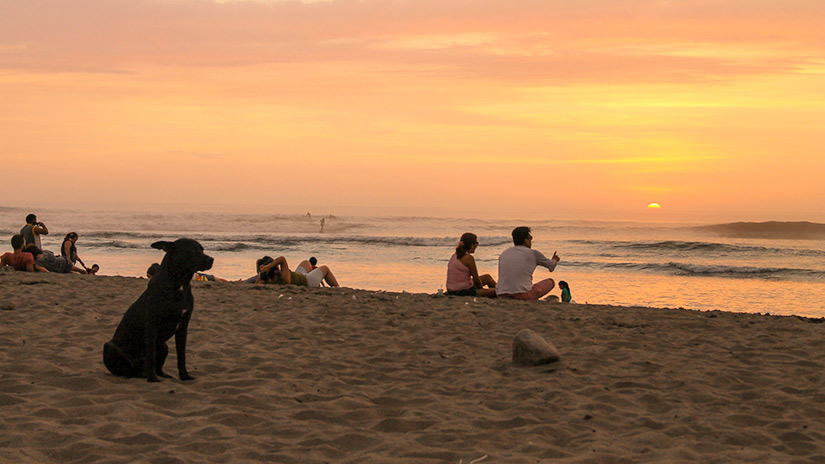 Huanchaco is not only home to one of the best beaches in Peru, but it is also known as the birthplace of Ceviche. One of the most popular beaches in Trujillo, it is located about 560 kilometers north of Lima. This quiet beach is known for its water sports and the unusual style of fishing practiced by local fishermen. They ride on the waves with a traditional fishing boat called "Caballito de Totora". This woven boat has been used for thousands of years and is an ancient tradition among fishermen. Also, there are many historical ruins not far from the beach, including Chan Chan. Huanchaco is undoubtedly one of the famous landmarks in Peru to visit.
WHY THIS BEACH IS RECOMMENDED
Huanchaco is a coastal city that is prized for its impressive surfing waves, ancient ruins, ancient boats, and ceviche. Even this beautiful city is recognized for being the birthplace of Ceviche. And it was named as a World Surf Reserve Site in 2012. At one time it was a calm fishing village, it has become an internationally recognized destination and with a strong imprint on the Peruvian identity.
SUGGESTIONS
We recommend riding the old reed boats known as "caballitos de totora". As well as how to take advantage of your visit and enjoy a visit to the Chimú ruins. But above all, we recommend enjoying a delicious and original Ceviche in its place of birth.
CABO BLANCO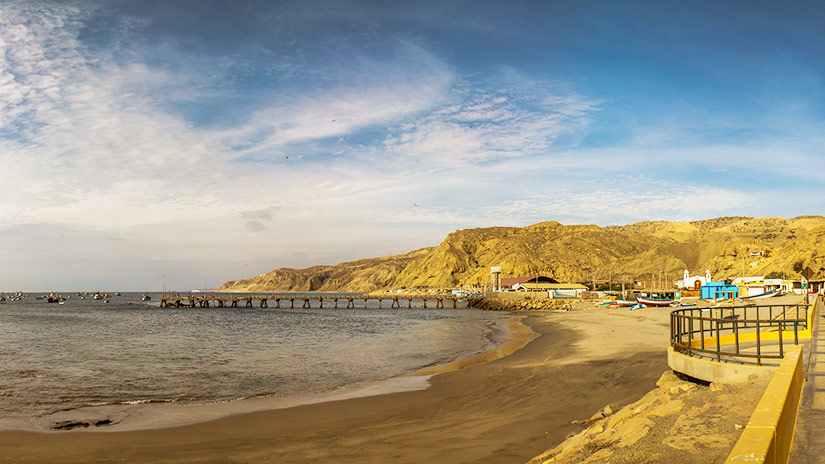 Cabo Blanco is, without a doubt, one of the best beaches in Peru. Even if books aren't your thing, you've probably heard of author Ernest Hemingway. If so, you have to know that his famous book, "The Old Man and the Sea" was inspired by the waters of this beach. But this beach is not only popular for this novel, but also for being home to the perfect wave for experienced surfers. From November to January you can enjoy some great quality waves. So during these times, you will see many surfers, blue skies, and rocky cliffs to appreciate.
WHY THIS BEACH IS RECOMMENDED
During the 1950s and 1960s, Cabo Blanco beach was very fashionable. Especially among the different fishermen of Peru. The novelist Ernest Hemingway himself was one of the icons that immortalized this beach. However, his great fame led to overfishing. Which made Cabo Blanco a paradise for surfers rather than fishermen. Today the beach has a few challenging waves that attract surfers from all over the world.
SUGGESTIONS
Please note that this beach is not for beginner swimmers and surfers. Some waves on this beach can reach up to 12 feet in height. They can even crash heavily against rocks during the months of October and January. So we recommend that you be careful and cautious, even if you are an experienced surfer.
CHICAMA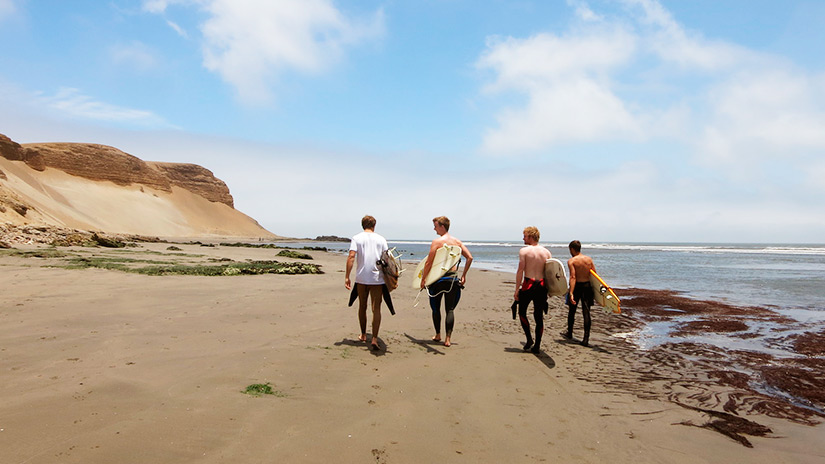 The humble city of Chicama is not only home to one of the most beautiful beaches in Peru, but also home to the longest left-wing waves in the world. It is said that a surfer was able to appreciate the waves from a plane flight and then wrote to some Peruvian friends to help locate this beach. On a good day, you can see waves of over 6 feet. If you are an experienced surfer, Chicama beach will be a paradise. Despite the growing popularity of the beach, the city remains a humble place. You will find no more than a few simple lodgings and good seafood.
WHY THIS BEACH IS RECOMMENDED
One of the main reasons to visit this beach is because of the known longest left-hand waves in the world. These waves bear their own name: "Chicanero waves". If you are a fan of surfing, this beach is a must-see.
SUGGESTIONS
We suggest enjoying the local surf resort that has a towing service. You won't have to paddle or walk back to the beach to catch your next wave. Although it has excellent waves, the city is still quite simple. You will only find simple accommodations.
RED BEACH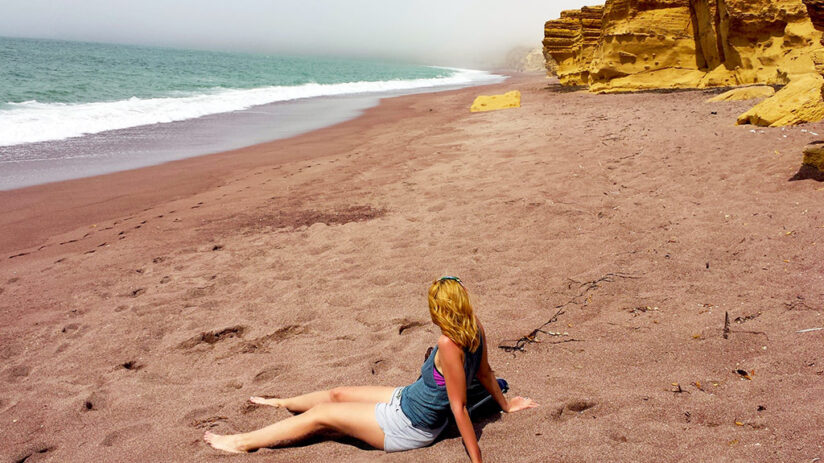 La Playa Roja, or "Red Beach", gets its name thanks to the reddish sands that can be seen. These were created due to the erosion of ancient lava solidified in the area. This contrasts in a great way with the blue sea, giving birth to spectacular scenery worth seeing. Also, in certain areas, the beach is surrounded by high cliffs that give the place a unique appeal. This beautiful beach in Peru is a paradise for lovers of sunsets and natural landscapes. It is located just 4 hours from Lima in the Paracas National Reserve. Along with other popular places in Peru, the Red Beach is quite a landscape to behold.
WHY THIS BEACH IS RECOMMENDED
The beach and its captivating colors were formed from the erosion of ancient solidified lava. The sand on Red Beach is obviously red, hence its name. In addition, the steep cliffs that surround the beach give it a certain aesthetic as if they were scenes from other worlds.
SUGGESTIONS
Because it is located in the middle of a Reserve, wildlife abounds in the area. However, much of the landscape is protected and therefore inaccessible. So we recommend booking some excursions to make the most of the different attractions available. Enjoy the many things to do in Paracas.
LAS POCITAS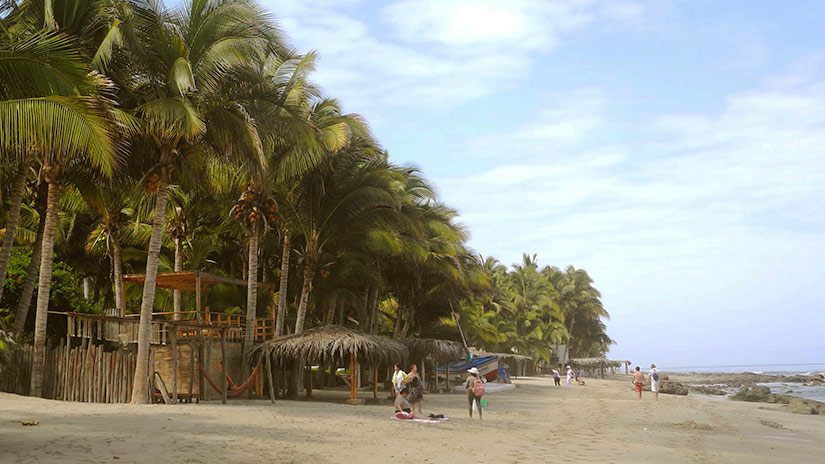 Not far from Mancora, you can find Las Pocitas beach. Also known as Máncora Chico or Little Mancora. It is located just at the end of the road and is a much calmer and more relaxed alternative than its older sister. As in Mancora beach, you can find a wide selection of hotels facing the sea. Some of these have pools and amazing views. This beach is an excellent escape option for lovers looking to get away from endless parties.
WHY THIS BEACH IS RECOMMENDED
In Las Pocitas, you will find cerulean waters that collide and contrast against the fine white sand. All this landscape is limited by tropical gardens that give it an unparalleled charm. Low tides reveal small marine ecosystems that are perfect for walking on the beach. Also, if you are traveling with your partner, it can be an incredible retreat for a romantic getaway.
SUGGESTIONS
The Peruvian Sun can be a bit strong during the afternoon, so it is advisable to bring sunscreen. But if you are looking for a better beachside experience, look to stay at Hotel Las Pocitas. A luxury alternative that will make your visit much more magical.
THE CITY BEACH IN MIRAFLORES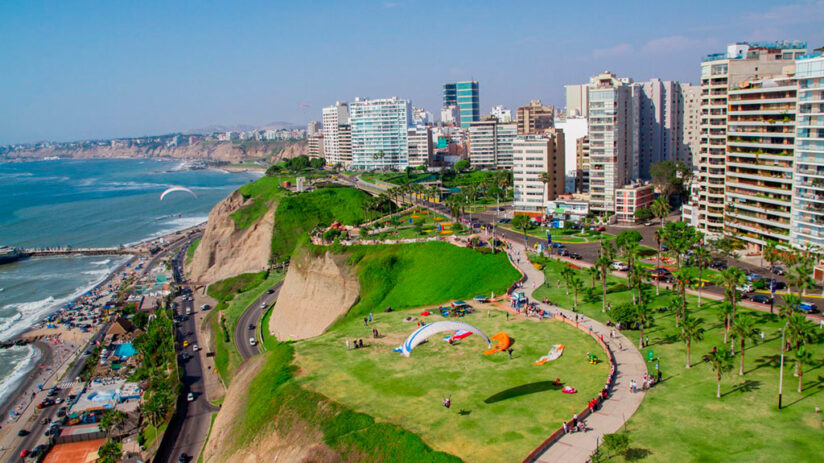 A list of beaches in Peru could not be complete without mentioning this iconic beach. While it is true that it is not one of the most beautiful beaches, it is one of the best known. With a cosmopolitan city as a backdrop and one of the best neighborhoods in Lima at your fingertips, this beach is a must-see. The Miraflores coast is known as the "Costa Verde" and it is a beautiful area where you can stroll and enjoy numerous activities. You will find opportunities for lessons in surfing, paragliding, and much more. You can also rent bikes or skate on the Malecón. After a historical tour and knowing certain facts about Peru, a walk along this beach is a great option.
WHY THIS BEACH IS RECOMMENDED
Miraflores Beach is full of bars, hotels, restaurants, shopping centers, and nightclubs. Although Lima's beaches are not usually the first choice of many, these are the best in the city. Its six-mile boardwalk offers stunning views of the Pacific Ocean. You will find surfers and other endless activities such as paragliding.
SUGGESTIONS
Miraflores is the ideal place to discover what Lima, the capital of Peru, has to offer. It is home to pre-Inca ruins, handicraft shops, museums, beautiful parks, and world-class food. It will take a full day to see what this district has to offer.
SANTA MARIA DE LIMA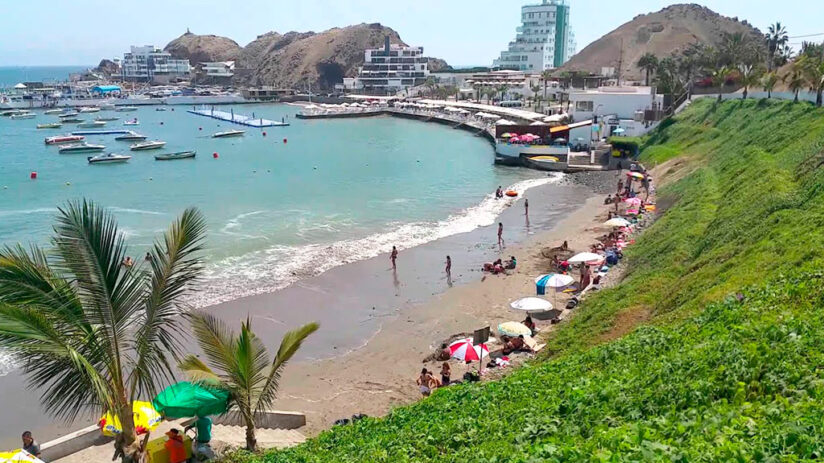 Although it is rumored that the beaches of Lima are not the best beaches in Peru, the opinions of Santa María del Mar say otherwise. Within this charming district, you can experience the best of Lima. We even know that within this sunny district you will have some of the best swimming beaches in Peru.
WHY THIS BEACH IS RECOMMENDED
We recommend this beach thanks to its inexhaustible summer sun, its gentle breezes, and the majestic waves. Along with the colorful umbrellas and the different families from around the world, Santa María del Mar could be one of the best alternatives in the city. In addition, the district has charming beachfront apartments and houses if you are looking to enjoy a romantic getaway. This is not to mention the incredible traditional restaurants that you will find around. Places to try a Peruvian ceviche abound.
SUGGESTIONS
The beach of Embajadores is one of the safest beaches for children within Santa Maria del Mar. There are hardly any waves or currents in its waters, making it excellent for swimming with the family. Especially if you are looking to enjoy the magical summer in Peru. There is also a boardwalk here and its views are stellar from there at night.
PIMENTEL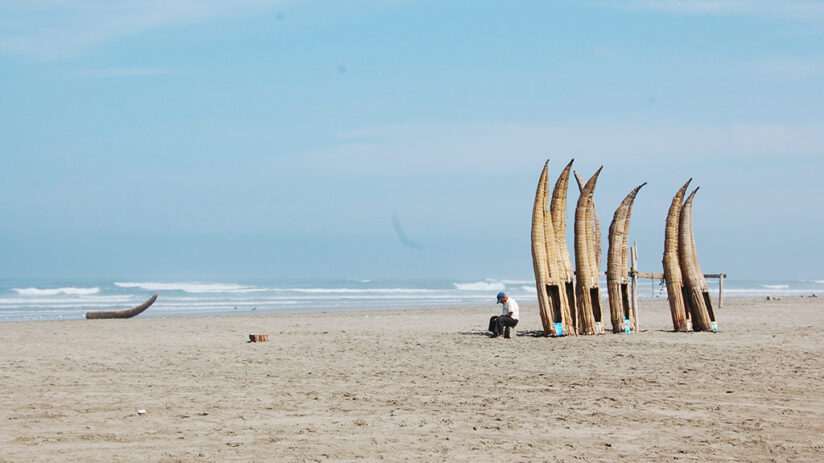 Pimentel is one of the many beaches in Peru that are located on the northwest coast of Peru. It is one of the most beautiful beaches if you are looking to visit the province of Chiclayo since it is located about 15 minutes from the city. It is located in the Lambayeque region and is one of the best beaches in the region. You can generally expect sunny weather on this busy beach. The main activity in the region is fishing, so you will also find delicious seafood restaurants and boats.
WHY THIS BEACH IS RECOMMENDED
Pimentel stands out as a beach to enjoy with the family. With its picturesque and charming promenade, its luxurious houses, and a delicious ceviche, it is the perfect place to vacation with the children. In addition, you will find the traditional reed boats known as "Caballitos de Totora".
SUGGESTIONS
It is recommended that you visit the beach early. During summer it can be seen quite full, so it is better to go from the early hours. In addition, ceviche is best enjoyed at lunch, during the afternoon there is usually not so much service. We recommend visiting the Museum of the Royal Tombs of Sipán in the city of Chiclayo, where you can learn a little about the local culture.
COLAN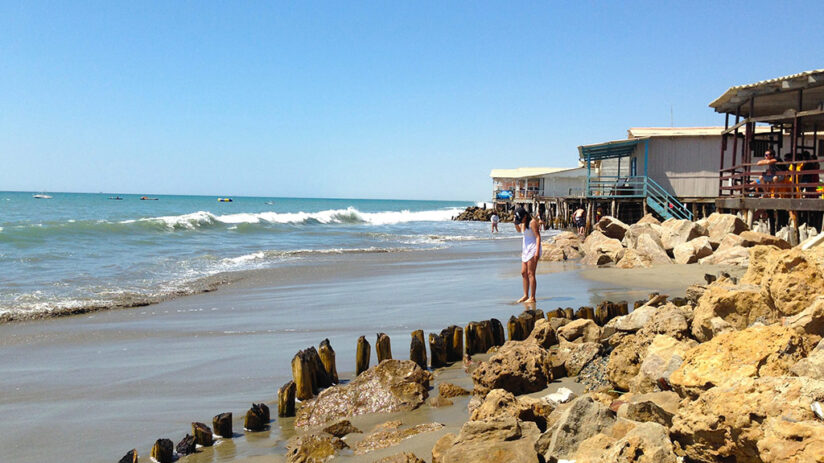 Colán is a beach that is located in the district of the same name, in Piura. It is without a doubt one of the many favorite beaches of Peruvians. Colán enjoys a sunny and pleasant climate throughout the year, in addition to its clean waters. You will be able to enjoy a modern environment full of establishments that offer the best attention. This beach is also known as La Esmeralda (Emerald in English) since its sea is characterized by a slight greenish color that contrasts with the landscape. If you are adept at diving, this beach is an excellent alternative. In addition, one of the main activities around is fishing.
WHY THIS BEACH IS RECOMMENDED
Despite being less well known, Colán beach is one of the best getaways for those looking for a respite from the bustle of cities. With clean gray sands and gentle waves to relax you in, you will enjoy many enchanting settings. You will be able to enjoy excellent views, food establishments, and high-quality service.
SUGGESTIONS
The Bay of Colán has shallow waters, but a bit cold. Also depending on the season, you travel, they can be infested with stingrays. Ask the locals for advice to know when is the best time to swim in its waters. In addition, the beach is home to one of the oldest Spanish churches in the country. Check it out if you have a little time to spare.
LOS ORGANOS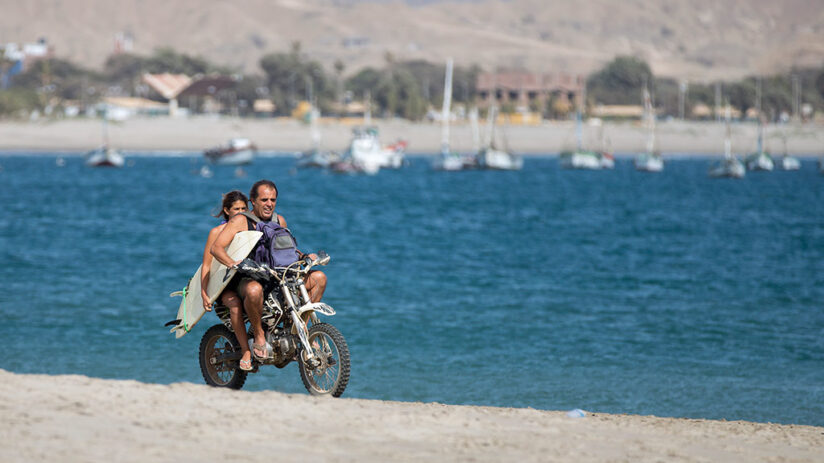 Los Órganos is one of the most popular beaches in the Piura region. It is located just 15 minutes from Máncora. This is usually a much calmer alternative to the party beaches of Máncora. It is a much more peaceful and quiet beach, excellent if you want to enjoy the pleasant climates of the region. This beach is named after a nearby hill of the same name. The hill has a peculiar shape that resembles the pipes of ancient musical organs.
WHY THIS BEACH IS RECOMMENDED
Backpackers and travelers often travel regularly to Máncora. So Los Órganos is not such a crowded alternative. You can enjoy this beach in tranquility and quite relaxed. You can enjoy watching the fishermen bring the catch of the day or the turtles hanging around the dock. Also, on this beach, if you are lucky, you can enjoy whale watching. Some tours even offer swimming with giant tortoises.
SUGGESTIONS
We recommend trying the distinguished Peruvian seafood cuisine. Explore the town of Los Órganos and taste traditional Peruvian food. This supports the livelihood of the fishermen at the same time. Since the different restaurants usually buy the catch of their day directly from them.
CERRO AZUL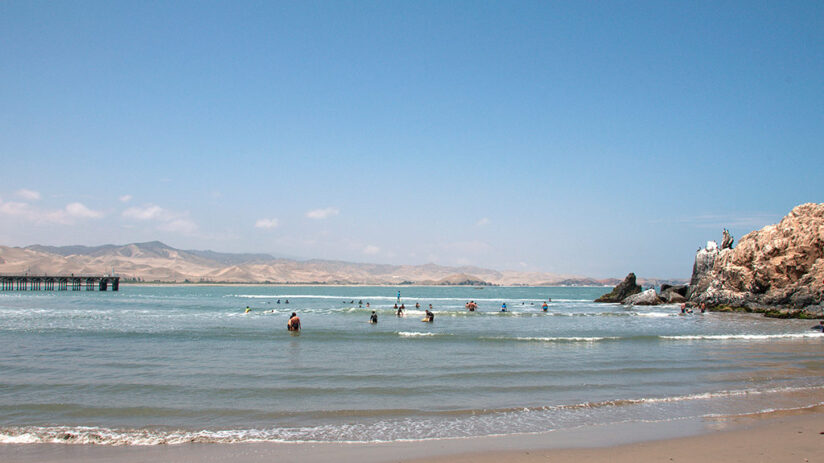 Cerro Azul beach is a beautiful beach that is located within the district of San Vicente de Cañete in Lima. The Cerro Azul beach was previously an important commercial port. Today this extensive resort has more than five beaches where you can relax and enjoy refreshing vacations. Its pier is quite beautiful and offers some lovely views of the sea. The place has large cliffs and you can see some birds such as the Pelican, the Guanay and other guano birds. Surfing and kayaking are quite popular activities to do.
WHY THIS BEACH IS RECOMMENDED
The Cerro Azul waves are so popular that they were even mentioned in a Beach Boys song. This beach is characterized by a British pier built at the beginning of the 20th century. You will also find pre-Inca ruins, an abandoned lighthouse, and a wide variety of wildlife. Despite its different attractions, Cerro Azul is often an underrated beach destination. But this means that you can enjoy this beautiful beach without crowds around.
SUGGESTIONS
Besides surfing, you will find other activities such as fishing, rafting, jet skis, and much more. If you are planning to stay here for a while, the vacation homes are located just south of the pier. An excellent alternative for your next vacation in Peru.
"KEEP CALM AND ENJOY THE BEACH."
Together with Machu Travel Peru, we hope we have made you happy with these suggestions. Certainly, Peru does not lack beach territory. The north coast has truly off-the-beaten-path beaches in Peru, full of cool places where the potential for adventure is limitless! Peru stands out as a world premium place to practice extreme and adventure sports. If you have been fascinated by the beach environment of Peru, you have to start planning your trip. For this our qualified team of advisers can help you. Check with them to start organizing the trip of your dreams!
---