For years, Peru has been the epicenter of the gastronomic revolution that takes part in Latin America. And it is not surprising, since Peru has greatly influenced world cuisine. Without Peru, there would be no potatoes, sweet potatoes, and other endless ingredients that come from the Andean sector. Especially within Lima, the capital of the Andean country, and the gastronomic capital of all of South America. It is in the Peruvian capital where you can appreciate the explosion of flavors and try their incredible traditional dishes. Although the rest of the country is also not without delicacies and delicacies. Therefore, together with the experts from Machu Travel Peru, we want to tell you everything about the Peru National Dish. So you can start savoring the particular flavor of the Andean country.
There is no doubt that the majority of gastronomic schools in the world owe a debt to our country. An example is how there would be no chocolate in Switzerland if it weren't for our early plantations. Also, there would be no potatoes in Ireland if it weren't for our variety. And so we can continue with many other places in the world. Our native cuisine was the one that truly revolutionized the world. It is true that the different influences of the world changed the way we eat. But the world would have starved if it hadn't been for Peru. Therefore, knowing the Peru national dish is one of the best things to do in Peru. Meet our most important dish as well as other honorable mentions.
Everything you need to know about the Peru national dish
CEVICHE: THE PERU NATIONAL DISH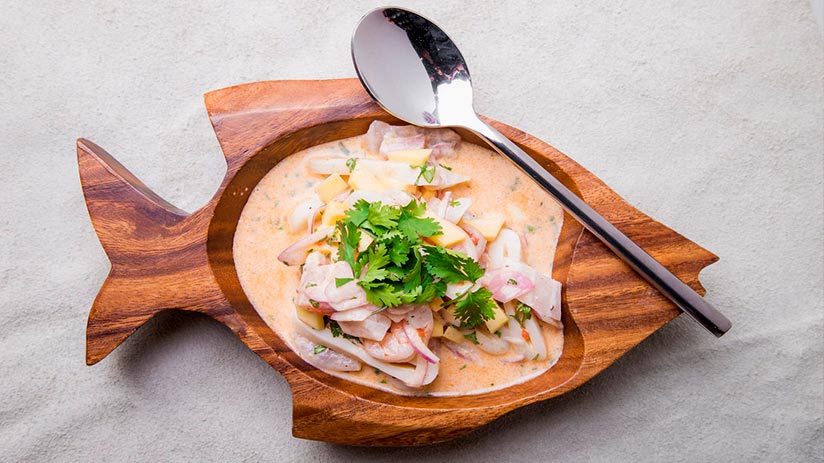 Without a doubt, Ceviche is the Peruvian national dish par excellence, it is one of the most representative and symbolic dishes of Peruvian culture and pride. But, What is the most famous food in Peru? We firmly believe that Ceviche is one of the top famous dishes of Peur. Ceviche is usually a fresh raw fish salad with salt, onion, garlic, and other peppers mixed and marinated in lemon. The main ingredient and base of the dish is fresh fish. This dish consists of fresh fish marinated in lime. It is combined with onion, garlic, salt, and hot peppers. The juice of lime and lemon is responsible for denaturing the protein of the fish. This can be seen in a lightly cooked texture. And within Peru, you can see numerous alternatives to the recipe. You can usually find black oyster ceviche, crab ceviche, and mixed seafood ceviche, among others.
Throughout the Andean country, you can find many variations in the recipe, depending on where you are, ceviche can have a unique touch such as milk, orange juice, celery, and much more. But if you are planning a trip to Machu Picchu, do not miss going through Lima before and enjoying its delicious ceviche. There are more than two hundred ways to prepare this exquisite dish, making it not only a dish but also one of the main attractions to enjoy within tourism in Peru.
HISTORY OF THE PERU NATIONAL DISH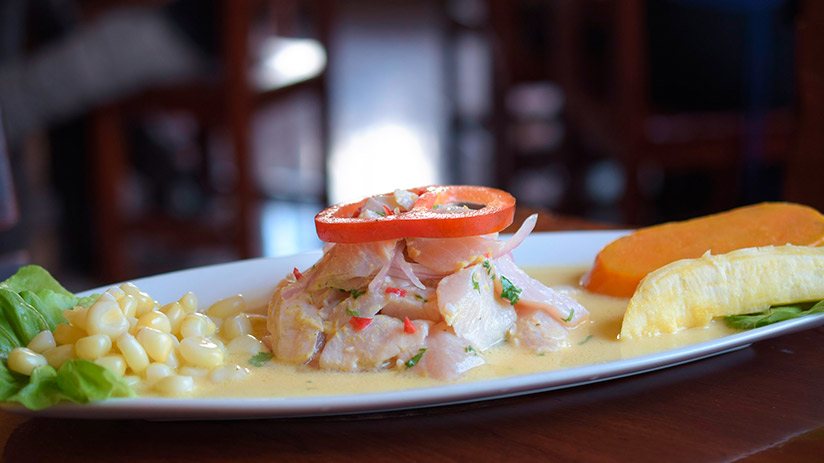 This Peru national dish is more than 500 years old and originates from the Andean country. Although its origins have long been disputed and theorized. Academics and scholars affirm that ceviche was born within the Moche culture, before the Incas, between the years 100 to 700 AD. This is the most popular theory of all, which states that Ceviche is over 2000 years old. It is believed that during this time the fish was marinated with fermented juices of the Tumbo fruit (also known as Curuba). During those times citrus fruits were not present in Latin America. The current version of fish marinated in lemon juice emerged with the arrival of Spanish settlers.
After its birth, it slowly spread to other South American countries, thus gaining its popularity. Over the years, this dish was adapted to the emerging gastronomic boom in Peru and to the palates of the many tourists who often visit the country. Even the flavor and preparation of this dish can change depending on where you are in Peru. Although it must be recognized that there are also numerous other traditional Peruvian food dishes. So Ceviche is not the only delight to try throughout Peru. But it is undoubtedly one of the main protagonists of Peruvian seafood dishes.
As for the name Ceviche, there are also numerous arguments that debate the origin of the name. Some arguments suggest that the word derives from the Latin "Cibus". This word means "food for men and animals." It is believed that this word evolved along with other Arabic words that mean "vinegar" or "soup". Another important theory suggests that the word is a derivative of the Spanish word "Escabeche." This word means pickle or marinade.
CEVICHERÍAS IN PERU
If you are looking to try the Peru national dish, do not worry, throughout Lima, there are numerous cevicherías where you can enjoy this delicacy. Cevicherías are restaurants where the menu focuses on this delicious national dish. You can find countless cevicherías throughout Lima, even in other destinations in Peru are also often seen frequently. These restaurants are generally only open during the day, as popular belief says that Ceviche can only be served as lunch. Peruvians tend to believe that fresh fish at night or during dinner can fall ill to the stomach. Do not miss the best restaurants in Lima, especially the best cevicherías.
You can't even miss those restaurants specializing in Nikkei cuisine. One of the greatest exponents of fusion food in recent years. These restaurants are where you can find different ways of preparing seafood and fresh fish. And it is not surprising that the demand for new high-end stores is at its peak. Along with the strong gastronomic revolution, numerous fusion food restaurants saw tremendous growth. This is much more reflected in the capital of Peru, Lima. Where the vast majority of high-end restaurants are located.
OTHER WORTHY MENTIONS
As is common knowledge, Ceviche is not the only delight to try within the Peruvian limits. When it comes to Peruvian food, you can enjoy a paradox in every way. You will be able to feel warm and cold textures such as acidic flavors fusing with other more starchy ones. Delicate and robust dishes at the same time, that is the essence of Peruvian food. And this balance can be seen in the vast majority of their dishes.
The Peruvian tradition focuses on the boldest flavors and spices that accentuate these. From fresh and clean dishes to deeper and heavier ones. Each flavor can dominate or counteract another. It cannot be denied that the culinary heritage is one of Peru's greatest attractions. There are a lot of traditional Peruvian food dishes you must try. Usually in these dishes, potatoes, corn, and peppers take a leading role. Fish and shellfish are not the only delicacies available in the Andean country, so we will mention other typical dishes below.
LOMO SALTADO (STIR FRIED BEEF)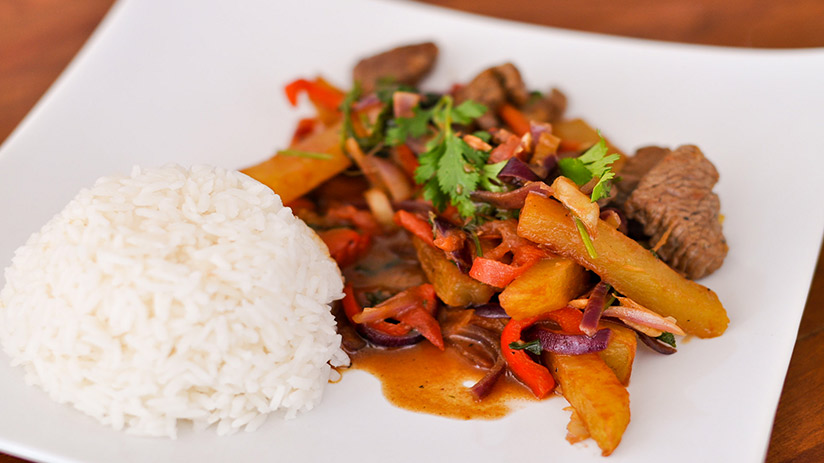 Another of the most loved dishes by Peruvians. After Ceviche, the best Peru national dish to try is Lomo Saltado. This is a very popular dish and the second most chosen by Peruvians.
The dish consists of a kind of mixture of classic Peruvian cuisine with Chinese stir fry techniques.
It is prepared with tender strips of beef marinated in soy sauce.
Then chili, tomatoes, onions, and other spices are added.
These ingredients are fried together until the meat is cooked enough.
When the tomatoes and onions reach a sauce-like consistency, it's time to serve.
This dish is served with plenty of white rice and French fries.
This is the result of the fusion of Cantonese cuisine with Peruvian Creole cuisine. You can find it practically in any restaurant in Peru.
PAPAS A LA HUANCAINA (POTATOES IN SPICY CHEESE SAUCE)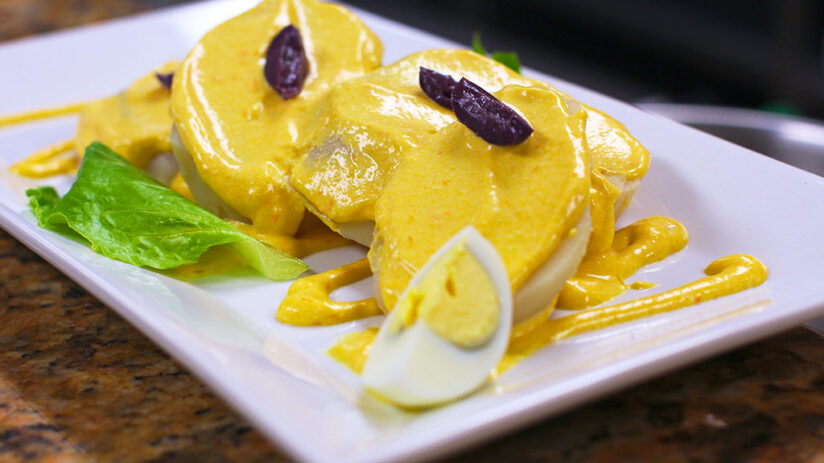 This delicious recipe originates from the city of Huancayo. Papas a la Huancaína is another Peru national dish that you cannot stop trying. This is a clear representation of one of the most basic and essential foods in the Peruvian diet.
This well-known dish is prepared with cooked potatoes along with a sauce made from yellow chili and cheese. Another delight of the Andean country.
Huancaina is a representative sauce of our culinary tradition. The sauce takes on real relevance in the dish.
This sauce consists of a mixture of evaporated milk, garlic, yellow pepper, lemon juice, and fresh cheese.
This mixture has a thick texture but with a very attractive flavor.
The sauce is typically served on top of boiled or browned potatoes along with a hard-boiled egg.
This golden preparation is a bit spicy, but not at all annoying. The fresh cheese gives it a perfect balance that together with the different earthy potatoes offers an explosion of flavors. This dish is usually a perfect appetizer before enjoying the main dish. La Papa a la Huancaína is a perfect appetizer.
AJÍ DE GALLINA (CREAMY CHICKEN CURRY)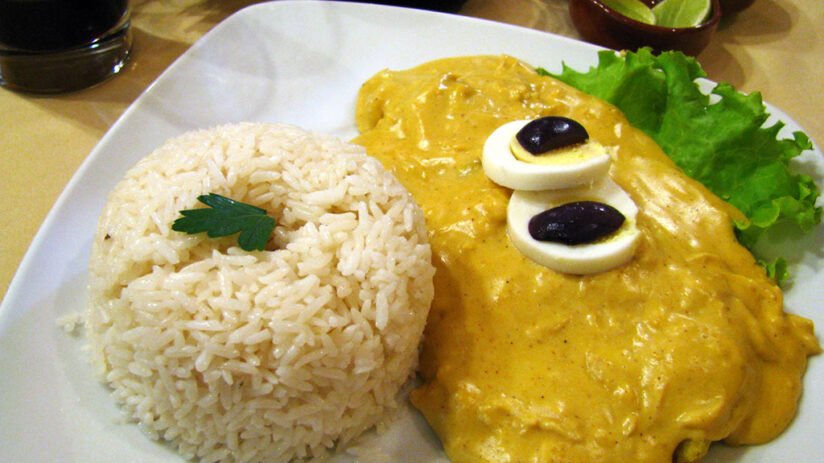 This famous dish consists of a cream preparation accompanied by chicken, cooked potatoes, and white rice, among other things. One of the best typical dishes of the Andean country. This is another Peru national dish that should not be overlooked.
This delicacy consists of shredded chicken prepared in a similar way to curry.
But the sauce on the plate consists of a thick mixture of cheese, yellow pepper, walnuts, bread, and much more.
This smooth and flavorful sauce is the true star of the recipe.
The dish is served with boiled potatoes, black olives, hearty white rice, and finally the chicken with sauce.
The dish is incredibly tasty, with a consistency similar to that of a heavy fish broth. This dish is very characteristic of Arequipa, although you can enjoy it anywhere in Peru.
PACHAMANCA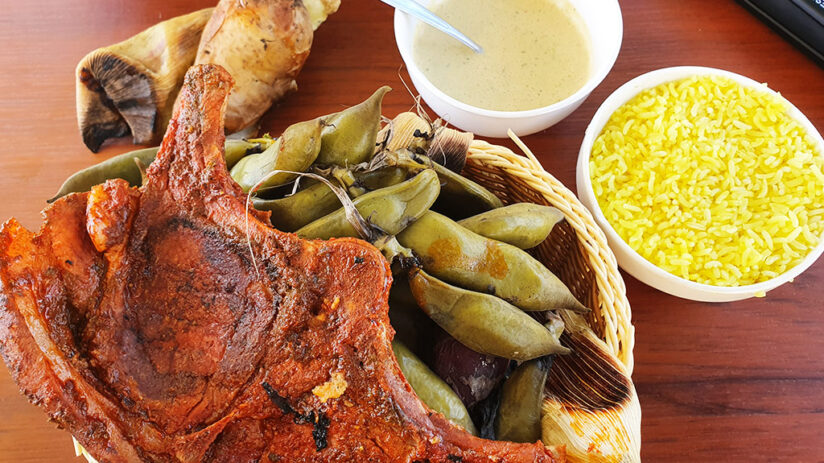 Like Peruvian Biodiversity, our food is very varied. A perfect example of this is Pachamanca. This millennial dish is a Cultural Heritage of the Nation. It is usually more popular in rural areas of Peru. Its cooking method is what makes this dish so distinguished. The dish is one of the ancient traditions that continue to be practiced to this day.
Pachamanca is a traditional dish that is prepared in the heat of preheated stones.
In the middle of these different meats of chicken, pork, beef, and guinea pig are put.
At the same time, it is accompanied by abundant vegetables, sweet potatoes, and other potatoes, and much more.
Each ingredient is previously seasoned to give that signature flavor of the Andes.
It is one of the dishes that you should not miss, especially if you plan to travel to the Peruvian Andes.
POLLO A LAS BRASAS (GRILLED CHICKEN)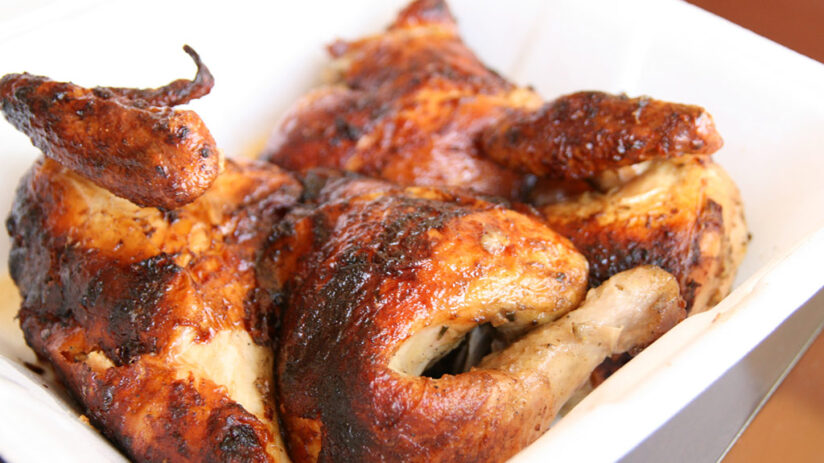 The list could not be complete without one of the most consumed dishes by Peruvians. Pollo a las Brasas is a Peruvian national dish par excellence and its large number of restaurants are proof of this. Grilled Chicken is usually a festive and celebratory dish, although there are always excuses to eat it. The "Pollerías" are found throughout Peru.
The key to its being so popular lies in its hearty servings that are ideal for the whole family.
French fries, Grilled Chicken, cold cooked salads, and a good cold beer. This is a typical Peruvian lunch suitable for all families.
The chicken is marinated in an explosive combination of herbs, spices, and garlic. To later be roasted over wood and give the chicken skin that crunchy texture.
An unmissable dish to try on Saturdays!
ANTICUCHO (GRILLED HEART)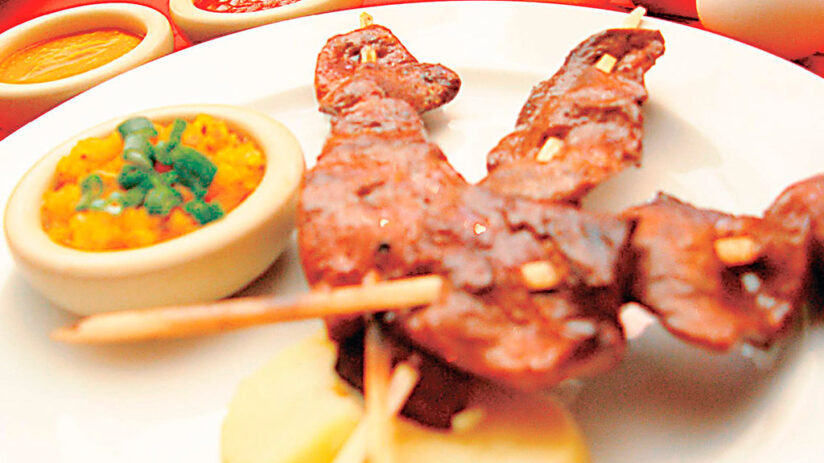 El Anticucho is the most popular Peruvian street food prepared by street vendors. When walking through the streets of the cities there will be no shortage of places to try an Anticucho. Don't get carried away by the idea that hearts are not edible. This is a Peru national dish that reflects street gastronomy.
The heart is a much leaner meat, with a meatier texture, and a bold flavor. Cooks prepare these diced and marinated in a special sauce.
The sauce is composed of garlic, chili, vinegar, and cumin among other things. It is very popular street food.
These are served on skewers with slices of roasted potatoes and onion slices.
Although in certain establishments they receive some more flashy presentations.
WHEN TO TRY THE PERU NATIONAL DISH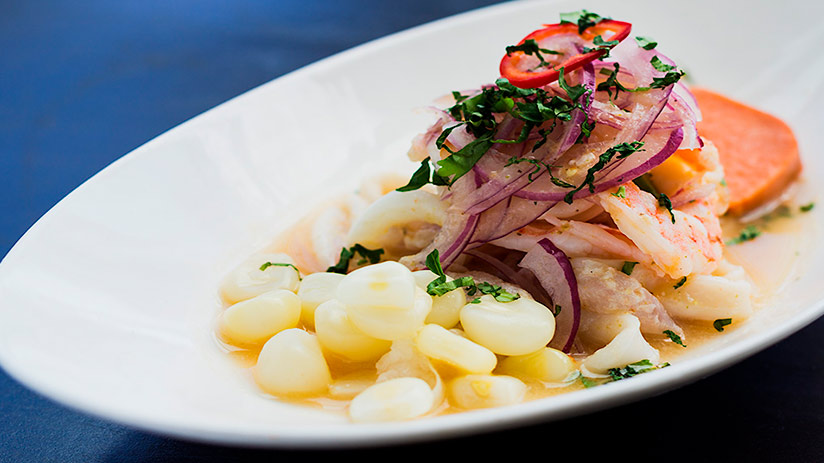 The best time to enjoy Peru's national dish is during the dry season if you plan to visit Machu Picchu. It's even a good idea to give it a try during the summer if you plan to stay in Lima. No matter which of the different dishes you are looking to taste, the Peru national dish can be tasted at any time of the year. But you will find that the dishes are best appreciated when it comes to the dry season of Peru. However, if you plan to enjoy the main attractions of Peru, it is a good idea to organize your trip from April to October. So you can enjoy it without unforeseen rain during the different tours in Peru.
"SPEAK SPANISH, KISS FRENCH, DRESS ITALIAN, SPEND ARAB, PARTY CARIBBEAN, EAT PERUVIAN"
So, What is the number one food in Peru? Well, it's an ambiguous question. But we could place Ceviche, Lomo Saltado, Aji de Gallina, and Grilled Chicken as some of the best Peru national dishes. There's no doubt that Ceviche is the national dish par excellence in all of Peru. Machu Travel Peru hopes to have been of help to differentiate the different typical dishes of Peru. Remember that we cannot cover all the delicacies available in a single small article, even so, we try to give importance to those dishes that you cannot miss. If you want to know more about our gastronomic tours in Peru, do not hesitate to consult with our qualified advisers.
---