For many years, Peru has been considered the center of participation in the gastronomic revolution in Latin America. This is not surprising, because Peru has greatly influenced world cuisine. Without Peru, there would be no potatoes, sweet potatoes, and other endless ingredients from the Andes. Especially in Lima, the capital of the Andean country, which is considered the gastronomic capital of entire South America. In the Peruvian capital, you can enjoy an explosion of flavors and try its incredible traditional dishes. Therefore, we hope to work with the experts of Machu Travel Peru to introduce you to everything about the famous Peruvian ceviche. For this reason, you can start to taste and experience the unique flavors of the Andean country.
Everything you need to know about the delicious and unique Peruvian ceviche
DESCRIPTION OF THE DISH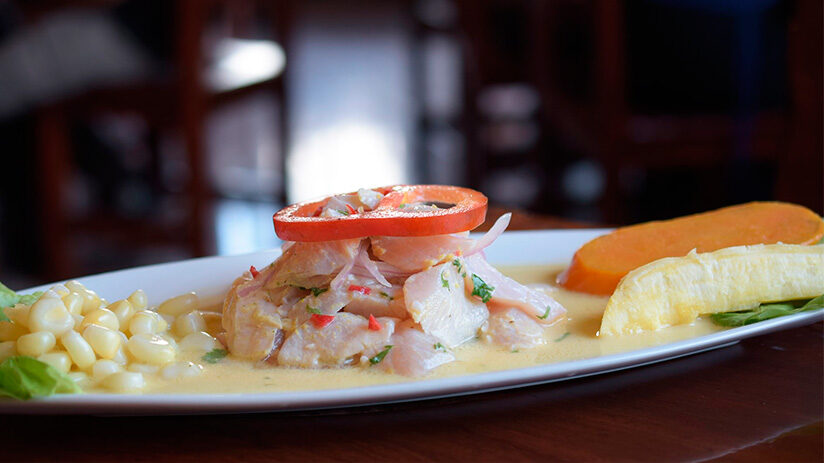 There is no doubt that Ceviche is Peru's outstanding national dish. It is one of the most representative and symbolic Peruvian dishes. Peruvian Ceviche is usually a fresh raw fish salad, mixed with salt, onion, garlic, and other pepper and marinated in lemon. The main ingredient for preparing this dish is fresh fish, although black oyster marinated fish, crab marinated fish, and seafood chowder are commonly found in some parts of Peru.
Throughout Peru, you will find many changes in recipes, depending on your location, ceviche can have unique flavors, such as milk, orange juice, celery, etc. However, if you plan to travel to Machu Picchu, don't miss crossing Lima and enjoying its delicious Peruvian ceviche. There are more than 200 ways to make this exquisite dish, not only making it a dish, but also one of the main attractions of tourism in Peru.
Ceviche can be written as Ceviche and Cebiche. Both forms are accepted as the common term to describe the dish consisting of raw fish and other marinated seafood. In case you wonder if it is Peruvian Ceviche raw? Well, partly yes and partly no. It is true that the fish has to be fresh and raw for its preparation, but usually, it is marinated in an acid mixture of lemon juice, lime, or orange with a mixture of these. Due to its simplicity and bold flavors, it is a dish that has gained great popularity and many fans. The flavor of this incredible dish is enhanced by the use of its fresh ingredients.
THE PERUVIAN CEVICHE RECIPE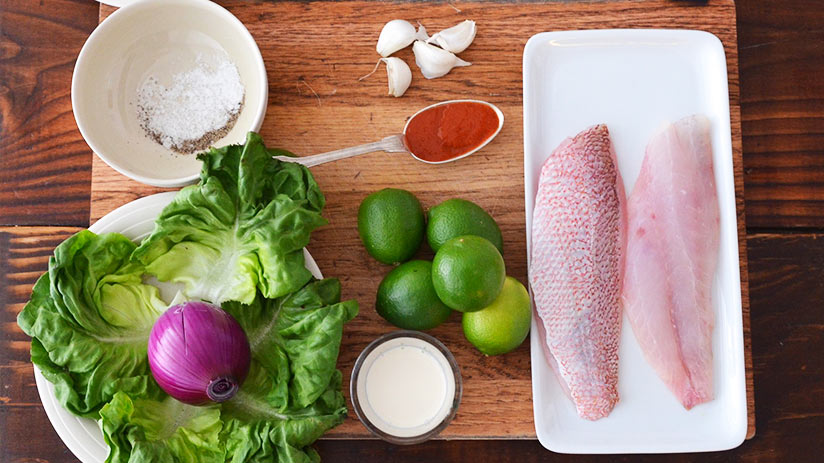 How is Peruvian ceviche cooked? It is a question that all first-timers ask themselves after trying this delicious dish. The Peruvian Ceviche consists of dipping raw and fresh fish in aromatic citrus juices. This is a pretty creative way to slowly and naturally "cook" fresh fish. The different hot peppers add a spicy touch to the dish that is balanced with the acidic juice. Together with sweet potato, potatoes, and corn they form one of these unique dishes in Peru.
Thanks to the great biodiversity in Peru, this ceviche recipe could see the light. Fishing in the coastal regions and the abundance of marine life in them gave the possibility of preparing the Peruvian ceviche. For Peruvian ceviche, you will need the following items:
Ingredients
1 kg fish fillets.
½ kg lemon.
½ kg lime.
1 small purple onion.
3 medium red peppers.
½ cup fresh coriander.
1 teaspoon minced ginger.
Salt to taste.
Preparation
1º step
To start the ceviche recipe, you will have to wash and dry the fish. Cut into cubes about 2 cm approx. Remove any remaining skin, scales, or thorns.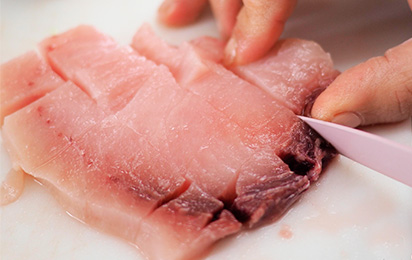 2º step
Wash lemons and limes. Squeeze them into a large bowl. The fish is cooked through the marinating process. Put the pieces of fish in the marinade. Cover the container and store it in the refrigerator for about 20 to 30 minutes.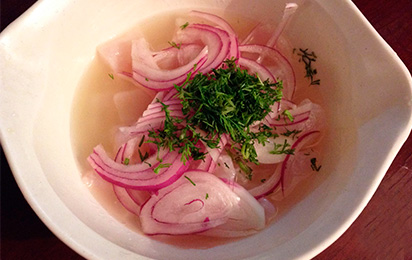 3º step
When the fish is cooking, prepare the garnish. Wash the sweet potatoes with a brush and put them in a steamer for about 30 minutes until they become soft.
4º step
Wash the red pepper and onion. Open the pepper, remove the seeds and veins, and cut into small cubes.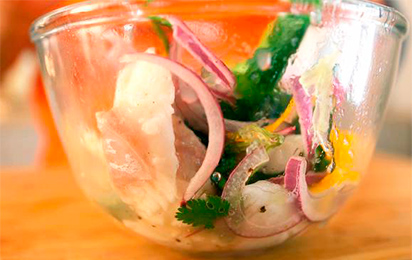 5º step
Remove the ceviche from the refrigerator, add onion, pepper and coriander, ginger, and a little salt, and stir.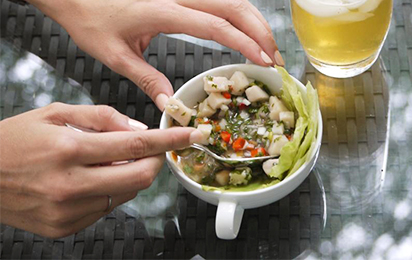 6º step
Cover the ceviche again and place it in the refrigerator for about 10 minutes. Remove the ceviche from the refrigerator and put it in a cup or small plate. Serve with plantain slices and sweet potatoes. and also sprinkle some coriander and chili.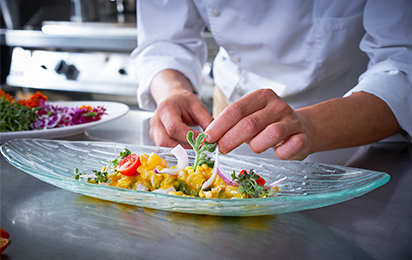 7º step
Enjoy this wonderful and unique ceviche recipe!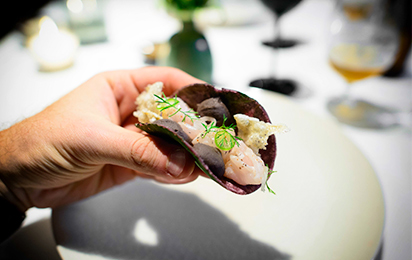 This dish is much more than raw fish covered with lemon juice or lime juice. Ingredients such as coriander, onions, tomatoes, peppers, and different types of Peruvian peppers are usually mixed with Peruvian seafood. Have into consideration that different regions use different ingredients for the dish.
If you are outside of Peru, you can still try preparing this dish. To make a great ceviche, choosing sushi-friendly fish is a good idea. This has to be fresh fish that has not been previously frozen. In Peru, you will find this dish served with fried potatoes.
HISTORY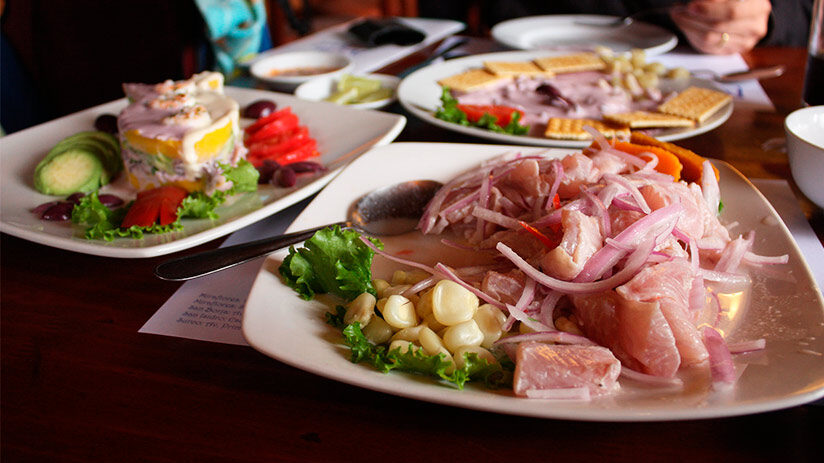 This Peruvian national dish has a history of more than 500 years and originated in the Andean countries. Academia and scholars assert that Peruvian ceviche was born in the Moche culture before the Incas between 100 and 700 AD. After its birth, it slowly spread to other South American countries, thus gaining widespread popularity. Over the years, this dish has adapted to the emerging Peruvian gastronomy and the tastes of many tourists who frequent the country. Even the taste and preparation of this dish will vary depending on your location in Peru. Although it must be realized that there are many other traditional Peruvian cuisines. Therefore, Peruvian Ceviche is not the only fun thing to try in all of Peru.
WHERE DOES CEVICHE ORIGINATE FROM?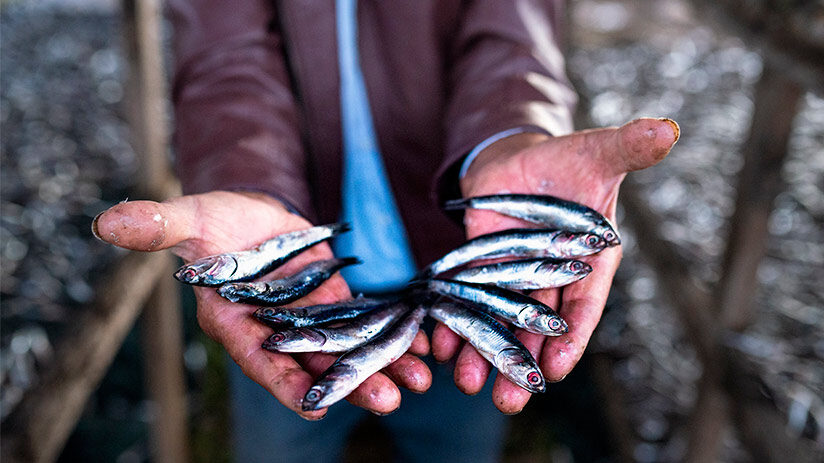 Despite the great history of Ceviche, many still doubt its true origin. Since this dish is not only limited to the Peru region, you can find it throughout Mexico, Colombia, Ecuador, Chile, and many other Latin American countries. So, Is Ceviche Mexican or Peruvian? The historical evidence and our great tradition only seem to indicate that the ceviche is 100% Peruvian. But this does not mean that it does not exist outside of Peru. Its simple preparation has made it a world dish during the different coastal regions of the world.
Peruvian Ceviche is believed to have been born in the Moche culture, a coastal civilization. This culture flourished in the present north of Peru more than 2000 years ago. It is believed that the Moche marinated the fish with a kind of fermented juice of the not-so-well-known banana passion fruit, known as Curuba in Peru. But other more recent research shows that fish used to be marinated with Chicha during the time of the Inca Empire. This is a fermented drink of the quite popular Andean culture.
Although other chronicles report that fish was consumed differently along the Peruvian coast. Especially before the arrival of the Europeans. It is believed that the natives consumed fish with chili pepper and salt. And along with the arrival of citrus, the natives only changed the method of preparation. But the essence of the dish remains exactly the same.
THE TASTE OF CEVICHE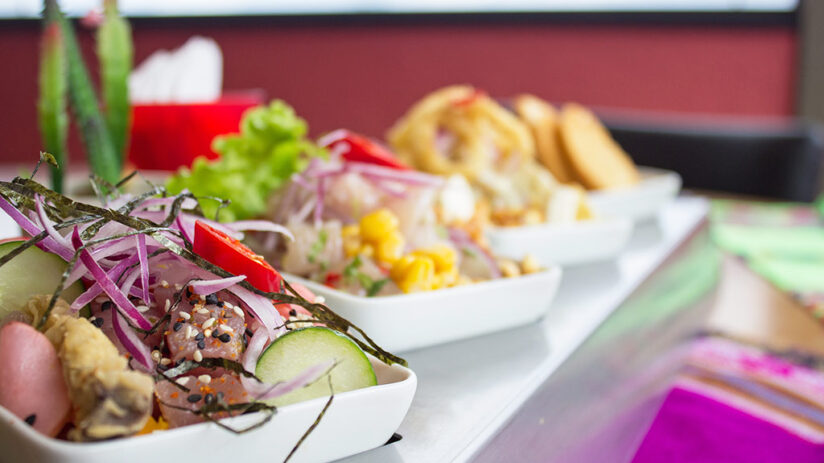 The best adjectives that can sum up the unique flavor of this dish are refreshing, light, clean, bright, spicy, and flavorfully tart. While it is true that the portions can be relatively small, the nutritional content and richness make it one of those achievements of Peruvian cuisine.
We believe that a great Peruvian Ceviche is a balanced mix of flavors that range from a tangy to spicy spectrum. All accompanied by soft, tender, and crunchy textures. It is a great representation of what Peruvian cuisine does well. Also, the use of native ingredients seems to combine so well that they result in this iconic dish. It is original to think how the local fish, the spicy peppers, and the different potatoes and sweet potatoes will result in this explosion of flavors. It is one of those favorite dishes in the summer times, beers, sunsets, and beaches. Paradise on a plate.
THE CEVICHE IN THE WORLD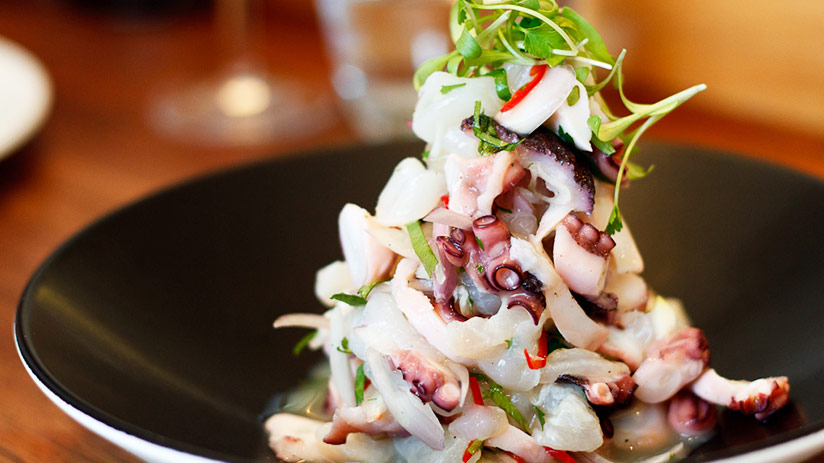 Ceviche is a star dish, and not only throughout Peru. This magnificent dish has had a great impact on the culture of other countries around the world. It forms a large part of the National Heritage of Chile, Cuba, Mexico, Ecuador, Panama, and Nicaragua. You can even find variations of the dish in Thailand, the Mediterranean, Tahiti, the Cook Islands, Alaska, and the Philippines. And what is the common point of all these places? Marinating fresh and raw fish in lime. This is the original essence of the dish that was born on the coasts of Peru.
This fusion food dish is not only famous in Peru. Many other Latin American countries offer ceviche, but they all put their specialties on the plate. The ceviche recipe will change substantially depending on which country or region you are in. But in general, you can expect a dish based on fresh fish marinated in different citrus fruits. But despite the different variations of the ceviche recipe, it cannot be denied that Peruvian ceviche is the best and most known of all.
And How is Peruvian Ceviche different? In general, the main ingredients that distinguish ceviche made in Peru are a few. First of all you need the raw white fish. Then you can add lime juice, red onion, chili, coriander, and salt. And depending on the region of Peru you are in, you can find sweet potatoes, potatoes, fried yucca, roasted corn kernels, and much more!
CHILE
Our southern neighbors usually prepare the Ceviche with Black Hake or Halibut. Their marinade consists of a blend of grapefruit, lime, mint, coriander, red chili peppers, and garlic. The dish is usually served with homemade bread or crackers.
COSTA RICA
In Costa Rica, the ingredients used do not differ much from those used in Peru. In general, the base of the fish consists of a Corvina or Tilapia. The fish is marinated with a kind of juice based on lemon juice, chopped onion, salt, bell peppers, and black pepper. This delicious ceviche is served with salty crackers and on a lettuce leaf.
MEXICO
Mexico changes this dish by replacing the fish with some pieces of cut shrimp. These are diced, accompanied by tomato, olives, and avocado. But just like in our country, it is marinated with lime, salt, onion, coriander, and chili peppers. In addition, the fish is also usually replaced by Tuna and Octopus. The Ceviche of Mexico is usually accompanied by simple nachos to blend the soft textures with other more crunchy ones..
ECUADOR
Ecuadorian Ceviche is usually made with local shrimp or seafood. These are marinated in tomato sauce, salt, and lime. A point in common with Peru is the Chifles and Chanca that regularly accompany the dish.
CUBA
Within Cuba, ceviche is prepared with ingredients such as lemon juice, allspice, onion, habanero, and green pepper. In Cuba, the fish known as Mahi Mahi is used, also known as Dorado.
CARIBBEAN
The ceviche of the Caribbean acquires a tropical touch with ingredients like coconut milk. It is also accompanied by Lima and Onion. You can include fruits like mango that give it a sweet touch. This contrast between sweet and sour is the characteristic touch of the Caribbean.
EL SALVADOR
You can find the Ceviche de Concha Negra or the Ceviche de Caracol Negro within El Salvador. Both ceviches are very popular within the country. As the name of the dish indicates, it has a color that tends to black. This is largely due to the main ingredient, the black conch used in its preparation. Its wide variety of flavors includes Salt, Tomato, Hot Sauce, Pepper, Yerba Buena, Onion, and Lemon Juice.
TAHITI
In French Polynesia, the largest island is Tahiti. This island has a national dish very comparable to Ceviche and its name is Poisson Cru. This marinated fish dish includes onion, lime, coconut milk, bell pepper, cucumber, bell pepper, and salt.
PANAMA
Within Panama, you will find a Ceviche prepared with a mixture of Octopus, Squid, Shrimp, or Sea Bass. All marinated in lime or lemon juice, salt, onion, peppers, celery, and coriander.
COOK ISLANDS
In the western South Pacific are the Cook Islands. These islands have the Ika Mata, a dish quite similar to Ceviche. The dish is prepared with coconut cream, fresh tuna, lime or lemon, cucumber, salt, pepper, and some slices of pineapple. All in an attempt to give it that characteristic tropical touch of the island.
MEDITERRANEAN
The Ceviche can carry out a great variety of typical Mediterranean characteristics. With a mixture of orange juice, sumac, mint, fennel, cherry tomatoes, and jalapeños. Especially when it carries fish such as Halibut, Snapper, or Sea Bass.
THAILAND
Traditionally in Thailand, white fish is replaced by Vierias. Here the ceviche is made up of lime leaves, fish sauce, and Thai chili among other ingredients. It is also accompanied by cucumber slices that give the dish a fresh touch.
ALASKA
The popular Ceviche can be enjoyed even in the frozen North Pacific regions. Ceviche has grown in importance in those remote regions that one would never imagine. In Alaska, this dish is enjoyed with halibut as the base fish. It is served with lime, coriander, tomatoes, and serrano peppers.
NATIONAL DAY OF CEVICHE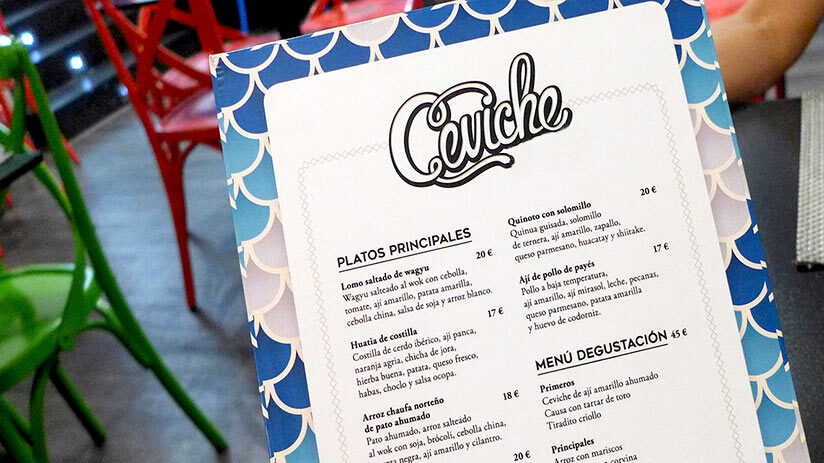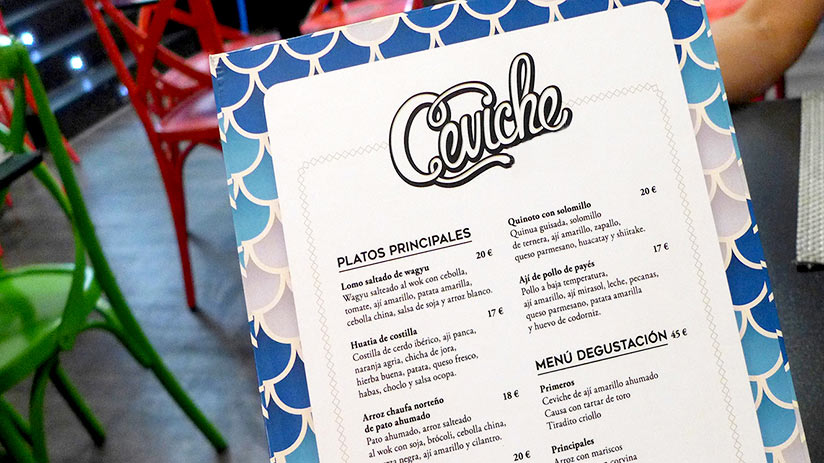 Peru is so fond of ceviche that they have turned it into a festivity of its own. It's no wonder that Peru's national dish has its official day on the calendar. On the 28 of June of each year, the unique and iconic Peruvian ceviche is celebrated. You will discover how restaurants and hotels are the ones that offer special menus inspired by the dish. During this day, you can also find street fairs, celebrations, and contests where you can taste a great variety of ceviches. Both foreigners and locals can enjoy a wide variety of ceviche dishes. From traditional classics to avant-garde and innovative dishes. It is in Lima the main place where this festivity of fused flavors is celebrated. But the celebrations are not exclusive to Peru, even abroad you can see people celebrating the dish.
WHERE TO TRY THE BEST CEVICHE?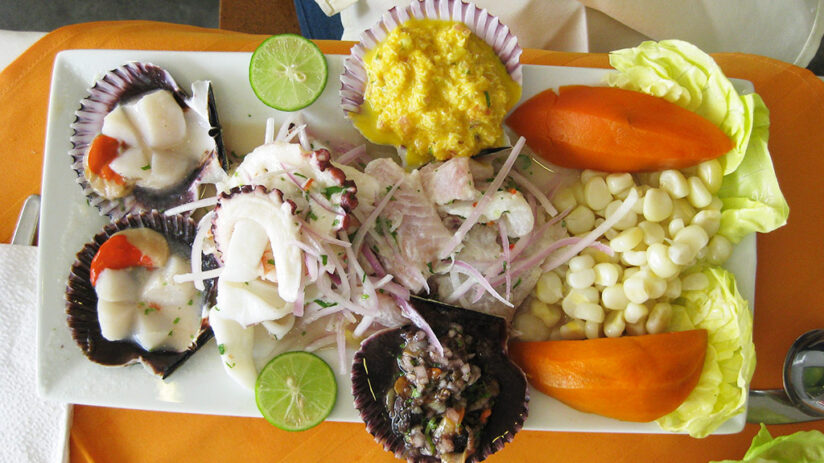 You can find the Peruvian Ceviche in every corner of Peru. But generally, we recommend our clients to go to Lima. The capital of Peru will be one of the first places you will visit, and also one of the best places to try the dish. To try it, you just have to visit some of the best restaurants in Peru. Therefore, we recommend that you go to the following establishments to try the true flavor of ceviche:
La Mar Cebichería
De Sonia
Chez Wong
Pukasoncco
Chicha by Gastón Acurio
Limusina
Cocina de Mariscos Ceviche
HELPFUL TIPS WHEN EATING
Before trying Peruvian ceviche, we recommend that you follow these useful tips to the letter. Being one of the most emblematic dishes of Peruvian food, it is usually eaten at defined times. Therefore, when trying a ceviche, we recommend that you:
ENJOY IT DURING LUNCH
As it is fresh fish, it is recommended that you eat it as early in the day as possible. Most of the locals will recommend that you do it during or before lunch. Since depending on the freshness of the fish, it will dictate the texture and the different flavors that you will find.
AVOID CROWDS
For Peruvians, one of the most important meals is lunch. It is highly recommended to arrive at the Cevicherías at a reasonable time. You can try to make reservations and not be surprised by the long waits. Or you can also choose to arrive before 1:00 p.m. since it is usually peak hours.
ACCOMPANY IT WITH BEER
Being able to enjoy a Peruvian Ceviche along with a cold beer is an emblematic thing to do in the summer. Be it Pilsen, Callao, or Cusqueña, any of these traditional beers will make your experience unique. In certain restaurants, the menu often offers some interesting craft beer options that are also worth trying.
WITH OR WITHOUT SPICY?
The Peruvian Ceviche is prepared in a traditional way with a little hot pepper. This usually adds a hot touch to the dish, but depending on your tastes it can go with or without it. It is a good idea to let the waiter know if you want it with or without spice. Since otherwise, the chef will put some on the dish. Or you can also ask him to give you a separate Rocoto and add it to your liking.
"NOTHING BRINGS PEOPLE TOGETHER LIKE GOOD FOOD."
As you will see, Peruvian Ceviche is a dish as delicious as it is historical. Its continuous evolution within the gastronomic world and its different varieties mean that it does not lose popularity. Not only is it a dish to enjoy on hot days, but it is also a milestone and achievement of Peruvian culture. Together with the experts at Machu Travel Peru, we hope we have to whet your appetite. We believe that if you want to try the real ceviche, you better start organizing a food tour in Peru. If you want to know more about our tours, you can consult with our team of qualified advisors.
---