Most likely, potatoes will be included on any daily shopping list worldwide. But, did you know that potatoes were origin in Peru? As you hear, potatoes were born in Peru and their distribution is the largest, among all Peruvian exports. Since when you go to any market in any part of the world, you will most likely find a section dedicated to this wonder of the Andean country. So, talking more specifically, your list can include a wide variety of potatoes, without even noticing. And with so many varieties to know and experiment with, we have prepared a small article, together with Machu Travel Peru. We want you to know the most fascinating varieties of Peruvian potatoes and thus broaden your vision of only French Potatoes or Irish potatoes.
Everything you need to know about Peruvian potatoes
What are Peruvian potatoes?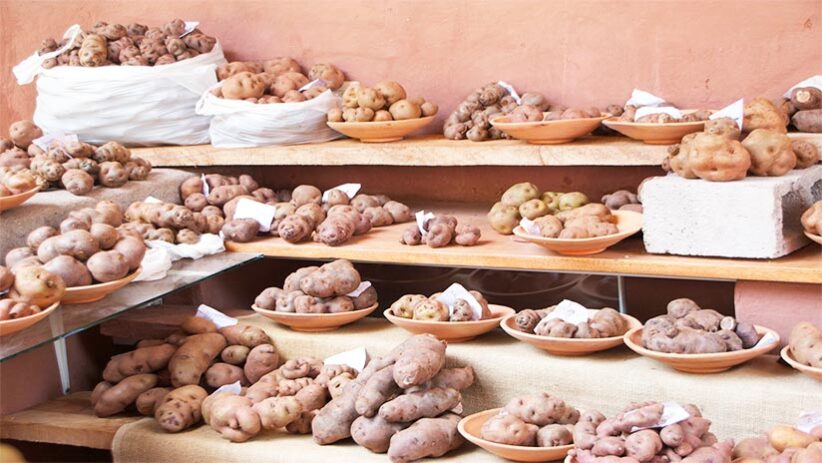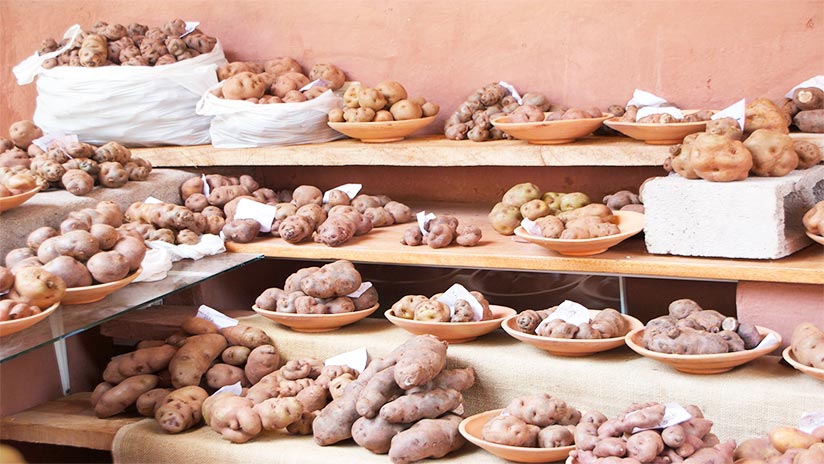 The Peruvian potatoes are edible tubers that are part of the world's daily diet. Potatoes are native to Peru, being cultivated around 7000 years ago. These can be found in more than 4000 varieties of forms, colors, and flavors and provide nutritional values rich in carbohydrates, magnesium, potassium, and fiber. Much research has shown that the tuber can be grown in any climatic condition, at any altitude, and on any type of soil worldwide.
No wonder NASA is researching the Potato cultivation in rough conditions, inside Peru, to use them as the first vegetable cultivated in possible colonization of Mars.
History of the potato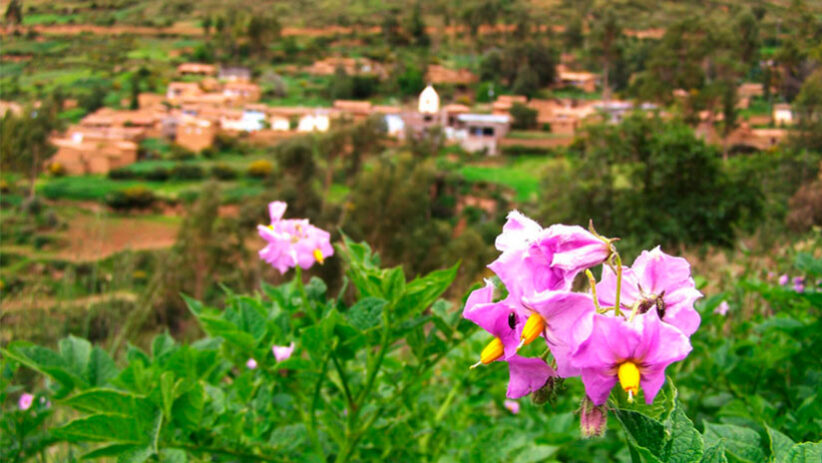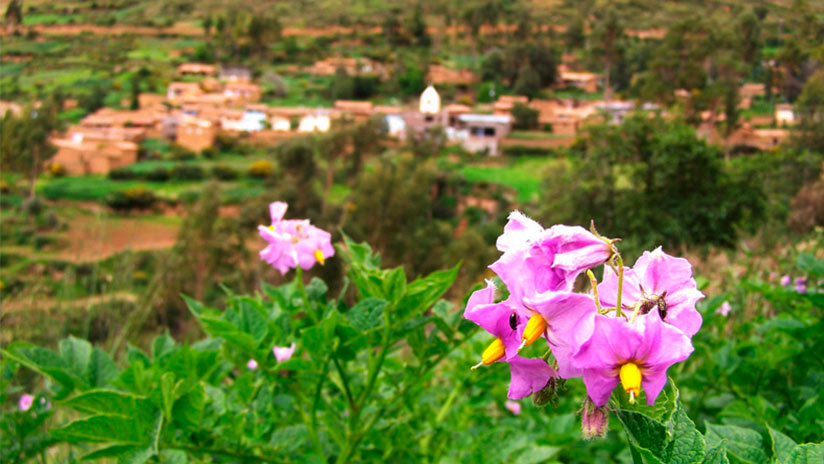 Unfailingly, potatoes and Peru have a history in common. As we mentioned before, the tubers were cultivated in the rustic slopes of Andean Mountain and surrounding zones of Titicaca Lake (The highest lake in the world located on the border between Peru and Bolivia) for more than 7,000 years ago. But, for so long? Yes, if you didn't know the wild tubers (such as potatoes) are poisonous and the ancient Peruvians took a long time to domesticate them. Some studies affirm that they imitated the diet of some animals which fed on poisonous fruits, such as parrots in the Peruvian Amazon. In this form, they licked quite a lot of clay before consuming this wild potato, to later grow them in soil mixed with clay.
Without mentioning the wild lands of the Andes where the Peruvian potatoes had to be cultivated (more than 13,123 ft or 4000 meters above sea level) For this proposal, the Incas will create the stone terraces to modify the Andean slopes and make them suitable for growing. This was the way to mold softy the land that gave them so many products to feed themselves, a mother who gave them food, the Pachamama (Pacha means earth and Mama means mother in the Quechua language) But this is another story.
To the conquest of Europe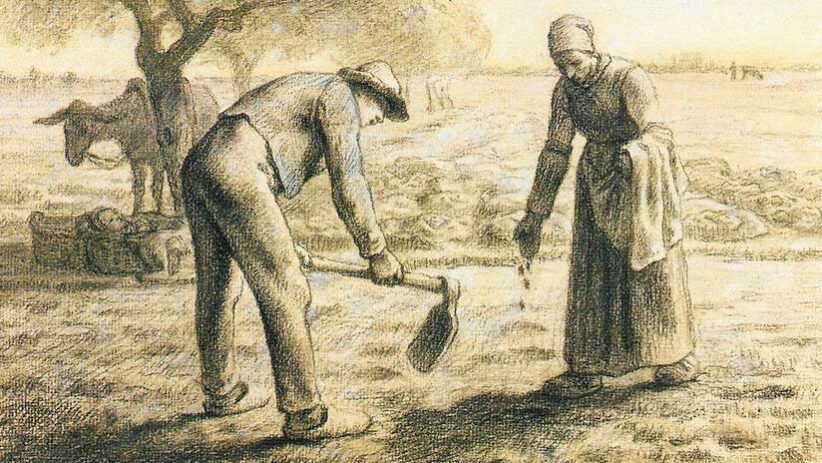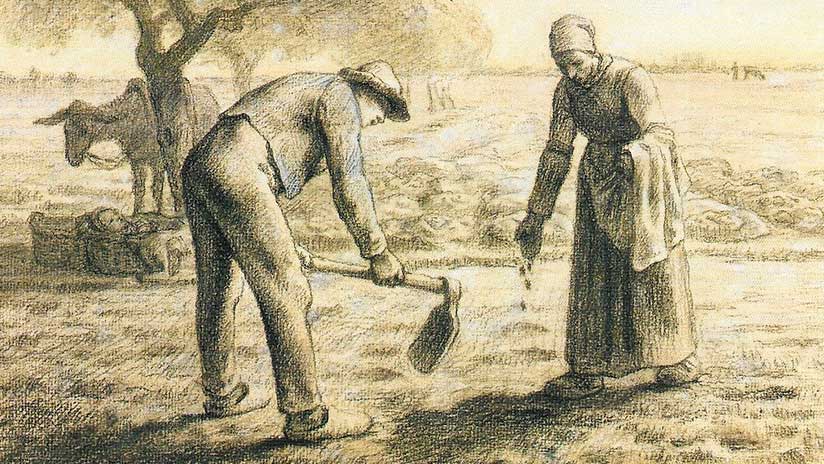 The first Spanish conquerors who returned to Europe from America brought with them the potato in the 1500s, this fledgling starchy tuber from the new world, once poisonous, but not now. The disbelief, rejection, and resistance to consuming it lasted around two centuries. However, the crisis of food, the expansionist desires of the Europe countries, and their concern to feed their armies, made the potato be accepted at a general level for the first time. Thus beginning the conquest of European palates. Even, the farmers, who used to leave half their crop fields bare to allow their soil to regenerate and combat weeds, began planting potato seeds there.
In this form, the Peruvian potatoes were extended all over the old world and the Europe country colonies like Africa, Asia, and even North America. This was one of the most praised foods due to its ability to grow in harsh climates. Of course, some Anglo-Saxon countries with more level lands and not as wild as the Andes began the cultivation of the Andean tuber in a more massive way, such as Ireland.
For this reason, the phrase: "The potato saved Europe from famine" is relevant today.
The Peruvian potatoes nowadays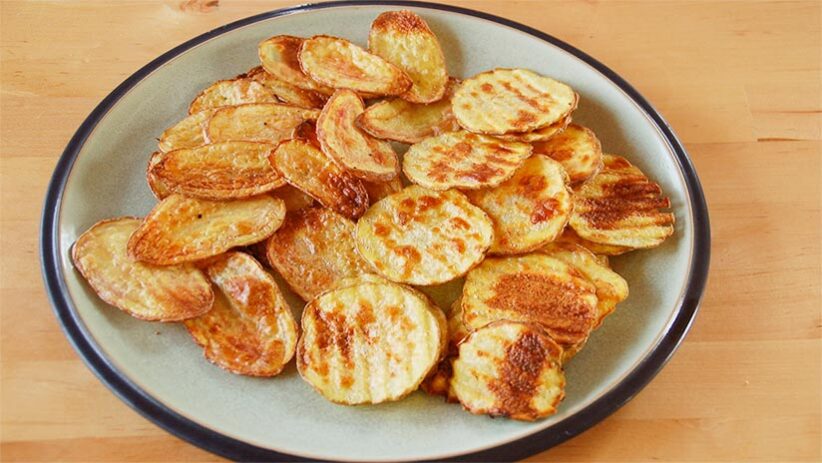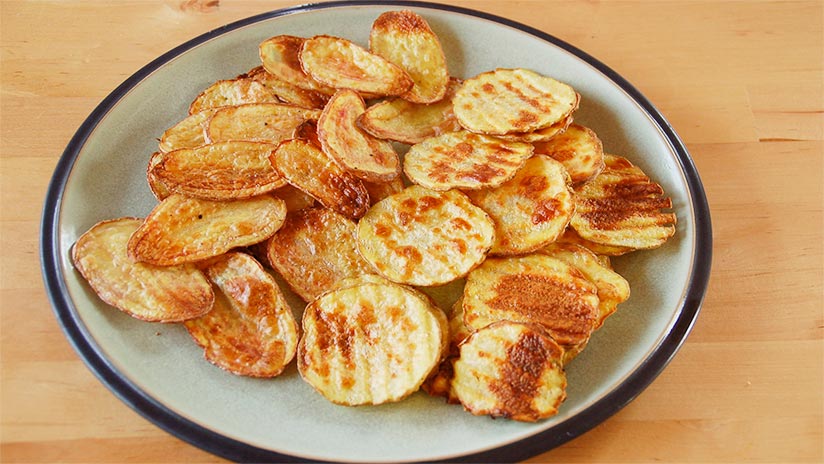 Today, it's known nutritional value of Peruvian potatoes in a daily diet, besides learning its adaptability in different zones, with weather and conditions varied. And to this day, new varieties continue to be discovered. No matter what type of flavors, colors, and preparation you prefer, there is a Peruvian potato that you will love without a doubt. They are included in a wide variety of traditional dishes. Even many fusion food dishes have this delicious ingredient.
Nutrition and Benefits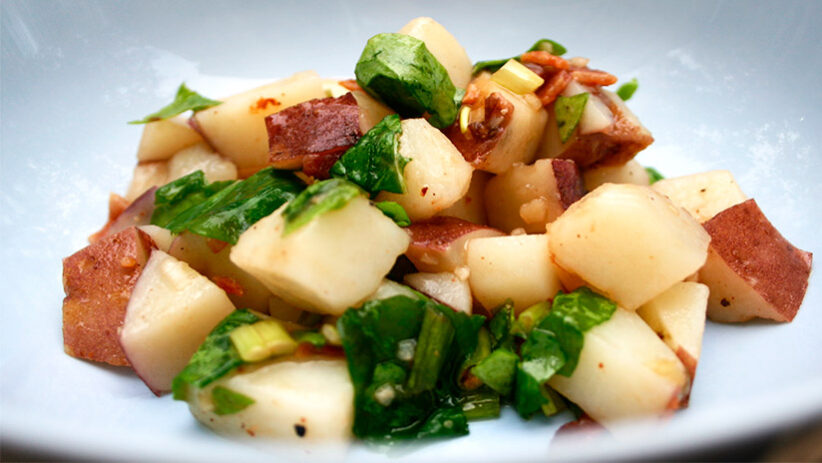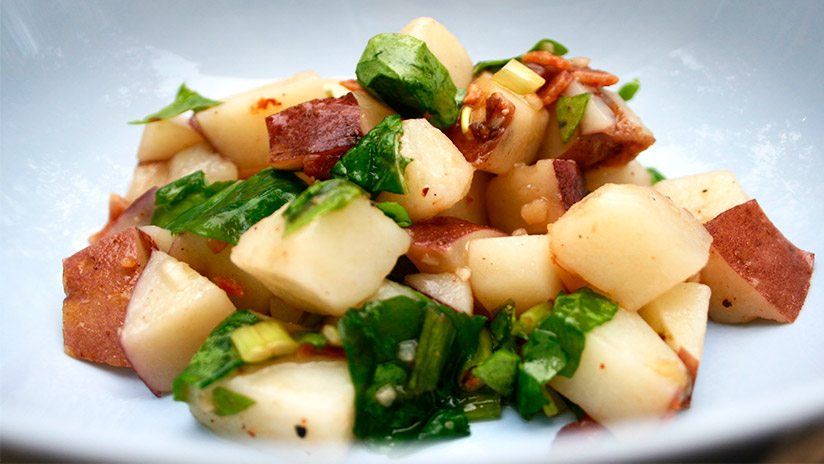 Though it is well known that Peruvian potatoes have high levels of calories, such as carbohydrates with high glycemic indexes, responsible to increase the sugar in the body, its periodic consumption in a varied diet and well accompanied by fresh vegetables and fish can result in more beneficial than harmful to health. In this sense, around 1250 miles of persons include the potatoes in their daily diet, among rice or wheat, the food most consumed around the world.
Carbohydrates, vitamin C, vitamin B6, fiber, potassium, magnesium, iron, and antioxidants are the most important nutrients that you can find in a portion of Potato. Even, high levels of copper which help with collagen formation can be found, too. Also, some studies affirm that a variety of purple skin potatoes are rich in antioxidants, the secret is to buy them with the earth still stuck to their skin, in other words, unprocessed potatoes and eat them, boiled with the skin and not fried.
As you can see, the potatoes and their variety open great benefits to health that have not yet been discovered.
Varieties of potatoes in Peru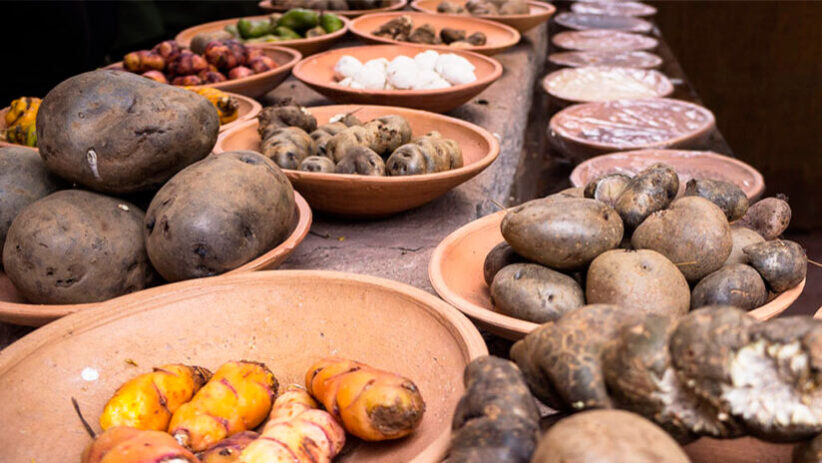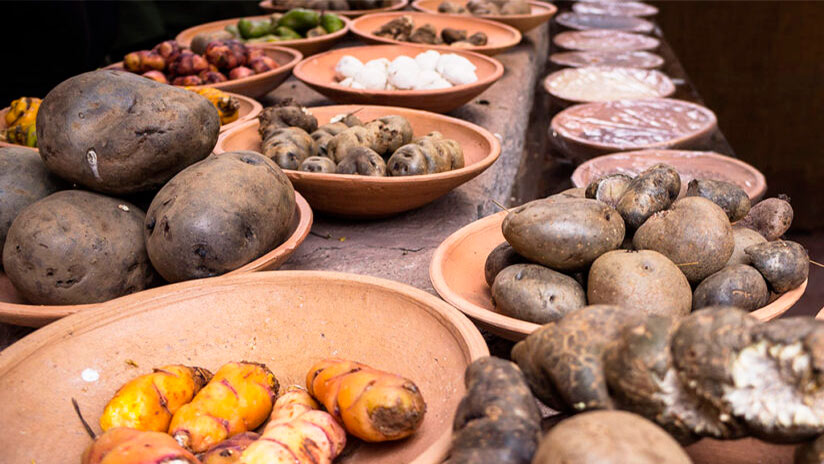 There are indeed so many varieties of potatoes in Peru that it is impossible to list them. With more than 4,000 known varieties, it would take a long time to categorize, but, rest assured, someone has to do it and, the International Center of Potato located in Lima, took over the task. We'll take about it later.
Also, it is undeniable that some Peruvian potatoes are particularly popular in gastronomy that is gradually gaining relevance worldwide, as the Peruvian. And because of this, we have listed some of the most popular varieties of Peruvian potatoes. Whether for their colors, shapes, textures, or taste, these potatoes stand out greatly within the Andean world.
Papa Blanca: It is one of the best-known Peruvian potatoes. It is characterized by being white, firm, and with a slightly pale white tone. These are used in stews and to do fried potatoes (Badly called french potatoes)
Papa Huayro: One of the tastiest Peruvian potatoes. It has a floury consistency and often is used to add consistency and flavor to dishes. With them, you can make tasty fried potatoes, too!
Papa Amarilla: These Peruvian potatoes are quite soft, mushy, and grainy when cooked. They are generally used in soups or the famous Peruvian dish known as Causa.
Papa Huamantanga: A white and fleshy potato with a texture very similar to that of the yellow potato. Being firmer, they are used commonly in stews.
Papa Púrpura: This is one of the Peruvian potatoes, known as the Jewel of the Peruvian Andes. This potato when cooked changes to a slightly blue hue. It was highly appreciated in the time of the Incas, being consumed by royalty.
Papa Peruanita: It is a potato with multicolored skin. It is one of the most popular Peruvian potatoes among Peruvians.
Papa Tarmeña: Very similar to the Peruvian potato (papa Peruanita). It is especially often used in dishes such as Causa. Besides, it can be eaten as fried potatoes.
Papa Cóctel: Not, it isn't used in cocktails or drinks. This is one of the Peruvian potatoes with a fairly intense flavor. Conversely, its flavor can be reminiscent of white potatoes. They are so tasty on their own and can be part of a vibrant potato salad.
Papa Rosada: It is also known as Papa Canchan. It has a characteristic pinkish skin and a white interior. It is the perfect company for soups and stews.
Papa Perricholi: This is one of the Peruvian potatoes that was discovered relatively recently. It is white abroad and sweet inside. It is gaining popularity inside Peru.
Special Peruvian potatoes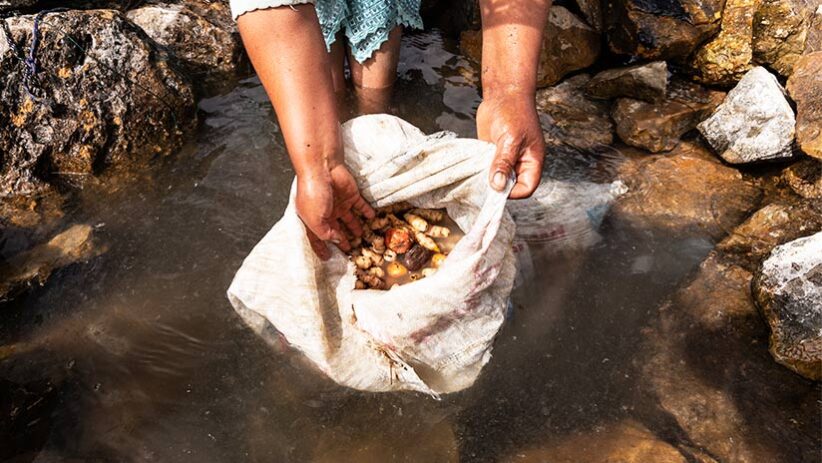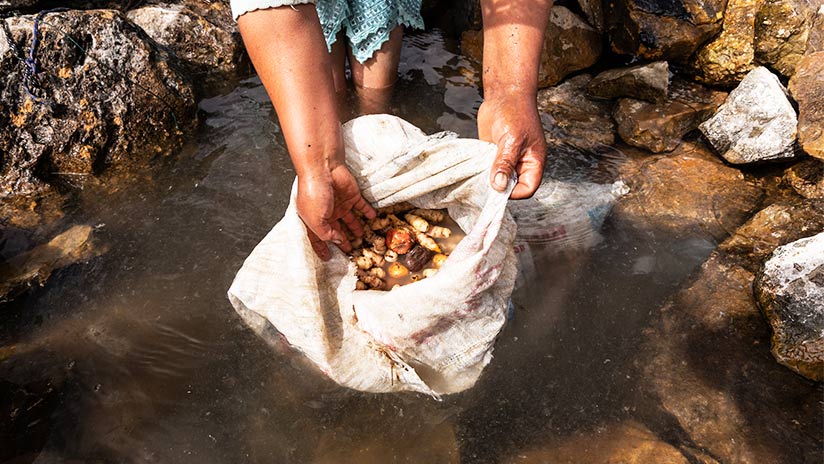 It is worth mentioning that some Peruvian potatoes go through processes that help give a unique and characteristic flavor. Therefore, these tubers are part of the potato family but are not considered as such, they have their own family. For this reason, these varieties deserve to be mentioned as they are included in traditional Peruvian food, frequently.
Chuño
These potatoes go through the dehydration and freeze-drying process. To make them, the locals leave several potatoes on the ground or the roof of their houses. They are left overnight to be frozen in cold temperatures. Next, during the day, when the sun is shining, the locals trample them and strip them of water and skin, conserving them for many months. This food has been eaten boiled since before the time of the Incas and is a traditional ingredient in the Andean and Quechua communities. Chuño can be eaten alone or with other soup and stew dishes. It has great benefits.
Oca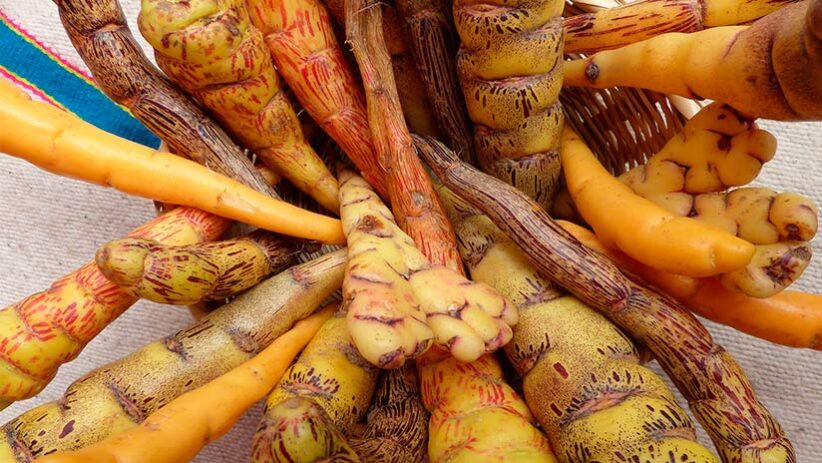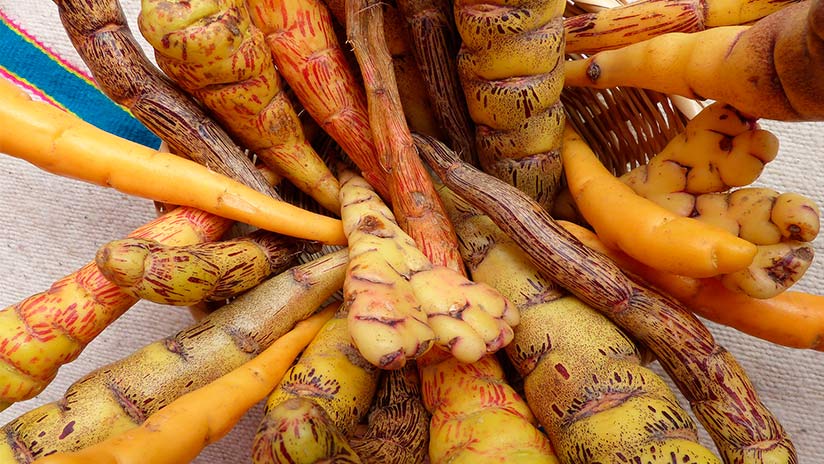 This is a brightly colored tuber that often competes with Peruvian potatoes. The crop originally comes from the high Peruvian Andes and was enjoyed by ancient cultures. This tuber has similar properties and benefits to common potatoes, but it is in a special category. You can find the Oca in pink, red, white, or orange colors. It is usually eaten boiled, it is very soft and has an unmistakable sweetness that most people love.
Camote, Sweet potato or Batata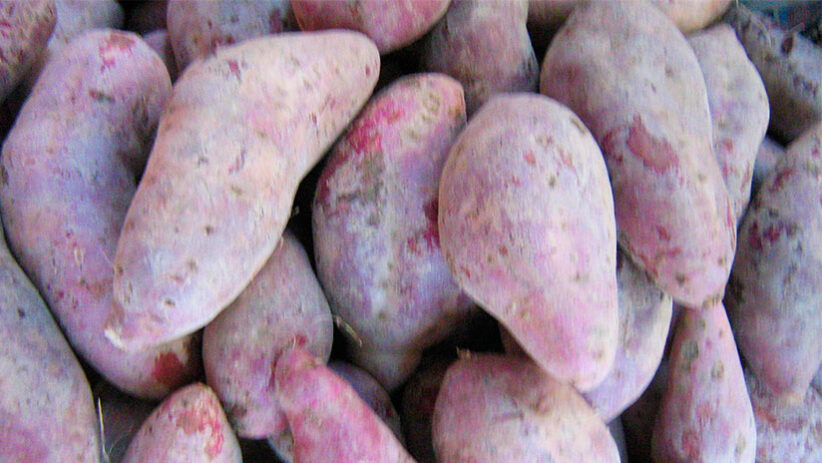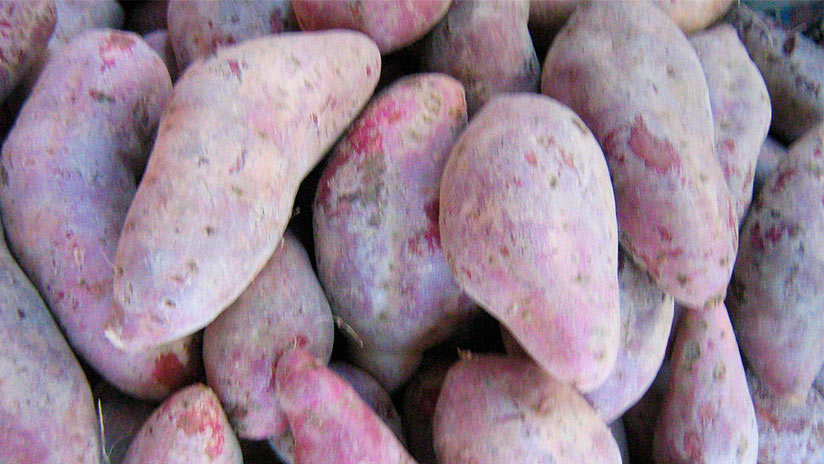 The sweet potato or Camote is also known as Batata. Despite being very similar to salty potatoes, they do not belong to the same family as the last ones. Regardless, the Sweet Potato has been part of the Peruvian culture for thousands of years. They have even been identified in ancient Peruvian ceramics, and they form part of the Peruvian national dish called Ceviche. You can find the Sweet Potato in different sizes and shapes. A sweet delicacy that is eaten boiled, it has become very popular around the world.
Potato research and protection in Peru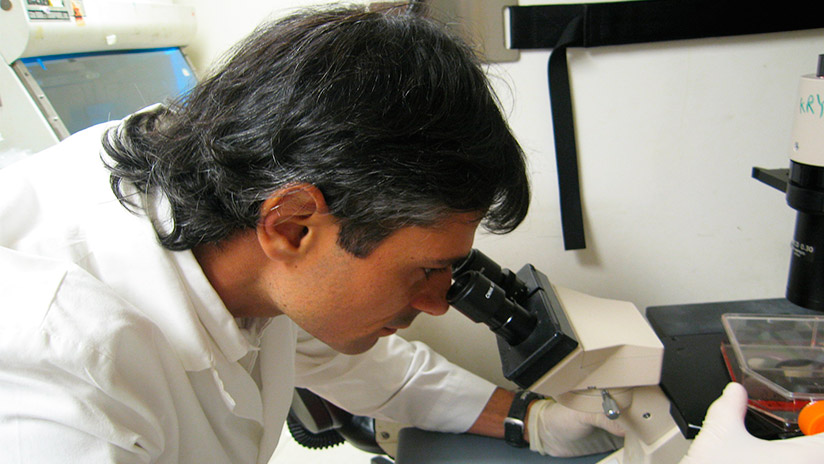 Peru has a great responsibility for the food that is produced in more than 4000 varieties inside its lands. In this form, the capital Lima and its tourist center, Cusco, have centers where the potatoes are researched, cultivated, protected, categorized, and saved, as samples, for the use of future generations. We talk about the International Center of Potato (Lima) and the Potato Park (Cusco)
International Center of Potato – Lima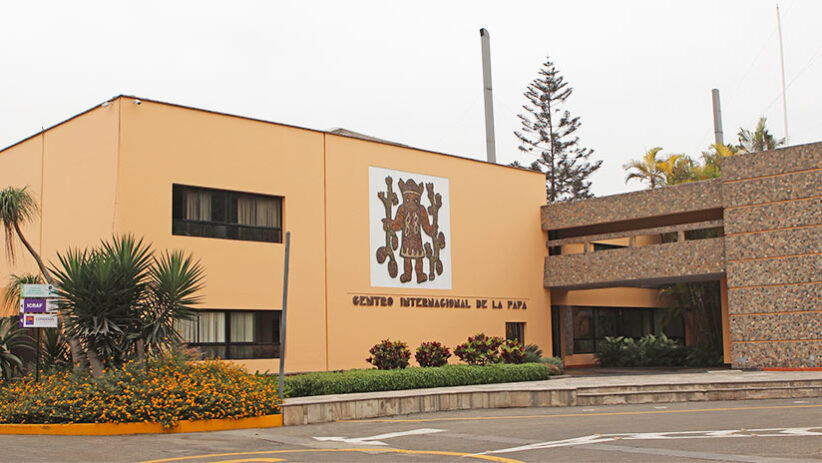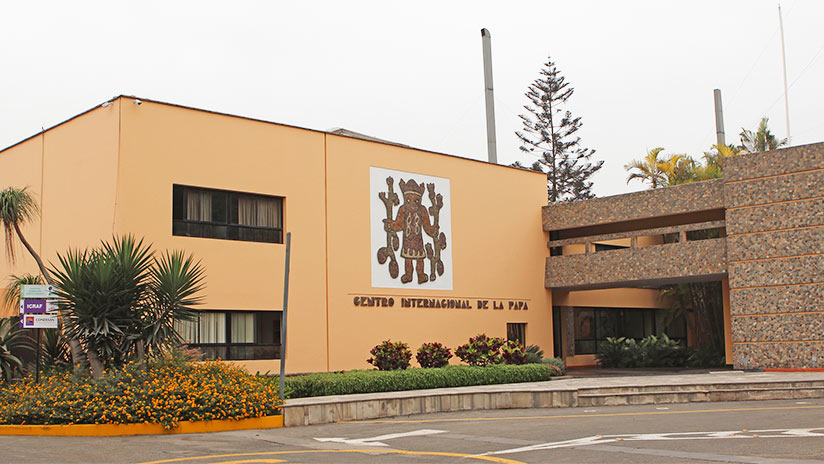 The International Center of Potato is inside a global agricultural research alliance that brings together 15 research centers and is funded by 58 member countries, private foundations, and international and regional organizations. It was created by the Consultative Group for International Agricultural Research and its objective is to reduce the poverty and reach food safety based on agricultural development in developing countries, improving the potato yield per cultivated hectare to triple the production capacity per hectare by improving resource management and especially technology.
Sweet potato, potatoes, and other tubers are researched and categorized in the world's largest gene bank, with more than 5,000 different types of wild and cultivated potatoes, 6,500 varieties of sweet potatoes, and more than 1,300 types of other Andean roots and tubers from Bolivia, Ecuador, and Peru. Similarly, CIP produces improved potato seeds to resist diseases, frost, and drought.
The Potato Park – Cusco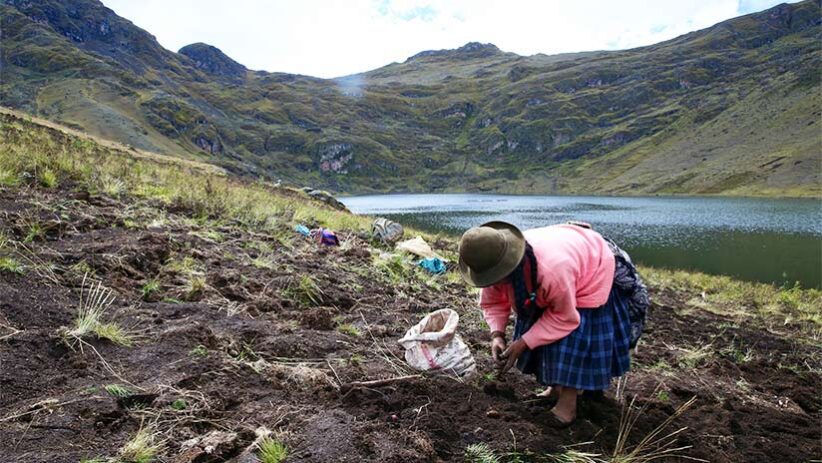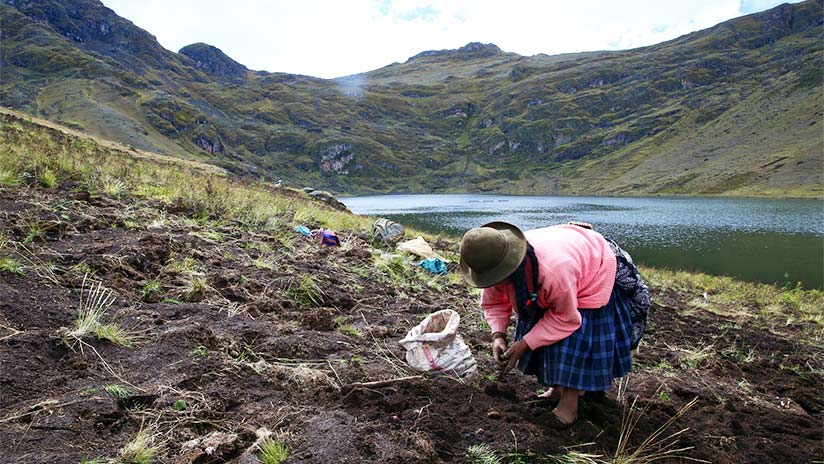 If the International Center of Potato has scientists, researchers, and well-equipped centers, the Potato Park has nature and local farmers as its main researchers. The Potato Park is a commonwealth located 45 minutes northeast of Cusco and joined by 5 peasant communities; Chahuaytire, Amaru, Paru Paru, Pampallacta y Saqaqa. These protect and conserve more than 1330 potato varieties inside the earth and in a community germplasm bank. Besides, experiential tourism is developed in the 5 peasant communities, visiting them, taking walk through their lands, and tasting in a fellowship lunch the great variety of potatoes cultivated in their lands.
Peruvian potatoes recipes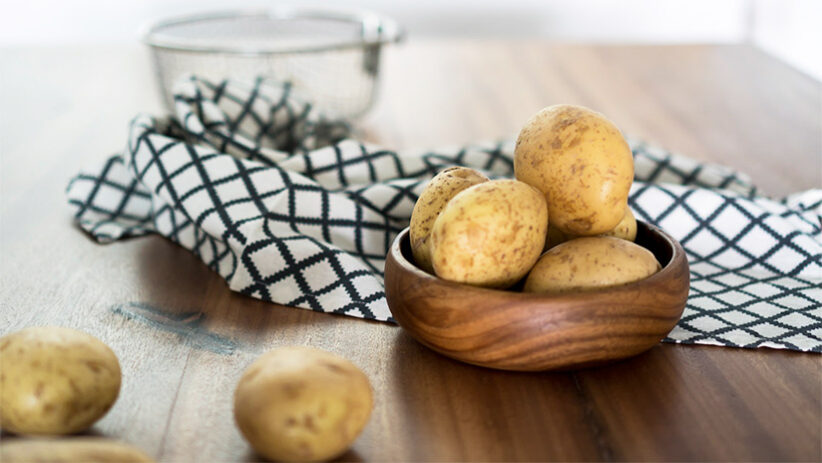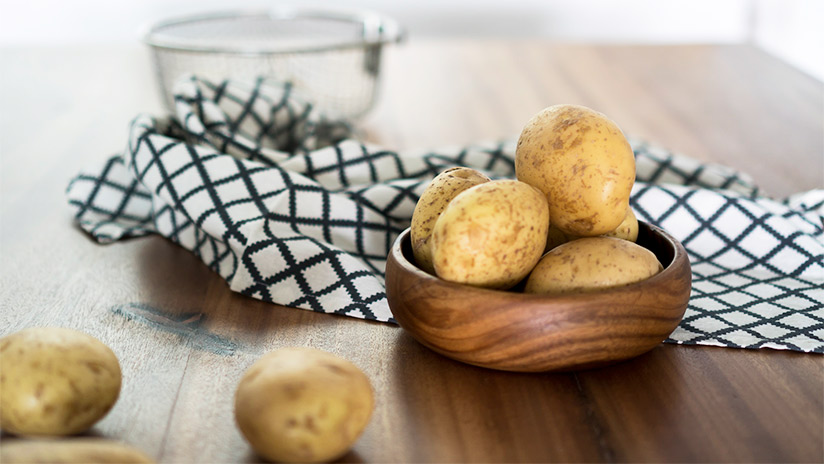 Potatoes are much more than a characteristic food of Peru. They are certainly hearty and delicious, but they are also an important part of our Peruvian heritage. In this form, the Peruvian gastronomy takes the variety and the infinity of flavors and textures that Peruvian potatoes can offer to present delights. Following, you'll find three of the most representative Peruvian dishes make up of potatoes.
Causa Limeña (Limenean Potato Casserole)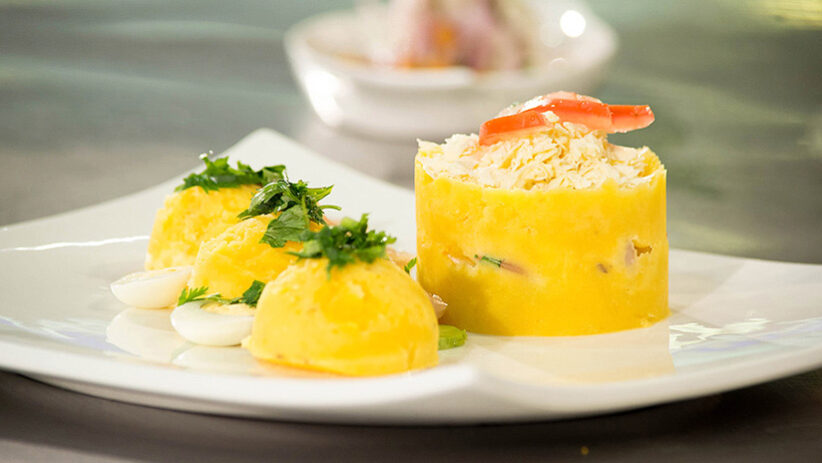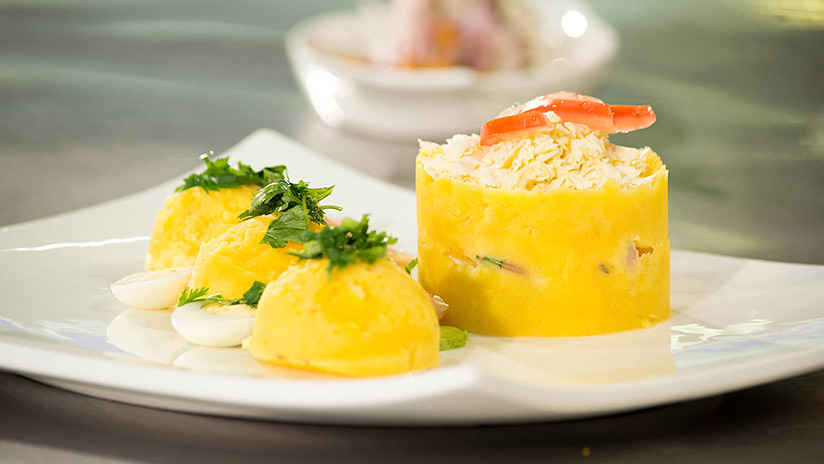 The Limenean Potato Casserole is one of the most characteristic dishes of Creole cuisine in Peru. It is delicious and the best of all, it is easy to prepare. So, let's go by the beginning!
Ingredients:
4 cups of yellow potatoes.
2 cups of cooked and chopped chicken.
2 tablespoons of black olives.
1 egg.
½ cup of onion.
3 yellow bell peppers ají Amarillo, 1/8 cup.
2 limes.
½ avocado.
¼ cup of olive oil.
4 cups of water 1 liter.
1 teaspoon salt.
¾ cups of mayonnaise.
½ cup of peas.
Preparation:
You have to boil "Amarilla" or "Tarmeña" Peruvian potatoes, (these have to be peeled previously) until these will be soft.
Cut the potatoes in 4 and then crush them, with a fork or a press, over a bowl WITH 4 cups of water until you obtain a uniform mass without lumps.
Add some drops of lemon juice and salt to the mass and guard them for a while.
Meanwhile, cut the red Peruvian peppers into little cubes (you'll have to extract their stem and veins before). After that, blend the cuts with oil, juice of lemon, and salt.
Add the mix of red pepper and oil over the potato mass and mold them for a few more minutes.
In a bowl, mix the shredded chicken, fresh onion diced with mayonnaise, and some spices (pepper)
In another part, cut the avocados into slices and season them with some drops of lemon juice.
Meanwhile, boil an egg and cut it into slices.
Using a bottomless can on a plate, as a mold, put the potato dough inside the mold, then put the avocado slices, then cover it with the shredded chicken mixture, then put the second layer of potato dough.
Carefully remove the mold (bottomless can). And then decorate Causa with the slices of the last egg.
Finally, Well done!
Papa a la Huancayna (Huancaina's style potato)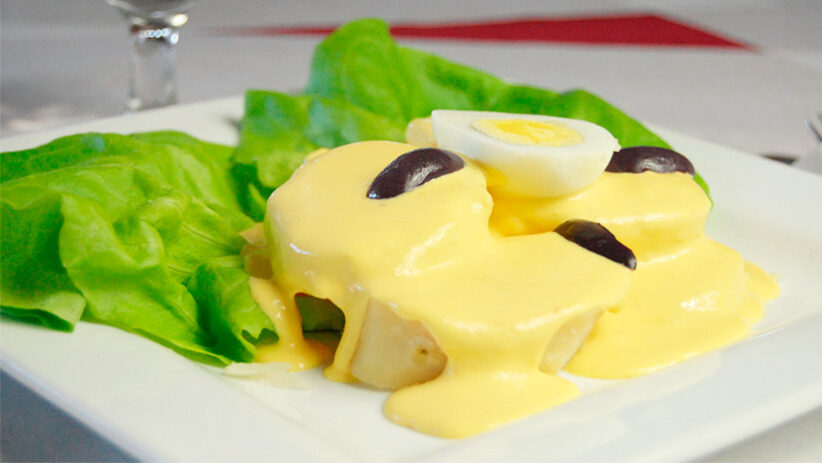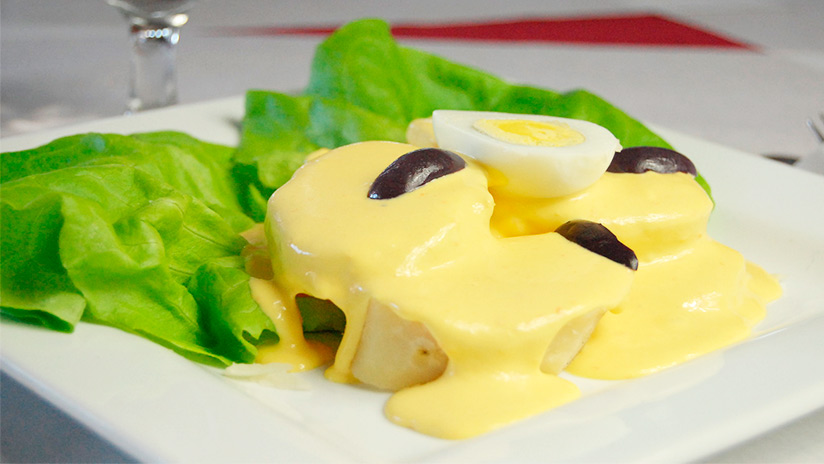 If the preparation of Limenean potato casserole is easy, Huancaina's style potato preparation will seem even easier. This is a great example of the biodiversity in Peru and the creativity of cuisine in Peruvian regions that are not Lima.
Ingredients:
6 yellow potatoes, cooked and peeled.
iceberg lettuce leaves.
3 hard-boiled eggs, peeled and sliced.
4 soda crackers.
8 oz. queso fresco (fresh white cheese)
Salt.
½ cup yellow pepper paste.
2 tablespoons vegetable oil.
1 cup evaporated milk.
black olives.
sprigs of parsley.
Preparation:
Boil a Huamantanga, Tarmeña, or Amarilla Peruvian potatoes, previously peeled.
Cut the boiled potatoes into slices and guard them for a while.
Blend small pieces of the famous Peruvian yellow pepper, with oil, milk, salted cookies, fresh cheese, and salt. Until getting a uniform mix.
On a dish, put some lettuce leaves, over them, put the potatoes slices, and cover them with the yellow mix.
Garnish the plate with half purple olives (without pip), half a boiled egg, and parsley.
Finally, enjoy this Peruvian delight.
Papa Rellena (Stuffed potato)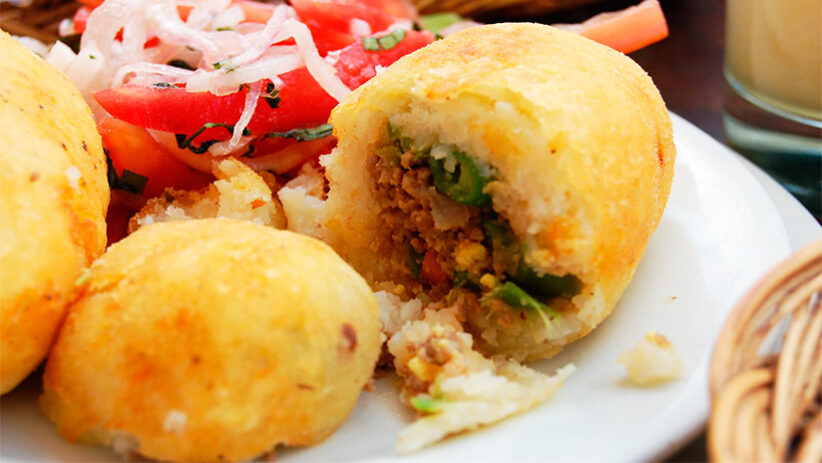 Maybe this dish would not be so Peruvian as the previous ones, but it takes a special flavor if you're cooked with Peruvian potatoes. A delicacy that you can't stop trying.
Ingredients:
2 pounds of potatoes.
1 pound soy meat (or ground beef).
2 hard-boiled eggs, peeled and chopped.
1 chopped onion.
2 garlic cloves, minced.
1 tablespoon of red pepper paste.
1 tablespoon tomato paste.
¼ cup vegetable oil.
Salt.
Pepper.
½ cup black olives, sliced.
½ cup raisins.
chopped parsley.
all-purpose flour.
Preparation:
Boil a shellless Canchan or Huamantanga potatoes, for 20 minutes, until getting a soft texture.
Take the potatoes out and crush them in a bowl with a press or a fork. You have to obtain a semi-solid mass. Add to them, a few drops of lemon juice, and salt.
Meanwhile, fry-diced onion, with slices of garlic, stir slowly. Then, add ground red chili and tomato paste, and continue to stir slowly. Finally, add ground meat, salt, and black pepper. Cooked all these for 15 minutes more.
Add parsley, raisins, olives, and chopped boiled eggs to the stew.
Next, soak your hands in flour, take a portion of stew and place it inside a portion of potato dough. Completely surround the stew with this potato dough.
Following, wrap this kind of potato ball stuffed with stew in a mix of flour with beaten eggs and fried them.
And done! You will have a tasty stuffed potato that can be accompanied by a fresh salad. A royal delight.
"WHAT SMALL POTATOES WE ALL ARE, COMPARED WITH WHAT WE MIGHT BE!"
We hope this article on Peruvian potatoes has helped you learn about some varieties. With more than 4,000 native potatoes in our country, it is not surprising that most of our dishes include them. But as we mentioned earlier, the potato is much more than food. It is part of our extensive culture and tradition. The Machu Travel Peru team hopes they have been helpful. If you want to know more about what Peru has to offer, you can consult with our qualified advisors. We will be waiting for your soon visit Peru.
---