If you are preparing your suitcases for your next trip to Peru, then better leave a space reserved for the many Peruvian souvenirs that you will bring back. Throughout your journey through the Andean country, you will find various colorful markets full of beautiful handicrafts made in colors and patterns that catch the eye. Therefore, together with the travel experts of Machu Travel Peru, we would like to tell you a little about the best souvenirs to buy in Peru. So that on your next Peru vacation, you can return with some classic reminders of our beautiful country.
The greatest Peruvian souvenirs to take home with you.
Alpaca clothing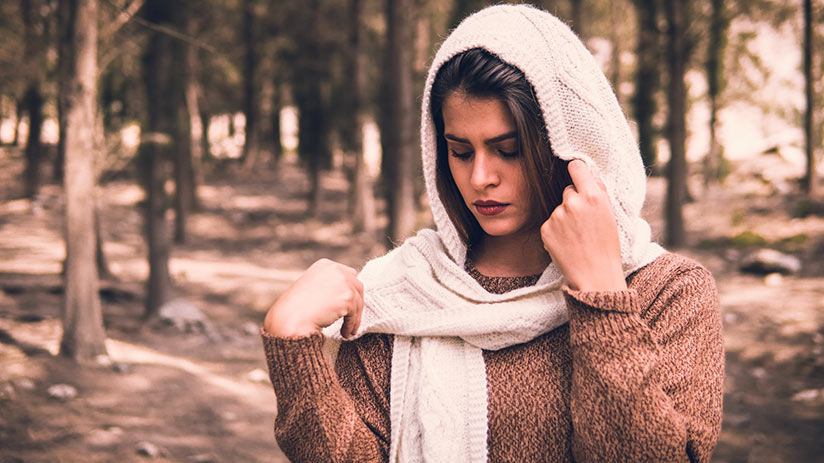 Traditional Andean clothing such as Ponchos is one of the most fun and comfortable Peruvian souvenirs to take home. It is one of the most internationally recognized clothing in Peru and one of the most requested products by people who go shopping in Peru. In the same way, Ponchos are not the only products made of alpaca. You can find everything from sweaters, wool hats, gloves, and all kinds of outfits made with precious alpaca wool. You can even find high-fashion clothing made from high-quality alpaca. Definitely, the alpacas clothing should not be missing from your shopping list inside of things to do in Peru.
Keepsake textiles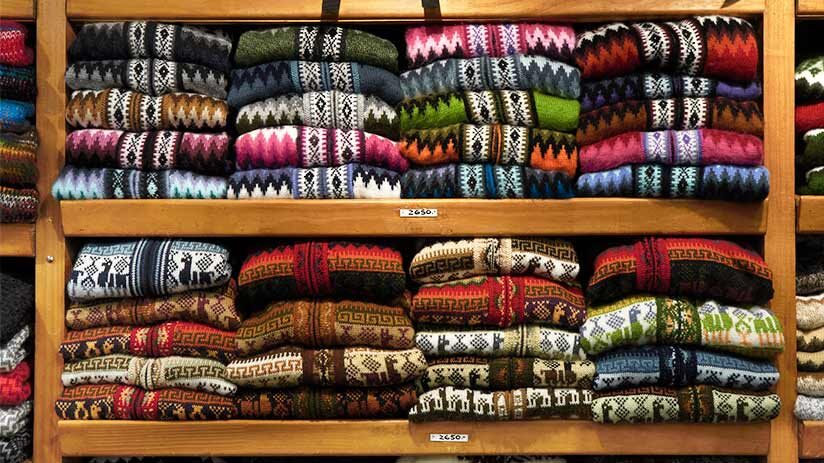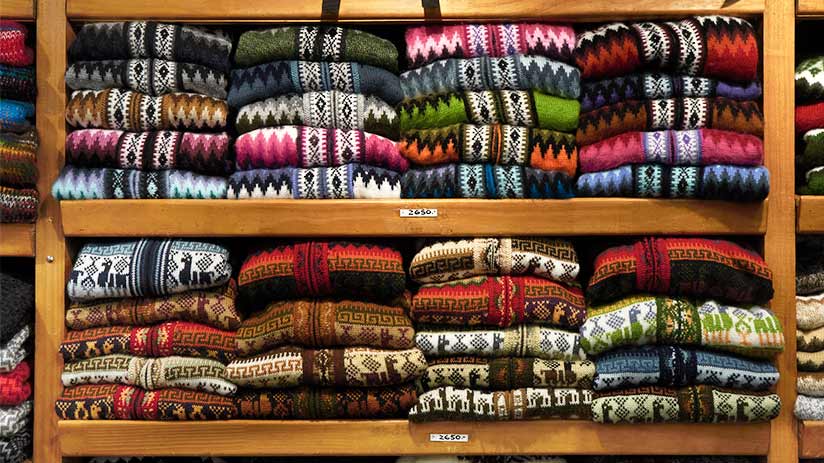 No trip to Peru is complete without a textile to take home with us. Peruvian textiles are beautiful works of art and important pieces within Peruvian history, and it is not surprising that they have become one of the best souvenirs to buy in Peru. With so many textile communities available across the country, it's impossible not to find a unique piece for yourself. Even many of our tours in Peru usually, tour these communities, showing you the history and the process of creating these incredible pieces of culture.
Peruvian dolls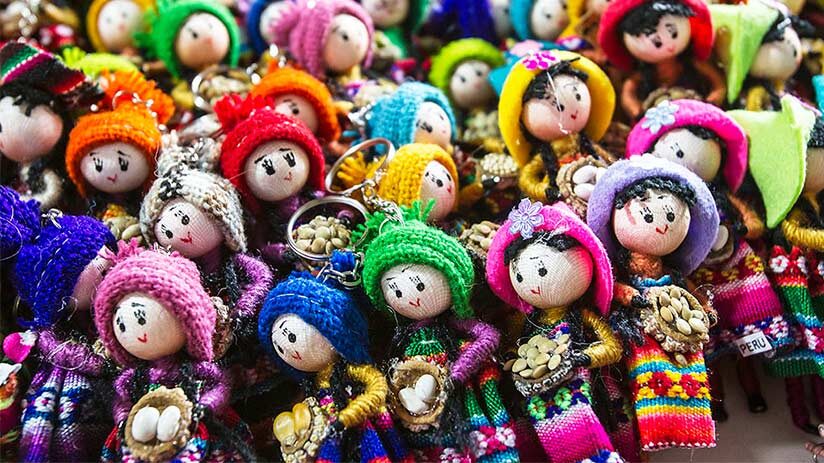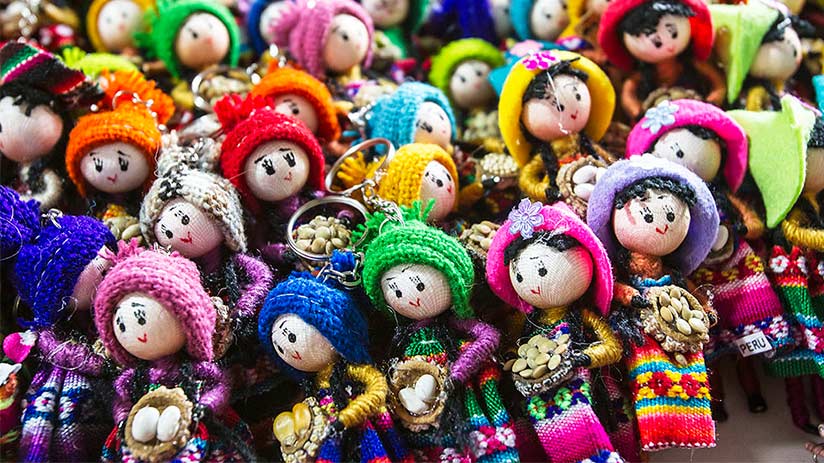 The most representative animals in Peru are embodied in these traditional dolls. alpacas, llamas, even vicunas (Yes, they are not the same) are made with Lana wool and lots of love. If you don't know what Peruvian souvenirs to give to the family, you can think of the Peruvian dolls. Even, the beauty and grace of Peruvian women are captured in this Cholitas Dolls. Just in case, Cholita is the affectionate appellation that receives the women of the Andes in Peru. Therefore, dare to bring beauty and affect to your loved ones from Peru, bring them Peruvian Dolls!
Chullo hat reminders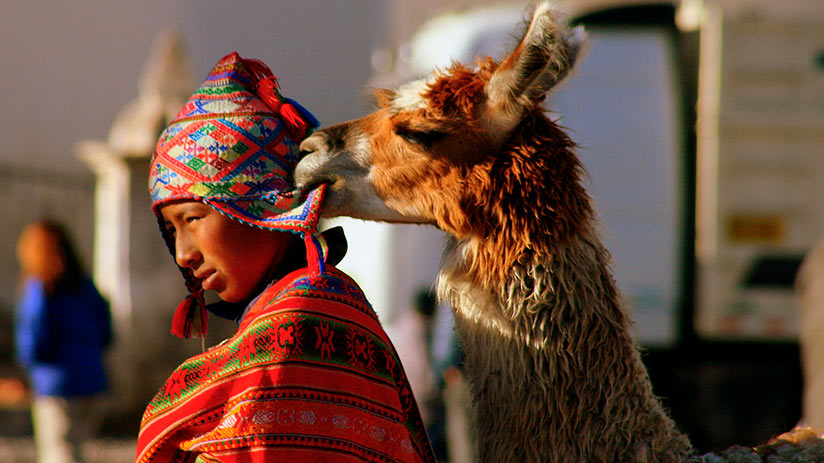 The Chullo is a traditional Andean hat that has ear flaps that can be tied under the chin. They are usually made of alpaca, llama, or vicuña wool and are decorated with bright-colored patterns. It is impossible not to recognize these typical hats, they are perfect to buy in handicraft markets or in the traditional San Pedro Market (If you are in Cusco). If you ask us, we recommend buying in this last option.
They are much more visible in places like Cusco, Arequipa, and Puno where the climate is much colder. If you are looking for short vacation ideas, do not hesitate to check out one of our wonderful all-inclusive tour packages.
Memorial backpacks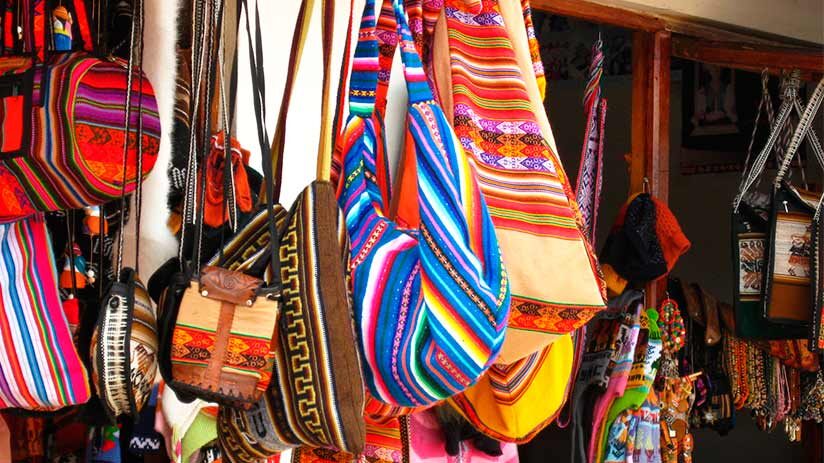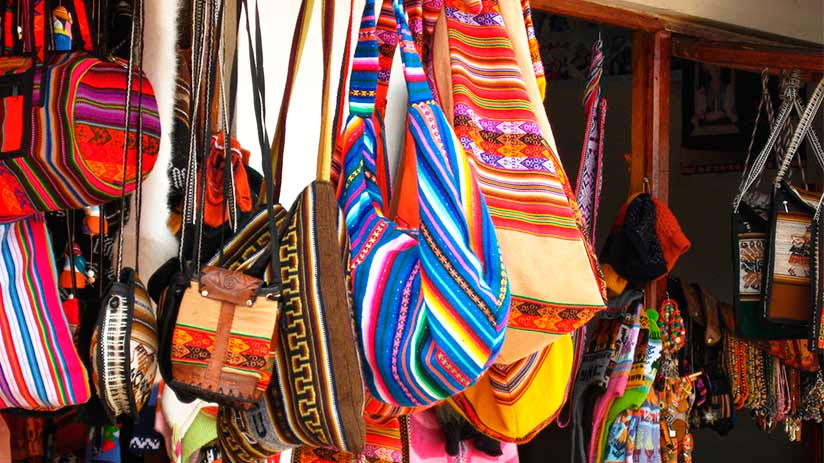 What could be better than being able to store all our recently purchased Peruvian souvenirs inside a new backpack? You will find in the markets hundreds of backpacks designed with traditional textiles as well as other special options for hiking and travel adventures.
Stamps in your passport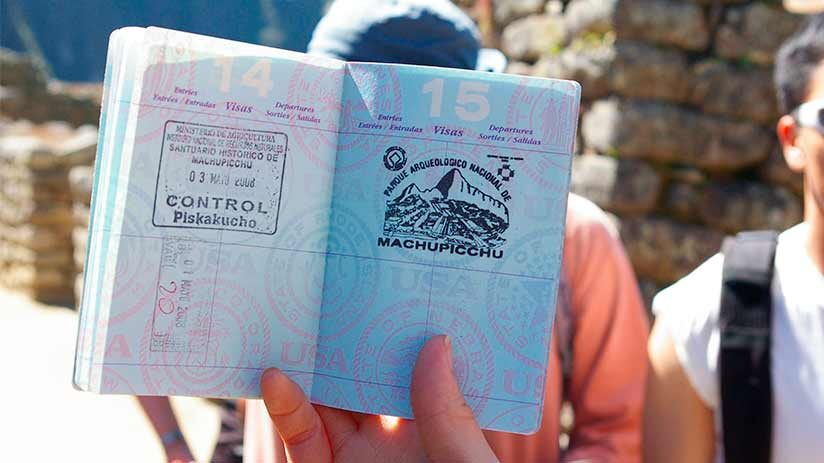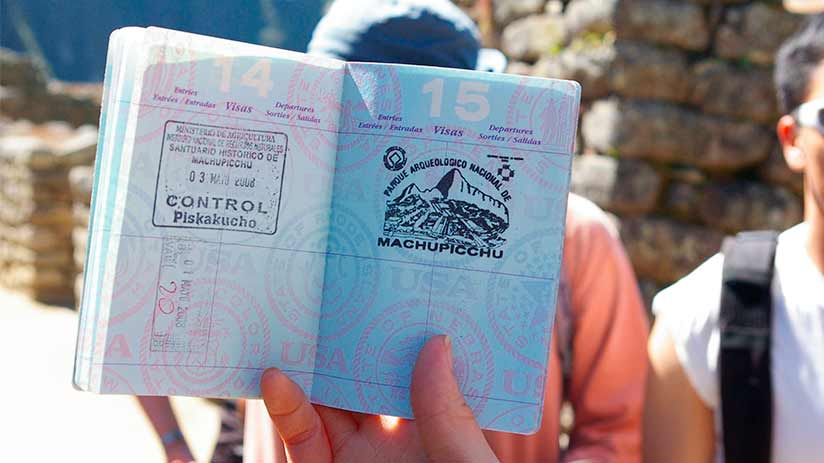 The passport is proof of your trips around the world, a big stamp on each blank page is necessary to enter or depart from different countries. However, a great stamp of the most important attractions in Peru is a totally different thing. For example, in Machu Picchu, at the moment that you get off the bus, just in front of the Citadel entrance, you will find a little green table where a `person will stamp your passport with the beautiful image of Machu Picchu. In addition, at Rainbow Mountain entrance, you will obtain another nice stamp of the mountain or in the Uros Islands in Puno. As you see, many Peruvian attractions that offer a reminder of your visit there.
Handmade art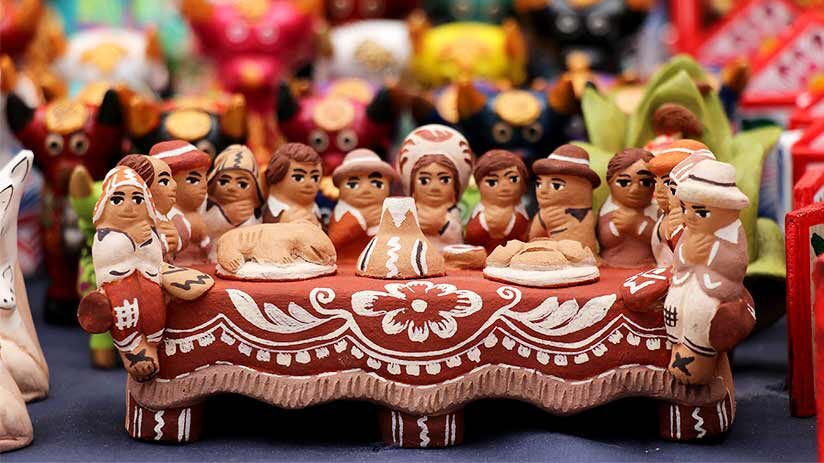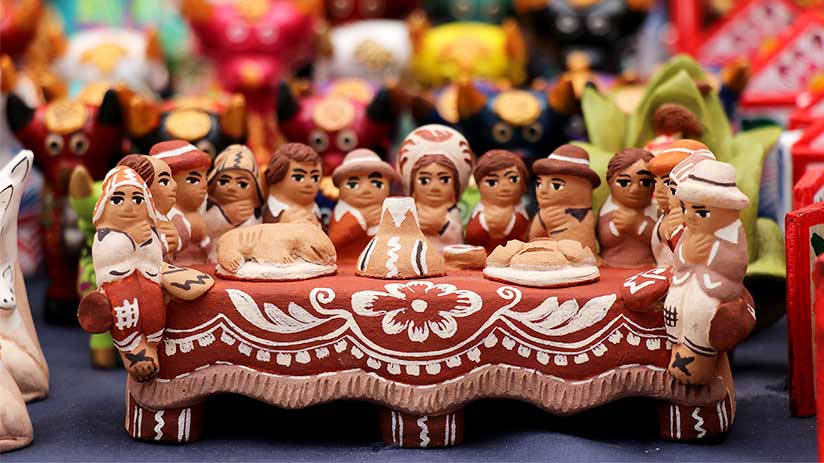 Perhaps one of the best ways to remember the Andean country is through a Peruvian piece of art. If you plan on visiting Peru or taking some Machu Picchu tours, you cannot miss the different galleries and art exhibitions. Art tours are an important part of the Peruvian culture, you can even end up taking a painting with you in the process. And art proliferates in most tourist destinations, with constant themes of Andean tradition and landscapes as the main focus inside Peruvian souvenirs.
Retablos altar of Ayacucho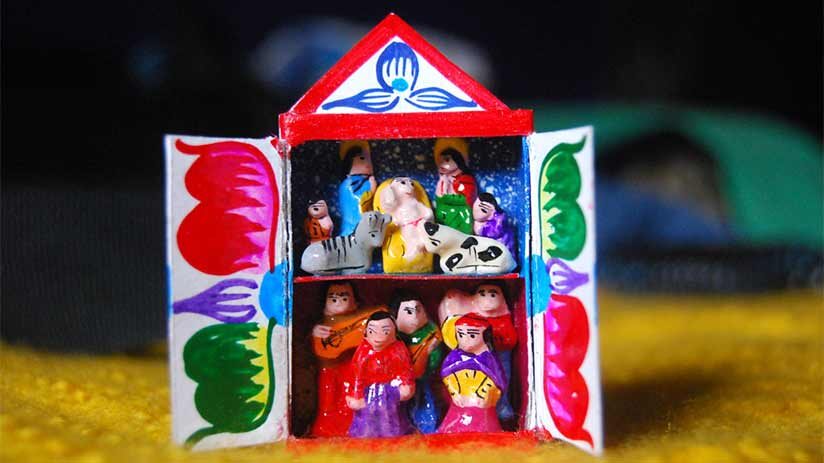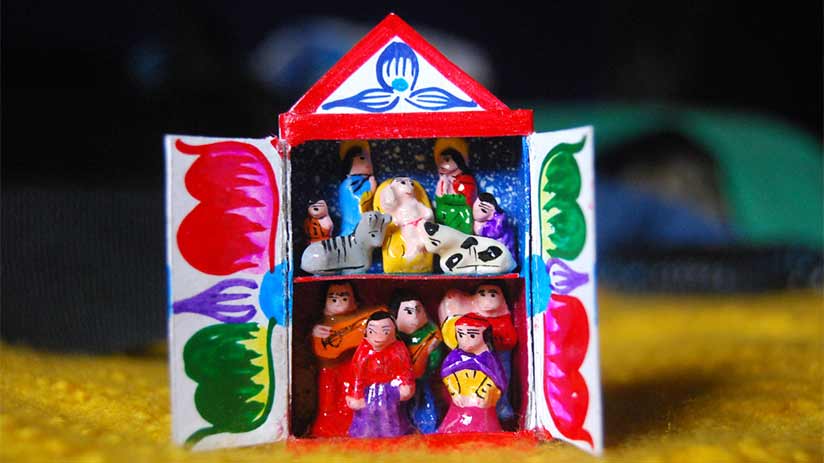 Ayacucho is a picturesque town located in the center of Peruvian Andes. Its ancient artist always admired the religious portable altars, taken out in procession, of Spanish people in colonial times. So, they tried to make their own movable altars with Andean iconography. The result was a unique masterpiece, the Retablo. This Peruvian keepsake is a beautifully painted wooden wardrobe, with flowers and roses from Ayacucho surrounding areas. Inside, the closet is divided into two plants; the first plant hosted wooden figures of Andean persons and animals in their daily lives. Otherwise, religious figures are depicted on the second floor. All this work is made with the hand-carve technique. Certainly, the Retablo is a  colorful Peruvian art in different sizes, from the smallest to someone of human size.
Toritos de Pucara (Pucara bulls)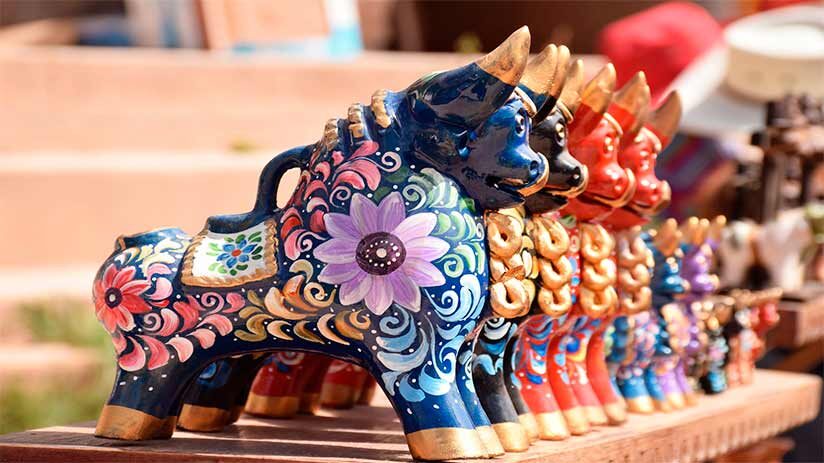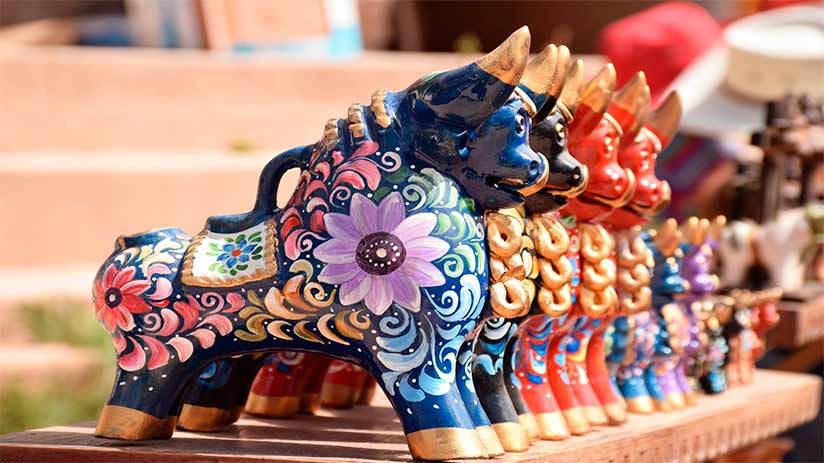 If you travel around Peru, you will find Pucara. It is a little town located on the north of Juliaca, the second most important city after Puno in the Peruvian Altiplano. The town is recognized to be the zone from Toritos de Pucara come. These Peruvian souvenirs achieved such fame that many Andean cities like Cusco, Puno, Ayacucho, Arequipa inter alia, have a couple of Toritos over their rooftop. Even, in the middle of them, a cross is situated as proof of syncretism of Andean and Catholic elements. These crafts protect the house from bad spirits (According to the belief of the Peruvian people). On the other hand, many of them are sold in different colors and sizes to tourists and gifted (in pairs) to married couples as a symbol of luck, prosperity, money, and protection.
Musical instruments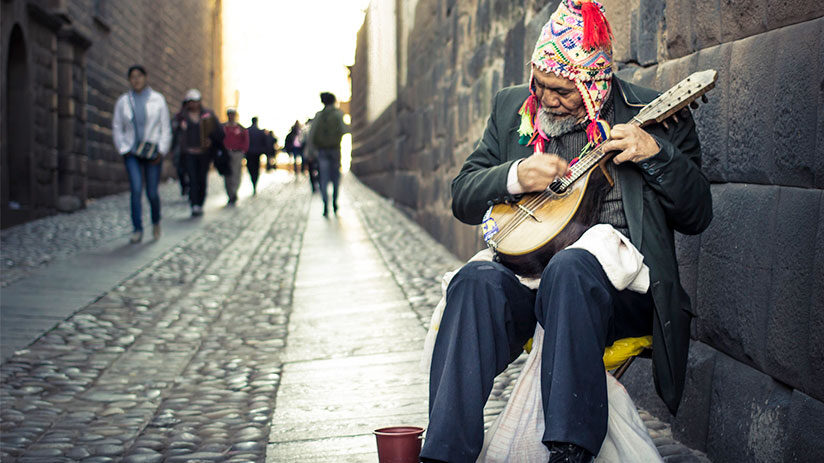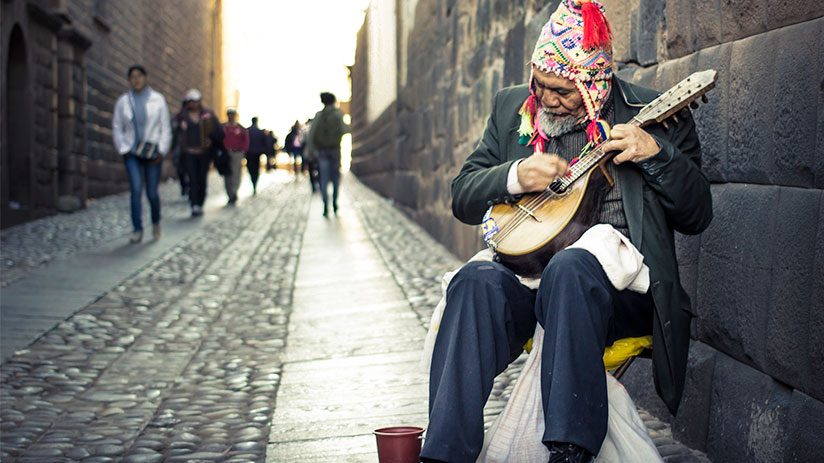 Peruvian music is beautiful to listen to, it is even recognized worldwide. It has great Spanish, Andean and African influences. If you are a lover of music in all its forms, it may be a good idea to bring a musical instrument as a Peruvian souvenir. You will have a large repertoire of instruments to choose from, from handcrafted wooden flutes to a ten-string Charangon among others.
Pisco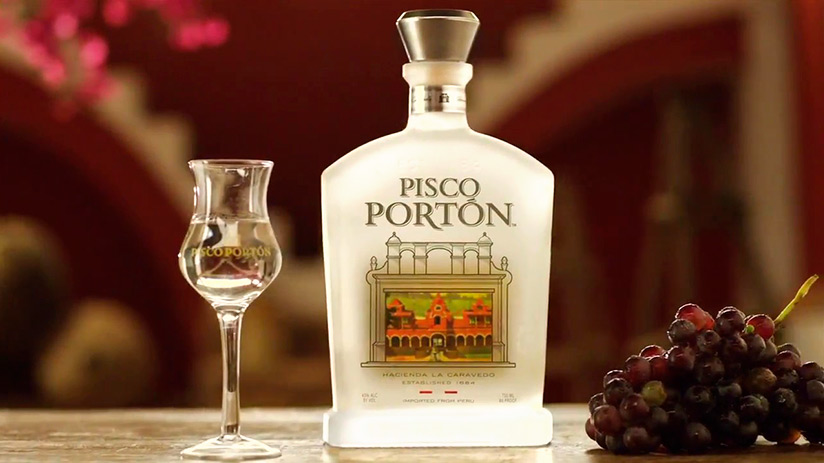 One of the most traditional cocktails in the Andean Country can be an excellent souvenir to buy in Peru. Once you try the classical Pisco Sour, you'll probably become an automatic fan of the drink and the Peruvian Pisco. And because the flavor of Peru can't be emulated, you should bring some bottles, so the members of your family can taste the distinguished taste. If you are going to visit Machu Picchu, you should end your day with a good old-fashioned Pisco Sour.
The Peruvian wine is another great example of the variety of alcoholic Peruvian drinks, Its quality is recognized around the world, because, the grape strains with which this wine is produced come from Ica vineyards, extensions of grape cultivation located on the south coast of Lima. Dare to taste this wine and know why it is the new most sold Peruvian souvenirs.
Memorial bracelets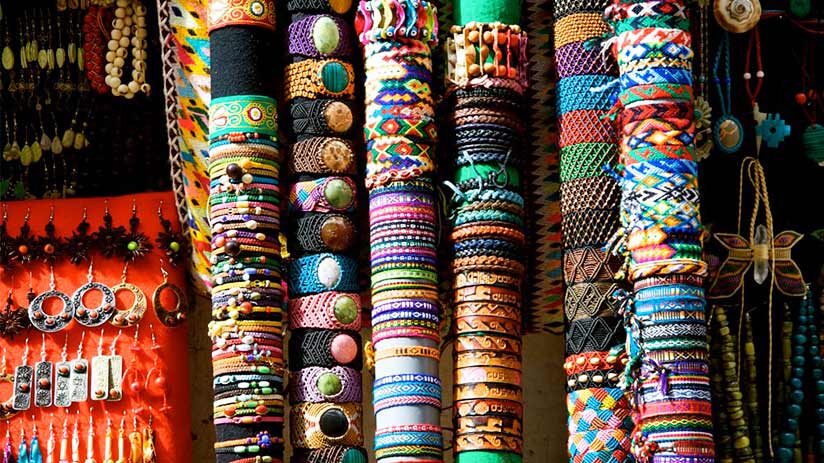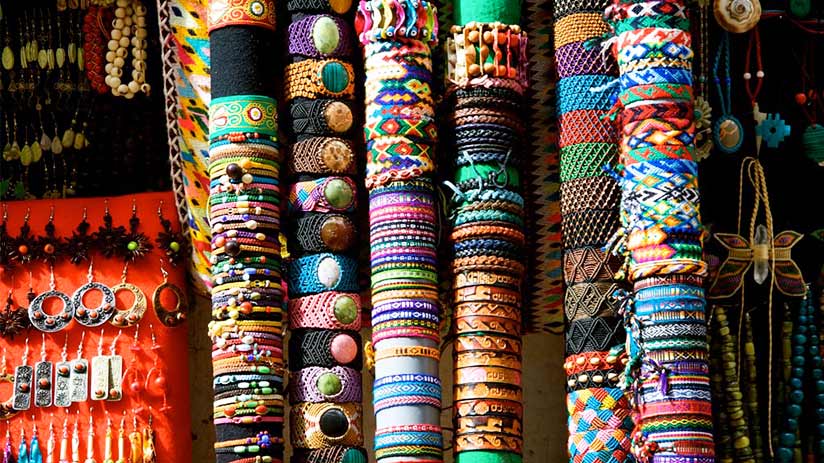 When you travel throughout Peru, you'll probably meet with a lot of travelers and backpackers trying to make some money within their journey. And probably one of the products that they offer you is the traditional handmade bracelets. They are also sold in local markets by many of the artisans, including gemstones, brightly colored patterns, and much more. Therefore, the memorial bracelets are the most sold Peruvian souvenirs today.
The Chacana and the Peruvian jewelry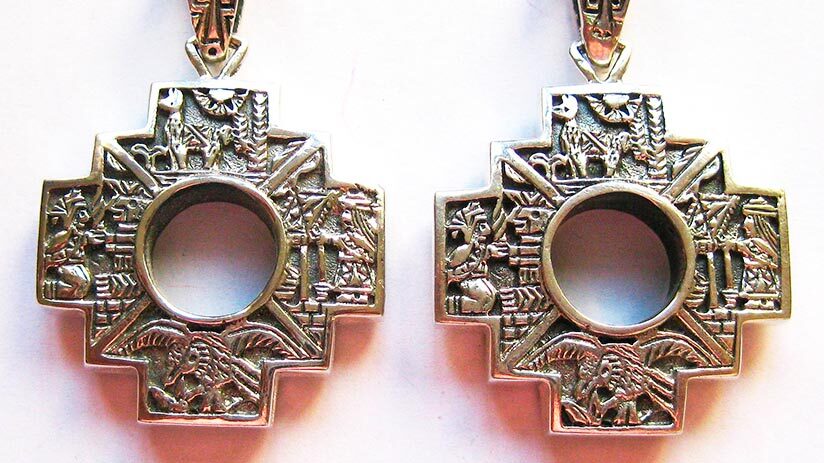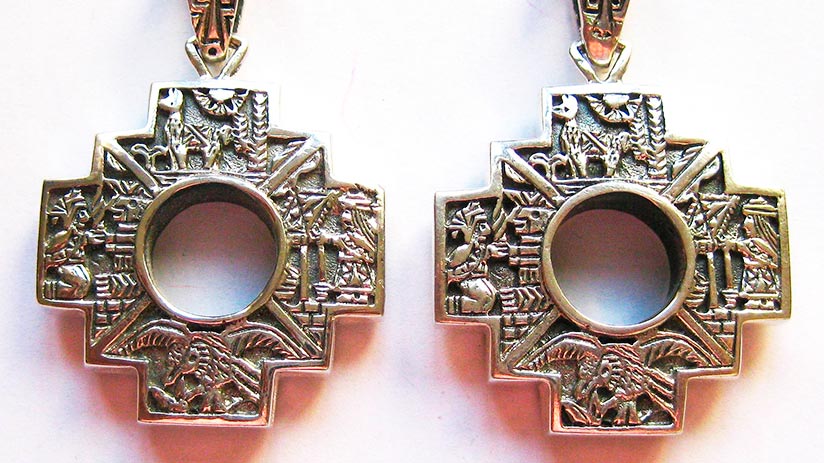 Chacana or the Inca's cross was a very important symbol for the Incas people. The sign reached singular importance and, for this reason, they carved its form throughout all Incas complexes, parks, fortress inter alia as a memorial of its religiosity and beliefs. Chacana has a form of a cross, each side is a three-rung gradient and represents the three-level of the Inca universe. Uku Pacha (Underground world) is the first one, and it represents the spirits and souls of dead people that inhabit this world. The second is called Kay Pacha (the middle world) and means the world that the Incas and all people live. The last one is called Hannan Pacha (The world of haven) and it is hosted by gods and mountain spirits that protect the Kay Pacha.
The Chacana cross you can find in the Peruvian souvenirs as silver or gold jewels. The Peruvian jewelers have a large tradition of silver and gold souvenirs because their ancestors worked, carved, and buffed these minerals since Inca's times. Therefore, when you buy a piece of Peruvian jewelry, you are not only buying a souvenir, you buy history, tradition, and an old technique of jewelry work.
Coffee and chocolate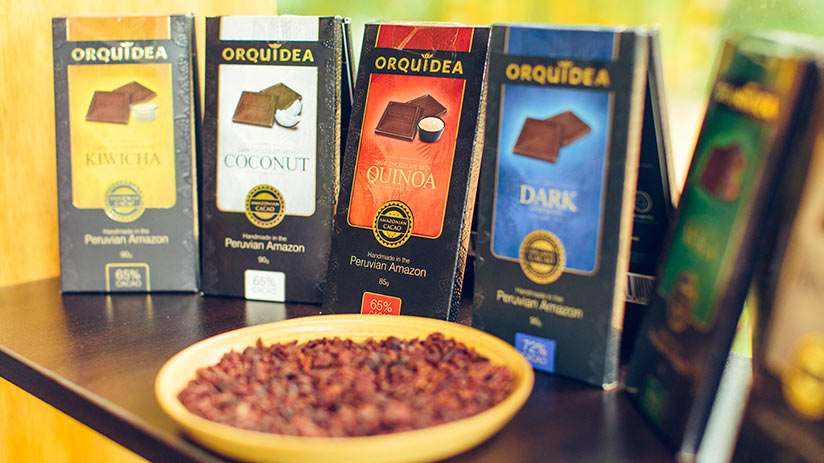 If you want to go shopping in Peru, you have to realize that Peruvian coffee and chocolates are of great quality, even being desired in many foreign countries. This makes both excellent souvenirs to buy in Peru. You will find numerous markets where you can taste the different coffee beans or artisan chocolates. Don't miss the opportunity to bring the taste of Peru with you when returning home.
Pink salt of maras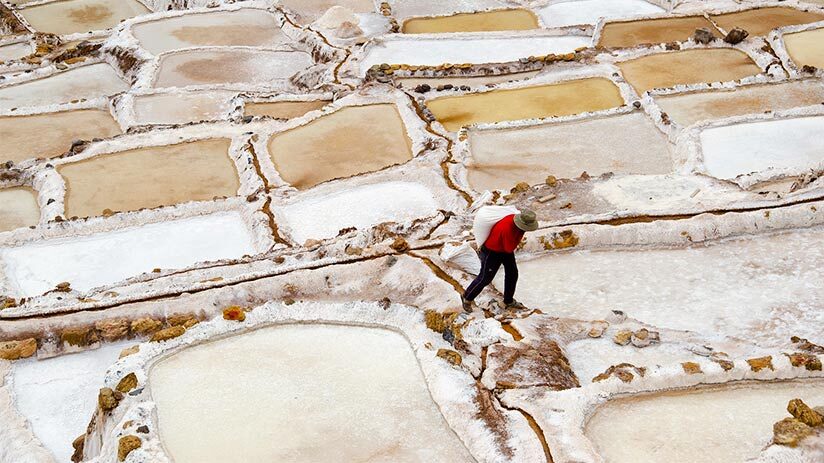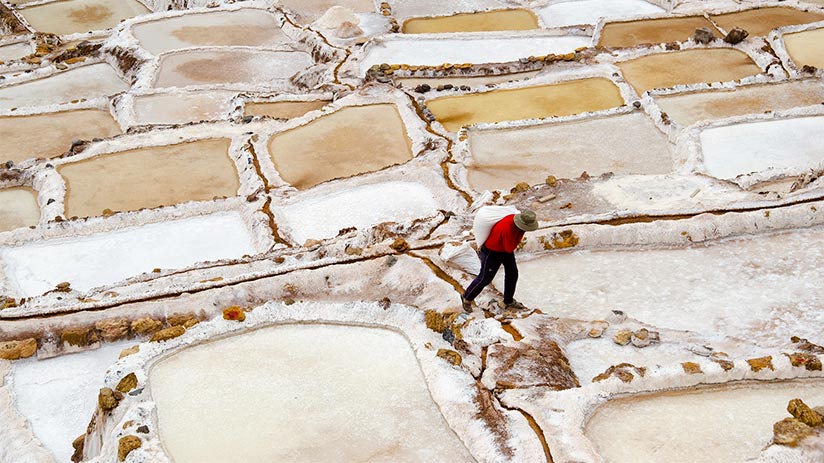 If you are visiting Cusco, Maras, the town of Salt mines in the Sacred Valley, is an obligatory stop for all visitors. The beauty of Qaqawiñay mountain slopes, with its salt wells, means a great memory of your stay in Peru. The salt mines were used by the Incas 4 centuries ago and still produce white minerals, of course, the Maras people are the current owners, and they sell the product as the most representative of Peruvian souvenirs in the south of the country. Pink salt is a brand -stamp of Maras, and it can be used to sprinkle your popcorn or a finishing touch to your grills or dishes. The pink salt is an inevitable souvenir on your way through Cusco.
"A PHOTOGRAPH IS A SOUVENIR OF A MEMORY. IT IS NOT A MOMENT. IT IS THE LOOKING AT THE PHOTOGRAPH THAT BECOMES THE MOMENT. YOUR OWN MOMENT"
We hope together with the experts of Machu Travel Peru to have been able to clarify the best Peruvian souvenirs that you can find on your next visit to Peru. Remember, these are just a few examples that you can find, but there are many other amazing wonders and crafts to buy.
Peru has so much to offer, it can be hard to know where to start. With many years of experience in the tourism sector, Machu Travel Peru is happy to help with anything regarding your trip to Machu Picchu and any tours around it. Make your Machu Picchu experience an unforgettable one!
---