The thought of eating street food anywhere in the world can leave you cold and scared. However, the intrepid street food in Peru is very popular and most of the time very tasty. You can be surprised and delighted with the variety and taste of Peruvian street food. When you are in the larger cities, you will see vendors in almost every corner. Whether in the morning and the evening, it doesn't matter what time of day in Peru, you will always find a tasty sandwich. And that is why together with the experts from Machu Travel Peru we have prepared a small article about the best Peruvian street food.
The different street food delicacies to try in Peru
MACA BREAKFAST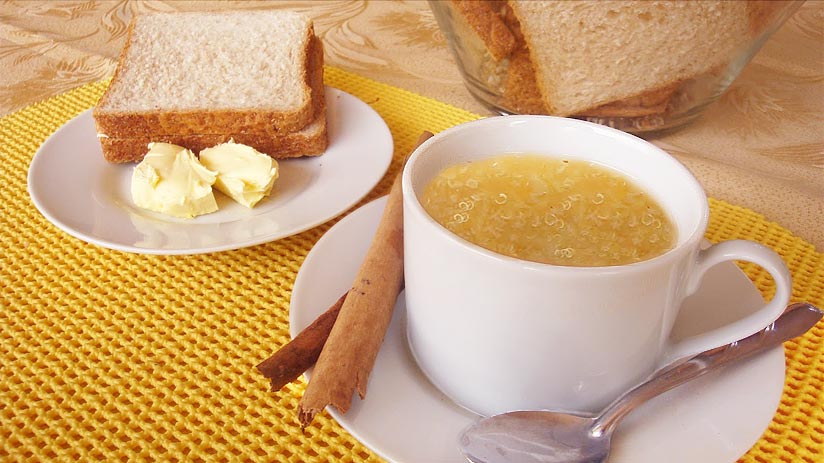 If you get up early and go on a tour, you have to have a good breakfast. For this, it is a good idea to look for street vendors who sell Quinoa. The Quinoa drink is made with apples and served with milk. This traditional drink is not only very good for you, but it is also delicious. The vendor will also serve Maca, which is also made into a hot drink and served with milk. Both Quinoa and Maca are Peruvian superfoods as well as healthy fuel for your body. To accompany your hot drink, try an avocado or cheese sandwich. This will cost you around 2 soles and you can start your day off right.
ANTICUCHO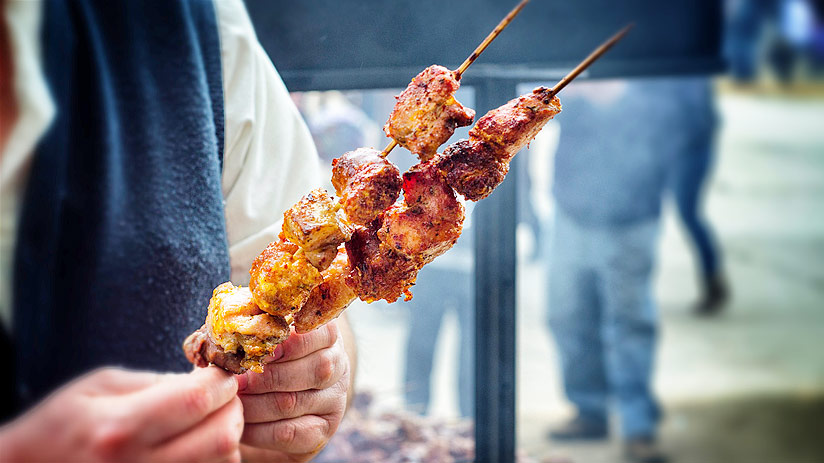 At night, on many street corners, you will find ladies barbecuing. Usually, they are making meat skewers classically known as Anticuchos. Traditional Anticuchos are pieces of grilled beef heart served on a stick with a boiled potato on the end of the stick. It is also accompanied by chili sauce and the taste is quite unusual. In many places, you can get Anticuchos with chicken or beef. Anticuchos are a very traditional food and the tradition began with the slaves brought from Africa by the Spanish in the 16th century. The entrails of the cow were given to the slaves as food and thus the dish was invented. Anticuchos are sold throughout Peru and you will smell the aroma before you see the vendors. Today you can even find this classic dish in some of the best restaurants in Peru.
TAMALES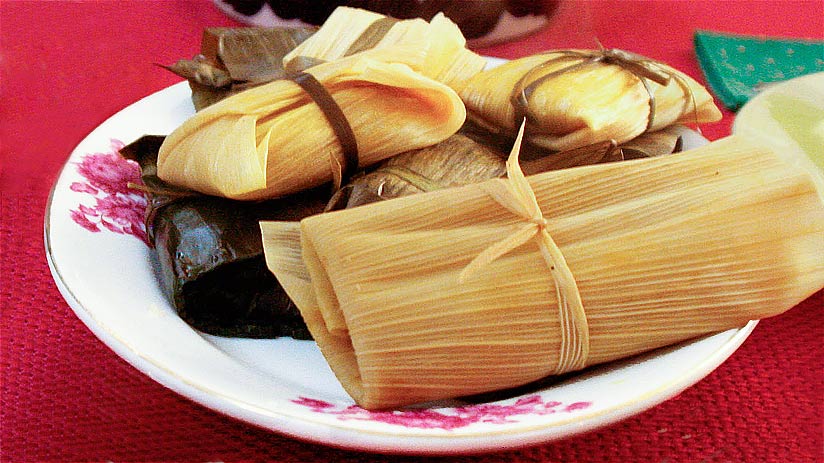 After tasting the different Fusion food dishes, you have to know the classic tamales. Peruvian tamales can be found throughout Peru and South America. This traditional food is mainly composed of Peruvian yellow corn. Made with cornmeal dough stuffed with meat, usually chicken or pork, hard-boiled eggs, olives, walnuts, and chili. These are usually topped with red onions for an added touch. They are usually steamed and wrapped in banana leaves. They are easy to eat and are a great street food for you to try.
CHOCLO WITH CHEESE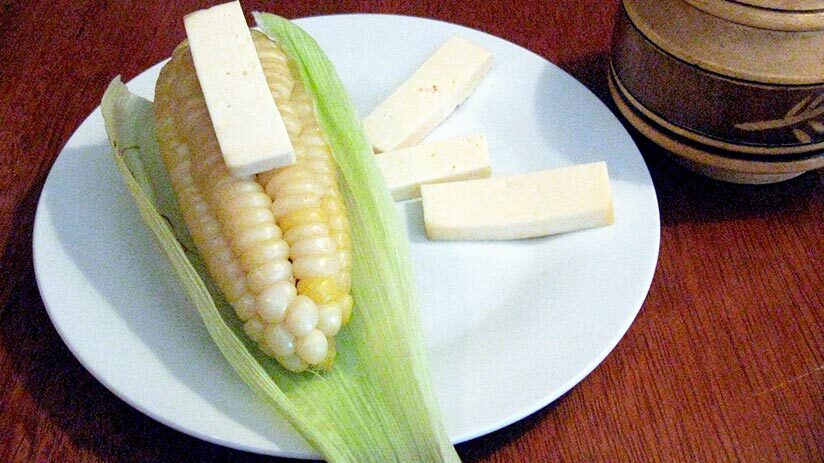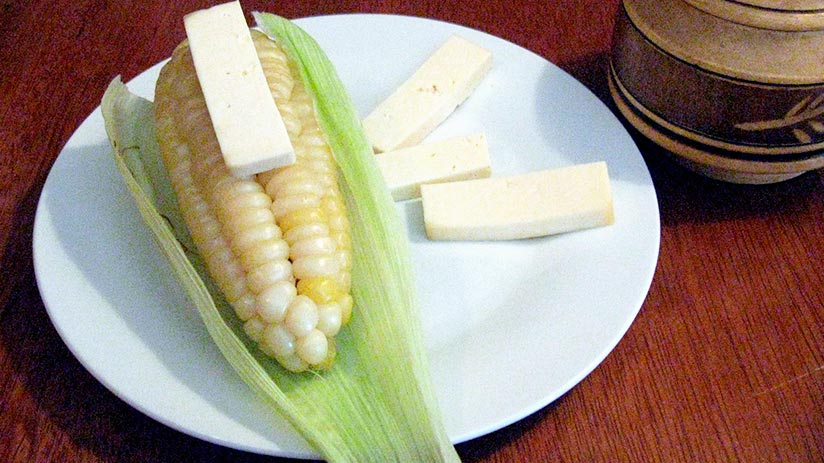 Before leaving for the different tours in Peru available, it is a good idea to have quail eggs for breakfast. Another of the best Peruvian street foods to try is an Andean classic: Corn with cheese. Corn with cheese is a traditional food that is often eaten as a garnish, sandwich, or appetizer. The Peruvian corn is a type of corn with large grains and a distinctive nutty flavor, it also has a tender texture that differs from other corn. When combined with creamy and salty cheese, it results in this exquisite dish. You will surely find it in some restaurants served as a starter. But the most common is to find it in street vendors outside.
BUTIFARRA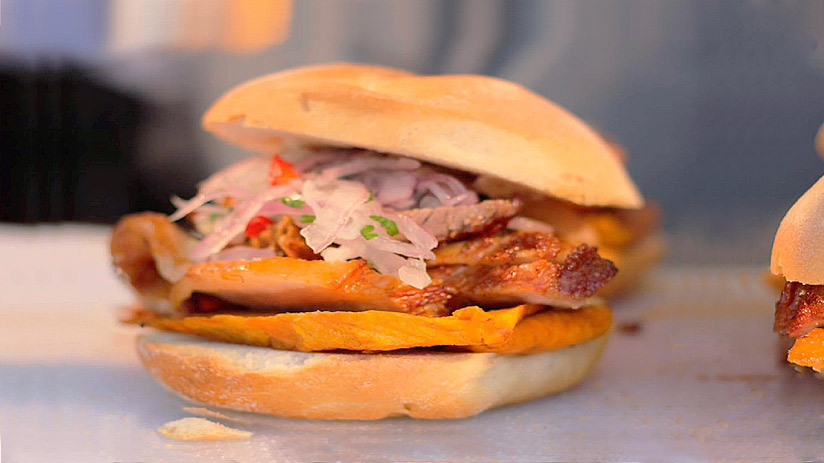 When you are in Lima, they will surely tell you to try the Peruvian seafood. But one of the dishes that you cannot miss is the Butifarra. This is a delicious tender pork sandwich served with tomato, onion, chili, and mustard. The bread is generally crisp and the meat warm, making it a delicacy for the senses. This sandwich is a must and is very tasty, especially on busy afternoons. Not only Butifarras are offered, but also tempting chicken sandwiches and hamburgers to satisfy your hunger.
MAZAMORRA MORADA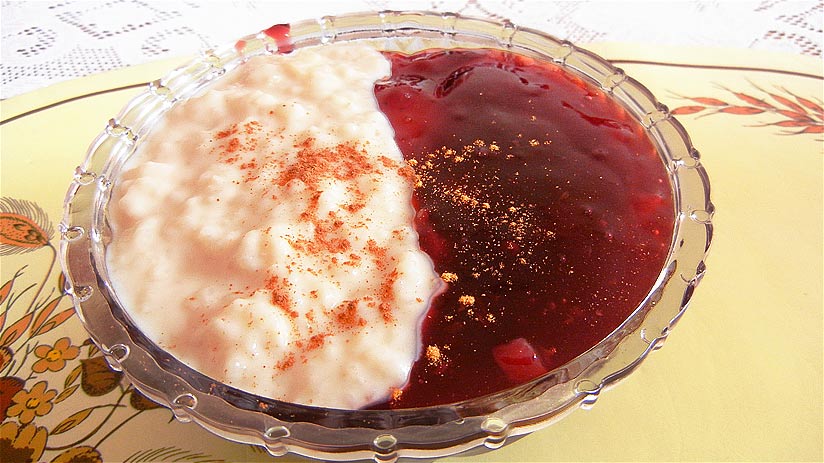 Peruvians love their sweets and it shows with many varieties of sweet Peruvian street food on offer. Be sure to try the Arroz con Leche and Mazamorra Morada. This dessert consists of rice pudding served with porridge. It's hard to compare Mazamorra to anything, but it's a delicious, spicy, jelly-like dessert mixed with cinnamon and apples. It is usually sold at night and is a sweet, sticky, and wonderful dessert. Tasting the Mazamorra could be considered one of the best things to do in Peru, especially on winter days.
PICARONES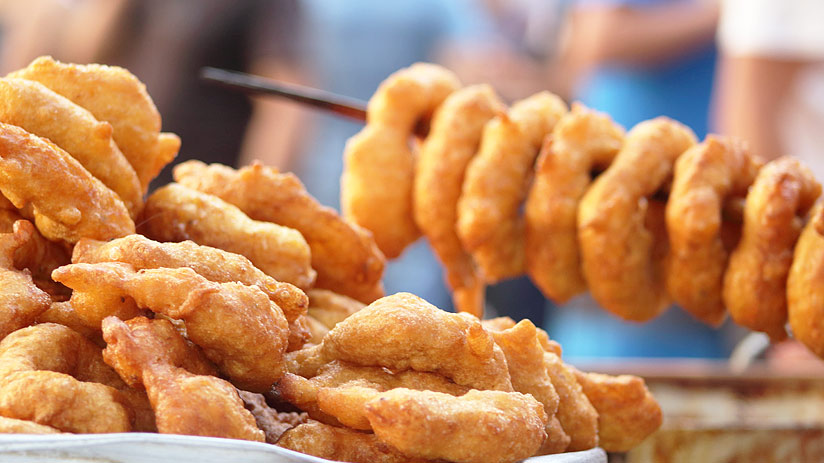 Continuing with the street delicacies, you have to try the Picarones. These are known as the Peruvian donut. They don't look like a donut at all, but it's a comparison to give you an idea. They are made from sweet potato and pumpkin, deep-fried, and served with sugar syrup. Traditionally, you will receive four Picarones per serving, they are very filling and served very hot.
EMOLIENTE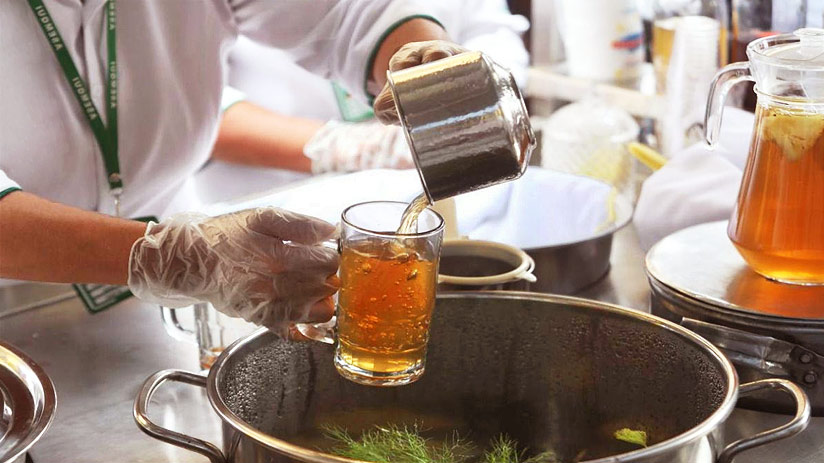 You may not know what to drink in Peru to accompany your Peruvian street food. When you walk through the streets of Peru you will notice street vendors with bottles of brightly colored liquids. These liquids are mixed with tea and served hot or lukewarm, depending on your taste. Emoliente besides being delicious is incredibly beneficial for your health. These hot drinks are also great to warm you up on a cold night in the highlands.
RACHI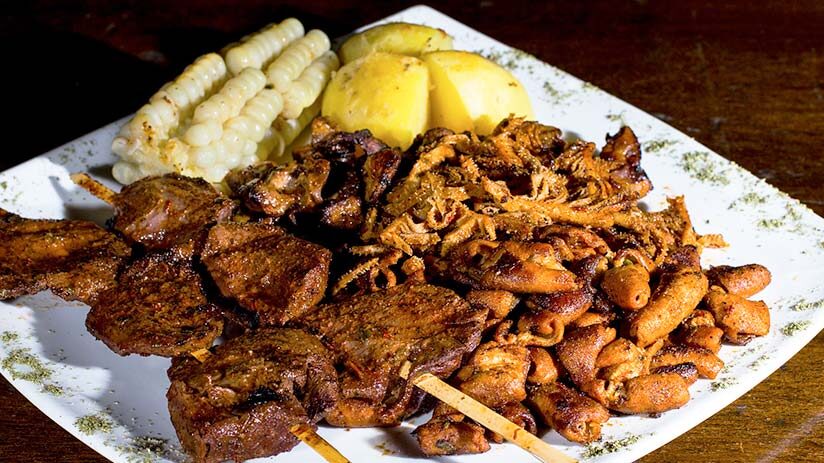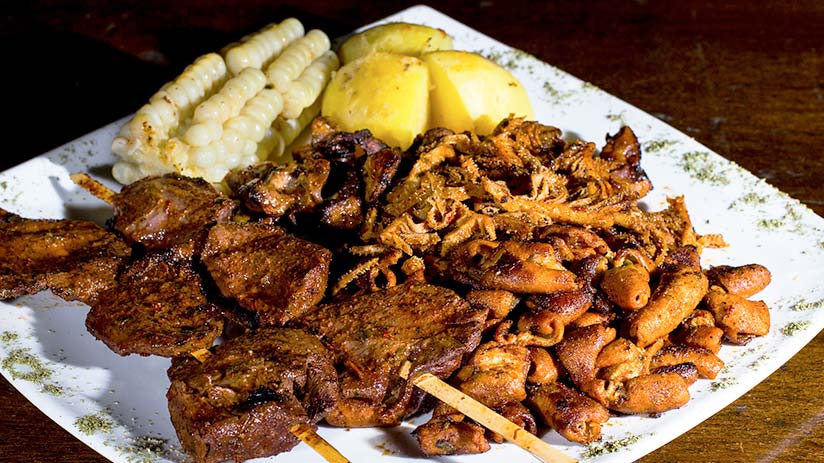 In general, in the same stalls or carts on the street where they sell Anticuchos, they also sell Rachi. The Rachi is essentially made up of cow belly. It is a traditional pre-Hispanic Peruvian food that is served in the Andes and is popular throughout the country. You can choose to order a mixed plate, which is a combination of Anticuchos and Rachi. It is a dish that is worth trying given its importance in Peruvian cuisine. The ingredients include Peruvian corn, garlic, pepper, salt, seasonings, and slices of the beef belly.
SALCHIPAPAS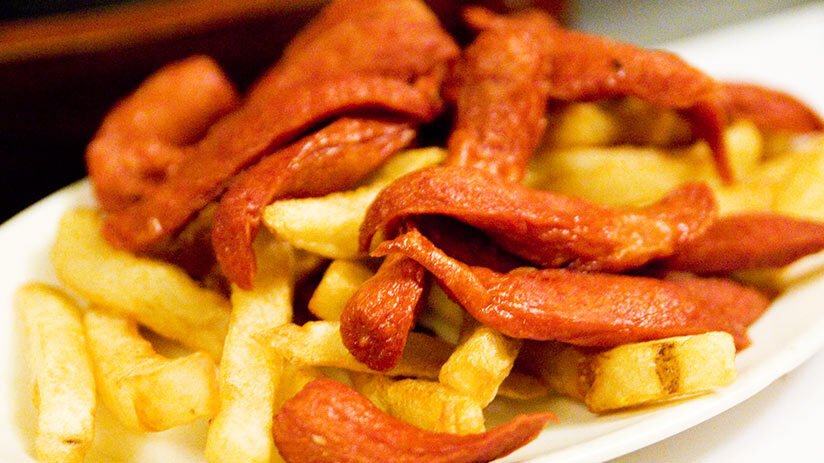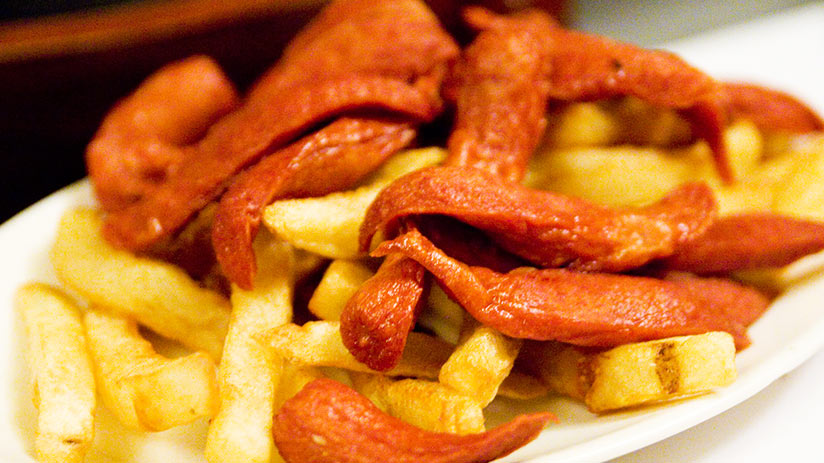 Salchipapas is a very popular Peruvian street food dish that started as an inexpensive dish for people from the lower social class. The name of the dish is derived from the names of its main ingredients: Salchichas (sausage) and Papas (potatoes). Numerous street vendors sell the dish, and you can find it on any street corner. Salchipapas are made by frying thinly sliced ​​sausages and combining them with French fries. They are served alongside four dipping sauces: ketchup, mustard, mayonnaise, and chili sauce. Additional garnishes such as fried eggs, cheese, tomato, or lettuce can be added to the dish. Due to popularity, it spread outside Peruvian borders and is now consumed in other South American countries as well.
OTHER DISHES TO TRY IN PERU
Not everything is street food, Peru is known for its food and variety. One of the traditional Peruvian food dishes that you must try when you are in Peru is the Ceviche. This is a lemon marinated fish served with onion, sweet potato, and corn. This is considered the national dish of Peru. Another tasty traditional dish is the Lomo Saltado. It is made up of lean beef, tomatoes, onions cooked and served with French fries and rice, a delicious dish. Another dish not to be missed is Aji de Gallina. This is chicken served in a creamy chili sauce, along with rice, eggs, and potatoes.
There are many dishes to try and there are too many to name them all. But look for the menu that is usually served at lunchtime. It is inexpensive and you will receive a soup, a main meal, and a soft drink. With so many options to taste Peruvian gastronomy, it is impossible to miss the different delicacies of Peru.
"HE WHO WOULD TRAVEL HAPPILY MUST TRAVEL LIGHT."
As you will see, street food dishes in Peru are one of the many things you have to try. In this article, we only manage to name a few, but they are not all the available options. If you want to know some other dishes, you should go and try them on your own. We hope together with the experts of Machu Travel Peru to have been of help. If you want to know more about our city tours or gastronomic tours, you can consult with our advisors.
---