The Sacred Valley of the Incas in Peru, near the Inca city of Cusco, is one of the most beautiful places by nature that you will ever visit on your travels around the world. The valley was a favorite place for the Incas, who used the valley to live and grow food for the Inca Empire. Today you can visit some Inca wonders by staying in the best Sacred Valley hotels, ancient monasteries converted to luxury hotels, hotels built imitating the great Andean colonial houses, and some rooms suspended 600 meters off the ground. All of them with entire facilities, spas, gyms, jacuzzis, restaurants, and bars. Depending on your budget, there is a hotel for you in the Sacred Valley. There are both luxury and budget hotels in Sacred Valley, so let us review some of the best properties to look for as you research your stay in the Valley. That is why together with Machu Travel Peru, we have prepared a small article about those best hotels in Sacred Valley.
Some of the best hotels in Sacred Valley
1. Tambo del Inca Resort and Spa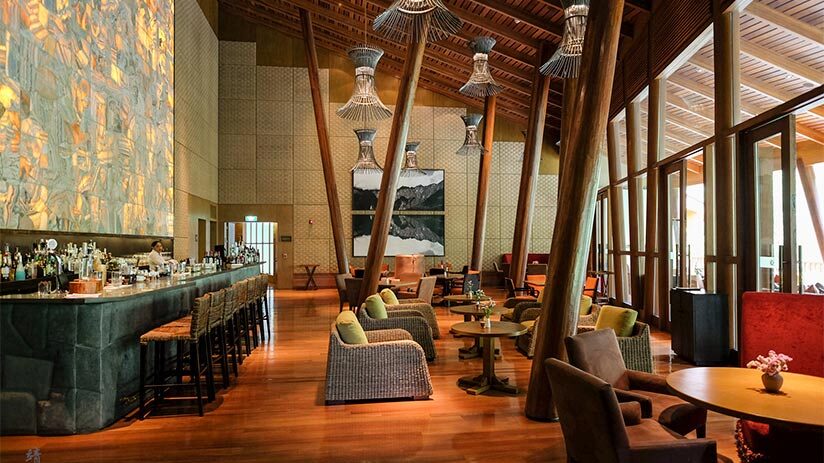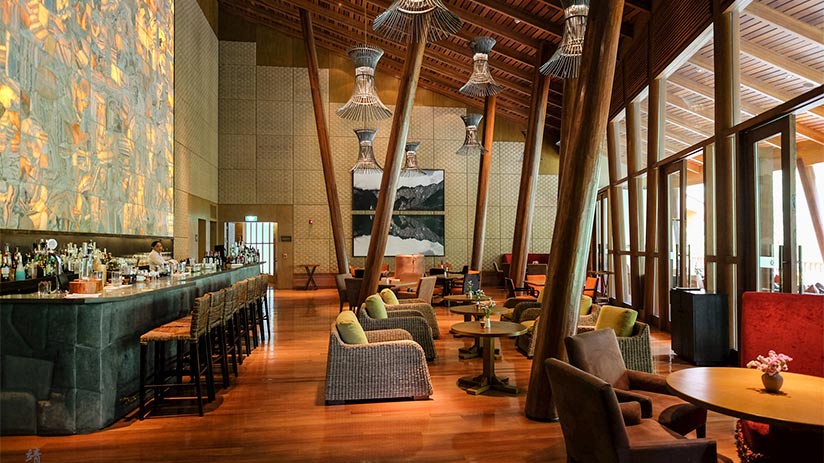 | | |
| --- | --- |
| Address | Ferrocarril Avenue S/N, Sacred Valley, Urubamba, Cusco |
| Rooms | 116 rooms and 12 suites |
| Facilities | Bar, restaurant, gym, spa, relaxation rooms, pool table, and private train station to Machu Picchu. |
| Highlights | Private train Station to Machu Picchu, Spa, and the Andean Fusion cuisine restaurant "Hawa" |
The first recommended five-star hotel is the Tambo del Inca Resort and Spa in Urubamba. If we have a Sacred Valley Map, we'll see that this hotel is located between the Vilcanota river and the mountains of the Sacred Valley. Tambo del Inka is a recognized 5-star hotel, being the only hotel in Urubamba with a private train station to Machu Picchu for its guests. Facilities include rooms adorned with Andean thematic, marble bathrooms, warm lighting, sliding doors to the garden terraces, a cozy swimming pool, a large gym, and a well-equipment spa where guests can enjoy a sunny day and relax.
Also, the services offered by this luxury hotel are varied and include the five-forks "Hawa" Andean fusion restaurant. This wonderful establishment serves delicious Andean cuisine made with organic ingredients. You can also enjoy the "Kiri" bar and terrace, serving sandwiches and cocktails all afternoons. Guests can use the modern gym and then relax in the cozy lounge. Without a doubt, Tambo del Inka is one of the best hotels in Sacred Valley.
2. Rio Sagrado Belmond Hotel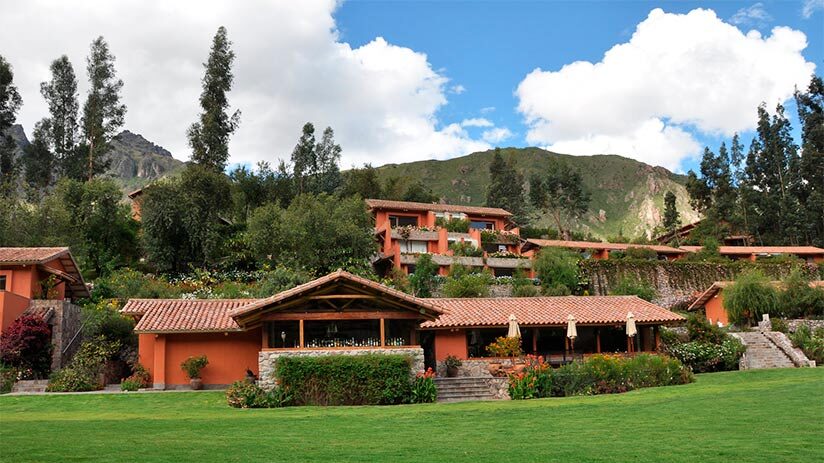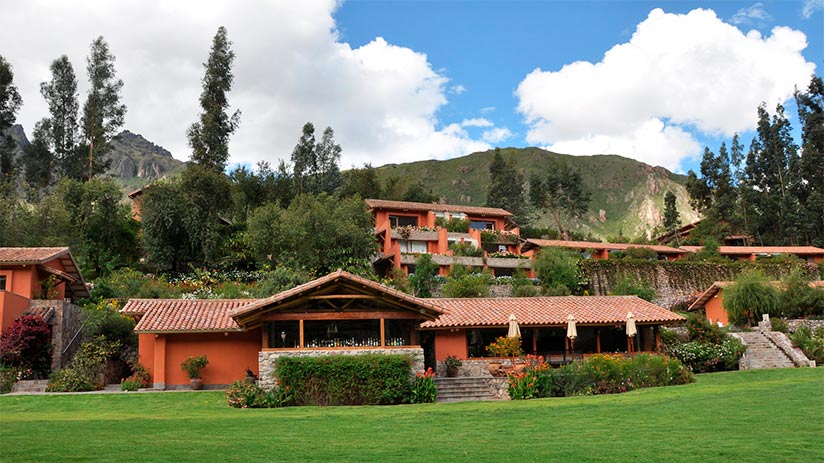 | | |
| --- | --- |
| Address | 75.8 Km of Urubamba – Ollantaytambo highway. Sacred Valley, Cusco. |
| Rooms | 10 rooms, 11 suites, and 2 villages. |
| Facilities | Relaxation room, heated pool, a large gym, the Maty Willka spa, and two restaurants. El Jardín (The Garden) y El Huerto (The Orchard) |
| Highlights | Surrounding activities are organized by the same hotel, including horse riders, and visiting the Llamas and Alpacas, soft trekking, rafting among others. |
The next hotel is the Rio Sagrado Belmond Hotel. This beautiful establishment is located between the banks of the Urubamba River and the railway to Machu Picchu. Even, the most luxurious train to go to Machu Picchu (The Hiram Bingham service of Peru Rail) makes a stop there, just in front of the hotel, to pick its guests up, inter-day at 09:00 am. Therefore, if you are looking to explore Peru, you cannot miss this wonderful place. This impressive hotel is built with natural materials. It has teen rooms and eleven suites, plus two villas with several rooms that are located throughout the hotel, to seem like a traditional Andean town. The purpose of its forms and materials is to be able to blend into the Andean landscape in a harmonious way. All the usual amenities are present, except one: there is no TV (It is due to the hotel offering a total disconnect to its guests but with all five-star hotel facilities). Also, with a beautiful view of the sacred river, through large windows, any other form of entertainment will be unnecessary, we can assure you.
All suites have private terraces with gardens. While the villas can accommodate up to six people. The hotel has many well-equipment rooms, suites, a gym, a relaxation room, relaxation room, the Mayu Willka Spa, and two restaurants El Jardin (The Garden) restaurant, which specialized in breakfasts, and El Huerto (The orchard), which is specialized in creole Peruvian and international cuisine. An unparalleled experience in one of the best hotels in the Sacred Valley.
3. Aranwa Sacred Valley Hotel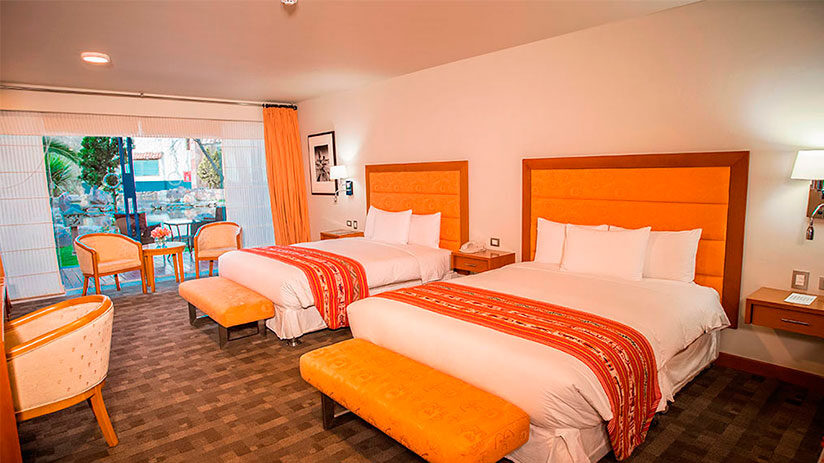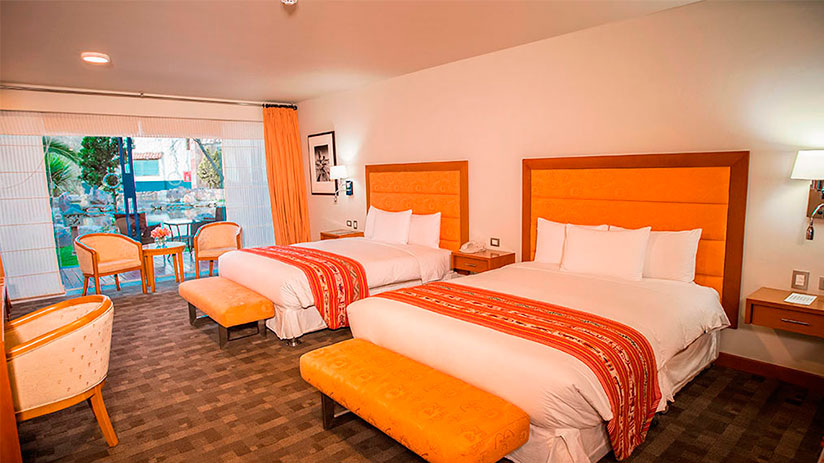 | | |
| --- | --- |
| Address | Old Hacienda Yaravilca, Urubamba 08670, Sacred Valley, Cusco. |
| Rooms | 115 rooms and 14 suites. |
| Facilities | Pool, bar, 3 different restaurants, UNNO spa, tour activities organized by the hotel. |
| Highlights | Martin Chambi's photographic exhibition, UNNO spa, Pukawi restaurant, Kusi Pisco Bar & Sushi Bar, and Pikhuna restaurant. |
Then there is for your enjoyment the luxurious Aranwa Sacred Valley hotel. This is considered a five-star establishment located in the heart of the Sacred Valley. The Hotel was built on a 17th-century colonial hacienda next to the Vilcanota River. It is located just one hour from the city of Cusco and about 30 minutes from the Ollantaytambo train station. After enjoying the different things to do in Cusco, make sure you get to know this wonderful hotel. The hotel offers some beautiful rooms decorated in colonial style, as well as other modern minimalist decorations. Without mentioning, its exclusive Spa center UNNO with rubbing on the base of native plants like kiwicha, Camu Camu, or the Coca.
And its three different restaurants like the Pukawi, a high Peruvian cuisine restaurant, or the Kusi Pisco Bar & Sushi Bar, where you'll taste fusion cuisine Japanese – Peruvian, and the Rikhuna restaurant, where you'll order most light foods. Now, you know, If your budget is not enough for this alternative, you can try one of the wonderful four-star properties on offer where you will enjoy the comfort and beauty of your stay in the Sacred Valley.
4. Casa Andina Private Collection Valle Sagrado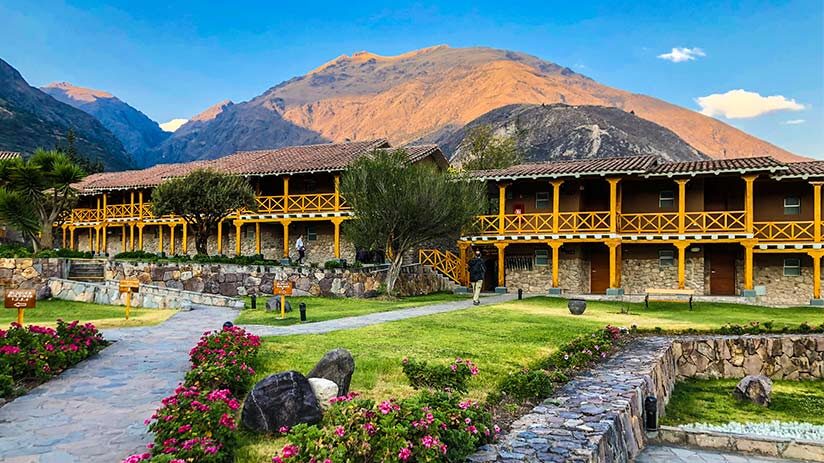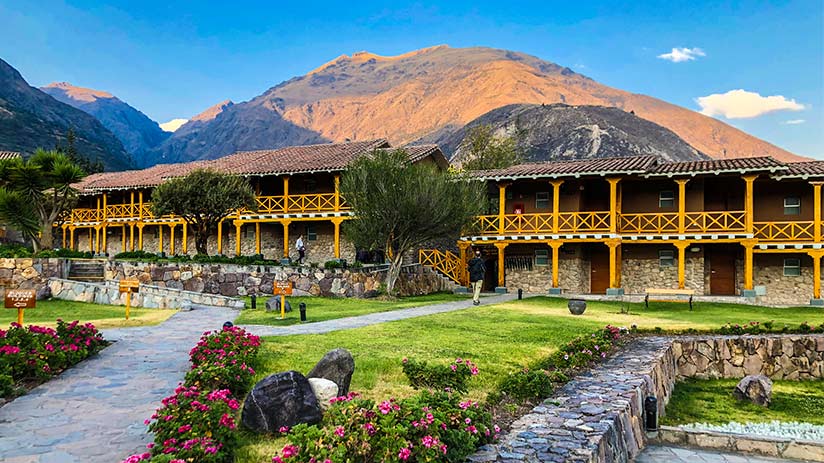 | | |
| --- | --- |
| Address | 5º Yanhaura`s stop. The highway from Pisac to Ollantaytambo, Cusco. |
| Rooms | 91 rooms and 7 villages |
| Facilities | Spa, bar, restaurant, massage center, laundry service, Planetarium and among others. |
| Highlights | Planetarium, bonfire nights, and the Pachamanca preparation. |
The Casa Andina Private Collection Valle Sagrado hotel is an excellent option for those looking for a vacation in the mountains of Yanahuara. It is located between the beautiful and traditional towns of Urubamba and Ollantaytambo, in a beautiful zone called Yanahuara. This is one of the most fascinating four-stars hotels in the sacred valley, it is surrounded by greenery and offers stunning views of the mountains. All this is at a short distance from the city of Cusco.
On more than eight landscaped acres, Casa Andina organizes a wide range of adventure activities for families and children. These include trekking, mountain biking, rafting, yoga, and cooking classes, among other things. But its three most important activities are the organized bonfires in the garden, the Pachamanca preparation (It is Andean earth oven preparation based on potatoes, meat, herbs, and beans), and the amazing Planetarium, where you can observe, through the telescopes provided by the hotel, the stars, and Andean constellations, of course, in all moment, the guest is guided and instructed in Andean cosmology by a hotel expert. An opportunity that you cannot miss. You will find many things to do in Sacred Valley, among them this hotel offers a great selection.
5. Hotel Sonesta Posada del Inca Yucay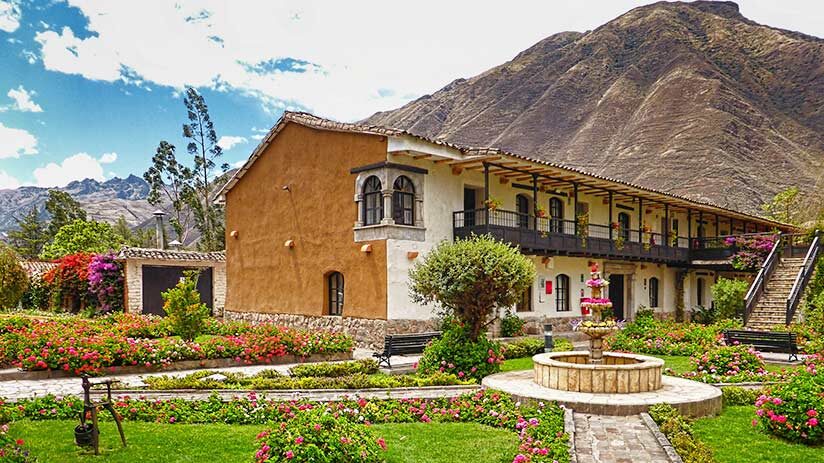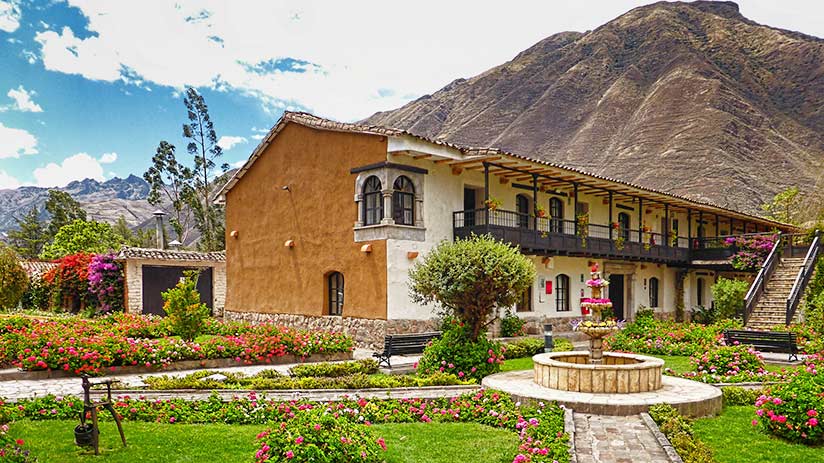 | | |
| --- | --- |
| Address | Plaza Manco II 123, Yucay 08665, Urubamba, Sacred Valley, Cusco |
| Rooms | 88 rooms. Among double, executive, single, and matrimonial |
| Facilities | Complet bathrooms, a modern acclimatization system, and a little local market of vegetables. |
| Highlights | 4 gastronomic options. All rooms have with large bathtub |
Another wonderful hotel in the Sacred Valley is the Hotel Sonesta Posadas del Inca. This beautiful place is one of the best to rest and relax. It is located in the picturesque Sacred Valley, between the towns of Ollantaytambo and Pisac, within the town of Yucay to be exact. The Sonesta Hotel could be considered an entire town with its own church inside, a colonial backyard, and even a quaint traditional vegetable market. Visitors enter the hotel through what was once the Monastery of Santa Catalina de Sena, which dates back to the 17th century. Inside each room, you will see a commemorative plaque of the nun who lived there. Continuing with rooms, each one has a complete bathroom with a shower and bathtub and a modern acclimatization system.
In the courtyard, there are several water fountains decorated with colorful flowers, guests receive a welcome cup of hot chocolate against altitude sickness. Despite not having a Spa, it does have 4 interesting gastronomic options, the first one is an elegant Novo-Andean cuisine, the second is a sophisticated bar with live music, and the third one is a European-style coffee shop with coffee, tea, and desserts options. The last one is an Italian Trattoria with various pizzas and pasta. As you can see, this is the most modest of hotels up to this point, but it more than makes up for it with its dining options and mystical infrastructure.
6. Inkaterra Hacienda Urubamba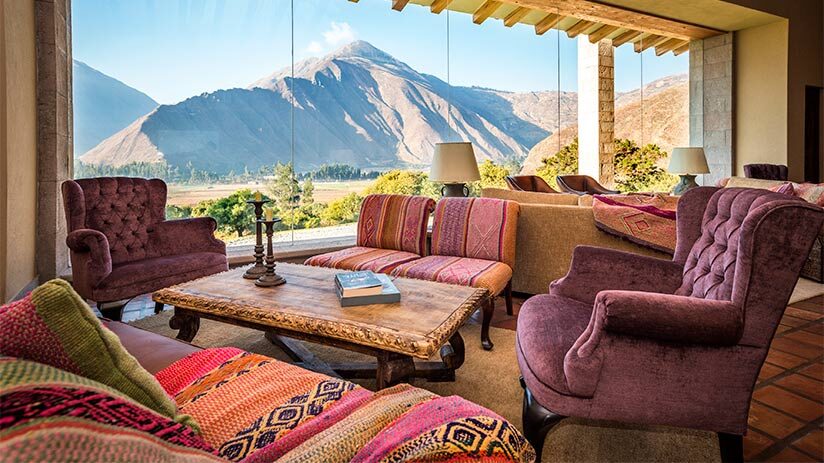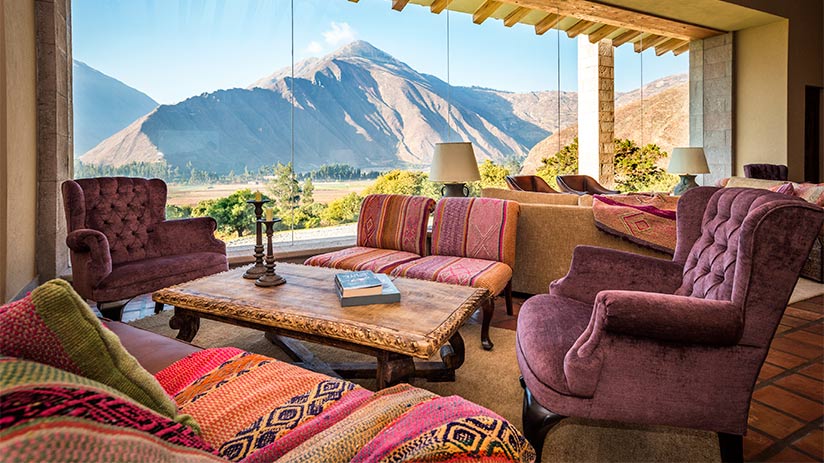 | | |
| --- | --- |
| Address | Sacred Valley of the Incas, Km 63 of the Pisac – Ollantaytambo Highway, Cusco. |
| Rooms | 12 rooms and 24 private houses. |
| Facilities | Gym, heating, spa, restaurant, private porch |
| Highlights | Birdwatching, horseriding, Mayu Spa, "From the earth to the table" restaurant |
The Inkaterra Hacienda Urubamba is located in front of the Urquillo zone, almost to get to the slopes of the Sacred Valley mountains. Inside this charming countryside, this Spanish village-style hotel has a main building and little houses that surrounded it. All the rooms have luxury Andean decorations, with wood floors and warm walls that hold and conserve heat. Also, all have their own private porch with great views of mountains, gardens, and green zones of the hotel. Disconnected from everything, maybe with a good book.
Its decoration reflects the Andean colors and thematic, ochers, and its furniture is colonial and republican style. Its restaurant "From the earth to table" offer a great variety of dishes with local products that they cultivate in the own hotel's vegetable garden. Another important mention is the Mayu Spa center where you can spend a truly relaxing time with therapies and massages in a base of creams and aromatic preparations 100 % natural of more than 20 Andean herbs, hot stone treatments, facial hydration, deep and cranial tissue massages among others. Or, if you want, you can take a walk by its sunset healing garden or attend a class on Chicha de Jora preparation (This is an ancient and local beer made of fermented corn, consumed since Incas times), without mentioning the Machu Picchu tours that they offered. But the hotel has more to offer you, like organized activities in the surrounding areas like horse riding, afternoon walks with an expert of Inca cosmovision and birdwatching in the mornings among others.
7. Hotel San Agustin Monasterio La Recoleta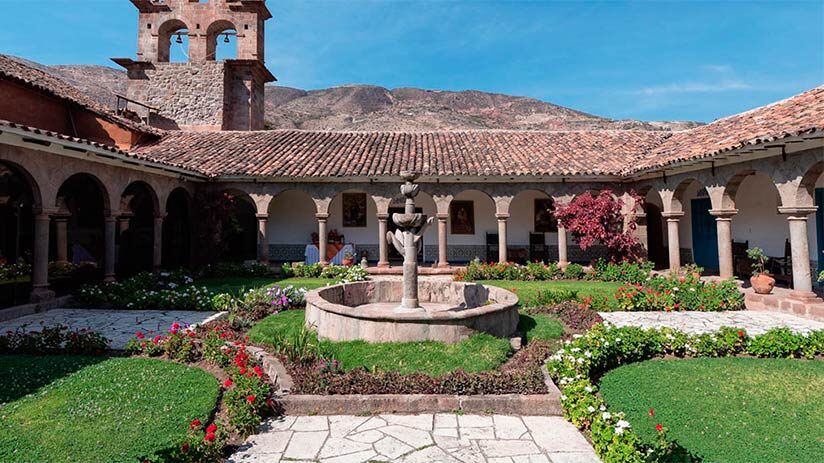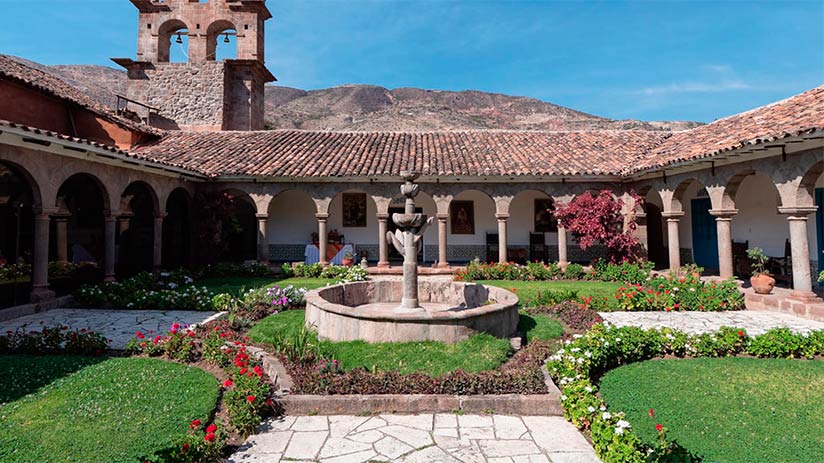 | | |
| --- | --- |
| Address | Jr. Recoleta s/n Urubamba, Sacred Valley, Cusco. |
| Rooms | 32 rooms. Among singles, doubles, and matrimonial rooms |
| Facilities | Private bathrooms, resting rooms, heating |
| Highlights | Colonial backyard, ancient chapel, and beautiful gardens |
Why not also try the Hotel San Agustín Recoleta, another one of the hotels in the Sacred Valley that are well worth your time. It was one of the first Catholic monasteries in Cusco, built in the 17th century by the Franciscan fathers. This conference and spa hotel is housed in a colonial historic building and comprises 32 charming rooms, with a colonial backyard surrounded by stone arcs, and adorned by ancient fountain water and an old and quaint chapel. Without mentioning, its beautiful gardens, and resting zones. The fascinating boutique hotel is located in the Sacred Valley and embodies the purest mix of colonial art with religious pictures with the styles of mannerist, tenebrism, and baroque.
The hotel was renovated in 2007 and retained all the original aesthetics of the monastery. Its rooms are warm, with Andean soft decorations, wood floors, a complete private bathroom, and heating. To finalize, its modern restaurant offers Novo-Andean cuisine, and the bar provides Peruvian cocktails like the famous Pisco Sour. In addition, this is close to the most important ruins of the Sacred Valley such as Ollantaytambo, Pisac ruins, Maras Moray, and Machu Picchu. An opportunity not to miss.
8. Sol y Luna Relais and Chateaux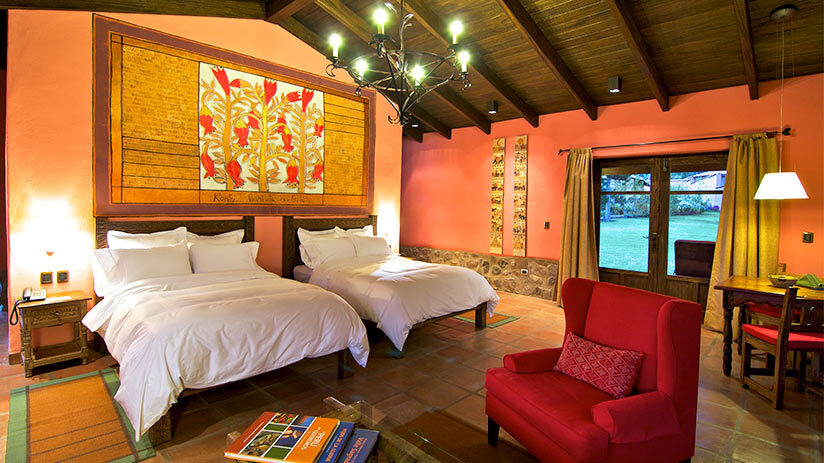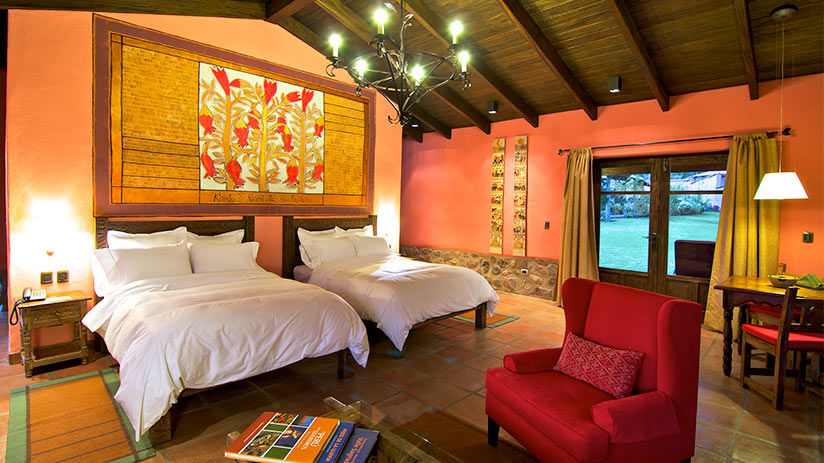 | | |
| --- | --- |
| Address | Fundo Huincho Lote A5, 08661, Urubamba, Cusco. |
| Rooms | 43 private casitas (Little houses) |
| Facilities | Jacuzzi, gym, spa, restaurant, little houses called Casitas |
| Highlights | Premium houses, jacuzzi, Paso horses show, Killa Wasi restaurant |
If you want to spend some wonderful days in the Sacred Valley of the Incas and know that you are contributing to the development of local families surrounding the hotel, at the same time, the Sol y Luna hotel should be your first option. This hotel has more than 15 hectares of nature, stables, beautiful gardens, and 43 private casitas (distributed throughout the land). Each one of these casitas (little houses) is totally private and has complete bathrooms, heating, quaint decorations, thick rugs, and great views of the hill slopes and green areas among others. The premium casitas include a wood-burning fireplace, floor-heating system, jacuzzi on a terrace, and private garden.
The hotel includes a general jacuzzi for its guests, a rustic spa with local herb preparations, a complete gym, an outside, and warm pool, a tennis court, a library, and even a gift shop. Its restaurant, called "Killa Wasi" offers two kinds of services. The first one is located inside the hotel complex and offers high Peruvian cuisine with sophisticated dishes, the second is located outside, in the gardens, with a mix of Peruvian and International cuisine with the possibility of seeing the Paso Horses Show.
An additional note, the hotel owners founded a non-profit association "Sol y Luna" in 1997 destined to reinvest a part of the hotel profits for education and the good future of families in extreme poverty in the Sacred Valley. Therefore, Sol y Luna hotel is the best example of the quality of services and social responsibility among these best hotels in Sacred Valley.
9. Sky Lodge of Natura Vive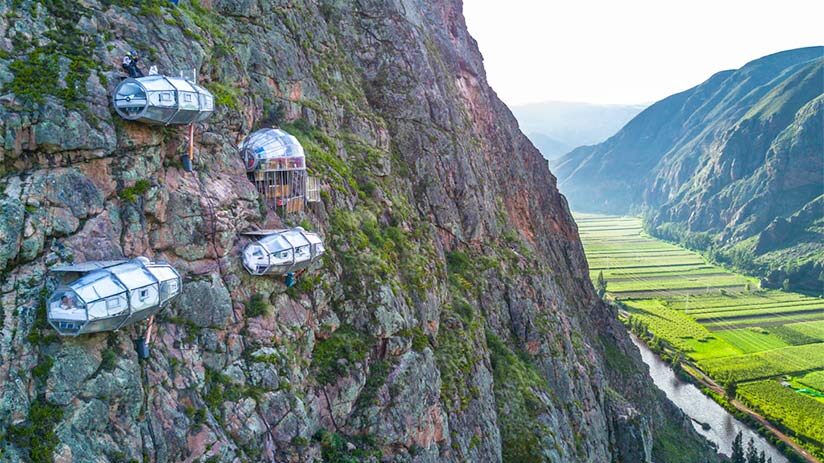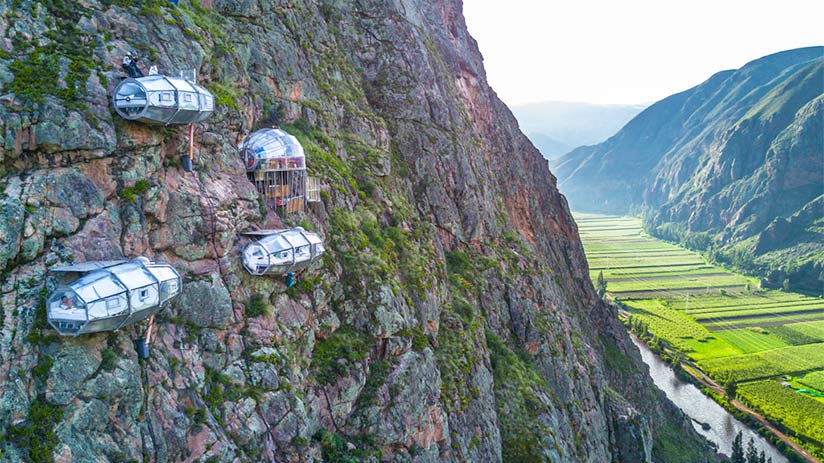 | | |
| --- | --- |
| Address | The 224-kilometer point, in the middle of Cusco – Ollantaytambo highway |
| Rooms | 3 Capsules (1 Matrimonial bed, 2 single beds, 1 dinner table, 1 bathroom) |
| Facilities | Dinner gourmet and energetic breakfast, amazing view of Sacred Valley |
| Highlights | Rappeling, zip line |
Undoubtedly, a Peruvian tour operator was the pioneer around the world in offering floating room reservations. Sky Lodge is located in the Pachar zone, 55 kilometers from Cusco and 6 kilometers from Ollantaytambo town, and they are 3 large capsules of aerospace aluminum in the frame and polycarbonate plates as walls, attached to a large rock granite wall, suspended to 600 meters from the Sacred Valley ground. To get there, the guest has to do rappelling for one hour and thirty minutes, the descent is in a zip line and is easier.
Therefore, this hotel is destined for those who like vertigo, adrenaline, and adventure. Once got there, your guide-instructor will offer you a dinner gourmet with wine, and he'll say goodbye, until the next day when he gets back to the capsules to offer you the breakfast and guide you to descent to firm ground. Each capsule contains one matrimonial bed, two single beds, one little dining table with four chairs, and a private bathroom. All foods are brought (already cooked and prepared) from the ground. Spending a night in one of these capsules means great views of Sacred Valley, in afternoon and night, and a unique experience of adrenaline doing adventure sports in the Sacred Valley. Sleep together next to the stars in this amazing hotel.
10. Explora Valle Sagrado Hotel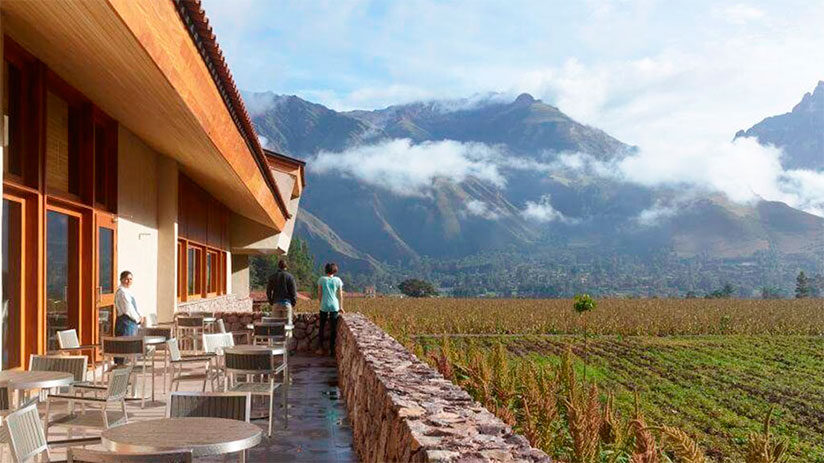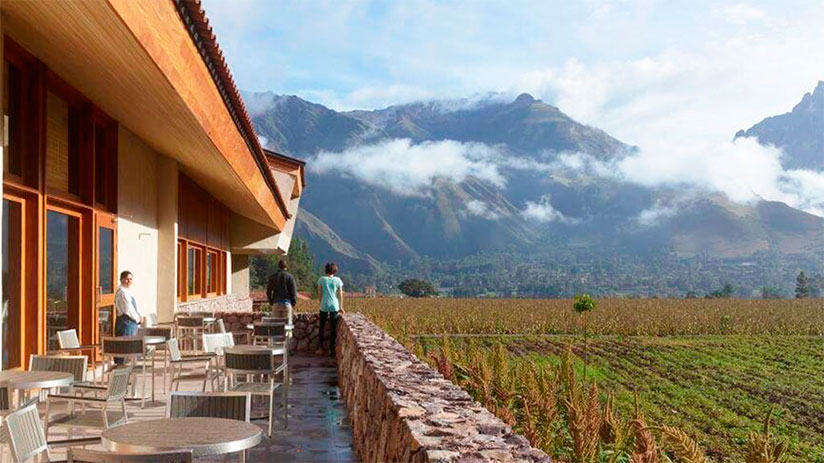 | | |
| --- | --- |
| Address | Fundo Salabella-Silvayoc s/n, Urquillos – Huayllabamba, Huayllabamba, Cusco, 8670 |
| Rooms | 44 rooms and 6 suites. |
| Facilities | Organized tours, spa, restaurants, bar |
| Highlights | Spa Pumacahua Bath, organized tours, restaurant |
Explora Valle Sagrado feels like a great option among the different hotels in Valle Sagrado. If you think about things to do in the Sacred Valley, this hotel is a great option. It is located in the Urquillos lands, in the farthest zone of the main Sacred Valley highway. The objective is to get away from everything. Its guests don't have the possibility of finding some markets or plazas close, if not through a taxi or tuk-tuks to the town closest like Urubamba, Urquillo of Yucay. Therefore, the hotel is recognized not only as a hotel but as a center where you can find stores, and even tour activities, without the need to go outside the hotel. With wooden walls and floors, vaulted ceilings, and wooden walkways, the establishment gives a great rustic Scandinavian cottage feel.
Although its architectural style breaks the harmony and forms of traditional Peruvian houses and haciendas (remember that the majority of hotels in the sacred valley respect the infrastructure in which they operate, such as monasteries, and haciendas, among others) Explora offers full services with a clear focus on adventure tours. Guests will be able to enjoy endless activities and 44 spacious rooms, not to mention six other charming suites. All are elegantly decorated and suitable for all types of audiences. Its Spa center called Spa Pumacahua Bath House is the only building that respects the style of a traditional Cusquenean house.
"MOUNTAINTOPS ARE FOR VIEWS AND INSPIRATION. BUT FRUIT IS GROWN IN THE VALLEYS"
We hope together with the experts from Machu Travel Peru have been helpful. Remember, these are just a few notable examples of hotels in the Sacred Valley, but the truth is that this is just a glimpse of everything you can enjoy. If you want to know other equally charming options, do not hesitate to consult with our qualified team. Together with our team of experts, we will be looking forward to your next visit to Peru.
---