Would you spend a night in a lodge that hangs from a mountain? Would you love to be part of a unique experience? Feel invited to discover the latest experience: Sacred Valley Peru Skylodge.
For those nature lovers and adrenaline seekers, Sacred Valley Peru Skylodge will not only provide you with wonderful views of the Sacred Valley of the Incas, but it will also offer you the opportunity to practice different adventure sports. Incredibly, right? You would arrive at home or your workplace with something new to tell… a different escapade that would motivate many others to do it as well.
If you are a nature lover and you are looking for a dose of adrenaline on your next trip, feel invited to discover the latest that is fashionable: Sacred Valley Peru Skylodge. Including it in your things to do in Cusco would be great. You will not only get wonderful views of the Sacred Valley of the Incas, but you will also practice different adventure sports when going up and down from there.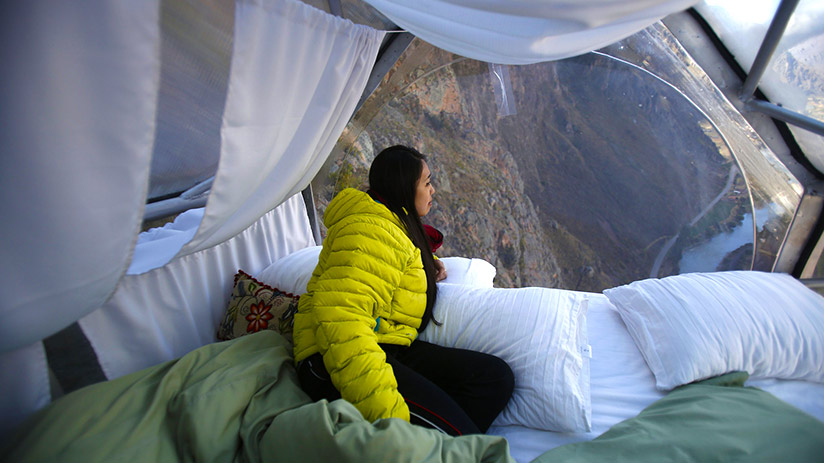 Take a glimpse at this post and learn about this experience called Sacred Valley Peru Skylodge.
Which is the zone most precise where the Skylodge is?
At around 61 km north of Cusco, in Pachar town, in the Sacred Valley begins the escapade. From there, you must climb via ferrata and/or zip-line. The Skylodge's capsules, literally, hang from the top of a mountain. Once inside, its rooms will make you float. This place allows you to connect and harmonize with nature. But above all, to enjoy outdoor activities, facilities and services, and to rest. One advice is before you get there, the ideal one-day Itinerary Pisac will work you perfectly.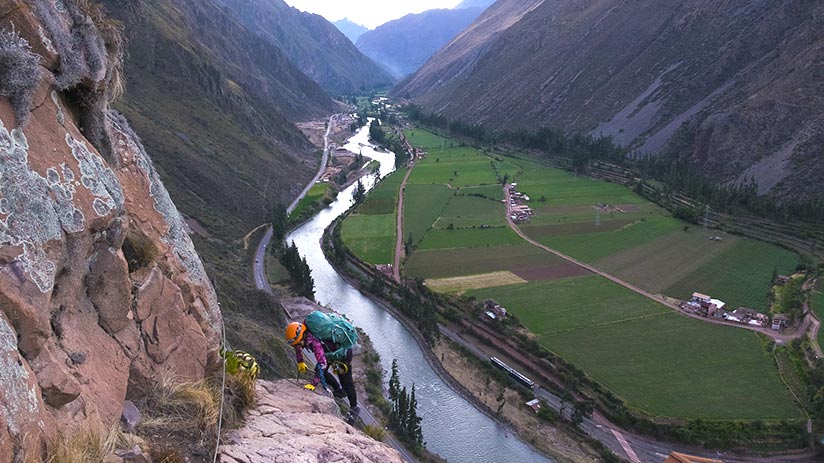 How the Skylodge is?
The Sacred Valley Peru Skylodge is composed of three transparent capsule suites with a total capacity of 8 people. The capsules position is vertical, at a height of 1200 ft in the top of the mountain, and with a 300-degree view of the valley.
Each suite is handcrafted out, of aerospace aluminum and weather resistant polycarbonate. They have 6 windows and 4 ventilation ducts that ensure a comfortable atmosphere. Also, a lighting system which consists of 4 interior lamps and 1 reading light all powered by solar panels.
Suites measure 24 ft in length and 8 ft in height and width. There are 2 double/twin rooms plus 1 quadruple/familiar room. They come complete with 4 beds, a dining area, and a private bathroom separated by an insulated wall. Inside the bathrooms, there is a dry ecological toilet and sink. Despite capsules are transparent, there are curtains for privacy.
The fine quality mattresses, cotton sheets, down pillows, and quilts give a warm and pleasant night.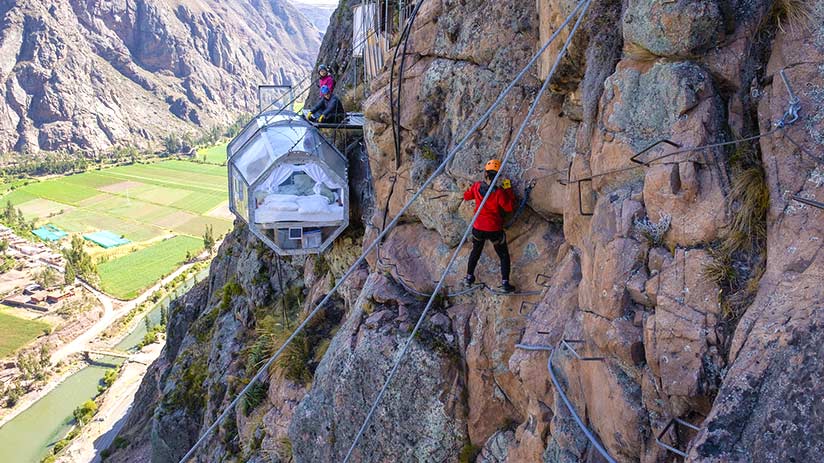 Booking the Sacred Valley Peru Skylodge, packages include breakfast & gourmet dinner with wine, via ferrata & zip-line equipment, and professional guides.
Via ferrata & zip-line to arrive in the Skylodge
Feel the difference and adrenaline with an incredible view of nature in contrast to what most of the Sacred Valley hotels can offer you.
Via Ferrata
It is a path used to climb a 400-meter rocky mountain with a safety system permanently installed. Anyone who is in good health and physical condition is able to climb the via ferrata. The minimum age to do it is 8 years old.
The climbers are permanently tied to a steel cable or "lifeline" that runs through the entire route. Metal ladders, bridges, and similar facilities are used. If a fall occurs, the person will remain tied to the "lifeline" without any risk. In charge of accompanying the climbers, there are professional guides trained in vertical rescue and ropes.
All equipment is certified and it is provided when the adventure begins. These elements are a pelvic harness, helmet, gloves and a via ferrata lanyard, (double system with strength dissipater especially designed for via ferrata climbers).
The ascent and descent of the Sacred Valley Peru Skylodge route last between 3-4 hours in accordance with the group pace.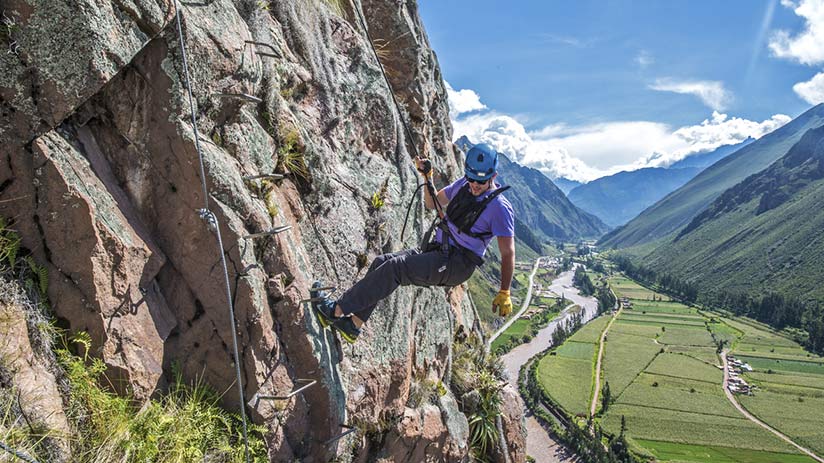 Zip-line
It gives people the opportunity to fly over the magnificent valley, in a safe and fun way. The zip-line has 7 lines or cables, from 150m to 700m, for a total of 2800m.
Starts with 30-40 minutes and 4 meters climbing, easy and via ferrata equipped which takes you to the first line. Once there, each line is different from the other. You first take the easy and short line and then, the circuit allows you to improve your zip-line expertise. You lose velocity when you are getting closer to the end of the line. Duration is 3-4 hours depending on the size group.
The elements used are a ferrata kit and a zip-line kit (pulley, 3 carabiners, and lanyard). All equipment is certified and specially made for this activity. Guides are trained periodically in vertical rope rescue and first-aid.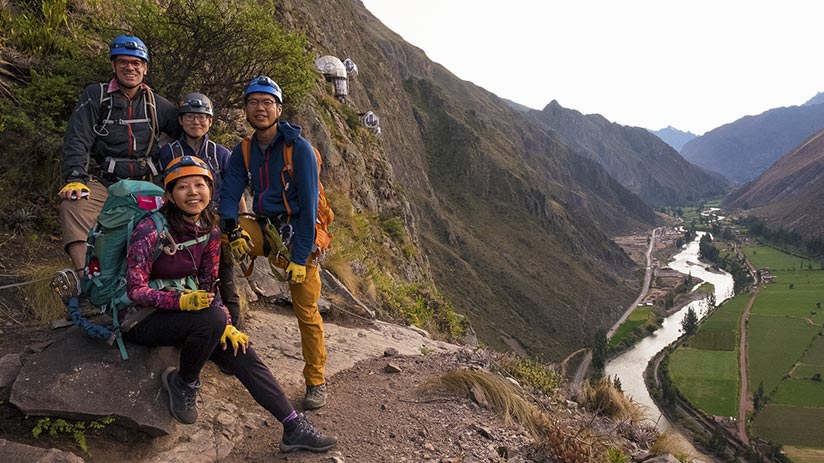 What to bring
Use light and comfortable clothing (pants rather than shorts, warm/thermal jackets and long sleeve shirts). Coldest months are June, July, and August.
You can carry extra clothing in a small backpack.
For footwear, the best are tennis shoes, light hiking boots, but no sandals.
Personal hygiene items (wet wipes, deodorant, etc). The Sacred Valley Peru Skylodge doesn't have showers.
Camelbak bottle: you will receive purified water at the base. So, you can fill it up at the beginning and at the end of the outdoor activity. Sacred Valley Peru Skylodge likes the eco-friendly attitude. If you forget your Camelbak bottle, please recycle bottles.
---