Planning a trip abroad this year and not sure where to go? This is the question that many people ask themselves every year. And with so many options to choose from, we know it can be tough. The options are endless and your final choice will depend on many factors. Those factors include budget, vacation time, and what you want to see. If you make the decision and choose South America, you are obliged to include a trip to Peru in your itinerary. The different characteristics of Peru will make your trip unique. From natural landscapes to different tours in the San Pedro market.
Peru is one of the most diverse countries on the planet and has something for everyone. One of the most popular destinations in this Andean country is Cusco. Why visit the city of Cusco? You may wonder. And the Machu Travel Peru team can give you the answer. This city was the home of the ancient Inca Empire. Today it is full of old churches and temples that you will need to see. The Cusco tourist map is full of cobbled streets and Inca walls that will delight history lovers. Not only is there history to discover, but on any visit to Cusco, you must take the time to spend a few hours in the markets. Especially the San Pedro Market in Cusco.
All you need to know about the San Pedro Market in Cusco
ABOUT THE SAN PEDRO MARKET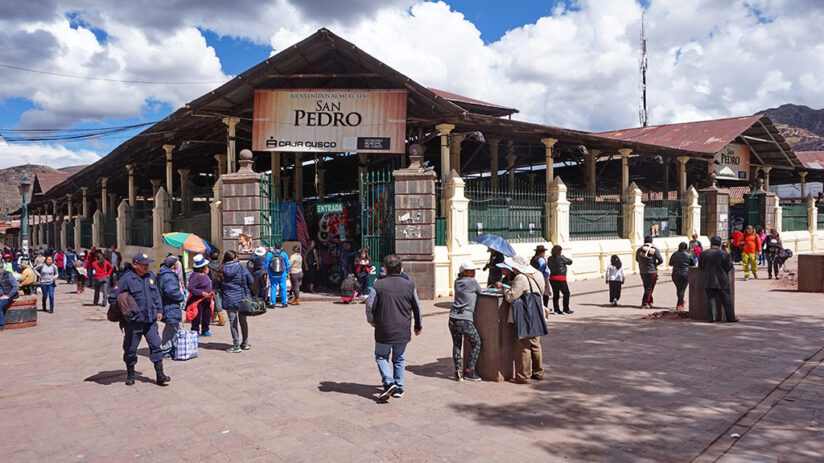 No trip to the Imperial City is truly complete without first passing through the emblematic San Pedro Market in Cusco. This market is an authentic jewel and a reflection of the great culture and traditions that abound in the city. The San Pedro Market is a place where locals meet. The streets become noisy and crowded as they approach the San Pedro Market in Cusco. It is a place where you can find everything you can imagine. From unfamiliar smells to vibrant colors wherever you look. The characteristic noise of the place becomes noticeable as soon as you enter the place.
As you wander through the busy corridors, your eyes cannot help but appreciate the different alpaca ponchos. And this is not to mention that you will have to dodge any of the various stalls that will seek to get your attention. Be sure to try some of the different natural juices. It is very likely that the different ladies who sell in the stalls try to call you in an affectionate way, but this is normal in Peru. Keep in mind that in the Andean country it is essential to know how to haggle. Especially inside the San Pedro Market in Cusco. So if you have the opportunity, be sure to ask if the products may be priced lower. Before exploring the different things to do around Cusco, make sure to enjoy a tour of this market.
WHAT TO EXPECT FROM THE SAN PEDRO MARKET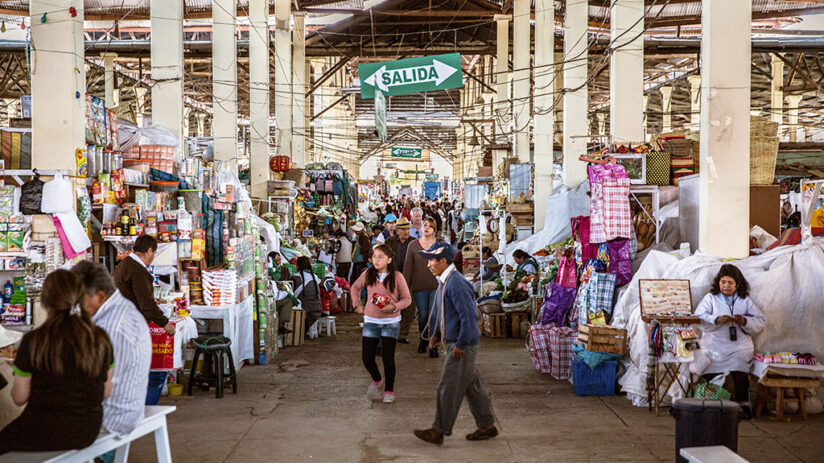 A visit to this iconic Cusco market can take an entire morning or afternoon to explore. But it is a visit that deserves your time, especially if you are only passing through Cusco. Before knowing the different archaeological sites in Cusco, it is a good idea to explore this market. Inside the market, you can expect a bustling and busy atmosphere.
From its smells and spices that will invade your nostrils to the inexhaustible noises. You will be able to hear each of the local ladies fighting for your attention. Many of them will recommend fresh juices or iconic dishes from Peru. It can be quite a chore to get the right prices, so try to haggle whenever you can. You will notice how many of these stalls sell similar things, so it is all based on who can get your attention first. So the ladies inviting you to look and ask about the products will be common.
WHAT TO BUY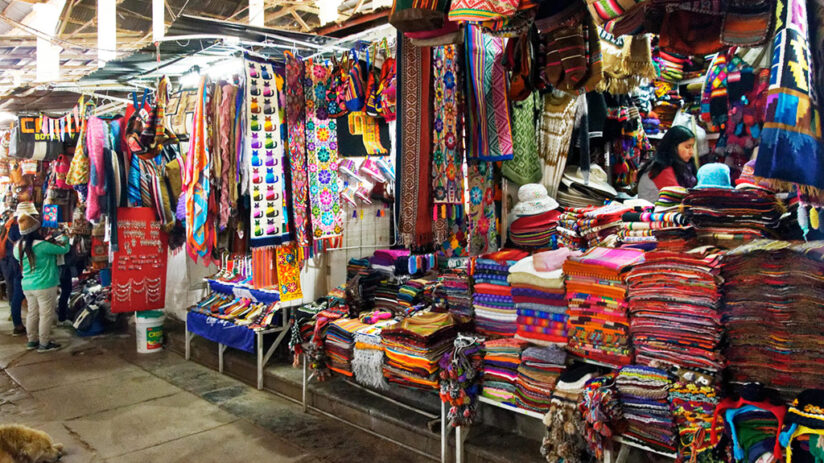 When you first enter the market, you will find yourself in a space full of colors and visual attractions to buy. The aura that you can distinguish is similar to that seen in the different festivals in Cusco. The souvenir section has everything. From pens with llamas attached to colored figures tablecloths and pillowcases. If you want to take home an alpaca sweater, this is the place to go.
There are also interesting hats with ear flaps that are popular with the locals. These are called Chullos and they are the most iconic hats in Peru. Walk a little further inside the market and you will find one of the many costumes used for local dances available. These elaborately decorated clothing will be a talking point at your next dinner party when you hang them on the wall. Be sure to ask about the history of the various traditional clothing and what dance it is generally used for.
HOW TO GET TO THE MARKET?
You can get to the San Pedro Market on any of the walking tours in Cusco. But if you are looking to visit it on your own, from the Plaza de Armas in Cusco it is quite easy to get to. Just follow the street that runs from the Iglesia de la Compañia de Jesús to the right side of the Main Square. You have to go to the Convent of La Merced and then continue straight on that same street. As you cross the Plaza de San Francisco you will find the iconic Mercado de San Pedro in a few steps. It is super easy to get there on foot and due to the traffic, it is often better to walk than to take a taxi.
Some tours include a visit to the San Pedro market as part of their day-tour, and it is very easy to go from the Plaza de Armas. Since it is located about 10 minutes southeast of the square. The San Pedro Market in Cusco is located in the historic center of the city. It is just one block from the main square of the city. This market is an inviting place to explore and has many interesting areas. As you approach the San Pedro Market in Cusco, you will notice a large number of street vendors. From the outside, you can enjoy a classic view of the Imperial City. Women in traditional clothing sitting and selling products and numerous stalls in the surroundings.
FOOD AND DRINKS IN SAN PEDRO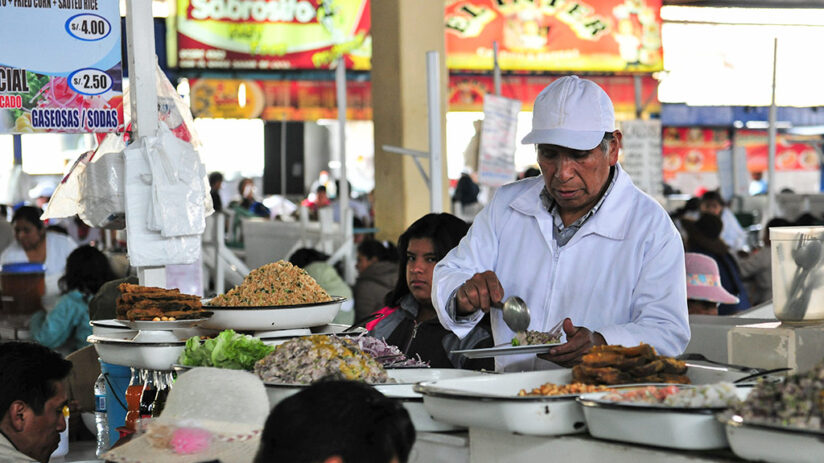 Not only will you be able to buy all the necessary souvenirs, but also a little further down you will see local women selling food at very low prices. For a few soles, you can buy lunch for the day. This menu consists of a soup as a starter, a main dish, and a drink to accompany it. The menu features a Peruvian dish, which generally consists of red meat or chicken accompanied by rice. In the morning, you can also have breakfast at the San Pedro Market in Cusco. There is a juice section that you really should try. You can try every conceivable combination or just come up with your own. It's a great way to start the day. Along with your juice, try a freshly prepared sandwich and it will fill your belly until lunchtime.
The Andean country is home to some of the healthiest foods in the world. Among them, you can find Peruvian Superfoods that are a healthy fuel for your body. You will find locally grown Quinoa, Maca, and Camu Camu as great example superfoods. Try some of these beans while on vacation in Peru. Also at breakfast time in the San Pedro Market, you will find a wide variety of oatmeal drinks with Quinoa and Maca. These will give you the energy you will need to get through the day.
DO NOT BE FOOLED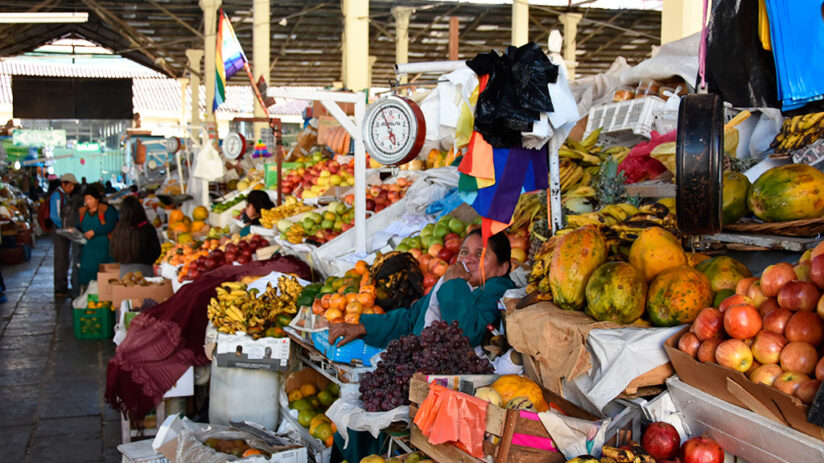 Although being able to shop at the San Pedro Market in Cusco is a great way to help the local economy. But despite this, if the locals see you looking like a foreigner, they may start to raise prices a little. Therefore, do not be ashamed to ask prices in other similar stalls. Also, something you will notice about Peruvian merchants is that they love the game of haggling. So if you can, ask for a lower price. They will not look at it badly and it is a common way of negotiating in Cusco. Always compare prices and try to get the price that best suits you. But if you can pay a little more, helping the people of Cusco is not bad either.
In the San Pedro Market in Cusco you will find a large number of clothes for sale. From sweaters, scarves, hats, and other clothing made with alpaca and llama wool. Besides, you will also find other types of souvenirs such as pens, key chains, dolls and magnets with typical decorations of our country. Keep in mind that price haggling is not frowned upon in Peruvian markets. Also, you are expected to haggle and fight for a better price. Especially if you are a foreigner, as sellers will try to give you inflated prices.
TIPS FOR YOUR VISIT
The best advice we can give you is to take all the time you need. The San Pedro market in Cusco is special to walk calmly and explore all its corners at your own pace. Marvel at the amount of products from all parts of Peru. Take a look at a small window of each part and region of Peru. From merchandise from the Peruvian coast to the Peruvian Andes and the Peruvian jungle. But to a large extent, the market will allow you to glimpse the rich culture of Cusco and all that it has to offer.
You will be able to see an extensive series of objects available to buy or put on your wish list. Fruits, vegetables, meats of all kinds, grains, spices, cheeses, dried fruits, nuts and even bread. But what will surely surprise you will be the numerous and large potatoes. That's right, potatoes, all sizes and colors. The great variety of potatoes that Peru boasts will be present in the different stands of the market. Also, these stands compete and will compete all the time for your attention. So you will notice how the vendors will be calling you and showing you the last offer of the day. Zoom in, see, and commit to perusing each of the different objects.
"SHOP LOCAL. EAT LOCAL. SPEND LOCAL. ENJOY LOCAL."
In conclusion, a visit to the San Pedro Market in Cusco is one that you will not want to miss. Also, inside you can learn a little more about the taste of the locals. You will also get an idea of how the week is lived in the historic center. It is a great opportunity to enjoy a delicious traditional lunch while learning about the culture of the city. We hope together with Machu Travel Peru to have been helpful. If you want to know more about our tours in Peru, you can consult with our team of advisers. We will be happy to help you fulfill the trip of your dreams.
---