If you are looking for destinations where you can feel the adrenaline and experience new sensations, then Huacachina will be a real pleasure. It is a perfect destination to complement your tour of the Andean country, especially if you plan to visit Nazca and Lima since it is just passing by on the way. Huacachina is a natural oasis, one of the only ones in South America, located a few kilometers from Ica. It is a perfect place to enjoy numerous activities and adventure tours, as well as offering one of the most impressive natural settings in Peru. For this reason, together with the travel experts of Machu Travel Peru, we have decided to prepare a small article about the impressive sand dunes in Huacachina.
And due to the supposed healing powers of the precious waters, Huacachina was a popular spa for the elite. And despite the fact that the prosperity of the place is due in large part to tourism, Huacachina remains a place dedicated to its locals. But over the years, there is no doubt that the oasis of Huacachina has become one of the most popular destinations in Peru. Whether for budget travelers or extreme sports enthusiasts.
Everything you need to know about the Sand dunes in Huacachina
ABOUT HUACACHINA SAND DUNES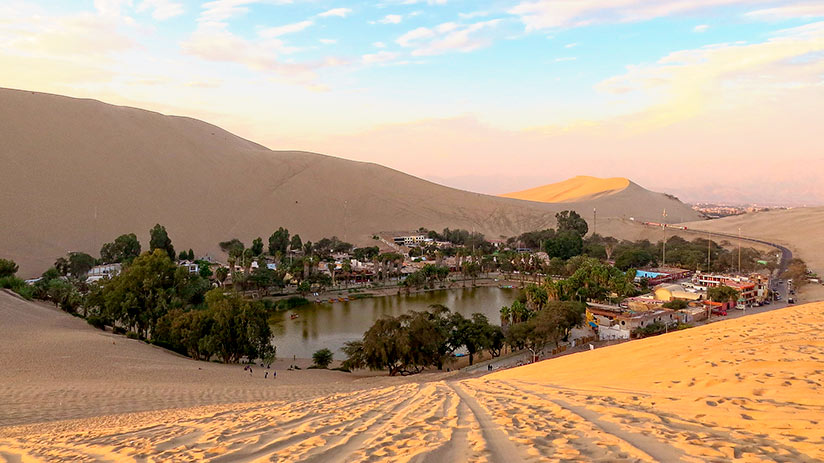 The sand dunes in Huacachina and its natural oasis are increasingly popular places on the list of travelers seeking adventure. Huacachina is an oasis surrounded by the largest sand dunes in all of South America. Among the many attractions and activities that you can find in the Huacachina oasis, sandboarding and buggy riding are the most popular. Also, the small picturesque town that surrounds the natural lagoon is one of the best places to spend the night and enjoy a magical moment. This small town is not only a quintessential tourist hub, but it is also quite a relaxed and peaceful place. It is located just a few steps from Ica. And getting there is quite easy. Without a doubt, Huacachina is where to go on vacation with friends.
THE LEGEND OF HUACACHINA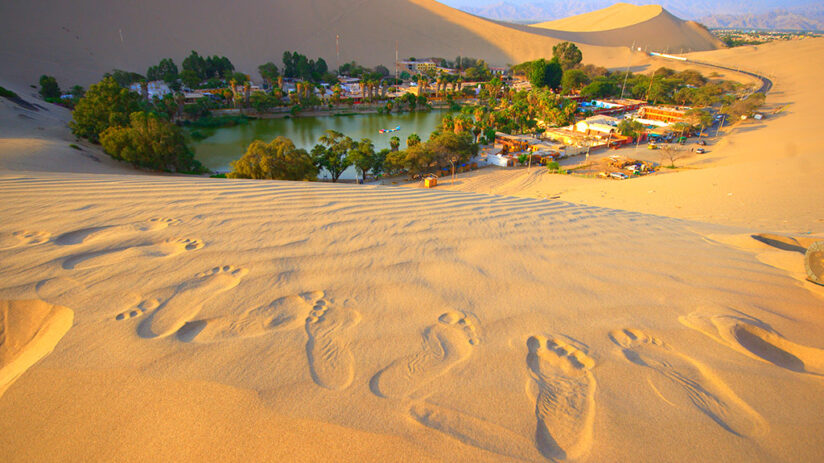 The oasis of Huacachina is not only home to some of the most beautiful sand dunes in Peru, but also to wonderful stories. It is one of the popular places in Peru that boasts wonderful magical stories that attract thousands of tourists. It was even previously said that the waters of the Huacachina lagoon were healing. So there is much to know about this wonderful tourist site.
Although the Huacachina oasis is a lagoon of natural origin, there are numerous local legends with magic overtones about it. According to a large part of the people, a local princess mourned the death of a warrior with whom she was in love. When she learned of his death, she ran away into the desert where she began to cry. As she cried, her tears fell on the sand and quickly became a small pool. And when she noticed that a fisherman was chasing her, she left a pool of water behind.
This became the oasis we know today. But there is also another version where an Inca princess walked through the desert. She was looking at herself in a mirror when she saw a fisherman chasing her through her reflection. The princess escaped and dropped the mirror, which when she fell it broke and created a small lake in the middle of the desert.
WHAT TO DO AROUND THE SAND DUNES IN HUACACHINA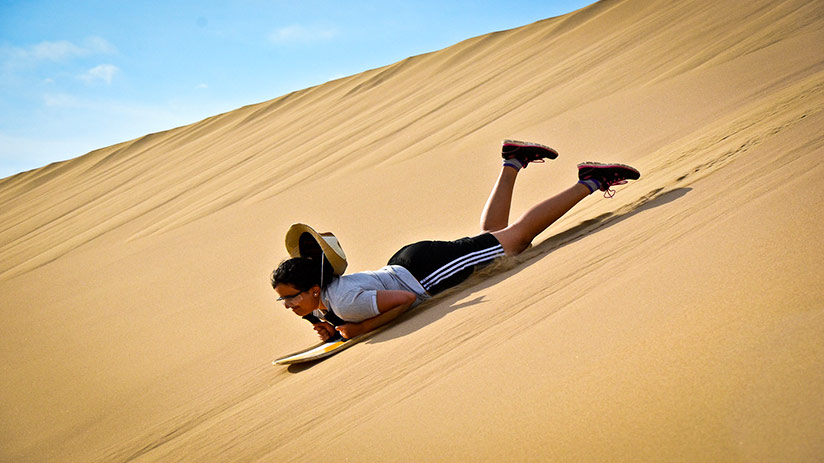 Despite being a fairly small town, you can enjoy a few activities. Around the sand dunes in Huacachina, you will find numerous ways to keep yourself entertained and busy. Among the different activities you can find the following:
SANDBOARDING: Sandboarding is one of the most popular activities to enjoy in the sand dunes in Huacachina. Before embarking on this adrenaline rush, you must rent a board. Renting the boards costs only a few dollars and is quite affordable. You can choose to undertake this activity on your own or within a tour with a local agency. Before embarking on this adventure, be sure to hire a trusted travel company (recommended for your safety and comfort). Sandboarding is not unique in the surroundings of Ica, it is also one of the best things to do in Paracas.
BUGGY TOUR: Every day during the afternoon the different buggy tours usually depart from the city. These cross huge sand dunes to travel an endless sand desert. Tours also usually include sandboarding as a complementary activity.
CLIMB THE SAND DUNES: Dare to climb on your own the different sand dunes in Huacachina and experience the glorious sunsets. It is free and can be a great alternative after a buggy tour.
PISCO TOUR: As if that weren't enough, Huacachina is only about 10 minutes from Ica. Giving you the possibility to undertake a Pisco tour in one of the cities most recognized for its vineyards and national drinks. On the vineyard tours, you can learn the history and production of some of the most traditional beverages.
WHERE TO EAT AND SLEEP IN HUACACHINA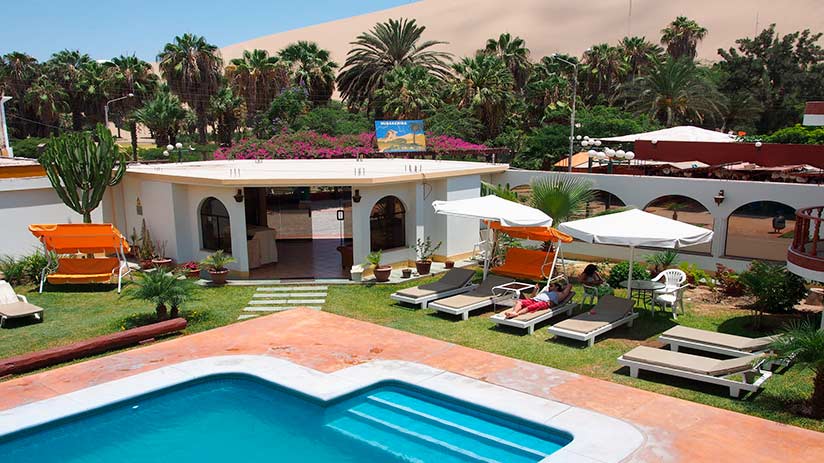 Around the sand dunes in Huacachina you will find numerous high-quality accommodations. Huacachina is generally busiest during the high season (June to August), causing hostels and hotels to be full and unavailable. Therefore, if you are looking to enjoy adventure holidays in Peru, it is recommended that you book in advance. It is highly recommended that you look for accommodation with a pool included because it is very hot in Huacachina.
Fortunately, with the abundant flow of tourists that the destination receives, numerous infrastructure options have been built. In fact, the oasis of Huacachina is full of beautiful quality hotels, guesthouses, country bars, and delicious restaurants. These are aimed both at different young people and backpackers as well as tourists looking for privacy and luxury. Usually, when it's time to recommend places, there are plenty of options. Huacachina Ecocamp is a luxury camp and one of the best recommendations available to stay.
As for recommended restaurants, La Casa de Bamboo is included for excellent international cuisine. Wild Olive Trattoria & Guest House is another of the most recommended places both to stay and to enjoy a Peruvian dish. The establishment in addition to a restaurant has a restaurant. Desert Nights is also another place to enjoy excellent food and lodging. In conclusion, you will find numerous options to enjoy a wonderful time in Huacachina.
HOW TO GET TO HUACACHINA SAND DUNES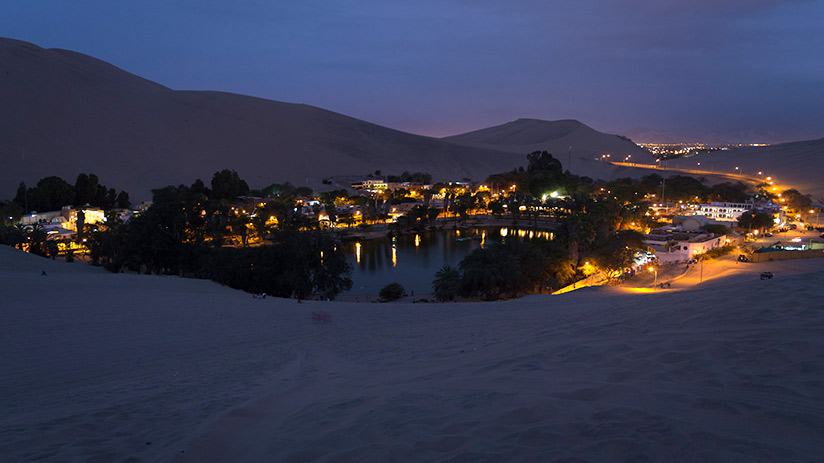 To appreciate the sand dunes in Huacachina in all their splendor, you can choose to take a bus. Huacachina is approximately five hours from Lima, while from Paracas it is only about one hour aboard. After enjoying the beautiful Peru beaches within Paracas, you can continue your tour of Peru in Huacachina. There is no public transport that goes directly to Huacachina, but you can get there by taxi from Ica. One of the best places to enjoy summer in Peru.
Or you could also go to Ica and enjoy everything they offer. From there you can enjoy this wonderful city and try the great possibilities of tours. You can get to Ica by bus or by car as well. The city is located about 200 miles from Lima, that is, about 300 kilometers. From Lima, it does not take more than 5 hours by car to reach Huacachina. In Ica you will find wine tasting tours and much more. After enjoying the different routes, you can choose to take a taxi to Huacachina. You will arrive in about 10 minutes and the taxi will not exceed 5 US dollars.
CERRO BLANCO, ONE OF THE BIGGEST SAND DUNES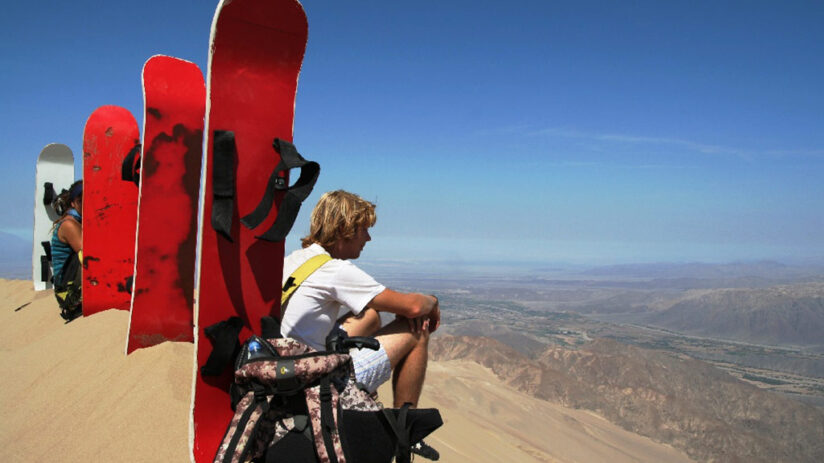 Cerro Blanco is located just about 15 kilometers (9 miles) east of Nazca, within the Nazca Valley to be more specific. It is also nicknamed the "Everest of the desert" and is considered one of the highest sand dunes in the world, boasting a height of about 2,080 meters above sea level. It is visited by athletes and fans of adrenaline who seek to enjoy sandboarding.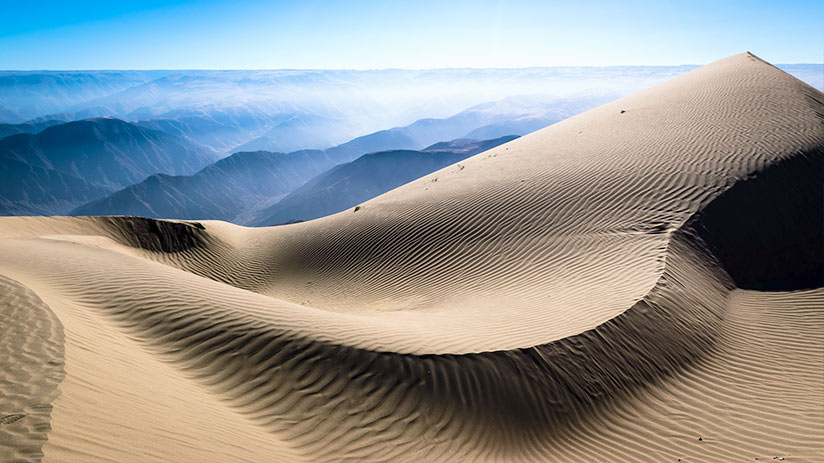 Unfortunately, the only way to get to this dune is by walking. The ascent is constant, and although it may seem easy at first, it later becomes quite demanding. Anyway, the experience is worth every minute. Since when you reach the top you will be able to contemplate from another perspective what the Nazca Valley is. And if you are lucky, you can even see Andean condors flying over the top. If you enjoy adrenaline, then a trip to Cerro Blanco is a guaranteed adventure. On many tours in Peru, this amazing journey is usually included.
"LIFE OFFERS YOU A THOUSAND CHANCES… ALL YOU HAVE TO DO IS TAKE ONE."
As you may have read, Huacachina is a wonderful place to experience sand dunes and other wonderful sports. We hope, together with Machu Travel Peru, to have encouraged you a little to enjoy the inexhaustible adventures that the Andean country offers. We hope this article has piqued your curiosity about this magnificent destination. If you want to know more about our different routes, you can choose to consult with our qualified advisors. They will be happy to help you plan whatever you need during your trip. From your hotels, tickets to attractions and restaurants. Don't miss out on this wonderful opportunity!