If you are a lover of travel and shopping, Peru is one of the best destinations to enjoy a comfortable vacation. We all love to take home some memories after our trips abroad. It is one of the best ways to remember the different adventures you have made. In addition to showing off your different memories to friends and family. However, with so many things to buy in Peru, it can be difficult to know what to choose. Especially when you travel to the wonderful Inca citadel of Machu Picchu. For these reasons, together with the travel experts of Machu Travel Peru, we have thought of a short article so that you know the different souvenirs to buy in Machu Picchu.
Upon reaching the small town of Aguas Calientes, you will notice an open-air market full of different products. This small market is full of different stalls that sell all kinds of souvenirs and souvenirs. These are mostly related to Peru and Machu Picchu. Many of these items are no different than those found in other markets in Cusco or the Sacred Valley. They could even be compared to the markets of Pisac or San Pedro de Cusco. But the prices here are usually higher due to the proximity to the Inca citadel. But if this is your last stop before returning to your home country, it is a good idea to check the souvenirs to buy in Machu Picchu.
Some of the best souvenirs to buy in Machu Picchu
TEXTILES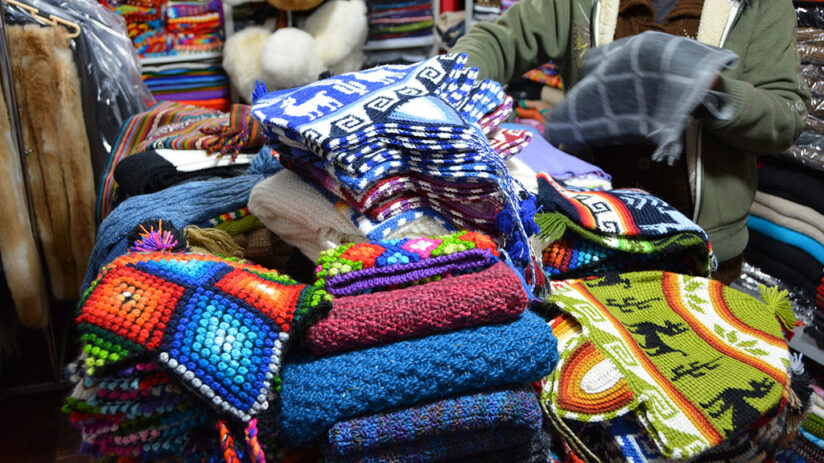 When walking through the different markets of Peru, you will notice an infinity of colors and a large number of garments. From cheaper batch items to handwoven items, all with amazing looks. And all with that Peruvian essence that makes the different products unique. Some of the best souvenirs to buy in Machu Picchu are textiles. These form a large part of Peruvian culture. You will find many locals dressing in a traditional way with the typical costumes and colors of the Andean country. So being able to take home some textiles is a great way to remember Peru's unique scene.
After your visit to Machu Picchu, it is a good idea to visit the majestic town of Chinchero, where you can see and learn about the weaving of textiles. You will be able to see in action how they dye the fabrics with local and natural ingredients. In a visit to the Inca citadel, you will not only learn about the different Machu Picchu facts, but you will also have the opportunity to buy some 100% Peruvian products. This is a great way to help local communities and contribute something with your visit.
ALPACA PRODUCTS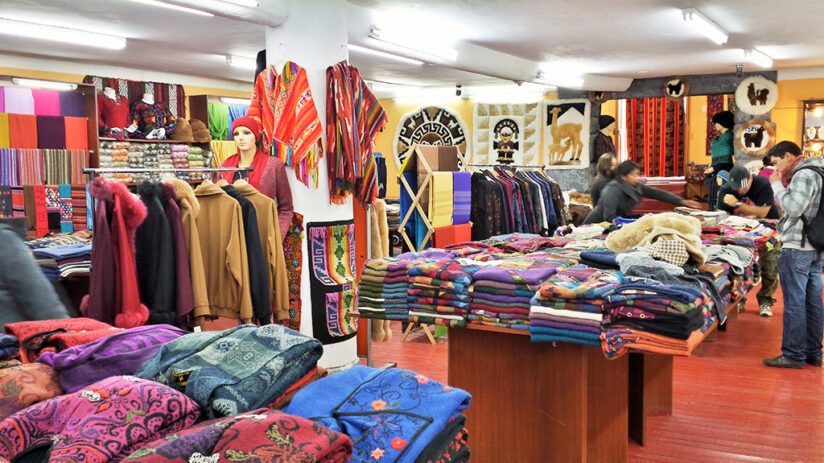 Different textiles are a great product to take home with you. But if you have the possibility, you have to buy an Alpaca item, you should. These are usually in the same stalls and places as textiles because it involves clothing. Among the different Alpaca products, you will find wool hats, gloves, sweaters, and all kinds of ready-made outfits. All made with the soft and luxurious wool of the Alpaca. And if you are aware of the latest fashion trends, you will know that Alpaca items are in fashion all over the world.
You will find varied articles and at different prices. If you plan to visit the high-end stores in Cusco, you will find some high prices. This is due to the quality of the wool used, often Baby Alpaca fabric. This fabric feels great, is soft, durable, and a real treat. The different Alpaca products are some of the best souvenirs to buy in Machu Picchu. There is no best time to visit Machu Picchu, but it is always a good time to buy an alpaca product.
ARTWORKS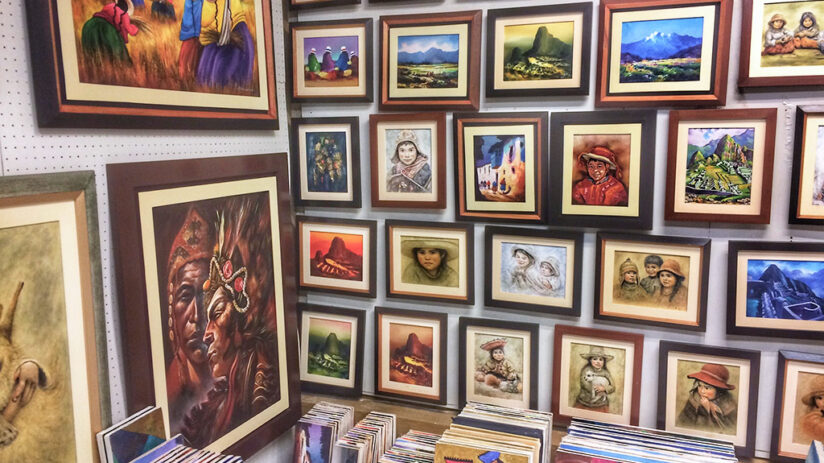 Cusco, the Sacred Valley, and Aguas Calientes are full of appreciable art. These places not only offer incredible tours in Peru, but also an extensive and unique collection of handicrafts and art. They are usually made by local painters and focus on the historical art of colonial religious paintings. It is impossible to avoid seeing how many people even sell their paintings on the street, there are some quite interesting options. If you are an art lover, whatever it is, you will find something to suit your personal tastes. Some vendors will sell it to you in a small tube so you can take it home with ease.
But paintings are not the only art that is sold in Peru. You will find some ceramic pieces and other handmade items that are worth appreciating. Some of these are replicas of ceramics used by the Incas hundreds of years ago. You will notice pieces and works of all kinds that will adapt to any type of home.
CHOCOLATE AND COFFEE
No matter where you come from, surely you like Chocolate and Coffee like anyone else in the world. Not many can say they don't love Chocolate or Coffee. And when we talk about Peruvian chocolate and coffee, we are talking about a totally different and charming taste. In Cusco and its surroundings, you will find a great variety of chocolate shops, offering different presentations and flavors so that you can taste and buy. Even Cusco offers a unique experience that is the Chocomuseum. Where you can not only try and buy different types of chocolate but also prepare your own homemade chocolate! Peruvian Coffee is also an unparalleled experience, you will have different types of beans to choose from with a great variety of flavors and smells. We also highly recommend trying honey, which is also unlike anything you've ever had.
PISCO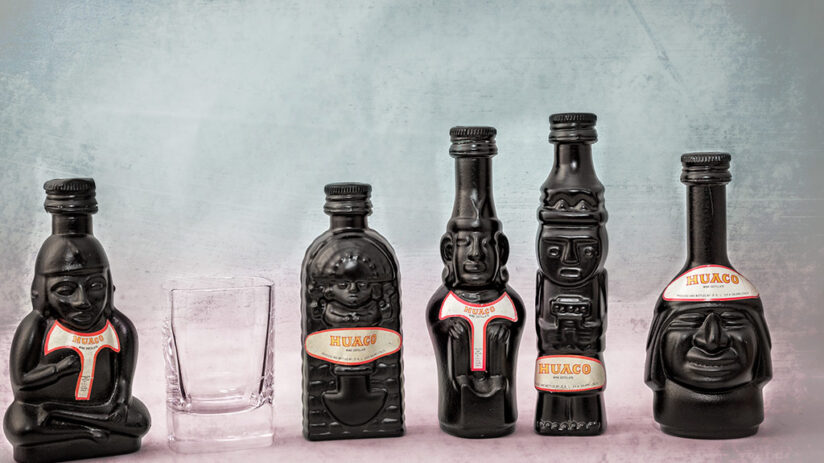 The national drink of Peru could not be missing from the list of souvenirs to buy in Machu Picchu. This charming alcoholic drink is one of the many Peruvian products that you cannot miss trying. Once you've tried the renowned Pisco Sour, it will most likely become your new favorite cocktail. In Aguas Calientes, you will find different Piscos for sale. And chances are, you will get a free sample of one of these.
Dare to take with you a souvenir as emblematic as Pisco is for Peru. It has a unique and incomparable flavor. In addition, it can be a great gift for a friend or family member who is waiting for you at home. And if you really enjoyed it, why not take another bottle for yourself? In the different markets, you will find some bottles decorated in a homemade way with themes of Peru and Machu Picchu. An opportunity not to be missed if you plan to visit Machu Picchu.
JEWELRY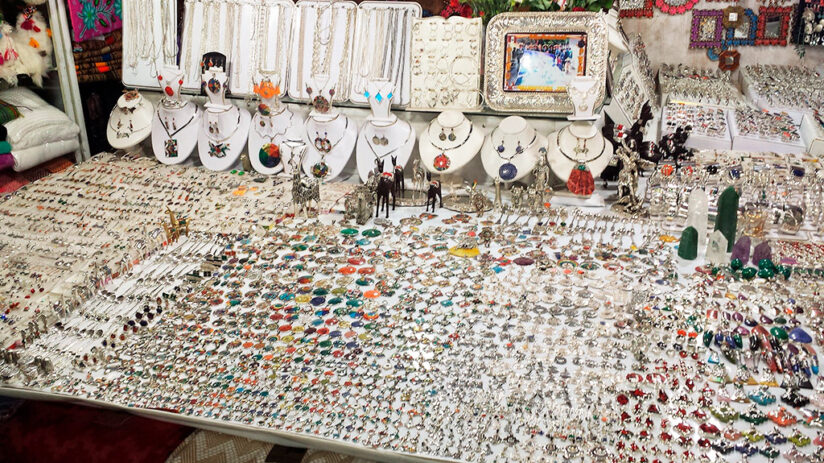 Another of the souvenirs to buy in Machu Picchu that you will find in abundance is jewelry. Anyone likes to receive a jewel as a gift. Or you can also buy it to add some sparkle to your look. In the Aguas Calientes market, you will notice how some stalls sell fantastic pieces of all types and prices. You can go for some beautiful silver jewelry for a special occasion or some rhinestones to wear every day! In addition, the artisans of Peru strive and you will find infinities of designs with Inca themes and the culture of Peru. A great opportunity to remember your different adventures in Peru with style and glamour. It can also be an excellent gift for someone special who is waiting for you at home.
"KEEP SOME SOUVENIRS OF YOUR PAST, OR HOW WILL YOU EVER PROVE IT WASN'T ALL A DREAM?"
Before or after embarking on the different Machu Picchu tours, be sure to reserve some time to check out the different souvenirs to buy in Machu Picchu. It can be a great opportunity to enlarge your souvenir collection as well as decorate your home with beautiful products. You will find that the different crafts of Peru provide a unique palette of colors and feelings. Anyone will be grateful to have a unique memory of Peru. We hope together with the experts from Machu Travel Peru to have been helpful. If you want to know more about the tours or visits to different artisan cooperatives, you can consult with our qualified team of advisers. They will be happy to help you fulfill the trip of your dreams.
---