Would you like to travel to Tambopata? If your answer is yes, then you are among the majority of travelers! But to explore this vast and remote region, we always highly recommend planning your vacation. This way you can guarantee a satisfying experience in the jungle of Peru. Therefore, you may be wondering how to choose the best and most authentic Tambopata lodge. Or what is the best tour through the Amazon? But you don't need to worry about anything! We have in mind some interesting options that offer tourist services with all expenses included. Including expeditions in nature, different entertainment activities, and of course, delicious Amazonian food to give you a unique experience in the jungle. But each has its own style, character, and benefits. So together with Machu Travel Peru, we have prepared an article with some of the best lodges in Tambopata.
Some of the best and most impressive lodges in Tambopata
POSADA AMAZONAS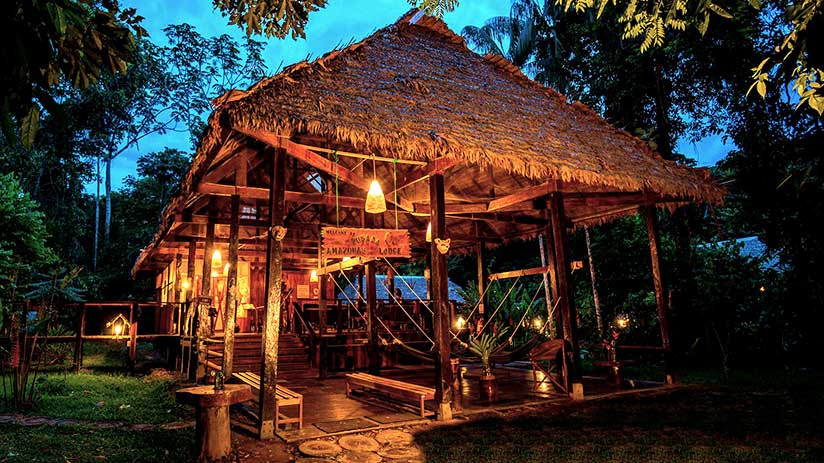 At least two hours of travel are required to reach Posada Amazonas. One-hour road trip from Puerto Maldonado airport, followed by a leisurely and pleasant hour-long boat ride on the Tambopata River. This last walk often includes the first wildlife sightings. Along the way, you can see macaws, monkeys, capybaras, and even alligators. Amazing! At this point, you will be officially in the Peruvian jungle. This jungle paradise offers you a vast and unique set of engaging activities. Among them piranha fishing, boating, agriculture, ethnobotanical walks, canopy, and many more.
There are many opportunities to see wildlife. Also, you can discover and learn about our ancient indigenous heritage (Ese Eja tribe). Besides, Posada Amazonas gives you the opportunity to create your own personalized adventure. As a result, your tours of the Amazon will be extraordinary. Note that Posada Amazonas is located within the private reserve of the Ese Eja Native Community. More specifically the family of Infierno. And this is one of the lodges in Tambopata that provide full-time employment to the Ese Eja people. Staying at this Tambopata hostel supports the conservation of indigenous culture and land.
REFUGIO AMAZONAS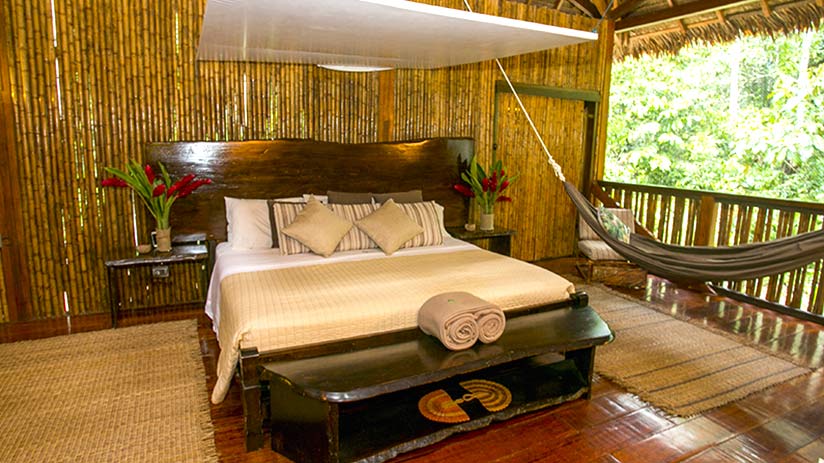 The perfect place for nature lovers. This is one of the lodges in Tambopata that is located deep in the tropical jungle. Refugio Amazonas requires at least four hours of travel. You will have to travel by road about forty minutes from the Puerto Maldonado airport. Followed by a three-hour boat trip on the Tambopata River. This secluded paradise offers a wide variety of science and adventure-focused activities. If you plan to travel with your family, this site is ideal for children. 
Refugio Amazonas serves as the headquarters of a citizen science program, Wired Amazon. This program connects guests with the science and discovery of the Amazon. Really impressive. But even more interesting is that Refugio Amazonas is committed to the recovery of the area surrounding the shelter. Some of the activities offered at this Tambopata lodge include: Visit the macaw and parakeet clay lick, climb the canopy tower, jungle farming, sunset cruise, boat around meandering lakes, sighting of some Peruvian animals, and much more.
TAMBOPATA RESEARCH CENTER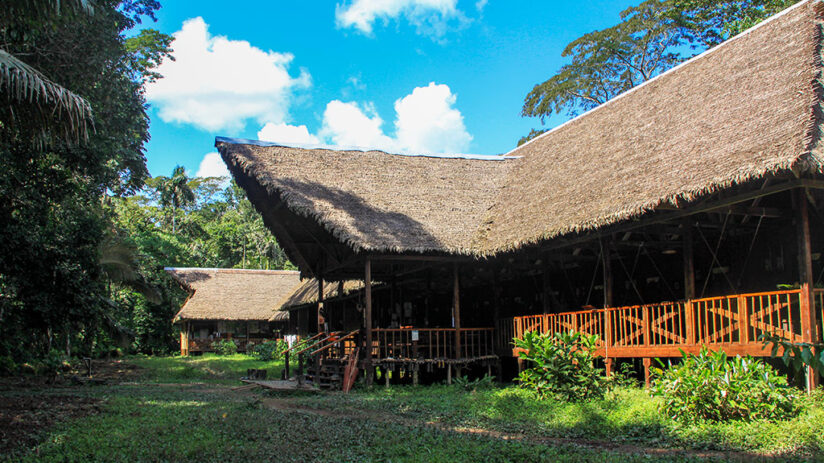 Tours in Puerto Maldonado have amazing experiences. And the Tambopata Research Center is the bridge to enjoy those dazzling jungle adventures. To get to the Tambopata Research Center, you must take a one-hour road trip from the Puerto Maldonado airport. Then you will have to take a three-hour boat trip down the Tambopata River. All to reach the Amazon Refuge where you will spend the night. The next morning, you must take a four-hour boat trip to finally reach this amazing Tambopata lodge. The Tambopata Research Center is one of the most remote refugees in South America. You will go much further into the rainforest, which means that you will be surrounded by the best of Amazonian wildlife. 
You will see much more large and endangered species than anywhere else. In fact, most regard the Tambopata Research Center as the Jaguar's backyard. Great, huh? But, you will have opportunities to see much more than this magnificent specimen. From spectacular bird watching, fantastic hikes, and much more. You will even be part of the supporting research and conservation team. You can be part of activities such as the canopy tower, and enjoy rooms in harmony with nature. Therefore, the Tambopata Research Center is by far the best option for an extended stay!
INKATERRA RESERVA AMAZONICA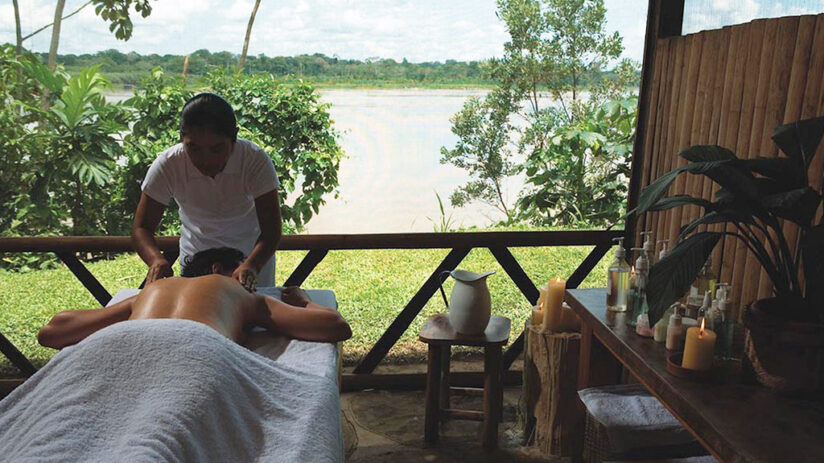 The Inkaterra Reserva Amazonica could be considered one of the most exotic and elegant lodges in Tambopata. This establishment was one of the first projects carried out within the private reserve. It is surrounded by an incredible canopy of virgin forest. This wonderful Inkaterra signature property features elegantly designed cabins. All its cabins are quite private, and you can also enjoy great amenities and services. From a luxurious spa, impeccable service, and numerous experiences available within the jungle.
This is one of the Inkaterra signature lodges in Tambopata. So you can expect an example in their service, charming facilities and cabins, and a series of world-renowned tours in Peru. This wonderful hostel offers its guests a rustic stay with modern comforts and luxuries. Among your excursions, you can enjoy a canopy walk, river fishing, and different hiking trails. Be sure to enjoy the luxurious spa that features traditional treatments that include jungle plants and medicines. Or take some time in your cabin's relaxing private pool.
INKATERRA HACIENDA CONCEPCIÓN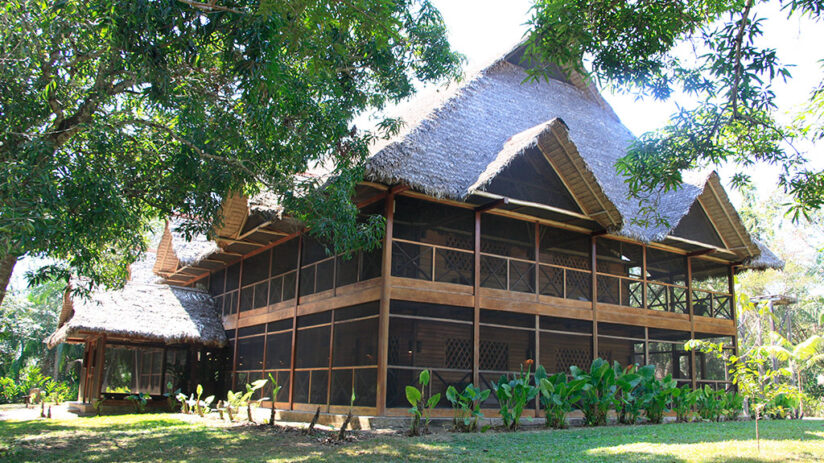 Inkaterra Hacienda Concepción is another of the lodges in Tambopata belonging to the Inkaterra firm. It is one of his latest projects that have been awarded for his distinctive service to his guests. In addition to the different adventures in the jungle and its cozy rooms, you can enjoy a unique experience. It cannot be denied that being able to enjoy this place will make your stay unparalleled within one of the most popular Nature Reserves.
This lodge offers different rooms within the main lodge or a series of private cabins in the jungle. This renowned hostel has a great series of luxury benefits. Because it is managed by one of the leading ecological agencies in Peru. Take advantage of your stay and enjoy the various tours in the treetops, visit the Cocha lagoon, and many other fascinating scenarios. The Inkaterra firm specializes in transforming those adventure expeditions in the jungle into luxury experiences. Therefore, you can expect the modern comforts and benefits of a 5-star hotel. Differentiating itself from the rest of the lodges in Tambopata, Inkaterra seeks a more demanding public.
AMAZON VILLA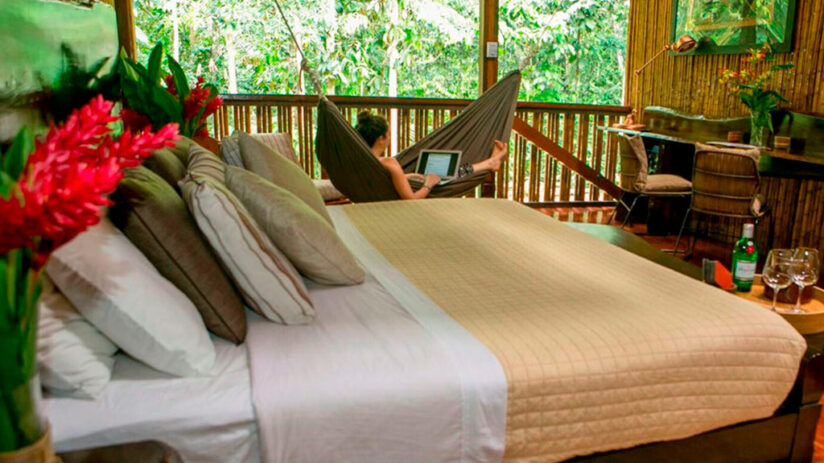 Inside Amazon Villa, you will have the opportunity to experience one of the most biodiverse corners on the planet from the comfort of a private bungalow. With no annoying neighbors, the only thing that will surround you is beautiful jungle views wherever your eye lays. The private bungalow offers a number of included amenities and services, from food to your guided jungle excursions.
You can expect a private and totally exclusive experience. All while enjoying views of monkeys, and some of the birds in Tambopata. Countless wild animals of the jungle will be waiting to be photographed. A stay inside the Amazon Villa is a perfect opportunity to disconnect from your daily routine and get to know this wonderful alternative world. A luxurious combination of privacy, amenities, and activities await you inside your comfortable private bungalow. The bungalow features a king-size bed, hammocks, hardwood floors, local crafts from the Ese-Eja community, and much more.
"THIS HEART OF MINE WAS MADE TO TRAVEL THE WORLD."
As you already read, there are a wide variety of nice jungle lodges in Tambopata. So, if you want a deep connection with nature and fully explore the Amazon, this is your choice. You can choose from these incredible options to dazzle you with a fascinating jungle experience. A jungle vacation is the best way to experience the abundant wildlife that this corner of the world is home to. Together with the Machu Travel Peru team, we hope we have been helpful. If you want to know more about the different refuges and lodgings in the Tambopata National Reserve, you can consult with our advisors. They will guide you in everything you need to start your jungle vacation.
---