The Tambopata National Reserve is one of the most important, flourishing, and impressive reserves in the Peruvian Amazon. It has an area of ​​247,690 hectares. It is known as a geographically complex area on earth, as it has high levels of biodiversity. This biodiversity hotspot is located near the city of Puerto Maldonado. This city is located in the southern region of Peru, where you will witness the impressive natural landscape where wildlife abounds.
Definitely, a trip to the Tambopata National Reserve would be much more than a pleasant and impressive vacation. We are talking about a magical and extraordinary journey. And for this, together with the Machu Travel Peru team, we have prepared this article. We would love to be your accomplice in this unparalleled adventure. Learn about everything you can experience in this remote corner of the world.
Everything you need to know about the Tambopata National Reserve
ABOUT THE RESERVE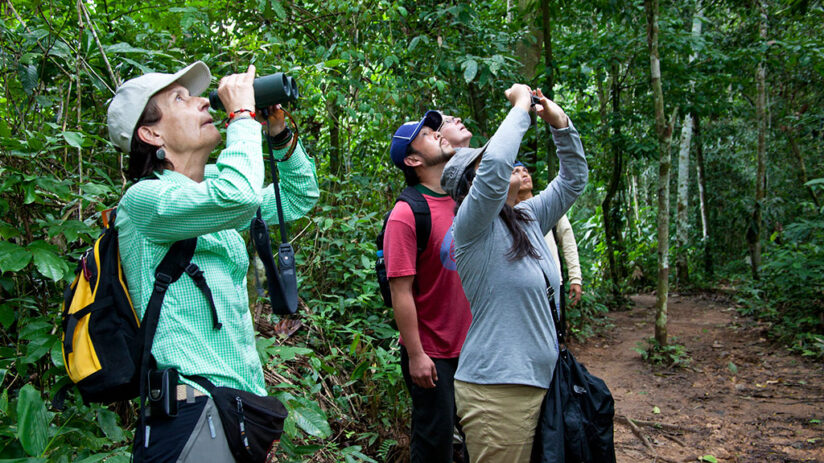 The flourishing ecosystem of Tambopata is one of the most biologically diverse and well-preserved regions on earth. One of its highlights is the abundance of flora and fauna. You will find hundreds of species of plants, mammals, insects, reptiles, amphibians, butterflies, birds; even monkeys, and caimans. Besides, it counts with different types of trees and lakes.
The Tambopata National Reserve and its surroundings give you the chance to explore deep in the Amazon rainforest and enjoy different activities such as fishing, canopy, and jungle walks. It's unquestionably a dream paradise for nature lovers, photographers, and of course, adventurous souls. Make sure to include this magical destination in the tours in Peru that you plan to enjoy.
AMAZONIAN EXPERIENCE
A four-day tour to the Tambopata National Reserve is the most popular choice during a trip to the Amazon rainforest. Four days of unique beauty would be extraordinary, don't you think? But the truth is that you can enjoy a wide variety of itineraries. Depending on your tastes, time, and budget, you can enjoy a wide variety of settings and activities. And among the different things to experience in Tambopata, you will find the following as the most popular.
AMAZON RIVER CRUISE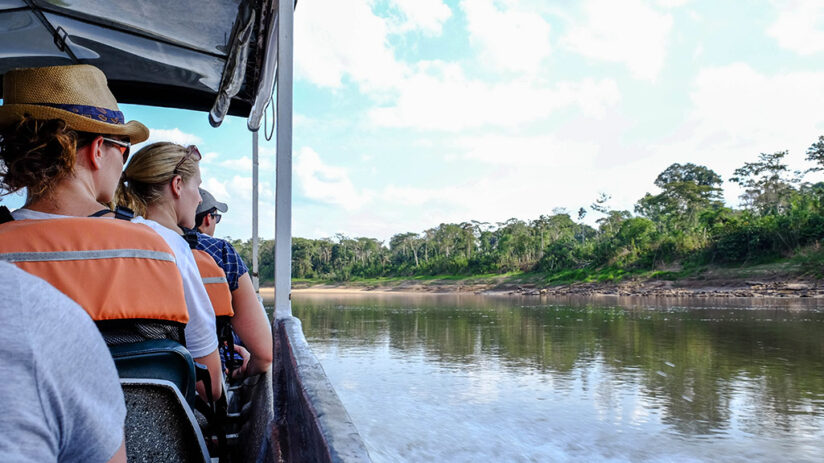 The Amazonian rivers provide an ideal habitat for many different wildlife species. Some of them you might see while on river cruises are: The pink river dolphin, giant River Otter, yellow-headed river turtle, and the South American river turtle. You can also see macaws and parrots feeding on trees. Other species are capybaras and caimans. Four of the six species of caiman that exist can be found in Tambopata, but only two species are commonly seen by visitors, the spectacled and the black caiman. Caimans are typically more active at night, that's why most travelers prefer doing this activity after dark.
Sandoval Lake is the most visited oxbow lake (a U-shaped lake that creates a free-standing body of water) in the Tambopata National Reserve, due to its closeness to Puerto Maldonado. In fact, a few lodges are situated under an hour from the town of Puerto Maldonado. Machu Travel Peru thinks that a fulfilling experience is guaranteed if it is accompanied by comfort. Thus, try to make an intense review and choose one of the best Tambopata lodges that fit your preferences. An Amazon cruise is a must during your Amazonian journey. So, take a boat and let's explore!
JUNGLE DAY AND NIGHT TREKS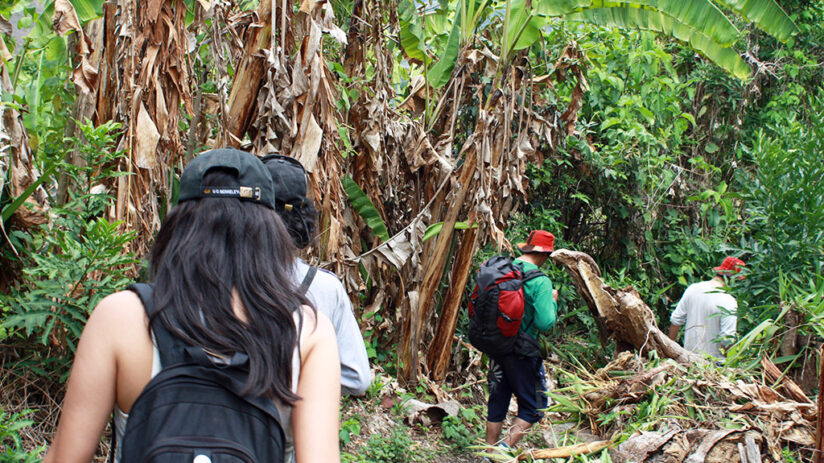 The Jungle day walks are an interesting way to experience first-hand the home of endless species of wildlife, plants, and trees. You will see and learn about the different habitats, ecosystems, and how the rainforest works. So, expect to see birds, parrots, monkeys, insects, beautiful orchids, and fascinating medicinal plants. You might also see the distinctive tracks left by jaguars, tapirs, or other nocturnal animals.
The Jungle night walks are also a fascinating and mind-blowing way to explore one of the most popular Nature Reserves. In fact, the night is the best time to see the wildlife that inhabits the jungle. Most of the species are only active after dark. When the sun goes down, you will able to see bizarre insects, colonies of leafcutter ants, colored frogs, snakes, caimans, and even monkeys. If you have good luck, even a tapir.
CLAY LICKS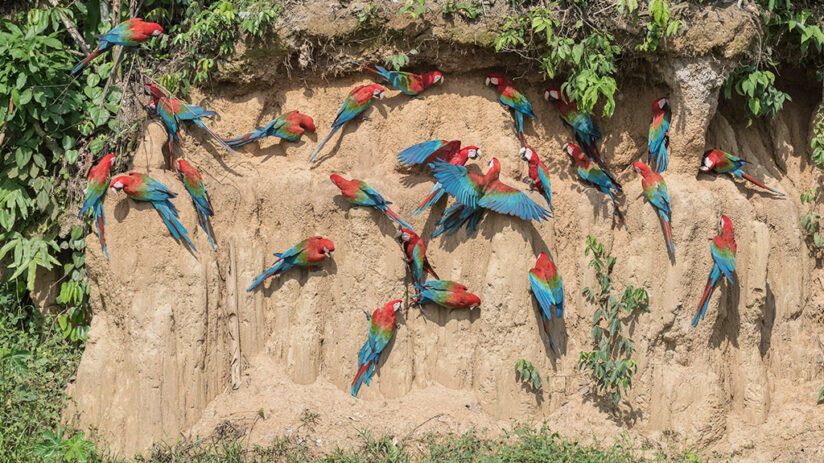 A world-famous place that counts with the highest concentration of brilliantly colored parrots and macaws in the world. The birds gather daily for feedings. These naturally forming walls of clay found on the river banks offer an amazing wildlife scene while hundreds of parrots fly around everywhere. Without a doubt, a must during your visit to the Tambopata National Reserve.
CANOPY WALKS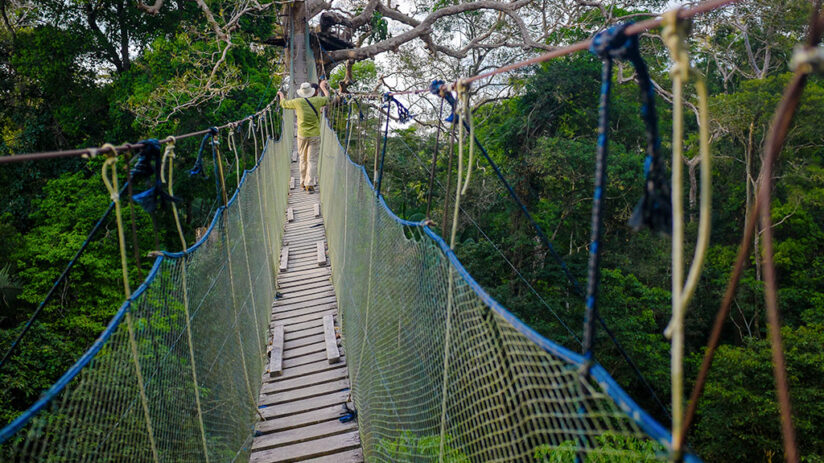 As Mowgli in the Jungle book, much of the Amazonian jungle life occurs at the treetops. It gives you an extraordinary chance to see the hidden beauty of the Amazon. The canopy walk is at a height of over 25 meters and extends many meters through the jungle. Once you are in the treetops, you will witness the stunning habitat of lots of animals and different kinds of exotic birds in Tambopata, such as toucans and macaws. It will be a spectacle of sounds and colors. You will marvel at the perfect and captivating views of the rainforest.
All of these activities would make your Peruvian Amazon tour truly unforgettable. Additionally, we want to mention that Tambopata is home to the ethnic group Ese Eja, which has lived in the area since immemorial times. The Ese Eja nation is composed of three native communities: Palma Real (about 50 families), Sonene (about 20 families), and Infierno (about 200 families). The Infierno community works with private companies to offer ecotourism activities and different tourism services.
HUMAN IMPACT ON BIODIVERSITY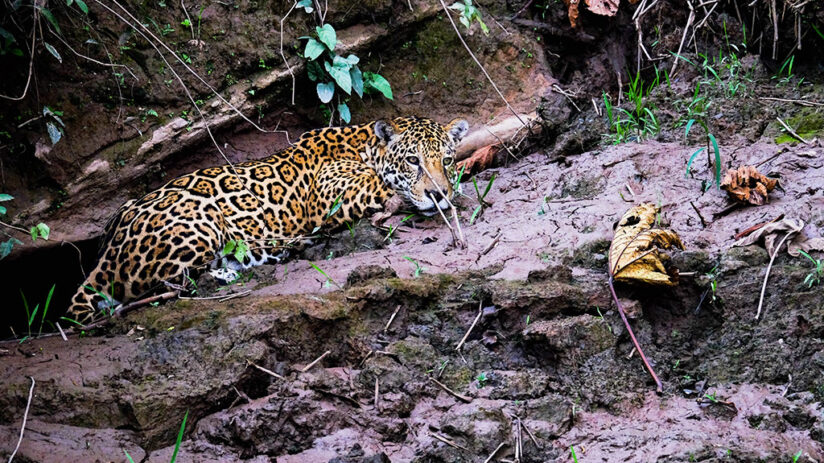 Traveling and discovering the Amazon rainforest sounds like an extraordinary adventure. But with the recent news about the fires that are occurring around the world, we realize that the human impact on biodiversity has grown to unprecedented levels. The fires in the world's biggest rainforest are mostly illegal. They are sending clouds of smoke across the Amazonian regions and alarming quantities of carbon into the atmosphere. Some scientists say the Amazon is approaching a tipping point, existing a huge possibility that it will irreversibly degrade into a dry savannah.
Should we be concerned? Extremely. Amazonia constitutes one of the most valuable ecosystems on earth because of its tremendous biodiversity. It is vital for keeping our climate stable. At a time when the planet needs more trees to absorb carbon and stabilize the climate, our planet is losing its biggest rainforest, its biggest lung. And not only that but also its indigenous communities, flora, and fauna are under attack like never before.
As world citizens, it's our responsibility to protect, conserve and respect the rainforest when you travel to Tambopata. At the same time, the government has to protect their indigenous communities that live in and around the Amazon, and analyze thoroughly what places may be open to economic activity.
WHAT TO DO AND SEE IN TAMBOPATA
During the last few years, the Tambopata National Reserve has become a popular destination for tourists. It is a popular region, being included in numerous Amazon tours from Cusco. Both locals and foreigners come to seek an unparalleled experience within a natural setting. Since we are talking about one of the most biodiverse areas on the entire planet earth. The area comprises a great and diverse fauna and flora, not to mention its fascinating landscapes. Among all the things to do in Tambopata, you will find the following as the most popular.
SANDOVAL LAKE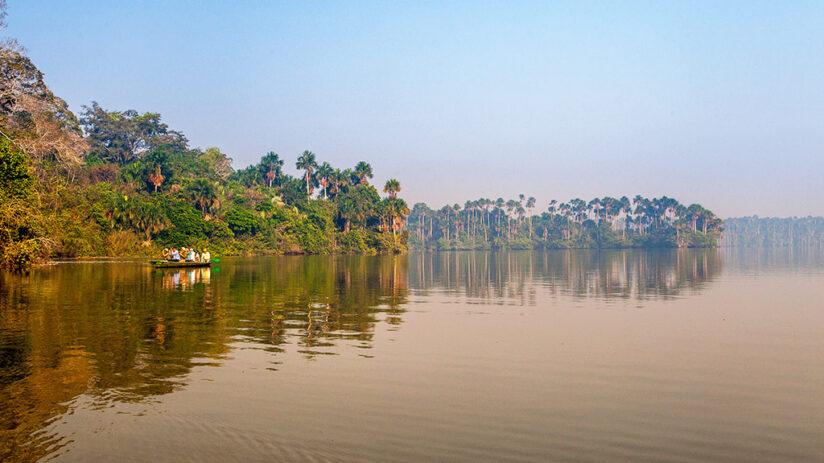 Lake Sandoval is a beautiful lake located within the Tambopata National Reserve. This lake extends over about 120 hectares of land and is neighboring the city of Puerto Maldonado. This lake is renowned for being home to a large amount of wildlife. Among them a huge population of macaws, kingfishers, alligators, otters, and herons among others. This part of the reserve has become very popular and demanded by visitors. And because of this, today you can find accommodation options nearby. You can even opt for boat tours around the lake and spot the myriad of wildlife. A perfect opportunity.
LAGOONS OF COCOCOCHA AND SACHAVACAYOC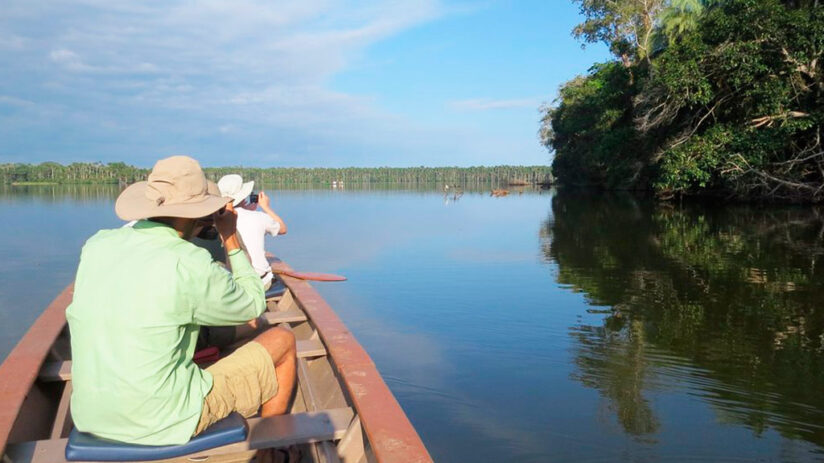 These enchanting bodies of water are located across the Tambopata river basin. Both lakes are the refuge and home to a wide variety of wildlife. The Sachavacayoc lagoon is usually the most popular site due to its different tourist-oriented camping sites. If you are looking for a much more intimate experience with the Peruvian Amazon, these lagoons are the perfect place. You will find clay licks in both lagoons. These are the places where macaws and other Peruvian animals come to eat. Make sure you know the Chuncho and Colorado clay licks, both are located on the banks of the river.
KNOW THE NATIVE COMMUNITIES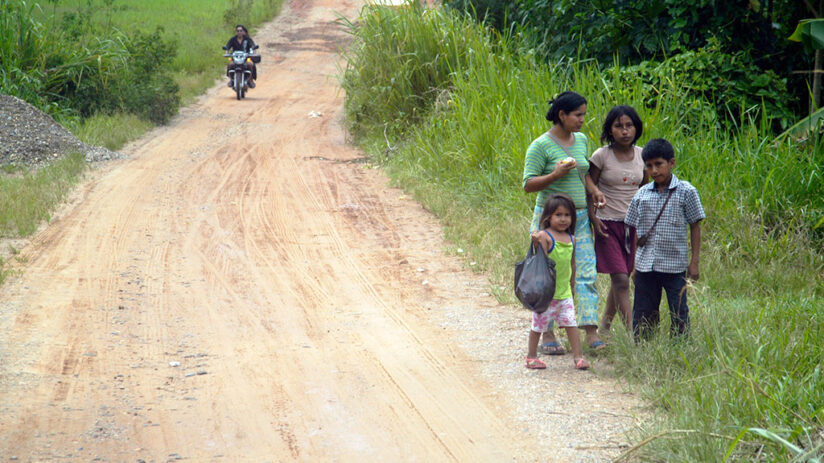 Another great option to enjoy within Tambopata is to get to know the different indigenous communities. Many of these have the possibility of experimenting with them. In the Madre de Dios region, you will find different communities. Among them, the Esa Axis, Harakbut, and the Matsigenka people. Many of these do not share true ties and connections with the outside world. So you will have the opportunity to learn about unique customs and traditions. We believe that within the Tambopata National Reserve, there's nothing better than knowing new cultures.
"TOURISM IS IMPORTANT BECAUSE IT CAN CREATE SUSTAINABLE LOCAL ECONOMIES. ID MUCH RATHER HAVE 1000 TOURISTS GOING UP THE TAMBOPATA THAN 1000 GOLD MINERS."
As you can see, this majestic reserve within the Amazon is a fascinating place to explore. You will find an endless variety of birds to contemplate and photograph. And inside the Tambopata National Reserve, you can enjoy a magical moment with exotic species. We hope together with the Machu Travel Peru team to have been helpful. If you want to know more about our tours through Amazon, you can consult with our team of advisers. Rest assured that our goal is to help you fulfill the trip of your dreams. We will be looking forward to your visit to Peru!
---