The Amazon is a region of immense magnitude, with unexplored sites and others that are discovered while reading this article. Being able to travel to it is, without a doubt, one of the most enriching experiences you can live. And what better than enjoying your vacation in one of the most striking cities of the Amazon. That is why, together with Machu Travel Peru, we have decided to make a small article about things to do in Iquitos. So on your next vacation, you don't miss out on the best activities in the city.
Iquitos is one of the largest cities inaccessible by land. If you want to get there, you will have to go by plane or boat. It is known as the capital of the Peruvian Amazon or "La Isla Bonita". This beautiful city is surrounded by rivers known as Nanay, Itaya, and Amazonas. Within the imposing city, you will find many activities to keep you busy. From observing wildlife, relaxing in an eco-lodge, enjoying the nightlife, and much more.
BEST THINGS TO DO IN IQUITOS
See Fierro's house
When you are in the city of Iquitos, it is mandatory to visit this historic building. It has a characteristic and unique shape, in addition to having been built by Gustave Eiffel (who designed the Eiffel Tower). It is said to be one of the first prefabricated buildings in America as it was shipped in pieces across the Atlantic Ocean.
This beautiful and unequaled building is located in the Plaza de Armas. Its appearance contrasts with the other buildings as it is completely covered with steel sheets. If you are looking for things to do in Iquitos, you cannot miss a delicious lunch at Casa de Fierro.
Visit the Monkey Island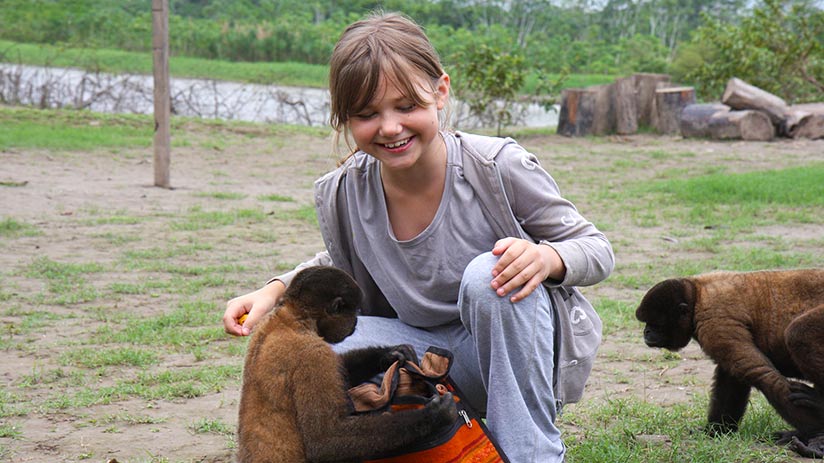 One of the most fun things to do in Peru is to go to Monkey Island. If you are traveling with your family or a partner, going to this place is an excellent idea to enjoy and contemplate the different monkeys that can be found. The monkey island is very committed to the rescue, rehabilitation, and release of these. Most monkeys you will encounter are victims of illegal trafficking. So you would be supporting a very good cause by visiting this wonderful place. On the island, you will find up to nine different species of monkeys roaming freely over more than 200 hectares. The entrance is by donation, making this activity very accessible if you are in Iquitos. Be sure to bring some bananas to feed the playful monkeys.
Explore the Mercado de Belén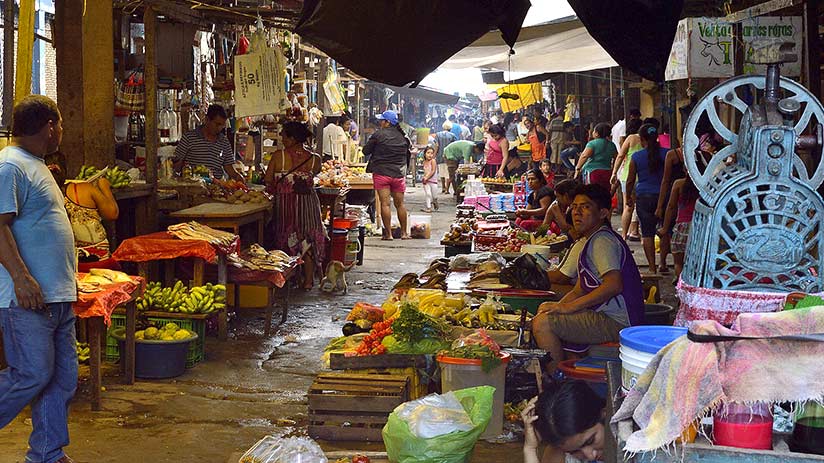 This huge open-air market is an excellent option to discover the culture and traditions of the locals. If you find yourself touring one of the many Peruvian amazon tours, you cannot miss this wonderful place. Located about 11 blocks from the Plaza de Armas, this market is one of the main shopping places for locals and tourists. Here, you will find everything from vegetables, fruits, medicinal herbs, shoes, technological accessories, aphrodisiac drinks, and everything you can imagine. Prepare to overload all your senses in this beautiful, busy, and chaotic place.
Meet the indigenous tribes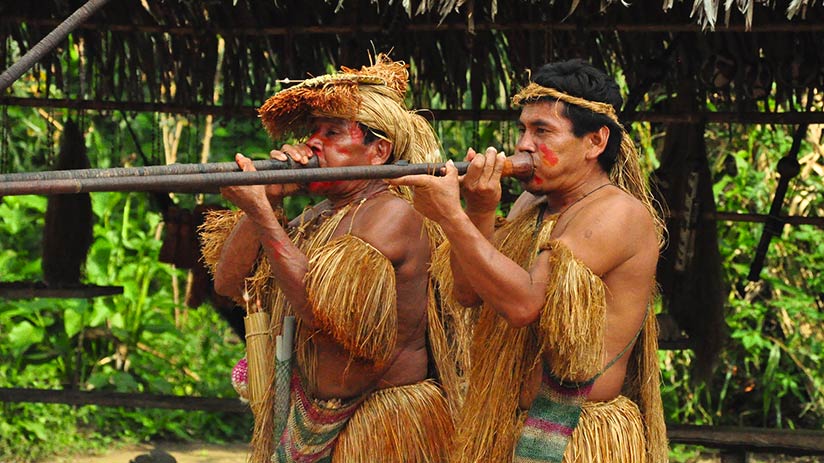 One of the best things to do in Iquitos is knowing the local and ancestral culture that this wonderful place has. For this, you can venture and meet the indigenous groups that live in the surroundings. Two main indigenous tribes live in the area: the Bora Bora tribe and the Yagua tribe.
The Bora Bora tribe is made up of approximately 2,000 people. They have their language: the Bora. Rubber production in the 20th century wreaked havoc on its population, decreasing its community by thousands.
The Yagua tribe is said to be one of the oldest in the entire Amazon. They suffered losses since the Spanish invasion, the diseases they brought, and the very production of rubber. The Yagua is currently the friendliest with visitors. They welcome visitors into their communities to show off their culture, beautiful traditional dances, songs, and more. If you are planning a trip to Peru you cannot miss these beautiful communities.
Travel to another dimension in a traditional ceremony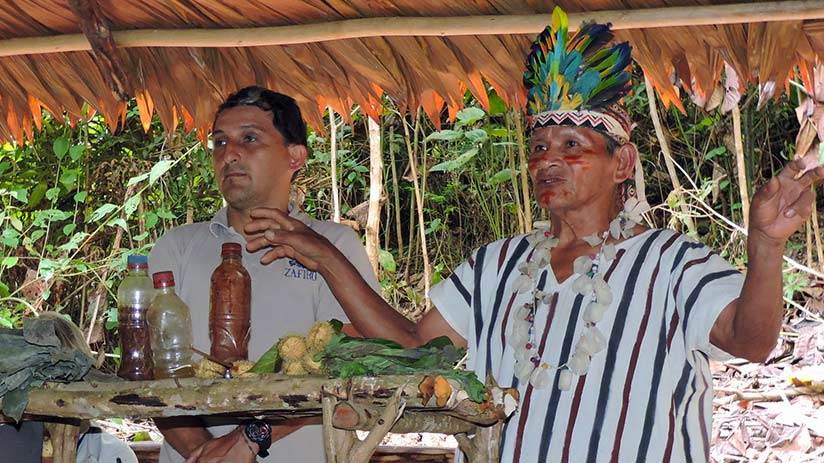 Whether in indigenous communities or with alternative medicine groups, you can take advantage and venture into one of the most ancient and traditional ceremonies in Peru. Ayahuasca is a traditional and ancestral indigenous medicine that has become very popular in recent years. This powerful preparation is made from a combination of different plants that together make possible a very strong psychoactive compound that is not suitable for the faint of heart. The preparation sends visitors on a very deep psychedelic journey to the darkest corners of human consciousness. Some claim that they have restorative effects for those with very strong trauma or addictions. Others simply open up to an internal spiritual search.
It is important to note that you cannot take this preparation alone. It is very important to know who you are going to do it with and feel safe meanwhile. So always look for groups or companies with a good reputation for offering these beautiful and sacred ceremonies. Being part of this ceremony is one of the best things to do in Iquitos.
Embark on a luxury cruise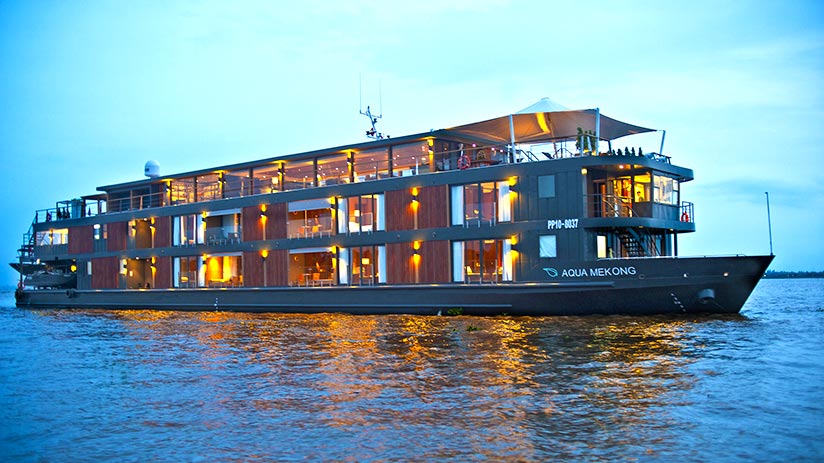 Those seeking a more luxurious experience may choose to tour the Amazon River on a beautiful cruise. Discover one of the most famous landmarks in Peru aboard an all-inclusive cruise. This is one of the most sophisticated ways to appreciate the Amazon River. The cruise also offers different activities to enjoy inside or outside, such as canoeing trips to the different tributaries of the river. Dare to experience the Amazon in all comfort.
TO CONCLUDE …
Inside the Amazon, you will find many things to enjoy, from totally free activities to more exclusive ones. Enjoy a destination like no other and everything it has to offer. Machu Travel Peru hopes to have been of help in planning your next vacation.
---