When a future visitant planning their Peru tour, he thinks of high Andean mountains, fog, mysterious Inca archaeological rests on top of mountains, Andean people dressed in colorful clothes, walking over slopes, and grazing llamas and alpacas. Besides the famous Nazca Lines and the Amazon. However, Peru is much more than the Andes and high mountains, the country also is beaches, sea, and deserts. Precisely, if you come to Peru, It is a high probability that you'll arrive first at Lima. Due to the location of the International Airport Jorge Chavez. That is why the Machu Travel Peru group has prepared an article to show you a list of the best things to do in Lima. We hope that this is an incentive for you to dare to know the Peruvian capital and not consider it a passing place.
20 best things to do in Lima and some important tips
1. Plaza de Armas of Lima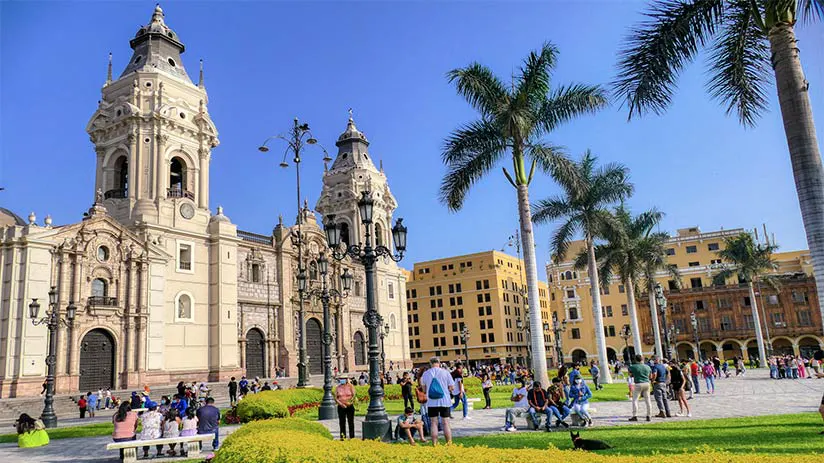 Address: Historic center of Lima
Opening hours: Public area
Entrances fee: Free
You will find some famous historic buildings around Plaza de Armas of Lima such as the Government Palace (the current residence of the president of the republic), the Cathedral of Lima, the Municipal Palace, and the Archbishop's Palace. All of them present beautiful facades of baroque style.
Palms, well-care gardens, cozy banquettes, and stone slabs complete the Plaza. Also, if you are there, you can take advantage of the change of guard of the soldiers on the Patio of the Government Palace, every noon. The show is free.
Also, a quaint pedestrian street connects the Plaza de Armas with San Martin Square, "the second Plaza de Armas of Lima", equal in beauty. Jiron de la Union is the name of this pedestrian street and is another must-see attraction on your visit. There, you'll find historic buildings like Casa Aliaga. This house dates from the foundation of Lima, and to date, it is run by a single noble family from Lima, the Aliaga. Besides the Palais Concert, a coffee bar building where the intelligentsia of Lima and some famous people met in the 60s, 70s, and 80s.
a. History
Indeed, the Plaza de Armas construction dates from 1535 when the Spanish Francisco Pizarro decided to fund the capital of a recent nation there. In this sense, many scholars affirm that the surrounding buildings had a high Renaissance bill of construction. Unfortunately, the earthquake of 1746 left these in ruins. From there, their later reconstructions present a Baroque face to the Plaza de Armas. Also, the central bronze fountain, built in 1651, is the only building still standing to this day.
2. Lima's Cathedral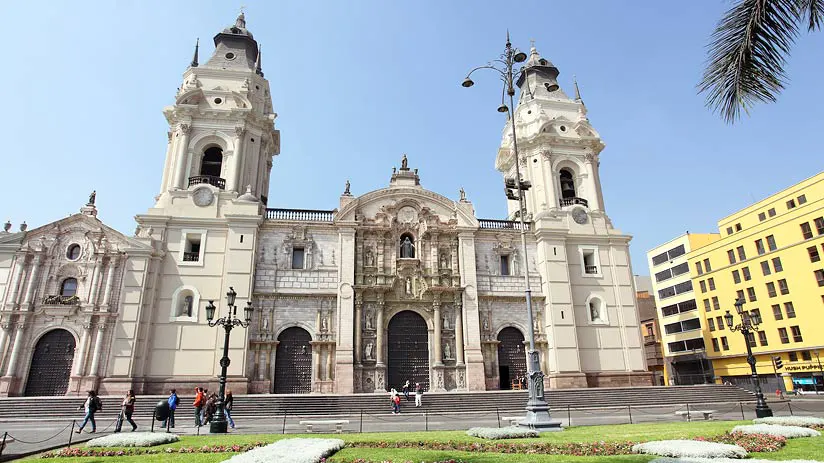 Address: Plaza de Armas east side
Opening hours: From Monday to Friday 9 am to 5 pm. Saturdays from 10 am to 1 pm
Entrances fee: $3
It is, maybe, the most beautiful one among buildings in Lima historic center, on the east side of Plaza Mayor. If you are going to stay for some days in Lima, you cannot miss this imposing building with an awesome Renaissance facade.
Inside, you can denote various styles that predominate in its construction, like its beautifully carved choir, and a slender Christ statue located in the St. John the Baptist Chapel among others. Also, inside the temple are the remains of the famous Francisco Pizarro, the founder of Lima. In addition, one of the most pleasing things to look at is its ceiling, which simulates a starry sky. Behind the main altar, there is a small museum of religious art and a rest patio, which is accessed by paying an entrance fee of $3. Don't miss out on this beautiful building!
3. Takes perfect Lima's view from San Cristobal hill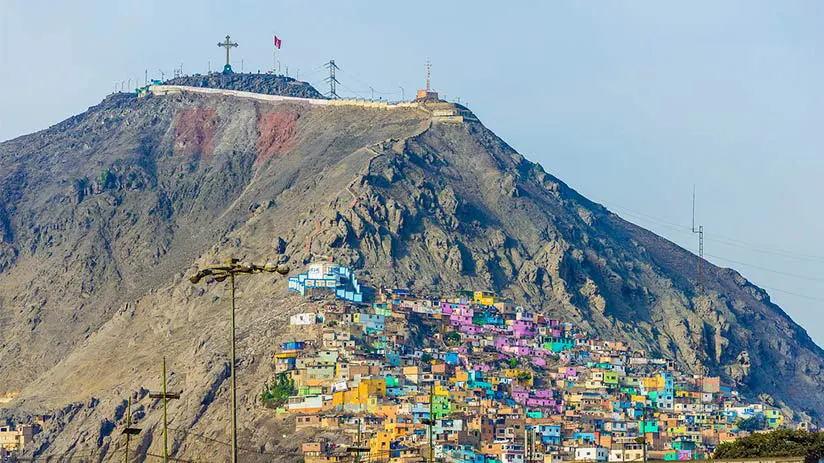 Address: Rimac districts
Opening hours: Public area
Entrances fee: Free
Of course, San Cristobal is the most iconic hill in Lima. Its more than 400 meters of altitude make it a perfect natural viewpoint to the Historic Center. In Incas times, the hill was an important Apu (Quechua appellative to name the sacred mountains considered deities), and the ancient Peruvian made offerings there. However, at the conquest time, with the purpose of eradicating any vestige of pagan religion and imposing the Catholic one, the Spanish conquerors situated a giant cross on the top. Nowadays, on holy weekdays, the neighbors carry out a pilgrimage up there, and any tourist can participate because it is a public monument.
The hill is located northeast of Lima's Plaza de Armas, crossing the Rimac River, a bit far from the historic center. For this reason, our only recommendation is don't visit it alone. Happily, there are tourist groups joined in the Plaza de Armas, usually, they arranged buses to go and return from San Cristobal Hill, the cost is $6 dollars round trip.
4. Visit South America's oldest Chinatown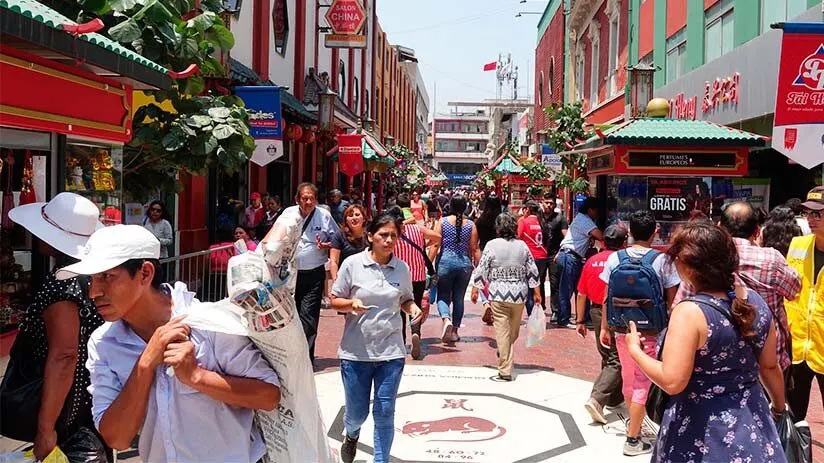 Address: Lima's historic center
Opening hours: Public area
Entrances fee: Free
When we say that Peru is a mix of cultures formed over the years, it is not a joke. The Chinese influence came to Peru from the Asian province of Capon in 1849, to replace the slave labor in the sugar and cotton plantations of Peruvian coasts. Little by little, the Chinese approached the Peruvian capital, and 1854 was the year that they occupied the first blocks of Capón Street (Current Chinatown). In this form, this famous neighborhood was one of the first created in South America. Consequently, the first Chinese restaurant began operations with the traditional cuisine of Capón, Pekin, and Sichuan provinces. The purpose was to remember their traditions, costumes, and cuisine.
In later years these cuisines were melting with the Peruvian cuisine, resulting in an amazing cuisine, the Chifa.
Today, you can visit it and taste the Chifa cuisine with dishes that combined the best of both worlds, Peruvian and Chinese gastronomy. Also, among markets in Lima, you'll find this one with typical Asian products brought out directly from China. Besides experts in card reading, horoscope. In the same way, we recommend visiting it in a group, never alone.
5. Catacombs of San Francisco church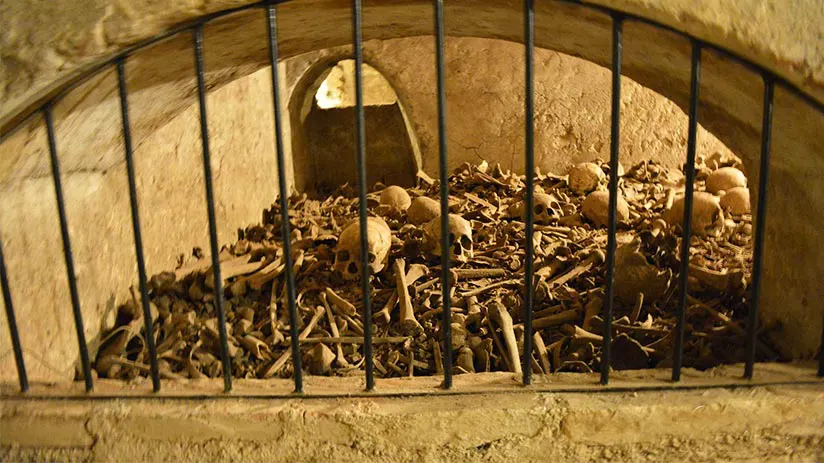 Address: Lampa Jiron 15001, Historic Center Lima
Opening hours: 09 am to 05:30 pm
Entrances fee: $4 per person (Only for the Catacombs area) you'll have to join a group. Usually, individual visitors wait 45 minutes to form a group (of 15 persons) in front of the Catacombs entrance and to start the tour with a friar-guide who explains the general Catacombs history
The monastery and church of San Francisco de Asis were built in 1600. This beautiful baroque church was the most imponent in all of South America and hosted important collections of ancient knowledge books. Nowadays, its ancient library is intact, and still open to the public, and visiting it is a travel to the past, literally. However, the more than 25,000 crypts situated in the basement of the convent are the icing on the cake here.
It is well known that the main churches were used like cemeteries, in the absence of these in the oldest cities. In those times, Lima didn't have its current cemetery called Presbitero Maestro (Master Presbyter) Hence, the population of that time believed that being buried in a church would help them to be closer to God. Therefore, more than 70,000 Lima people chose these crypts to be buried.
Nowadays, the bones and skulls of these people are arranged in circles and shaped more friendly to the eye. However, the fear does not go away the first few times you visit the catacombs.
6. Know its history through Nation Museum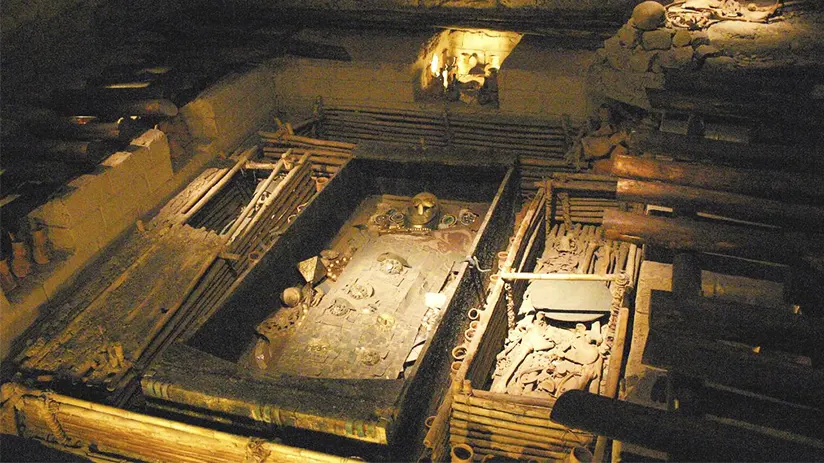 Address: Javier Prado Este Avenue 2465. San Borja district, Lima
Opening hours: From Tuesday to Sunday from 09:00 a.m. to 05:00 p.m
Entrances fee: Free for all public
Among all the Peruvian museums, the National Museum is the only one that is worth visiting (of course, including the Larco Museum and the Lima art museum). This is the largest museum in Peru and covers all historical stages of the Andean country, from the Stone Age to the Inca era. In chronological order, well-lit and distributed rooms host objects, textiles, ceramics, sculpture representations, and scale models of Machu Picchu and Nazca Lines. But, if we have to stand out one thing among all museum collections, it is the replica of the tomb of the Lord of Sipán, the first complete mummy of Moche pre-Inca culture found in the Huaca Rajada sector, north of Peru. Even, some scholars affirm that this find is similar in importance to that of the pharaoh Tutankhamun in Egypt. Just fantastic!
7. Tour the Larco Museum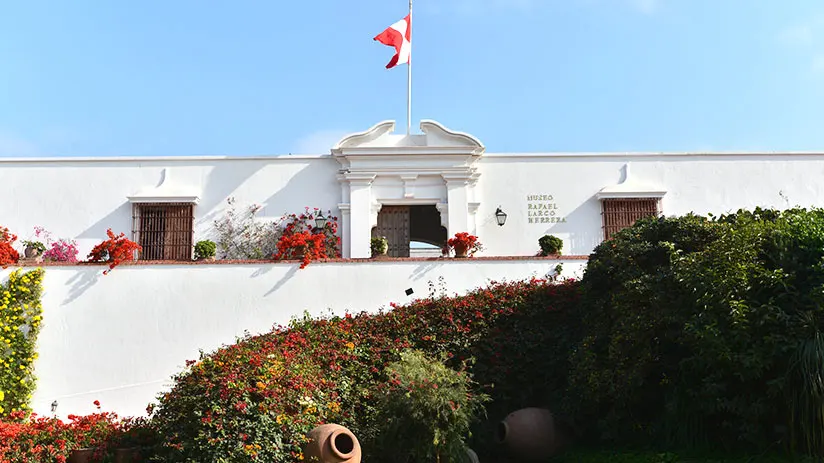 Address: Bolivar 1515 Avenue, Pueblo Libre district, Lima
Opening hours: Every day from 10 am to 07 pm
Entrances fee: General $9 / Elderly people $7 / Students and underage (Up to 17 years old) $4
The Larco Museum is another mandatory museum stop on your visit to Lima. This giant museum has one of the largest and most varied collections of pre-Columbian art in all of South America. It is located on the south side of Lima center, in an old 18th-century viceroy mansion full of artifacts from the pre-Columbian era.
However, its large collection of erotic ceramics belonging to the pre-Inca culture Chimu is one of its highlights. Furthermore, it hosts many temporary exhibitions of other important pre-Inca like the Moche, Tiahuanaco, Chavin, and Paracas, among others. For all these reasons, the Larco Museum is one of the buildings in Peru you should get to know.
As if that were not enough, this museum was the first museum in the world to open its warehouses to the public. With more than 40,000 pieces of ceramics, not all are available to be shown in the rooms and cabinets. For this reason, the museum allows you to examine thousands of ceramics that are not on display in its warehouses. Also, if you want to take advantage of your experience at the museum, it is best to take a guided tour. Besides, in this way, you make sure you know the fascinating history of these objects.
8. Taste a Peruvian gastronomy tour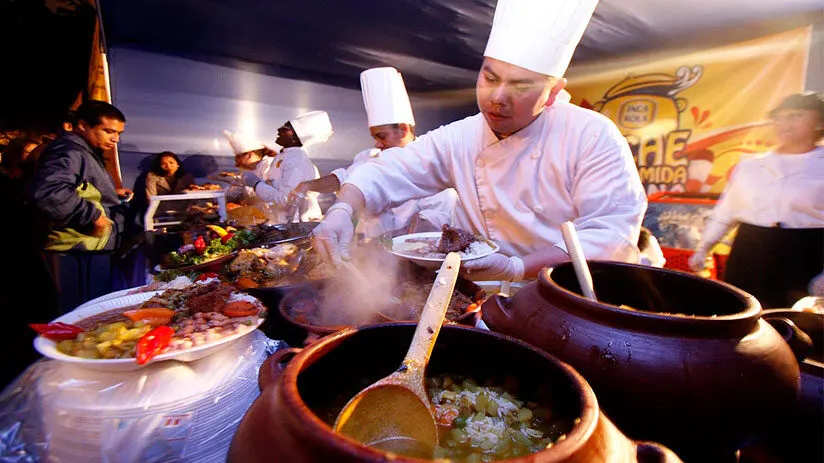 Address: Along districts of Lima like Miraflores, San Isidro, and Barranco
Opening hours: Usually, every day from 11 am to 22 pm
Entrances fee: Free, previous reserve
The boom of Peruvian gastronomy in the last decades positioned The Andean country cuisine among the best in the world. Mexican, Italian, French, and even Chinese share a table with the Peruvian one. Not in vain, the prestige Britain ranking "The Fifty Best" considered Lima as the gastronomic South American capital for several consecutive years.
This ranking is responsible to elaborate a list of the fifty best cities with good food and restaurants worldwide. In this sense, the restaurants in Lima also appear with their three most important representatives like Central (A restaurant of Novo-Andean cuisine that combines native ingredients with techniques of international cuisines), Maido (a restaurant of food fusion between Japanese and Peruvian cuisine), and Astrid & Gastón (Traditional Peruvian restaurant with the best of creole cuisine) inside the first 10 best one worldwide.
Besides the previous restaurants mentioned, La Mar and Punto Azul Cevicherias (Seafood restaurant), and Madam Tusan Chifa restaurant (Chinese-Peruvian restaurant) among others will be waiting for you.
9. Enjoy the best Ceviche in the world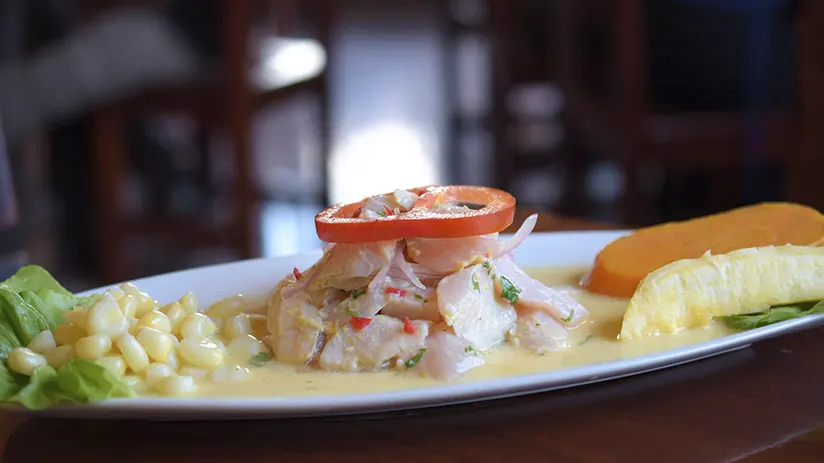 Address (Canta Rana Cevicheria): Genova 101 Street, Barranco, Lima
Opening hours: Sundays and Mondays from 11 am to 05 pm. Tuesday – Friday from 11 am to 10 pm
Entrances fee: Free. You'll have to stand in line to get a table
Peruvian ceviche is listed as the best in the world and was the dish that led the Peruvian gastronomic boom in the world.
Ceviche is a dish made from raw fish marinate. And ingredients like lemon juice and salt are its main ingredients. This is served with fresh onion slices, sweet potato, corn, and the famous Tiger Milk (Spicy sauce made with fine pieces of fish, diced chili, lemon juice, and a little fresh milk)
You will find numerous restaurants offering ceviche on the menu, but the best places to enjoy it are the cevicherías (logically). In Lima, you will find thousands of these, although some are much more renowned than others. Our recommendation? It is the Canta Rana in the cosmopolitan district of Barranco. However, other good points are the AlTokePez and Punto Azul located in the Surco district, and La Mar Cevicheria located in Miraflores. It is definitely one of the culinary dishes that you cannot miss in Peru.
10. Taste the famous Pisco Sour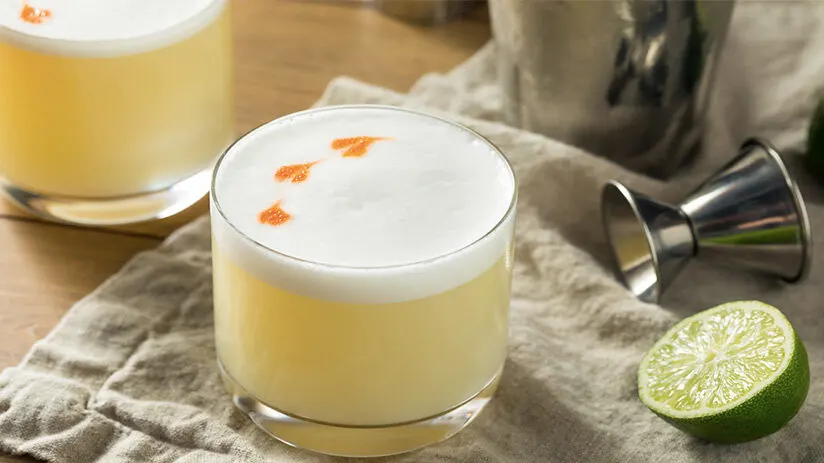 Address (Pisco Museum): Junín Jiron 201, Historic Center of Lima
Opening hours: Sundays from 11 am to 06 pm. Fridays and Saturdays from 11 am to 11 pm. Mondays to Thursdays from 11 am to 10 pm
Entrances fee: Free with previous reservation
If you are looking for something to do in the great Lima nightlife, a Pisco Sour will be your perfect accompaniment. The distillation of green grapes results in Pisco and everyone can consume it alone (like schnapps) Or combined with lemon juice, ice, egg white, Jelly syrup, and a few drops of Angostura bitters (the world-famous Pisco Sour)
The Peruvian inhabitant has been consuming it since pre-Inca times. Peru even has a city named Pisco. But if you want to combine history, flavors, and a good Pisco cup, the Pisco Museum is your place. Of course, what will really make your stay in the museum memorable, will be an incredible atmosphere and the different Pisco cocktails you'll enjoy, besides the already famous Pisco Sour.
However, there are many other options to taste this delicious and fresh Peruvian cocktail, like the bar of the Gran Hotel Bolivar, La Mar Cevicheria, and the bars of Hotel Maury and the Country Club of Lima.
11. Take a walk by a Cat's park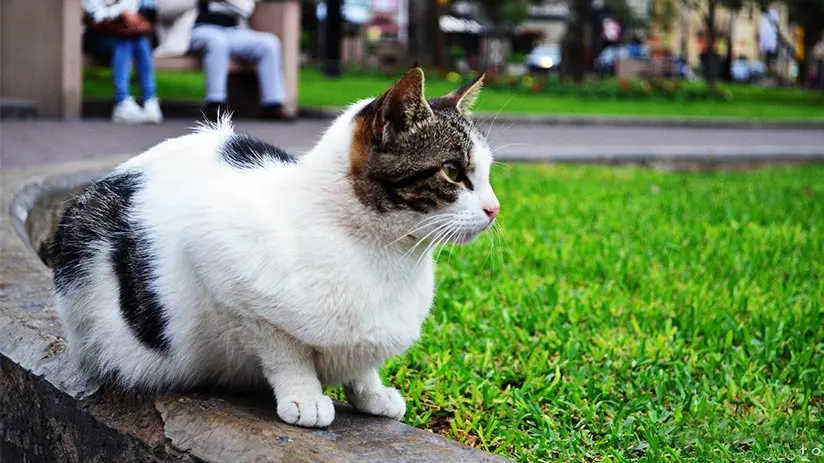 Address: Jose Larco Avenue 15074, Miraflores district, Lima
Opening hours: Public area
Entrances fee: Free
As happens with large cities, all its original inhabitants left the historic center to settle in much larger surrounding urban areas, Lima is no exception. Consequently, surrounding districts like Miraflores, San Isidro, and Surco began to host inhabitants coming from the historic center. Precisely, the main square of Miraflores, called John F. Kennedy Park, is the residence of many funny cats, and visiting it is one of the best things to do in Lima. These felines spend the day walking through the green areas of the park, resting under the sidewalks, on the branch of a tree, or simply walking with park visitors. They are friendly and let themselves be caressed and fed.
Nowadays, there are more than 70 cats in all of Jhon. F. Kennedy Park. Their origin is totally unknown. Some affirm that the Cats belonged to a near convent with rat problems and a good day, these deserted the cloister. Others affirm that the cats were placed there to exterminate a plague of rats in the 1980s, and have remained there ever since. Either way, if you have the opportunity to take a walk by this park on your days in Lima, we recommend you bring cat food and fed them, as a kind of offering to these animals.
12. Refresh in the Magic Water Park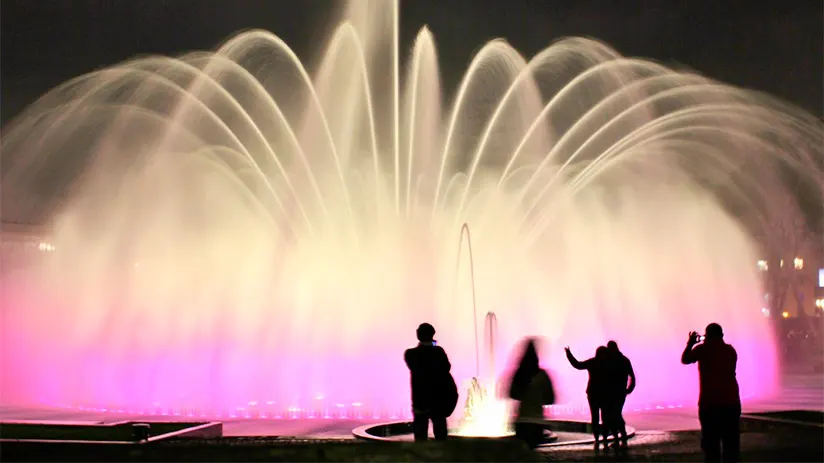 Address: Madre de Dios S/N, Lima
Opening hours: Monday to Sunday from 02 pm to 10 pm
Entrances fee: $2 and for underage (Less than 5 years) entrance is free
El Circuito Mágico del Agua or Magic Water Circuit is located in the Parque de la Reserva, a beautiful green zone in the center of the Lima district, that once housed the old Lima airport.
This beautiful park does not have slides, but it does have more than 15 water sources and light shows to observe. Each water fountain emits coordinated water jets, forming shapes and figures in the air. The most popular zones are the Maze of the Dream, where you'll have to go to the center of a platform, dodging jets of water coming out of the ground. Be careful not to get wet!
The water tunnel is another great attraction. More than 50 small faucets shoot water at a certain angle form it. The fall of the water from each faucet forms a tunnel of uniform water, through which visitors can pass and take photos inside it.
But, if you are looking to spend a nice moment, the following water font will be your place. You can go directly to the main water source, where big canyons shoot water to more than 80 meters. This spectacle combined with Peruvian music and holograms in 3D (that are formed over the water waterfalls) is the main dish of the night.
13. Take a run or bike on the Reserve Boardwalk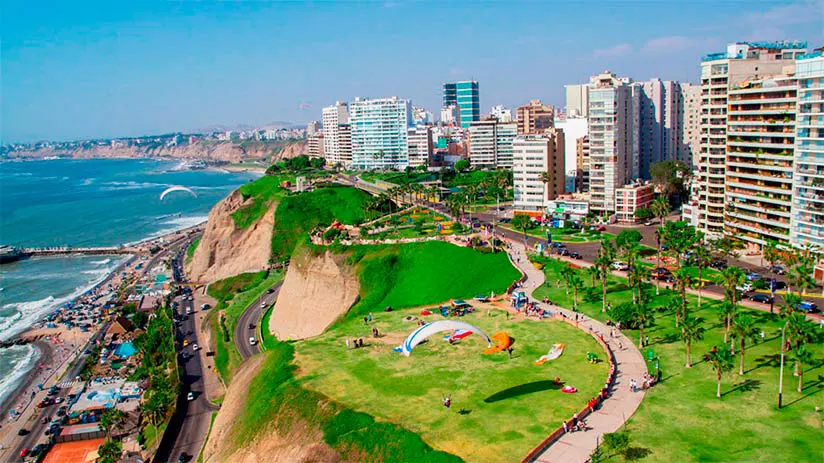 Address: Malecon de la Reserva, Miraflores district, Lima
Opening hours: Public area
Entrances fee: Free
As we mentioned earlier, the majority of Lima people moved from the center to Miraflores, San Isidro, Barranco, Surco, and La Molina districts, searching for more green zones, wider areas, and the beauty of the sea. The last one is the case of Miraflores. Precisely, this last district hosts the majority of hotels. And you, as a tourist, will share the lifestyle of the Limenean people.
This means, going for a run very early by the boardwalk of Miraflores or Malecon de la Reserva. This is a wavy pedestrian route that borders the coast and the sea. Parks, shops, restaurants, and endless activities to enjoy make up its 6-mile stretch. While running, you'll enjoy the cool breeze from the coast, the imposing sea, and other people from Lima doing exactly the same. Of course, it is better if you are going over a bike, and with the guidance of a tour guide. A bike tour will offer you the possibility of making stops at many interesting points like Larcomar Shopping Center or Love Park.
14. Get to know the charming Love Park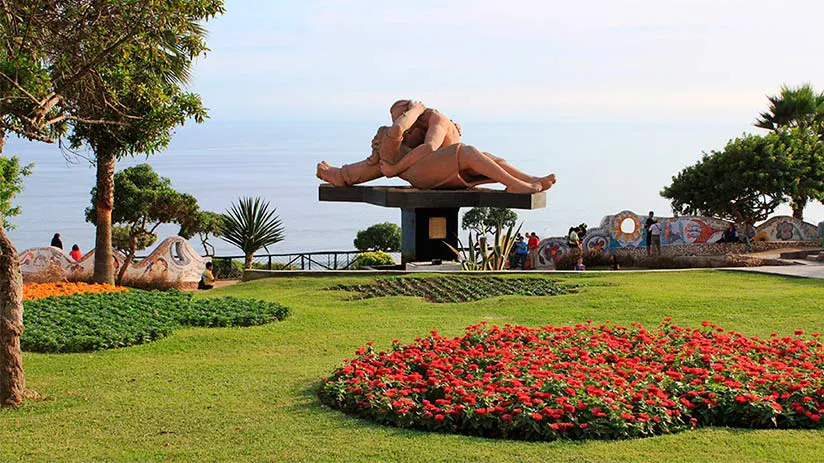 Address: Malecon Cisneros Avenue 15074, Miraflores, Lima
Opening hours: Public area
Entrances fee: Free
There is no more romantic place in all of Lima than the wonderful Parque del Amor on the Malecón de Miraflores. If you are looking for a place to watch the sun fade over the sea in a red sunset and enjoy good company, then we recommend you visit this place. The Park has a unique design that attracts both young and old. It features mosaic designs created with pieces of tiles that line up on different walls. Similar to the effect of the Spain master Antoni Gaudi for Parc Güell in Barcelona, Spain. In addition, in the park, you can see lines of different Peruvian poets. Among them, you can find Augusto Tamayo Vargas and Abelardo Sánchez León. The park also has some nice trails that line the cliffs.
The centerpiece of the Park is a sculpture situated in the middle. "The Kiss" is the name of this sculpture and it represents an embracing couple. The Peruvian sculptor Victor Delfín is its author. Therefore, the park is a perfect escape from the different bustles of the city to enter the world of lovers and the sea. Surely among the many tours in Peru, this beautiful place will be on your itinerary.
15. Stroll through Miraflores and Larcomar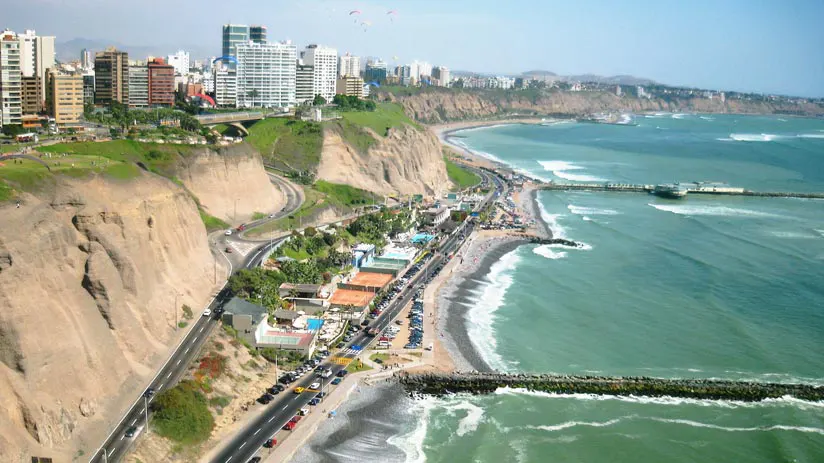 Address: Miraflores District. South of Lima Center, Peru
Opening hours: Complete district area
Entrances fee: Free
Miraflores is one of the most tourist sites in Peru. Being able to visit this district during the summer is the best time to enjoy it and Lima, too. Your walking trip can begin from its beautiful boardwalk, performing different activities such as paragliding (from the lighthouse of the Navy located on the cliff of Antonio Raimondi Park), going running or biking through the Malecón de la Reserva (Boardwalk), going shopping to Larcomar (A shopping center situated inside a cliff with amazing sea views), finishing in its beautiful beach, where you can practice surfing, paddle, fishing, sailing among other activities.
Also, Miraflores is a wonderful neighborhood where you can find some of the most important high-end restaurants in Lima and, obviously, Peru. Many of these restaurants were voted the best in the world like La Mar Cevicheria, Punto Azul Cevicheria, Central Restaurant, and Madam Tusam among others. So if you are looking to enjoy our renowned gastronomy, this district will not disappoint you. In addition, it is one of the busiest tourist sectors. So you will not only find different high-quality restaurants but also 5-star hotels and accommodations.
16. Enjoy Barranco's culture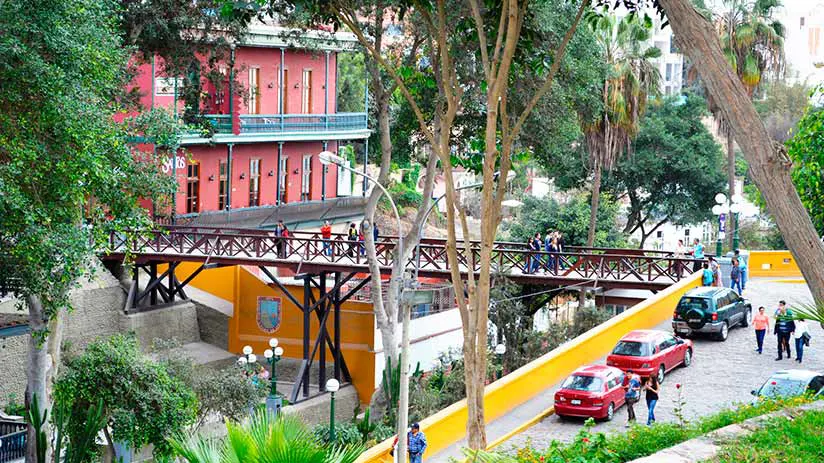 Address: Barranco District. South of Lima Center, Peru
Opening hours: Complete district area
Entrances fee: Free
Barranco is one of the most artistic and cultural districts within the capital. If you are looking to have a good time in one of its bars or visit its many colonial mansions, this is your place. Barranco offers many things to do in Lima, and its wonderful street art is proof of that. Barranco is the so-called Bohemian district of Lima. It is an excellent place to stroll during the day and afternoon and enjoy its lively nightlife.
With so many things to do in Barranco, you have to visit this place at least once. One of the must-see places in the Barranco neighborhood is the Puente de Los Suspiros. Legend says that if it is your first time crossing this bridge, you have to hold your breath and make a wish while crossing it.
17. Surf on Lima's beaches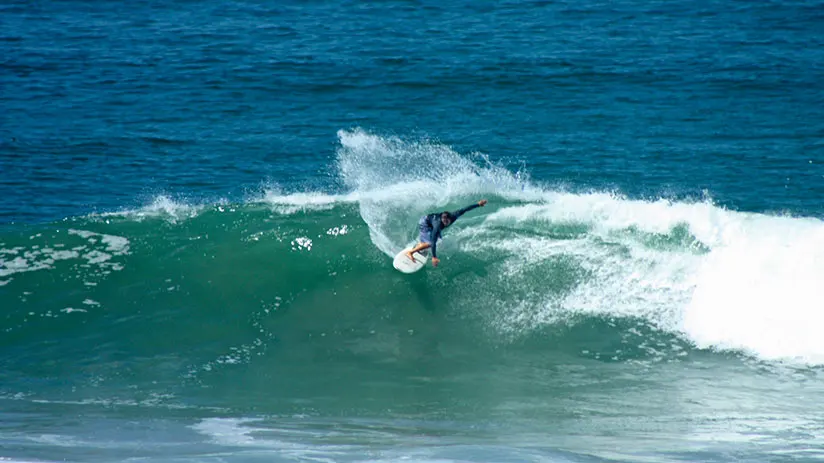 Address: Miraflores and Barranco district. South of Lima
Opening hours: Public areas
Entrances fee: Free
Lima was founded at the edge of the sea. Someone affirms that its Spanish founder Francisco Pizarro searched for a big esplanade with access to the sea to escape quickly if the Incas (Ancient inhabitants of Peru lands) revolted against him. Either way, in Lima you will find excellent beaches to practice the Peru sport of excellence, the Surf. No matter if you are in the best time to visit Lima, the waves there always are available. The coasts of Miraflores and Barranco are bathed by a silvery, milky sea, with gentle waves (most of the time) and cold waters of 15º Celsius (59º Fahrenheit), perfect for grabbing a board, a wetsuit, and learning to slide on its waves.
Even, you will find some Surf Schools on their coasts of gravel and boulders, open for the curious and public for 2 hours of surfing (1 hour of practice and the other one to the action)
However, if you are more beautiful sea landscapes, and activities more relaxed, the craft fishing over the Barranco Sea may be perfect for you. Without mentioning the sailing activity in the luxury yachts in front of Miraflores coasts. All will depend on you, the options are there!
18. Go paragliding over the coast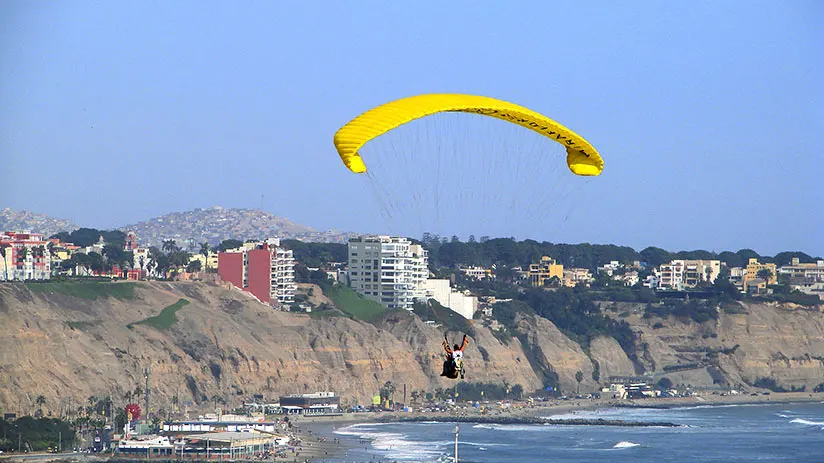 Address: Miraflores coast (cliff), public area
Opening hours: Public areas
Entrances fee: Free
Miraflores seems to have become the modern center of the Andean capital. Almost all the important activities of the city are concentrated on its shores. But the icing on the cake is, undoubtedly, the paragliding in Lima. If you ever saw photos of Lima from above, showing its great white buildings, on its wonderful cliffs, bathed by a calm sea, these photos were taken by an enthusiastic visitor from a paraglider (Commercial drones can't reach such high heights)
Close to the Marine lighthouse (Faro de la Marina) situated halfway up the cliffs of Miraflores, you will find many paragliding soaring through the skies, and over the sea. A paragliding company is located just on one side of this lighthouse, offering flights of 10 to 15 minutes in tandem (with an instructor-guide person driving the paragliding, and you located behind him) with a cost of $80 to $100. The experience is matchless, and you'll fly feeling the cold breezes of Lima's beach over your face, with amazing views and unique adrenaline. Listen to us, you would make a big mistake if you don't dare to take paragliding!
19. Explore Huaca Pucllana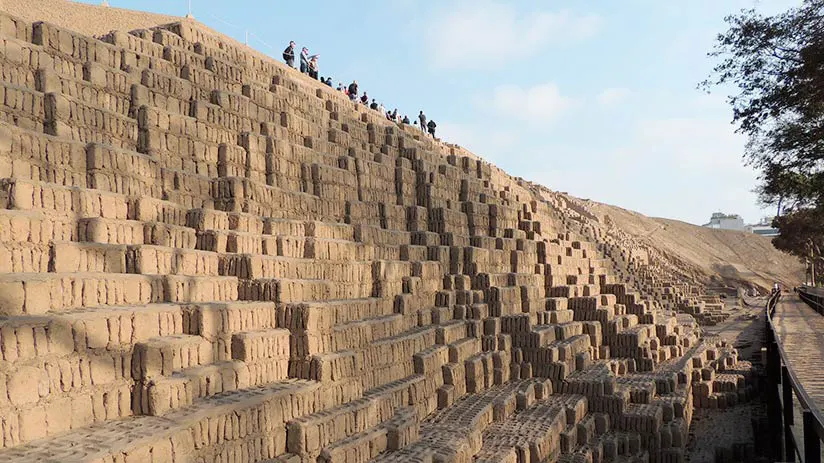 Address: General Borgoño Street, block 8, Lima
Opening hours: Wednesday – Monday (Tuesday closed) from 09 am to 05 pm. Night visits: Wednesday – Sunday from 07 to 10 pm
Entrances fee: $3.50 for adults and $2 for underage (under 12 years old). Night visits: $4.50 for adults and $2 for underage (under 12 years old)
In the middle of the Miraflores neighborhood, one of the most surprising things to do is to visit the Huaca Pucllana. This clay and adobe structure formerly functioned as a ceremonial pyramid and administrative side of the Lima Culture during the pre-Columbian era. And it has survived for over 1000 years, being built between 200 and 700 AD. Today, this archaeological site is located in the middle of the heart of Miraflores and is one of the many attractions that you cannot miss visiting in Lima.
The contrast between the surrounding commercial buildings and this pyramid is striking. Today you can enjoy a wonderful site tour and its adjoining museum. Or even, why not try a delicious dish in your wonderful restaurant? That's right, the site also has an amazing Peruvian cuisine restaurant worth trying.
20. Fascinate by the biodiversity in the Park of Legends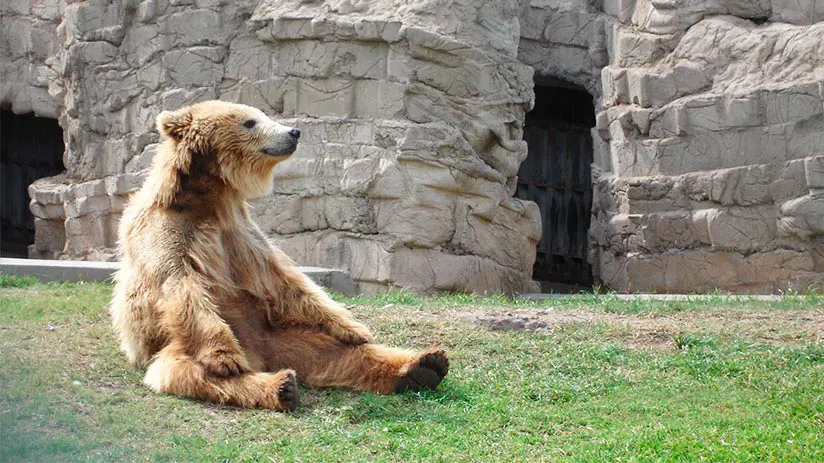 Address: Parque de las Leyendas 580 Street, San Miguel district, Lima
Opening hours: All days (Holidays included) from 09 am to 05 pm
Entrances fee: $4 per adult and $2 for underage (from 3 to 12 years old)
If your purpose in Peru is to visit Cusco, Machu Picchu, and some other Andean attractions, without time to explore the amazing Amazon, we propose you allocate one day in your Lima stay, to visit the Parque de las Leyendas (Park of the Legends). There is the most complete Peruvian zoo in the country. Moreover, you'll be able to see the best examples of the great Peru biodiversity, of both flora and fauna. The best of all is that all these animals are distributed in three zones, the Jungle zone (The most interesting) with awesome lions, tigers, jaguars, bears, black caimans, and harpy eagles among others. The Sierra area with the best specimens of llamas, alpacas, vicuñas, guanacos, and viscachas. The coastal area cannot be missing impressive specimens of sea lions, seals, Humbolt penguins, dolphins, pelicans, and much more.
Besides these animals, the park offers a food court with the best of Peruvian cuisine and a giant ice cream zone.
"WHEREVER YOU GO BECOME A PART OF YOU SOMEHOW"
A visit to Lima doesn't just have to be a temporary stop for our adventures in Peru. It is an excellent place to enjoy a few days surrounded by luxury, architectural beauty, and delicious food. So we recommend that all our visitors spend a few days in our capital. As you can see, there are many things to do in Lima. These are just a few examples of all that this giant city has to offer. If you are interested, you can consult our many travel packages. So that you can get to know Lima for yourself. Together with Machu Travel Peru, we hope to have been of help to your plans. We look forward to your prompt visit to the Andean country.
---