The fertile valley that was once inhabited by the Incas is today home to several typical Andean villages, where you can see the locals going about their daily lives. The different natural landscapes and magical sunsets will leave you speechless. However, there is not only natural beauty to see in the Sacred Valley of the Incas, like Pisac Inca town, Ollantaytambo fortress, Maras salt mines, and the rings of Moray. Adventure and adrenaline wait for you in its lands with Paraglide in Chinchero, Rafting in Urubamba river, and Rappelling in Pachar. Therefore, together with the travel experts of Machu Travel Peru, we have prepared a small article. So, you can know the best things to do in Sacred Valley. Join us to learn about some important activities within the region.
Besides Machu Picchu, the visit to Cusco without the Sacred Valley not is a complete visit to the ancient Incas capital. The Valley is located in the hydrographic basin of the Vilcanota River, northwest of Cusco, 34 km from Pisac (Its started point) and 63 km from Ollantaytambo (Its farthest point). The Vilcanota River carved the slopes of these mountains for centuries, forming the Sacred Valley of the Incas. Not in vain, the Incas considered their slopes and lands sacred, for their fertility and the quality of products they produced such as Kiwicha, Quinoa, and Corn among others. Nowadays, if we have a Sacred Valley map, we can realize that the river flows for more than 1000 meters, dropping from Urco (3150 m.a.s.l) to Aguas Calientes (2140 m.a.s.l) From west to east, crossing beautiful landscapes, fertile lands, warm microclimates, and important Inca rests.
Some of the most important things to do in Sacred Valley
1. Crafts and ruins in Pisac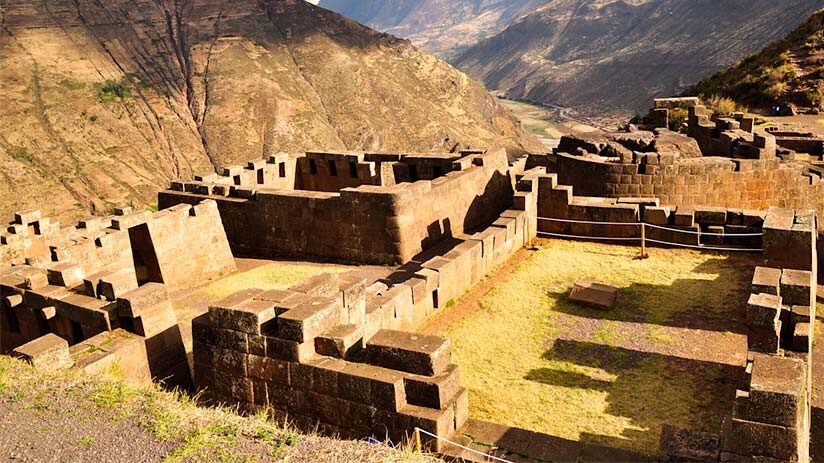 Visiting Pisac is one of the first and most important things to do in Sacred Valley. High on the hills above the town of Pisac, you can find the truly amazing Pisac ruins. The Pisac citadel, contemporary with Machu Picchu, is an Incas archaeological complex where the largest pre-Hispanic cemetery in America is located. Besides Incas, neighborhoods, squares, temples, and worship centers. The different Inca agricultural terraces that descend from the mountain area are called "Andenes" and are still used today. Pisac is one of the most important archaeological sites in Peru.
Handicraft market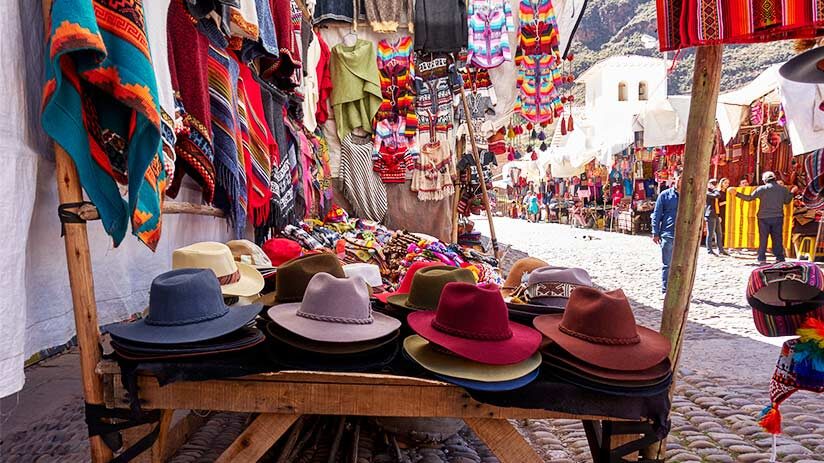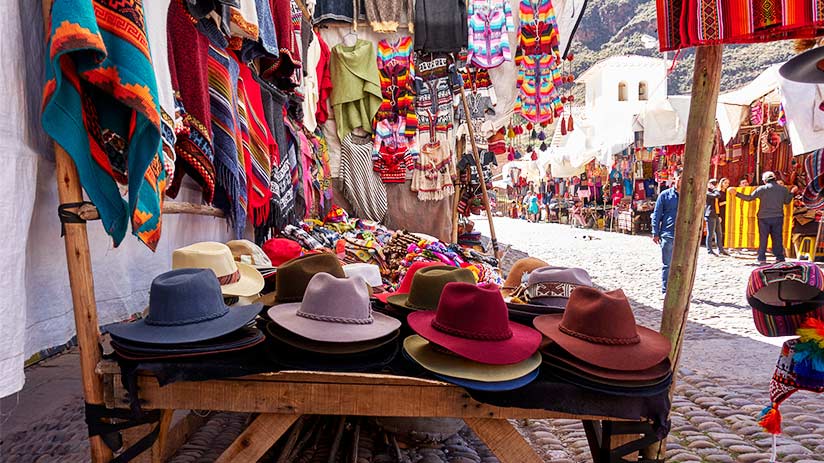 Pisac is popular for its huge and colorful market, a good place to shop for local handicrafts. The market is a constantly moving kaleidoscope of bright colors, with stacks of fabrics woven into intricate patterns of vividly dyed wool, paintings with Andean thematic, gold and silver jewelry, miniature sculptures, and even copies of "Cusco School" art style paintings.
You will see the Andean villagers dressed in their traditional clothes. The best day is on Sunday, but there are smaller markets on Tuesdays and Thursdays, all of them stationed in the town's main square. You can usually find a few vendors on any given day as well. While you may not find the high quality that you will find in artisan cooperatives in Cusco, you can be assured of a wide selection and lower prices, especially if you are prepared to haggle. The market stretches across the main square, where there is a beautiful old church.
2. Rafting in the Urubamba River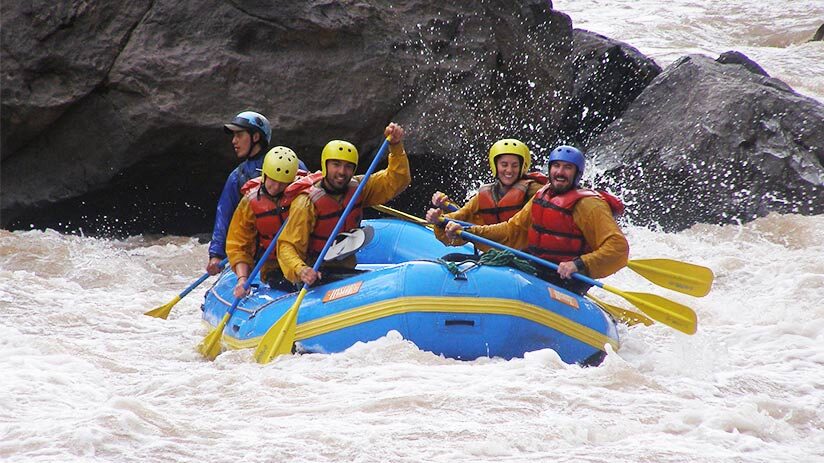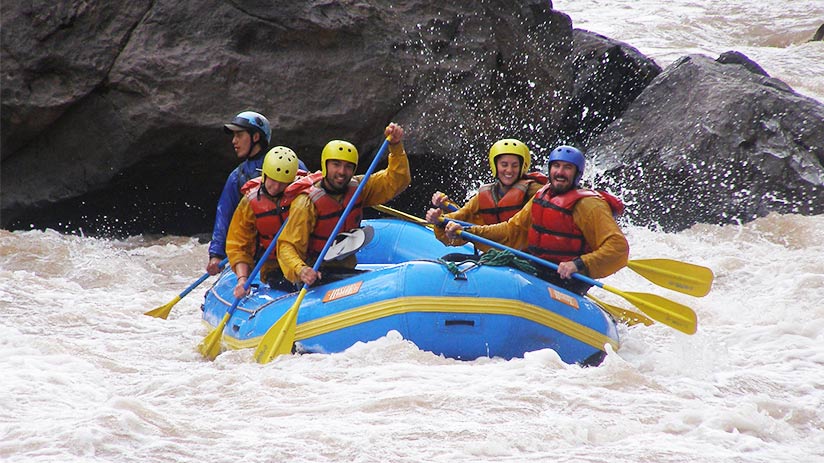 If you are a fan of adrenaline and adventure, the Sacred Valley will not disappoint, even it is included among the most interesting things to do in Peru. Just 57 kilometers from the city of Cusco, in the Urubamba district, you can find La Curva del Diablo (the devil curve). This is a curve that Urubamba (or Vilcanota) river makes, before getting to Ollantaytambo town and going into the jungle heading to Machu Picchu.
From this point begins the most famous rafting route inside the Sacred Valley. With moderate-level rapids, I and II to III, this rafting is done safely and is perfect for couples, entire families, and beginners. Soft rapids, beautiful landscapes, crystal clear water, and a unique experience will be waiting for you in this part of Cusco. Of course, don't worry about eh security, the tour operators there are certified, and have all safety equipment such as life jackets, helmets, experienced guides, and even 45 minutes of training before starting the tour. Do rafting is one of the best things to do in Sacred Valley!
3. Rappelling in Pachar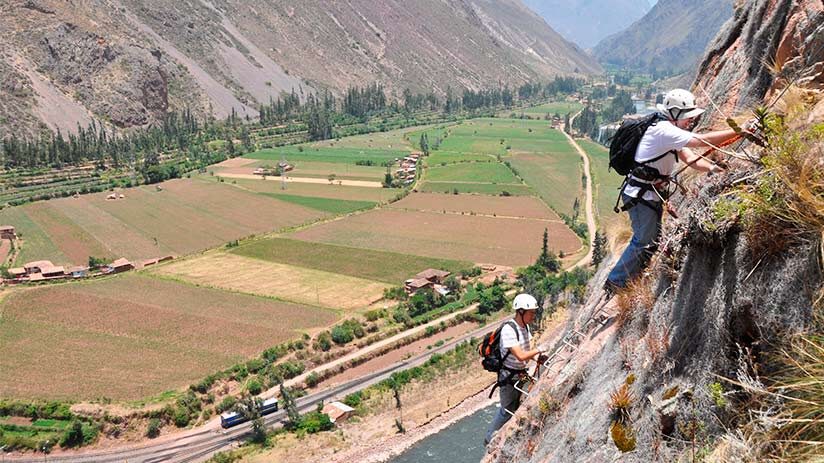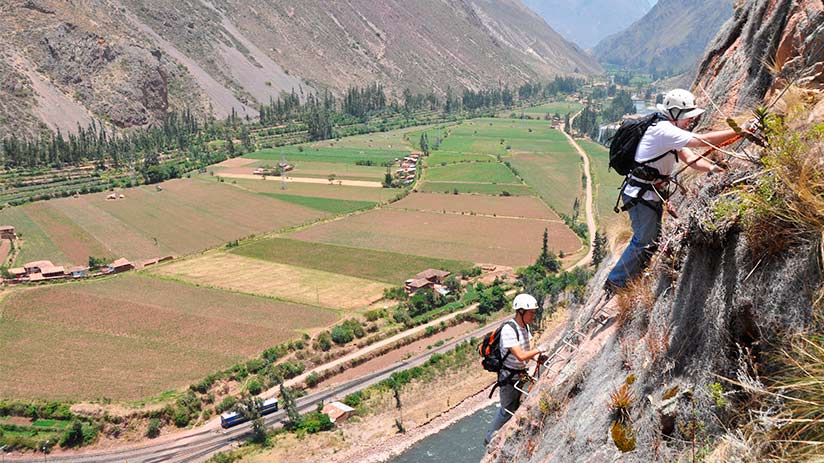 Pachar is the place where is located a little train station, the previous Ollantaytambo one. Just in front of it, crossing the Vilcanota (or Urubamba) river, is the zone of Rappelling and Zip Line in Sacred Valley. Specifically, over the slopes of a rocky mountain, you will see nails, stakes, and ropes imprisoned against those slopes. According to the specialists, the rappelling activity developed there is moderate, and always you'll be assisted by a security person who will put all the safety gear on you like harnesses, hip belts, helmets, and hooks and will hold the safety rope at all times during your ascent. The effort, challenges but, in the end, satisfaction will be waiting for you at the summit of this mountain. Do rappelling in Pacha have to be on your list of the best things to do in Sacred Valley.
4. Ollantaytambo Inca fortress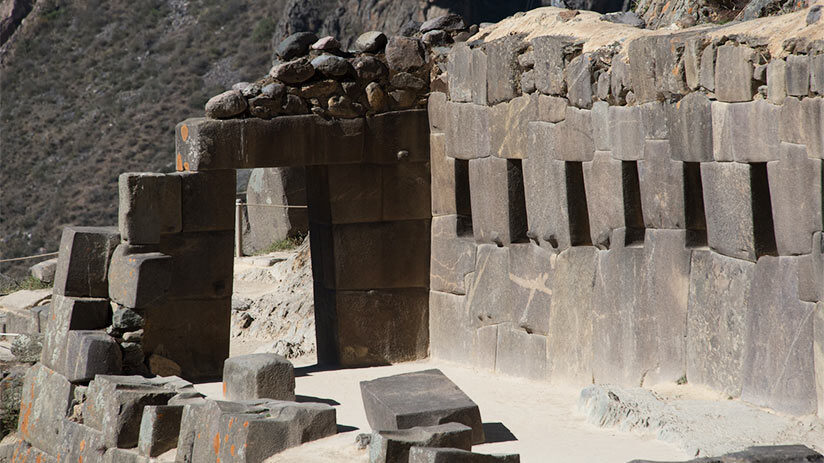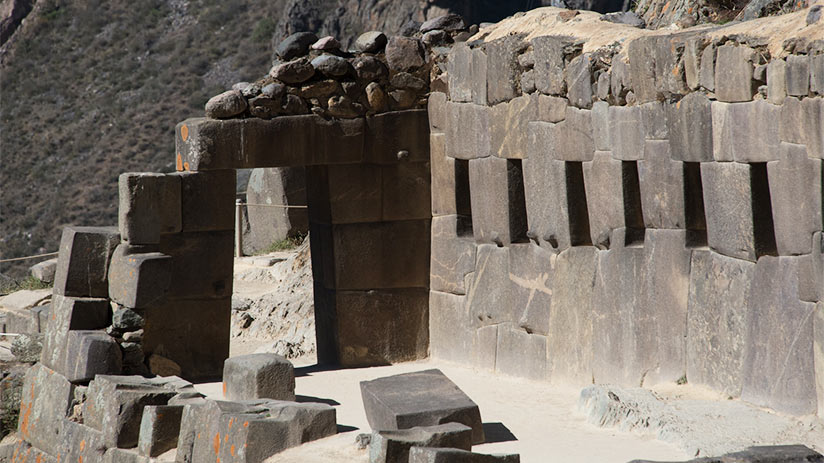 Continuing from Pachar, drive for about 10 minutes to Ollantaytambo. It is an obligatory stopping point on the way before entering the Jungle and getting some Machu Pichu tours. Being able to visit this fortress is undoubtedly one of the most important things to do in Sacred Valley. Go up the ancient stone stairs until the summit of the hill, seeing ancient Incas temples, Canchas or squares, well-carved stone walls, porches, niches, and a lookout towers that, together, served as a fortress of the Incas against Spanish invaders, during the escape of the Andeans people the jungle of Machu Picchu.
Also, the engineering genius of the ancient civilization (Inca) that once ruled here can still be seen in the corn terraces that wrap and flow around the slopes. You can even appreciate his expertise in hydro-engineering that brings water from the Urubamba River. This water is distributed evenly across farmland and through canals that crisscross the city, providing clean, fresh water for drinking and cleaning. Ollantaytambo is probably the most original and picturesque place in the Valley. It still preserves much of its traditional culture and original essence. The ancient Inca streets, houses, and waterways are even more beautiful at night.
Ollantaytambo is one of the most original and best-preserved pre-Inca and Inca towns in Peru. Many of the buildings and houses in the town date back to the Incas and are built with a combination of stone, mud, and straw. Without mentioning that these buildings were not refurbished, only renewed respecting the Inca style of construction, and continue with the same structure to these days.
5. Maras and Moray biking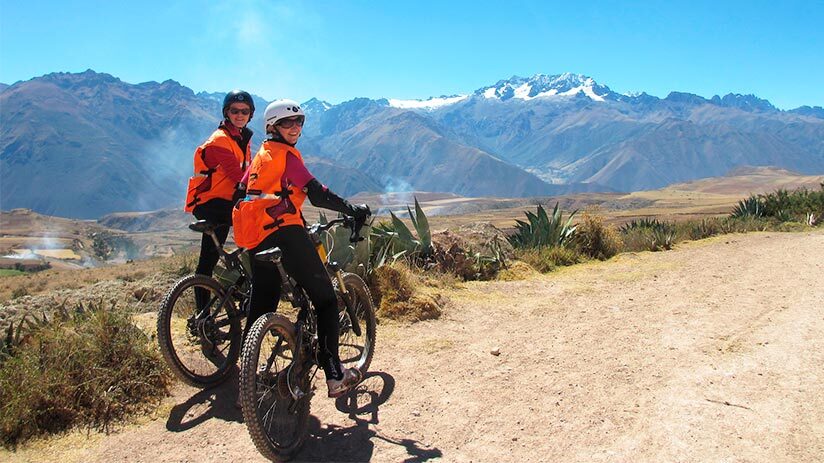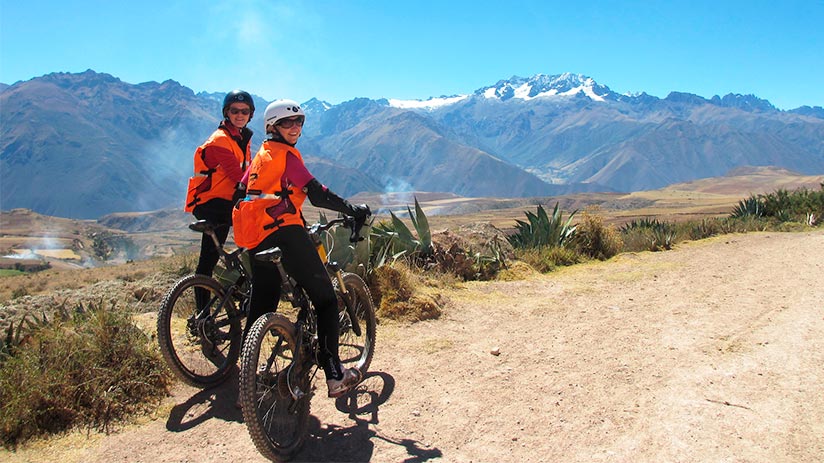 This is a perfect experience in which you can combine adventure and culture in a one-day full tour. The descent by mountain bike from Moray (3500 m.a.s.l) to Maras (3300 m.a.s.l) is one of the best things to do in the Sacred Valley of the Incas in any way. A soft route that does not demand much effort, beautiful landscapes, welcoming sceneries, and the satisfaction of completing the most famous biking route in Sacred Valley, will accompany you to finish this experience. Of course, without mentioning the amazing views of two cultural sites, Moray and Maras. If you decide to take this experience, you will be safe with protective gear, helmets, equipped mountain bikes, and an off-road guide. But, What are Maras and Moray?
Exploring Moray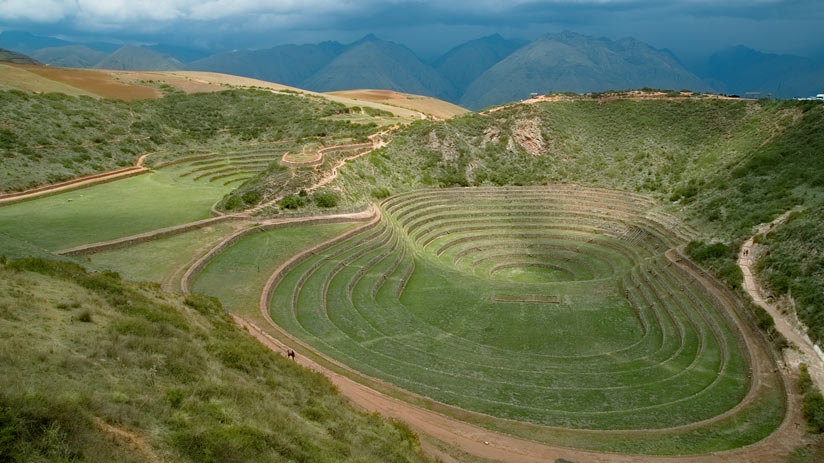 One of the great things to do in Sacred Valley is being able to visit the archaeological site of Moray. Moray's symmetrical circular terraces are fascinating and impressive to behold. These Moray ruins are located on the outskirts of the town of Moray and are a great attraction to know. At first, it looks like a giant green amphitheater, where there is a vast bowl made up of layers and layers of flat and circle terraces.
Stone stairs built into the terrace walls allow visitors to walk down to the lower level. Looking at the surrounding stone walls and the sky is as impressive as being able to see Moray from above. Each of the different levels of terraces has its own microclimate, and the Incas are believed to have used each one to test the optimal growing conditions for their crops. It is believed that the site was used by the Incas as a kind of agricultural research center.
Getting to know the Maras salt mines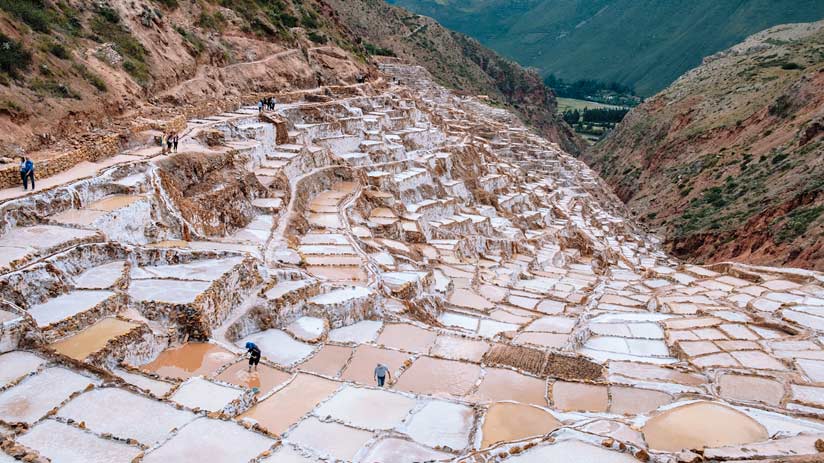 Usually, if you are going to visit Moray, you are on the way to the Salineras de Maras. The small town of Maras can be located just 40 km from the city of Cusco and a very short drive from Ollantaytambo and Urubamba. Maras Salt Mines are an incredible network of around 6,000 salt deposits, which salt has been extracted through evaporation pools since Inca times. The extremely salty spring water is diverted into hand-built pools, where the water is allowed to evaporate, leaving only 100% natural unrefined salt in its place. The Maras and Moray attraction is usually separate from the traditional Sacred Valley tour, but it is worth the time as both sites are very interesting.
6. Paraglider in Chinchero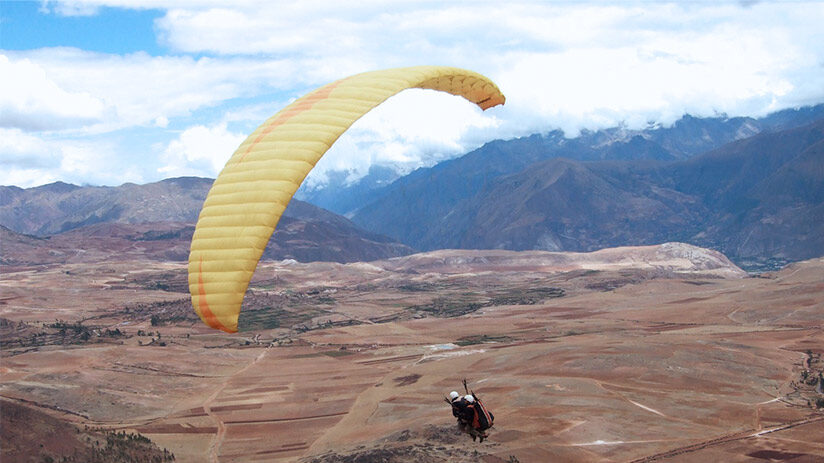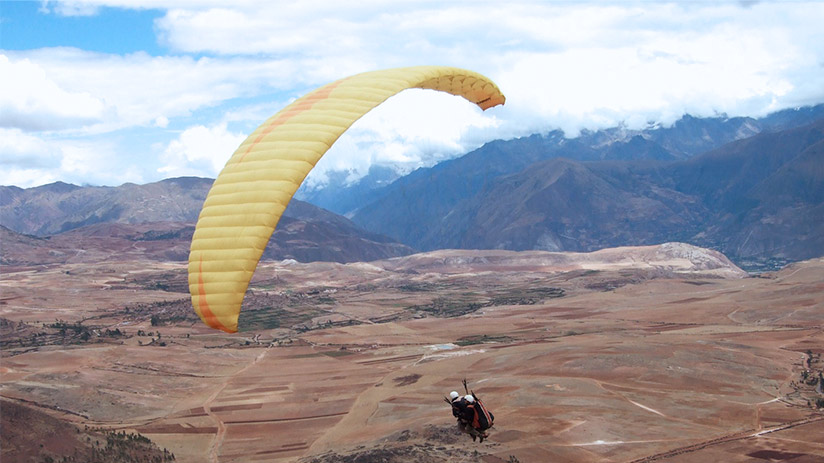 This is one of the newest and most challenging activities on our list of the best things to do in Sacred Valley. Don't worry about your experience planning on a paraglide, because the activity is in tandem (You and your driver-guide). Without mention the guarantee of tour operators that offer the experience; new and certified equipment, safety implements, and an experienced driver-guide.
You'll have the best view of the Sacred Valley, feeling like a bird. While it is true, that the Sacred Valley is famous for having crossing winds, this activity is developed in Chinchero, the farthest town in the Valley with stable winds, over a plateau located on a high hillside before entering the valley. Not in vain, Chinchero was chosen as the new place where the future International Airport of Cusco will be located. For this reason, we always recommend you book this experience with a formal travel agency, to enjoy it without any inconveniences and with a great piggyback backrest. But, What is Chinchero, exactly?
Investigating Chinchero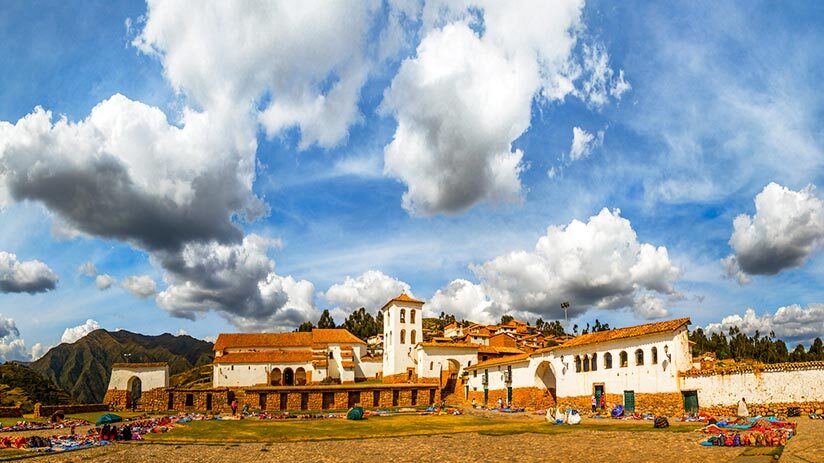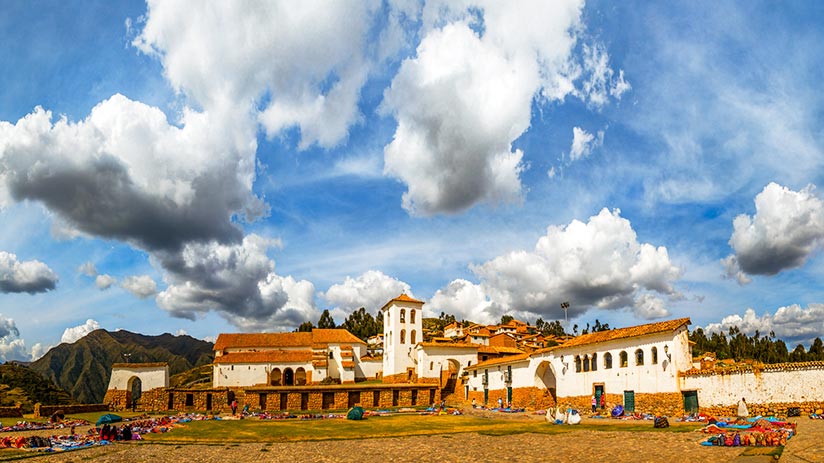 Chinchero is a town 12,342 feet above sea level. The Inca weaving technique is one of the most appreciated arts in Peru, and many Chinchero inhabitants continue to practice it. Within the town, there is a weaver cooperative, and they allow visitors to try their luck in weaving and show them the ancient Inca techniques of weaving, coloration, and design, among others. There you will find a Quechua community that weaves using an ancient textile art that they have inherited from the ancient Incas.
The different tours in Peru show you the process of making and dyeing blankets and garments. Besides, It is recommended to visit the old square where, all Sundays, surrounding communities people interchange their products, potatoes, corns, kiwicha and much more in an ancient Inca form of payment called Trueque (barter) And its colonial church of baroque style where you'll see how the Inca and Spanish cultures mixed in the paintings (Art style called Cusco School), in sculptures of saints, virgins and angels. Chinchero is all an experience that you shouldn't miss.
7. Piuray Lagoon Kayak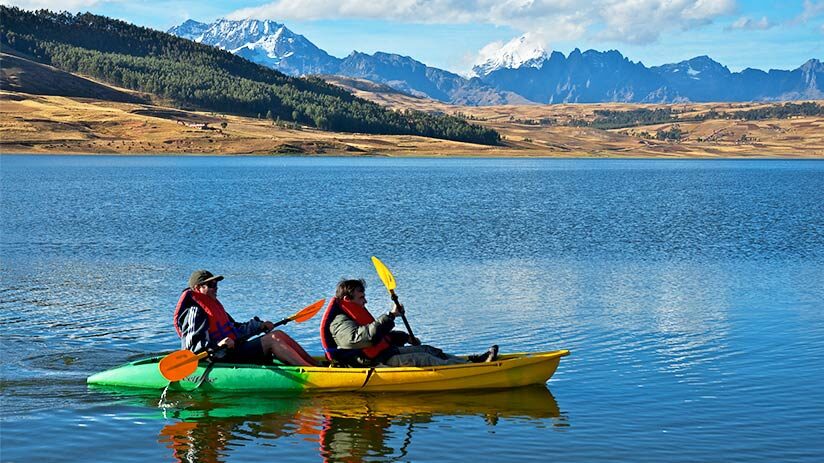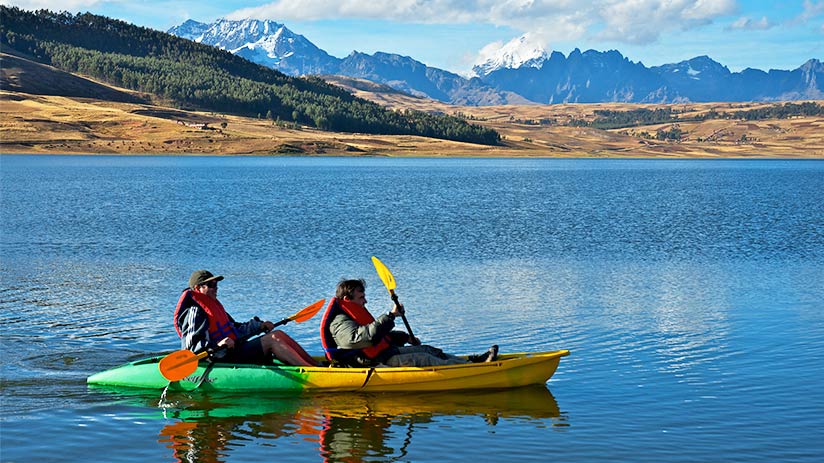 Piuray is a lagoon located 3435 m.a.s.l, 31 kilometers from Cusco and 33 kilometers from Urubamba (A modern town in the middle of the Sacred Valley) This quaint lagoon offers an amazing view of Salkantay Snow (6264 m.a.s.l) and its calm water is perfect to do adventure sports in the Sacred Valley like aquatic sports that don't disturb the fauna located around there. Therefore, the Kayak activity is perfect in this case! Once arrived there, you can sign up for a complete Kayak class. First, you'll learn how to keep the balance inside a kayak, and after will learn to use the arms and the oars.
Next, you will have one hour and a half sailing by the Piuray lagoon, following your guide-instructor, enjoying the beautiful landscapes that surround you, feeling free, disconnecting yourself from everything, and appreciating the imponent Salkantay snow. Finally, you will taste a delicious lunch, under a comfortable camp, on the shores of the lagoon. Definitely, practicing kayak in the Piuray lagoon is one of the best things to do in Sacred Valley.
8. ATVs in Huaypo Lagoon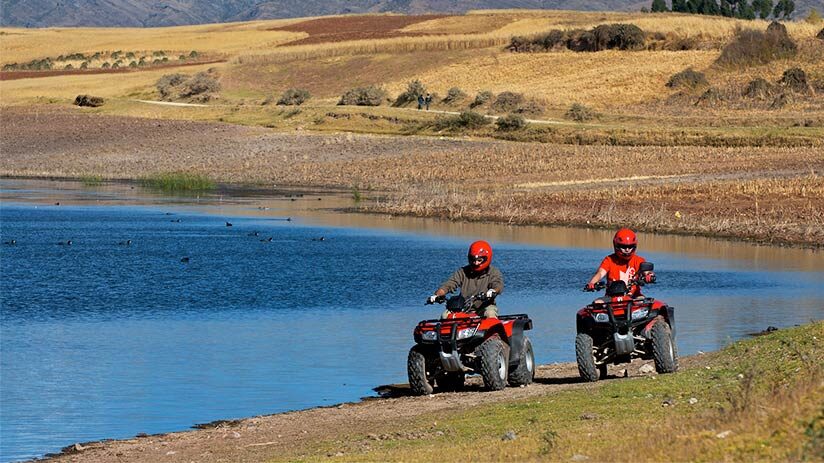 Huaypo is another interesting lagoon located more than 3500 m.a.s.l, at 22 kilometers from Urubamba and 36 kilometers from Cusco. It is the closest one to Maras and Moray (in comparison to Piuray) and within it different activities like kayak and paddling can be practiced. Even, birdwatching in the mornings. But, the ATVs are the king of the activities there.
The complete ATV circuit includes the visit to Piuray and even the visit to attractions like Maras and Moray. The adventure, speed, and freedom will be waiting for you in this activity. Happily, the tour operators offer modern ATVs, safety equipment, and one hour of driving instruction beforehand. Do you know the way? Don't worry, your guide-instructor will lead the way. In addition, you can rent an ATV for yourself or share it with someone else (tandem), it all depends on you and your desire to experience one of the best things to do in the Sacred Valley of the Incas.
9. Dream high in Sky Lodge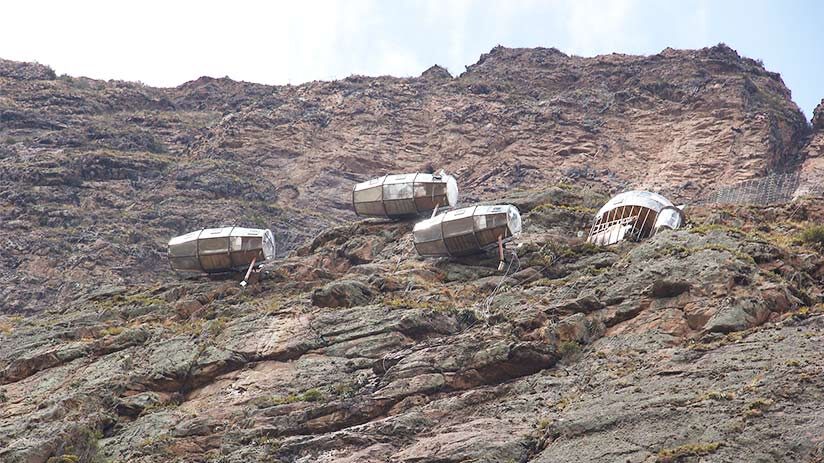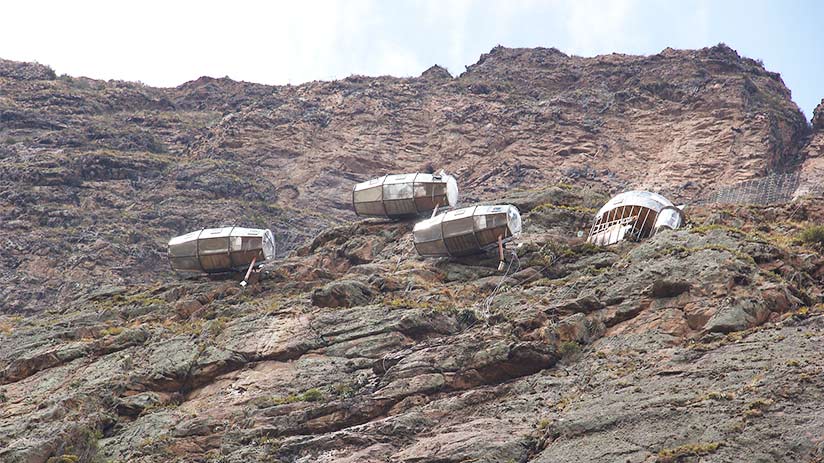 If you are looking to make your experience in the Sacred Valley of the Incas a much more exciting one, we have something for you. There is a beautiful hotel almost suspended in the air for the most intrepid explorers. Skylodge Adventure Suites by Natura Vive are one of the most amazing Sacred Valley hotels. These crystal cabins are located in the Pachar sector, 7 kilometers before getting to Ollantaytambo and 56 kilometers from Cusco, as we already anticipated, these are a set of crystal capsules where up to 12 people can stay overnight. These cabins are attached to the rocky slope of Pachar at 1,312 feet of altitude above the firm ground.
Even, to get to some of these cabins, first, you'll have to do rappelling, a complete experience. If you are concerned about your privacy or the temperature of each capsule, don't worry because these have heating and sliding curtains on all sides. But if you are not a fan of the idea, you can also visit the place only for lunch in the heights. As we told you, keep in mind that to get to this place, it is necessary to climb a mountain via Ferrata or by Zip Line if you wish. Make sure to book your stay at least two months in advance because the experience is in high demand. Of course, it is not recommended for some with vertigo.
10. Huchuy Qosqo trekking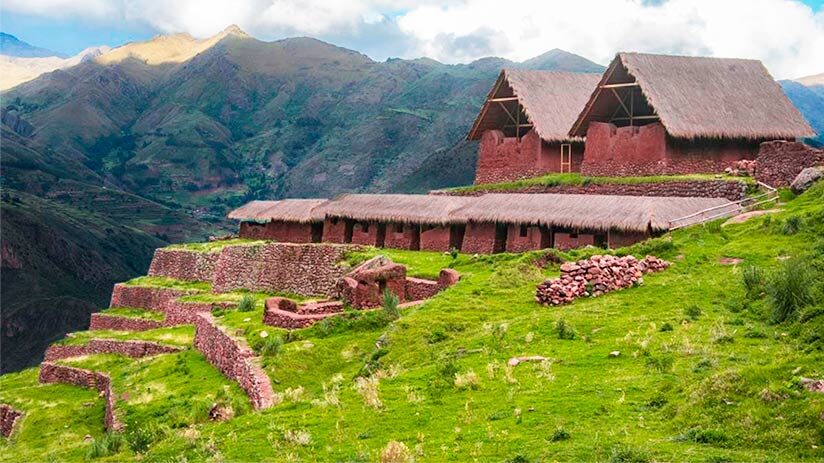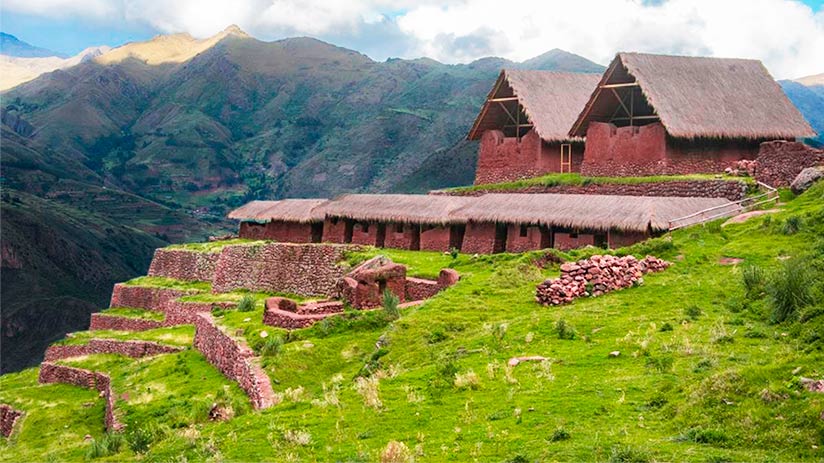 Huchuy Qosqo or High Cusco is a large Archaeologist complex located on the plateau of Lamay town, at 3600 m.a.s.l, to 50 kilometers of Cusco, just in the middle of the Sacred Valley. Many scholars affirm that Huchuy Qosqo may have been the famous Inca's palace called Caquia Jaquijahuana. Also, the complex belonged to the eighth Inca sovereign named Viracocha and was used as a resting place and Inca agricultural production. Within it, you'll find residential neighborhoods, terraces, a sophisticated irrigation canal that got to all terraces and cultivate zone, and the famous Kallanca.
This Kallanca was a large salon of 40 meters of large, with 2 levels and terraces and tailgates outside it. It thinks that this room was used as Inca's game room. On the other hand, Huchuy Qosqo may have been the third most visited archaeological attraction in the Sacred Valley (Just after Pisac and Ollantaytambo) if it weren't for its location. To get there, you have to go trekking for half-day from Lamay, spend a night there, and return the next day. But, believe us, the award is worth it. Nowadays, many tour operators offer this amazing activity where the adventure and the culture are combined. Dare to do one of the most interesting things to do in Sacred Valley trekking to Huchuy Qosqo.
"ONLY IF YOU HAVE BEEN IN THE DEEPEST VALLEY, CAN YOU KNOW HOW MAGNIFICENT IT IS TO BE ON THE HIGHEST MOUNTAIN"
In conclusion, there are many interesting things to do in Sacred Valley. Many of the available tours offer to see most of these attractions in just one day. Machu Travel Peru hopes to have been helpful. This list only shows some of the most popular activities. But the truth is that the Valley offers much more to enjoy and discover. If you want to know more about our tours, you can contact our team of qualified advisers.
Peru has so much to offer, it can be hard to know where to start. With many years of experience in the tourism sector, Machu Travel Peru is happy to help with anything regarding your trip to Machu Picchu and any tours around it. Make your Machu Picchu experience an unforgettable one!
---