A country is always characterized by its unique qualities, such as its landscapes, culture, its music, its dances, its colors, its people, and without a doubt by the clothes they wear. Clothing is not only a fashion statement, it is also part of the culture and country. A clear example of this is the classic Peruvian hat or Chullo, which has become a representative symbol of our country and customs. And Peru is a country with numerous regions, festivities, and traditions that blend harmoniously. Each city or destination has its own identity but without losing the great mix of flavors and colors belonging to the Peruvian culture. That is why together with the travel experts of Machu Travel Peru we have prepared a small article about the best examples of Peruvian traditional clothes.
The best examples of Peruvian traditional clothes to wear
Traditional Peruvian clothing for women
Traditional Peruvian clothing for men
TRADITIONAL PERUVIAN CLOTHING FOR WOMEN
In general, within Peruvian women's traditional clothes, the main elements are dresses, blankets, tunics, skirts, and hats. Keep in mind that each suit or article of clothing can differ greatly from one region to another since each city and town has its own qualities. People can tell if they are from one town or another just by looking at their hat. Traditional Peruvian garments are usually very colorful, bright and with very original patterns, so they are usually a great option of souvenirs to buy in Peru.
LLICLLA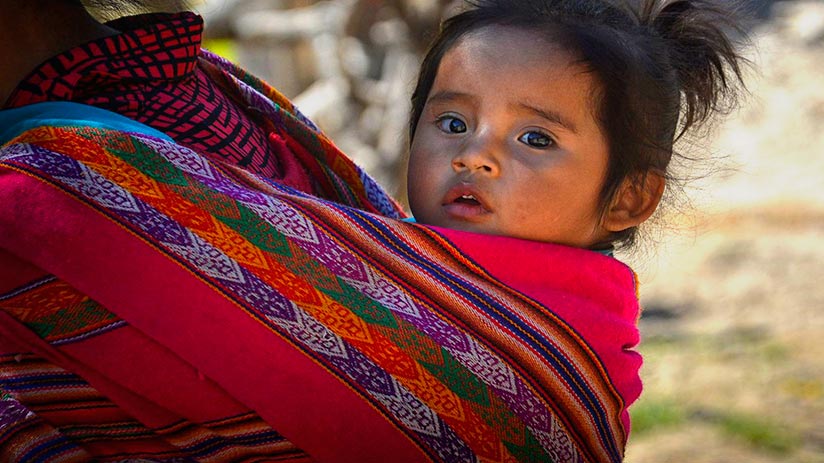 Lliclla is a Quechua word for a type of cape that Andean women often wear, although it is also often known as Manta. A Lliclla is usually a textile that covers the back and shoulders of the women of Peru. These are usually secured in the front with a pin or Tupu or simply by wearing it tied. This Peruvian traditional piece of clothing is also used to carry children on the woman's back. Both men and women often use it to carry cargo. If the cloth is exclusively for carrying large loads, then it bears the name of K'eperina. In some tours in Peru, you will be able to appreciate the women carrying their children on their backs with these garments.
CHUMPI

A Chumpi is used in a traditional way so that women can close their skirts. This word comes from the Quechua language and is translated as belt. Men also often use Chumpis to tie their pants or as a means of supporting themselves with certain heavy loads. Some women even use Chumpi to secure their swaddled babies.
JOBONA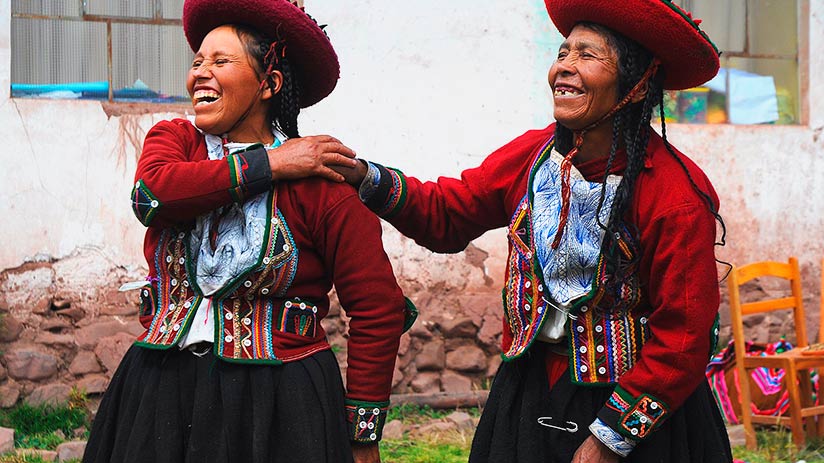 The Jobona is a Peruvian traditional clothing very common in Andean women. Jobona is the Quechua equivalent of a traditional wool jacket. These jackets are usually decorated with colorful button patterns. These clothes always go under the Lliclla.
MONTERAS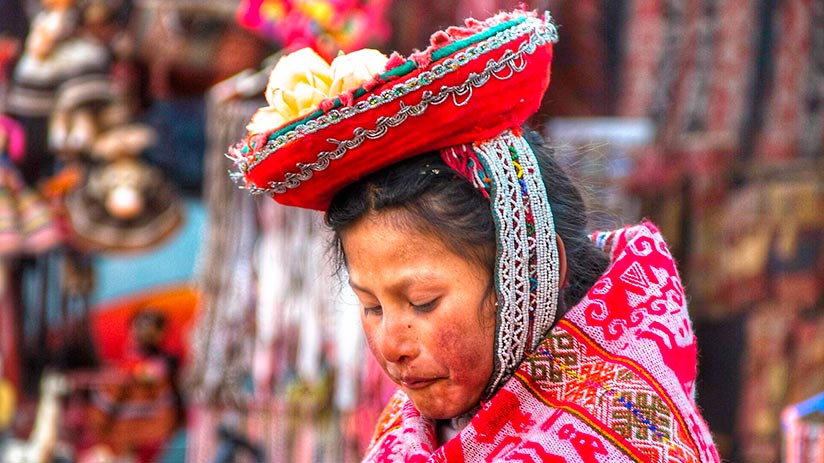 Monteras is a native Quechua language word for traditional hats that often vary and differ depending on the region. Many times it is possible to identify the village or region the woman comes from just by looking at the hat. These hats are combined with a woven strap called Sanq'apa that is usually adorned with white beads. The strap holds the hat under the chin and keeps it steady. In some museums in Cusco, you will be able to find exhibits with some ancient Monteras, as well as other examples of Peruvian traditional clothes.
POLLERAS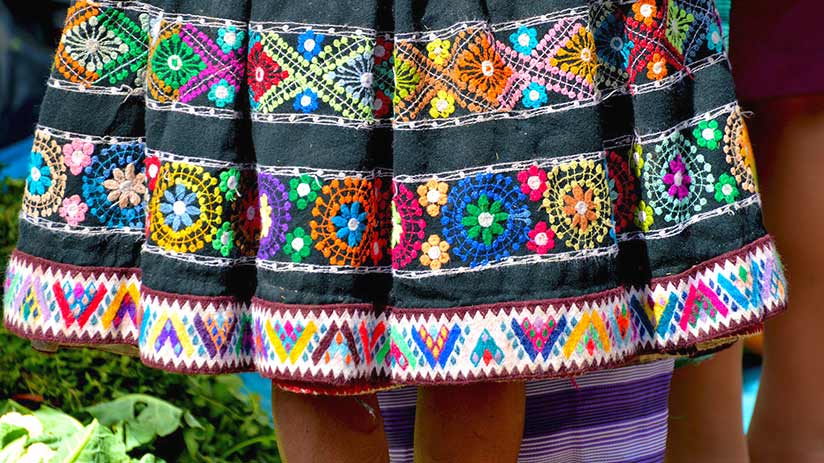 Polleras are wide skirts traditionally made of wool or other textile materials. The skirts are usually adorned with a colorful band called Puyto. These bands are usually applied by hand after buying a skirt from the market. As with other Peruvian traditional clothes, skirts often indicate a woman's origin as well as her social status.
OJOTAS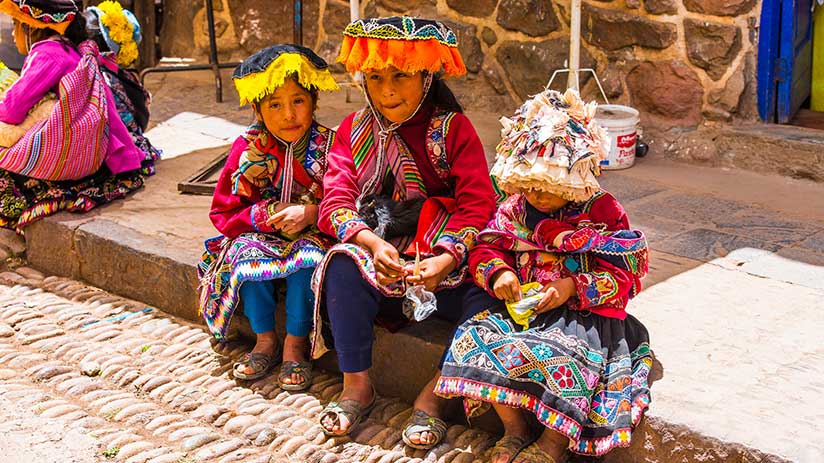 Ojotas are handmade sandals that are usually made from recycled tires. Despite their rough aesthetic, the Andean people feel very comfortable with them. Ojotas form a large part of Cusco traditions and culture, as well as other traditional Peruvian garments.
TRADITIONAL PERUVIAN CLOTHING FOR MEN
Traditional men's clothing has undergone many more cultural changes than women's clothing. In recent years, young Andean men prefer to wear western-style clothing such as caps and sportswear. Despite this, traditional men's clothing continues to be worn during local festivals or important events. But older men are still faithful to their traditions and culture, for which they are often seen wearing ponchos, chullos, and knitted pants among other traditional Peruvian clothing.
PONCHO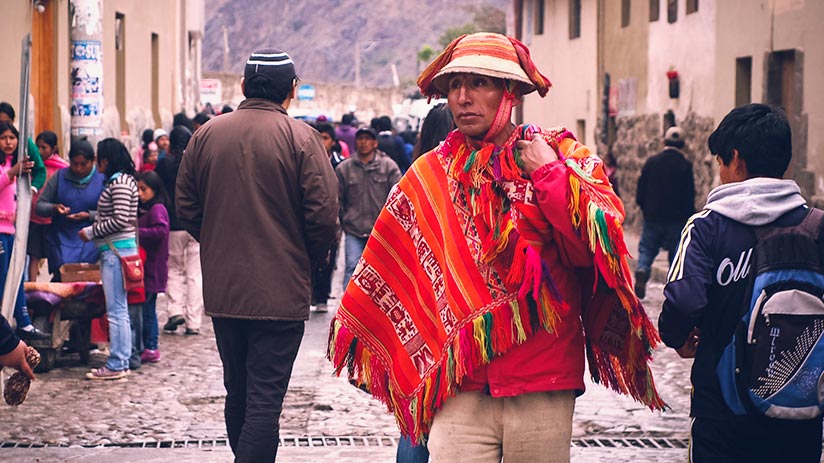 If you are planning a trip to Peru, you will most likely see most of the locals wearing Ponchos among other things. Poncho is one of the main elements within the Peruvian male attire. This outer garment is very warm and often comes in numerous vibrant designs depending on your motif. As with women's hats, the poncho usually indicates the origin of the man.
CHULLO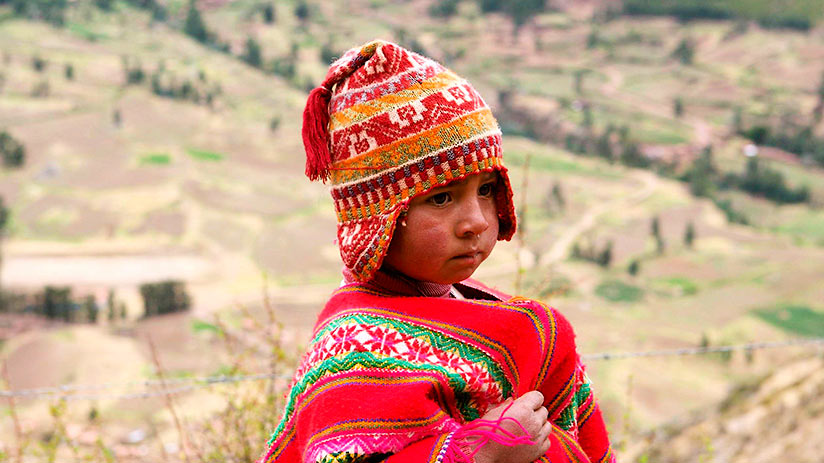 The Chullo is one of the most traditional and representative hats of the Andean country. This item is usually made by hand with alpaca, llama, vicuña, or sheep wool among others. She wears her signature earmuffs and tassels to keep you warm in the cold. One of the most surprising facts about Peru is that these hats have been used for thousands of years in the mountainous regions.
"YOU CAN HAVE ANYTHING YOU WANT IN LIFE IF YOU DRESS FOR IT."
As you can see, there are numerous traditional garments within Peru. Many of these garments were a social indicative, while others were the way to show her skill with textiles. We hope, together with the experts of Machu Travel Peru, to have been of help. Remember that if you want to know more about the traditions and cultures of Peru, it is better that you start organizing your trip. You can consult for free with our advisors, who will help you with everything you need.
---