At the World Travel Awards, Peru has been chosen as the leading culinary destination in the world for five consecutive years. A magnificent feat when you consider that it was just a little over 10 years ago that the Peruvian food movement gained momentum. With the gastronomic boom, the reinvention of how food is prepared is due to a group of chefs with a vision of the future. They have brought Peruvian cuisine to the world stage with a mix of traditional Peruvian food and a mix of different food cultures to what we see in the many wonderful Peruvian restaurants today. For this reason, together with our colleagues from Machu Travel Peru, we have prepared a small article about the best traditional Peruvian food dishes. Learn a little more about traditional delicacies!
The best dishes of traditional Peruvian food
WHERE TO TASTE ALL THE FOOD
If you are looking to try the best traditional Peruvian food dishes, Lima is an excellent start. Lima is full of wonderful places to eat. There are many fine-dining restaurants dotted around the city, most of them in Miraflores, the trendy coastal suburb. However, if fancy restaurants aren't your thing, there are plenty of other alternatives. Try some of the Peruvian street food available in many of the corners of Peru. If you want to experience some real local food, go to the local market. The markets always have stalls selling bargain-priced lunches. The food will be good and rest assured that you will leave on a full stomach. Don't miss out on Peruvian gastronomy, you can find it in all corners of the country.
LOMO SALTADO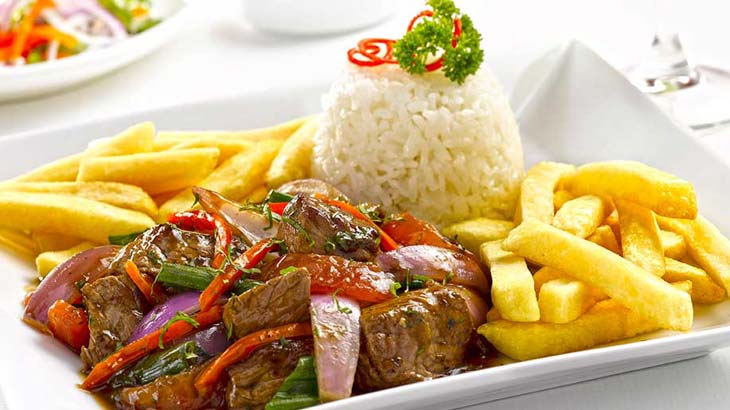 There is nothing more Peruvian than the delicious Lomo Saltado. Lomo saltado is considered one of the most delicious and essential fusion food dishes to try if you ever visit Peru. The history of this dish goes back to the time when Chinese cuisine had a great influence on our country. As with other Peruvian dishes, this dish was born from a mix of influences and cultures. This traditional Peruvian food dish consists of sliced ​​steak, onions, tomatoes, French fries, and yellow pepper. You will see this dish on a daily basis on most Peruvian restaurant menus across the country. Don't miss out on trying this Peruvian wonder.
AJÍ DE GALLINA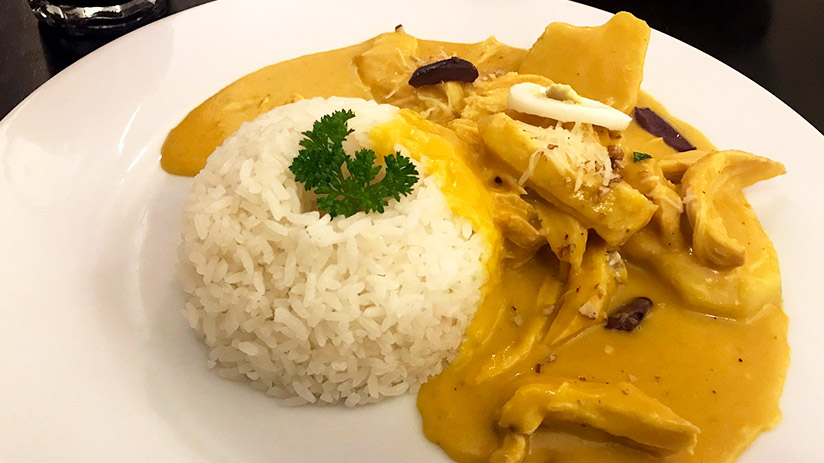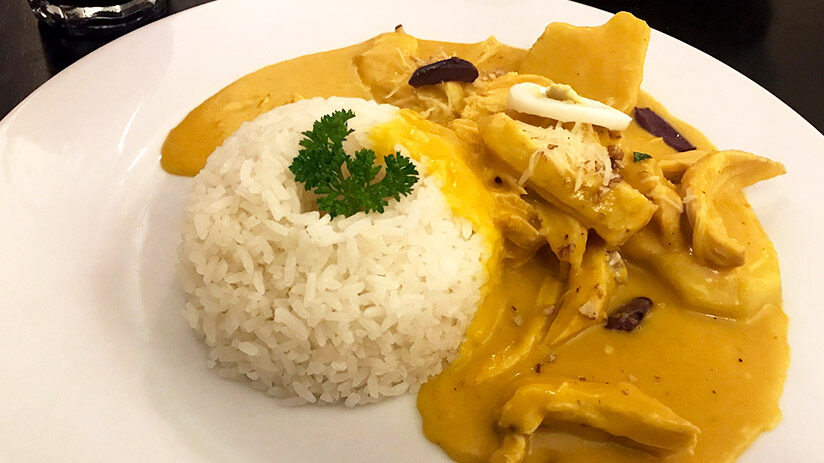 Another of the traditional Peruvian food dishes that you cannot miss. Aji de Gallina is a dish of a delicious mixture of chicken, bread, potatoes, olives, and egg combined with a creamy cold sauce and served with rice. There are many theories on how this unique dish came about. However, it is one of the most wonderful flavors of Peru and you really should try it.
CEVICHE
If you are on the coast of Peru, you must try the renowned and popular Peruvian ceviche. Ceviche may be the dish that has made Peru known throughout the world. According to some historical sources, ceviche originated about 2,000 years ago with the Moches, a pre-Inca culture on the coasts of Peru. Peruvian ceviche is prepared differently from the rest of South America. The fish is marinated in lemon juice and then served immediately. Although due to its great influence throughout the country, there are numerous different presentations with unique ingredients. There are some great Peruvian seafood restaurants to try Ceviche in Lima and throughout Peru. You cannot miss this wonderful dish of traditional Peruvian food.
PACHAMANCA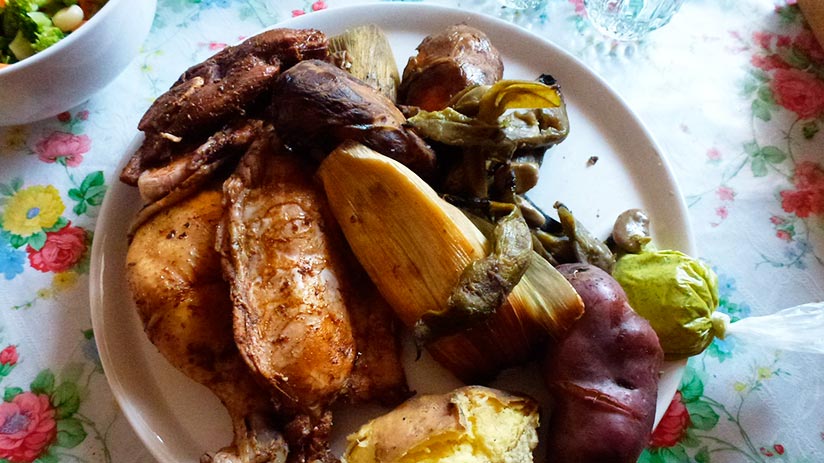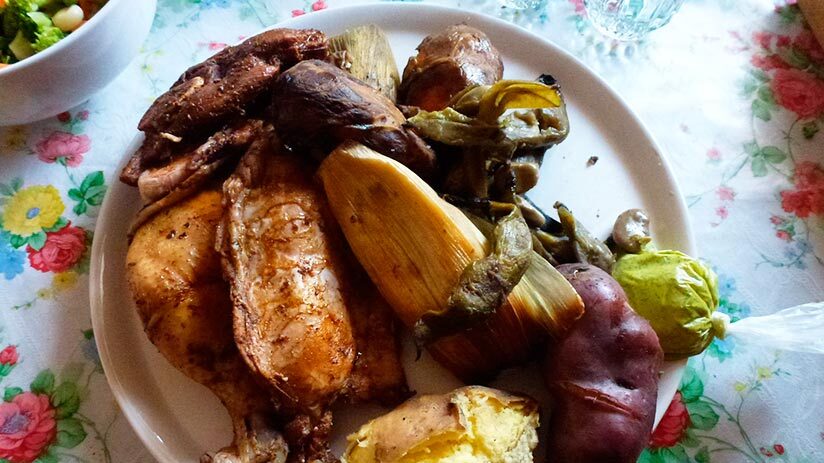 In the rural and Andean areas of Peru, there is an ancient tradition that is still practiced. The Pachamanca is a traditional Peruvian food dish that is prepared in the heat of preheated stones. Vegetables, potatoes, sweet potatoes, beef, pork, chicken, and guinea pig are previously seasoned to give a unique flavor. It is one of the Peruvian national dishes that you cannot miss if you are going to visit the Andean regions of Cusco and around.
CUY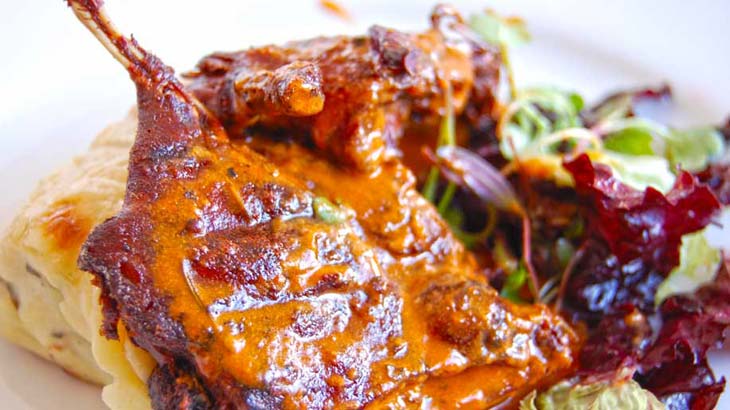 The delicious Cuy is a very traditional dish in the mountains of Peru. If you have a pet guinea pig, you may not like this suggestion. But on special occasions, the locals of Peru eat baked guinea pig. The Cuy is a guinea pig that is baked in a wood oven. Although it can also be served fried or roasted with potatoes, accompanied by noodles and stuffed peppers. This dish has become very popular throughout the country and people can find it everywhere. Some restaurants have Cuy as their main dish, making it one of the best options for traditional Peruvian food.
ROCOTO RELLENO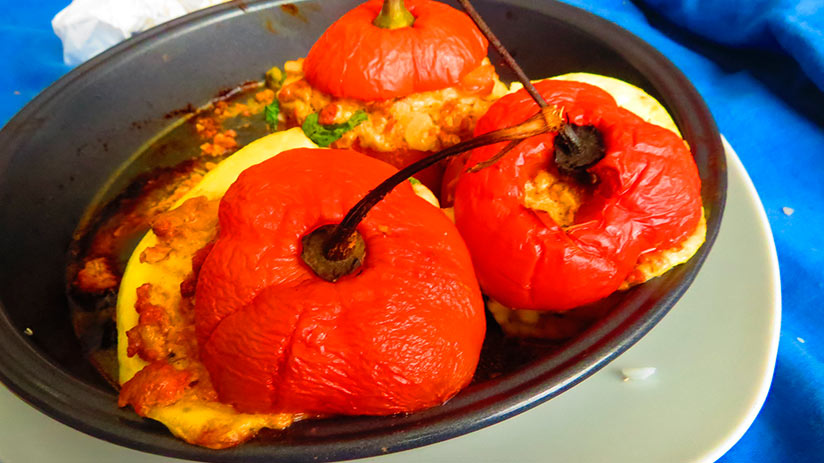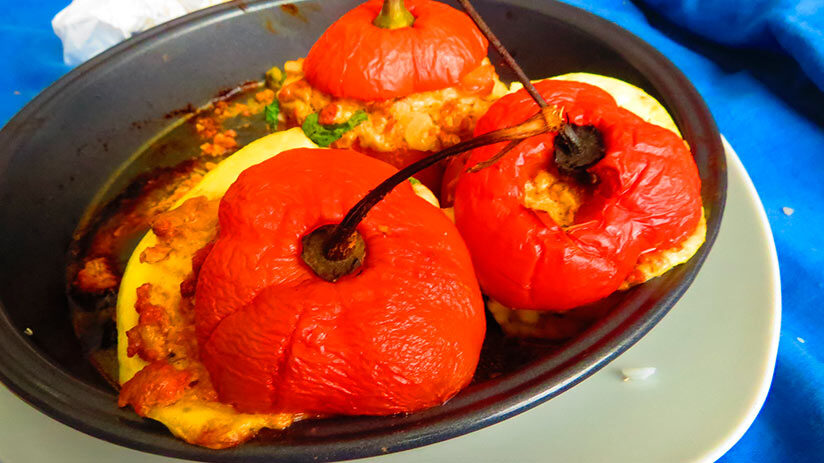 The Rocoto Relleno is another great dish of traditional Peruvian food that you cannot miss. These consist of roasted bell peppers that are stuffed with meat and vegetables. They are baked with a delicious dough that covers the pepper. One of the most delicious traditional dishes in Peru.
QUINOA
As part of Peru's healthy superfood fuel for your body, you must try Quinoa for breakfast. It is sold on the street in the mornings and is a very common breakfast. This warm and sweet drink is not only great but also good for you. Maca is another alternative for breakfast and is again another well-known Peruvian superfood.
CAUSA RELLENA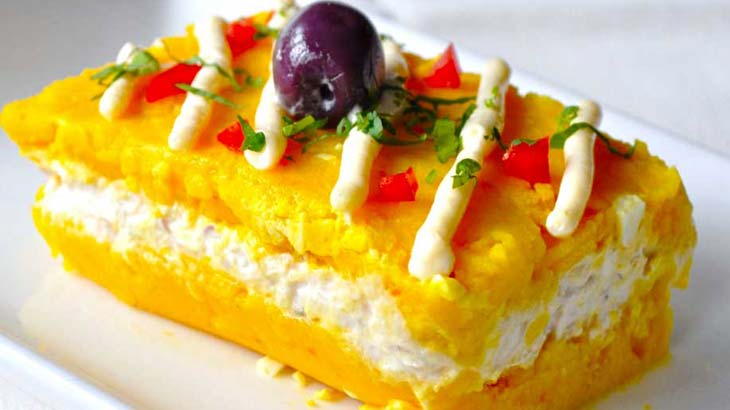 The famous Causa Rellena is a very popular dish of traditional Peruvian food. Peru has many different varieties of potatoes, so as you might expect, there are many different potato-based dishes. This is prepared with mashed potatoes and different fillings that include a variety of ingredients such as tuna or chicken. Most of the time it is served as an appetizer and can be eaten with many sauces, especially hot ones. Another tasty potato dish is Papa Rellena, a mashed potato stuffed with meat and vegetables that are fried, a delight for the tongue. After the different tours in Peru, be sure to try this Peruvian delicacy.
ANTICUCHOS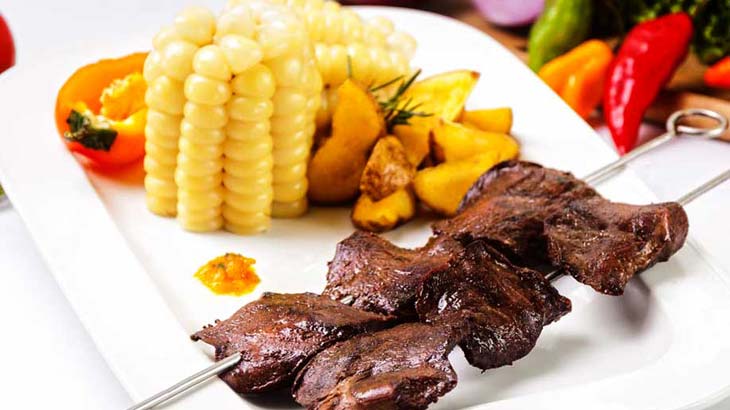 The Anticuchos are beef heart diced and then put on sticks to be roasted. They can be found in all cities and street food stalls. They are often served with a boiled potato and a spicy sauce called ají.
OTHER DISHES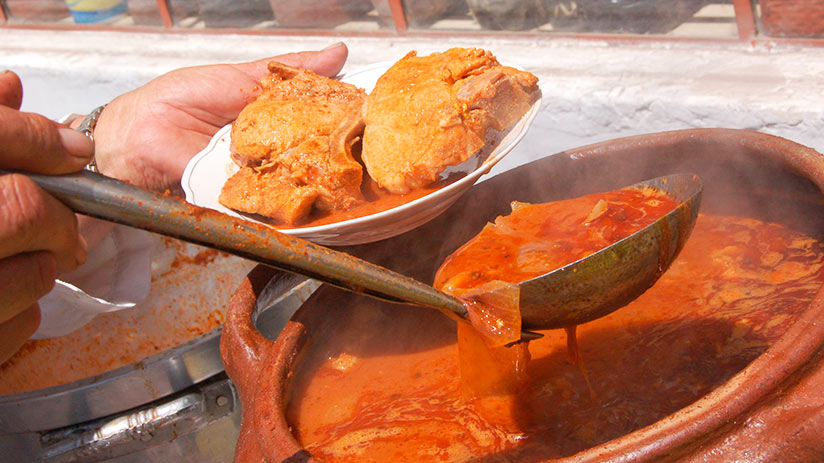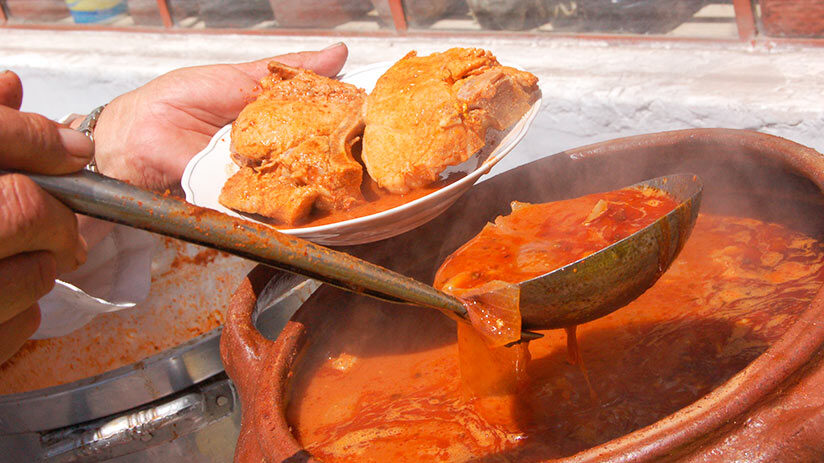 There are many more dishes that you must try and each region has its specialties. Food in the jungle is a very different experience from the rest of Peru. Something traditional from the jungle that you must try is the chicken that is cooked underground in banana leaves. Alternatively, while in Arequipa you shouldn't miss the Adobo, a pork soup that is unlike anything you will ever taste again. If you like sweets, look for the Picarones. This is a fried mixture of sweet potatoes and flour served with a honey sauce. You will see women selling Picarones on the street so try and enjoy one of the best Peruvian desserts.
"ONE CANNOT THINK WELL, LOVE WELL, SLEEP WELL IF ONE HAS NOT DINED WELL."
As you can see, Peru has a lot to offer in terms of traditional Peruvian food. Do not miss these delicious dishes that give so much to talk about in the world. Tour the Andean country and its many traditional delicacies. We hope together with Machu Travel Peru to have been helpful. If you want to know more about our tours, you can consult with our advisors.
---