It is a dream of most people to travel the world and see new and interesting things. Traveling can do all this for you, expand your mind, teach you about new and different cultures, and much more. Traveling to South America is no different. South America is a mystery to most people and it is only in the last decade that interest in the continent has been aroused. One of the most popular countries in the region is the Andean country. During the last few years, Peru has become a popular attraction. Especially because most people want to see is the Inca ruins of Machu Picchu. Therefore, if you are looking to enjoy a train to Machu Picchu, you should check this article.
The Inca site has recently been voted one of the New Seven Wonders of the World and with good reason. Most of you will want to travel there and most of you will want to travel by train. So how do you get the train tickets to Machu Picchu? To answer this, we have prepared an article where we delve into the subject. Together with the experts of Machu Travel Peru, we want to make your vacations much easier. Learn how to enjoy a magical and comfortable train to Machu Picchu.
2021 Update: Everything you need to know about the train to Machu Picchu
THE TRAIN TRIP TO MACHU PICCHU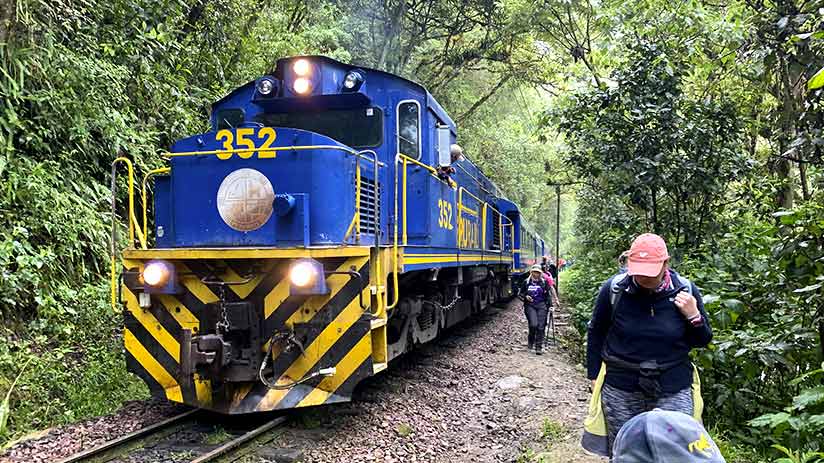 One of the most beautiful train trips in the world is between the colonial city of Cusco and the Inca citadel of Machu Picchu. If you are looking to visit Machu Picchu, doing it on a comfortable train trip is one of the best ways. Two companies in Peru are in charge of taking travelers to the citadel. PeruRail and the Inca Railway operate this route. They take care of transporting hundreds of passengers to this historic site every day. Leaving the station in Cusco, the train to Machu Picchu passes through a narrow gorge and then into the Sacred Valley. Passengers usually board in Ollantaytambo and continue along the Urubamba River to the Machu Picchu station in Aguas Calientes. During this part of the trip, the landscape changes dramatically. The foothills of the Andes have become dense cloud forests. A natural show that is worth seeing.
WHERE TO TAKE THE TRAIN?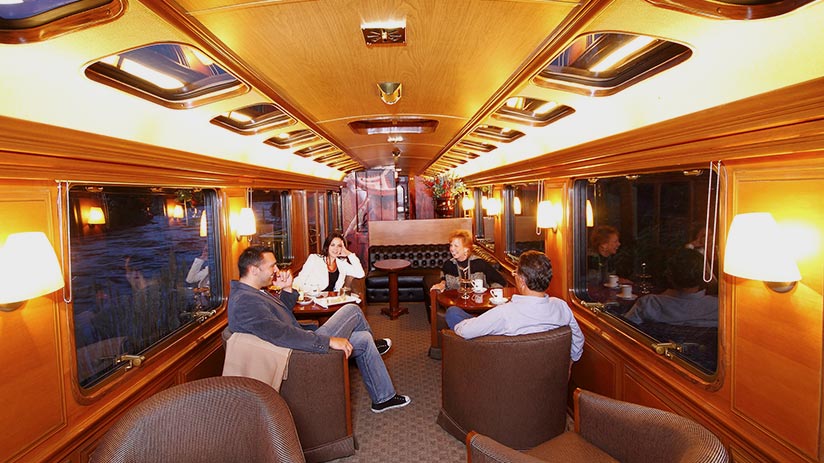 Trains to Machu Picchu depart mainly from 2 stations. The Poroy station, which is located in Cusco, and the Ollantaytambo station in the Sacred Valley of the Incas. Also, you can find the Urubamba station which is not that common. From Poroy station, the train to Aguas Calientes takes an average of 3 hours. The departure frequency is not as dynamic as that of the Ollantaytambo station. Both Inca Rail and Peru Rail bring tourists from this station. The train from Ollantaytambo station takes an average of 2 hours to reach Aguas Calientes. Most of the trains leave from this location. Depending on your train tickets to Machu Picchu, you will board at one station or another. But it does not matter from which station you start any of the Machu Picchu tours, since the trip will be memorable.
Ollantaytambo Station: Av. Ferrocarril, Ollantaytambo, Valle Sagrado. – 2 hours.
Poroy Station: Roldan Street, Poroy District, Cusco. – 3 hours and 15 minutes to Machu Picchu
Urubamba Station: Av. Ferrocarril, Urubamba, Sacred Valley. – 2 hours and 30 minutes to Machu Picchu.
Return station

Aguas Calientes Station: Machu Picchu Pueblo, Las Orquídeas Neighborhood (Next to the Artisan Market)
BUYING THE TICKETS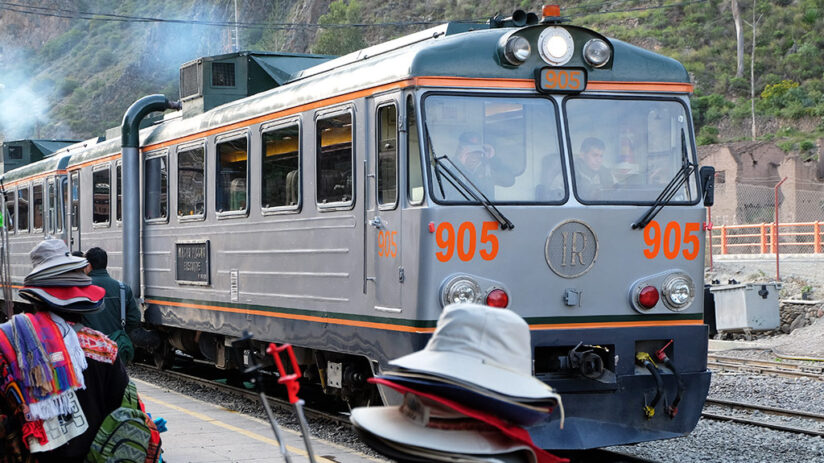 ON THE ORIGINAL WEBSITE
The train tickets to Machu Picchu can be obtained in many different ways. But before buying your tickets, you must choose some of the many trains available. Once you decide which train from Cusco to Machu Picchu you want, you can enter the website of the train company of choice. Either Peru Rail or Inca Rail, the main companies in charge of providing train services. On the website, you can buy your tickets with your credit card. In this way, you will have your seat guaranteed and you will receive your ticket from the company. This is one of the safest ways to experience the train to Machu Picchu.
Keep in mind that once in Aguas Calientes, you will need another ticket to get to the citadel. You will also need to buy your bus ticket to Machu Picchu from Aguas Calientes. Your entrance ticket to the site can also be obtained from the Peruvian government website. All of this must be purchased in advance and you will need to find a guide as you are not allowed to enter without one. This will save you some money but not time as some of these websites are complicated to manage. To make this process even easier, you can choose to leave these tasks to a company like us. If you are planning a trip to Peru, it is better that you organize it together with a trusted company.
BUY TICKETS FROM A TRUSTED COMPANY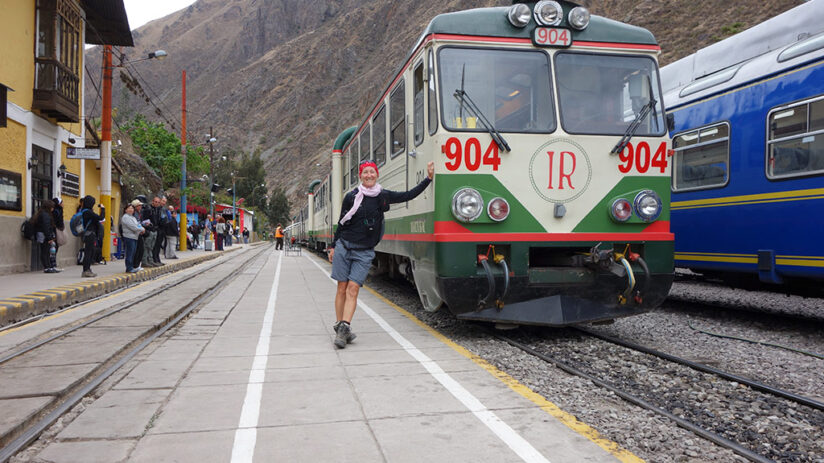 Another option to buy your train tickets to Machu Picchu is to wait until you arrive in Cusco. From there you can buy the complete Machu Picchu package at any local tourist company. This can also save you some time and money, but the main risk is that there are no spaces on the trains and no entry tickets. Many agencies can help you enjoy the train to Machu Picchu. If you are planning a honeymoon in Machu Picchu, this can help you reserve time.
The preferred way and what most people do is to hire an online agency to buy their tickets for the train to Machu Picchu. In this way, you will be sure to secure your train tickets to Machu Picchu, as well as the entrance tickets. This will cost you more but in the long run, you will get what you want and arrive in Peru with peace of mind. The agency will also provide you with a qualified guide to learn about the history of the Inca Citadel and some amazing Machu Picchu facts. You will be picked up from your hotel in Cusco and transferred to the train station in Cusco or Ollantaytambo. From here, you will be put on the train to Aguas Calientes. Once you arrive, your guide will be waiting for you to take your tour to Machu Picchu.
TYPES OF TRAINS
Travel packages to Machu Picchu are available throughout the year. Two different train companies offer train services to Machu Picchu.
PERURAIL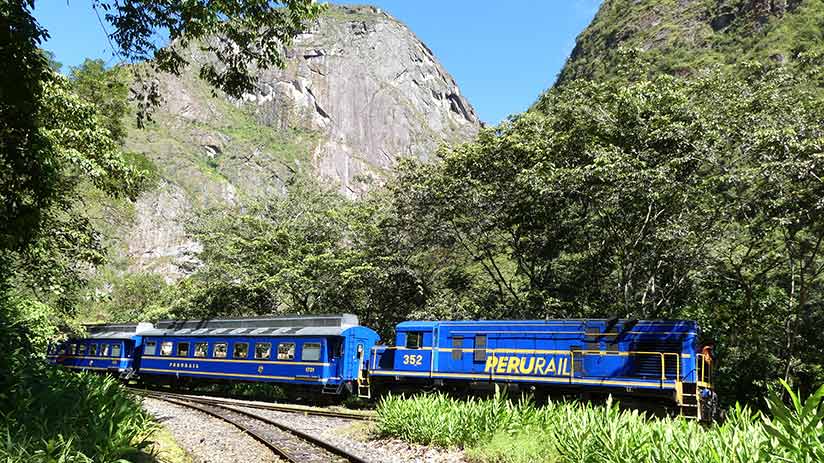 The first is PeruRail, which offers four different services. The cheapest is the Expedition train, a tourist train that has many departures and round trips per day. The train has large windows and comfortable seats. Higher up the Expedition is the Vistadome. This train is famous for its glass roof panels, which provide wonderful views of the mountains and luxurious leather seats. Then there is the exclusive Hiram Bingham train. If you have the means to travel to Machu Picchu on the Hiram Bingham, this is the most luxurious of the Peru Rail fleet. Free cocktails and lunch will be offered to you on board and you will arrive in Aguas Calientes in luxury and style. For train enthusiasts, this is not to be missed on any trip to Peru.
EXPEDITION TRAIN
This is the most comfortable and economic option of all. This expedition has soft and large seats. In addition to huge windows with which to observe the landscape. Onboard you will be offered different free drinks such as coffee, tea, and other juices. You can find the departure station in Poroy and this train only has one daily departure.
Price: $140 – S./ 459
Schedules
6:10 am – 7:40 am
7:45 am – 9:15 am
8:29 am – 9:54 am
12:55 pm – 2:25 pm
7:00 pm – 8:45 pm
13:27 pm – 2:50 pm
9:00 pm – 10:45 pm
VISTADOME TRAIN
This wonderful train is very similar to the IncaRail train. It has panoramic windows through which you can contemplate the rolling landscape. All while drinking one of our classic infusions. Food services vary depending on the train you choose to board. The departure station is also in Poroy, but this train has about two daily departures.
Price: $190 – S./623
Schedules
7:05 am – 8:27 am
8:00 am – 9:25 am
8:53 am – 10:29 am
9:15 am – 10:52 am
10:32 am – 12:11 pm
1:27 pm – 2:50 pm
3:37 pm – 5:02 pm
SACRED VALLEY TRAIN
Another of the trains to Machu Picchu that you have to seek to experience. The trip in this luxury car is a wonderful opportunity to taste our famous Pisco. As well as one of the funniest ways to travel to the Inca citadel. The team on board prepares wonderful dishes with local ingredients. The dishes are accompanied by a glass of wine and then finished with a delicious coffee, tea, or even a hot chocolate if you choose.
Schedules
BELMOND HIRAM BINGHAM TRAIN
This is the most popular and excellent luxury train to get to Machu Picchu in style. This train features plush seats and polished wood accents. You will enjoy a wonderful gourmet meal in an elegant dining car. In the bar car, you will also find a large selection of wines, cocktails, and other non-alcoholic beverages. In addition, the train has a separate observation car with panoramic windows. The Hiram Bingham train offers a unique experience within the train services to Machu Picchu. The service includes both shuttle bus tickets and a guided tour of the citadel.
Price: $950 – S./3115
Schedules
INCA RAIL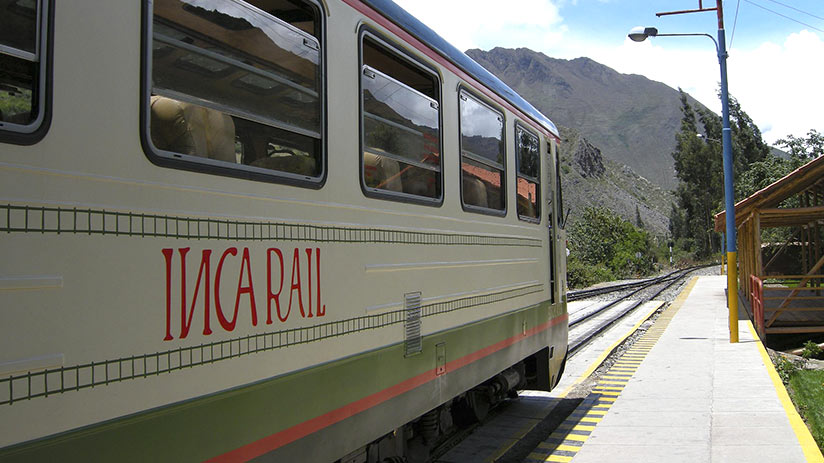 The other company that offers train trips to Machu Picchu is Inka Rail. This company has the same classes of luxury trains as Peru Rail but less frequently. The service is the same, so you should take a look at this company as well. Once you have arrived at Machu Picchu, opt to take a guided tour. Find out what this ancient site has to offer, the history and mystery that the site offers will not disappoint the history buff. After your Machu Picchu guided tour, spend some time exploring on your own and revisit some of the special places.
VOYAGER TRAIN
Among the different train options to Machu Picchu, this is a classic. This incredible train has some wonderful features. From about 480 reclining leather seats, panoramic windows, and skylights. One of the greatest budget options. This wonderful train offers its service between the destinations of Ollantaytambo and the Inca citadel itself. This train has about five daily departures a day, its first shift being early in the morning (6:00 am – 6:40 am) and its last shift during the afternoon (9:30 pm). Onboard you can enjoy numerous traditional gourmet dishes and beverage services.
Price: $140 – S./ 459
Schedules
6:40 am – 8:01 am
7:45 am – 9:15 am
11:15 am – 12:45 pm
11:30 am – 1:06 pm
4:36 pm – 6:09 pm
7:27 pm – 9:09 pm
360º TRAIN
This is another of the Machu Picchu trains where you can admire the wonderful landscapes of the Sacred Valley. The train has about 312 seats to experience a comfortable journey. Through its large panoramic windows, you can listen to an audio guide narration as well as experience the different landscapes. You can enjoy the warm weather where you can get to know the great Machu Picchu. This train is a great possibility to get to know the surrounding valley like other places.
Schedules
7:22 am – 8:48 am
12:36 pm – 2:00 pm
5:55 am – 08:48 am
FIRST-CLASS TRAIN
This journey is both exciting and wonderful. The destination of the train has about 60 seats where the different passengers are received with a welcome cocktail. In addition, the train has a live music show that will let you know a little about our culture. You can also enjoy traditional dishes prepared by the chef on board. The train tickets also include the transfer by private bus to the entrance.
Schedules
11:15 am – 12:41 pm
09:28 am – 12:41 pm
PRIVATE TRAIN
This train has about eight seats and is the only private charter to Machu Picchu. This service could be considered as a party onboard where you will be welcomed with a glass of champagne. Then you will continue enjoying an open bar and an exquisite menu to taste our cuisine. The menu includes about three dishes using local ingredients. Get ready to know Machu Picchu luxuriously and privately. All accompanied by delicious cocktails, local musicians, and much more.
Schedules
06:40 am – 8:01 am
11:15 am – 12:45 pm
4:36 pm – 06:09 pm
THINGS TO KNOW BEFORE BOARDING YOUR TRAIN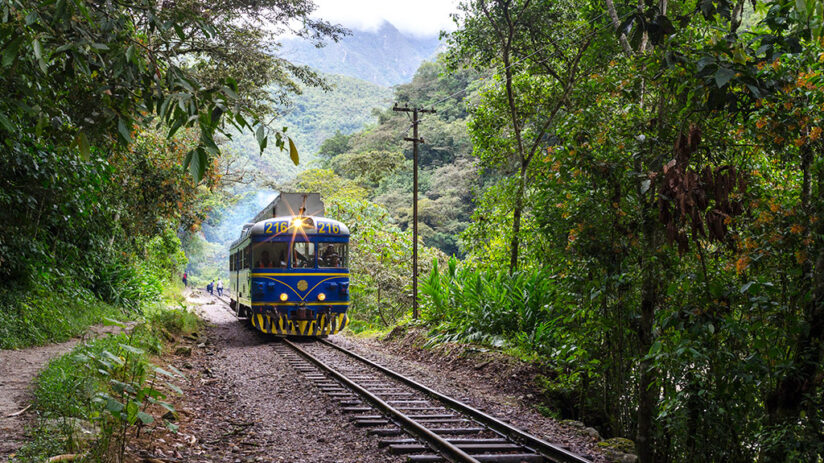 One of the most important tips has to do with the Machu Picchu reservations. As with your tickets for the citadel, tickets for trains are best reserved in advance. Although it is true that a courtesy drink is usually offered along with a cookie, this is usually not satisfying after long hours of waiting. So we recommend that you buy some snacks and drinks before boarding your train. Note that the train winds slowly along the Urubamba River. So if you are prone to dizziness, we recommend you go to the bathroom before the trip begins. The ride can also be a bit bumpy. Another great tip is to have your camera ready, the trip is packed with wonderful views and landscapes of mountains, snowy peaks, and much more. During the trip, you will be accompanied by a guide who will point out various Inca sites of interest.
BACK TO CUSCO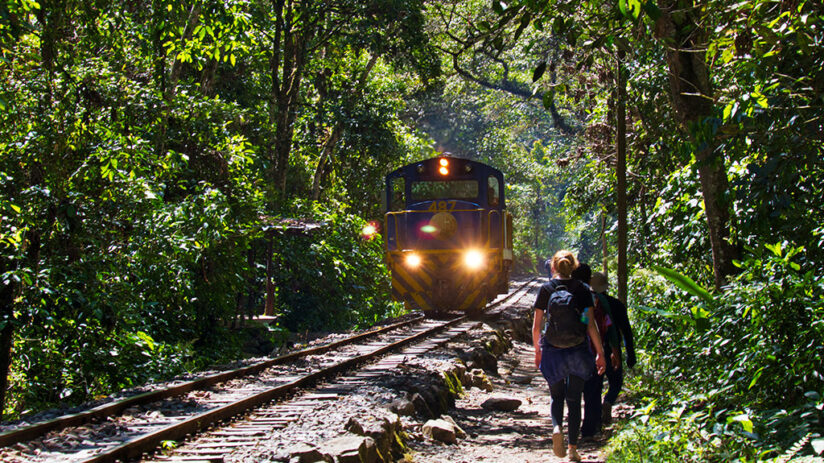 Once you've finished touring the site, a bus ride back to the pretty town of Aguas Calientes awaits. Aguas Calientes is a city below where is Machu Picchu located. The city has many small markets and some beautiful hot springs. The springs are ideal to visit after having hiked in Machu Picchu. From here, you will take the train back to Cusco. In general, when you buy your train tickets to Machu Picchu, you also buy the return tickets. A tour of Peru Machu Picchu will live in your memory forever. Be sure to do your research and decide how you want to buy your train tickets. Whether through company websites or a licensed travel agent, the experience will be memorable.
"THE TRAIN ALWAYS ARRIVE AT YOUR STATION. THE QUESTION IS WHICH ONE TO TAKE?."
We hope together with the travel experts of Machu Travel Peru to have been of help for your next vacation. Getting train tickets is not something that takes too much time or effort. But if you are only looking to enjoy this wonderful country, it is advisable to leave this task to us. We will be happy to help you fulfill your dream trip to Machu Picchu. If you want to know more about our different travel programs, you can consult with our team of qualified advisers. We will be waiting for your soon visit to Peru!
---