The impressive and flourishing ecosystem of Tambopata belongs to one of the most significant, biodiverse and iconic places: the National Reserve of the Peruvian Amazon. Tambopata is a river and also a province. It attracts many adventurous travellers who want to explore one of the most geographical and biologically diverse regions on earth. Thus, travel to Tambopata is a must.
Tambopata is located in Peru's southern region, in the city of Puerto Maldonado, capital of the department of Madre de Dios. It spreads for miles around the Amazon; therefore, you will witness a vast and breathtaking scenery of wildlife, ancient trees and rivers.
For all adventurous people, Machu Travel Peru offers you an incredible and fantastic travel package into the diverse Peruvian Amazon. A trip to Tambopata is more than a nice holiday, it is a terrific journey. We will provide you with some recommendations and advice in order to make this one of the most fulfilling and exciting trips of your life.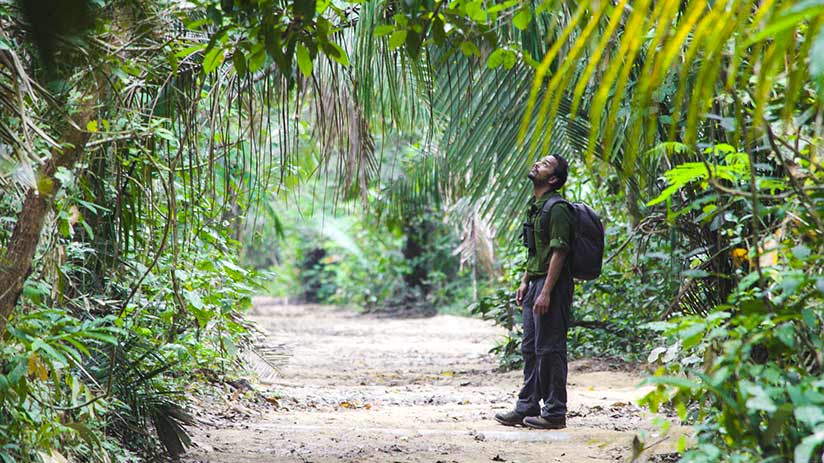 What to pack and bring?
Because of the strong heat, high humidity, mosquitoes and possible rains, you must bring:
Waterproof trekking boots, slippers and flip flops
Tight-weaved, light-coloured, long pants
Long sleeve and light-coloured cotton shirts
Windbreaker or jacket
Raincoat or poncho
Small backpack
Broad-brimmed caps or hats, and sunglasses
Insect repellent
Sunscreen
Binoculars
Camera gear
Flashlight or headlamp with extra batteries, if you plan to do a night tour in Tambopata
Bottled water
In addition to that, we recommend bringing a zip lock bag with your important belongings.
What do you need?
Get a good travel insurance coverage before starting your Amazon tours.
Get your ticket in the National Service of Natural Protected Area of Puerto Maldonado. It is open from Monday to Friday from 7:30 a.m. to 1 p.m. and from 3 p.m. to 6 p.m. And Saturdays from 9 a.m. to 12 p.m. You must show your passport.
To enter to the National Reserve of Tambopata, you need to go with a tourism agency, lodge package or with a group led by a professional guide.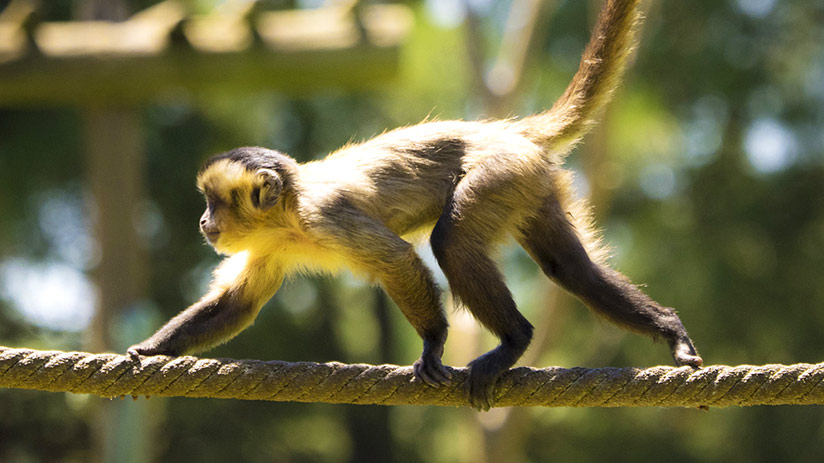 Health considerations
Vaccination against yellow fever is mandatory. You must put it, at least, 2 weeks before you travel to Tambopata. Do not take a high risk of getting this disease.
Malaria is present throughout the rainforest but it is rarely reported. If you prefer not to take a high risk about it, consider consulting with a doctor specialized in tropical medicine.
Mosquitoes are really annoying in the rainforest region. A small biting fly can cause you a skin lesion called Leishmaniasis. So, a good way to prevent is wearing long pants, long-sleeved shirts, sleeping under mosquito nets and use repellent all the time when your skin is exposed.
Drinking water. Provide yourself with bottled or filtered water, it is not safe to drink the water from the river, lake or any tap.
Best time to travel to Tambopata
The Peruvian Amazon is slightly seasonal, so travel around is a matter of traveller's preference.
During the wet or rainy season, which starts in November and goes on into April (January and February are the rainiest months), you will get a great chance to find and see wildlife. The temperature will be cooler but there will be a huge number of mosquitoes, so take the precautions of the case.
Also, due to flooding, most of the jungle trail will be affected by mud, in consequence, your exploring activities as well.
However, the advantage to travel to Tambopata during this season is that you can easily see amphibians or reptiles. Also, for the high-water level caused by rains, lagoons and lakes are formed throughout the forest.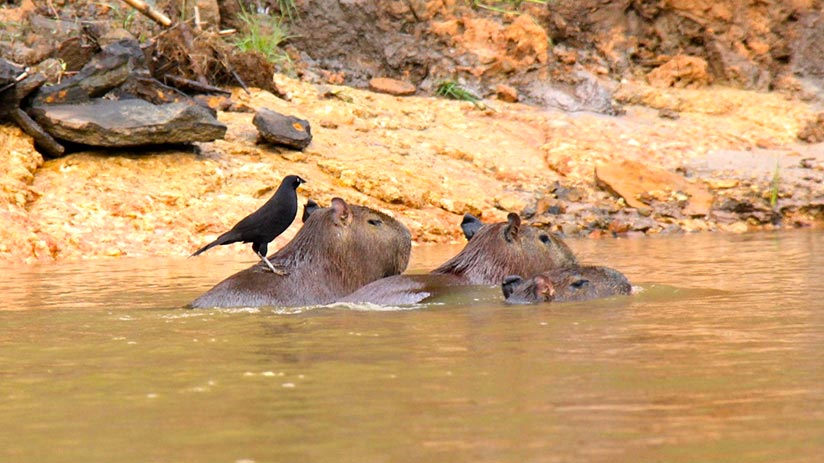 In the case of the dry season, from May to October, you will have better trail conditions to explore the area on foot, trails can be much less muddy.
The pro of travel to Tambopata in this season is that you can see many macaws and parrots on the clay licks because they are nesting, so they are more active. Thus, this is a great opportunity to see colourful birds, chicks and nests!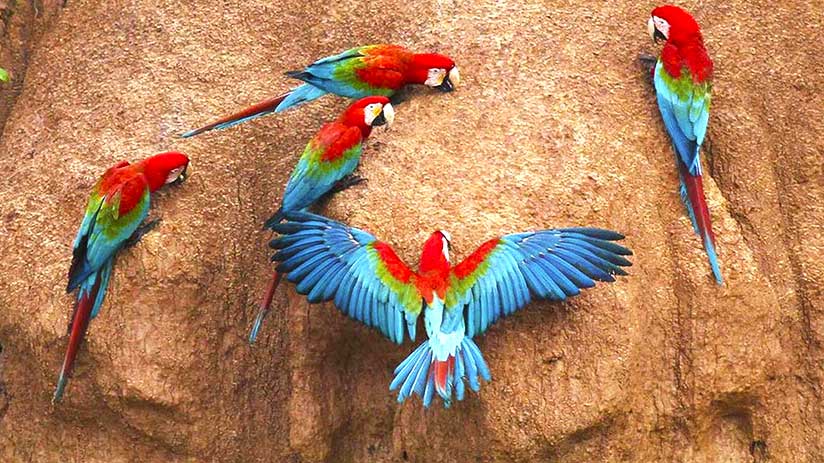 How to get to Tambopata?
There are two main options to go to Puerto Maldonado. From there, you can head toward Tambopata.
There are nonstop daily flights from Lima to Puerto Maldonado, this service takes about 1h 40min. Also, there is a direct flight from Cusco that takes approximately 55min. So, you can witness the impressive beauty of the coast, mountains and jungle.
If you want to enjoy stunning landscapes and panoramic amazon views, this will probably be the best option for your trip. This is an attraction itself. The road trip departs from Lima and takes the Transoceanic Highway, which will lead you to Cusco, this road trip will take you about the whole day. Once you have arrived in Cusco, you will go ahead to another road trip to Puerto Maldonado for approximately 10 hours extra.
Tambopata's Biodiversity
Tambopata's habitat is one of the well preserved and most biodiverse areas in the earth. It contains hundreds of species of plants, mammals, insects, reptiles, amphibians, butterflies and birds. Different types of trees and oxbow lakes (a U-shaped lake, which creates a free-standing body of water); even monkeys, caimans and much more. This is indisputably one of the highlights when you travel to Tambopata.
Remember that during the dry season, clay licks will be filled with several brilliantly coloured birds such as parrots and macaws. They gather daily for feedings in order to get nutrients for them and their offspring. A beautiful wildlife spectacle will be in full fledge!
Another interesting attraction is the rock formations develop in the river banks. The birds in Tambopata such as macaws, parrots and falcons offer a magnificent spectacle of sound and colour, especially very early in the morning. And at night, mammals such as wild pigs and tapirs appear.
Peruvian amazon offers a high level of diversity. Thus, Tambopata is guaranteed to be an extraordinary and educational travel experience.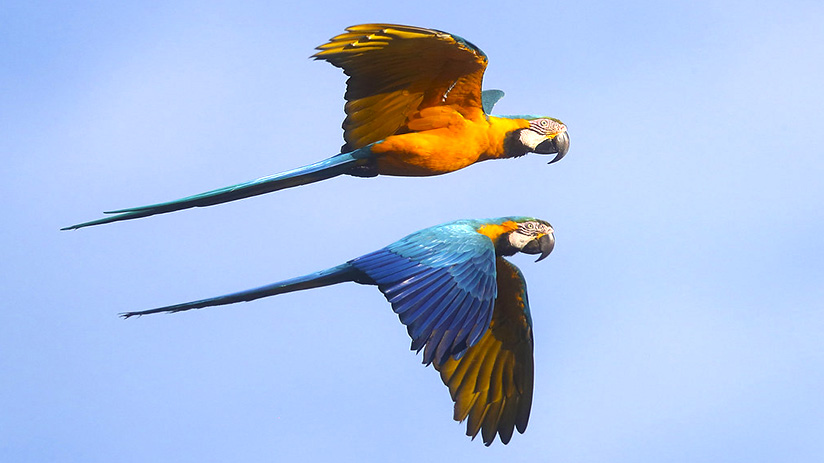 Please be aware that the Amazon and whole the world deserves all our respect. The Peruvian rules about protecting the ecology and the environment are really strict. It is forbidden to hunt and buy protected flora and fauna.
Protect the biological diversity and the ecosystem when you travel to Tambopata!
What activities can you do?
Rafting or canoeing in the Tambopata river
Canopy tower or walkway
Birdwatching in the clay licks
Boat around Oxbow lakes
Trekking around the amazing flora and fauna
Night tours
Experiential tourism: Visit native communities
*There is an indigenous nation called Ese Eja People, which conformed by three native communities: Infierno (about 200 families), Palma Real (about 50 families) and Sonene (about 20 families).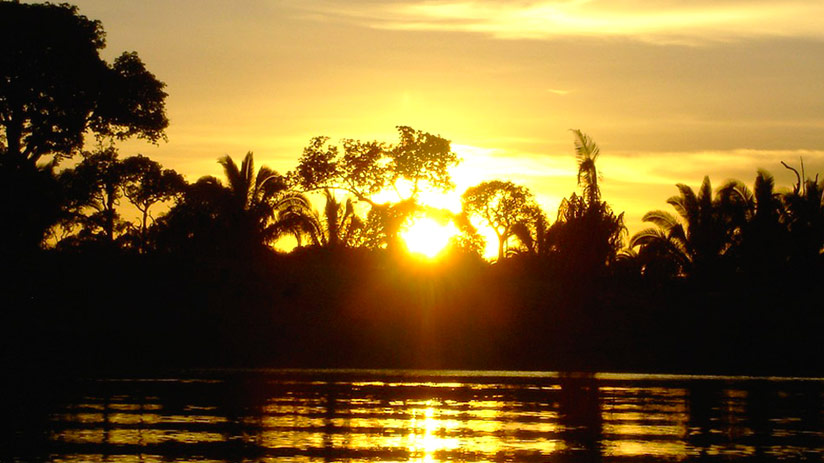 ---