In the search for an expedition to places of pristine beauty when visiting Peru, the highlight will always be "Machu Picchu". Nobody on his/her trip to Peru leaves without having enjoyed this Majestic Peruvian Historical Sanctuary declared a World Heritage Site by UNESCO in 1983 and one of the Seven Wonders of the World in 2007, but above all no one leaves without having acquired the knowledge about the revelations of the mysteries of Machu Picchu and its Inca Empire.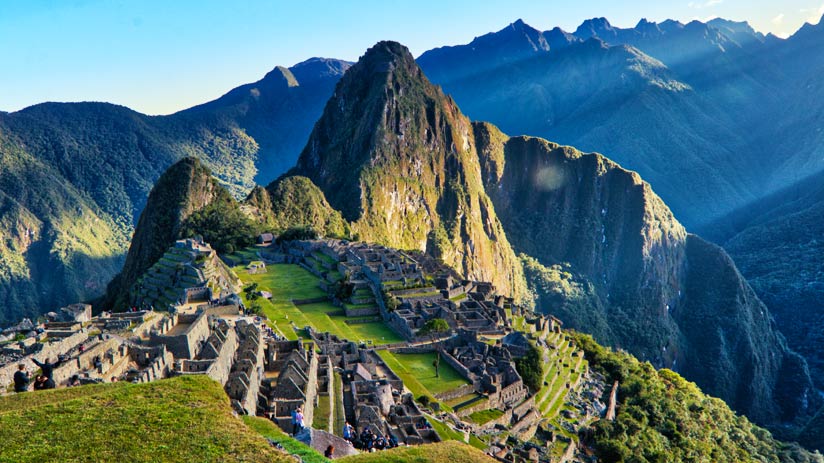 So here you will find the best tips for tourists which will be very useful for your expected walking up to Machu Picchu:
The best time to visit Machu Picchu
At your walking up Machu Picchu consider the weather. There are two seasons: dry and rainy.
The rainy season goes from mid-November to late March. From January to March are the heaviest rains, muddy trails on the path to Machu Picchu. The Inca Trail is closed each February due to strong downpours during the whole month and for maintenance.
The dry season from April to mid-November is really pleasant. However, between April and July, Machu Picchu is crowded, if you are thinking about travel by these months, book your tours in Peru well in advance. If you prefer to avoid crowds come to Machu Picchu between August to mid-November.
Anyway, in the dry season, your walking up Machu Picchu will have an impressive blue sky. In the rainy season, you will see the greenest landscapes.
There is a well-heard phrase that says "if the mountain does not come to Muhammad, Muhammad goes to the mountain." Machu Picchu is waiting for you to find it to dazzle you by its beauty, enigmatic and cultural history and natural magic that it possesses.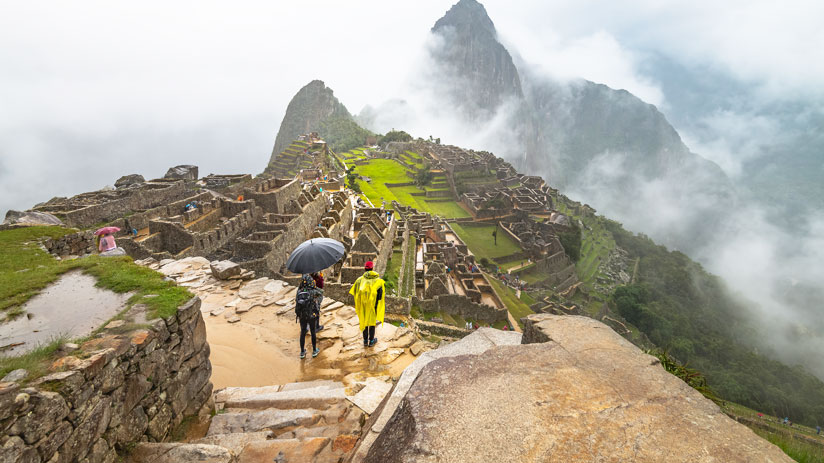 How to get from Cusco to Machu Picchu?
There are different ways to get there. So to choose the right Machu Picchu itinerary, it is necessary you are convinced about choosing the type of tour you are most passionate and suits you best.
 If you are from people who love hiking and trekking, the following adventure tours will be ideal for you:
It is the most famous and popular, going through the mountains until arriving in the majestic citadel. Note that access to this trail is limited, the Culture Ministry provides 500 permits per day, going down rapidly. Since this trek has high demand, you must do reservations well in advance.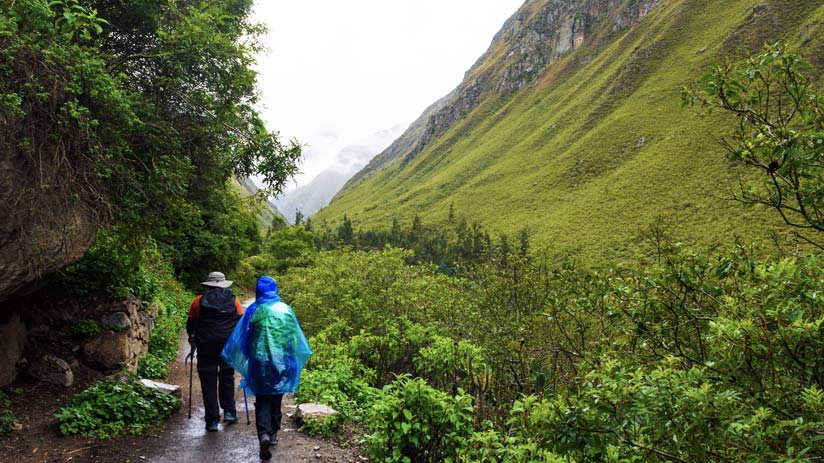 The Short Inca Trail (2 days/1 night)
For those who want a small taste of hiking the Andes spending a night in a nice accommodation in Aguas Calientes, this soft route enjoyable and entertainment. Good for people who have moderate physical fitness. The access is also limited (250 permits per day) but doesn't have the same demand as the 4-day Inca trail.
If you weren't able to find the 4-day Inca Trail or if you are those who incline for the unusual, don`t worry, there are different routes at your walking up to Machu Picchu and available all the year:
The 5-day Salkantay Trek:
You must consider it as an arduous one for the incredible high-altitude sceneries.
Here, on the way, you make stops in some local Andean communities.
Good for those who are daring to a huge challenge, it will take you to the hidden Incan ruins that not many tourists usually see.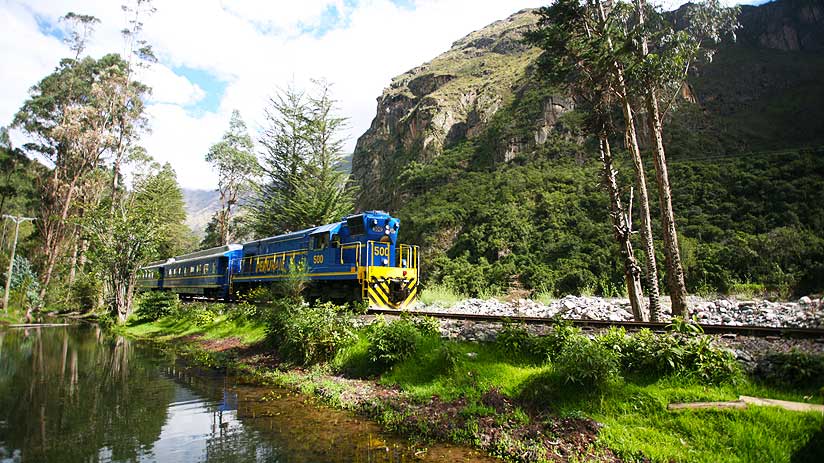 For those who prefer calm in their tours but with an entertaining and incomparable contrast, the following tour will suit you very well:
This route combines a journey by shared tourist bus or private vehicle and train (categories of your choice).
Your journey begins from Cusco by car to the train station in Poroy or Ollantaytambo. Then, you continue by train enjoying the incredible views and entertainment on board (this last one according to your train category). Upon arrival, you take the bus to the Majestic Sanctuary. If you wish, you can spend the night in a nice accommodation in Aguas Calientes. Finally, return to Cusco.
If you are a couple having an amazing Machu Picchu honeymoon, let's take love to heights and take pleasure in all marvelous Machu Picchu has to offer!
Climb to the Two Mountains of Machu Picchu Sanctuary
The 2 mountains optional to climb within the Machu Picchu Sanctuary are:
Huayna Picchu or Wayna Picchu is the most requested and involves to climb up the peak that appears in the background of most classic Machu Picchu photographs. Between go and return, it lasts around 2 hours depending on your pace.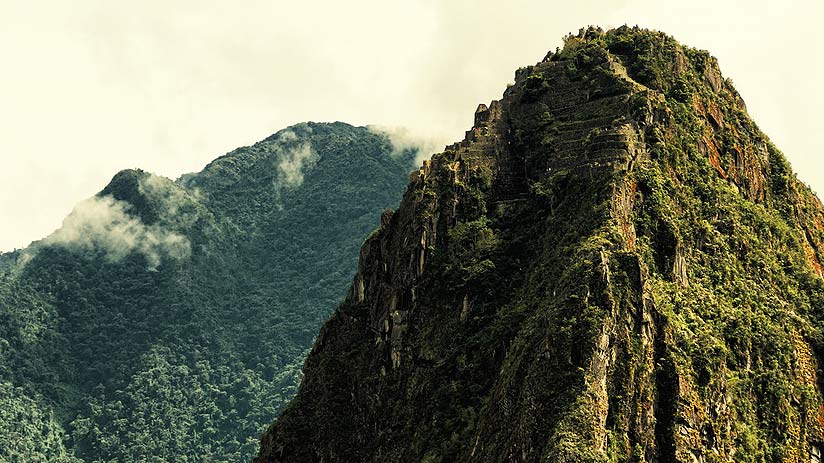 Machu Picchu mountain is more rigorous and less crowded than Huayna Picchu. The hike takes 1 hour approximately more than Huayna Picchu, but views are still similar and spectacular.
For both mountains, the permits are restricted to 200 per day, going down rapidly. If you desire to add one of these mountains, make reservations in advance.
Practical information
If you are traveling with a big backpack larger than 25L, you will be required to store it at the Machu Picchu entrance gate. Otherwise, you won't be able to enter.´
According to the Culture Ministry Policy is mandatory to have a Guide at the moment to enter the Sanctuary. The service has a duration of 2 hours approximately. After the excursion guided, you can stay on your own there until the time your visit ends.
Note that it is not allowed to smoke within the Sanctuary or to sit on the ruins.
Toilets can be found only at the Machu Picchu entrance gate. There aren´t them in the Sanctuary.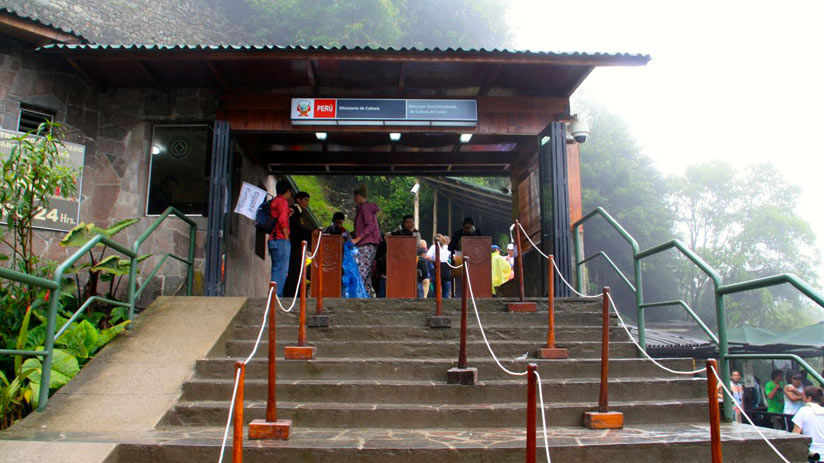 What do you need to bring?
The most essential items to carry with you at your walking up Machu Picchu are:
Original current Passport or ID.
Winter and summer clothing.
Hiking shoes.
Cap
Waterproof jacket/rain poncho.
Swimsuit and sandals – you can use them at the thermal baths in Aguas Calientes.
Sunglasses
Sunblock and lip balm.
Insect repellent.
Camelback – in case you are doing a trek and you can fill it up with boiled water cold.
Camera with extra batteries.
Extra money in Peruvian currency for snacks, drinks, tips, and artisan crafts.
Travel Insurance – You are strongly recommended to take out travel insurance for the duration of your trip.