Do you like hiking? Sports in general or just want to have a challenging adventure? Then you are probably going to love the famous Inca Trail to Machu Picchu. This is one of the most challenging feats we have in Peru. Being able to walk to Machu Picchu via the Inca Trail is not something to be taken lightly. We are talking about one of the most famous hikes in the world. And for this, we will have to take many appropriate precautions and be aware of what we are doing. And that is why together with Machu Travel Peru we have prepared an Inca Trail to Machu Picchu guide. We will gladly help you with everything you need to know about this unique hike.
The Inca Trail is one of the most famous treks in South America, if not the world. On this four-day hike, you will cross high passes and enchanting landscapes before reaching the Inca citadel of Machu Picchu. It is not recommended for the faint of heart, as the path can sometimes be very difficult. This route puts even the fittest and most experienced people to the test due to the heights. But the payoff is worth the pain and energy it takes to finish this epic feat of endurance. On the trail, you will pass the Inca ruins built many centuries ago.
Basic notions about the Inca Trail to Machu Picchu
ABOUT THE HIKING ROUTE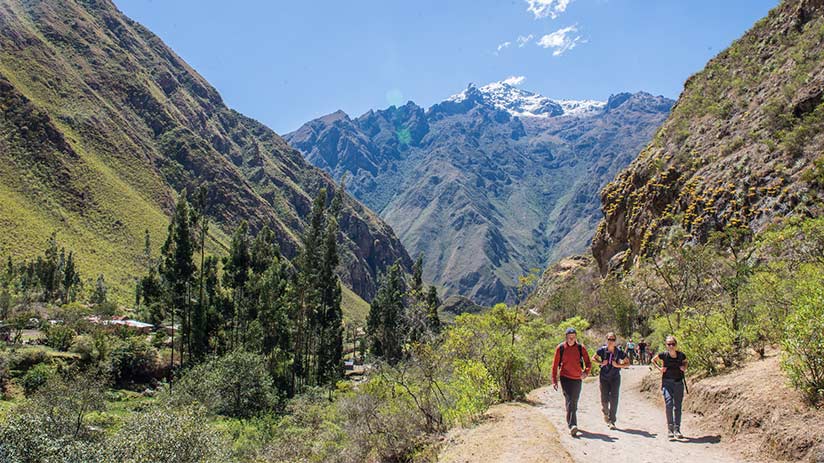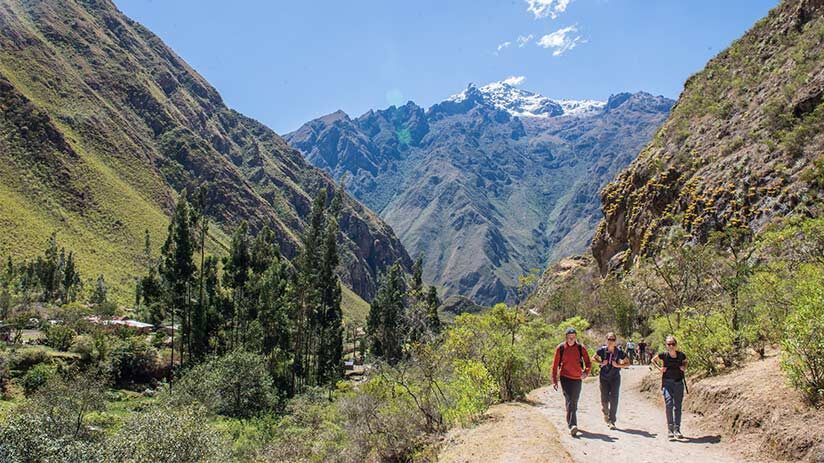 Wondering how long is the Inca Trail? This stretch trail is small compared to all the roads built by the Incas. Considering that different routes built by the Incas can reach a length from 23,000 km to 45,000 km. The Inca Trail to Machu Picchu is approximately 42 km long and, depending on the tour you choose, it can be done between 2 to 4 days.
Another important tip is that Inca Trail was built by the Incas 500 years ago. Many stories, many voices quiet by the Andean winds will accompany you if you choose this route to get Machu Picchu. Despite being one of the best hikes in Peru, the Inca Trail could be considered a hike of moderate difficulty. However, more than the route, it is the altitude sickness that can complicate the experience. Note that at its highest point, the route ascends about 4226 meters above sea level. Therefore it is recommended to acclimatize for a few days and if Cusco is your place of rest, great election!
The Inca Trail to Machu Picchu is truly an immersive experience and one of the best things to do in Peru. You will learn how the ancient inhabitants came to Vilcabamba's zone to build the contemporary Wonder of the World. The mere memory that this trip will give you will be unforgettable and incomparable. Upon reaching the top and witnessing the incredible view, you will realize that all that effort was worth it!
This popular Inca Trail is a wonder in itself to behold and experience. From unexplored and not so well-known Inca ruins to high passes over 4000 meters above sea level. Not only will you be able to test your mental and physical abilities, but also you will witness cloud forests and other landscapes that will take your breath away.
RECOMMENDABLE TIMES TO DO INCA TRAIL HIKING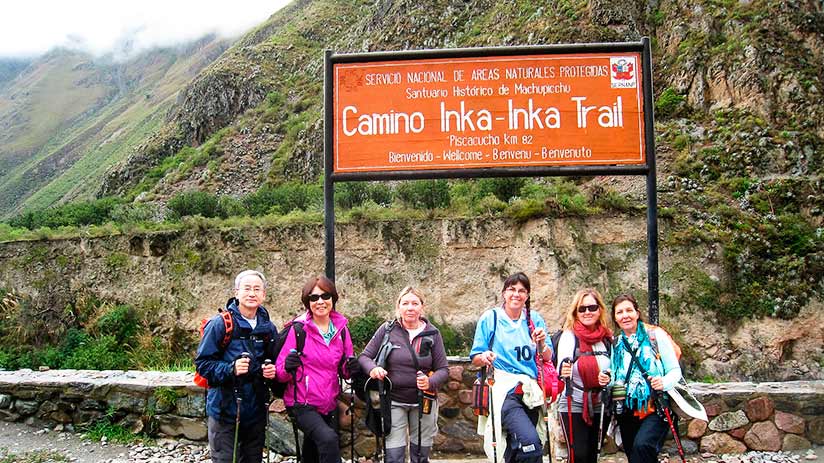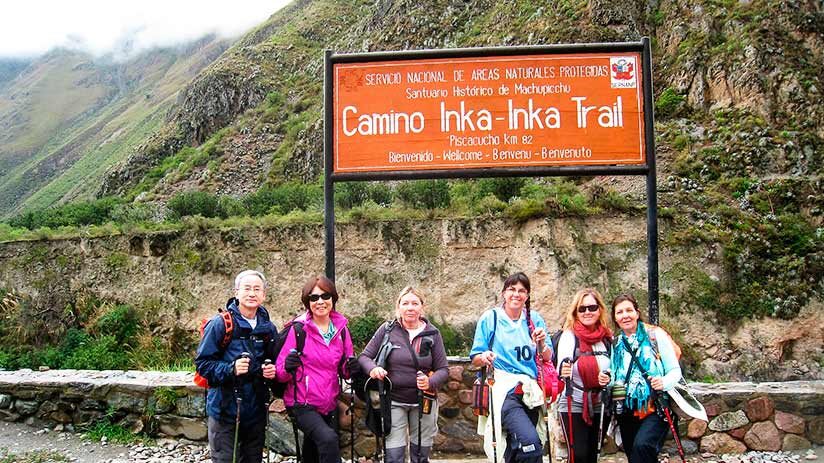 The walk along the trail can be done all year round, except during February for maintenance reasons. We believe that the best time to walk the Inca Trail would be during the dry season; between May to October. This is mainly because there won't be as much cloud and fog along the way and you will be able to enjoy some of the most beautiful views the world has to offer. With clear skies along the way, you will find breathtaking views and fantastic landscapes accompanied by numerous archaeological ruins. That said, April and November are also excellent months to enjoy the Inca Trail. Despite being the rainy season, during these months the rains are not so frequent and you can enjoy a less crowded route.
The dry season (May – October)
Pro: You will hardly encounter any rain, days are sunny and skies are clear. The perfect weather for trekking.
Con: This time is also when the herds of tourists come to visit, so be ready for a very busy hike. That also means that tickets sell out months in advance. Nights are quite chilly.
The rainy season (November – April)
Pro: Lush nature will be expecting you and there are notably fewer people sharing the trek with you. You might find that tours are a little bit cheaper and tickets do not sell out so fast. Nights are not as cold.
Con: As the name says, you will probably encounter rain. Though the weather in the Andes is quite unpredictable, be prepared. Be careful as parts of the trek can be slippery.
As mentioned, especially in the dry season, the permits for your Machu Picchu hike can sell out months in advance. Sometimes up to one year for popular months such as May, June, and July.
BOOKING SPACES IN AN INCA TRAIL GROUP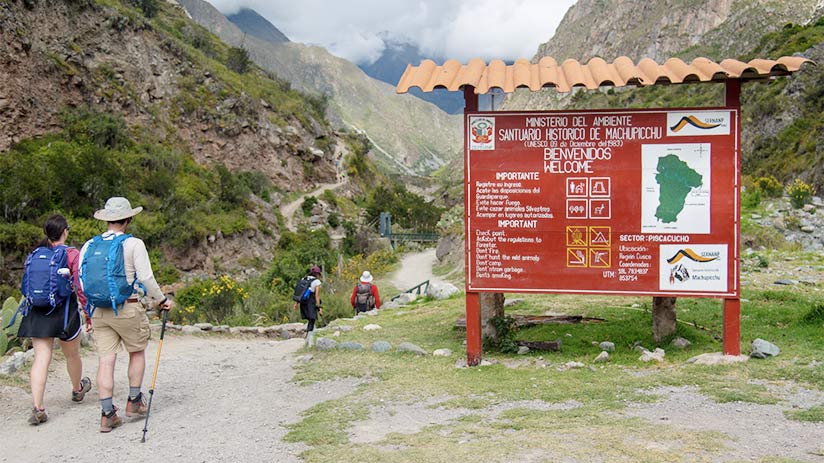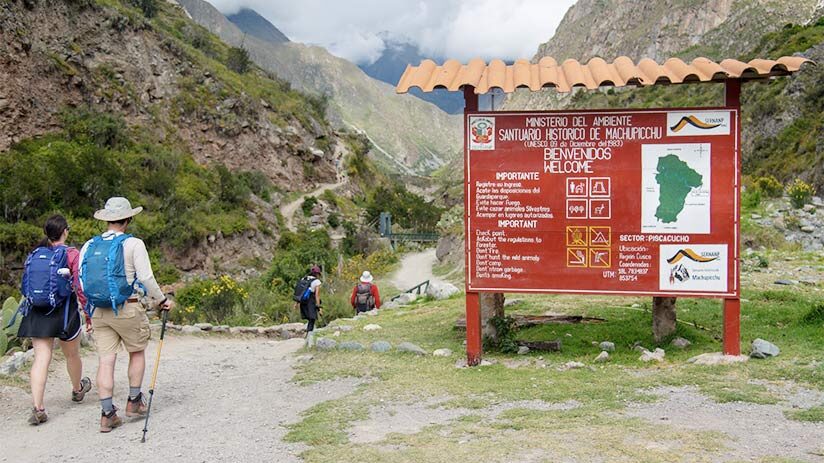 Besides, you must consider the Inca Trail availability. It is suggested to reserve your permits at least six months in advance. The classic 4-day hike is suitable for any experienced or amateur hiker. Not being in shape is not an excuse not to try this beautiful and impressive trail. Also, there will be a host of guides to help you continue at your own pace. Keep in mind that doing this hike individually is prohibited, so you will have to schedule together with a travel team. Guides are mandatory to ensure the maintenance of the route. In case you cannot enjoy this hike, do not worry. There are a large number of Inca Trail alternatives, many of which also go to Machu Picchu.
The most popular Inca Trail is the 4 days / 3 nights one. There are also shorter ones where you will only hike a part of the path. Here we will focus on the traditional one. To be able to enter the Inca Trail you do need a special permit that only a certified travel agency can get for you, as mentioned above. Be aware that tickets are limited to 500 per day which are distributed in around 1/3 for tourists and 2/3 for guides (without them you cannot enter either) and porters.
Porters are also known as Chasquis and carry part of the things that you need for the trail such as a tent and your duffle bag ( most companies provide a duffle bag of usually 6 kg, make sure to ask ). You would only have to carry a backpack with water, snacks, clothing to change, etc. Chasquis are incredibly important as without them, you would have to carry everything yourself. Also important to know for your Inca Trail booking is when is the best time to do the hike. In general, year-round is good except for February, when the trail is closed due to heavy rains and maintenance. The Andes are divided into two main seasons: the dry and rainy season, each of them with pros and cons.
STARTING WITH PREPARATIONS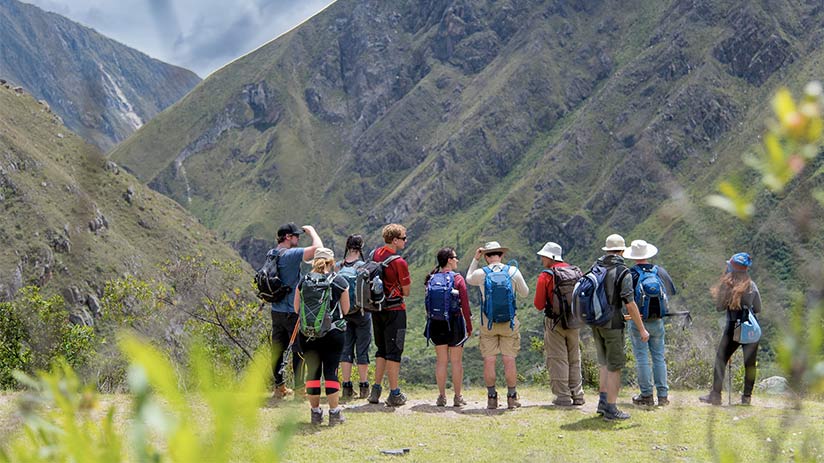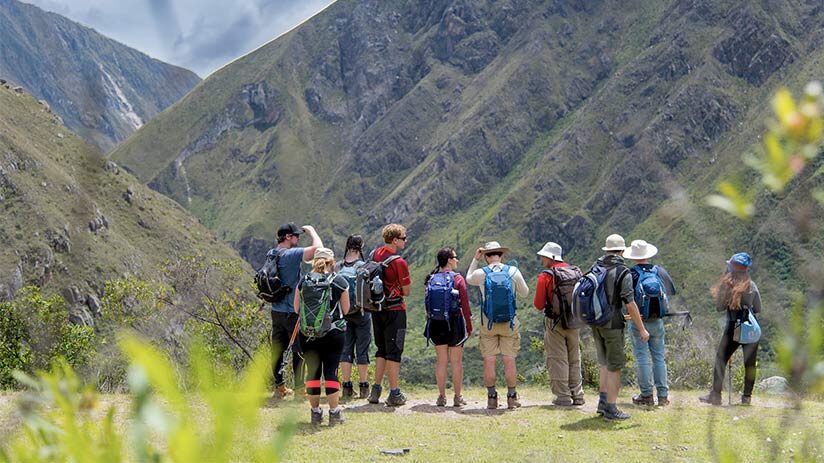 To hike the Classic Inca Trail to Machu Picchu you must start preparing before your departure. To prepare for the Inca Trail you should improve your fitness by trying to walk every day. If you try to walk with a backpack on your back, you will start to notice some positive changes. Choose to hike in hilly places or on steep routes to start to get an idea of what the route will be like. Enjoying this magical route is a wonderful experience that will leave you speechless. The photographs and memories you will get will be priceless.
A good idea is to get hiking shoes. Shoes are a very important part of your experience, so don't be afraid to try on many pairs. Ask someone who knows hiking for advice on choosing the best hiking boots. Try to wear them during your daily walks and get used to stepping on them. A good tip is to wear two pairs of socks to avoid rubbing and blisters. Also make sure they are waterproof, as you don't want your feet to get wet during the hike. Especially if you plan to travel during the rainy season. When you are booking the Inca trail, keep this important advice in mind.
THINGS TO BRING IN MY BAG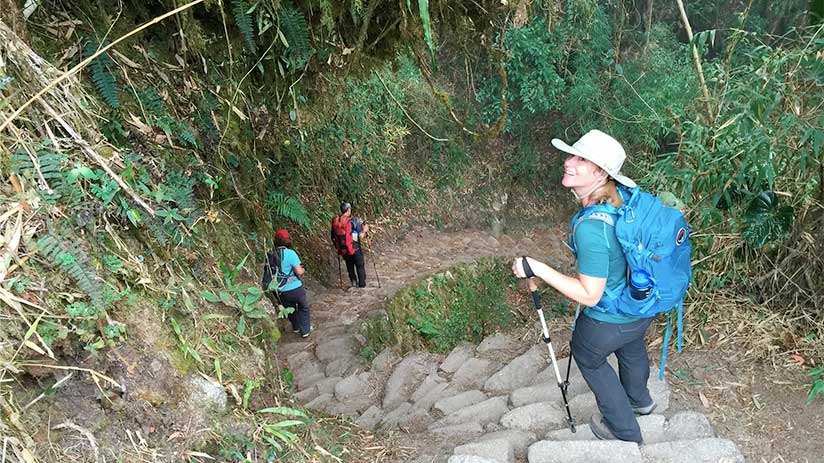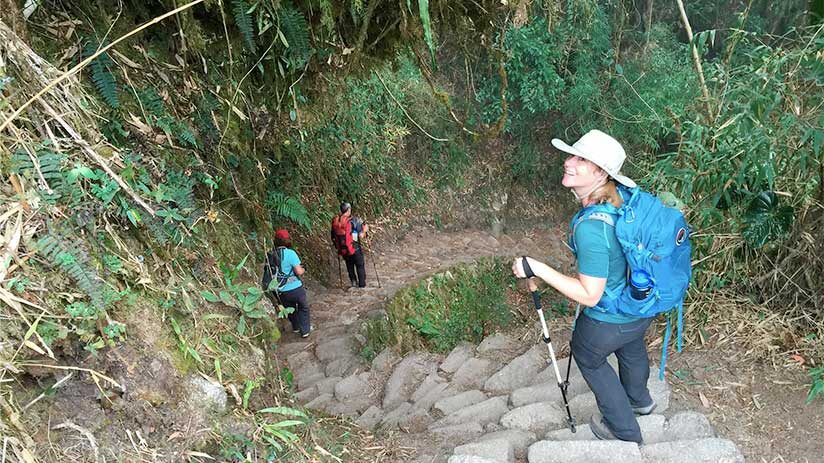 One of the things to keep in mind is the things that you will carry. If you want to know how to prepare for the Inca Trail, you have to know what to bring. During the route, approximately five kilos are allocated to you for your items. The Peruvian porters will carry it for you, so keep in mind that you will need to bring only the essentials. You will generally be given a sleeping bag, which the porters carry as well. So think carefully when you are packing for the Inca Trail. Some people bring their sleeping bags from home and their sheets to put inside their sleeping bags.
Clothing is also an important factor. Remembering that nights and mornings can be very cold, a good fleece jacket is essential to keep you warm. You also want to consider sleeping with it. In the middle of the day, the sun can get very hot and walking will get hot, so dressing in layers is recommended. Never forget the importance of a good hat, you will need it to protect you from the sun and a good raincoat is also essential.
Bring enough dry and warm socks for the entire hike, this will help with your comfort on the trail. For personal care items, don't forget your sunscreen, sunburn cream, and bug spray – these are all essential. This advice is also valid for any of the different Inca Trail alternatives. Since if you will be on a hiking route for more than 1 day, they will make your experience much easier.
Bring the essentials
It is a good idea to pack light for your hike. Although it is true that porters will carry most of the things, keep in mind that you will sweat a lot. Everyone will eventually sweat, even if you bring four pairs of clothes. And considering that showers will not be a frequent comfort, it is a good idea to bring the essentials. Let's face it, you only have to bring the most important things to make your experience that much more enjoyable.
And the elevation will constantly change during the ride, so be prepared for temperature changes. Take the necessary layers of clothing with you and don't forget your rain gear! You won't find any pharmacy once the hike starts, so make sure you pack all the medications you need and be prepared for emergencies. It is also mandatory to wear sunscreen and a hat as the solar radiation is very strong. And, of course, the most important thing: your passport. Without it you will not enter, neither the Inca Trail nor Machu Picchu.
When thinking about doing this tour, remember that you have to be ready. Preparing for the Inca Trail to Machu Picchu is not just putting on some hiking boots and hoping for the best. It's about doing whatever it takes to ensure a successful and unforgettable adventure. You will find yourself outdoors and doing a lot of physical effort. So it is better if you bring some basic things with you like:
Sunscreen
Headlamp
Toilet paper and plastic bags.
Repellent/insect repellent
Water bottle
Walking stick
Trekking equipment (hiking boots, two changes of clothes, original passport, etc.)
THE BEGINNING OF THIS ADVENTURE TREK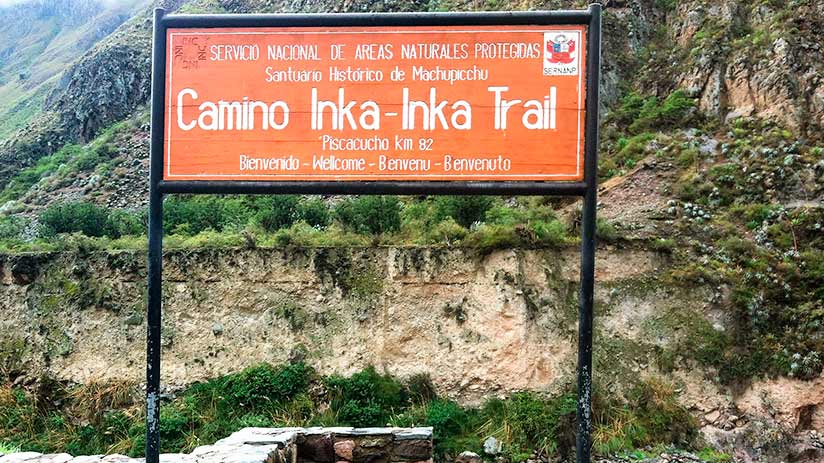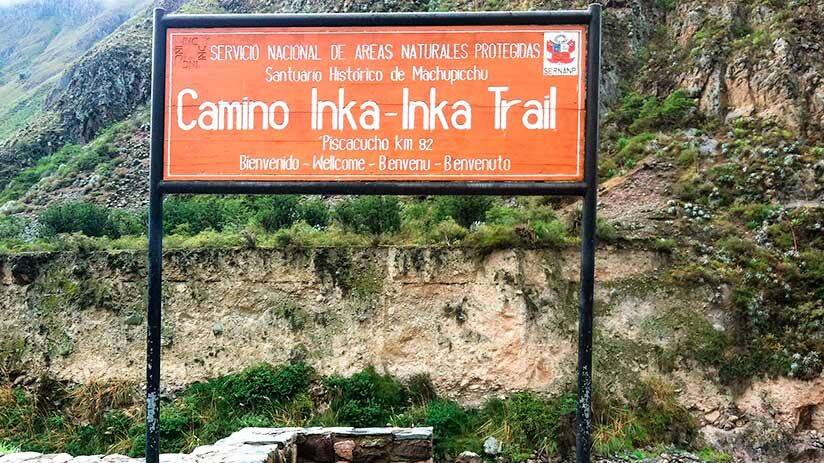 The Inca Trail to Machu Picchu generally begins in Cusco, but that may depend on your tour operator of choice. Although Machu Travel Peru highly recommends taking a few days in the beautiful Imperial City. Keep in mind that one of the things that we will have to face in our ascent will be the height, so acclimatization in Cusco is almost mandatory. Besides, you can approach your stay in the Imperial city to visit one of the most famous landmarks in Peru, like Archeological Parks located around the city.
When you arrive in Cusco, remember to rest and hydrate a lot. Try to take the first few days to walk and not eat too many heavy things. This seems to help a lot with the altitude. Mate de Coca is also excellent for fighting altitude sickness. It may even be a good idea to carry a thermos of this tea during the Inca Trail.
The hike itself begins in a wonderful place called Kilometer 82. As its name indicates, this trail is 82 kilometers along the railway from Cusco. There are several ways to get there and this will depend on your travel schedule. Therefore, before thinking about how to get to Machu Picchu, better think about the unique experience that Inca Trail to Machu Picchu can offer you. The Inca Trail is only one way to the citadel, so will be better to take a comfortable train ride on your way back to Cusco.
THE INCA TRAIL DAY BY DAY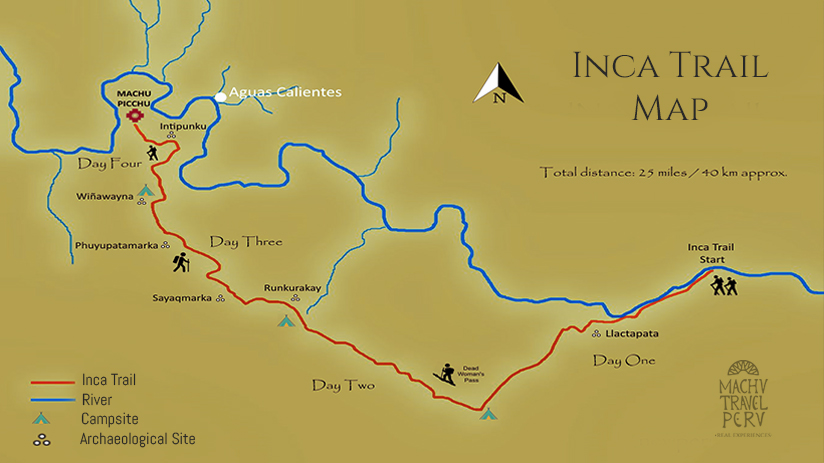 For this article, we will take a general itinerary of a 4 days Inca Trail to Machu Picchu.
FIRST DAY
Usually, on the first day, you will go by bus from Cusco to Ollantaytambo (Kilometer 82) where the hikers' route begins. The first section is quite easy, so it is advisable to save your strength as it will become more difficult later. From there, you will head to a small town from which you can see the first archaeological ruin called Huillca Raccay. A few kilometers later you will arrive at Wayllabamba where you will rest for the night.
SECOND DAY
The second day is when the fun begins, it is one of the most difficult parts of the Inca Trail to Machu Picchu. After a few kilometers going straightforward, you will begin to notice that the trail begins to steep up to finally reach a small town called Llulluchapampa. From there, you have another 2 hours to reach the Dead Woman Pass. After reaching the top and taking all the necessary photos, you will have about 2 more kilometers to the camp where you will rest for the night.
THIRD DAY
After waking up, you will go up to another beautiful ruin called Runkurakay. From there, you can see mostly paved Inca trails and staircases. So be prepared to go downhill for a while. This third-day hike usually takes 6 to 8 hours, giving you plenty of time to take photos and observe the beautiful sightings. You have to be alert and ask your guide about the different ruins on the Inca Trail map. Finally, you will arrive at one of the last places to camp and rest called Wiñay Wayna.
FOURTH DAY
The last day of the Inca Trail to Machu Picchu is one of the most unique days of the trail. All the effort of the hike sees its fruition when you arrive at Machu Picchu. From Wiñay Wayna, you will trek to Inti Punku. Once you get there, you will be presented with a unique view of your goal, Machu Picchu. The final triumphal descent to the citadel takes about an hour. You will find how this route is one of the best adventure holidays in Peru.
ACCOMMODATION AND FOOD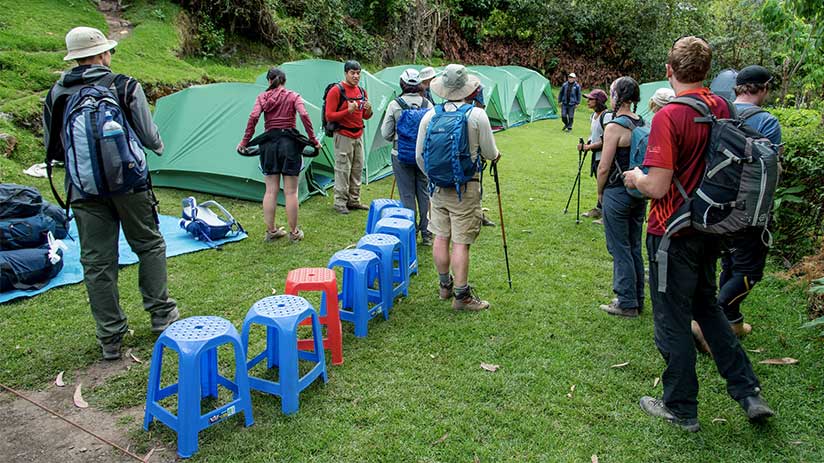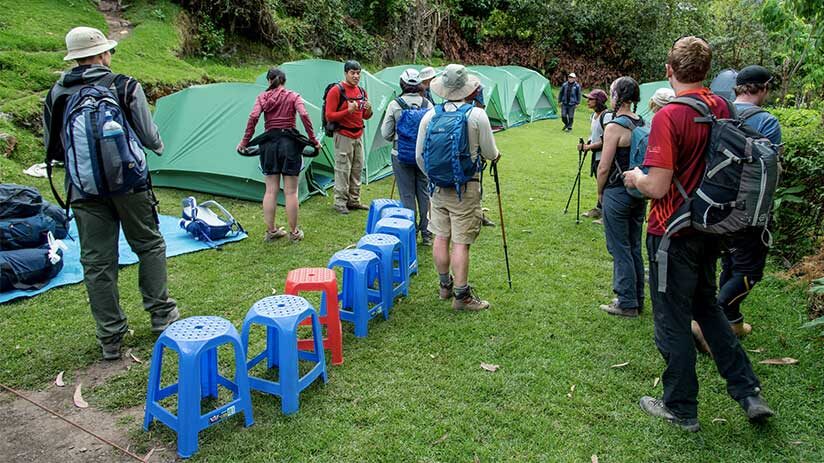 When we talk about the Inca Trail to Machu Picchu, don't expect first-class accommodations. You will be in the middle of the mountains, so you can expect a high-quality camp. This is one of the most comfortable camps you will have ever experienced. Along the way, you will find that your tents will already be prepared for you. As for food, every day you will enjoy delicious breakfasts, lunches, and dinners. The guides will be attentive to any dietary requirements and preferences. You will be able to experience an abundance of homemade jams, dried fruits, and traditional dishes made with local ingredients. The company and the beautiful starry skies at night make this one of the best Machu Picchu tours.
TIPS FOR YOUR HIKING EXPERIENCE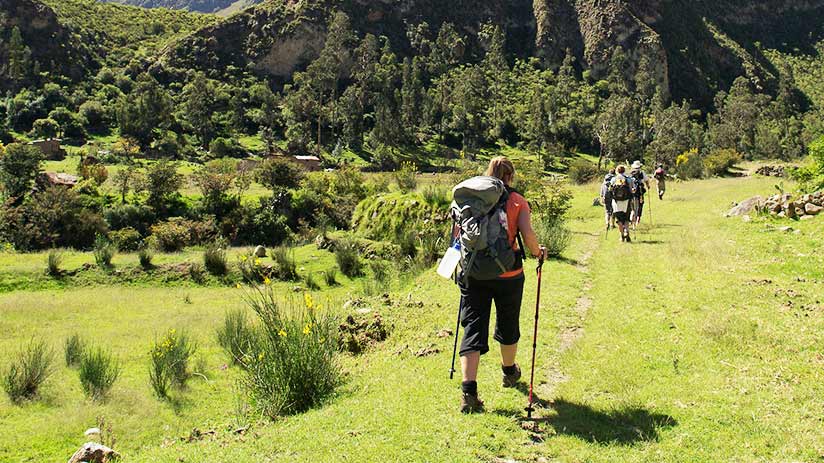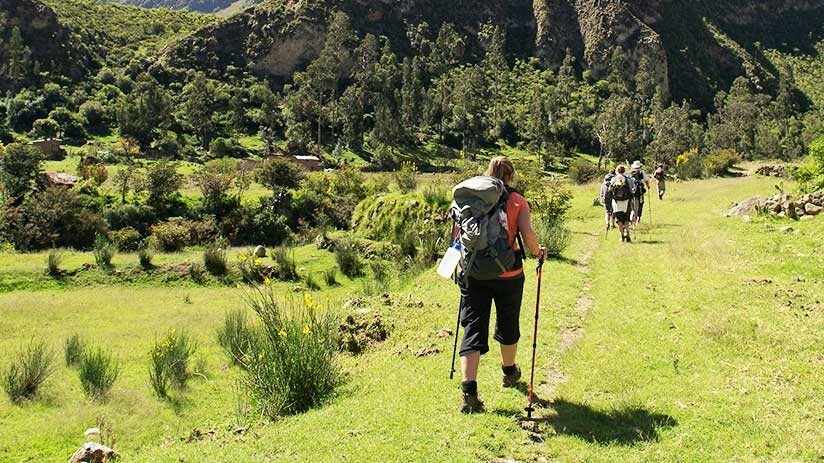 The details below will ensure a successful and exciting adventure in the Peruvian Andes.
Acclimatization
Walking the Inca Trail to Machu Picchu (height of 2430m.) is a very challenging hike in the mountains, remember that the citadel is located close to the famous Wiñay Wayna mountain. You will be going up and down quite a lot, so it is really important to make time to prepare your body to acclimatize to the Andean altitude. Especially if you have flown straight up from sea level.
We recommend you to stay some days in Cusco or the Sacred Valley before you take on this exciting hike. Also, chew coca leaves, a local and natural remedy for altitude sickness. You can also check with your doctor what kind of medications you can bring for the Andean altitude.
Porters and equipment
Porters are considered the heroes of every Inca Trail expedition. They carry up to 20kg with all the necessary food and equipment for the groups, plus your camping gear. You will only carry your daypack for your daily essentials. Porters carry the majority of the equipment. We recommend giving them an extra tip to recognize their effort and hard work.
Rules and restrictions
As we told you before, walking the Inca Trail is a strictly regulated activity where permits are compulsory and the number of visitors is restricted. In addition to that, therefore hikers must go with a tour or licensed guide.
Travel Insurance
It is a requirement for walking the Inca Trail. Travel insurance will protect you against injury, illness, cancellations, and more. But make sure it also covers you for activities at altitude.
Health tips
Fitness condition: The Inca Trail is an incredible experience of a lifetime, but not an easy trek. So, having a good level of physical fitness makes everything more pleasant. We recommend you do some cardio to increase your endurance. Also, pack light and smart to carry just the necessary.
Calories: We highly recommend you take some high-calorie snacks, such as seeds and nuts, to keep your energy, because you will burn a lot of calories during the trek.
Stay hydrated: During the four-day hike you will do an intense physical effort, so you must drink enough water each day. Salt tablets can help you as well.-
Mental preparation: Go slow and do not push yourself. Try to consider this challenging trek as a motivating adventure and take your time to enjoy it.
"FAITH IS TAKING THE FIRST STEP, EVEN WHEN YOU DON'T SEE THE WHOLE STAIRCASE"
As you can see, the Inca Trail to Machu Picchu is an incredible place to enjoy impressive views. The Inca Trail is one of those unique experiences in the world that you cannot miss for anything. With so many changing landscapes and Inca ruins to discover, it will be one of those experiences that will leave you speechless. Not only will you be able to enjoy some incredible views but also some not-so-well-known ruins. Now that you know all this, you have no excuses not to try this famous hike. Machu Travel Peru hopes you have a great time exploring the wonderful Inca Trail. If you want to know about our Inca Trail travel programs, you can consult with our team of qualified advisors.
Peru has so much to offer, it can be hard to know where to start. With many years of experience in the tourism sector, Machu Travel Peru is happy to help with anything regarding your trip to Machu Picchu and any tours around it. Make your Machu Picchu experience an unforgettable one!
---