Peru has its favorite drinks as anywhere else does, different regions featuring traditional Peruvian drinks and cocktails. So when you book your vacation to the Andean country you may be thinking about what to drink in Peru? This will depend on what you like to drink. Here we will go through some of the local specialties and what you must try.
BEER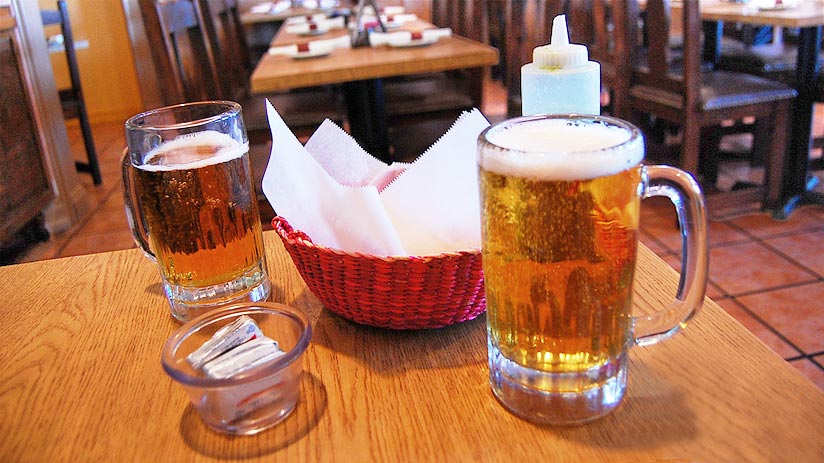 For those of you who enjoy a nice beer or cervaza in Spanish than Peru has several that must be tried on your trip. Beer has existed in Peru for hundreds of years. The local home brew that is typical in the highlands of Peru is called Chicha, which is prepared with fermented corn, wheat, barley and chickpeas. This is often drank at parties and festivals by the local people and there are several different varieties. Around the highlands especially in Cusco you will see houses selling the beer and local people enjoying each other's company. For other beers which are similar to what you will get at home, try Cristal, Cusquena or Pilsen. All these have light, normal and dark beers to try and are available around the country.
PISCO SOUR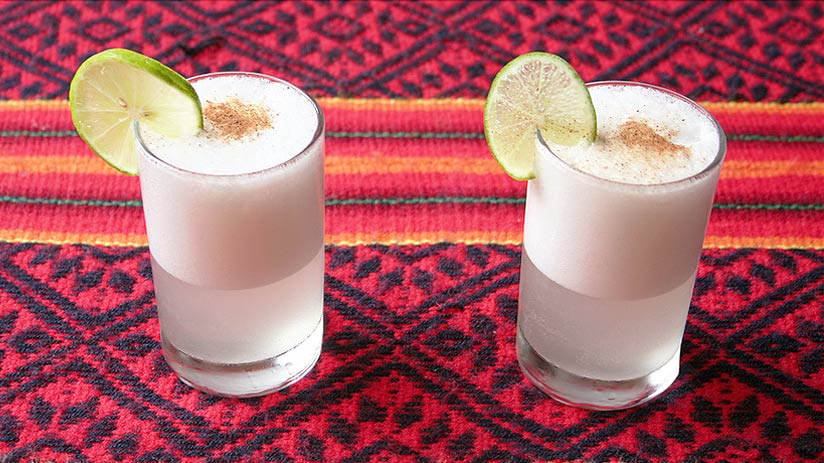 When visiting Peru, you will have to try the Pisco, a grape brandy and the king of Peruvian alcohol. Not often drank straight the most popular way and what you will see all over the country is in the form of the Pisco Sour. The Pisco is combined with lemon juice, ice, egg whites and a dash of Angostura bitters. This is considered to the national drink of Peru and they take Pisco very seriously, so seriously in fact that Pisco Sour Day on February 8 and is celebrated every year. For many years Peru and Chile claimed the brandy as their own but in 2005 the World Intellectual Property Organization declared Peru as the original owner.
WINE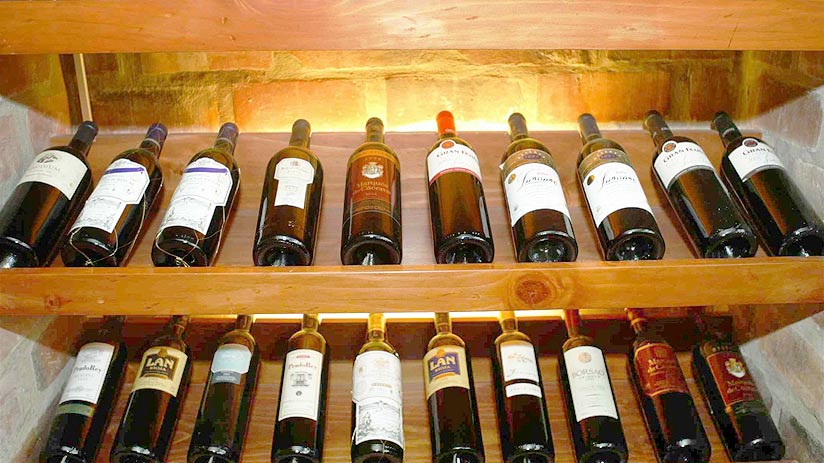 Wine is also grown in Peru with the first vineyards planted in the 1500s. The region of Ica south of Lima has many vineyards with the principle being Tacama and Tabernero, with both companies winning awards around the globe. If you enjoy your wine than try the many different wines from around Peru. It is also very easy to buy wines from Chile and Argentina which are also easy to get in supermarkets, restaurants and bottle shops.
COCA TEA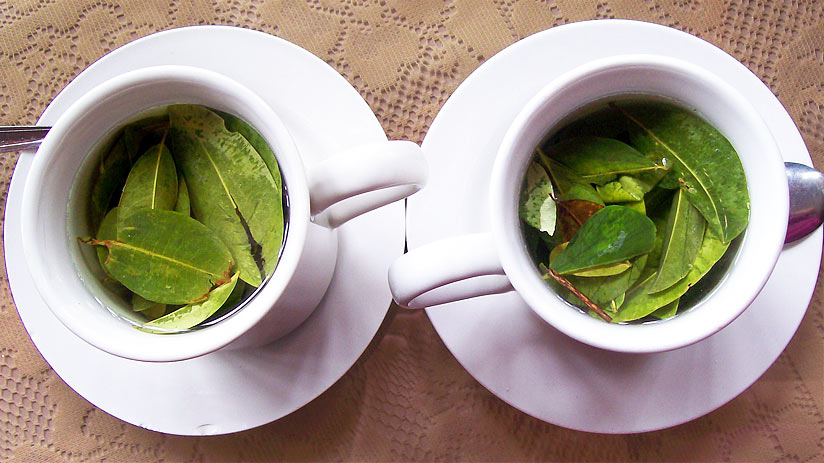 Peruvians love their hot drinks especially in the highlands where the weather is often cold. Mates or herbal teas are very popular with many different varieties on offer. Mate de Manzanilla or chamomile tea is drunken all times of the day and when unwell and is said to be very good for the stomach. Anis or aniseed tea also very popular drank with lunch. Used to combat altitude sickness is Mate de Coca, which is made from the coca leaf, this is served in the reception of most hotels, so when you arrive in the highlands take the time to try Mate de Coca. Coffee is also available although not as popular as tea, you will find cafes in all of the major cities serving Café Americano or in your hotel you will find instant coffee.
CHICA MORADA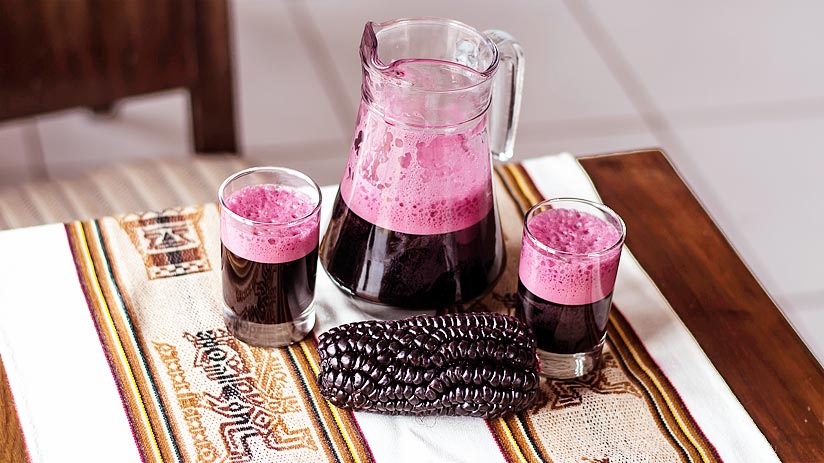 There are plenty of western drinks like Coca Cola and Fanta to purchase in Peru, but while on holiday you should try Inca Cola, this bubble gum flavored drink has been Peru´s most popular drink since the 1930s. But equally as popular is homemade Chicha Morada, a non-fizzy drink made from boiled purple corn, apple peel, pineapple and cloves, you must try this while in Peru. Popular in the highlands is a milk-based drink called Ponche, made with sesame seed, spices, nuts, and coconut for something really different.
The major cities of Peru are now famous for their restaurants and bars, so on your visit you will find a variety of food and drinks. Luxury tours to the Andean country can give you a great knowledge of the many different cultures that have habited Peru. Peru tourism is on the rise and the quality of hotels and services are the same as other countries in the world. Machu Picchu has recently been voted as one of the 7 Wonders of the World and is the best example of Inca architecture that is left to explore.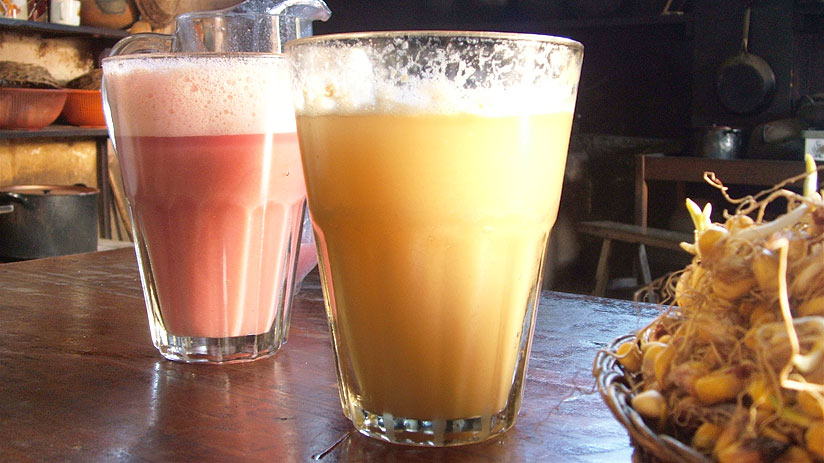 Peru is one of the most biodiverse countries on the planet with 3 distinct zones that each feature their own attractions. For example, the coast is where you will arrive, the capital city of Lima is considered one of the best food destinations and has recently been voted so. Down the coast from Lima is the desert town of Nazca which features the mysterious Nazca Lines. Travel to the highlands to see all the mighty Inca culture left behind. The last zone you must visit is the jungle, full of all the natural beauty that you will need to see.
So as you can see what to drink in Peru will not be a problem as there is something to please everybody. When there have a few Pisco Sours and take a bottle home with you to enjoy.
---