During the 16th century, the Spaniards brought Catholicism and religious traditions to Peru. Until today, Peru is still a very Catholic country, next to other religions and cults. There are numerous Catholic festivities throughout the year that are celebrated feverishly. Among them is Semana Santa, or "Holy Week", which usually starts with Palm Sunday and ends with Easter Sunday or Easter Monday. This week counts as one of the most important festivities in Peru. They include festive processions, jubilant celebrations, and plenty of traditional dishes. Therefore, together with the experts from Machu Travel Peru, we have prepared a small article about this iconic week. If you are looking to take some vacations in Peru, this is one of the best moments!
Now, what to do in Peru during Holy Week? Throughout Peru, celebrations are huge and almost similar in each city. However, there are a few cities that you should not miss due to their unique celebrations.
Things to do in the Holy Week in Peru
HOLY WEEK IN CUSCO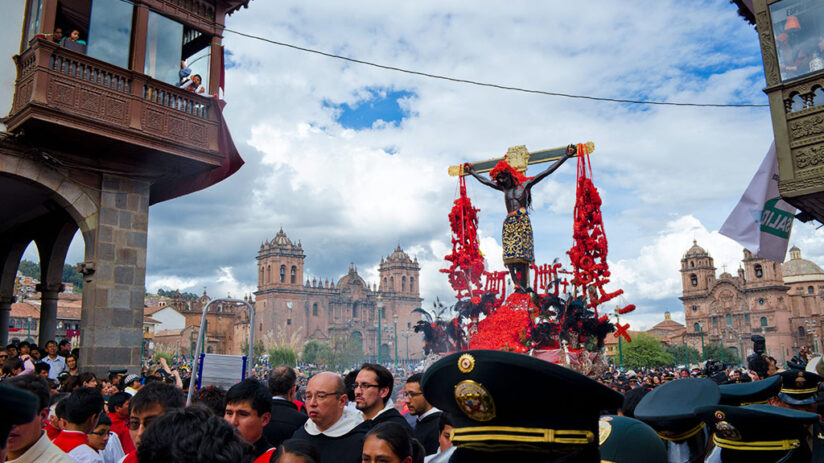 The festivities of Holy Week in Cusco are spectacular. The Easter observations revolve around the Señor de Los Temblores. Which means "Lord of the Earthquakes" and is also the patron of the former Inca capital. It is believed that during a heavy earthquake on May 31st, 1650, once people took the statue out of church the earthquake miraculously, all of a sudden, the earthquake stopped. Since then the statue is carried during a 6-hour procession across the Plaza de Armas (Main Square) covered in the red ñucchu flower symbolizing Christ's blood on Easter Monday.
On Palm Sunday (Domingo de Ramos) people commemorate the entrance of Jesus to Israel. And Holy Thursday is the day where 12 local and traditional dishes are served in honor of the Last Supper. Holy Friday is spent mourning the death of Jesus, as in each city throughout Peru. This time is particularly great for some family holidays in Peru. The whole family can experience the local traditions around Cusco and Machu Picchu and explore the surrounding Archeological Sites.
HOLY WEEK IN LIMA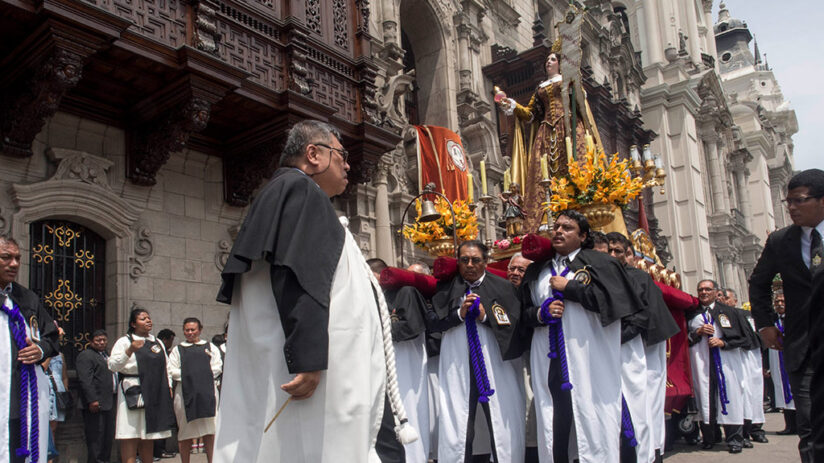 In the capital of Peru, Lima, it is also a custom to visit the seven most popular churches in the historic center of the city. It is very common for different churches to be visited on Jueves Santo and Viernes Santo. This visit is usually done as a family. Historically, it is a tradition influenced by Spain and Italy, who brought Catholicism to Peru. Other traditions include attending mass on Palm Sunday. On Sunday each believer brings home an olive branch to commemorate the entry of Jesus into Jerusalem. In Lima, you will not only see a large crowd of locals, if not Peruvians from all over the country. You don't have to worry about security in Peru. During this week the police and security, in general, increase their presence.
HOLY WEEK IN AYACUCHO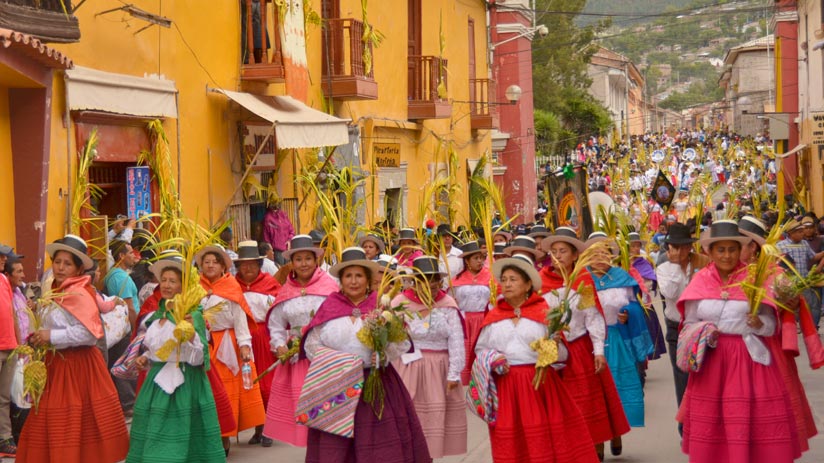 The city of Ayacucho in the Huamanga Province next to Cusco is known for its devoted Holy Week processions that are considered as the best in the country and attract crowds of locals and foreigners. On Friday before Palm Sunday celebrations start with re-enacting when Jesus met his mother Virgin Dolorosa. The celebrations continue with mules and palms wandering through the city on Palm Sunday. On Holy Saturday you can experience an open-air market with music, lots of food, and crafts attracting lots of people from everywhere after the sad rituals on the day before, Holy Friday. The festivities for Christ's resurrection on Easter Sunday begin at dawn with music, fireworks, prayers, and eventually, evolve into a huge party. There is no doubt that Easter is the best time to visit Peru.
HOLY WEEK IN AREQUIPA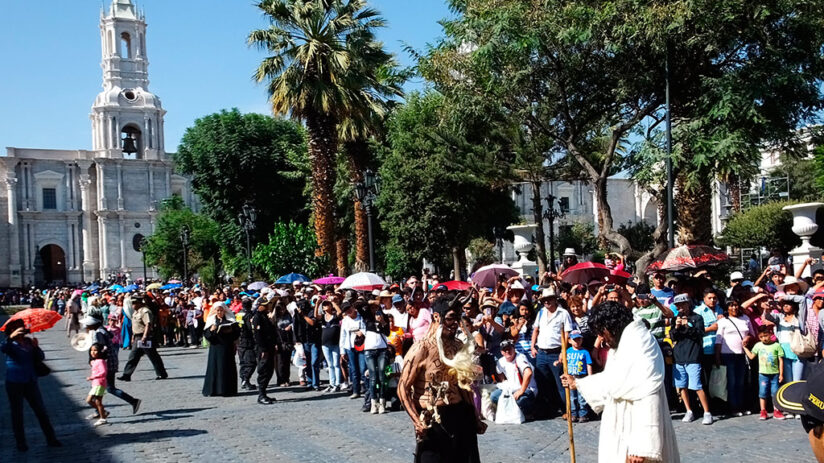 The different facts about Peru consider Arequipa one of its most beautiful cities and the second most populated. Arequipa is also known as the "White City" due to its beautiful buildings made out of white stone. You will also have the opportunity to tour the Colca Valley with the impressive Colca Canyon. Therefore, it is a popular choice for any of the different tours in general. If you are wondering what to do in Peru, do not miss out on Arequipa during Semana Santa. Although many of the traditions and celebrations are the same as in the rest of Peru, Easter Sunday is different. On this day, an effigy of Judas is burned symbolizing justice and punishment. Afterward, fireworks light up the sky giving a suitable end to the celebrations.
HOLY WEEK IN CAJAMARCA, TRUJILLO, AND CATACAOS (PIURA)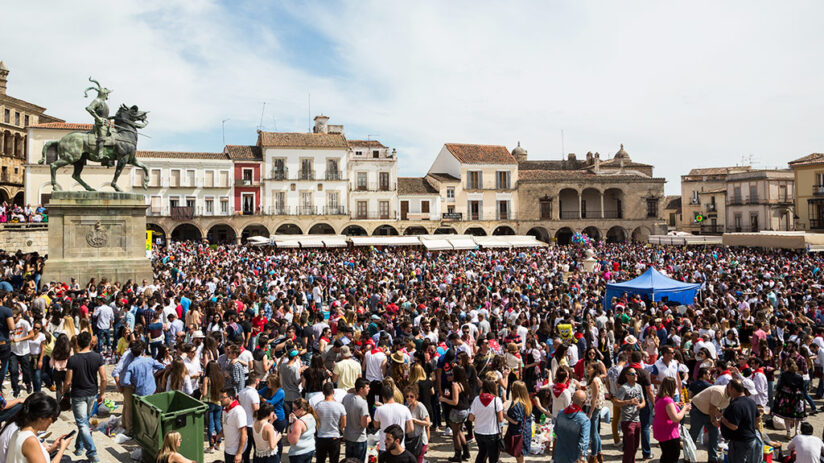 Noteworthy cities to be part of the celebrations are Cajamarca, Trujillo, and Catacaos (close to Piura). All of them are located in the north of Peru. In Cajamarca, during the procession, a dressed donkey is walked to the central church. This donkey is authorized to eat the crops of any field that he wishes, as people believe that lands are blessed wherever he goes. In Trujillo, Christ on the cross is shown and 12 people dressed in all white remove the nails from the crucified Christ. Furthermore, the Virgin Dolorosa is moved into place in a glass case. In contrast to the white-dressed people in Trujillo, devotees in Catacaos are all dressed in black as a sign of respect for the death of God's son. In the bigger city Piura, only a short 30-minute drive away, several processions take place during Peru holidays.
HOLY WEEK ON A BUDGET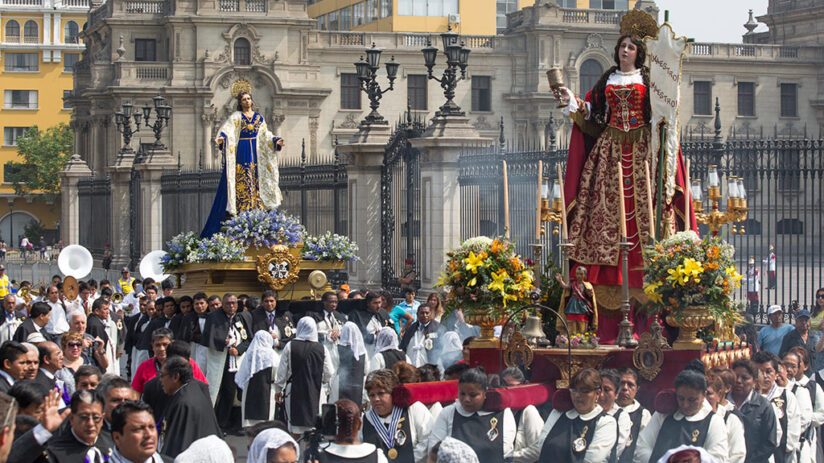 What to do in Peru during this time if you are on a budget? As Semana Santa is celebrated in all of Peru and it is quite a Catholic country, you will find not only tourists from other parts of the world but also local ones. At this time, tourism in Peru is greatly increased, so it is an excellent time to visit. While it is a great time for a vacation here, take into account that, depending on where you choose to go, it can get incredibly crowded.
For budget Peru tours it is recommendable to make any reservations for flights, trains, and hotels well in advance. Because prices will go up and tickets will be sold out as soon as possible due to the holidays. This is not to mention that the tickets and the accommodations will only have a minimum availability. However, if you already know that you want to be part of these unique traditions book well in advance to have an incredible experience, you will not forget.
FOOD IN HOLY WEEK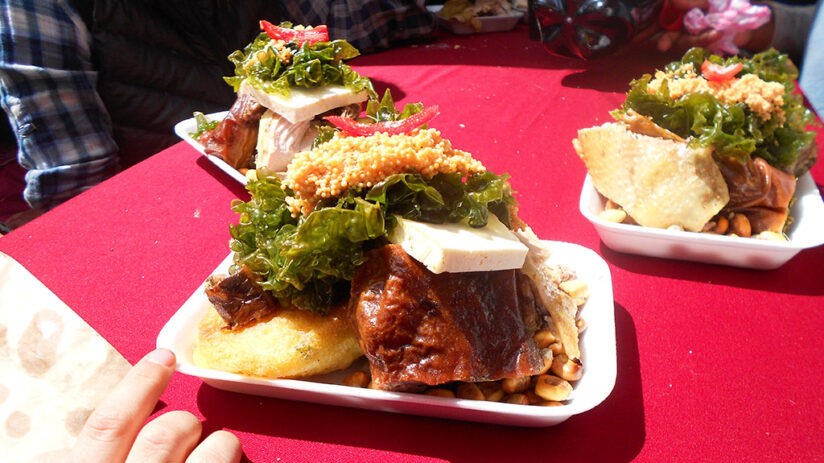 Easter is not only a week full of traditional festivities, it is also a great time to try some delicious dishes. And during this particular week, certain exclusive dishes are usually eaten. Before enjoying the different tours in Peru, it is a good idea that you experience some of these traditional dishes. Some inherited recipes that you will find during this week at family tables are:
Fish: Because red meat is usually prohibited during this week, the consumption of fish increases considerably. And Peru is an expert in dishes related to seafood. Dishes like Ceviche are enjoyed in abundance during Holy Week. Fried fish and other delicacies are also classic.
The 12-course feast: The 12-course feast is held in honor of the Last Supper of Jesus. Traditionally it is usually prepared during Holy Thursday. Although there is no set menu for the 12 different dishes, it usually includes 6 savory dishes and 6 sweet dishes.
Chupe de Viernes: During Viernes Santo, this traditional and tasty stew is usually enjoyed. The dish consists of a preparation of Ollucos (tuber), River Crabs, and a great variety of vegetables.
Chiriuchu: During Easter Sunday, Peruvians are allowed to return to the consumption of red meat. And Chiriuchu is a delicious dish where a different variety of meats appear. On the dish, you can find Cuy (guinea pig), Chicken, meat jerky, Fish Eggs, and some vegetables such as corn. A dish worth trying.
"DURING LENT, LET US FIND CONCRETE WAYS TO OVERCOME OUR INDIFFERENCE."
In conclusion, Holy Week is usually a special time for Peru. Not only can you enjoy incredible festivities in different cities, but also a large number of traditions manifesting. Food, clothing, and music are influenced during Easter. It cannot be denied that Peru is a highly Catholic country, making this occasion a unique and incredible one in the country. Machu Travel Peru hopes to have been helpful. If you want to know more about traveling during this week, you can consult with our team of advisers. They will be happy to help you.
---